Blog - 2011 Archive
---
Kim Jong-Il dies, Dec 2011, too late for the millions of people he starved and tortured. He starved millions to death. He put entire families in concentration camps. He put families in gas chambers. He was pure evil. May he rot in hell.


Tweet from here.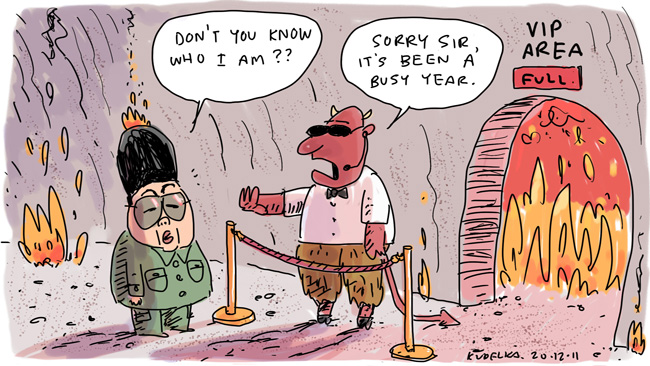 Bin Laden dead. Al-Awlaki dead.
Gaddafi dead. Kim Jong-Il dead.
Mladic captured.
It's been a good year.
Cartoon from The Australian.


Poor brainwashed North Koreans weep at the death of their torturer.
It reminds me of the death of the Ayatollah in 1989. When you see mass hysteria like this, you know that the person being mourned is worthless.
Cracking comment on YouTube: "Boy, You'd think Justin Bieber died".

Thousands of North Koreans sent to labour camps for not crying enough at the death of the butcher.
Vice minister of the army executed by Kim Jong-un for not sufficiently mourning his father's death.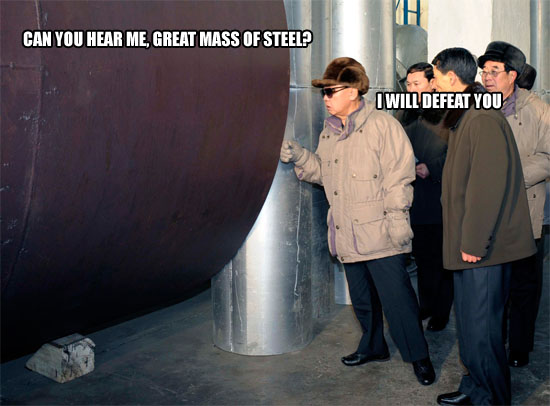 From here.
Based on "Kim Jong-Il Looking At Things".
"The Dear Leader likes to look at things."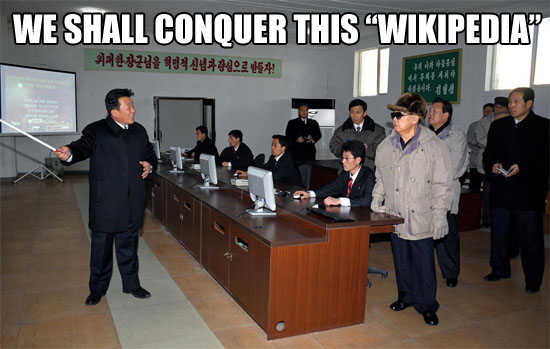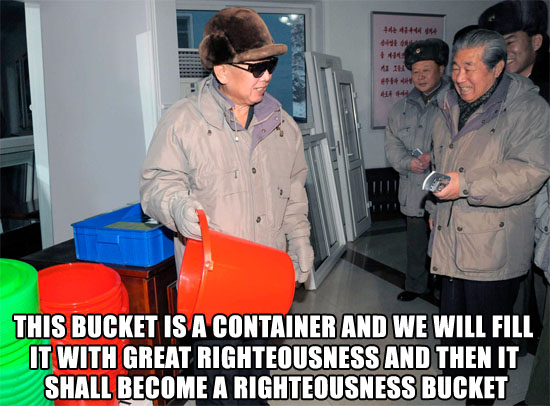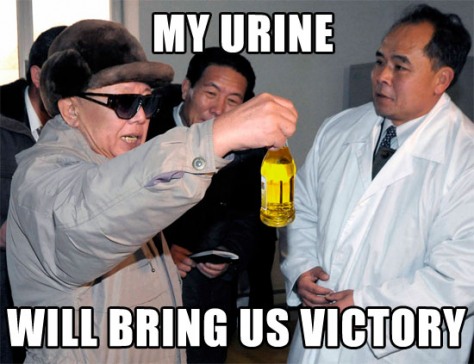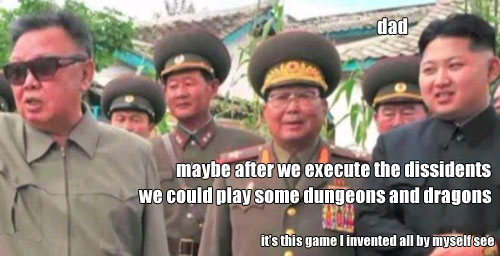 The new tyrant Kim Jong-un.
From here.
Based on "Kim Jong-un Looking At Things".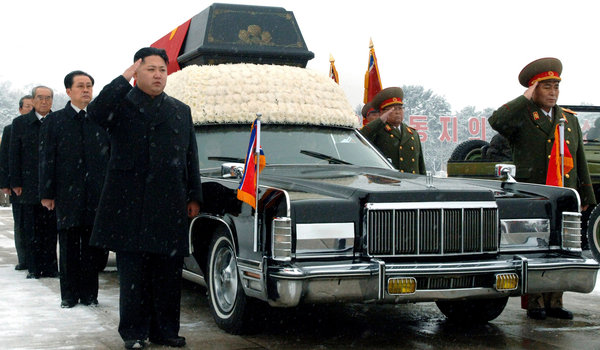 Disgusting hypocrites: The Kim Jong-il funeral car is a 1970s-series Lincoln Continental. Disgusting hypocrites.
See New York Times.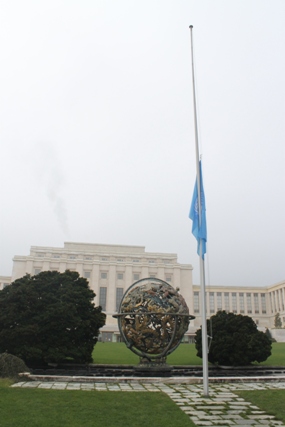 Out of respect for the death of Kim Jong-il, the UN flag flies at half-mast in Geneva (seat of the UN Human Rights Council), Dec 28, 2011.
A truly depraved organisation.
Photo from UN Watch.
It is also alleged that the appalling Jimmy Carter sent condolences to North Korea. This is not yet confirmed or denied.


Sacha Baron Cohen, in his role as "Admiral General Alladeen" from The Dictator, appears at the 2012 Oscars, Feb 2012, with "the ashes of Kim Jong Il", which he then manages to spill. Hilarious. Classic disrespect to a disgusting butcher.
(Sadly, the movie itself is pretty bad. It tries to make the dictator a sympathetic figure, which doesn't work at all. But this Oscars stunt is priceless.)
---
RIP Christopher Hitchens
Lara Marlowe, US correspondent for The Irish Times
---
Irish Presidential election
Ireland elects loony-left anti-American anti-Israeli as President.
Ireland now has the most anti-American head of state in the western world. That will do wonders for American business and tourism.

7 years of sermons about capitalism, America and Israel.
Dear God no.
From this channel.
Better animation here was removed.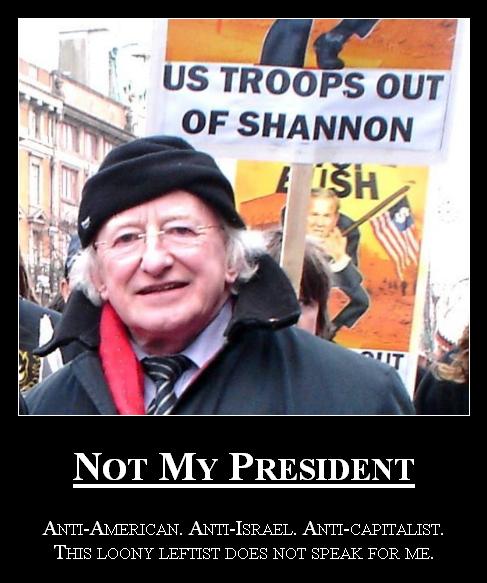 Who to vote for?
In the end, I voted:
Seán Gallagher (Stands for Celtic Tiger Ireland. Sounds good to me.)
Gay Mitchell (Had the guts to go after the Provo candidate.)
Dana (I don't really like her, but I wanted to insult the three other candidates.)
No one else.
Irish Presidential election, 27 Oct 2011
Irish presidential election, 2011 is shaping up to deliver a nightmare President. It may be one of these:

The fanatic terrorist leader Martin McGuinness. Yes, thanks for stopping killing and bombing. Now go away.
The radical anti-American, anti-Israel David Norris.
The radical anti-American, anti-Israel Michael D. Higgins.

This is madness. If any of these become President, Ireland's image, already dented, will hit rock bottom worldwide. Imagine British tourism if a Provo is Irish President. Imagine a Tea Party Republican Presidential visit with a viciously anti-American Irish President.
If any of these three are elected, all I will say is: "NOT MY PRESIDENT".

Michael D. Higgins attends a candlelit vigil in Galway, 2004, mourning the death of the Jew-killing butcher and dictator Yasser Arafat.



Terrorist President
Anyone who votes for Martin McGuinness as President of Ireland should be ashamed of themselves. Can you not read? Do you not know what he has done?
"IRA Apology", NPR, July 18, 2002. Neal Conan interviews McGuinness and tells him (jump to 2:43) they met before: "30 years ago ... we actually met at your house in Derry at a time when you were ... the Provisional IRA commander in Derry". McGuinness does not disagree.
McGuinness is on tape in 1972 saying it is civilians' own fault they are killed in IRA bombs: "we have always given ample warning".

See full size.



IRA terrorist leader Martin McGuinness.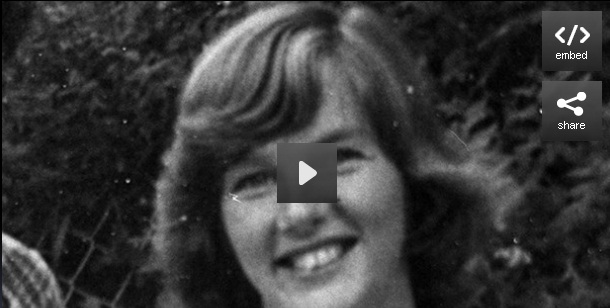 Joanne Mathers, the Protestant census enumerator
shot dead by the IRA in Derry in 1981.
Her husband Lowry Mathers chokes up as he recalls: "how their infant son used to run to the door hoping his mother was returning home after her murder".
Lowry Mathers says: "Whatever he says, Martin McGuinness was in charge of the IRA in Londonderry at that time. If anyone knows who murdered Joanne, Martin McGuinness knows."
---

The kidnap of leftists
Muslim Brotherhood member wins Nobel Peace Prize, Oct 2011
Anwar al-Awlaki and Samir Khan killed, 30 Sept 2011
Anwar al-Awlaki and Samir Khan are killed in a drone strike. A major defeat for Al Qaeda.
Anwar al-Awlaki was the no.1 English-language leader of the global jihad. His hatred inspired Islamic terrorism across the West. He was linked to the Fort Hood massacre, the London bombings, the Little Rock shooting, the Flight 253 bomber, the Times Square bomber and the Stephen Timms attacker. He may even have been involved in 9/11.
Samir Khan was the no.1 English-language media figure in the global jihad. He was the editor of Al Qaeda's glossy Inspire magazine, which called for random jihad killing across the West.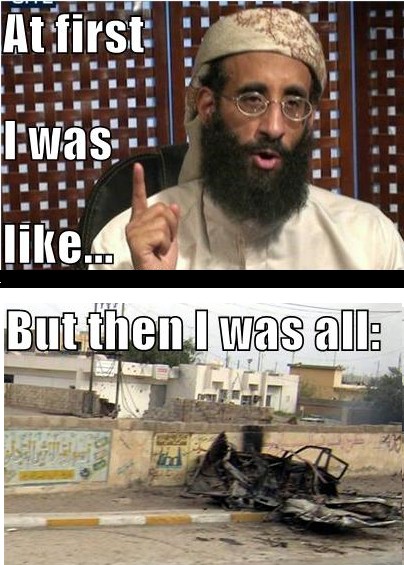 The Jawa Report on the demise of Anwar al-Awlaki.
In 2010 Anwar al-Awlaki called for the killing of poor Molly Norris: "A cartoonist out of Seattle, Washington, named Molly Norris started the 'Everyone Draw Mohammed Day'. She should be taken as a prime target of assassination".
Now he is dead.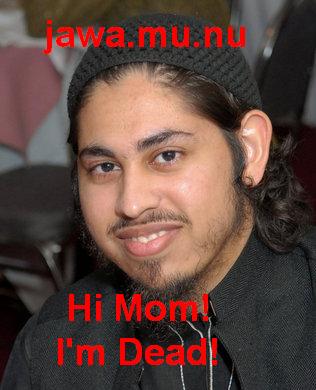 The Jawa Report on the demise of Samir Khan.
Samir Khan called for random killing in American cities.
Now he is dead.
In 2007 Samir Khan issued a death threat to "Rusty Shackleford" of The Jawa Report: "O Allah kill Rusty Shackleford and terrorize his family."
However, as Rusty says in 2011: "He who laughs last, laughs loudest. Also, the guy not killed in a drone strike. He laughs loudest, too."


Samir Khan running a jihad website from his wealthy home in America (up to 2009). Like Anwar al-Awlaki and Osama bin Laden, he grew up in prosperity and privilege. He could have lived a good, worthy life. Instead he chose evil. He spent his life as a rich man dedicated to killing poorer men.
Samir Khan shows that oppression and poverty do not cause jihad.
Rather, the hallucinatory, utopian ideology of Islamism causes jihad.


His wealthy father, Zafar Khan, may have been an Islamist extremist.
Racist UN conference, 22 September 2011