The kidnap of leftists
There have been a number of incidents in the modern War on Islamism where western
leftists
have been captured by the evil men who their philosophy sees as "victims".
Too late, they discover that the jihadists do not just hate neo-cons and Zionists and evil right-wingers - they hate all infidels. They hate all kuffar. In rare cases, the leftist victims come to abandon their old views and gain a better understanding of the jihadist enemy. But more normally, they try to fit the experience into their previous model. They often end up making some kind of apology for or defence of their own tormentors. They often express sympathy for their cause.
When you read what freed hostages like Terry Waite and Brian Keenan say, they often seem not to understand their Islamist torturers. Why is this? Perhaps because if you thought you lost all those years of your life for nothing, just because of the demons inside the heads of ignorant religious maniacs, it would be too hard to deal with. It is easier to think they must have had a point somehow, that their cause must make some sense, even if their methods were wrong. That all that suffering must have been for something.
The beating of Robert Fisk in 2001. He identifies with his attackers: "if I were the Afghan refugees of Kila Abdullah, close to the Afghan-Pakistan border, I would have done just the same to Robert Fisk."
---
Brian Keenan was held hostage for 4 years by Islamist Hizbollah. And yet he seems to have learnt nothing about the nature of Islamism.

Silence won't release the hostages, Brian Keenan, May 31, 2008.

He talks as if the jihadi gangs of Iraq have a point, as if there is some valid reason to their hatred other than the demons inside their heads: "They don't see themselves as terrorists but as fighters against an army of occupation, responsible for the deaths of hundreds of thousands of Iraqis. So the Iraqis fight back against the overwhelming might of the invader with the only weapons they can."
Um, no. The Islamists don't cut the heads off aid workers and Christians, torture children with electric drills, gang-rape Christian girls, bomb lines of voters, and suicide bomb groups of children and mosques because that's "the only weapons they have". They do it because that's the type of people they are.
Disgustingly, Keenan claims the allies are the same as the jihadis: "five human beings have been caught up in this hideous firefight between misguided military adventurism and equally misguided religious and national fervour." He describes the attempt to bring freedom to Iraq as: "the sordid politics of neocolonialist enterprises."
He urges the allies to talk to the jihadi gangs of Iraq: "Lines of communication are always opened up with the enemy tent. It is how wars are progressed to their ultimate conclusion. Every conflict is always and only resolved by dialogue."
Again, no. Conflicts are sometimes resolved by defeat of one side. Indeed, annihilation of one side. Let's hope that happens here.

Viewpoint: A hostage's story, Brian Keenan, 21 October 2003.

He says his torturers Hizbollah are not the same as Al Qaeda: "In comparison to today's extremists, my captors were markedly different. Their cause and the reason for our captivity were specific not global."
Well, if you mean that fighting for Iranian imperialism everywhere is "specific not global". Hizbollah, for example, slaughters Jews in South America. Does that not count as "global"?
He lays out the "grievances" of the Iranian-proxy enemy thugs that kidnapped him. They are nothing to do with Lebanon. They are only about the interests of the terror state of Iran: "Our captivity was a reaction to British, American and Israeli support of Iraq in the Iran-Iraq war. It was also about the prolonged economic sanctions in Europe against Iran and also it was a means of leverage to obtain the release of 14 Muslim freedom fighters held in prison in Kuwait."
"Freedom fighters"?? In what possible sense can fighting for brutal Iranian imperialism be considered fighting for "freedom"??
He does find someone he can compare with Al Qaeda. No, not Hizbollah. Rather, George W. Bush! "Today's extremist belongs to a more sophisticated and extensive covert network. ... It is a problem that will not go away. Least of all because another fundamentalist in the White House makes pronouncements about the axis of evil and promises to rid the world of this contagion."
Yes, fighting terrorism is wrong. Because terrorism does not exist. And jihad does not exist: "But are they terrorists? Terrorism, like the word Jihad, is a term bandied about for the gullible by the myopic. It serves to legitimise aggression as a form of righteous crusade."
---
---
Yvonne Ridley, the British female journalist hostage who became a nasty sort of Islamist extremist.

Interview with the Islamist Yvonne Ridley by Rachel Cooke, July 6, 2008.

Ridley produces a propaganda show on Iranian state-controlled TV.
She defends forcing women to wear the hijab: "I was in Iran last year. I know the hijab is a pain for them, but they will get no sympathy from me. It is clear that the hijab is an obligation, not a choice. ... I don't have any sympathy at all with women who don't want to wear the hijab." Of course, she lives in the West herself.
She tries to weasel out of all the hard questions (she never gives straight answers about sharia, 7/7, and so on). She says: "Your questions are so predictable. I am just waiting for [you to ask about] forced marriages, honour killings and female genital mutilation." I like the way Rachel Cooke is not intimidated by her: "Actually, I think these are worthy subjects for discussion".
Yvonne Ridley was held hostage by the Taliban in 2001.
She reacted by becoming a radical Islamist. Here she is openly supporting Hamas in Jan 2009.


Yvonne Ridley openly supporting Hezbollah and Hamas in Sept 2010 (see end).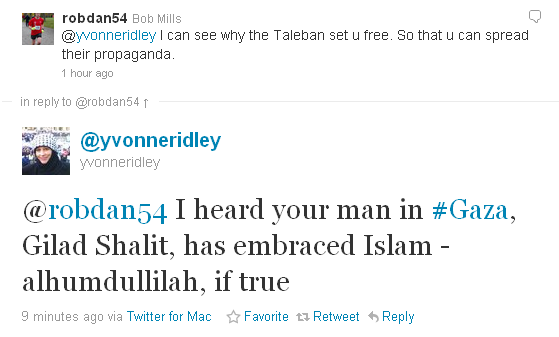 Yvonne Ridley, Mar 2011, gloats over the plight of Gilad Shalit, held hostage for 5 years by her Islamic terrorist friends, without any contact with family or even the Red Cross.
---
The anti-war, anti-American, communist journalist Giuliana Sgrena is kidnapped in 2005 by the Iraqi fascist resistance, who don't care that she's "anti-war". American soldiers risk their lives for weeks trying to rescue her, and in return she abuses them and claims they tried to kill her. This ungrateful woman says about the brave Americans: "For them, war is war. Human life is worth little."

When coming to Iraq, she said: "We are siding with the oppressed Iraqi people. No Iraqi would kidnap us."
She was furious with the Iraqi fascist resistance for kidnapping people like her: "In the first days of the kidnapping, I did not shed a single tear. I was simply enraged. I used to tell my kidnappers in the face, "But how! You kidnap me, [the very person] who is against the war?!" And at that point they would open up a fierce dialogue. "Yes. Because you go and talk to the people. We would never kidnap a reporter who stays closed in a hotel. And then the fact that you say you are against the war may well be just a cover". And I would rebut, almost provoking them, "It's easy to kidnap a defenceless woman like me. Why don't you go try with the American military?". "
I don't think Giuliana understands the resistance very well. Why take on heavily armed American troops when there are infidel civilians available?
Cartoon from
Cox and Forkum
(see
here
).
See
Cartoon Use Policy
.
---
The Guardian
is probably the most pro-jihad newspaper in the English-speaking world. It regularly publishes
open support for the Iraq jihad
. Despite this, the
Guardian
's correspondent in Baghdad, Irishman
Rory Carroll
, was kidnapped by Islamists in Iraq in 2005. He was quickly released, presumably when they realised their mistake. The event made me look at Carroll's journalism in Iraq. I didn't like what I found.
First, need I say that I am delighted he was released. I don't find it amusing and ironic that the Islamists attacked the Guardian. The thugs who kidnapped him are the enemy, and I wish only for their defeat and destruction. Criticising Carroll's journalism (as I am about to) does not imply that I ever wish him to be harmed (or even censored).
Having said that, let's look at his journalism. Here is a representative sample of titles of Rory Carroll's past articles on Iraq:

Trial of the century? Not for Iraqis
Hopes fade for deal on Iraqi constitution
Basra out of control, says chief of police
Elusive sniper saps US morale in Baghdad
Iraqi talks head for deadlock
Gunmen take over Ramadi as bomb kills five marines
Under US noses, brutal insurgents rule Sunni citadel
Iraq rebuilding under threat as US runs out of money
Iraq war is blamed for starvation
"I just want to survive and go home with all my body parts"

And so on, and on, and on. Endless negativity about Iraq's future and hostility to anybody who is trying to make Iraq a better place.

Think I am too hard? Consider this: Would an enemy newspaper, trying to demoralise our side, look any different? Enemy propaganda wouldn't print stories about "the glorious jihad", since that wouldn't sell with us. Instead they would print articles, well, pretty much like the ones above.
Still think I am too hard? That he is only reporting the news? Well, there's a lot of other dramatic stories going on in Iraq. I can't see a single story highlighting, for example, the awesome bravery and heroism of the American soldiers taking on the jihad.

Or, if that sounds too much like propaganda to him (as if the articles above aren't propaganda!), how about titles like:

Justice for the victims as dictator faces death penalty
Insurgents kill 10,000 civilians to try to stop democracy
Poll: 90 percent of Iraqis support U.S. against insurgents
After 2 years of fighting, insurgents still hold no territory
Insurgents being massacred as they lose popular support
Arab democracy survives under siege from insurgents
Islamists now bombing mosques
Genocide of Shia must wait, says al-Zawahiri

Which is all simply factually true.

If he wrote articles like that, I don't think the Guardian would employ him for long!

Anti-American:

Carroll's account of the kidnap: "American helicopters buzzed overhead but however hard I visualised it, no Rangers came shimmying down on ropes." - Like a comfortable middle class kid abusing the police, funny how he thinks he can abuse them as much as he likes and they will still risk their very lives coming to his rescue.

Anti-Israel:

In short, Carroll sums up much of what is wrong with modern journalism, in Ireland as well as in Britain. And it is, I believe, a dangerous game that the defeatists are playing. For they could succeed. If the west does lose heart, like in Vietnam, and pulls out, and leaves Iraq to war and democide, it will be partly the fault of negative, defeatist western journalists like Carroll. They did it before in Vietnam. And they might do it here too.
Delighted that he was released: Yes. An admirer of his: No.
Rory Carroll's further writing
Rory Carroll has a mixed record since Iraq.
He wrote an appalling puff piece on the totalitarian executioner Che Guevara, September 4, 2007.

On the other hand, in Aug 2007 he took on Hugo Chavez, that creepy Venezuelan who talks like a drunk 14 year old.

Carroll asks Chavez about his increasing authoritarianism, and Chavez just ... launches into a stream of consciousness rant! "Rory works for a newspaper in London. So, his question comes guided by the tendencies that that newspaper operates. ... In Europe there is a lot of cynicism. Rory. Over there in Europe where you're from, I think Europe competes with the US, but since Europe is older, it is more cynical. ... In Europe for example they refuse to recognise the African holocaust."
The what? Who? What the hell is this guy talking about? There is no logic, no start and end. And Venezuelans were impressed by this buffoon!
Well done to Carroll for taking him on.

But on the other hand, this rubbish: America's 'counter-jihadis' fan flames of hatred across Middle East, Rory Carroll, 16 September 2012.

Yes, that's right. Hatred is fanned across the Middle East not by Islamic supremacist hate preaching in mosques and schools and on state TV. No, it is the American counterjihad that makes Muslims riot and kill! If it weren't for them, Islamic religious maniacs would return to their normal peaceful nature.
And who wrote this rubbish? A man who was kidnapped by the jihad in Iraq!
The sneering, patronising tone of the article must be seen. Rory Carroll treats anyone who opposes jihad and sharia as if they are a curious and amusing sub-group of Internet nutcases, not meant to be read or taken seriously. And this, all this, in a newspaper that publishes Hamas!
---
The rescue of the anti-U.S. military, anti-UK military, anti-American, anti-Israel Christian Peacemaker Teams (CPT) by brave allied soldiers in Iraq in 2006.

Responses to the CPT fools:

Getting in the way, article on the CPT rescue, The Sunday Times, March 26, 2006

"Are the military justified in feeling annoyed that they put their lives on the line for apparently ungrateful men who are opposed to all that the forces stand for?"
The CPT said they did not want to be rescued. The Allied military, though, like the police, are far too brave and noble to let foolish people die. Like police jumping in a river to save someone trying to commit suicide, they risked their lives to save these ungrateful people, because that is what they do. "The reality, however, is that British diplomats and military authorities cannot ignore a citizen in peril. So a huge and expensive rescue operation swung into action."
Even when rescued, the morons were still troublesome: "It was reported yesterday that the Canadians were reluctant to leave with the rescue team, objecting to association with the military." Congratulations to the military for keeping their cool in dealing with these fools, like police calmly and patiently dealing with irrational drunks.

The CPT are children:

Hostage James Loney says of his transfer to the safety of the military: "we went from one tomb to another". He describes the military that rescued him (the British SAS) as "contrary to Christian teaching".
I love zombie's comment on the supposed "irony" that the peaceniks were rescued by the military men they despise. It's not ironic at all, of course. The police and military are there precisely to protect children like these: "Daddy, isn't it ironic that I ran away from home to get away from you, and when I ended up in jail, it was you that came and bailed me out?" "Shut up and get in the car."

CPT hostages may refuse to give evidence at captors' trial, statements Dec 2006.

"We unconditionally forgive our captors for abducting and holding us. We have no desire to punish them. Punishment can never restore what was taken from us."
They seem to care nothing about stopping these violent jihadis from abducting and killing other people.
Norman Kember describes the evil, hate-filled jihadis that kidnapped him, and tortured and killed his friend Tom Fox for no reason: "They were victims as well as we were victims".
Norman Kember is a prime example of the post-modern western man, who lives such a comfortable life, free from any threat, that he is unable to recognise good and evil.
---
Despite the BBC's bias against Israel, BBC journalist Alan Johnston was kidnapped by Palestinians in Gaza in 2007.
Before the kidnap, Johnston was remarkably non-judgemental about the jihadi kidnappers of the terror state of Gaza.
But then they kidnapped him in Mar 2007.

Richard Landes notes that all his supporters, in trying to get him freed, openly admit he is biased towards the Palestinians. "So imagine what it might be like to report negatively from this area".
UK Palestinians admit Alan Johnston is biased, 14 May 2007. They urge his release because they say: "at the end of the day, he's one of the people who cares about us and he works for us". Charles Johnson replied: "Why yes, that's exactly right. He does."

Richard Landes: "No foreign reporter in Israel would allow himself to fawn over the Israeli narrative the way Alan did over the Palestinian." "If Johnston, a tireless advocate for the Palestinian cause got kidnapped by a clan of Muslim extremists, imagine what would happen to a reporter who actually showed skepticism about Palestinian claims, and wrote articles critical of Palestinians - say, something on the way they have turned their schools and media into factories of hatred."

The jihadi kidnappers release a video of Alan Johnston ranting against Israel, America and Britain.

I won't take these moronic ideas as Johnston's own beliefs, since he is being held at gunpoint.
What if Israelis had abducted BBC man?, Charles Moore, 3 June 2007 - A thought experiment where Israelis kidnap the BBC man and force him to spout pro-Zionist propaganda on video. How different the world's reaction would be. How less tolerant we would all be. "The first point is that it would never happen. There are no Israeli organisations - governmental or freelance - that would contemplate such a thing. That fact is itself significant."
Moore says, even if Johnston is spouting the jihadis' words: "the truth is that, although it is under horrible duress, what he says is not all that different from what the BBC says every day through the mouths of reporters who are not kidnapped and threatened, but are merely collecting their wages. The language is more lurid in the Johnston video, but the narrative is essentially the same as we have heard over the years from Orla Guerin and Jeremy Bowen and virtually the whole pack of them. It is that everything that is wrong in the Middle East and the wider Muslim world is the result of aggression or "heavy-handedness" ... by America or Israel or Britain. Alan Johnston, under terrorist orders, spoke of the "absolute despair" of the Palestinians and attributed it to 40 years of Israeli occupation, "supported by the West". That is how it is presented, night after night, by the BBC."

Alan Johnston is freed, July 2007.
Will this make him and the BBC any more objective (i.e. more anti-Palestinian)? I doubt it.

No change in Johnston it seems:

Alan Johnston documentary, Oct 2007. I saw this, and can agree that: "It was typical of what passes for current affairs on BBC1 these days, mixing slick production values with superficial analysis"
Johnston says: "Whatever else it was, my Gazan incarceration was not what Iraqi prisoners had been forced to endure at Abu Ghraib jail."
As the blogger above says: "he could have chosen three far more appropriate examples: Ehud Goldwasser and Eldad Regev, who are being held captive by Hezbollah, and Gilad Shalit, who remains a prisoner of Johnston's 'liberators', Hamas. All three have been held for over a year, probably not far from where Johnston was confined, and you might think that their fates would have been on his mind in the months he's had to reflect on his own ordeal."

Delighted that he was released: Yes. An admirer of his: No.
---
The rape of Joanie de Rijke, November 2008.
A Dutch journalist for a left-wing anti-American magazine is kidnapped and repeatedly raped by the Taliban, and still can't bring herself to condemn them!
She is so brainwashed by her left-wing beliefs that she reacts to evil this way: "They also respected me. ... They are not monsters. ... I did feel angry because of the rape .. what I tried to make clear was that the acts of the Taliban cannot be reduced to rape. ... In a war situation people seem only able to think in black and white. I wanted to refine the story. A person is not a monster because he calls himself Taliban."
Remember she is talking about religious maniacs who chemical bomb primary school children because they disapprove of girls getting educated.
"the acts of the Taliban cannot be reduced to rape"
, says Joanie de Rijke.
That is correct. They also attack schoolgirls with acid and chemical weapons.
---
Iran held three American leftie peace activists hostage from July 2009 to Sept 2011.
The three - Shane Bauer, Josh Fattal and Sarah Shourd - were anti-Israel and anti-American. They wrote Hamas propaganda and slurred the American military. Bauer and Shourd actually chose to live in Iran's evil ally Syria - a terrorist state that for years has been helping to kill Americans in Iraq. Bauer, Fattal and Shourd were exactly the type of Americans that Iran should like.
But Iran didn't care. It saw a chance to get some American hostages, and thought these useful infidel idiots would do.

When finally freed in Sept 2011, Shane Bauer reveals that he has learned nothing from the experience.
On release, Bauer immediately attacks America: "Two years in prison is too long and we sincerely hope for the freedom of other political prisoners and other unjustly imprisoned people in America and Iran."
Bauer then issues a longer statement:

"The only explanation for our prolonged detention is the 32 years of mutual hostility between America and Iran." As if American hostility towards a vile Islamic tyranny is unjustified! As if American hostility is the cause of Iran's behaviour.
"The irony is that Sarah, Josh and I oppose U.S. policies towards Iran which perpetuate this hostility." American policies are not the cause of this hostility. Islamism is the cause of this hostility.
"In prison, every time we complained about our conditions, the guards would immediately remind us of comparable conditions at Guantanamo Bay. They would remind of us CIA prisons in other parts of the world, and the conditions that Iranians and others experience in prisons in the U.S." Instead of defending the civilized conditions in Guantanamo - not to mention the fact that the prisoners are jihadi fighters, not random Muslims - Bauer instead absurdly agrees with the Iranians: "We do not believe that such human rights violations on the part of our government justify what has been done to us."

Robert Spencer, 27 Sept 2011, points out Bauer's crippling lack of imagination: "The idea that the Iranian government might have hated and mistreated him and his friends for reasons of their own, unconnected to anything the U.S. government had done or could do, never seems to have occurred to Bauer. The possibility that the Islamic contempt and hatred for unbelievers, and the jihad that is prescribed for Muslims to wage against those unbelievers, might have been a motivating factor in his abduction, show trial, and imprisonment, doesn't seem to have entered Bauer's mind for a moment - even as he subsisted on bread and water and paced around his cell in Tehran. The possibility that even if the American government had behaved with perfect and utterly unimpeachable rectitude toward Iran, the Iranians still would have abducted, imprisoned and tortured him, appears inconceivable to Bauer."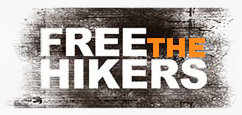 Educate
the hikers will be a much tougher job.
---
Canadian leftist Joshua Boyle was originally a supporter of the jihadist Khadr family:

Ahmed Khadr was an international jihadist who was killed in 2003.
His Canadian-born son Omar Khadr was held in Guantanamo from 2002 to 2012.
Boyle supported Omar's case. He married Omar's sister Zaynab Khadr in 2009.
Zaynab Khadr said about the 9/11 attacks: "you just sort of think, well, they deserve it."
They divorced in 2010.

The kidnapping in 2012:

Boyle married 2ndly in 2011 to Caitlan Coleman.
In 2012, Boyle and Coleman travelled through Central Asia. It was reported that Boyle "had converted or was converting to Islam". None of this helped them with the jihadists, who saw only Westerners.
Even though his wife was pregnant, Boyle took her into Taliban-controlled territory in Afghanistan, where they were kidnapped in 2012. They were sold to the Haqqani network jihadist group.
They were held for 5 years and rescued in 2017.
Coleman gave birth in captivity. She then got pregnant again, and miscarried, after she says the guards put a chemical in her food. She gave birth to 2 more children. She returned with 3 children and pregnant with another.

When released Boyle claimed that the jihadis raped his wife and murdered one of his children.
But his wife finally spoke in May 2019. She said Boyle was an abusive husband and a supporter of the Taliban.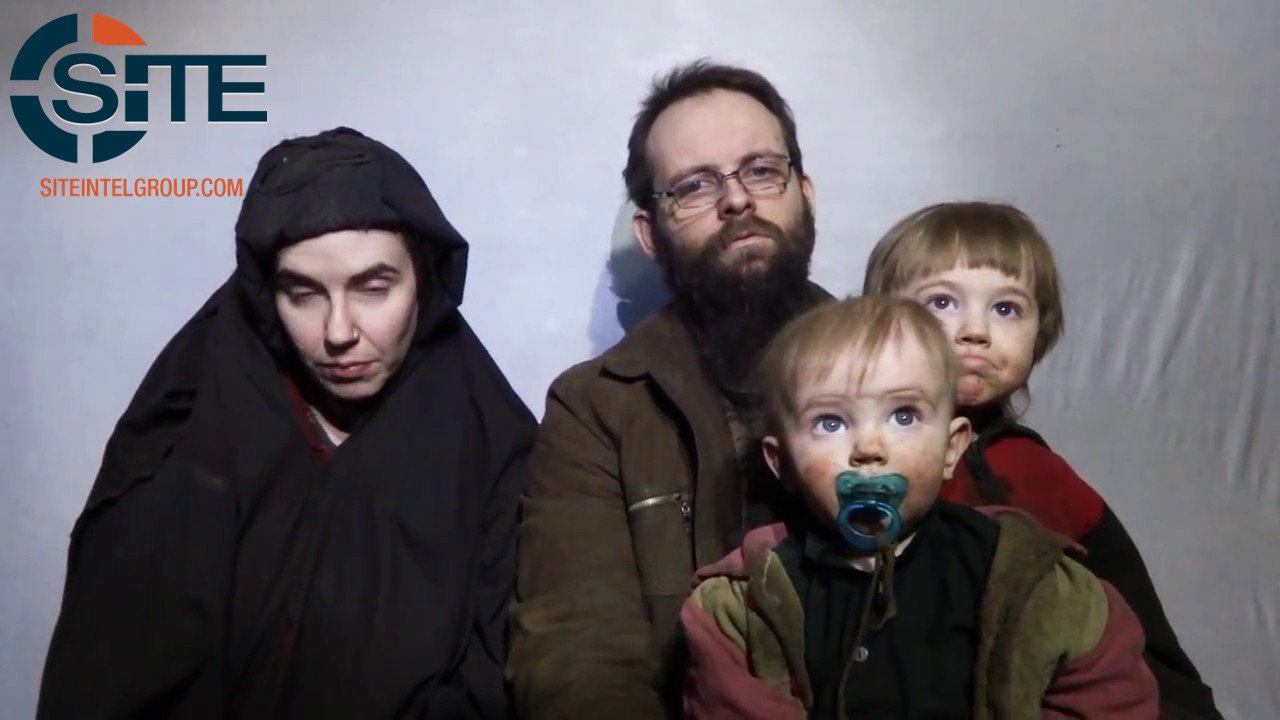 Canadian leftist Joshua Boyle and his family in captivity.
Image released 2016. From
here
.
---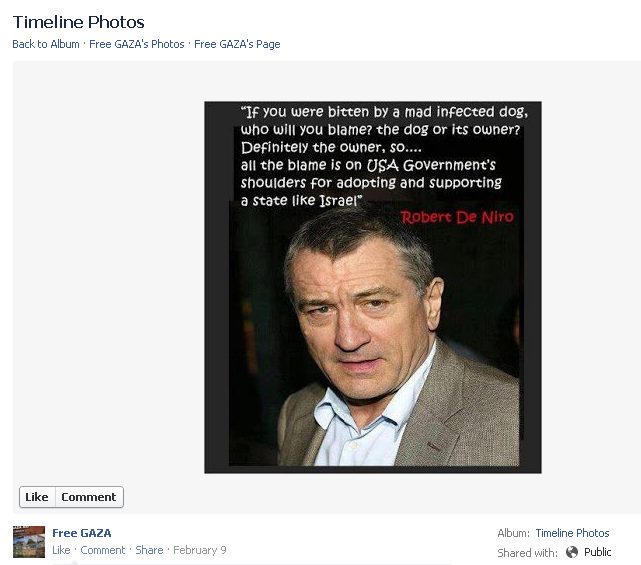 The IHH convoy promotes a
fake quote by Robert de Niro
, 9 Feb 2013.
This fake quote has been circulating since
2011
.
---
Anti-Israel activist goes to Syria as aid worker. Gets kidnapped by jihadists, tortured, raped and killed.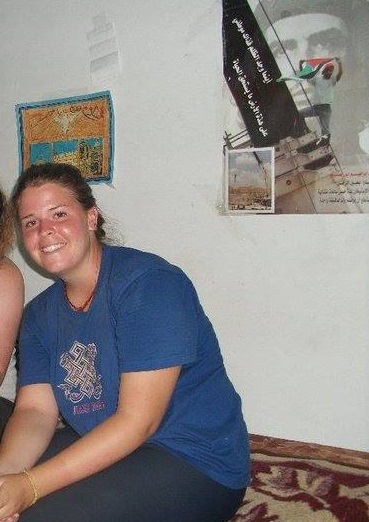 Kayla Mueller with Palestinian poster and Che Guevara.
From
here
.
In 2010, she praised the Palestinian struggle against Israel: "When I cry tears for this land, my eyes still sting. This land that is beautiful as the poetry of the mystics. ... Yes, the wall will fall. The nature of impermanence is our greatest ally and soon the rules will change, the tide will turn and just as the moon waxes and wanes over this land so too the cycles of life here will continue. One day the cycle will once again return to freedom. Oppression greets us from all angles. Oppression wails from the soldiers radio and floats through tear gas clouds in the air. Oppression explodes with every sound bomb and sinks deeper into the heart of the mother who has lost her son. But resistance is nestled in the cracks in the wall, resistance flows from the minaret 5 times a day and resistance sits quietly in jail knowing its time will come again. Resistance lives in the grieving mother's wails and resistance lives in the anger at the lies broadcasted across the globe. Though it is sometimes hard to see and even harder sometimes to harbor, resistance lives. Do not be fooled, resistance lives."

She says the cycle will "once again" return to freedom! Again? Like when? Like in the Ottoman Empire? When was Arab Palestine ever a free place? What nonsense.
And "resistance" is a nasty euphemism here. In the context of endless Islamic terrorist violence, to simply praise "resistance" without making it 100 percent clear you oppose the violence, can only have one meaning.
In the end, she was tortured and killed by the same jihad that she thought was so admirable against Israel.

The operation to kill ISIS leader Abu Bakr al-Baghdadi in Oct 2019 was named after his victim Kayla Mueller. There is some poetry in that. And yet her support for Palestinian "resistance" will always leave a bad taste.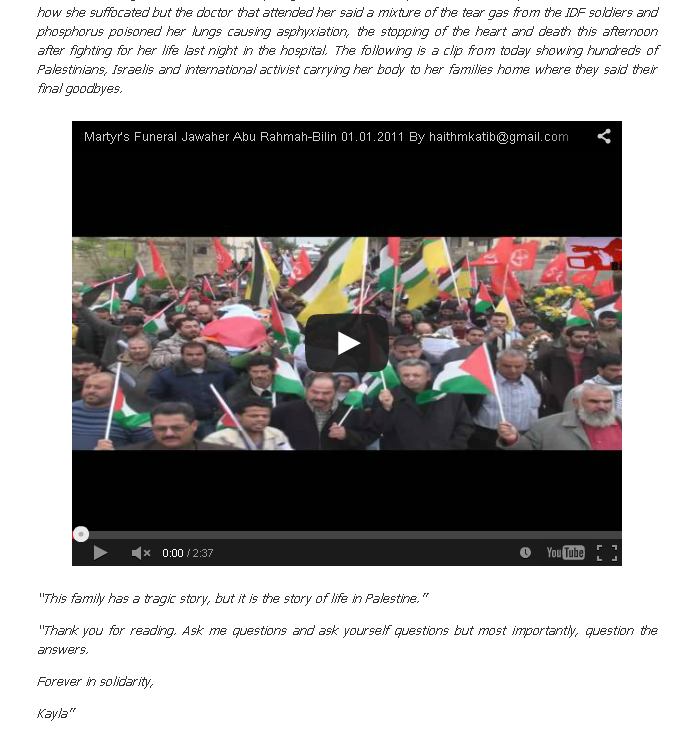 Kayla Mueller on 1 Jan 2011 shares a video of the funeral of one of her Palestinian comrades.
Somehow she does not notice all the terrorist PFLP flags!
From
here
.
The PFLP carried out the
2011 Itamar massacre
and the
2014 synagogue massacre
.
---
British aid worker goes to Syria with jihadist fellow-travellers. Gets kidnapped by jihadists and beheaded.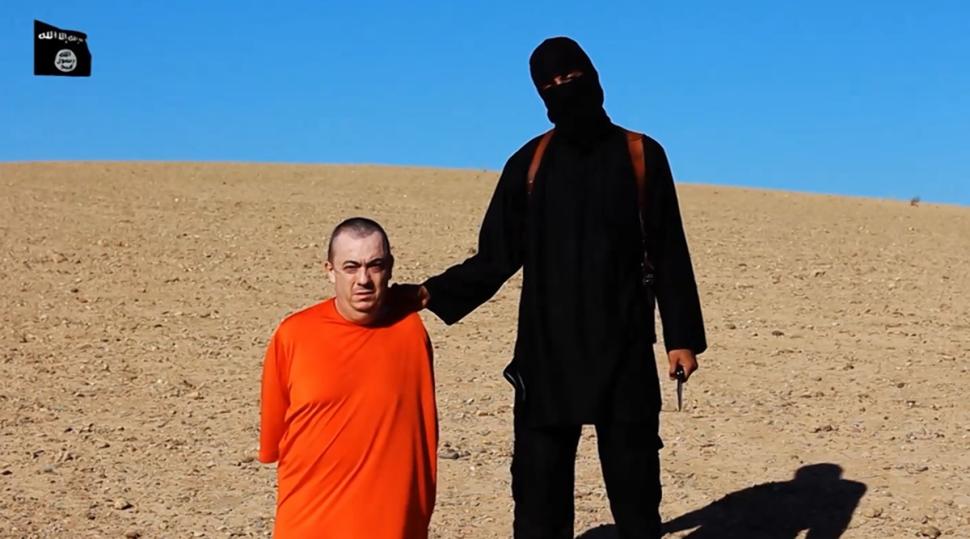 British aid worker
Alan Henning
is threatened with beheading by ISIS, Sept 2014.
Image from
here
.
He was an aid worker who went to Syria. But what kind of aid worker?
He was involved with Islamist charity
Al-Fatiha
.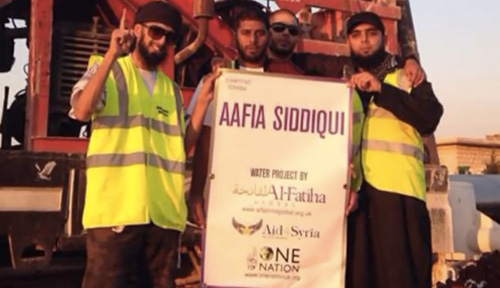 Al-Fatiha are jihad fellow-travellers.
Here they name a project after "Lady Al Qaeda", Aafia Siddiqui.
They have events with Islamist extremist speakers and pro-Hamas speakers.
They are linked to the Turkish pro-jihad IHH group.
They fund Hamas charity projects.
Did Henning never Google this crowd before working for them? Or did he support their agenda?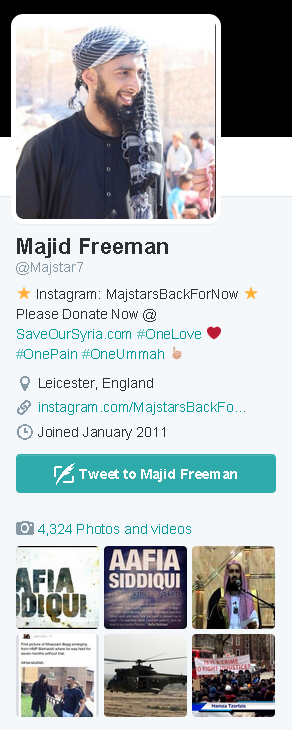 What does Alan Henning's charity "Al-Fatiha" stand for?
Click on Al-Fatiha and see who they follow.
The top spot (the first person they ever followed) is Majid Freeman, who works for them.
Some of his tweets follow:



Majid Freeman expresses support for top Al Qaeda terrorists Aafia Siddiqui and Anwar Al-Awlaki and "the rest of our prisoners in Guantanamo Bay".
Majid Freeman was with Henning when he was captured. He spoke at the memorial service for Henning. This is the kind of person Henning was working with.
Majid Freeman is now accused of supporting ISIS, the same people who killed his "friend".


Islamist extremists make a video pleading to ISIS to free their comrade Alan Henning.


One of the extremists above, Haitham al-Haddad, says apostates should be killed.
If these guys like you, there must be something wrong with you.
The jihadi thinker Abu Muhammad al-Maqdisi, who has inspired tens of thousands of jihadi killings, came to the defence of Alan Henning.
Henning was considering converting to Islam or may have already converted.
ISIS beheaded him anyway, in Oct 2014.
---
Canadian leftist
Amanda Lindhout
worked for Iranian state TV, spreading anti-American propaganda like the above.
She worked for an Islamic terrorist regime that helped to kill thousands of Americans in Iraq.
But none of that disgusting work stopped her being kidnapped by Somali jihadists and
repeatedly gang raped
by the sex pervert jihadis for more than a year.
---
Someone better:
Marc Gonsalves
, held hostage for 5 years by the communist terrorists FARC in Colombia, rescued July 2008.
And yet
he understands everything
. He understands the evil terrorist nature of FARC. He understands the heroism of his rescuers, the brave Colombian security forces.
How refreshing it is to see a freed hostage who talks with
moral clarity
.
See report
here
and
here
.
Search
for full copy.