Libya
Gaddafi's philosophy
is like a reading list of failed third world ideas: "Islamic Socialism" and pan-Arabism.
In reality, what Libya needs is democracy, capitalism and a free society.
---
Libyan dictator Gaddafi was Head of the
African Union
2009-10 (which shows exactly what the African Union is).
---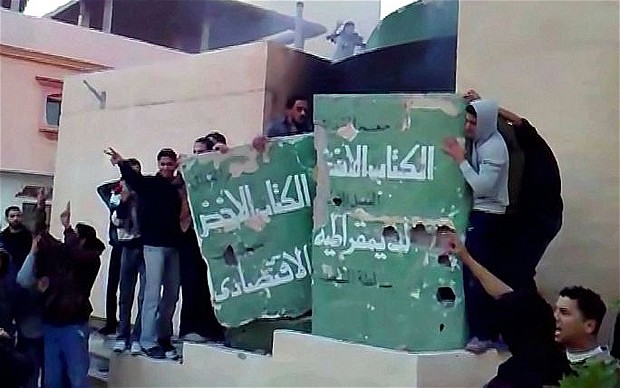 Rebels destroy a monument to Gaddafi's
"Green Book"
, Eastern Libya, Feb 2011.
Children were forced to study this ridiculous book in school every day.
From
crethiplethi.com
.
---
The mass murderer Muammar al-Gaddafi (also spelt Gadhafi or Qaddafi or Qadhafi), unelected dictator of Libya from 1969 to 2011, sponsor of international terrorism.

At the time of his fall in 2011, Gaddafi (in power since 1969) was the 2nd longest ruling tyrant on earth, after the Sultan of Brunei (1967). He was the longest ruling non-royal tyrant.
The "secular" Muammar Qaddafi calls for Islam to conquer the world, starting with Europe, which he predicts will be Islamic soon, in a 2006 speech full of religious fanaticism.
---
In the 1980s, Libya was a leading sponsor of international terrorism. Libya assisted the PLO, Abu Nidal, the IRA and left-wing terror groups in their attacks on western targets.

The killing of Gaddafi opponent Mohamed Mustafa Ramadan in London in 1980.
There were other killings of Gaddafi opponents round Europe in the 1980s.
Rome airport shooting 1981.
The killing of British policewoman Yvonne Fletcher in London in 1984.
The US bombing of Libya (1986)

The disgraceful, pro-PLO, pro-Arab dictator, Italian Prime Minister Bettino Craxi apparently tipped off Gaddafi about the bombing, saving his life and leaving him free to bomb Lockerbie.
Gaddafi claimed his "adopted daughter" was killed in the raid. However there is no proof of this. There are claims that a civilian girl was killed, who Gaddafi then "adopted" posthumously. It was also said that Hana was the name of the adopted daughter killed. However in Aug 2011 it was discovered that Hana Gaddafi is alive today (and here).
The confusion of the "adopted daughter" story illustrates wonderfully that Libya had no free press under Gaddafi. Because Libya had no free press, no one could find out if this story was true from 1986 to 2011. Any Libyan journalist investigating this story would have been jailed or killed.

Pan Am Flight 73 (1986).
---
The Lockerbie bombing, 1988
: Gaddafi murders 270 westerners.


Disgusting: The terrorist Gaddafi is allowed visit New York and speak at the UN, Sept 2009.
He is not attacked with a drone, or captured and put in Guantanamo.
In 1988 his regime bombed a flight to New York, killing 270 innocent men, women and children.
His victims included:
Flannigan, Joanne, age 10 years
Owen, Bryony Elise, 1 year
Owens, Laura Abigail, 8 years
Rattan, Anmol, 2 years
Rattan, Suruchi, 3 years
Roller, Edina, 5 years
Somerville, Lyndsey Ann, 10 years
Stevenson, Hannah Louise, 10 years
Stevenson, Rachael, 8 years
Stinnett, Stacey Leanne, 9 years
Thomas, Jonathan Ryan, 2 months
Williams, Brittany Leigh, 2 months
Williams, Stephanie Leigh, 1 year
Woods, Chelsea Marie, 10 months
Woods, Joe Nathan, Jr., 2 years

Speaking to the UN in Sept 2009. Shot by a mob in Oct 2011.
---
The UK and US had a rather shameful detente with Gaddafi in 2003-2011:

Dhimmitude on stilts. Libya kills 270 innocents in Britain, 1988. Britain helps train Libyan troops of the same regime, 2009. "The SAS has been ordered by the Government to train Libyan special forces despite the country having armed the IRA ... For the past six months Britain's elite troops have been schooling soldiers working for Col Muammar Gaddafi's regime, which for years provided Republican terrorists with the Semtex explosive, machine-guns and anti-aircraft missiles used against British troops during the Troubles in Northern Ireland." Disgusting. Perhaps the sickest thing New Labour has ever done.
Tony Allwright, 13 Sept 2009, asks: "Has Gordon Brown Become Anti-British?" On Brown's training of Libyan terrorists: "he has become a menace to the security of Britain and therefore the free world. The sooner the British people eject Prime Minister Brown the better for everyone."
Al Qaeda and Taliban linked jihadist Abdelhakim Belhadj was rendered to Libya in 2004. While I have no sympathy for any jihadist, rendering any prisoner to a tyranny is highly dubious.

Links between the London School of Economics (LSE) and Libya

Anthony Giddens (of the "Third Way"). See Giddens and Libya.
The Colonel And His Third Way, Anthony Giddens, 28 August 2006. He meets Gaddafi in Libya: "You usually get about half an hour when meeting a political leader. My conversation with Gaddafi lasts for more than three. Gaddafi is relaxed and he clearly enjoys intellectual conversation. ... Gaddafi is interested in the debates and policies involved in social democracy in Europe, which is the reason he has invited me. He likes the term "third way", because his own political philosophy, developed in the late 1960s, was a version of this idea. It has been written up in the form of The Green Book, authored by Gaddafi, on display almost everywhere in Libya. ... Our conversation is wide-ranging and "The Leader", as he is universally known in Libya, makes many intelligent and perceptive points." It goes on like this. He treats the dictator and butcher as if he is some interesting alternative form of democrat.

The US management consulting firm the Monitor Group was hired by Gaddafi to boost the image of his regime.

The Monitor Group organised "Libya in the Global Age", a "debate" held in Libya in 2007 with Gaddafi, Anthony Giddens, the broadcaster David Frost and Ben Barber (of "Jihad vs. McWorld").
David Frost's opening question to the unelected dictator since 1969 pretends that he runs some kind of "alternative" democracy, in which, oddly enough, no one else gets to be in charge: "Well, now let's turn to the leader, as he's known here in Libya, and ask first of all a historic question about direct democracy, which is obviously at the heart of your policies. Was the inspiration for that Athens and the Athenians, or did you get the idea somewhere else?"
And this panderer to dictators is meant to be the brave truth-teller of Frost/Nixon!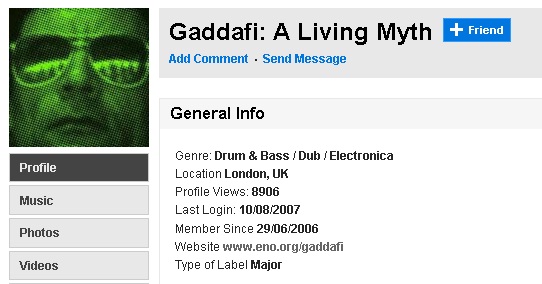 Qaddafi is humanised in the musical,
Gaddafi: A Living Myth
by
Asian Dub Foundation
(2006).
They describe the dictator as: "this captivating man", and say: "He was and is an immensely seductive person, who isn't really a fundamentalist, conservative or a socialist but is taken for all those things." Instead of stamping his boot on the Libyan people for 35 years, they say Qaddafi created "an idealistic revolution".
There is a long tradition of western intellectuals' admiration for foreign strongmen. Asian Dub Foundation are simply following in the shameful footsteps of Shaw, Francis Stuart, Salvador Dali, Bertolt Brecht, Pablo Neruda, Picasso, Peter Ustinov, Sartre and Foucault.
Asian Dub Foundation (of course) opposed the liberation of Iraq.
---
Sinn Fein and the IRA's support for tyranny. Libya armed the IRA in the 1980s.

Arab Countries and Yugoslavia by Liam O Ruairc - SFIRA's support for Gaddafi's Libya.

In 1976, An Phoblacht praised: "Gaddafi's attempt to put into concrete terms the dreams of man since the very beginning - to live in freedom, to have his destiny in his own hands, to be his own master and never again experience humiliation and servitude".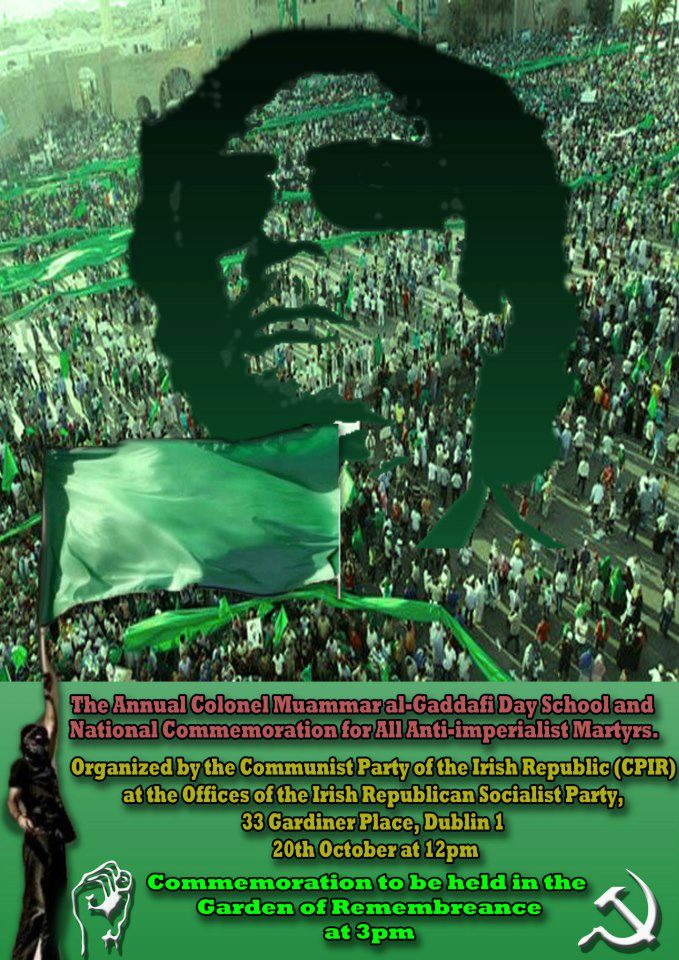 Irish socialist/republican fanatics mourn Gaddafi's death.
The newly-formed
Communist Party of the Irish Republic
and the terrorist group the
INLA
organise a "Colonel Muammar al-Gaddafi Day School" in Dublin in Oct 2012.
From
here
.
---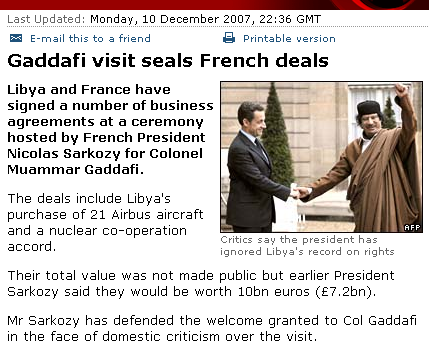 Sarkozy welcomes the blood-soaked dictator Gaddafi to France in
Dec 2007
.
In Mar 2011, Sarkozy started trying to kill Gaddafi. In Oct 2011 he and his allies did kill him.
Funny old world!


In 2011, Libyans were no longer afraid of this buffoon.
"Zenga Zenga", the Israeli parody of Gaddafi's ridiculous speech, which became a popular Libyan revolution song.
Girl from here.
---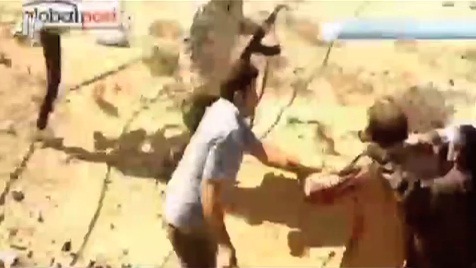 The brutal dictator Gaddafi is
captured
and killed by a mob in sordid scenes, Oct 2011.
It appears that he was attacked and
sodomized with a knife
before being shot.
He deserved to be executed for his crimes - but this is sadistic and disgusting.
It is ironic that Gaddafi was sodomized before death, since he himself was a sex pervert and rapist of young girls and boys.
---
Yes it was wonderful to see Gaddafi destroyed. To see that butcher of Americans and Britons
pay
for what he did.
But as for what comes next, the Arab world almost always lets us down. Will the new Libya be more, rather than less, free? Will it be less, rather than more, anti-Israel?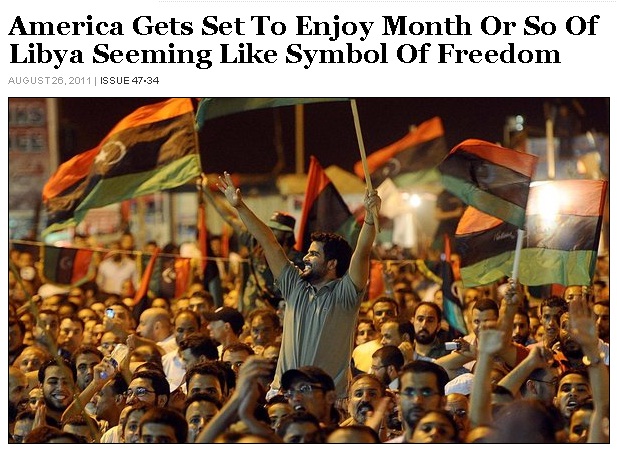 The Onion
, 26 Aug 2011, probably nails it:
"We've got a nice four weeks of thinking Libya represents a triumph of liberty before the situation begins to deteriorate and some new form of authoritarianism inevitably asserts itself. ... We should all enjoy this stirring image of Libya as a beacon of democracy before Islamists or a new military strongman moves in to fill the power vacuum."
---
No Jews in the new Libya:
A lone Libyan Jew returns to Libya after the revolution in 2011. (All
Libyan Jews
were expelled years ago.)
He dreams that the new Libya will be a place for all creeds. He attempts to restore Tripoli's old synagogue.
He meets with
death threats
and protests calling for him to be deported. The protesters carry signs reading:
"LIBYA FOR THE LIBYANS - NOT FOR THE JEWS"
and:
"THERE'S NO PLACE FOR JEWS IN LIBYA"
. They try to attack his hotel.
He gives up and leaves Libya again in sadness.
Nice to see the end of Gaddafi. Shame about the Libya that comes next.
Photo from
here
.
---
---


Welcome to the new Libya:
Muslim mob attacks and desecrates Commonwealth War Graves cemetery in Libya, Feb 2012.
This is Benghazi War Cemetery (a WW2 cemetery).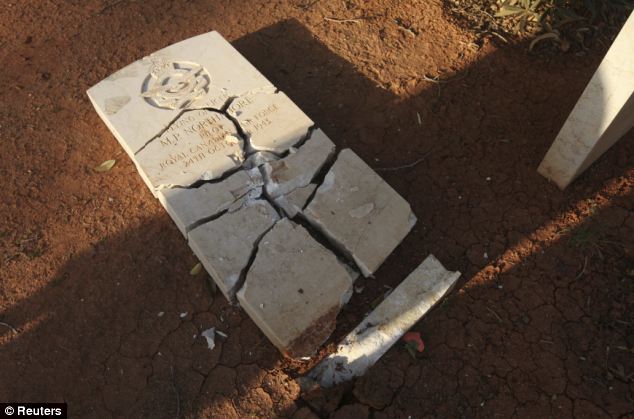 One smashed grave identifiable in the photos is that of Martin Palmer Northmore of the Royal Canadian Air Force (died 1943).
See 1943 poem in his honour written by his aunt: "Did Heaven's beam, among the stars that swing, Lead safely to a welcome, glowing hearth? Skies there are free from evil birds that prey; On lives so young and lovely in our sight".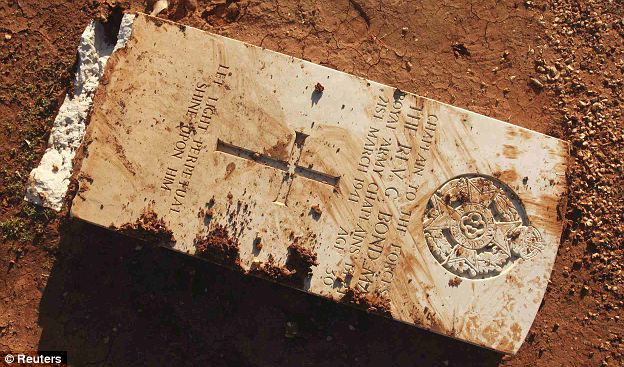 Another smashed grave is identifiable as that of Rev. Geoffrey Bond, Chaplain 4th Class (died 1941).
His father was killed in action in WWI in 1916.
The Islamic maniacs attacking these graves disgrace only themselves.
---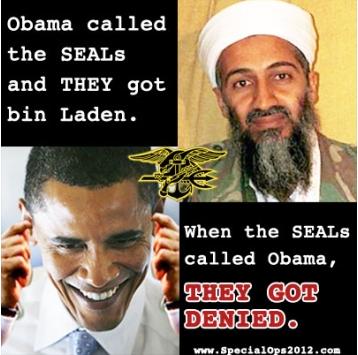 Why did the Benghazi staff not get air support?
From
Special Operations Speaks PAC
.


The movie 13 Hours: The Secret Soldiers of Benghazi (2016).
---
Libyan jihadi scum round up Christians in Benghazi, Libya, Feb 2013.
They are accused of "proselytizing" i.e. of being Christian.
The jihadis shave their heads and
kill one of them
.
---
"We consider ourselves comrades in arms. ... Your readiness to provide us with the facilities of forming an army of liberation indicated your commitment to the fight for peace and human rights in the world."
- Nelson Mandela, 1990, thanks Gaddafi for supporting the ANC. He absurdly claims that Gaddafi believes in "human rights".
"Libya's Revolution brought free health care and education to the people and subsidized housing. ... Now, as for democracy, .. Libyans govern themselves by The Green Book, a form of direct democracy based on the African Constitution concept that the people are the first and final source of all power. ... Muammar Qaddafi has long been a friend to African people. ... Mr. Qaddafi to this day continues to assist Black political organizations in an effort to keep people of African descent able to exercise their right of self-determination. ... The Hugo Chavez Foundation communiqué concludes: Long live Muammar Al-Qathafi! Long live the African Union! Long live Pan-Africanism! Solidarity with Blacks everywhere!"
- "Ghaddafi a Hero for African Rights and Liberation" by Cynthia McKinney,
March 27, 2011.

"How did it [the NTC] get its legitimacy? Did the Libyan people elect them? Did the Libyan people appoint them?"
- Hilarious quote by the unelected dictator Gaddafi, Oct 2011, questioning the legitimacy of the National Transitional Council (NTC) that overthrew him.
So now, after 42 years without elections, elections are suddenly important?
---