Religion - Islam - Islam and freedom of thought
Islam and freedom of thought
There is less freedom of thought, freedom of speech and freedom of religion in Islam than in any other religion.
Hopefully, in the next few decades, this will finally change.
The book
Muhammad: The "Banned" Images
(and
here
) (2009) shows the challenge of free speech to Islam this century.
The Internet and globalisation represent the first serious intellectual challenge Islam has ever faced in its history (because previously it killed or silenced all critics).
Belief in Islam will falter in this century once young Muslims hear, for the first time ever, alternative ideas while they are growing up.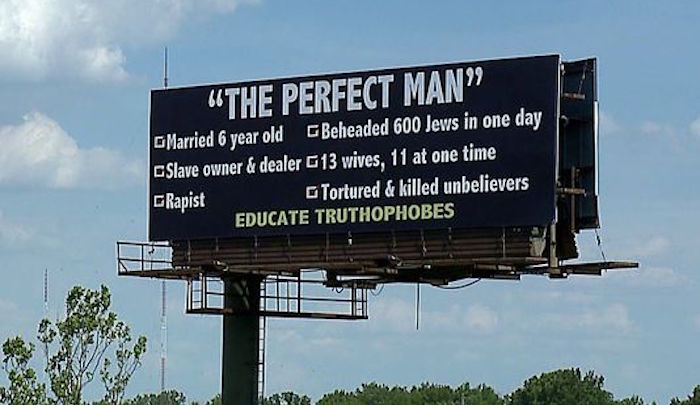 Welcome to the land of free speech: This billboard caused controversy when it was erected in Indianapolis in June 2017.
It is certainly rude about Muhammad, but is anything on it actually false?
Robert Spencer and Hugh Fitzgerald explain in detail why the statements are true, citing the Islamic texts.
In the modern world, these challenges to Islam will occur again and again, and they cannot just be whitewashed away.
---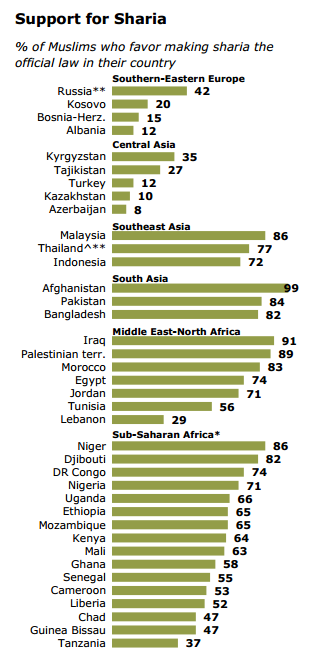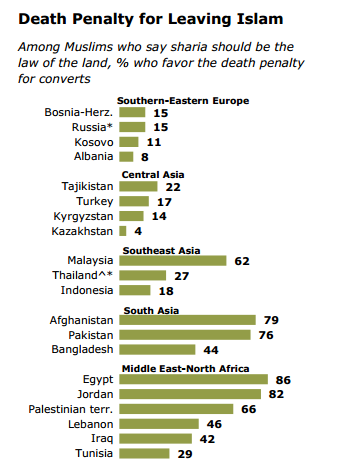 Muslims worldwide support
the death penalty for apostasy
.
Poll of 2012
, released Apr 2013.


Egyptian cleric Mazen Al-Sarsawi, Jan 2011, openly says that Muslims are not allowed to leave Islam.
From MEMRI. See transcript.
"God says that there is no coercion in Islam. One is free to be a believer or an infidel. That is the starting point, but is someone who converted to Islam allowed to change his mind? No, he is not. ... That is a completely different story. Someone who converted and got a taste of the perfection of Islam is not allowed to leave the fold of Islam whenever he feels like it."


Richard Dawkins, Jan 2008, nails the slippery British Muslim, Mohamed Mukadam, Chairman of the Association of Muslim Schools, on the penalty for apostasy in Islam.
He finally admits that it is death.


Yusuf Al-Qaradawi calls for the killing of apostates.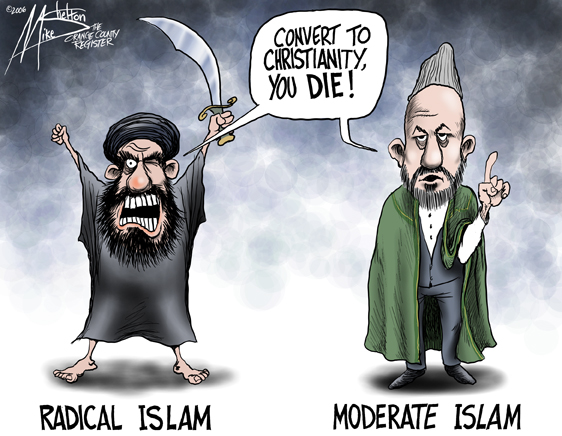 Cartoon by Mike Shelton.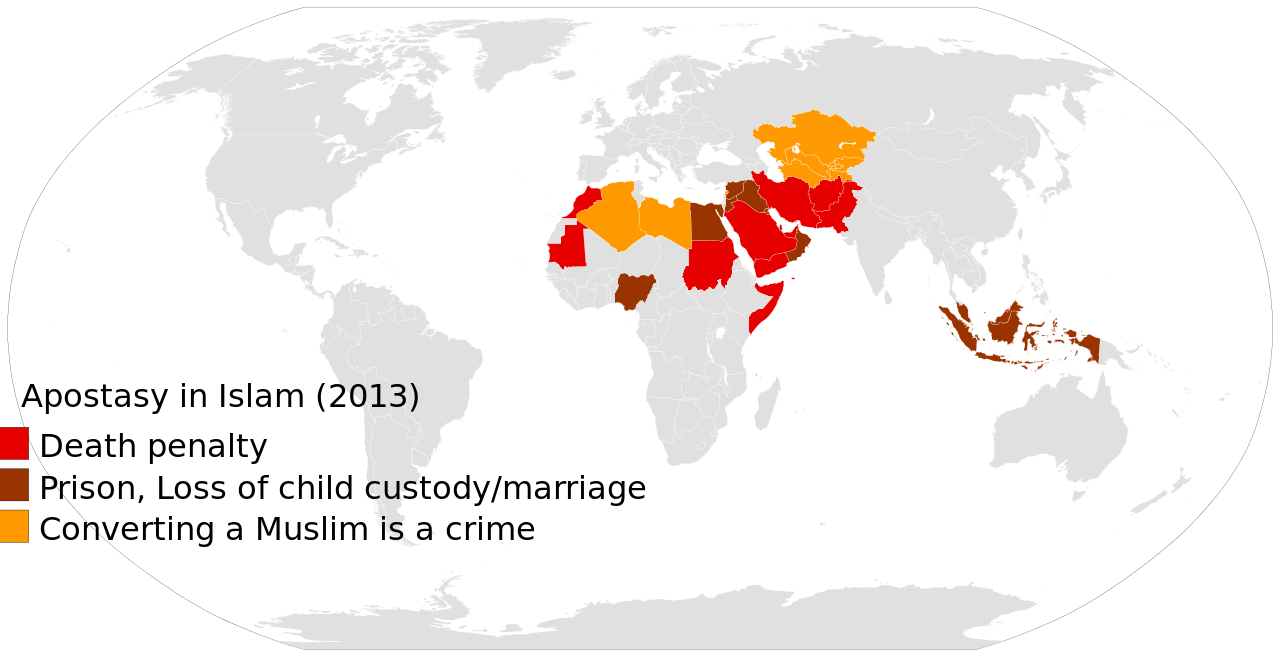 Apostasy laws in the Islamic world.
From here.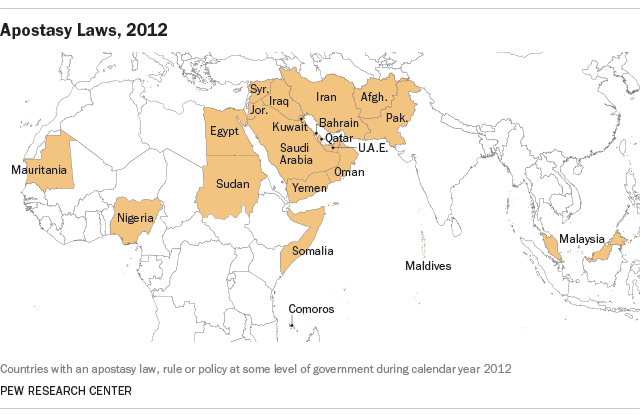 Apostasy laws in the Islamic world.
From here.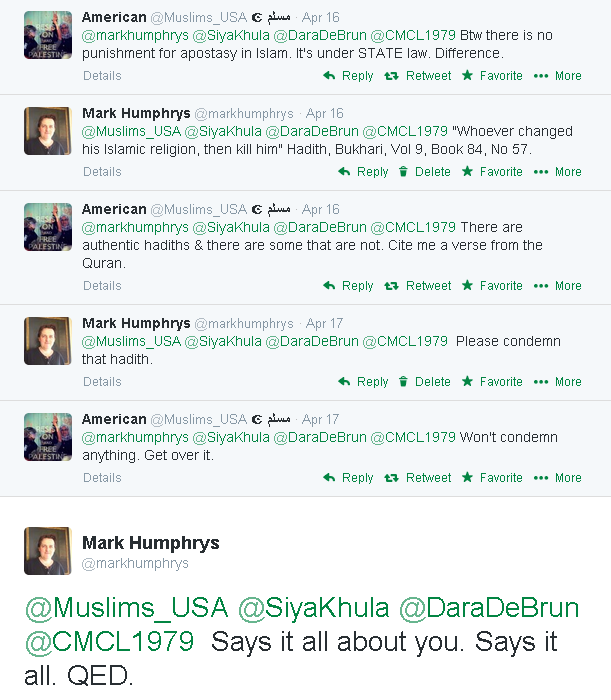 I try to get some "moderate" Muslims to condemn the hadith calling for death for apostates.
No luck: "Won't condemn anything. Get over it."
They then blocked me.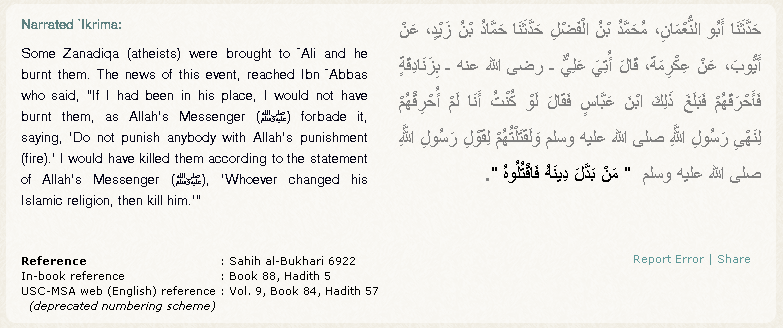 From the Hadith by Bukhari at sunnah.com, which re-numbers this as Book 88, Hadith 5.
---
Some Zanadiqa (atheists) were brought to 'Ali and he burnt them. The news of this event, reached Ibn 'Abbas who said, "If I had been in his place, I would not have burnt them, as Allah's Apostle forbade it, saying, 'Do not punish anybody with Allah's punishment (fire).' I would have killed them according to the statement of Allah's Apostle, 'Whoever changed his Islamic religion, then kill him.'"
-
The Hadith
,
Sahih al-Bukhari
,
Volume 9, Book 84, Number 57
. Search for
more
.
There was a fettered man beside Abu Muisa. Mu'adh asked, "Who is this (man)?" Abu Muisa said, "He was a Jew and became a Muslim and then reverted back to Judaism." Then Abu Muisa requested Mu'adh to sit down but Mu'adh said, "I will not sit down till he has been killed. This is the judgment of Allah and His Apostle (for such cases) and repeated it thrice. Then Abu Musa ordered that the man be killed, and he was killed.
- The Hadith, Sahih al-Bukhari, Volume 9, Book 84, Number 58.
Allah's Apostle said, "The blood of a Muslim who confesses that none has the right to be worshipped but Allah and that I am His Apostle, cannot be shed except in three cases: In Qisas for murder, a married person who commits illegal sexual intercourse and the one who reverts from Islam (apostate) and leaves the Muslims."
- The Hadith, Sahih al-Bukhari, Volume 9, Book 83, Number 17.
---
---
Taslima Nasrin (or Nasreen) (ex-Muslim, now atheist) from Bangladesh.
Her novel Shame (1993), in which a Hindu family is persecuted by Muslims, led to her first death threats from Muslim fanatics. The book was banned in Bangladesh, and a few states of India.
She had to flee Bangladesh in 1994 due to death threats by Muslim fanatics. She later had to leave India due to death threats by Muslim fanatics. She now lives in the West.
Taslima Nasrin attacked by
Muslim religious maniacs
in India in 2007.
---
Irshad Manji, the lesbian author of The Trouble with Islam.
[Moderate] Voices of Islam by Daniel Pipes, New York Post, September 23, 2003
Incidentally, she and her family are refugees from the racist mass murderer Idi Amin.
Her main point is that the Islamic world needs a Reformation like the Christian one that led ultimately to the Enlightenment, and that the Islamic Reformation must begin among Muslims in the West and spread from there. She calls on non-Muslims to support the reformation of Islam and not to be cowed by fear of being called racist.

Challenging Islam is risky by Irshad Manji

"But, for all of the threats, there's good news: I'm hearing more support, affection and even love from fellow Muslims than I thought possible. Two groups in particular - young Muslims and Muslim women - have flooded my Web site with letters of relief and thanks. They are relieved that somebody is saying out loud words they have only whispered, and grateful that they're being given the permission to think for themselves."
She thinks that "Muslims in the West ... are best poised to revive Islam's tradition of independent reasoning. Why in the West? Because it's here that we already enjoy the precious freedoms to think, express, challenge and be challenged - all without fear of state reprisal."
The primitive savages of "Sharia 4 Belgium" disrupt a talk by Irshad Manji in the Netherlands, Dec 2011.
Every member of "Sharia 4 Belgium" should be deported.
---
Wafa Sultan arrives on Al Jazeera, 21 Feb 2006.
---
Nonie Darwish (and here) of "Arabs for Israel"
- an Egyptian Muslim who converted to Christianity and became pro-Israel. She moved to America in 1978.

Her father was head of Egyptian military intelligence in Gaza and Sinai in the 1950s. He started a campaign of terror attacks on Israeli civilians for the thug dictator Nasser of Egypt. Israel assassinated her father in 1956.
We were brought up to hate - and we do - article on her upbringing in Egypt. "Sadly, the way I was raised was not unique. Hundreds of millions of other Muslims also have been raised with the same hatred of the West and Israel as a way to distract from the failings of their leaders. Things have not changed since I was a little girl in the 1950s."
She is great. She refers to "the Islamo-fascist president of Iran". Refreshing to hear that from an Arab Muslim woman.
And some lefties say "Islamo-fascist" is a "racist" term that we cannot use.
Interview: "I was born and raised as a Muslim in Cairo, Egypt and the Gaza Strip. I attended Gaza elementary schools where I learned hatred, vengeance and retaliation. Peace was never as an option; it was considered a sign of defeat and weakness. Those who wanted peace and compromise were called traitors. Jews were described as monsters, apes and pigs and the enemies of God from the pulpits of mosques. ... The teachers filled our hearts with fear of Jews, which made hatred come easy and terrorism tolerated. The propaganda of jihad, hatred and anti-Semitism was everywhere and not just in schools; it was in mosques, newspapers, movies, by politicians, in the arts and in many Jihadist songs over the radio."
"I moved to America in 1978 and was glad to leave the culture of jihad, dictatorships and police states behind."

The book Now They Call Me Infidel: Why I Renounced Jihad for America, Israel, and the War on Terror. (2007)
Alaa Alsaegh, an Iraqi Muslim immigrant to America who wrote a pro-Israel poem on Nonie Darwish's "Arabs for Israel" site, was attacked in Missouri in Aug 2011. Islamic fascists, who due to some appalling error were let into the United States, carved a Star of David on his back.
Nonie Darwish on
CBN
.
She makes the point that the global Islamic jihad has a dynamic of its own, and wars with free peoples because it
must
, not because of anything the free peoples have done.
"There's something every American must understand, after 9/11 especially. There is nothing that America has or has not done that causes terrorism."
---
Elisabeth Sabaditsch-Wolff (see YouTube) has lived in Iran, Iraq, Kuwait and Libya. She knows what she is talking about.
In October and November 2009, she held two seminars entitled "Basic Information on Islam". Referring to Muhammad marrying a 6 year old, and having sex with her when she was age 9, she said that Muhammad "was a warlord, he had many women, to put it like this, and liked to do it with children. ... in Al-Bukhari the thing with Aisha and child sex is written ... A 56-year-old and a six-year-old? What do you call that? Give me an example? What do we call it, if it is not paedophilia?"
Completely uncontroversial, one would think. A reasonable comment about a centuries-dead warlord and rapist, based on the accounts of his own followers. Should be legal to say this in every country on earth.
Even if what she said about the ancient dead warlord was completely made up, it should be legal to say anything you like about ancient dead warlords.

But shamefully for Austria, Elisabeth Sabaditsch-Wolff was convicted on 15 Feb 2011 of "denigration of the teachings of a legally recognized religion" - as if that should be illegal in any Enlightenment country!
She was fined. But the shame all belongs to Austria.
Judge Bettina Neubauer ruled that it is illegal in Austria to say or imply that Muhammad was a paedophile. Judge Bettina Neubauer (a woman!) was impressed by the fact that "He was still married to Aisha when she was 18." So she ruled that Muhammad was not a paedophile, and that the Austrian state should be able to force everyone by law to agree!

Elisabeth Sabaditsch-Wolff, 16 Feb 2011, on the judge's ruling: "The reasoning used in her judgment is despicable, and a slap in the face for every woman and girl, from every race, religion, or nationality. Marrying and molesting a child is not to be tolerated, not in the 6th century, not in the 16th century, and definitely not in the 21st century. One would expect a woman, let alone a judge, to know this."
Mark Steyn, 19 Feb 2011, says Judge Bettina Neubauer is giving a green light to paedophiles. "I mean, it's not like she'll be a child forever, right?"

Elisabeth Sabaditsch-Wolff loses appeal, Dec 2011, in a further bizarre ruling. Now the court says it is ok to say Muhammad had sex with a child, but it is not ok to "ridicule" Muhammad! They're making it up as they go along.
A New "Silent Night" Descends on Austria, Diana West, December 23, 2011. "Freedom of speech no longer exists in Austria ... It is wrong, according to the Austrian court, to look down on sex with children if the alleged perp, centuries ago, was the Islamic prophet. ... That the verdict .. actually imperils the most innocent and vulnerable among us - little girls whose molestation the courts have implicitly excused as a religious rite - only underscores the depravity of the Vienna high court."

Elisabeth Sabaditsch-Wolff's site: english.savefreespeech.org is now inactive (was active until mid 2018).
Elisabeth Sabaditsch-Wolff appealed her conviction to the European Court of Human Rights (ECHR) in 2012. I donated to her case.
Oct 2018: A day of shame for Europe: ECHR supports the Austrian court! The ECHR ruled (and search and search) that Austria was right to convict her for criticising Muhammad. Jesus Christ. What a dark and sinister day for Europe.

Bukhari's hadiths
, 9th century:
My prophet Muhammad married a 6 year old and had sex with a 9 year old. What a dude!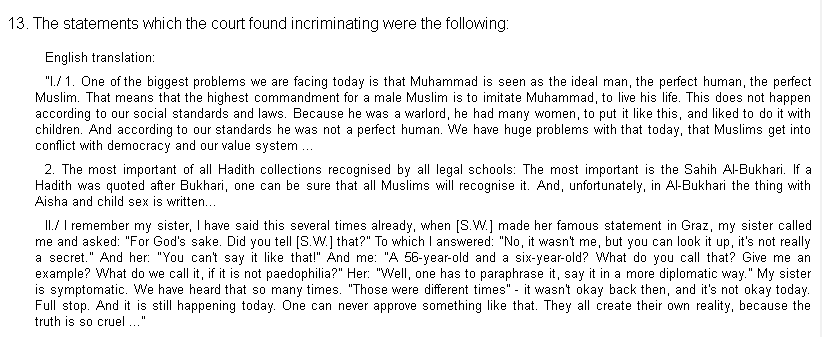 European Court of Human Rights, Oct 2018:
It should be illegal to say what Bukhari said but with a disapproving voice.
---
The heroically brave Ayaan Hirsi Ali (and search) (Muslim who became an atheist)

Muhammad's example (also here), Ayaan Hirsi Ali, August 2005. She calls on the west to help Muslims reform: "They know that Muhammad calls for the slaughter of infidels; they know that the open society rightly condemns the slaughter of innocents. They are caught in a mental cramp of cognitive dissonance and it is up to the west to support the reformers in trying to ease them out of that painful contradiction. ... The western cultural relativists, who flinch from criticising Muhammad for fear of offending Muslims, rob Muslims of an opportunity to review their own moral values. ... this attitude betrays Muslim reformers who desperately require the support - and even the physical protection - of their natural allies in the west."

Ayaan Hirsi Ali in New York, 2006.

The left-leaning liberals of PEN, Ron Chernow and Philip Gourevitch have extreme difficulty with the concept, the very existence, of Ayaan Hirsi Ali.
She defines herself as an ex-Muslim atheist.
She is so wonderfully optimistic: "Perhaps thinking of the Iraq war, Mr. Gourevitch suggested that a foreign Enlightenment can't be fast-tracked onto another culture. Ms. Ali replied smoothly that the Arab world has managed to borrow many things from the West, such as cars and clothing styles, so she saw no reason why they couldn't borrow values as well."
She understands the west, and the left, so well: "'My criticism of the West, especially of liberals, is that they do take freedom for granted,' Ms. Ali responded. She noted that Western Europeans born after World War II are unused to conflict. 'They have lost the instinct to recognize that there can be such a thing as an enemy or a threat to freedom'".

"Atheists will not help reform Islam"

Some people complain that because ex-Muslims like Ayaan are now atheists, they will play no role in the reform of Islam.
But this discounts what happened with Christianity. It was the pressure from years of ex-Christian and semi-Christian deists, agnostics, atheists, dissenters, and freethinkers of all sorts, that made Christianity liberal and tolerant, almost as much as any liberal movement within orthodox Christianity. Christians did listen to ex-Christians and lapsed Christians, and did change their actions in response. So that today Christians have a firm belief in freedom of religion whereas once they opposed it.
So the ex-Muslims, if they are allowed to speak (and live), will have a major role to play in forging a more tolerant Islam that we all hope to see.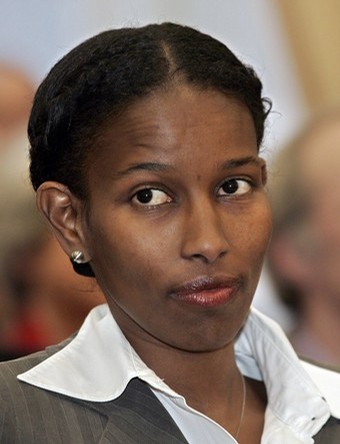 "The western cultural relativists, who flinch from criticising Muhammad for fear of offending Muslims, rob Muslims of an opportunity to review their own moral values. ... this attitude betrays Muslim reformers who desperately require the support - and even the physical protection - of their natural allies in the west."
- Ayaan Hirsi Ali.

Protesters against Ayaan Hirsi Ali, Seattle, Sept 2010.
On the one hand, someone who believes in and champions the Western Enlightenment. On the other, third world religious nuts from the 7th century AD. Oh, it's so hard to choose.
Critics of Ayaan Hirsi Ali
It is true that Ayaan Hirsi Ali has used language I would not use. But she is basically a western secular liberal, not a would-be totalitarian. See what you make of the following.
---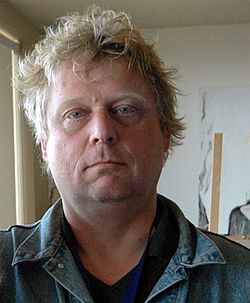 Theo van Gogh
was murdered by the jihad in 2004.


The film Submission, written by Ayaan Hirsi Ali.
---
"Fitna", a short film criticizing the Quran, Mar 2008.
Search for the movie:

Fitna is not a bad film, but it muddies the waters, as Wilders does, by presenting this as a war with all of Islam. I deny this. The situation is not as hopeless and desperate as that. Only Islamism has to be defeated, not all of Islam.

Wikileaks hosted the film and, in an early sign of their crap politics, insisted on bundling it with an ignorant, pathetic Saudi Muslim reply called "Schism".

Taliban kill Dutch troops in response to Fitna: "The Taliban were so offended that Wilders linked Islam to violence, that they killed two Dutch troops over it. Proving definitively that Islam is in no way, shape or form an inspiration for violent actions."

Sam Harris: "The problem is not, as is often alleged, that governments cannot afford to protect every person who speaks out against Muslim intolerance. The problem is that so few people do speak out. If there were ten thousand Ayaan Hirsi Ali's, the risk to each would be radically reduced. ... The lesson we should draw from the Fitna controversy is that we need more criticism of Islam, not less. Let it come down in such torrents that not even the most deluded Islamist could conceive of containing it. As Ibn Warraq .. said in response to recent events: 'It is perverse for the western media to lament the lack of an Islamic reformation and willfully ignore works such as Wilders' film, Fitna. How do they think reformation will come about if not with criticism?' "
Oliver Kamm: "Wilders's populist and nativist politics are exactly opposed to my own views, and entirely beside the point. ... Mockery and denunciation of what others hold literally sacred will inevitably cause anguish and outrage. And faced with mental suffering on the part of some of its citizens, a free society must do nothing at all. No one is entitled to restitution for hurt feelings: not now; not ever."

Another Wilders film: Islam Rising (2010). See YouTube search.

I don't agree with Wilders. But making his speech
illegal
? That is sharia.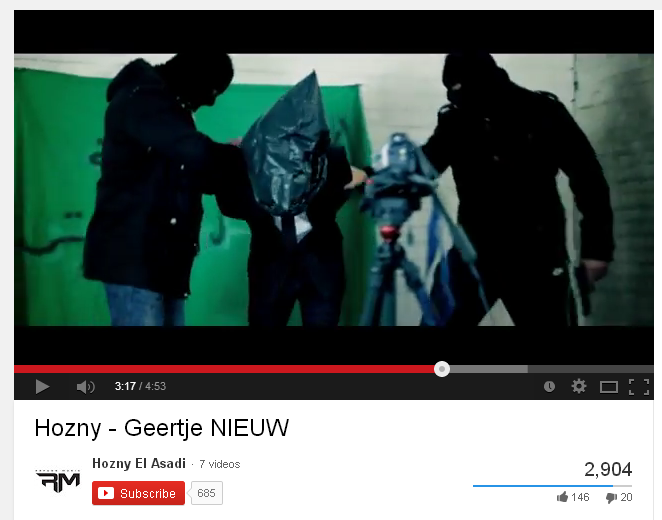 Lebanese-Dutch Islamist rapper Hozny El Asadi makes a video depicting the jihadist execution of Geert Wilders.
Typical of how Islam deals with its critics.
El Asadi should be arrested, stripped of citizenship and deported to the Lebanon.


2015 video by Wilders about the Muhammad cartoons.
Islam needs to grow up and accept this kind of thing. It will be a better religion when it does.


Trailer for Can't We Talk About This? (2017).
Full movie on Vimeo.
---
"There are people who claim that democracy is incompatible with Islam. But the truth is that democracies, by definition, make a place for people of religious belief. America is one of the most -- is one of the world's leading democracies, and we're also one of the most religious nations in the world. More than three-quarters of our citizens believe in a higher power. Millions worship every week and pray every day. And they do so without fear of reprisal from the state. In our democracy, we would never punish a person for owning a Koran. We would never issue a death sentence to someone for converting to Islam. Democracy does not threaten Islam or any religion. Democracy is the only system of government that guarantees their protection."
- Speech by President George W. Bush in Egypt, May 2008.
"What is needed from the supporters of this very confident faith is more self-criticism and less self-pity and self-righteousness."
- Christopher Hitchens sums up the problem with Islam.
---