South Africa
Yes, it was entirely wrong for South Africa to deny the vote and human rights on grounds of race. No argument there. But that does not mean we have to worship Nelson Mandela and the ANC.
Those who struggled against apartheid in South Africa turned out to be democrats. However, as the left has so often done, they supported foreign totalitarians - notably in this case Cuba, Libya, Zimbabwe and the Palestinians.
I criticise the violent revolutionaries Mandela and the ANC here. But they are not all bad. Like the equally violent Irish revolutionaries of 1916-23, they basically believed in democracy. They now run a real democracy in South Africa - with elections and freedom of opposition. South Africa is in fact one of the few free countries in Africa. Mandela and the ANC are to be commended for this.
But we should not canonise Mandela, or ignore his dictator-friendly foreign policy, or forget the ANC's darker side (such as bombings). He is a very flawed figure.
Winnie Mandela, Nelson Mandela and Joe Slovo at
South African Communist Party
rally, Soweto, 29 July 1990.
Mandela stands in front of the symbol of a country that oppressed
a hundred times worse than South Africa
.
To his credit, Mandela was not a totalitarian himself. But he praised and supported totalitarians.
Image from
africamediaonline.com
. See
another shot
.
See also
Getty Images
.
When Mandela died in Dec 2013, the Scotland branch of the Communist Party of Britain posted the above image
approvingly
on
twitter
and their
site
.
---
Whenever I am told I must worship someone - like
Jesus, Moses, Muhammed, Gandhi, Mandela, or the Irish revolutionaries
- my hackles rise. Too often these people turn out to have feet of clay, have done some terrible things, and have appalling opinions on some issues.
This is so true with Nelson Mandela. Yes, he was a great man in many ways. He was a rare revolutionary who actually wanted to set up a democracy. He was genuinely oppressed, yet had no desire to oppress others when he emerged. He spent decades in jail, yet came out with forgiveness and the desire to set up a liberal democracy. Mandela is the best African leader we have yet seen, I would agree.
If he wasn't worshipped so much by everyone, I would probably like him more. But the hero worship makes me want to write about the bad things about Mandela. And there are many. Everyone has flaws. And Mandela certainly does.
History of South Africa (Europeans arrived 1652)
Apartheid era (1948 to 1994)

The ANC promoted communism:

The ANC were pro-Soviet. They supported the Soviet invasion of Hungary in 1956. They supported the Soviet invasion of Czechoslovakia in 1968.
The ANC had links with the East German Stasi, who trained them in interrogation of "spies".
The ANC has long been in a formal alliance with the South African Communist Party (SACP).
In power, the ANC have not set up a communist state, but there is not much economic freedom under their rule.
As at 2013, South Africa is ranked in economic freedom by the Heritage Foundation as only "Moderately Free" (and close to "Mostly Unfree").

Mandela was a Communist Party leader:

South African Communist Party statement on Mandela's death, Dec 2013: "At his arrest in August 1962, Nelson Mandela was not only a member of the then underground South African Communist Party, but was also a member of our Party's Central Committee. ... After his release from prison in 1990, [Mandela] became a great and close friend of the communists till his last days."
ANC statement, Dec 2013, says Mandela "was also a member of the South African Communist Party, where he served in the Central Committee."
2012 article shows that Mandela lied about being a Communist Party leader for decades. He probably lied about many other things.

Mandela's 2nd wife Winnie Mandela supported "necklacing" and terror.
Mandela's 3rd wife Graça Machel is the widow of Mozambique's communist dictator, Samora Machel.

Mandela's autobiography Long Walk to Freedom (1995).
---
Mandela wanted his own people (black South Africans) to be free. It is less clear that he supported freedom for anyone else - even other Africans. He had a long record of supporting many tyrants and dictators.
At different times, Mandela praised and defended Lenin, Stalin, Castro, Che, Gaddafi, Mugabe, Arafat and even Islamic Iran.
Mandela with the dictator Castro, who stamped out Cuban human rights for decades.
And
search
.
It seems that Mandela, like many other flawed figures, was ultimately not against the oppression of all human beings. He was only against the oppression of
his people
.


Mandela with the dictator Gaddafi, who stamped out Libyan human rights for decades.
And search.
Mandela set up a democracy in South Africa, and for that he should be commended.
But did he ever call for democracy and human rights for Cuba and Libya? If so, tell me here.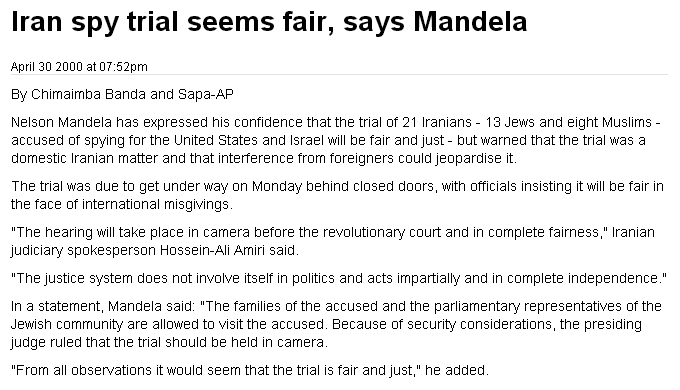 Iran put 13 Jews on trial for "spying" in 2000.
Incredibly, Mandela defended Iran. The above is from here.
The Daily Telegraph, 18 May 2000, reported that: "Mandela ... said foreigners should not interfere in the espionage trial ... He said then: "From all observations, it would seem that the trial is fair and just." It was, he added, a purely domestic matter."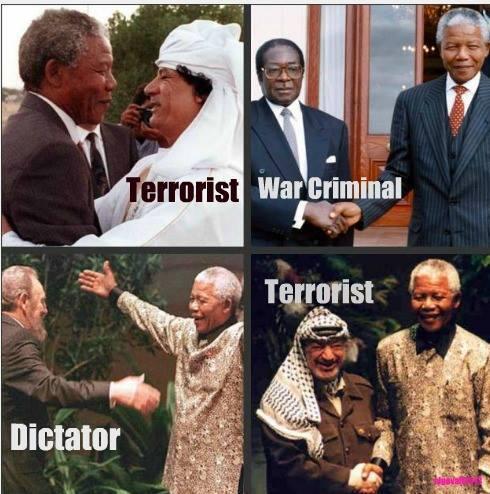 Mandela's love for human rights abusers.
---
Mandela was furiously opposed to the Iraq War of 2003. He said some very dodgy things about how the world should work.
Newsweek
,
2 July 1990
, exposes Mandela's disgusting politics.
He has "no time" to be looking into human rights in Cuba and Libya.
I also love the way only "conservatives" could be disturbed by his support for Gaddafi and Castro, and only "Jews" could be disturbed by his support for Arafat.
Mandela was granted the
Freedom of Dublin
in 1988.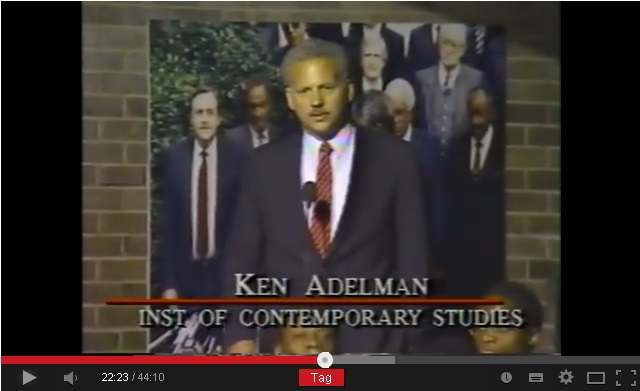 Video (click to play) of Mandela on the 1990 Ted Koppel show described by Newsweek above.
Here (in front of an annoying crowd of fanatic Mandela worshippers who applaud everything Mandela says) Ken Adelman and Henry Siegman take him to task for his support for Arafat, the PLO, Gaddafi and Castro.
Mandela's response is pathetic. He proudly defends his support for the tyrants who have helped him in his struggle. He clearly doesn't give a toss for human rights under their rule. "We have no time to be looking into the internal affairs of other countries".
And this from a man who claimed the whole world should look into the internal affairs of South Africa!
Siegman condemns Mandela's "amorality".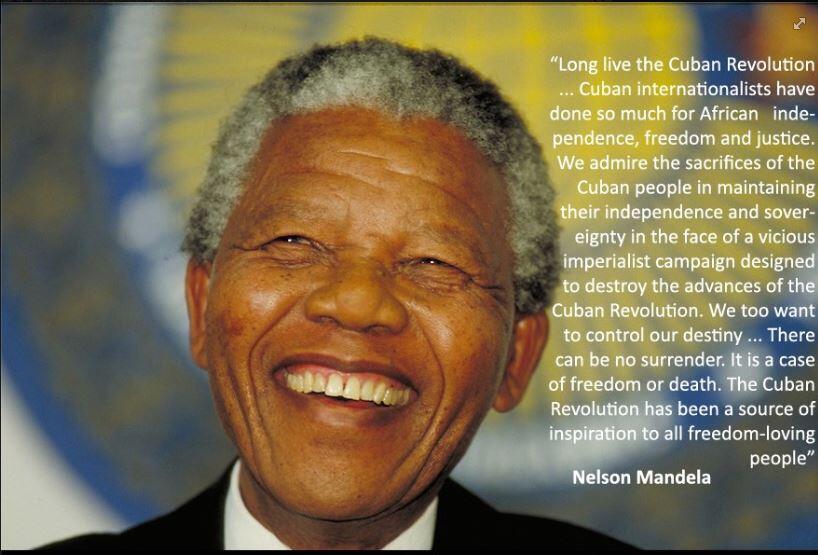 Mandela loved tyranny.
---
The
Trial of Mandela
in 1963-64 (see
trial documents
) produced a document hand-written by Mandela before his arrest in 1962, called
How To Be A Good Communist
.
The above is from
Exhibits R Rivonia
.
Note other communist material.



The above is from Evidence of Alan Paton, 12 June 1964.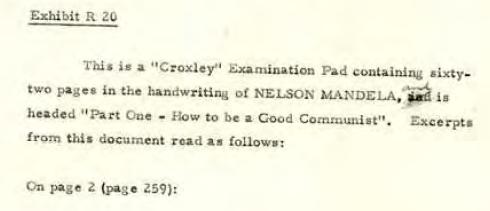 The trial section "A factual analysis of the documentary exhibits handed in"

has (on pp.118-120) extracts from How To Be A Good Communist, hand-written by Mandela.
The site rhodesia.nl carries what seems to be the full text of How To Be A Good Communist by Nelson Mandela. This agrees with the extracts at the trial.
This shows the document to be (sometimes closely, sometimes loosely) based on the Stalinist text How to Be a Good Communist (1939) by Chinese revolutionary (later Mao's head of state) Liu Shaoqi.
There are some additions on South Africa. Mandela seems to be paraphrasing Liu Shaoqi and adding some of his own material.
From the document: "A Communist is a member of the Communist Party who understands and accepts the theory and practice of Marxism-Leninism as explained by Marx, Engels, Lenin and Stalin ... Under a Communist Party Government South Africa will become a land of milk and honey. ... The victory of Socialism in the U.S.S.R., in the Peoples Republic of China, in Bulgaria, Czechoslovakia, Hungary, Poland and Rumania, where the living conditions of the people were in many respects similar and even worse than ours, proves that we too can achieve this important goal. ... The cause of Communism is the greatest cause in the history of mankind".

From the document "Dialectical Materialism", hand-written by Mandela, presented at the trial above.
In power in the 1990s, Mandela was not a communist. He was a democrat. But like so many leftists, he praised and supported communists.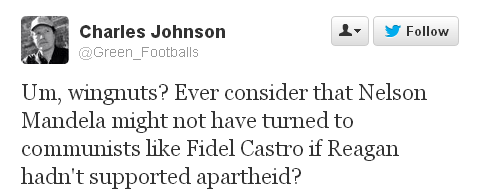 I was looking for a place to post this ludicrous tweet by leftist Charles Johnson, 6 Dec 2013.
This is obviously the place.
Mandela was on the Central Committee of the South African Communist Party in 1962 because of ... Ronald Reagan!
---
---
Mandela dies, and it is treated like the death of God.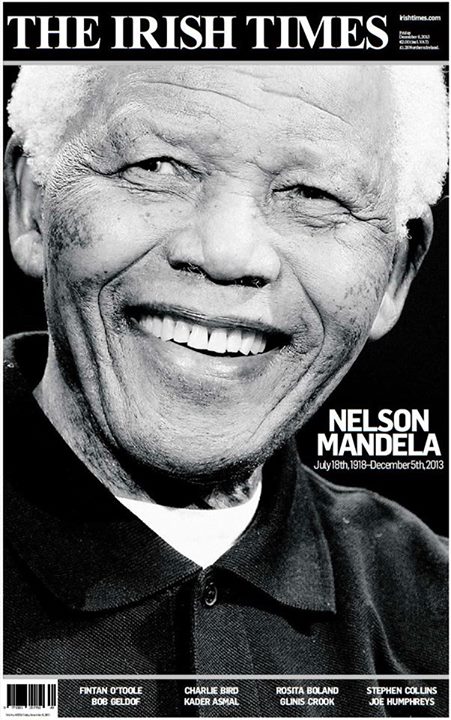 Irish Times
front page, Fri 6 Dec 2013.
From
here
.
Day after day of the Irish Times and RTE and BBC worshipping Mandela.
No scepticism. None at all.
---
Mandela left a legacy of
forgiveness
. But he certainly did not leave a legacy of success in government. Westerners ignore this because they don't have to live in South Africa.
Mandela was President of South Africa from 1994 to 1999. Under Mandela, unemployment doubled. GDP per capita was stagnant. Life expectancy fell badly. Mandela was clearly a failure as President.

Nelson Mandela did not bring prosperity to South Africa:
Mandela was President of South Africa from 1994 to 1999.
The above shows the stagnant South African GDP per capita (in 1990 dollars) over that period.
Stats from
Angus Maddison
.


The rapid rise in Irish GDP per capita (in 1990 dollars) over that period.
Ireland obviously had better leaders than South Africa in this period.
Stats from Angus Maddison.


Unemployment in South Africa.
From 2007 paper.
Unemployment was 13 percent when Mandela took over in 1994.
Under Mandela, it rose to 25 percent (and soon 30 percent).
It has stayed around that level. Today it is 26 percent.
A pathetic performance by Mandela.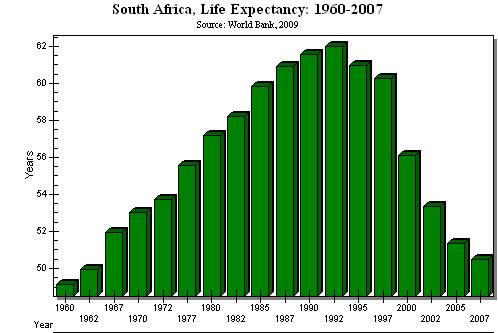 Life expectancy in South Africa.
From here. Stats here.
Steady growth through the apartheid era.
Life expectancy under apartheid in 1990: 62 years.
By the time Mandela left office, life expectancy had declined to 55 years.
Life expectancy under the ANC today: 51 years.
Another shocking failure by Mandela.
---
Tutu is known as a hero of the struggle against apartheid. But he also had a hatred of Israel that bordered on antisemitism.

Articles:

Terminate Archbishop Tutu as a Holocaust Patron. Lengthy petition about Tutu's hatred of Israel and questionable remarks about Jews.

Disappearance of Bishop Tutu, Simon Deng, Nov 17, 2007.

Simon Deng, a black African who was held as a slave by Arab Islamists in Sudan, defends Israel against Tutu's attacks. "The State of Israel is not an apartheid state. I know because I write this from Jerusalem where I have seen Arab mothers peacefully strolling with their families - even though I also drove on Israeli roads protected by walls and fences from Arab bullets and stones. I know Arabs go to Israeli schools, and get the best medical care in the world. I know they vote and have elected representatives to the Israeli Parliament. ... None of this was true for blacks under Apartheid in Tutu's South Africa. I also know countries that do deserve the apartheid label: My country, Sudan, is on the top of the list, but so are Iran, Saudi Arabia and Egypt. What has happened to my people in Sudan is a thousand times worse than Apartheid in South Africa. And no matter how the Palestinians suffer, they suffer nothing compared to my people. Nothing. And most of the suffering is the fault of their leaders. Bishop Tutu, I see black Jews walking down the street here in Jerusalem. Black like us, free and proud."

When Tutu retired, Oct 2010, TIME magazine absurdly described him as "the world's moral compass". See cover.
---
Other people
Kader Asmal

Kader Asmal, in Phoenix, 21 May 2010, calls Israel, the freest country in the Middle East, an "apartheid" state. He says Israel is to blame for the breakdown in the peace process. He calls for a boycott and sanctions against Israel.
Kader Asmal made contact with the IRA to help train ANC fighters in the 1970s and 1980s. This was revealed in Aug 2011. He made contact with the IRA to help the ANC bomb South Africa in 1980.
---
Freedom House still ranks South Africa as
"Free"
, and this is to be praised. But there are worrying tendencies.
Freedom House ranks South Africa's press as "Partly Free" (though very close to "Free").
South Africa is ranked in economic freedom by the Heritage Foundation as only "Moderately Free" (and close to "Mostly Unfree").
Elections are very lop-sided (ANC gets 66 percent of the vote, next party gets 17 percent) and this is not healthy.

Rape in South Africa. South Africa has more rapes than almost anywhere in the world. South Africa has more child rape than almost anywhere in the world.

Crime and murder

South Africa has 16,000 murders per year. That's perhaps 300,000 murders since the ANC took over.
South Africa's murder rate is 32 per 100,000 per year. One of the worst in the world. (Though not the worst in Africa.) The US murder rate is only 5 per 100,000 per year. Ireland's murder rate is only 1 per 100,000 per year.

Black on white murder:

There has been a worrying level of black on white murder since the end of apartheid.
South African farm attacks. Maybe 3,000 white farmers killed since the ANC took over.
Farmitracker documents attacks on white farmers.
White flight (2008 article). It is estimated that 20 percent of whites left South Africa in 1995-2008.

There are some terrible black-on-white murders:

The killing of the Viana family in a home invasion. Their child is drowned in a bath.
Carjackers force a mother to watch her 1 year old baby being executed. They rape and kill her.
Of course, there are evil murderers of all races all over the world. But one wonders, based not on anecdote but on the stats above, if there is a racist element to a lot of crime against whites in South Africa.
For balance, if you know of any similar brutal crimes by whites against blacks in South Africa since 1994, tell me here.
There is one counter-argument: If it is true that about 3,000 whites and 300,000 blacks have been murdered since 1994, and whites are about 10 percent of the population, then in fact blacks are being murdered at a much higher rate than whites. So there could be something to the claim that everyone is suffering, not just whites.

The white South African minority:
| | | | | | | | | | | | |
| --- | --- | --- | --- | --- | --- | --- | --- | --- | --- | --- | --- |
| Year | 1960 | 1965 | 1970 | 1975 | 1980 | 1985 | 1990 | 1995 | 2000 | 2005 | 2008 |
| GDP per capita (in 1990 dollars) | 3,041 | 3,559 | 4,045 | 4,271 | 4,390 | 4,006 | 3,834 | 3,646 | 3,890 | 4,316 | 4,793 |
South African GDP per capita (in 1990 dollars).
You could read many things into this. Apartheid doesn't come out of it too well. Neither does ending apartheid.
Stats from
Angus Maddison
.
| | | | | | | | | | | | |
| --- | --- | --- | --- | --- | --- | --- | --- | --- | --- | --- | --- |
| Year | 1960 | 1965 | 1970 | 1975 | 1980 | 1985 | 1990 | 1995 | 2000 | 2005 | 2008 |
| GDP per capita (in 1990 dollars) | 4,282 | 5,051 | 6,199 | 7,316 | 8,541 | 9,306 | 11,818 | 14,389 | 21,551 | 26,643 | 27,898 |
Irish GDP per capita (in 1990 dollars) over the same period.
---
Because it was whites-only, South Africa's
democratic tradition of 1910 to 1994
never gets any credit. But maybe it should get some credit. It is the reason South Africa is a democracy today.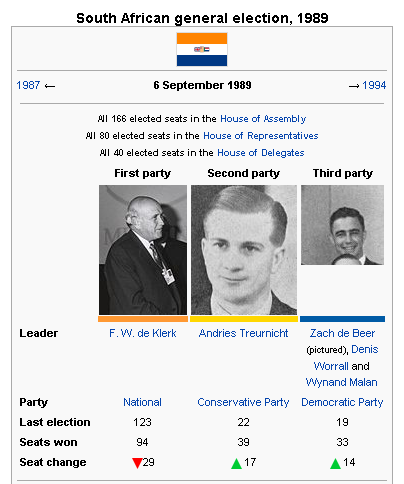 South African general election, 1989
, the last election under apartheid.
On the one hand:
Only whites have a vote. (Population 35 million. 2.2 million votes.) No liberal can defend this.
This flawed election is comparable perhaps to something like the 1865 UK election before the Reform Act. (Population 30 million. 850,000 votes.)
From a western democratic viewpoint, such a restricted election in the late 20th century is outrageous.
On the other hand:
South Africa was a democracy for whites, and had regular elections since 1910. This is often overlooked. Yes of course whites-only elections are offensive, but much of Africa had no elections at all. This South African democratic tradition is not nothing.
The whites actually voted in 1989 to continue the process of reforming and ending apartheid. They freely voted for De Klerk to carry on. They voted to end their own privilege.
South Africa's long democratic tradition is basically the reason it is democratic today.
Consider this. How come South Africa and its neighbours form the only large area of democracy in Africa today? It is obviously the influence of European ideas, that Mandela was smart enough to admire and reform.
---
Present day
---
"It's a tragedy what is happening, what Bush is doing. All Bush wants is Iraqi oil. There is no doubt that the U.S. is behaving badly. Why are they not seeking to confiscate weapons of mass destruction from their ally Israel? This is just an excuse to get Iraq's oil. ... Bush is now undermining the United Nations. He is acting outside it ... Both Bush, as well as Tony Blair, are undermining an idea which was sponsored by their predecessors. They do not care. Is it because the secretary-general of the United Nations is now a black man? They never did that when secretary-generals were white. ... If there is a country that has committed unspeakable atrocities in the world, it is the United States of America. They don't care for human beings. Fifty-seven years ago, when Japan was retreating on all fronts, they decided to drop the atom bomb in Hiroshima and Nagasaki; killed a lot of innocent people, who are still suffering the effects of those bombs. ... Because they are so arrogant, they decided to kill innocent people in Japan, who are still suffering from that. Who are they, now, to pretend that they are the policemen of the world? To want to decide for the people in Iraq what they should do with their government and with their leadership? ... What I am condemning is that one power, with a president who has no foresight, who cannot think properly, is now wanting to plunge the world into a holocaust. ... The people of the U.S. should use their democracy to get rid of him."
- Nelson Mandela, International Women's Forum Conference, January 30, 2003 (shortly before Bush's invasion of Iraq to depose Saddam).
Where do you start with such rubbish? Nonsense from start to end.
I admire him in some ways, but in other ways Nelson Mandela's opinions are appalling and idiotic.
---