The mind of the left - The continued appeal of socialism and totalitarianism to the young
What is
wrong
with us that we are attracted to leftism when we are young?
Stanley Kurtz describes the leftist mind I know so well in Ireland. Defending democracy and opposing tyranny "is just too obvious - too embarrassing" for the sophisticated modern mind. The young modern leftist prefers to feel that only he understands the true state of the world - that the rest of the population is too "stupid" to see it.
The ordinary people don't agree with him because they have their consent "manufactured" by the media - they do not think for themselves - but the leftist does. He can see beyond the propaganda and realise that the poverty, famine and tyranny in the world is caused by the West (rather than, for example, by the moronic ideas of the non-western world). Concepts like "The Free World" are the absurd and simple-minded propaganda of ignorant Americans who do not understand the world. The ordinary people deal in concepts like "good" and "evil". - Our leftist sophisticate understands how simplistic such ideas are, and how genocidal police states are just another culture, and not to be regarded simplistically as "inferior".
The leftist liberates himself from the ideas of the "stupid" people around him, and feels vastly superior to them. In the extreme case he will quite literally end up defending tyranny and opposing democracy.
The ordinary people have no irony. They just say flat out that America is "superior" to some illiterate Islamic theocracy, or some famine-wracked totalitarian gulag state. The leftist thinks they have never thought about it. In reality, they are grown-ups who understand all too well how the world works. The leftist understands nothing except the coffee-house world of safe, sheltered, protected, rich people.
Could this sum up why young people want to smash everything that is working perfectly fine, in favour of untried systems that won't work?
Graffiti on a wall in a wealthy area of Glasgow.
Photo by
JJ Gilmour
. Other views of the same wall
here
and
here
.
Note the defacement of a beautiful old wall. Destruction of irreplaceable ancient beauty and heritage has been a main feature of modern socialism.
Harry's Place
:
"Of course the fools who believe this fail to grasp that for most ordinary people, the problem with capitalism isn't that it's boring; rather, it's not boring enough."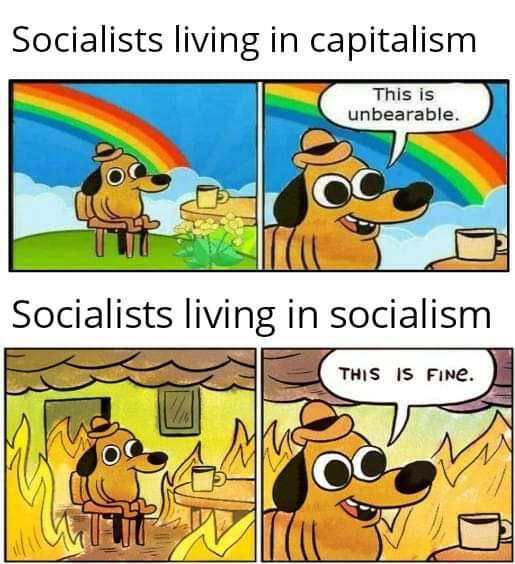 The dream of revolution.
From here.
---
The mind of the left

From
bureaucrash.com
(and
search
).
Che Guevara
was, of course, a fighter for
tyranny
, not freedom.
He fought
against
human rights, not for them.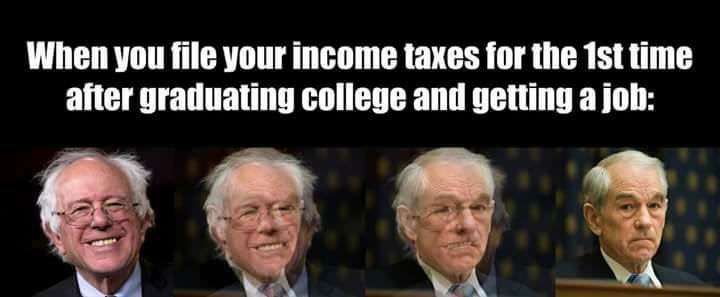 Having to pay tax is a big reason why people stop voting left-wing and never go back.
Meme shows the person changing from Bernie Sanders to Ron Paul.
---
The New Anti-Semitism? by Rob Foot - After losing the Cold War, a negative anti-Americanism has become the core value of the left, instead of something I could subscribe to, such as a positive liberal internationalism.

"The Twentieth Century was the site of the battleground of socialism and capitalism. Towards the end of the century, capitalism won. Its victory was unexpected, and unexpectedly swift, but near-total and unqualified." And the left has not been able to handle it. "The collapse of the Soviet empire, and the tearing-down of the Berlin Wall by its erstwhile prisoners, signalled the end of the socialist enterprise. Its story ended there and then, but it was a hard ending. ... This is the font and source of the Left's rage and hate."

A genealogy of anti-Americanism by James W. Ceaser
Why do people hate America? - Frontpage Symposium
Anti-Americanism is sometimes pro-tyrant, pro-fascist, sometimes anti-fascist - It has no consistency. It does not stand for anything. It is "entirely inconsistent and unpredictable in its choice of friends and foes - except for one constant:" - Being anti-America.
"The Real Axis Of Evil Is Pakistan - Saudi Arabia - Yemen", interview with Bernard-Henri Levy - "anti-Americanism is the most dangerous global ideology. Today all the totalitarianisms, the fundamentalisms, the anti-Semitisms hide behind the banner of the fight against the USA."
The hatred of America is the socialism of fools by Michael Gove
Anti-Americanism: The World's Most Dangerous Idea by Fareed Zakaria - "U.S. hegemony has its problems, but a world that reacts instinctively against the United States will be less peaceful, less cooperative, less prosperous, less open, and less stable."

Hating America - Bruce Bawer on Anti-Americanism in Europe.

He notes that: "contrary to the notion that anti-Americanism is a reflection of opposition to Republican presidents and U.S.-led wars, French sympathy for the U.S. stood at 54% in 1988, during the Reagan administration, but dropped to 35% by 1996, when Clinton was in office. Why the decline? Simple: in 1988 the U.S. was a protector; in 1996, after the Berlin Wall fell, it was a resented "hyperpower""

France

Europe's Anti-American Obsession by Jean-Francois Revel - on anti-Americanism in France. - "Why is the USA casually accused of "fascism," when it is a land that has never known a dictator over the course of two centuries, while Europe has been busy making troops of them?"
Anti-Americanism: An Introduction (and here) by Jean Francois Revel - "The Left saw clearly what was at issue: my book was less about America and anti-Americanism than about the epic twentieth-century struggle between socialism and liberal democracy, and they feared that chances for victory might be starting to lean in liberalism's favor. The principal function of anti-Americanism has always been, and still is, to discredit liberalism by discrediting its supreme incarnation."

Germany
Greece
Turkey




Anti-Americanism's sister hatred, modern anti-semitism.

Americans: The Jews of the World by Daniel Jennings - The world is like old Europe before the Holocaust. Millions of people in the Middle East and Europe have their heads filled with irrational, illogical hate for Israel and America. Millions of people are ready and willing to repeat the Holocaust. If they ever get more power, a 21st century Holocaust against Israel and America could be coming.
No one can relax as long as this hatred exists. Hatred leads to action if it gets the power. To end this illogical, hallucinatory hatred, America should not address it. Rather America should take the fight to its haters, in their home countries, and change their entire world against their will.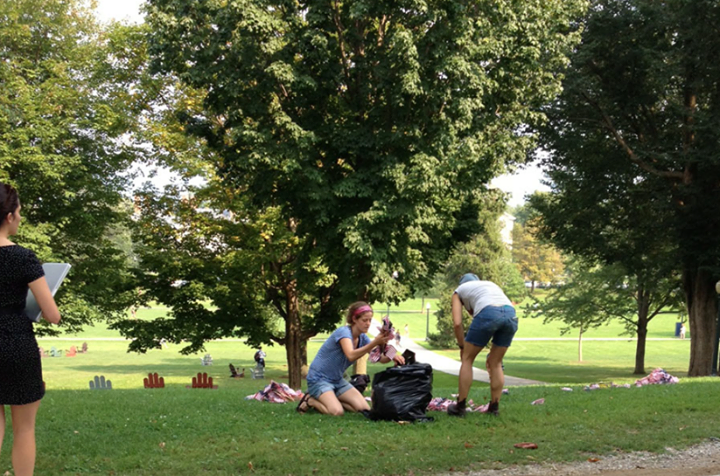 You could not make this up:
American left-wing nutcase
Anna Shireman-Grabowski
hates her own country so much that she
destroys a memorial to the dead of 9/11
at Middlebury College, Vermont, Sept 2013.
Photo from
Young Americans for Freedom
.

Charlie Gilmour, son of Pink Floyd guitarist David Gilmour, attacks the Cenotaph during violent student protests in London in Dec 2010.
Photo from Daily Mail. More here.
Lots of rich kids demanding that the taxpayer pay for them.
In 2010, Charlie Gilmour was reading history at Girton College, Cambridge. His father David Gilmour was worth nearly £80 million. They lived in a £3 million house in Hove.
Charlie Gilmour spent 4 months in prison in 2011 for this, for violent disorder.
His whining, self-righteous article after his release, 7 July 2012, shows that he has learnt nothing. A typical example of how he writes: "Last summer's riots were disgraceful. But it is my belief that Cameron's and Clegg's cuts have looted the prospects of the young ..." etc. etc.
---
Culture
Right-wing humour, parodies of the left, etc.
Non-left protests:

Photos of left-wing protests:

Jason Mattera takes the piss out of leftie protesters, Borat style.

thepeoplescube.com
Bureaucrash (see site)

Cox and Forkum cartoons

Stuff White People Like (A very funny site that for some reason attracts huge numbers of unfunny idiot commenters)

When Islam is Just "Stuff White People Like", Roland Shirk, January 17, 2011.

He says western leftists ignore jihad violence and defend Islam because they think it helps display their superiority and cosmopolitanism. They don't really care about human rights in the Middle East (or else they would complain about all abuses of human rights).
It's not about the East at all. It's all about the West. It's a form of display behaviour in front of their peers: "what we need to remember is that appeasement of Islam really isn't about the Muslims, any more than it is about the victims of Islam around the world. Religious dupes of the Communists weren't really concerned what was going on in Russia, either ... In much the same way, war-weary Englishmen in the 1930s weren't interested in what was really happening in the Sudetenland or Poland. They wanted excuses not to become alarmed, and they wished above all to sound like the voices of reason against the "alarmism" spread by "jingoists" and "militarists" like Winston Churchill."
From
ProtestWarrior
.
See also the
t-shirt
.
---
It is no coincidence that
so many of the modern academic left in the humanities have supported fascism and communism
. Postmodernist "thought", with its lack of intellectual rigour, its denial of the existence of truth and facts, and its hatred of the Enlightenment and science (basically, by people who were not
smart
enough to do mathematics or science), lends itself naturally to garbled, meaningless writing, and support for non-rational, West-hating, totalitarian regimes.
Hoax papers
Postmodernist publications, since they are not based on reason and evidence, are particularly vulnerable to hilarious hoaxing through fake papers. Some wonderful work has been done exposing their shoddy standards in this way.
---
"The function of language is to express one's thoughts. If you think truth is possible, then you work hard to understand the world clearly and completely. But if you doubt that truth is possible, that has psycho-epistemological consequences: you come to believe that the world is at best fuzzy and your mind incapable of grasping it - you come to believe deep down that all is fractured and disjointed - and your writing will tend to the fuzzy, the fractured, and the disjointed. And in consequence you will come to be suspicious of clarity in others. Clarity, from this perspective, must be an over-simplifying."
- Stephen Hicks on Postmodernism.
"We must hope that the painful bolus of postmodernism will pass through the costive bowels of academic life sooner rather than later. Pass, of course, it will eventually."
- Gross and Levitt.
---
The right is fairly straightforward. It regards dictators, genocidal killers and terrorists as "evil" and thinks killing them is generally great, and even to be celebrated.
The left loves to demonstrate its claimed moral superiority to the right by mocking the right's "simplistic" ideas of "good" and "evil", and by whining and complaining whenever a bad guy gets whacked. I don't know who they're impressing.
Leftists often say that killing dictators is wrong:

A little spat in Feb 2007 illustrates why I am not a leftist. The old Charles Johnson (and more), back when he was good, showed a photo of a meeting of the enemy leaders of Iran and Syria - unelected dictators who oppress their own people and persecute minorities; men who have the blood of innocent Jews, homosexuals, atheists, women, and American and British soldiers on their hands; men who are killing Americans right now in Iraq; and men who threaten a second Holocaust of all of the Jews of Israel.
Charles Johnson captioned the meeting: "Definition of a Target-Rich Environment". Quite right.
Pious left-winger Greg Sargent (and more) is horrified: "Popular Wingnut Blogger Appears To Advocate Assassination Of Foreign Leaders".
Greg Sargent sums up why I am not a leftist. Is this what the left stands for now? That killing dictators is now wrong? If so, I will never be a leftist again. I support, now and always, the rebels, those who would attack and overthrow the dictators. I support the end of dictators, everywhere. That is why I am not a leftist. That is why I am a neo-conservative.
As a comment above says: "Is your point that political leaders of enemy countries should not be targeted? That's just bizarre."
Irony: In May 2013, after Charles Johnson went mad and became a leftist, he now thinks Greg Sargent is great.

A similar incident:

Glenn Reynolds (and more) on Iran, Feb 2007: "Nor do I think that high-profile diplomacy, or an invasion, is an appropriate response. We should be responding quietly, killing radical mullahs and Iranian atomic scientists, supporting the simmering insurgencies within Iran, putting the mullahs' expat business interests out of business, etc. Basically, stepping on the Iranians' toes hard enough to make them reconsider their not-so-covert war against us in Iraq."
Leftist Paul Campos bizarrely claims this would be "murder" and "a war crime". He claims that "radical mullahs and Iranian atomic scientists" are "civilian noncombatants". He confidently claims that "Iran is not at war with America". He says people who support attacking the active, wartime, anti-semitic, fascist enemies of America, Britain and Israel "sound very much like fascists". He says this is "right-wing extremism" that should perhaps have legal consequences.
Paul Campos illustrates why I am not a leftist. If you believe killing dictators and their lackeys is wrong, I will never be on the same side as you. If this is what the left believes, I will never again be a leftist.

Few people express the mad beliefs of the postmodern left as clearly as Herfried Münkler, professor of political science at the Humboldt University in Berlin.

On the Americans celebrating the killing of the monster Bin Laden in May 2011: "Only someone who believes in the existence of 'evil' and who does not explain 'evil' in terms of an unhappy childhood, someone who upholds the Old Testament principle of an eye for eye and a tooth for tooth, is justified in publicly expressing their joy at the death of an enemy and their satisfaction at getting revenge."
Run that by me again. He denies the existence of "evil", and he actually thinks that "evil" is explained by unhappy childhoods? He's not being ironic. He thinks that all of history's mass killers had unhappy childhoods? Has he ever actually thought about this? Even the guy we are talking about - Bin Laden - did not have an unhappy childhood.

The immensely annoying young British leftist Laurie Penny also disputes the concept of "evil".

Laurie Penny appeared on Young Voters Question Time, 3 May 2011. Discussing Bin Laden's death, she denied that Bin Laden was evil: "This is patronising and simplistic. It's a simple narrative. The goodies and the baddies. ... The West is good. Everyone else is wrong. ... We are the goodies. They are the baddies. We should be frightened of them. They're not like us."
Yes, the War on the evil, bigoted, racist, oppressive, genocidal doctrine of Islamism is all merely because they have "different colour skins" and we are "frightened of difference".
Laurie Penny defends vandalising WW2 memorials.

Smartass leftie Irish blogger Bock the Robber, 2 May 2011, on the killing of Bin Laden, illustrates how the left has abandoned the concept of "evil".

He mocks the idea that Bin Laden was "evil". "I wonder why we continue to swallow the nonsense put out by the media about how evil people like Bin Laden are."
He can't understand the simplest moral distinctions: "When is it all right for people to dance in the streets when someone has been killed? We all witnessed those evil Islamists firing guns in the air and dancing after the World Trade Centre atrocity ... Today, we were treated to more pictures of people dancing in the streets after someone had been killed, but that was fine, because the dancers weren't Arabs but white Christians." Um, no. It was fine because the former were celebrating the killing of innocents. The latter were celebrating the killing of a mass murderer. Is Bock so stupid that this has never occurred to him and he leaps straight to the obvious conclusion of ... racism!
He absurdly claims that America created Bin Laden. He says Bin Laden was "created by the CIA to carry out dangerous work .. before he turned rogue." He claims that Gaddafi is "another CIA creation". He claims the leader of North Korea is an American creation. Because non-western people can't be evil all on their own. It must be our fault.
He slanders Blair and Bush. He says Blair "took a decision to kill thousands of civilians ... There's no danger of an attack force .. storming Tony Blair's house or George Bush's ranch, even though they killed far more innocent civilians in Iraq than Bin Laden ever did in New York." No evidence is provided for these mad assertions. If he can find a single specific instance of Blair or Bush deliberately ordering the killing of an innocent civilian anywhere, maybe he could tell me here.

Martina Devlin, Irish Independent, 5 May 2011, also can't understand basic moral distinctions.

"Americans were infuriated by euphoric scenes at Tripoli airport after the Lockerbie bomber's release. ... But why is public jubilation surrounding the death of your enemies acceptable in Times Square but not in Tripoli? Surely if it's barbaric in one country then it's equally unacceptable in another?"
Let me answer. Celebrating the death of your enemies is not barbaric. It is barbaric if you are the bad guys. (Celebrating the death of the innocent.) It is perhaps tasteless, but generally fine, if you are the good guys. (Celebrating the death of the bad guys.)
Basic moral distinction: Celebrating the death of Sheikh Ahmed Yassin in 2004 is not the same thing morally as celebrating the death of the children he murdered.

American
Jay Austin
quit his job to go cycling round the world with his girlfriend.
Here in
April 2018
in Morocco he notes correctly that most people are good, but then asserts that evil does not exist:
"Evil is a make-believe concept we've invented to deal with the complexities of fellow humans holding values and beliefs and perspectives different than our own"
.
Three months later, in July 2018, evil, in the form of
Islamic State
, murdered him and his girlfriend in Tajikistan because they were unbelievers.
In the real world, evil is not a "make-believe" concept. Islamic State is evil. Hamas is evil. Jihad is evil. And western intellectuals should stop making excuses for evil.
---
The left hates the West above all other parts of the world. They tend not to be interested in human rights abuses by non-whites and non-westerners.
Multiculturalism by Victor Davis Hanson, September 27, 2010, on the left's inability to apply the same standards to non-whites as they apply to whites.

"if, for example, a white, brown, or black American were to emigrate to China he would never be completely accepted into Chinese society - even if he were to obtain full citizenship, given that being genuinely Chinese entails a particular Chinese appearance. Should 12 million Smiths and Joneses cross the southern border into Mexico ... they would never be seen as fully "Mexican" citizens."
"Multiculturalism trumps all. The suggestion that there are Vietnamese racists, Palestinian sexists, or Chinese bigots causes us to pause".
Israel is the only country in the Middle East that seems to even attempt doing what the left wants (equality for women, gays, religious minorities, etc.) while its neighbours are unsmiling right-wing oppressors of a type unknown in the West. But multiculturalism trumps all: "The problem, of course, for Israel is that, under the doctrine of multiculturalism, its single sin of being Western trumps the many sins of its non-Western neighbors."
The consequences of the left's multiculturalism are that "bigotry abroad will only grow, as others sense that the United States lacks the confidence in its own values to extend its self-critical principles abroad."

Posh Leftists, Muslims & the New Orientalism by Paul Austin Murphy, Sept 2013, nails the new racism from wealthy white western leftists: "SWP / UAF / Trotskyists / progressives will never uncover Muslim wrong or even speak about it. Instead they concentrate entirely on white 'Zionists', white Western leaders and the white working class of the UK - that terrible bugbear of London dinner parties, the very same class formerly despised by those ultra-posh leftist advocates of eugenics for the working class, the Fabians. No Muslim can ever do wrong in the middle class Trotskyist's eyes; just as brown and black people cannot, by Marxist stipulation or diktat, be racist. The Left's racism is inverted ... Brown and black people can never do wrong - only EDL 'chavs' and 'knuckle-draggers' can do wrong. ... Leftists are indirectly arguing that Muslims are incapable of acting morally; of acting with free will and conscience; and of being adult human beings. They argue that because they are brown and Muslim, they can do things that they would never allow a white person to do. For God's sake, how pure do you want your racism to be?"




South Africa v. the rest of Africa

For example, the left (rightly) targeted apartheid South Africa. But now that apartheid is gone, we hear nothing about the rest of Africa, which remains largely a human-rights wilderness.
Today, if we look at the Freedom House world map of freedom, we can see that the South Africa area is now an oasis of freedom in Africa. Why is this? Are the natives in the south naturally more respectful of human rights than elsewhere in Africa? (Unlikely. See the figures for Angola, Swaziland and of course Zimbabwe.) Or is it actually the influence of the European population that has brought freedom to this part of Africa? Such an idea is heresy to the left, which will never criticise a black government, and to whom imperialism and colonisation is simply all bad.

The left is racist.

What is the point? The point is that the left is racist. We must criticise abuses by non-whites with exactly the same vigour as abuses by whites. Otherwise we are not treating non-whites as adults, who are responsible for their own behaviour.

Even worse, we are ignoring the suffering of non-whites simply because their oppressors are natives rather than imperialists. But the pain, suffering and death is just as real. If we really believed in the equality of distant non-white, non-western people, we would be outraged at their oppression no matter who their oppressor was.

The left imagines itself to be the "modern" world view that has moved on from 19th century racism, but it is clear from its selective choice of campaigns (South Africa, Israel, Iraq) that it has moved on very little. The neo-conservatives, it seems to me, are the post-racists in this world - the people who have entered a new world where they are utterly indifferent to the colour of the oppressor and the oppressed - they are simply in favour of freedom and against tyranny. The left, it seems to me, are still in the racist world.

Peter Tatchell shows what a non-racist left would look like. He has all the trendy anti-Israel, anti-American politics, and I have no time for him on that. But in his campaign for gay rights he is not afraid to criticise blacks and Arabs - despite abuse from fellow leftists and even death threats. He doesn't care what is the colour of the skin of the bully and the victim. He just supports human rights, and doesn't think that as a white man he can only speak about white crimes. As Johann Hari says: "Tatchell is Britain's most eloquent campaigner against a new and lethal human rights Apartheid where only white people can condemn white butchers and only black people can condemn black murderers. He asks loudly: Is that progress? Is that anti-racism? Are we supposed to abandon Jamaica's gay people because they have the wrong colour skin?"

More on Africa

African butchers:

The Islamic mass murderer Idi Amin of Uganda.
BBC dhimmi
Kate Humble
gives a striking example of the mind of so many confused westerners, on the program
The Frankincense Trail
(2009).
She is in
Jeddah
in Saudi Arabia. This is a religious dictatorship with
no human rights
, where gays, women and atheists are persecuted. She hears the Islamic call to prayer, in a country where other religions are not free to worship, and she does not find it sinister but rather moving. She even cries!
She watches the shops closing without asking questions such as:
"What happens to a man who does not want to close his shop? What happens if you do not want to pray?"
No westerner would give a pass to oppression by right-wing white Christians like this. But oppression by strange non-westerners is somehow different, and even moving.
42 Christians arrested for prayer meeting in Jeddah, Dec 2011. "Saudi police and security officers raided an evening prayer meeting at the home of an Ethiopian Christian ... Security officials broke [into] the house and captured . . . beat and threatened them for death. . . They divided the men and the women and they are torturing them [in prison]". Will Kate Humble cry at this?
The Christian women were sexually assaulted by the Saudi police. Report Feb 2012. "They were using gloves to strip search and they were putting their fingers into their genitals". Strip searching them! Their only crime was to attempt to have a Christian prayer meeting. "the men [were] beaten and called 'unbelievers'". Kate Humble, you really need to read this.
Saudis deport the Christians, Aug 2012, after 7 months in jail. "Saudi security officials assaulted, harassed and pressured the Christians to convert to Islam during their incarceration." If Kate Humble ever issues a statement on this, tell me here.
Satire in 1999:
"Iowa family blasted for lack of diversity: Exclusionary, all-white Petersens 'deeply offensive' say activists".
From p.150 of
Our Dumb Century
, The Onion, 1999.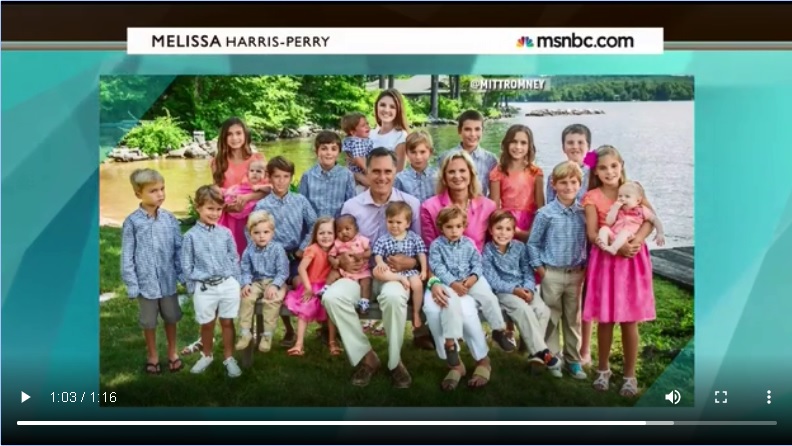 Real life in Dec 2013:
Progressives blast 2012 Republican candidate Mitt Romney for having only one black grandchild.
The anti-counterjihad Muslim comedian Dean Obeidallah sneers at the Romney family: "I think this picture is great. It really sums up the diversity of the Republican party, the RNC. At the convention, they find the one black person."
---
Coverage of Israel
Israel v. the rest of the Middle East

The left has a similar blind spot with Israel. 90 percent of their energy should be spent criticising the appalling, oppressive, human-rights-abusing Islamic countries of the Middle East such as Sudan, and perhaps 10 percent criticising the only free country in the area, Israel.
But the left are racists. The Arabs are excused as victims of history, or slaves to their culture, while only the Israelis are treated as adults capable of moral choices. I would treat them all as adults.

Why Israel and not Sudan, is singled out (or here) by Charles Jacobs, Boston Globe, 5 Oct 2002.
Why British academics are boycotting Israel - article by Theodore Dalrymple, 4 February 2003.

BMJ's Bad Medicine, 2009.

A study of the BMJ (British Medical Journal) shows a disparity in the topics it covers.
Number of articles in the BMJ mentioning various international conflicts:

Darfur (Muslim Arabs kill Black Africans) - BMJ has one citation for every 7,000 deaths.
Rwanda (Africans kill Africans) - BMJ has one citation for every 4,000 deaths.
Bosnia (Europeans kill Europeans) - BMJ has one citation for every 2,000 deaths.
Intifada (Israelis kill Palestinians) - BMJ has one citation for every 13 deaths.

The BMJ has been accused of an anti-Israel bias, but similar figures would probably hold for other media.

A former AP correspondent explains how and why reporters get Israel so wrong, Matti Friedman, August 26, 2014.

The western media is racist about the Arabs and Palestinians. It does not treat them as complex, diverse people and moral agents: "A reporter working in the international press corps here understands quickly that what is important in the Israel-Palestinian story is Israel. If you follow mainstream coverage, you will find nearly no real analysis of Palestinian society or ideologies, profiles of armed Palestinian groups, or investigation of Palestinian government. Palestinians are not taken seriously as agents of their own fate. The West has decided that Palestinians should want a state alongside Israel, so that opinion is attributed to them as fact, though anyone who has spent time with actual Palestinians understands that things are (understandably, in my opinion) more complicated. Who they are and what they want is not important: The story mandates that they exist as passive victims of the party that matters."

A tweet
by left-wing, anti-Israel MP
David Ward
sums up the racist view of the Palestinians.
This is on 18 Nov 2014, in response to the
synagogue massacre of Jews
by racists.
Ward says the racist killers can't help it. They are
"driven to madness"
by the failure of the international community to
"deal with"
Israel. They are mere animals, or madmen. They have no moral agency and cannot make any moral decisions.
Blaming Israel for Palestinian violence is racist: it denies that Arabs are moral agents, Alan Johnson, 20 Nov 2014. "Palestinians are understood as a driven people, dominated by circumstance and emotion, lacking choice, below the age of responsibility, never to be held accountable. Israelis are the opposite; masters of all circumstances, rational and calculating, the root cause of everything, responsible for everything. It is, palpably, an Orientalist view of the Palestinians as the Other, except this time they are affirmed as noble savages. It's a bit racist, to be honest."
---
This astonishing survey of human-rights criticisms by churches sums up the entire sickness of the western left.
Every leftist in the world should read this report, and read its recommendations. This report explains exactly the difference between my world view and the left-wing world view. It explains in a nutshell why I am not a leftist.
---
As the white population of the West gradually became the most non-racist people on earth, new strange forms of racism arose, often promoted by left-wing white people.
Anti-white racism has become a thing on the left in the 21st century.
For decades there has been a problem with Black racism and black anti-semitism.
But gradually, left-wing whites have been adopting anti-white racism too.

Critical race theory

Recently we have seen the rise of Critical race theory, which is the promotion of anti-white racism by left-wing whites and others. It is a new form of anti-white racism packaged in academic language. It treats whites as a group rather than individuals. It also treats blacks as a group rather than individuals, so it is racist about blacks too.
Eight Big Reasons Critical Race Theory Is Terrible for Dealing with Racism. A good article, but a too cautious title. A better title would be "Eight Big Reasons Critical Race Theory Is Racism".

The imaginary world of Critical race theory:

Critical race theory (CRT) is keen on a thing called "Systemic racism" or institutional racism, which does not really exist. In the West anyway.
Critical race theory is also keen on a thing called "White privilege", which also does not exist.
Critical race theory is also keen on a thing called "White supremacy", which also does not exist.
These are made-up terms by people living in non-racist societies to try desperately to find some racism.
CRT people are the actual racists. They use racist terms like "White fragility" and "Whiteness" to attack white people. Anyone who uses such terms is a racist.

Affirmative action

The only form of systemic racism that really exists is Affirmative action.
Affirmative action is racist. It discriminates against people on grounds of race.

Translations from the Wokish shows how modern woke theory has redefined many terms far away from what normal people think they mean.

"White supremacy" has no actual meaning.
"White privilege" is incoherent too.
There are multiple definitions of "racism", none of which make sense.
Woke theory is an ideology not based on logic or evidence, or proof for its claims, but one based on emotion, even hysteria, and games with language to make the world look evil and make the ideologues look like heroes.
Anti-white racism:
This trailer for
Everything's Gonna Be All White
(2022) is one of the most racist things I have ever seen.
Absolutely disgusting. Just mean-spirited racist hate speech.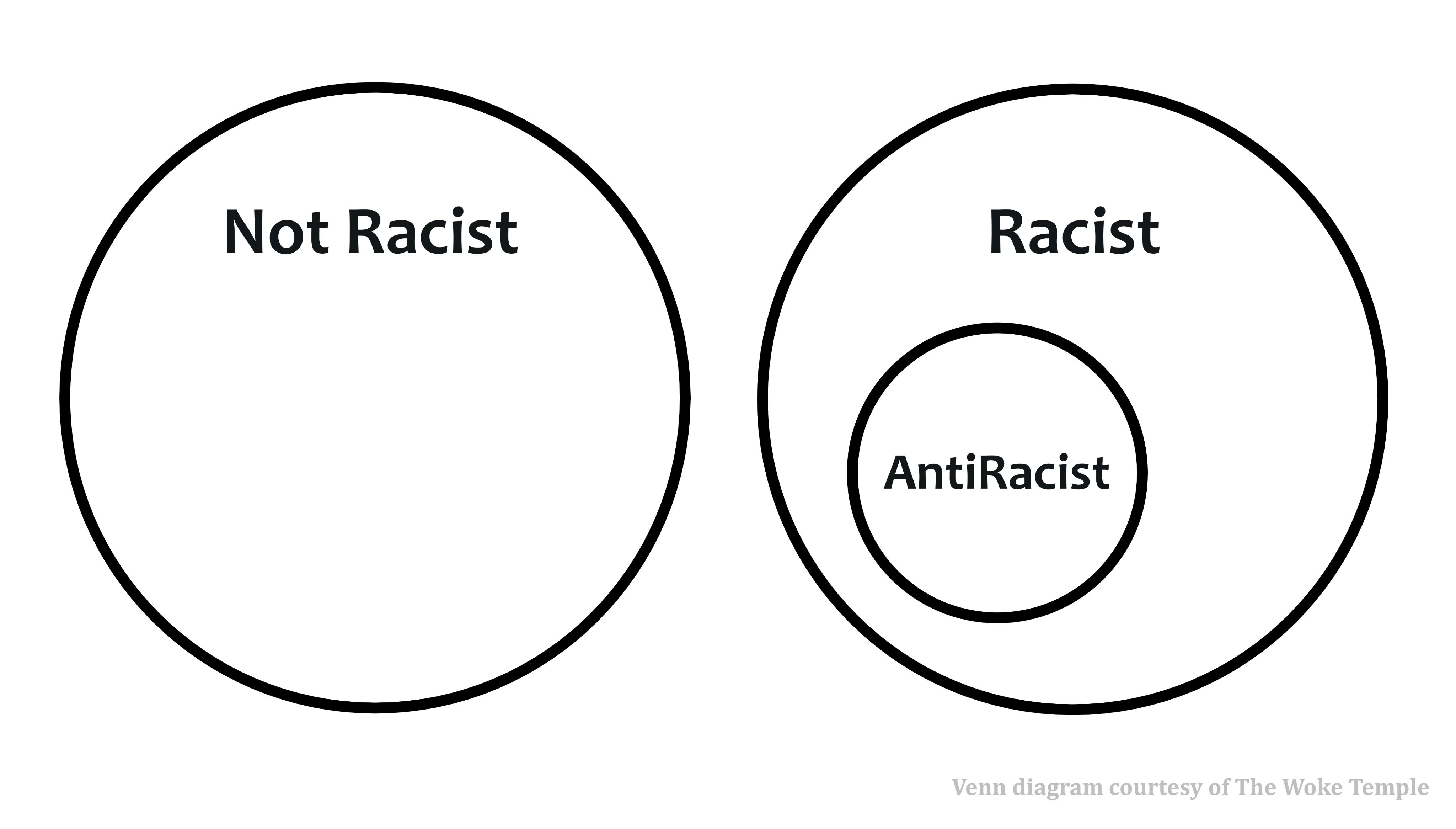 How I view CRT-style "anti-racism".
It is racism. A new type of racism, but still racism.
From The Woke Temple.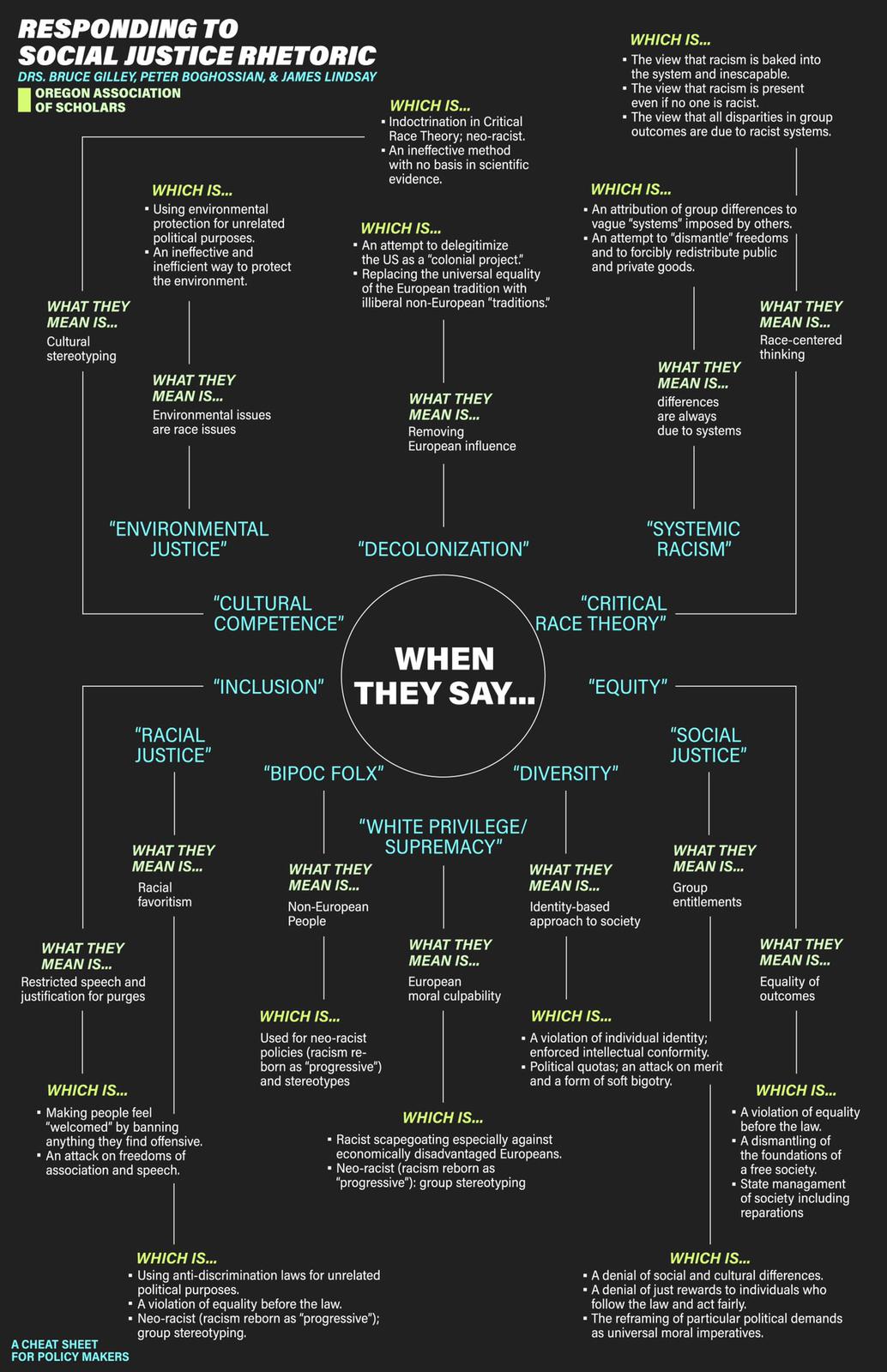 Handy chart showing the main points of Critical race theory and related ideas.
From here.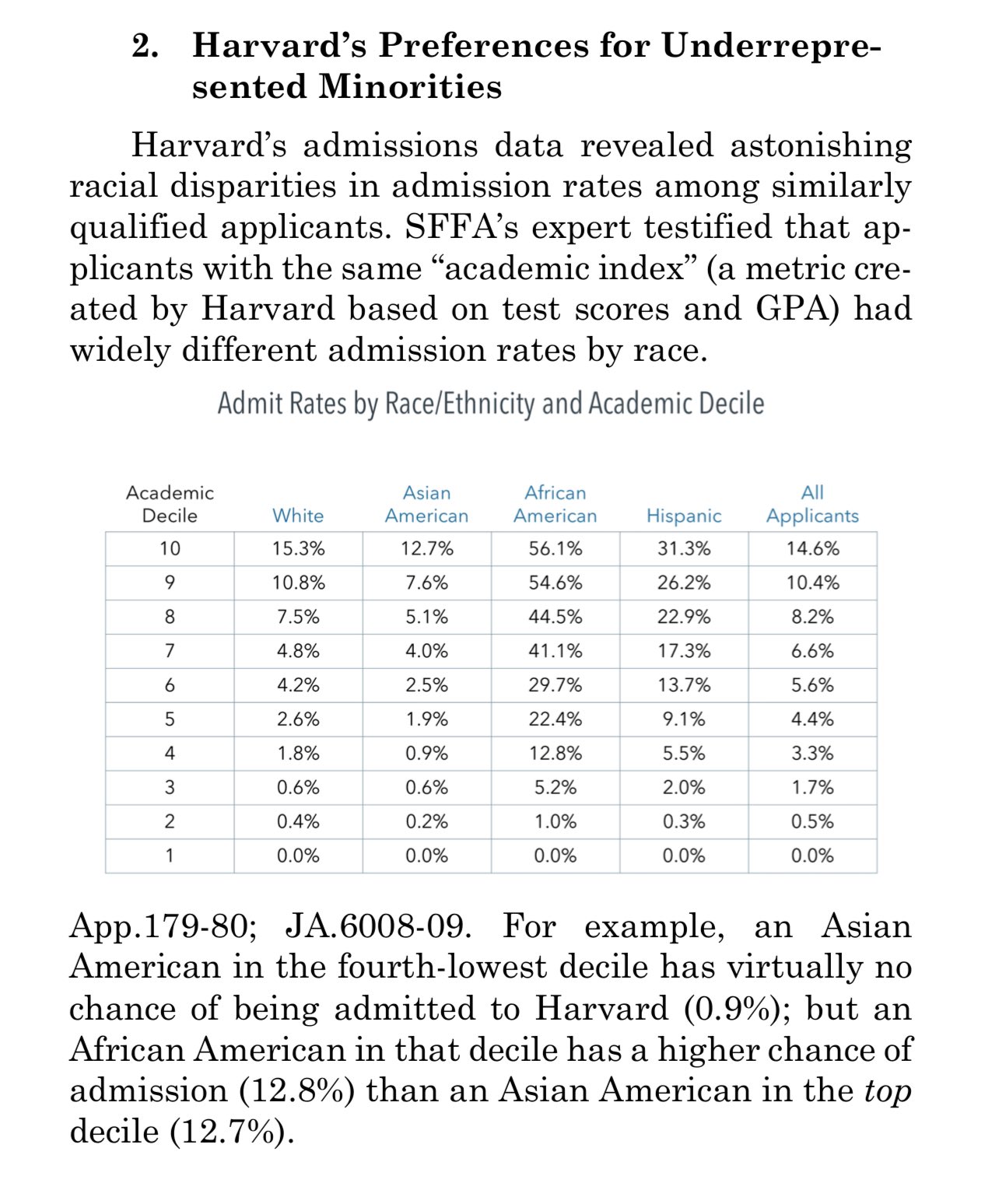 Systemic racism does exist in the USA: It is called affirmative action. It discriminates against people on grounds of race.
Affirmative action is racist against whites and Asians. It should end.
From here.
---
The left is racist - It does not treat all races equally
When criticising people for human rights abuses, the left is
not
colour-blind. That is my basic criticism.
Not criticising Arabs or Africans does not show how enlightened you are. It shows how racist you are.
"Moynihan's Law" helps explain why the western left hates free countries like Israel and loves unfree countries like Cuba. It's basically down to ignorance:

Moynihan's Law - "The amount of violations of human rights in a country is always an inverse function of the amount of complaints about human rights violations heard from there. The greater the number of complaints being aired, the better protected are human rights in that country."
The quote - "If the newspapers of a country are filled with good news, the jails of that country will be filled with good people." - US Senator Daniel Moynihan
Moynihan's Law applied to Israel - "The degree of oppression of any people is an inverse function of the amount of cries of oppression one hears from them. The only government in the Middle East that does not indiscriminately shoot Arabs who criticize it is that of Israel."

The Paradox of the Fisks: The most criticised societies in the world will be the least criminal societies

Socialism and anti-Semitism are closely related worldviews by Theodore Dalrymple. - "The liberal intellectual who laments the predominance of dead white males in the college syllabus or the lack of minority representation in the judiciary uses fundamentally the same argument as the anti-Semite who objects to the prominence of Jews in the arts, sciences, professions, and in commerce. They both assume that something must be amiss - a conspiracy - if any human group is over - or under - represented in any human activity, achievement, or institution."

Civilization and V. S. Naipaul, Bruce Bawer, The Hudson Review, Autumn 2002, sums up why I find the western left racist, and why I (in contrast to them) am not racist:

"Yet [Naipaul] is at the same time clear-sighted enough to recognize that in today's world, the most reprehensible injustices are perpetrated by powers aligned against the West, and that the West is now in fact the part of the world in which human rights are most thoroughly protected, human talents most consistently rewarded, human life most sincerely valued, and human potential most fully realized. It is in the West, in short, that men and women are most likely to enjoy the greatest gift of all, the chance really to live."
"Consequently Naipaul cherishes Western civilization and refuses to condescend to Third World peoples by using dishonest euphemisms to describe what he calls their "half-made" societies. He cares enough for them to admit that they deserve better - and what they deserve is Western civilization, which Naipaul, in a 1990 lecture, identified as "the universal civilization"."
"The universal civilization, Naipaul states in his lecture, "has been a long time in the making. It wasn't always universal; it wasn't always as attractive as it is today. The expansion of Europe gave it for at least three centuries a racial taint"."

I feel exactly the same. As an Irishman, I greatly admire 17th and 18th century England, and see in it the heroic beginnings of the modern scientific culture. And yet my Irish Catholic peasant ancestors could not participate in that culture. Only today does western culture finally deliver its fantastic universal promise. Now everyone can join in.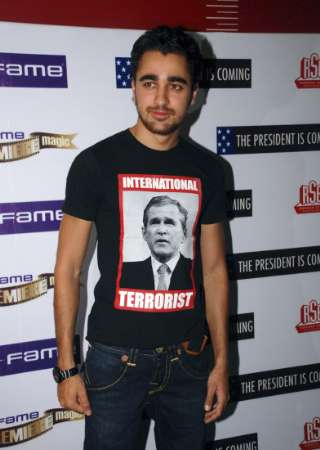 Left-wing stupidity and blindness is not confined to the West:
Bollywood star
Imran Khan
, a Muslim, wears a t-shirt in Mumbai on 26 Nov 2008, accusing Bush of being a terrorist.
On the very same day, in the very same city,
Muslim terrorists began a rampage killing 160 innocent people
in a multi-day orgy of slaughter.
Will Imran Khan ever wear a t-shirt condemning Islamic terror? Of course not.
As
Andrew Breitbart
says:
"Mr. Khan - a member of India's Muslim minority - chose not to mock international terrorists who kill in the name of Allah. He and his co-religionists know the deadly results for those who do."
As
Andrew Bolt
says:
"Hating dad is safer"
.
Picture credit REUTERS/Manav Manglani (INDIA). From
here
.


An awesome example of the mind of the left.
This is the response of gay rights group Stonewall when in June 2020, a jihadist killed three gay men in a park in Reading, England.
After a homophobic attack killing three, Stonewall attacks "Islamophobic, racist and xenophobic rhetoric". Stonewall is simply not interested in the homophobic rhetoric and religious beliefs that drove the attack.
---
Return to
The modern left
.