The Irish Times
The Irish Times
has long been a
quality
newspaper in Ireland, in terms of in-depth coverage. While its editorials and opinion are slanted to the left, and it spins the news to the left, it used to, under
Conor Brady and Geraldine Kennedy
(1986-2011), have a tradition of providing some non-left-wing voices.
Unfortunately, this tradition has recently been abandoned. All of the centre-right voices are gone.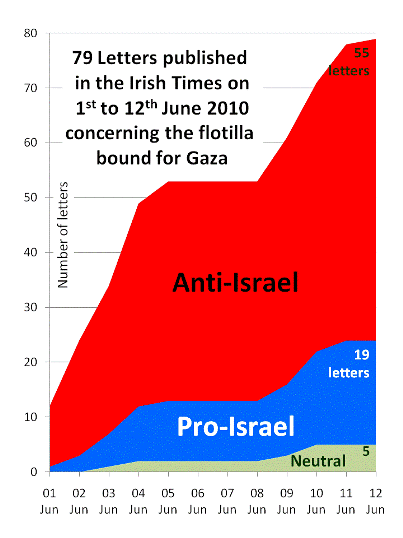 Tony Allwright
surveys letters to the Irish Times after the
Gaza flotilla clash
of 31 May 2010.
It is hard for a young person growing up in Ireland to realise that the Israelis are the good guys.
It takes a lot of independent thought and standing against the crowd, often including one's own parents and teachers.
---
The Irish Times
Why reading The Irish Times makes me annoyed:

Richard Waghorne notes three typical references to "neo-cons" in one short period in The Irish Times in 2005, by Fintan O'Toole, Anthony Glavin and Eddie Holt - three men who show no sign of ever actually understanding what neo-cons are. To them, "neo-con" is simply "evil", their understanding seeming to come from Chomskyite fantasy like The Power of Nightmares and other third-hand sources. They, like the rest of the Irish left, show no sign of ever having read neo-conservative writers like Victor Davis Hanson to see what they say.
I wouldn't mind so much if Fintan O'Toole and Eddie Holt read Victor Davis Hanson and then told us what was wrong with him. But they never even engage with him. Holt will criticise irrelevant people like Pat Robertson who nobody is interested in. Why doesn't he read serious, influential neo-cons like Victor Davis Hanson and then reply? As Richard Waghorne says in the post above: "The consistent problem is a refusal .. to engage with neo-conservativism as a philosophy".
Neo-cons, in one line, are people who want to end all dictatorships on earth, by force if necessary. It's a very appealing philosophy to me, far more appealing than the left-wing alternative. Now you can argue that it is naive, or impossible, or will involve too much war, or will make things worse, or is not our problem, or is cultural imperialism, or that third world people don't want democracy and human rights. That's fine. But at least then you're engaging with what neo-conservativism actually is. That's all I ask of the left and of people like Richard Dawkins. Read the neo-conservatives and tell us why they are wrong. I regularly read your nonsense, as this post proves. Why don't you return the favour and read our side and tell us why it is wrong?

Why I love blogs and the Internet:

So over breakfast I read some rubbish about America by the novelist Colum McCann in the Irish Times in Mar 2006. It makes me mad that anyone could write such nonsense.
But instead of just grumping, the very same day I can read Richard Waghorne's thorough fisking of McCann on his blog. Ah, now I feel better. I just love the Internet!
Waghorne brilliantly notes that McCann is slagging off American soldiers at Shannon, and putting words in their mouth, but: "It's noticeable that ... McCann doesn't bother to actually ask the soldiers what they think."

A typical Irish Times story:

Iraq war veteran preparing for death, Simon Carswell, 30 Mar 2013. Lavish coverage of a disabled Iraq veteran who is dealing with his terrible injuries by believing that his mission was pointless, and now plans to commit suicide.
Has the Irish Times ever covered the story of an Afghanistan or Iraq vet who fought bravely and thought the mission was noble and honourable? Ever? Tell me here.

The letters page:

My favourite Tony Allwright letter to the Irish Times, that they did not publish: "Madam, James Hyde states that "many thousands of us (the people) keep making it clear we are against our Government's support of America's war in Iraq". No doubt this is true, but is it not a sad indictment on such people?"
This hilariously biased
CNN report on talk radio
, Oct 2009, reminds me of the patronising way the
Irish Times
often spins the news.
Instead of wondering why people prefer talk radio to CNN (or blogs to the
Irish Times
), they bring on New York psychiatrist
Gail Saltz
to explain what is
wrong
with their brains.
(By the way, I did some Googling and discovered to my surprise that Gail Saltz is a
donor to the Democrats
.)
As
Greg Gutfeld
says, this report is pure bias:
"CNN Perplexed By Talk Radio ... Now, only CNN could do this with a straight face. According to the network, some say talk radio is "viciously partisan," without of course defining "some," as "people who work at CNN." And so the segment began, with CNN using a shrink to examine the typical listener, as though he belonged to a rare breed of lizard that dines only on feces."
Comment:
"Am I the only one who is at the point where I simply roll my eyes when I see / hear this crap? Do those tools really think people are that stupid?"


Irish Times front page, 25 Apr 2018, says Trump triggers "concerns" that the US will withdraw from the Iran nuclear deal.
"Concerns". Not "hopes".
A classic example of how newspapers write opinion into the news pages.
---
Irish Times writers include some of Ireland's leading leftists.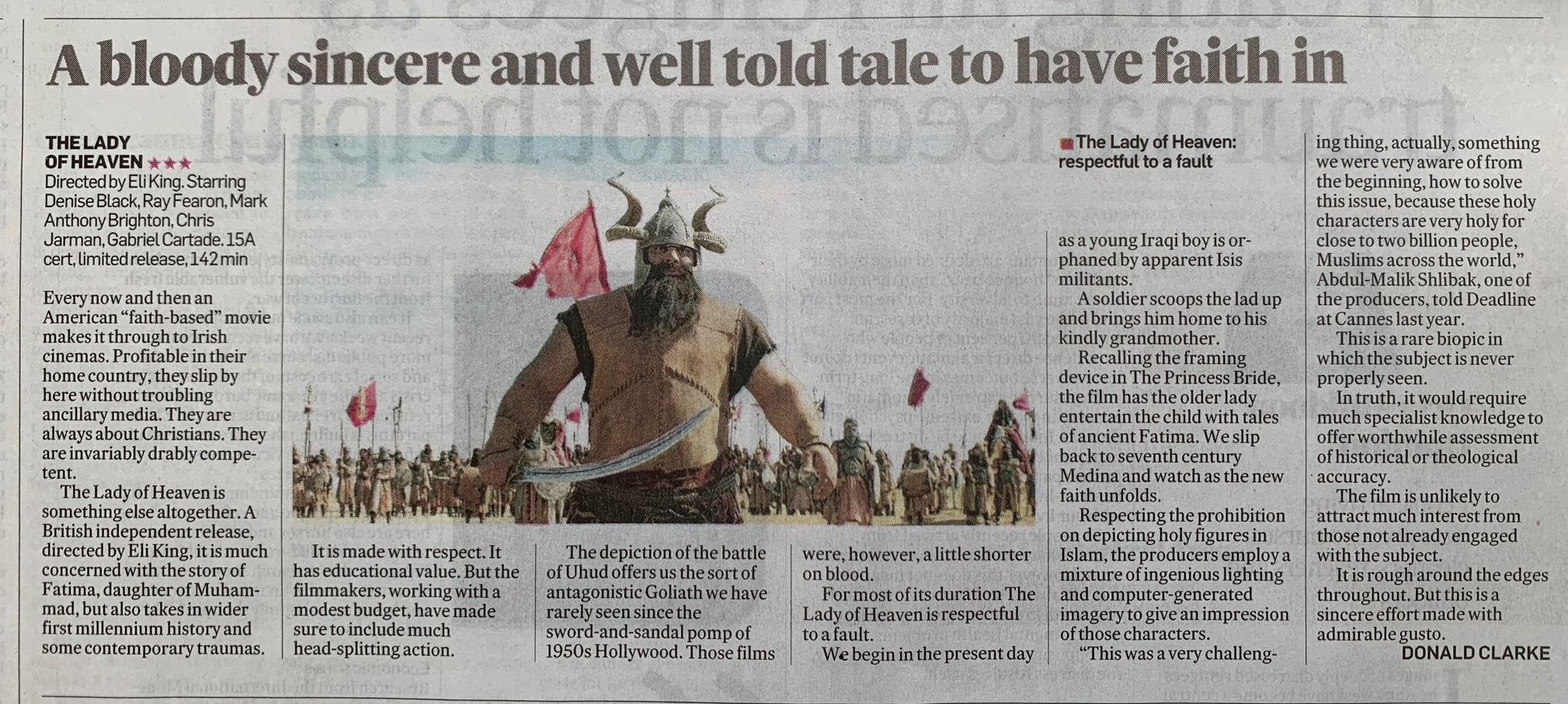 Donald Clarke, Irish Times, 29 April 2022, positively reviews an Islamic devotional film
The Lady of Heaven
. See
trailer
.
This is a pious Islamic film in which Muhammad and his followers are the good guys.
Following the
ancient taboo
, it declines to show Muhammad on screen.
Instead of slagging off a movie following such a strange taboo (for which many people have been murdered) Donald Clarke is enthusiastic and positive about it.
---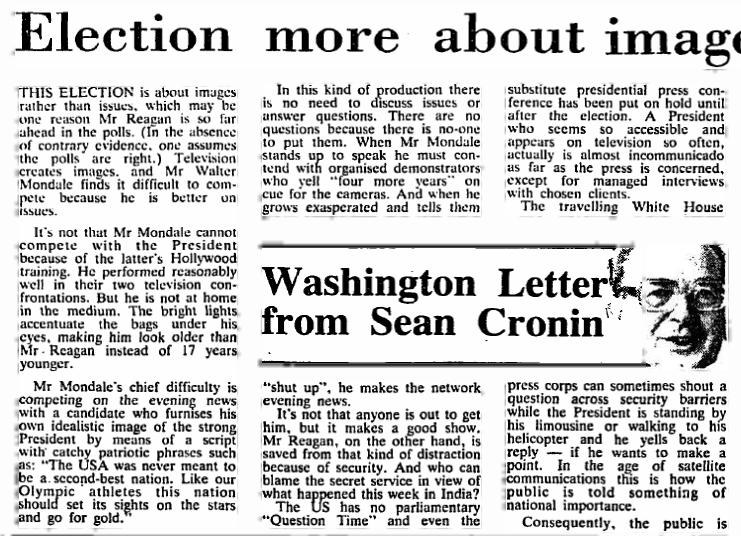 Sean Cronin sneers at Reagan's stunning 1984 re-election, Irish Times,
November 3, 1984
.
Cronin says (in an echo of the later sneering coverage of George W. Bush in 2004) that the Americans re-elected him basically because they are stupid.
Cronin was the Irish Times' voice on America for decades.
And
now
they tell us he was Chief of Staff of the IRA?


"Morning in America", Reagan's 1984 re-election ad.
Still moving, even today, long after the sneers of Sean Cronin are forgotten.
---
John McManus has been writing about business for years. Unfortunately, he has recently started writing about the jihad, and his opinions are absolutely hideous.
John McManus claims that Brussels jihadis slaughter the kuffar because of some "real and tangible grievance":

Is it valid to compare 1916 rebels to Islamic State? by John McManus, 30 Mar 2016. "there is a parallel between 1916 and terror attacks on Brussels and Paris. ... Regardless of your view of Pearse, Connolly and the other leaders of 1916, their executions would not have unlocked something quite so powerful in the Irish unless a real and tangible underlying grievance existed and was not being addressed. The lesson of 1916 for Britain and Europe is that more attention should be paid to what wrong is going unaddressed in their Muslim minorities that allows Islamic State terror cells to prosper."
Most of the Irish Times buys into this drivel that there exists some "root cause" of jihad other than Islamist doctrine.

John McManus compares a heroic anti-ISIS fighter to ISIS:
---
Tom Clonan served with the UN in Lebanon, and, like other Irish soldiers, has adopted the UN's view of the world.
He was Security Analyst for the Irish Times 2001 to 2016, promoting their leftist doctrine instead of any real understanding of the jihad.

Tom Clonan's whitewash of Syria, Irish Times, 10 Mar 2009.

Based on having some fun social occasions (which you can have anywhere in the world) he thinks Syria is alright, and is unfairly demonised. It is America and Israel that need to change, apparently. Not (for example) for Syria to grant political freedom and economic freedom to its oppressed people. No, that would be "simplistic".
He says Jewish and Christian communities live "in relative harmony". A more realistic look at the Jews of Syria says they have been persecuted until there are only 100 of them left. A more realistic look at the Christians of Syria describes them as "a small frightened community".
He refers in those so-familiar leftie sneer quotes to "the Bush administration's 'global war on terror' ". Is he really under the delusion that the War on Islamism was just about Bush? That the struggle against the global jihad is over now that the great Obama is President?
He talks about "peace" and utters not a word about Syria's support for war against Israel and Lebanon through Hezbollah and Hamas, and Syria's support for war against Iraq, America and Britain through the Iraqi resistance. Syria and its ally Iran are the two major sponsors of war in the region. And yet Syria wants "peace". What a whitewash.

2016 has become the year of the lone wolf attack carried out by angry young men, Tom Clonan, 21 Sept 2016.

This is an incredible article. The entire article (though you cannot tell from the bizarre title) is about jihad attacks on the West.
Now jihad attacks on the West happen because: That's what the jihad does. Always has. Always will. And they have increased because: The jihad thinks it is winning.
But this useless "analyst" thinks the problem is people being mean about Islam. He attacks anti-Muslim rhetoric, and then says: "In this climate, we will continue to produce thousands of angry young men. History tells us that conflict is precipitated by austerity, inequality and hatred. Unless we address the complex issues of gun control, male violence, rage and alienation, we will see more and more lone wolf attacks. Now, more than ever is a time for solidarity among all communities, of all faiths and none, to bring an end to the current cycle of hate speech and violence.".
How can one loony leftist pack so many errors into such a short paragraph?

Tom Clonan, who spotted nothing wrong with Assad's Syria on his visit in 2009, compares Trump's US to rise of Hitler, Nov 2016.
Sceptical to the point of madness about the free countries. Credulous like a child about the tyrannies. That's the western left for you.
Tom Clonan, May 2018, calls for sanctions and a boycott of Israel, for some reason or other.

In 2019, I noticed Tom Clonan has blocked me on Twitter. Maybe for this webpage. Or maybe for this 2016 tweet. Or maybe for these Aug 2013 exchanges. Either way, a pretty sad response.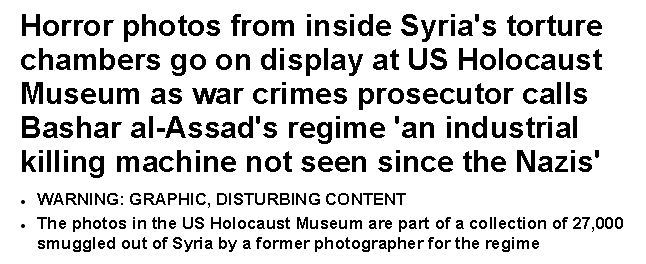 A typical headline
from 2014 during the Syrian civil war, as Assad tortured and killed
100,000 or more
.
"an industrial killing machine not seen since the Nazis"
.
Tom Clonan visited Syria, and understood
nothing
.
---
---
David Adams

David Adams is a former leading member of the loyalist terrorist group, the UDA, which killed random Catholics.
He has renounced his past and now writes for the Irish Times.

David Adams praises Ataturk and Turkey: Ataturk's secular vision still thriving, David Adams, Irish Times, 14 Feb 2013.

He paints Ataturk, the butcher of Turkey's Christians, as a model of Islamic tolerance!
He claims that the modern Islamic state of Turkey is a tolerant place for Christians: "The muezzin's call and the Christian bells enjoy an amicable coexistence, signalling no more than simple declarations of faith by .. communities who are free to worship as they choose. But then this is Turkey, functioning as Ataturk, its architect, intended it to: as a modern, secular state, a shining example to much of the rest of the world".
He describes this butcher of non-Muslims as ahead of western thinkers: "As in much else, Ataturk was ahead of his time. And his thinking was, and in some instances still is, some distance ahead of many majority Christian nations. ... It is to be hoped that the present and all future Turkish administrations will preserve the legacy of Ataturk, by continuing to ensure that all are free to live in peace within its borders."
He is talking, recall, about a man who killed 1 million of Turkey's Christians, and expelled the rest. This is a man we should admire! And how can Turkey "preserve the legacy of Ataturk"? There are no more Christians left to kill!
He says about his hero Ataturk: "No wonder he is so venerated by the Turkish people." He does not mention that it is illegal not to venerate him.
He does not mention that the "democrat" Ataturk ran a one-party state.
Luckily, this article is open for comments, and they nail him:

"What is this article? A paid advertisement by the Turkish government?"
"So he banned the fez and changed the script from arabic. He was also a genocidal monster and ethnic cleanser on a vast scale. He made Mussolini or Franco look like social workers. The template he set for Turkey is a monolith of intolerance and ethnic supremacism run by an all powerful deep state apparatus of military, police and big business."
"Turkish propaganda."
"I have rarely read such egregious, misty eyed nonsense in the Irish Times. This reads like something produced from behind the Iron Curtain before the collapse of the Soviet Bloc. Fantastic drivel."

Since he is a fan of Ataturk in Turkey, it is no surprise to see David Adams, 4 July 2013, come out in defence of Islamist rule in Egypt.

He opposes the toppling of the Muslim Brotherhood tyranny in July 2013. He claims Morsi was elected - and that is all that matters, not the Islamist oppression he introduced.
"According to the White House, during a phone call Obama told Morsi that "democracy is about more than just elections". This made for a nice soundbite, but it isn't true. When it boils down to it, democracy is all about elections." Rubbish. Why are elections good in the first place? Who cares if the will of the majority is implemented? What is that good for?
Adams worships majority rule. I do not. If the will of the majority comes into conflict with human rights and civil liberties, Adams says the former must prevail. I say the latter must prevail.
Adams says we must support elections, not liberty, in Egypt: "The temptation is to throw our weight behind the protesters rather than their fundamentalist president. But we would be wrong to do that. No matter how much we sympathise with the political objectives of the pro-democracy activists, and oppose the aims of the Muslim Brotherhood, Morsi was indeed democratically mandated. It would be hypocritical to support his forced removal."
Hypocritical for you, maybe. Not for me. You worship elections. I do not. I worship liberty, and so I celebrate the downfall of the Muslim Brotherhood.
---
A common Irish Times trope is for its writer to visit some repressive tyranny - like Laos,
Syria
or the
UAE
- and
completely ignore
the fact that it is a tyranny.
Laos
Irishman's Diary, Paddy Woodworth, 24 Dec 2012, sets a new gold standard for western tourist blindness.

Woodworth writes articles on ecology. Yet he flies abroad almost every Christmas, merely to escape vulgar consumerism! "once the first sugary chorus from Wham slurps down the supermarket aisles ("Last Christmas I gave you my heart"), and the Toy Show starts instilling ever more conspicuous consumption in the nation's children, the urge to escape is irresistible."
He is very pleased with himself. He expects us to admire him. He is part of a long line of wealthy western greens who lecture us, yet fly around the world for trivial reasons.
Recently he went to Laos to escape Christmas. Laos is a communist one-party tyranny with no political freedom and no human rights and no religious freedom. He does not mention that. Rather he is delighted at the absence of signs of Christmas: "no vestige of tinsel, no hint of muzak, and no mad crush of shoppers".
He does not mention the communist tyranny that is in power in Laos in 2012. Instead he harks back to attack America, which fought the communists in Laos but left forty years ago, in 1973. "I crossed the river on a bridge whose pillars consisted of massive unexploded bomb casings. Along with countless others that had exploded all too successfully, they had been delivered to Laos courtesy of the CIA's illegal "Air America" operations".
He spins for the communists: "Vang Vieng had been a centre of leftist resistance, and its people had suffered accordingly." Don't you love "leftist resistance" as a euphemism for communist resistance! There is no recognition that the people have suffered for forty years because the "leftist resistance" won.
He talks about poverty in Laos, but never mentions the communist government's total suppression of economic freedom. Its economy is one of the least free in the world. It is no mystery why Laos is poor. It is poor because of communism.
Writing whitewash articles like this does no favours to the people of Laos, who badly need the political and economic freedom (and vulgar consumerism) that Woodworth was able to fly home to.
"Last Christmas"
(1984) by
Wham!
To me (and I am sure to the people of Laos) vulgar consumerism means
freedom
.
---
The
Irish Times
has a particular genius in spinning the news in its headlines:
"Fears that" (something good will happen)
Another favourite is when the Irish Times has a headline in effect of the form: "Fears that" (something good will happen). For example:
"Fears that Arafat near death"
instead of the more rational:
"Hopes that Arafat near death"
. This is a nice little way of introducing bias into the regular news pages.
"Fears grow for Arafat as health deteriorates", Irish Times, October 27, 2004.
"Concern grows as Arafat's health worsens", Irish Times, October 28, 2004.
"Infection raises fears about Arafat's health", The Independent, 25 Oct 2004.
"Fears over Arafat's health", London Evening Standard, October 28, 2004.
"Fears grow for Arafat's health", Western Mail (Cardiff, Wales), 27 Oct 2004.
Honestly, did no one write "Hopes"?

"Concerns growing over Chavez's health", The Independent, 27 June 2011. They're always worried about the health of dictators.
"Concern over Venezuela's President Chavez's health", BBC News, 26 June 2011.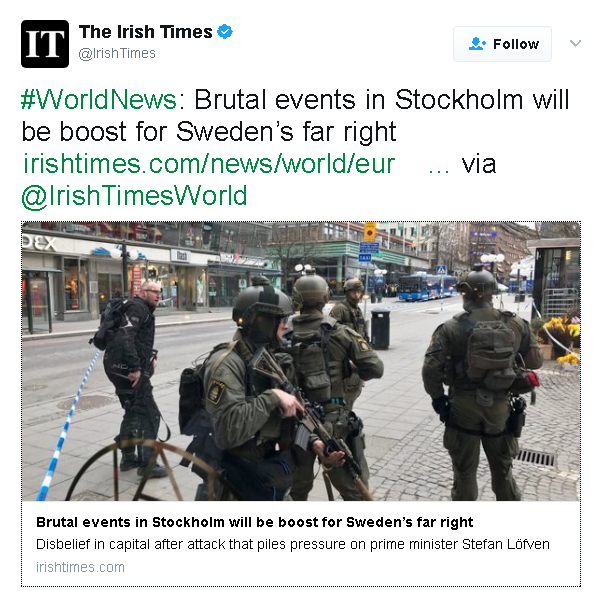 Headline after
Stockholm truck attack
, Apr 2017.
After a horrific jihad attack in Sweden, the Irish Times is worried that this will boost the fortunes of people who dislike jihad.
---
---
If the Irish Times was negative about
all
American Presidents that would be one thing. But the era of fawning Obama coverage showed that no, they are only negative about
Republican
Presidents. The Irish Times is for Democrat supporters only.
The Irish Times gives you balanced coverage of US politics:

The Irish Times endorsed Clinton (Democrat) for President in 1992.
The Irish Times endorsed Clinton (Democrat) for President in 1996.
The Irish Times endorsed Gore (Democrat) for President in 2000.
The Irish Times endorsed Kerry (Democrat) for President in 2004.
The Irish Times endorsed Obama (Democrat) for President in 2008.
The Irish Times endorsed Obama (Democrat) for President in 2012.
The Irish Times endorsed Clinton (Democrat) for President in 2016.
The Irish Times endorsed Biden (Democrat) for President in 2020.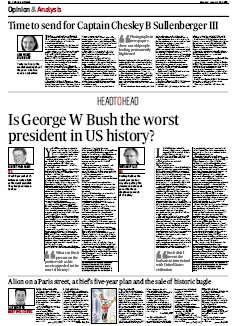 Head to Head: Is George W Bush the worst president in US history?
, Irish Times, January 19, 2009. Also
here
.
Arguing the Yes side is .. someone who hates Bush.
Arguing the No side is .. someone who hates Bush. What a debate!
And that is not to even mention the choice of topic. Why not:
Head to Head: Will Obama wreck Bush's achievements in Iraq and Afghanistan?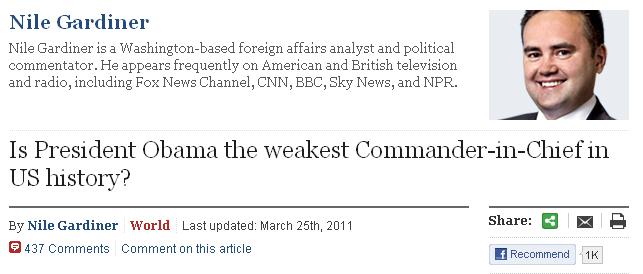 Wouldn't a headline like this have been more relevant in Jan 2009?
But that would have taken imagination, and thinking outside the centre-left box.
From here.

From The Jawa Report. Chart from here.
Don't expect to see this question asked in the Irish Times.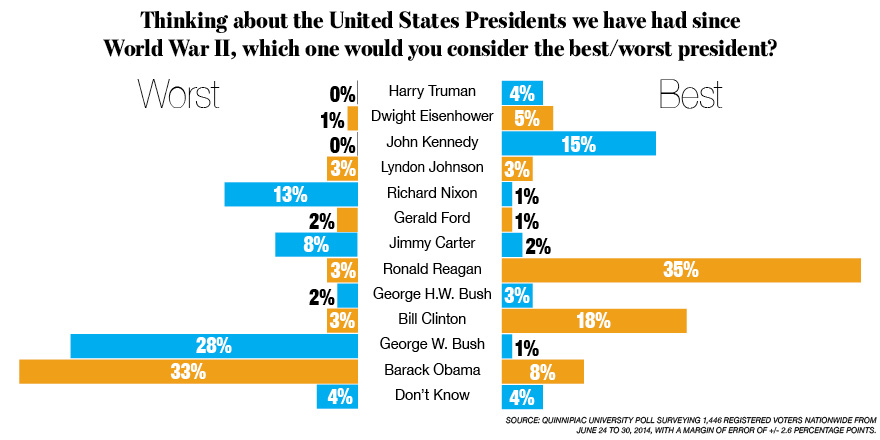 Poll of Americans, July 2014, finds they think Obama is the worst President since WW2, and Reagan is the best. I would agree on both counts.
---
Like most of Ireland, the Irish Times loved Obama from the start. They have indulged him and praised him, and given him the benefit of the doubt in a way they never did with George W. Bush.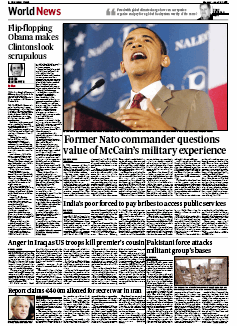 This made me laugh in derision:
30 June 2008 (during the US election campaign):
"Former Nato commander questions value of McCain's military experience"
Also
here
.
Ooh, that sounds bad. Until you realise (as the headline hides from you) that this is
Wesley Clark
, well-known partisan Democrat who ran for the 2004 Democrat presidential nomination.
But somehow
"Democrat criticises Republican"
doesn't have the same ring to it!
In fact the real story is "Wesley Clark is now completely mad", since he is pouring cold water on McCain's decades of military and security experience, while supporting Obama, who has no military and security experience at all!
Hot Air titled this "How stupid is Wesley Clark?" This headline difference sums up why I often prefer blogs to the mainstream media. The blogs always get the real story.
Note in the corner above there actually appears an anti-Obama column by Charles Krauthammer. The Irish Times, to its credit, has often tried to include a token right-winger, who is normally hated by their readers, to balance the mainstream left-wing spin in their news and opinion. Charles Krauthammer was syndicated for a while. But he is long gone.

Another headline like the previous.
President Obama,
23 May 2011
, at the time of his visit to Ireland, is highly praised.
"not since president Kennedy "have we had a president of which we could be as proud"."
Who said this? Why, the chairman of the Irish branch of Democrats Abroad. Incredible!
But somehow
"Democrat praises Democrat President"
was not the headline.
---
The Irish Times spun hard for Obama in the 2012 election, and their man won.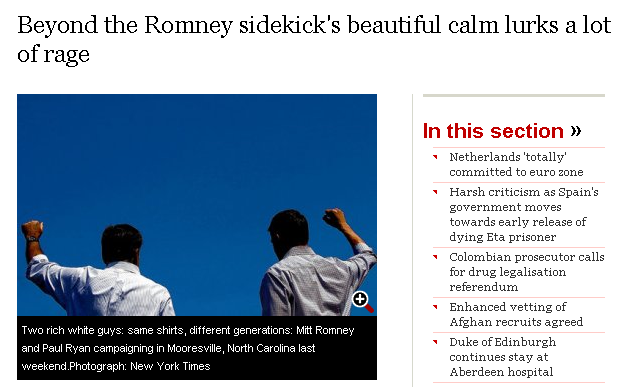 The Irish Times,
20 Aug 2012
, sneers at Romney and Ryan as "Two rich white guys".
When did the Irish Times ever call
Kerry and Edwards
"Two rich white guys"?
Never, of course. Because they were Democrats.
And "white"? As
Victor Davis Hanson
points out, it is the Obama supporters, not his opponents, who have introduced this unpleasant racial labelling into US politics.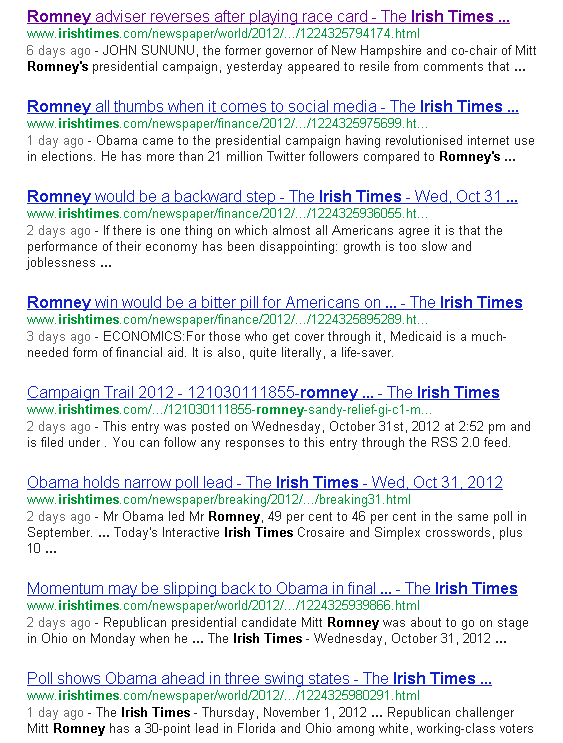 In the tank for Obama!
A Google search for "irish times" romney restricted to the last week before the election yields these headlines.
Every single one of them is anti-Romney.
---
More US elections
2014 mid-term election

The 2014 mid-terms were a disaster for Obama. The Republicans gained control of the Senate. So how did the Irish Times cover it? With an analysis piece saying: Republicans didn't win as big as you think they did, 5 Nov 2014. (The Republicans got the largest Republican majority in the country since 1928.)
As John McGuirk says, 5 Nov 2014: "Imagine a scenario where the GOP got the thumping Obama got last night and the Irish Times went with "Republicans didn't lose that big"".

2016 Presidential election

The 2016 election was interesting, because I broadly agreed with the Irish Times on Donald Trump, a hideous person and not at all a conservative.
When Trump won, the Irish Times, and the left in general, went insane, hurling endless abuse at Trump. Now while I do not really disagree, I have one problem: They said exactly the same about Reagan, Bush, McCain and Romney. I would like some self-awareness now that they were wrong about those decent men.

Roisin Ingle
, The Irish Times, 20 Jan 2021, p.9, celebrates the first
female vice-president
in Jan 2021.


Kathy Sheridan, The Irish Times, 20 Jan 2021, p.10 (one page after the above), celebrates that there was no female vice-president in Jan 2009.
---
Like all of the Irish left, The Irish Times hammers away at Catholicism and yet treats Islam with kid gloves and respect. The Irish Times is sceptical about everything the Catholic hierarchy says. But it is
credulous
about everything Islamic clerics and leaders say.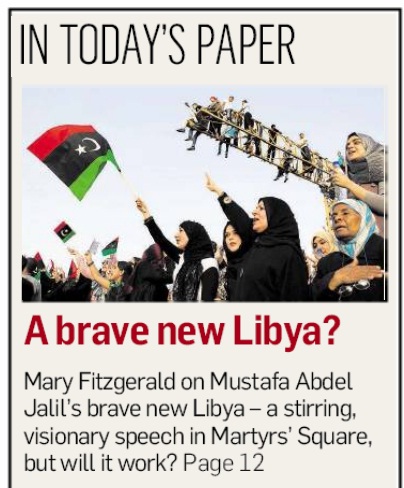 How the Irish Times, 14 Sept 2011, p.2, previews a speech by the head of Libya's interim government
promising to enslave Libya under sharia law.
Regime lackey
Mustafa Abdul Jalil
was Minister of "Justice" in Gaddafi's brutal dictatorship.
Now in this speech he says Libya will be
"a state that will have Islamic sharia law as the main basis of legislation"
.
Brave?? Stirring?? Visionary??
"but will it work?"
Will sharia oppression work? I'm sure it will.
---
The Irish Times has so many anti-Israel writers many of them have separate pages.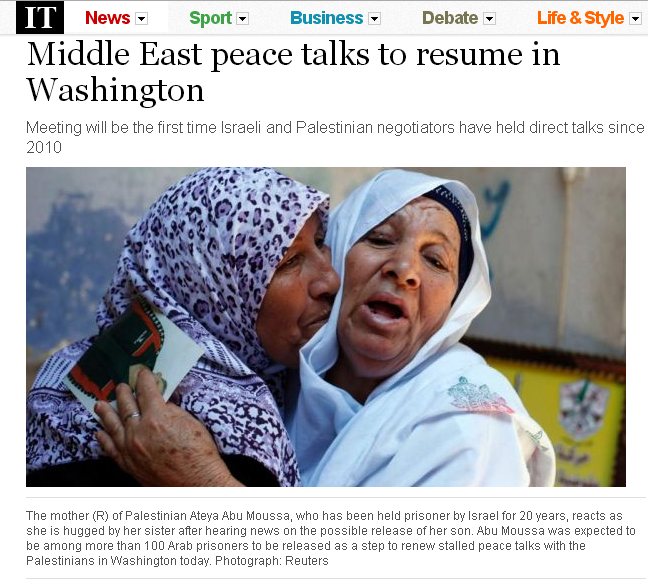 The Irish Times
, 29 July 2013, illustrates a story about Israel releasing prisoners as if it is a
good
thing.
The show us the celebrating family of
"Ateya Abu Moussa, who has been held prisoner by Israel for 20 years"
.
They do not tell us
why
he was held prisoner by Israel for 20 years.
You won't get
"The Story of Why"
here!
To find out why he was held prisoner, you need to go to camera.org for the full list of released prisoners, where you find that he is Fatah terrorist Abu-Musa Salam Ali Atia (no.103). In March 1994, to prove himself to Fatah, he killed without warning a work colleague, 67-year-old Holocaust survivor Isaac Rotenberg, with an axe.
Isaac Rotenberg was born in Poland in 1927. He survived the Sobibor extermination camp, where his family was killed, only to be murdered in old age by anti-semites. But you don't get this in the Irish Times. All you get are sick tears for the killer's family.
CiF Watch also covers the story.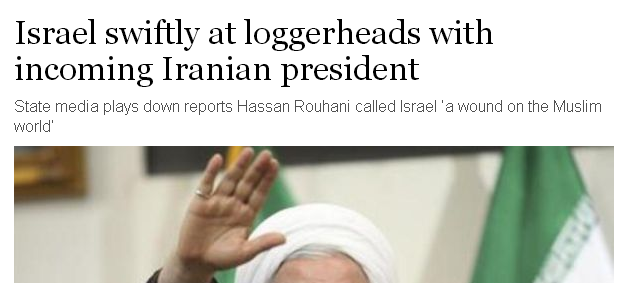 Outrageous Irish Times headline, 2 Aug 2013.
The incoming Iranian president Hassan Rouhani says about Israel: "The Zionist regime is a wound that has sat on the body of the Muslim world for years and needs to be removed."
Does the Irish Times title the piece: ""Moderate" incoming Iranian president is just like Ahmadinejad"?
No, of course not. They are committed to the idea that this genocidal Islamist really is a "moderate". So they title it: "Israel swiftly at loggerheads with incoming Iranian president". As if Israel is to blame!
The article declares, as if it is fact, that there is now "a more pragmatic president in Iran".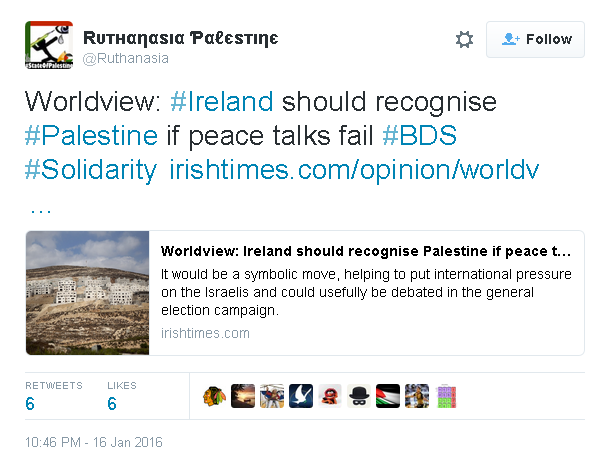 Holocaust denier "Ruthanasia" likes an Irish Times article on Israel by Paul Gillespie, Jan 2016.
From here.
That makes sense to me. But maybe the Irish Times should have a think about this.
If Holocaust deniers like what you say about the Jews, maybe you're on the wrong side.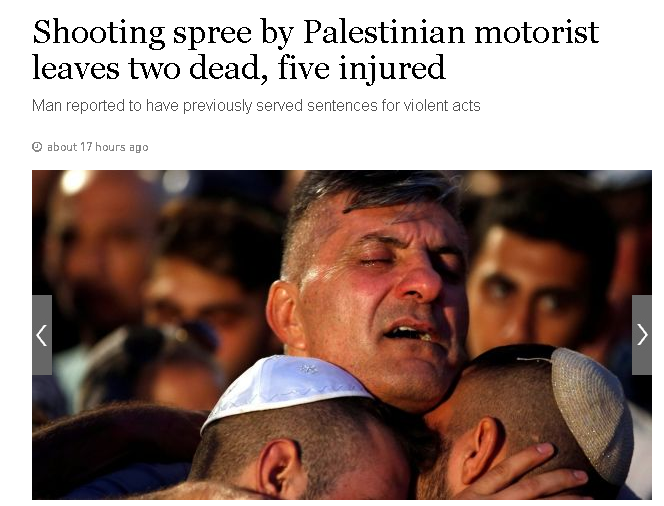 Revolting headline from The Irish Times, 9 Oct 2016, after a jihadi killed two Jews.
"Palestinian motorist", not "Palestinian terrorist".
---

Kitty Holland calls the democracy of Israel an "apartheid regime",
6 Dec 2013
.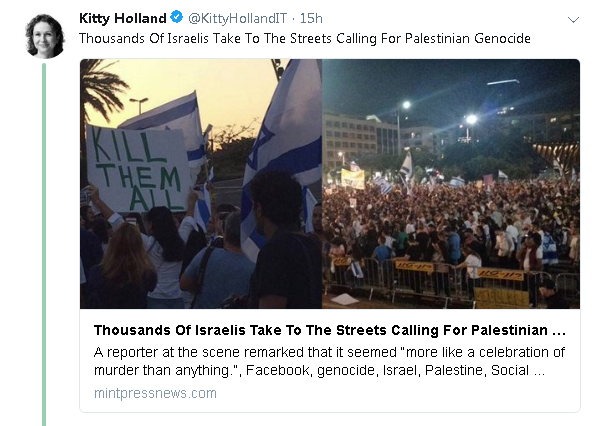 Irish Times journalist Kitty Holland promotes a fake news story about Israel from the fake news Mint Press website, July 2018. Mint Press have a photo of a sign at a Tel Aviv demo saying "Kill Them All" and says all these Israelis want genocide. Kitty Holland promotes that claim.
Here is the real story about this demo, which was in Apr 2016. It was a demo in solidarity with Elor Azaria, who shot dead a wounded and subdued terrorist in March 2016. The sign referred to terrorists not Palestinians ("Too many terrorists in prison" was written on the other side). And the sign was not welcome at the event and was removed.
I told Honest Reporting and they did a piece on her, 10 July 2018.
Kitty Holland eventually deleted her Twitter.
---
Naomi O'Leary is Europe Correspondent for the Irish Times.

She wrote this anti-Israel article: Israel destroys Irish aid to Palestinian village community, 19 Feb 2021.
The story is nonsense. It is about the demolished Bedouin "village" Khirbet Humsah, about which the true story is readily available:
Responses to her anti-Israel article:
---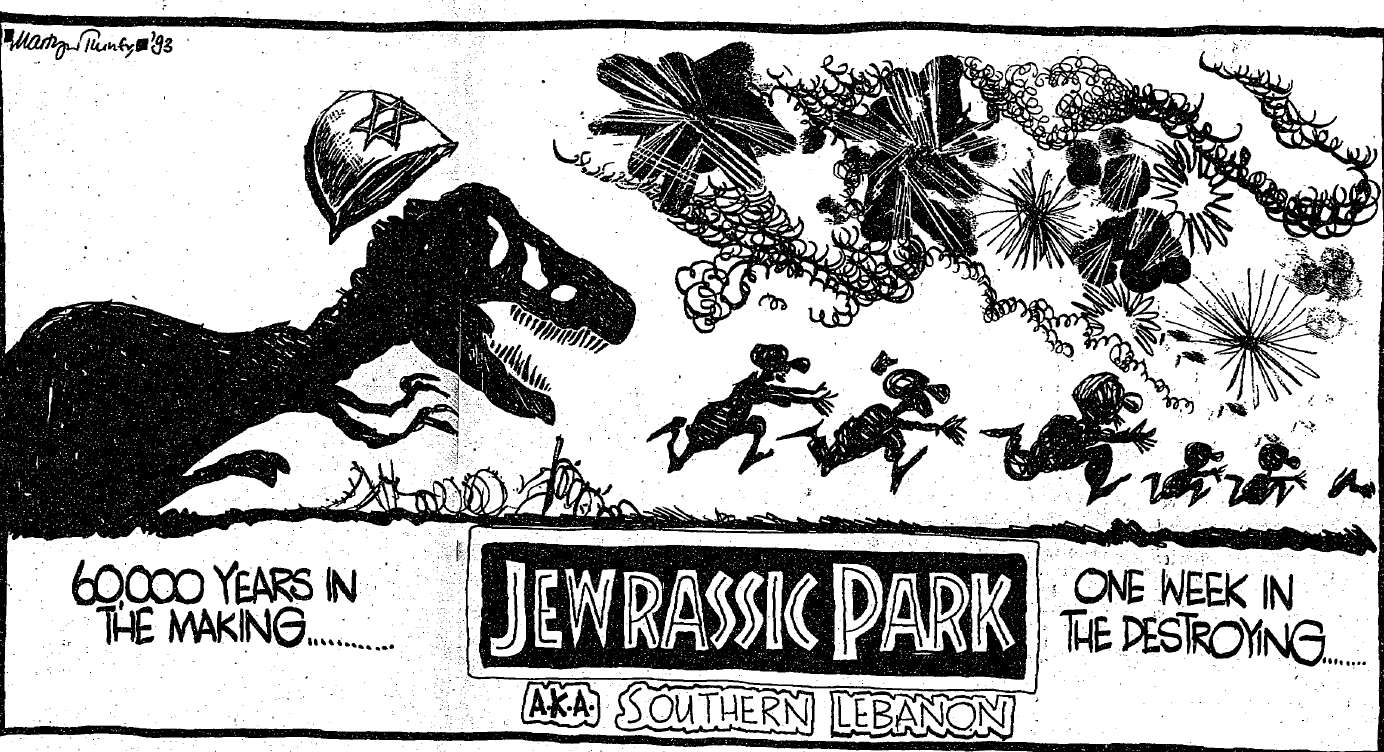 "Jewrassic Park", anti-Israel cartoon by Martyn Turner, Irish Times, July 31, 1993.
This was during Operation Accountability, launched by Israel in response (of course) to Hezbollah and PFLP terror attacks from Lebanon.
The Anti-Defamation League actually protested this cartoon.
Martyn Turner projects Hezbollah's world view onto the Israelis.
Hezbollah, of course, regard all Jews as targets, and responded to Israel by bombing the Jews of Argentina in 1994.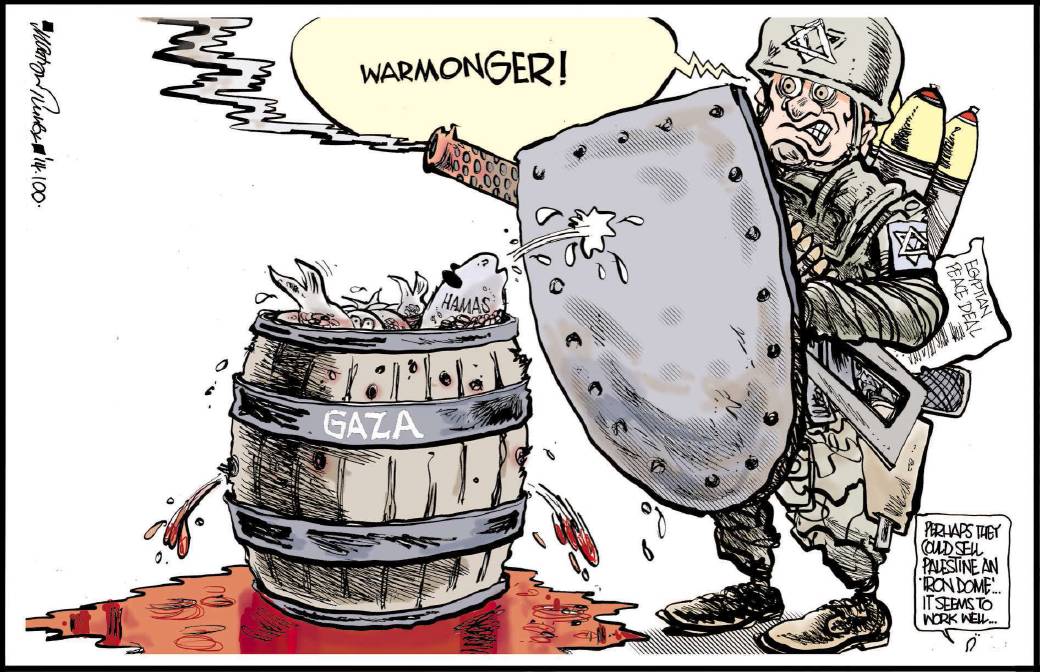 Martyn Turner has spent decades attacking Israel and running spin for the jihad.
Here he is again in the 2014 Gaza war attacking Israel and the brave IDF (who lost 66 soldiers killed).
From Irish Times, July 16, 2014.
What a one-sided fanatic.
See CiF Watch commentary.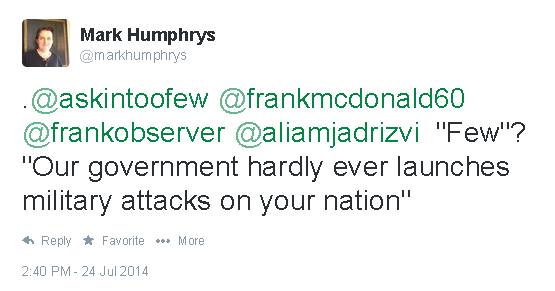 Martyn Turner above has Hamas merely "spitting" at Israel.
And lefties often say that rocket attacks are no big deal, since only modest numbers of Jews are killed.
Above I reply to a leftie who says rocket attacks are "few". Apart from being inaccurate (there have been 11,000 rocket attacks since Israel left Gaza) it is a ludicrous argument: "Why are you angry? Our government hardly ever launches military attacks on your nation."