The United Nations
I am opposed to the UN,
and always will be, because the worst countries in the world - the worst dictators and human rights abusers - are members of the UN and have a vote. The
enemies
of my freedom and my world have a vote. Why should I respect such an organisation? I do not.
This is not a happy, imaginary world where all nations are respectable, and the UN can deal with the rare outbreaks of lawlessness. Rather, this is - as it always has been - a world where criminals run entire countries, where many nation states are headed by unelected dictators, tyrants, racists, hate-filled religious fanatics, communist fanatics and all-out genocidal killers. Many "ambassadors" represent thugs with Swiss bank accounts, not the people of their country.
By giving these unelected thugs a vote, the UN loses all credibility. No intelligent person should support the UN, or respect what it says, or abide by what it says. The UN should be shut down, or at the very least all non-democracies should be expelled.
The idea that the UN has moral authority I find sick.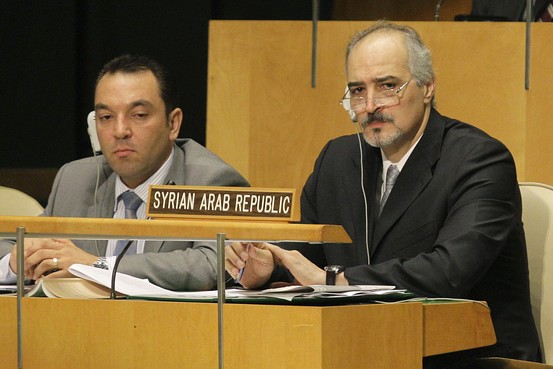 Assad's Syria sits at the UN.
Photo 2012. From
here
.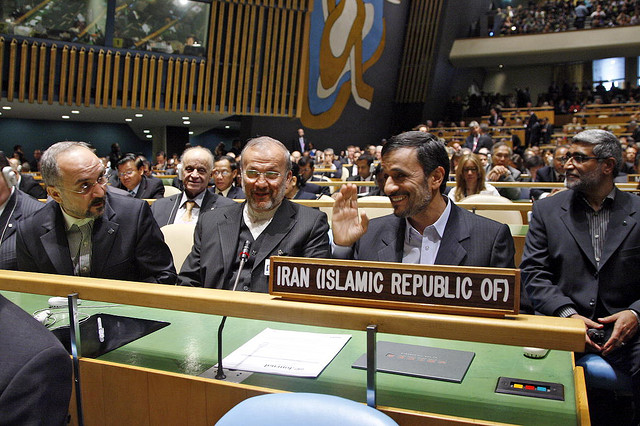 Terrorist Iran sits at the UN.
Photo 2009. From here.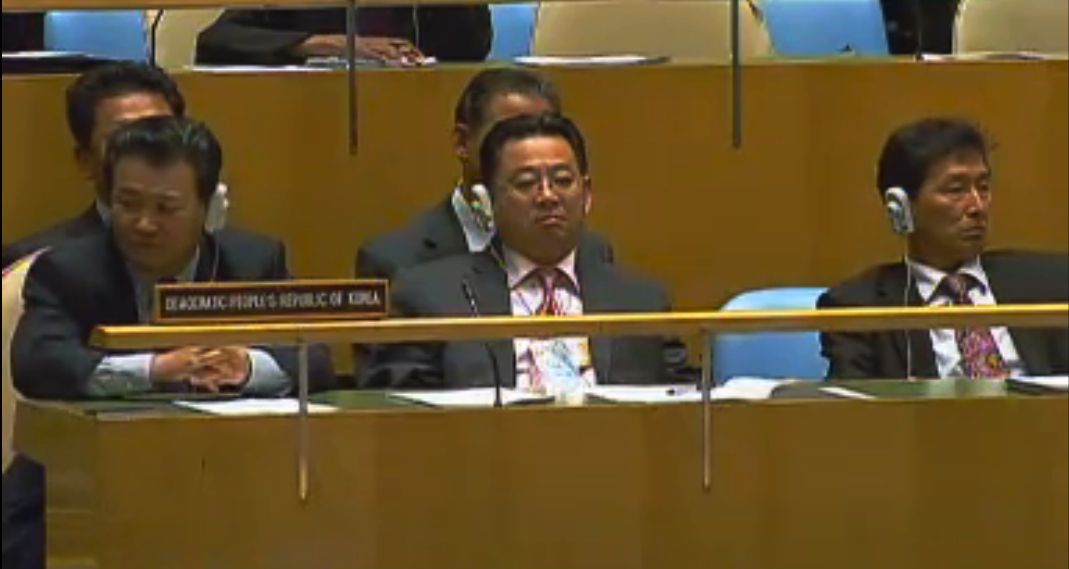 Genocidal North Korea sits at the UN.
Photo 2012. From here.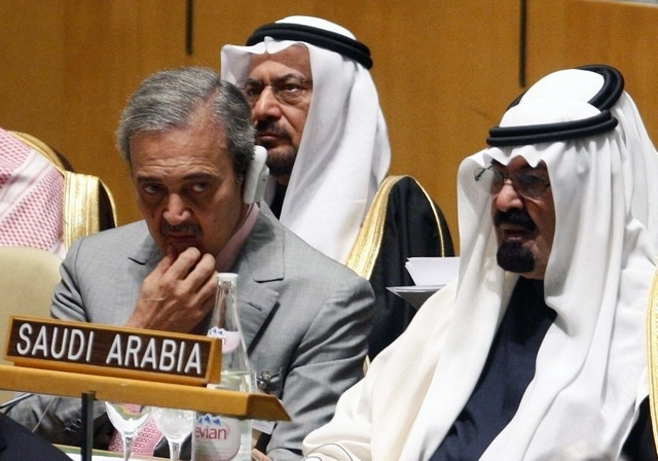 Islamofascist Saudi Arabia sits at the UN.
Photo 2008. From here.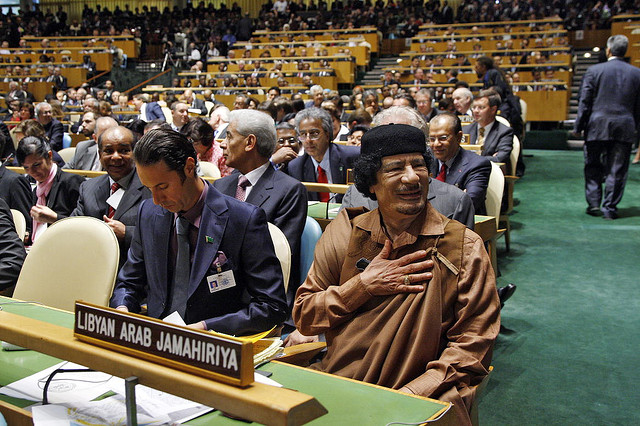 Gaddafi's Libya sits at the UN.
Photo 2009. From here.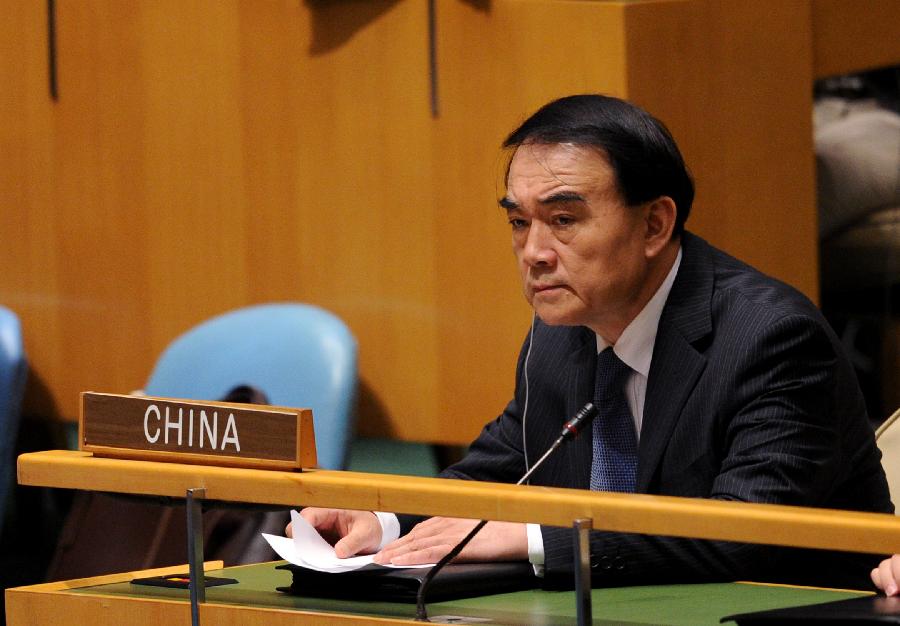 Communist China sits at the UN. And has a veto.
Photo 2012. From here.
I cannot respect anybody who respects the UN.
---
If there is to be a global policeman, it should grow out of something like
NATO
, which at least
roughly
represents the democracies and the countries with the best human rights and civil liberties - rather than the UN, which represents every thug, junta and oppressive regime there is. And gives Russia and China a veto. NATO has moral authority. The UN does not.
The UN, Dec 2011, holds a
minute's silence
for the death of the genocidal monster
Kim Jong-il
.
(Kim Jong-il ran
concentration camps
and
gas chambers
.)
This really sums up the UN.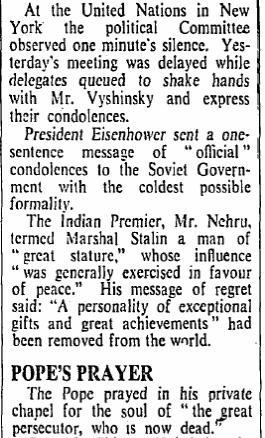 The UN also held a minute's silence when the democidal monster Stalin died in 1953.
From Irish Times, 7 Mar 1953.
Notice the genuine condolences from the commie-loving Indian prime minister Nehru.
---
Israel is a litmus test for bad politics. All the worst countries in the world are anti-Israel.
One would
expect
a depraved body like the UN to be anti-Israel. And indeed it is so.
No one should of course care what the UN says about Israel (or indeed any issue).
The United Nations' War Against Israel by David Harsanyi (May 27, 2002) - The UN's long shameful record on Israel
Terror Stings Its Pal, the U.N. by Alan Dershowitz, August 27, 2003 - The UN's long support for and tolerance of Islamist terror.
The U.N.'s record vis a vis Israel, 1946-89 (and here) - full statistics.
List of resolutions against Israel adopted by the UN "Human Rights" Council since its creation in 2006. "The council has criticized Israel on 26 separate occasions ... Obsessed with condemning Israel, the Council in its first year failed to condemn human rights violations occurring in any of the world's 191 other countries."

The UN actually has permanent divisions devoted to its anti-Israel agenda!

The UN and the Jews by Anne Bayefsky, February 2004, notes that over the past 40 years, almost 30 percent of the resolutions passed by the UN Commission on Human Rights to condemn specific states have been directed at Israel. No resolution has ever been directed at the non-democracies of China, Syria, Egypt, Saudi Arabia, Yemen, Pakistan or Zimbabwe.

Ranking of countries criticised by the UN.

No.1 Israel - Israel is the most criticised country!
No.5 USA

Israel is the only country that cannot serve on the UN Security Council or the other UN bodies.

John Dugard, UN Special Rapporteur on Israel, 2001-08.

The U.N.'s Spokesperson for Suicide Bombers - Anne Bayefsky, 23 Oct 2006, on John Dugard.
John Dugard, Oct 2007, compares democracy-hating, human rights-hating, anti-semitic, Jew-killing Palestinian Islamofascists to the French resistance against fascism: "'Inevitably in a military occupation, there are likely to be those engaged in resistance.' These people may be labelled terrorists, Mr Dugard added, but history treats them differently. He cited the example of the French Resistance during World War II, and those in Namibia who fought occupation by South Africa. 'Now,' he said, 'they are in government and treated as heroes.'"

Jews build houses - war crime!

The UN and the left think that the Israeli conflict is about "settlements". That Jews building houses is the real problem. Jews building houses makes a certain type of leftist, journalist and diplomat furious.
The Deadly Israeli House Strikes Again, Daniel Greenfield, 1 Sept 2014, amusingly sums it up. "Sudan may have built a small mountain of African corpses, but it can't expect to command the full and undivided attention of the world until it does something truly outrageous like building a house and filling it with Jews."
If all unapproved Jew houses were destroyed, and Jews agreed only to live where they were told, the war would end escalate.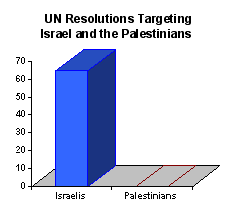 Simple graphic showing how the UN has no credibility.
Incredibly, this graphic is used by
Israel's enemies
to claim there is something wrong with
Israel
, not with the UN!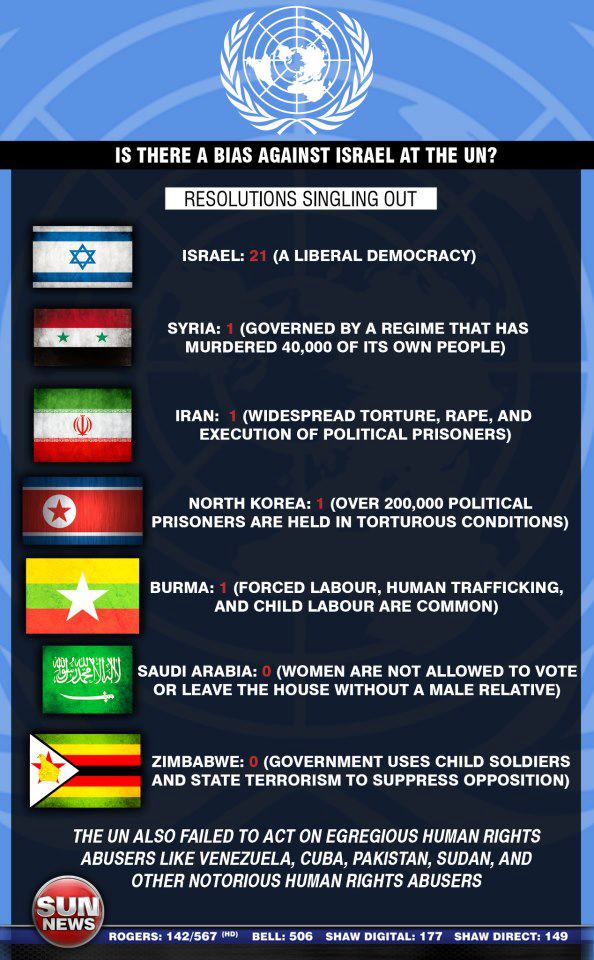 U.N. General Assembly resolutions in 2013. 21 on Israel. 4 on the rest of the world.
Graphic from Sun News (Canada).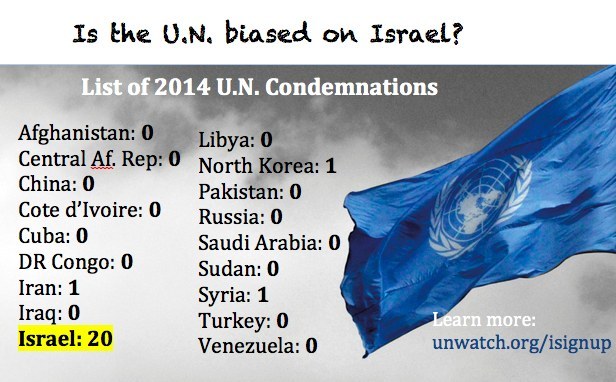 Top 10 Worst U.N. Decisions Of 2014
includes:
U.N. Elects Iran to Women's Rights Commission.
U.N. Elects New Human Rights Council Members: China, Russia, Cuba, Saudi Arabia.
U.N. Picks Sudan to Oversee Human Rights Activists.
U.N. rewards Syria with top post on human rights committee.
U.N. Adopts 20 Resolutions against Israel. Compared with 4 on Rest of World Combined.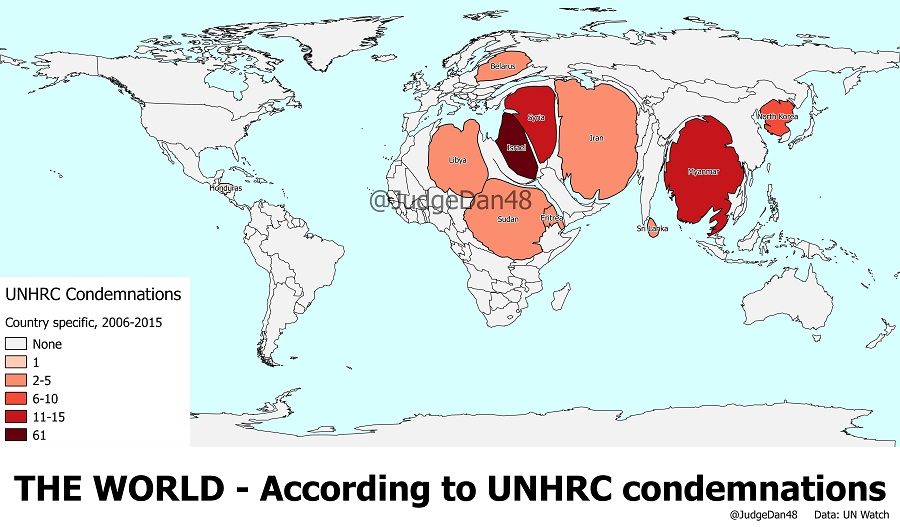 "The World According To UNHRC Condemnation" 2006-2015.
See
full size
.
From
Dan Smith
.


The United Nations Population Fund (UNFPA) was linked in 2011 to a campaign promoting terrorism against Israel.
UNFPA appeared as a sponsor of the "White Hands" campaign for "womens' rights" (and Islamic terrorism).
This "White Hands" video promotes the Palestinian terrorist Dalal Mughrabi.
In response, the UNFPA disassociated itself from the White Hands Campaign.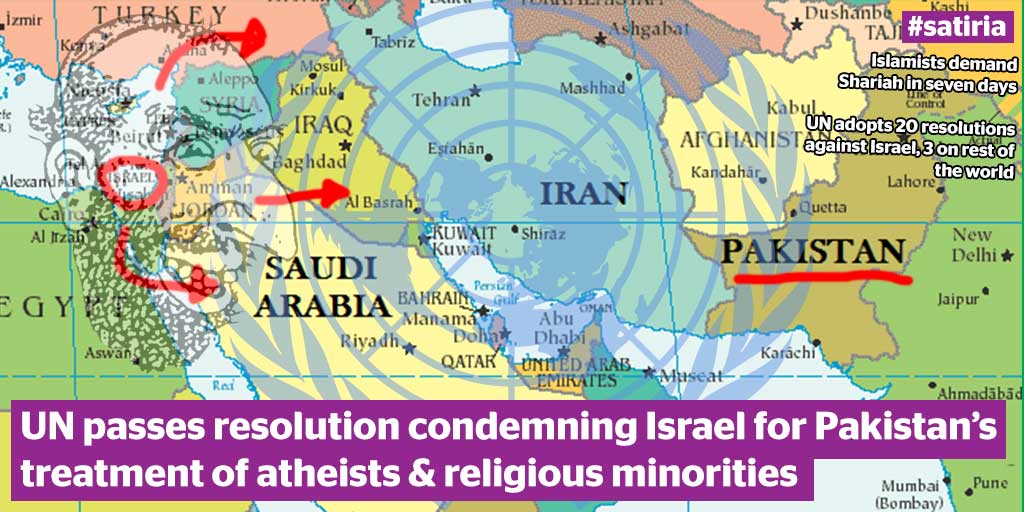 No, seriously, this is satire.
Though maybe we should check.
From here.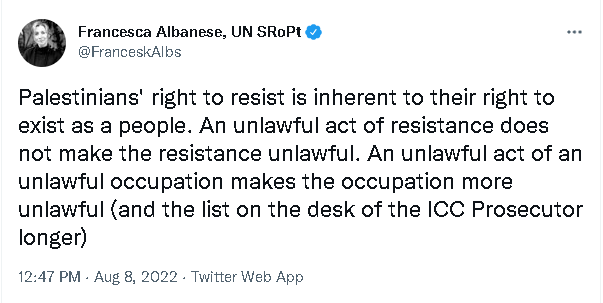 Jesus Christ. UN official Francesca Albanese openly comes out in defence of the jihad "resistance" against Israel, 8 Aug 2022.
---
Richard Falk, UN Special Rapporteur on Israel, 2008 on.

Richard Falk's hatred of Israel:

Richard Falk says Hamas rockets are "cries of help", Nov 2012: "These rockets do spread fear and cause trauma among Israeli civilians even when no targets are struck, and represent an unacceptable tactic. Yet such unacceptability must be weighed against the unacceptable tactics of an Israel that holds all the cards in the conflict. It is truly alarming that now even the holiest of cities, Jerusalem, is threatened with attacks, but the continuation of oppressive conditions for the people of Gaza, inevitably leads to increasing levels of frustration, in effect, cries of help that the world has ignored at its peril for decades. These are survival screams! To realise this is not to exaggerate!"
Richard Falk compares Hamas to the French resistance, Jan 2013. "What are we to do with international law when it is invoked only to control the behaviour of the weaker party? It gives perspective to imagine the situation being reversed as it was during the Nazi occupation of France or the Netherlands during World War II. Resistance fighters were uniformly perceived in the liberal West as unconditional heroes, and no critical attention was given as to whether the tactics used unduly imperiled innocent civilian lives."
I don't think Hamas "imperils" innocent lives. Rather they target innocent lives! That Falk cannot see this, and that the UN still employs him, just shows how depraved the UN really is.

Richard Falk on the Islamic jihad bombings in Boston, 21 Apr 2013.

"Should we not all be meditating on W.H. Auden's haunting line: "Those to whom evil is done/do evil in return"? The American global domination project is bound to generate all kinds of resistance in the post-colonial world. In some respects, the United States has been fortunate not to experience worse blowbacks, and these may yet happen ... America's military prowess and the abiding confidence of its leaders in hard power diplomacy makes the United States a menace to the world".
So America "did evil" to Chechen refugee Dzhokhar Tsarnaev by giving him asylum, safety, prosperity, and a $2,500 scholarship. It must expect "resistance" from him.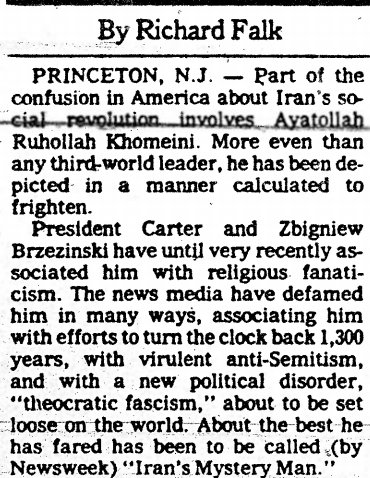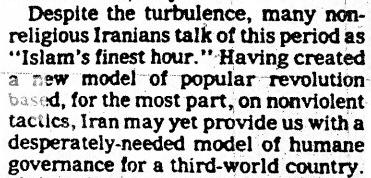 Richard Falk
in this New York Times piece of
16 Feb 1979
promoted the Islamic Fascist revolution in Iran in 1979 that brought the Ayatollah Khomeini to power, ended Iranian human rights, killed tens of thousands, cleansed most of the Jews of Iran, and made Iran an oppressive state and promoter of terror which it still is today.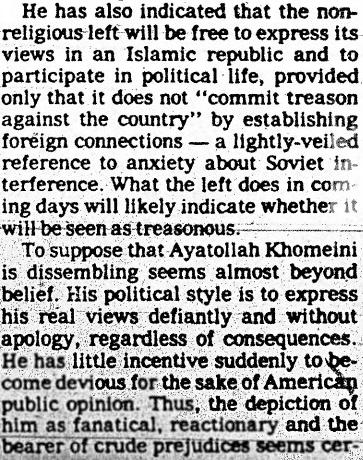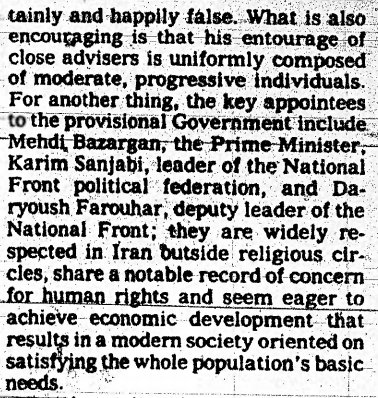 More from Richard Falk's 1979 piece promoting Islamic Fascism for Iran.
Westerners idiotic enough to believe the above are still with us.
---
---
The UN was headed in the 1970s by a former Nazi officer. Says it all.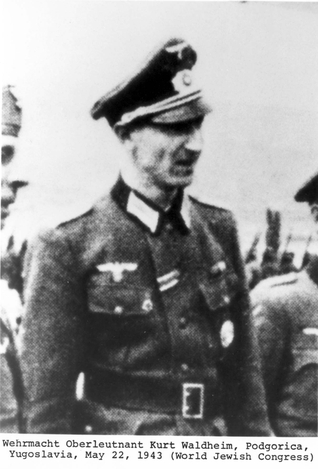 Oberleutnant
Kurt Waldheim
served in the Wehrmacht of Nazi Germany in WW2.
He later served as UN Secretary General in 1972-81.
Image from
here
.
Kurt Waldheim served in the Nazi Army Group E in the Balkans in 1943-45. His commander, the Nazi butcher Alexander Lohr, played a leading role in the extermination of the Jews of Greece, and was executed for war crimes after the war.
Kurt Waldheim was at Banja Luka, 2nd city of Bosnia, in 1942 when its Jews were rounded up for extermination.
He was at Salonika, 2nd city of Greece, in 1943 when its entire population of Jews, one third of the city's population, were rounded up and deported to death camps.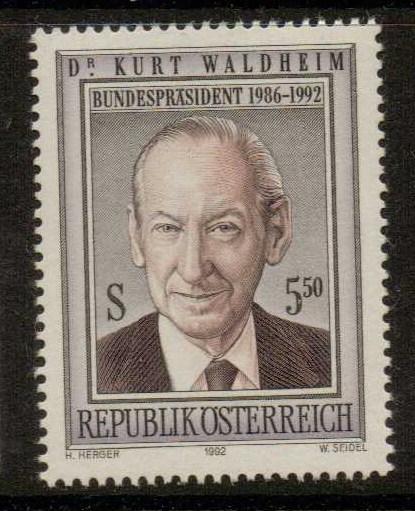 Ireland isn't the only country to put a Nazi collaborator on a stamp.
---
The UN "Human Rights" Council is a sick joke. As was its predecessor, the UN Commission on "Human Rights". Sneer quotes are essential when talking about these bodies.
No matter what year you look at it, the UN "Human Rights" Council is always full of human rights abusing dictatorships. If you are interested in what cold-hearted communists, Islamic maniacs and tribal warlords have to say about human rights, knock yourself out. I have only utter contempt for this council. Anyone who takes what this council says about human rights seriously needs their head examined.
Its predecessor, the UN Commission on "Human Rights" (see members)

The UN Commission on "Human Rights"

Sudan is getting away with murder by Mark Steyn, 20 July 2004. In 2004, the worst genocide in the world was being carried out by the Arab Islamofascist regime of Sudan against black Africans. The UN's response? In 2004, Sudan - that is, the perpetrator of the genocide - was elected to the UN Human Rights Commission. This sums up the UN Human Rights Commission in a nutshell. "The Sudanese representative, by the way, immediately professed himself concerned by human rights abuses at Guantanamo and Abu Ghraib."
"Rights abuser" Cuba put on U.N. action panel, Jan. 26, 2005 - Cuba and Zimbabwe appointed to an elite "action panel" that will influence the work of the U.N. Commission on Human Rights.

Freedom House ranked the members of the UN Commission on "Human Rights" in various years:

The Worst of the Worst: The World's Most Repressive Societies, 2004:

5 of the 15 most repressive governments in the world - China, Cuba, Eritrea, Saudi Arabia, and Sudan - are members of the UN Human Rights Commission.
8 other countries ranked as "Not Free" - Bhutan, Egypt, Mauritania, Pakistan, Qatar, Swaziland, Togo, and Zimbabwe - are members of the UN Human Rights Commission.

The Worst of the Worst: The World's Most Repressive Societies, 2005:

6 of the 18 most repressive governments in the world - China, Cuba, Eritrea, Saudi Arabia, Sudan, and Zimbabwe - are members of the UN Human Rights Commission.
9 other countries ranked as "Not Free" - Bhutan, Egypt, Guinea, Mauritania, Pakistan, Qatar, Russia, Swaziland, and Togo - are members of the UN Human Rights Commission.

Incredibly, there are people in Ireland who are proud that an Irish woman was head of this disgusting and evil body from 1997 to 2002. It seems more like something Ireland should be ashamed of.

The new, "reformed", UN "Human Rights" Council is just the same. The US and Israel were right to vote against its existence.

Pro-sharia:

As at 2010, the UN "Human Rights" Council includes the "Not Free" countries of: Angola, Cameroon, Libya, the Maldives, China, Pakistan, Qatar, Saudi Arabia, Russia and Cuba. No sane person should take seriously anything this Council says.
UN Human Rights Council condemns Canada, May 2012. No, this is not The Onion. I will not dignify the UN Human Rights Council by repeating their "arguments". I will instead note that the UN Human Rights Council at this time contains the following as members: Angola, Cameroon, Congo, Libya, Mauritania, China, Kyrgyzstan, Qatar, Saudi Arabia, Russia and Cuba.
Jean Ziegler is on the UN "Human Rights" Council Advisory Committee.
"Human Rights Under Assault"
by UN Watch.
Watching what actually
goes on
at the U.N. "Human Rights" Council is the best cure for anyone who believes in the UN.


Stunning speech by UN Watch to the UN "Human Rights" Council, 23 March 2007.
A rare occasion when truth is spoken to power in the halls of the amoral UN.
In just 4 minutes, Hillel Neuer of UN Watch sums up everything that is wrong with the UN and international "law". "the racist murderers and rapists of Darfur women tell us they care about the rights of Palestinian women; the occupiers of Tibet care about the occupied; and the butchers of Muslims in Chechnya care about Muslims. But do these self-proclaimed defenders truly care about Palestinian rights? ... in truth, the dictators who run this Council couldn't care less about Palestinians, or about any human rights. They seek to demonize Israeli democracy, to delegitimize the Jewish state, to scapegoat the Jewish people. They also seek something else: to distort and pervert the very language and idea of human rights."
Disgusting reply by the UN "Human Rights" Council president Luis Alfonso De Alba of Mexico.
UN Watch compilation of the kind of speech at the UN "Human Rights" Council that Luis Alfonso De Alba finds acceptable (i.e. lies and abuse of human rights from dictator's lackeys).
The UN "Human Rights" Council, Nov 2010, focuses on the "crimes" of America. A comical group of repressive dictatorships claims to be "concerned" about the lack of human rights in the United States.
Cuba, Iran, North Korea, Qatar, Egypt, China and Libya
all express their concern at the lack of human rights in America.
After watching this, no intelligent person should support the UN, or respect what it says.
The UN should be shut down, or at least it should expel all non-democracies.
What an Orwellian video. The UN is a glimpse into madness.
Iran is concerned about womens' rights in the US. It is also concerned about insults to Islam.
North Korea, which puts women and children in concentration camps, is concerned about womens' rights and police brutality in the US.
Egypt, which brutally persecutes Christians, is concerned about insults to Islam.
China too pretends to be interested in human rights for the day, and says it is concerned about the lack of Internet freedom in the US.
Many of the ignorant thugs bang on about racial discrimination against blacks in the US, rather ignoring the fact that the US has a black President. When will Egypt have a Christian President? When will Iran have actual elections?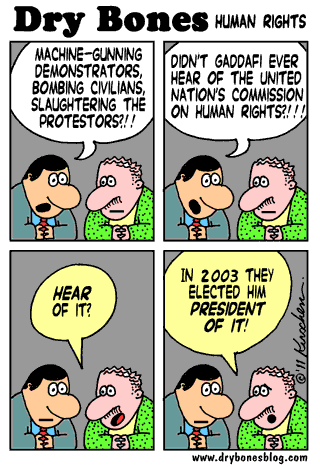 This is
not a joke
.
---
The UN's other committees are just as useless, decadent and corrupt as the UN "Human Rights" Council. They have to be, because of the UN's membership. They can be no other way.
UNESCO
UNESCO

The Israel-hating extremist, Egypt's Minister of Culture Farouk Hosny, ran for head of UNESCO in 2009.

Hosny said about Israel: "Israel has never contributed to Civilization in any era, for it has only ever appropriated the contributions of others."
As just one example, I note that UNESCO's website is based on PHP. PHP was developed in Israel.
Over 20 million websites run on PHP, including many Egyptian government sites.
I use PHP myself. I'd like to know what (if anything) I use that was developed in Egypt (since 1600, say). Let me know here.
Or even anything I use that was developed in the entire Arab Islamic world (since 1600). Let me know here.
In 2008, responding to a deputy of the Egyptian parliament who was alarmed that Israeli books could be introduced into the Alexandria Library, Hosny said: "Burn these books; if there are any there, I will myself burn them in front of you."
Good news: Hosny fails to get elected, Sept 2009.
Terrorist leader
Yasser Arafat
speaks to the UN in 1974, and threatens more killing of Jews.
He gets a standing ovation.
He goes on to kill
loads more Jews
, as he promised.
Says it all about the UN.
(Ignore the disgusting pro-Arafat commentary on this video.)

Tyrant Fidel Castro and antisemitic killer Yasser Arafat arrive at the racist UN conference in 2001.
---
The filthiest committee of all
In the filthy cesspit that is the UN, it is hard to pick a standout, but maybe this committee is it.
The UN has an entire committee dedicated to threatening the people of the Falklands and Gibraltar: UN Special Committee on Decolonization. Disgusting and depraved.
---
The representatives of the world's unelected thugs, genocidal killers and hate-filled religious clerics, claiming to pass judgements that we should respect.
Again, only if all non-democracies were expelled from representation could this court start to have any legitimacy.

The International Court of Justice's ruling against the Israeli security fence

Hague deserves world's contempt for anti-Israeli bigotry by Alan Dershowitz

"The Israeli government has both a legal and a moral obligation to comply with the Israeli Supreme Court's decision regarding the security fence. ... the Supreme Court is a creation of the Knesset and is therefore representative of all of the people"
"Contrast this with the questionable status of the International Court of Justice in The Hague. No Israeli judge may serve on that court as a permanent member, while sworn enemies of Israel serve among its judges, several of whom represent countries that do not abide by the rule of law. ... Israel owes the International Court absolutely no deference. It is under neither a moral nor a legal obligation to give any weight to its predetermined decision."

Travesty at The Hague - Charles Krauthammer points out that the judgement was read out by a judge from the tyranny of China. That really sums up the International Court of Justice.
Had Enough? by Anne Bayefsky
The International Criminal Court
Like the UN and the International Court of Justice, the International Criminal Court cannot assume we should support it. It has to earn legitimacy. It has to prove that I should support it.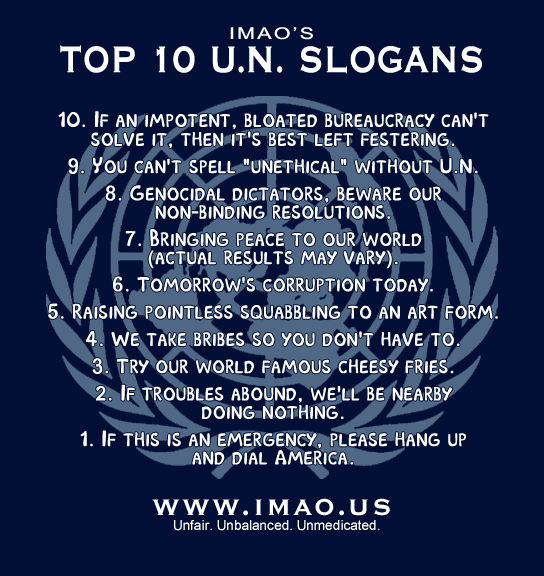 T-shirt at
thoseshirts.com
.
From
IMAO
("In My Arrogant Opinion") blog.
---
The UN-sponsored "Alliance of Civilisations" is meant to look at defusing the clash between the West and Islamism.
It is of course just another typical, hopelessly compromised, UN group that no one should listen to.

Their 2006 report shows that the group includes:

Joining this collection of dictators and workers for dictators are various "useful idiots" and left-wing moonbats like:

The whitewasher of Islamic history Karen Armstrong.

I couldn't find one name on the list whose opinions I respect.

According to this collection of enemies, appeasers and useful idiots, the chief cause of the Islamist jihad against Christians, Jews, Hindus, Buddhists, atheists, animists, moderate Muslims and others all over the world is, apparently, not the inherent violent and intolerant nature of Islamism itself. No, you've guessed it. The chief cause of all this Islamist killing is .. the Jews of Israel. Apparently if they went away, Islamists would stop killing infidels. Or something.

The Iranian dissident Amil Imani describes Khatami's "Dialogue of Civilizations" as a "diatribe against civilization".

Turkey's Islamist prime minister Erdogan at the Alliance of Civilizations Forum, Feb 2013, declares that both Zionism and criticism of Islam are crimes against humanity: "disrespectful attitudes toward Muslims living in certain countries continue to hurt consciences ... Just like Zionism, anti-Semitism and fascism, it becomes unavoidable that Islamophobia must be regarded as a crime against humanity".
You'll never find the appalling Erdogan declaring that the Armenian Genocide was a crime against humanity, however.
---
Similar to the UN's absurd conferences by
racists
pretending to be against "racism", or by
human rights abusers
pretending to be concerned about "human rights", we have the farce of "anti-terrorism" conferences hosted by the
state sponsor of terror
Iran, May-June 2011.
Of course by "terrorism" they mean any action by America, Britain or Israel to try to stop Islamic terrorism.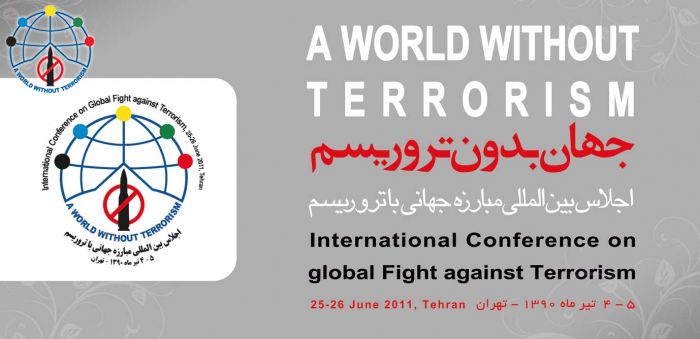 Sick comedy: The terrorist state of Iran hosts an "anti-terrorism" conference, June 2011.
---
Global Counter Terrorism Forum
Obama's "Global Counter Terrorism Forum", launched Sept 2011, is meant to fight "terrorism". Unfortunately, it is hopelessly compromised by Obama's "outreach" to the Muslim world.
It includes as members many brutal human rights abusers and even supporters of terrorism.
The list of members includes perhaps the world's greatest state sponsor of terror, Pakistan, and also includes Egypt, Saudi Arabia, China, Russia, Turkey, Indonesia, Nigeria, Algeria, Morocco, Jordan, Qatar and the UAE.
In yet another Obama snub to America's allies, the list of members pointedly does not include Israel. Shame on Obama.
---
Return to
World bodies
.