The Irish left (people)
I agree with the Irish left mainly on
civil liberties
(for example,
the blasphemy law
). I disagree with them primarily on
the economy, crime, and foreign policy
.
Some of the following have noble records in fighting for sexual and religious freedom in Ireland, the rights of gays and atheists, separation of church and state, opposition to censorship, and so on.
But that does not mean that their foreign policy or economic ideas make any sense.
---
Search for historical statements by the Irish left

For reasons I discuss elsewhere, the Irish left is far more likely than the Irish right to make embarrassing statements supporting foreign non-democrats (such as Cuba, Nicaragua, Palestine, Libya, Vietnam and the Soviet Union). Such statements need to be remembered.
---
Proinsias De Rossa was leader of the extremist Workers Party.
He was later in the Labour Party.

The Cold War:

De Rossa attended a Soviet propaganda event in Dublin, reported in Irish Times, January 11, 1983.
He then however protested US Vice-President George Bush's visit to Ireland, May 18, 1983.
He complained, October 25, 1983, about the use of Shannon Airport by US military on their way to and from West Germany.
He protested US President Ronald Reagan's visit to Ireland in 1984.
He gushed praise over Soviet dictator Gorbachev's visit to Ireland, April 3, 1989, despite the fact that Bush and Reagan were elected and Gorbachev wasn't.

De Rossa defended the communist regime of Nicaragua:

De Rossa defends Nicaragua in the Dail, 26 Apr 1983: "One of the most serious charges made by the USA against the Sandinista Government was that of persecution against the Miskito Indians. ... They continue to repeat this charge despite the fact that it has been denied by independent sources".
De Rossa, November 10, 1984, defends Nicaragua.

Dail, 6 December, 1984. A motion is proposed to call on the Soviet Union to grant Jews religious freedom and allow them to emigrate.

What kind of lunatic could speak against such a motion?
De Rossa could: "the proposers of the motion did not approach Deputy Mac Giolla or myself to see if we would be prepared to support this motion. ... we recognise that there is a problem of alienation of Jews in the Soviet Union. However, we do not go along with the terms of the motion as put forward because it is an over-statement and the case made to support it has not been proved. There are obviously two sides to every story and no case has been made for the defence." Note the patronising "alienation" of Jews, not "oppression" of Jews.
He claims there is something wrong with being anti-Soviet! "the case that is made concerning the USSR is in many instances tinged with a high level of anti-Sovietism. I heard Deputy Taylor deny that he is in any way anti-Soviet, and I accept and welcome that."
Like a credulous child, he believes Soviet propaganda: "The case has been made that Jews in the Soviet Union are completely oppressed, are denied any rights and denied the facilities to practise their religion or to learn the Hebrew language. I have here some figures from an official Soviet source which to some extent at least refutes the assertion that all Jews in the Soviet Union are oppressed. I will go through those figures very quickly. ... Religion in the Soviet Union is a private matter, ... we have to accept there are two sides to every story. I am simply putting forward my views on this matter and I am indicating that I do not believe there is total oppression of Jews in the Soviet Union. I should like to quote a letter which appeared in the English language Soviet Weekly".
He sneers at political prisoners: "People have listed people who are persecuted in the Soviet Union. I have here a report to the Council of Europe and it lists a number of people who were imprisoned allegedly for trying to teach the Hebrew language or for pursuing cultural affairs. It always amazes me that all these people are very well educated."

De Rossa attacks Israel:

Israeli wall creating Palestinian ghettoes (also here), Proinsias De Rossa, March 9, 2004. De Rossa compares the Israeli security wall to the Nazi ghettos: "Looking at the watchtowers, guns and barbed wire, I thought of the Warsaw Ghetto. Growing up just after the second World War, I could not understand how the world stood by (*) while six million Jews were gassed, burned and buried alive. I learnt the answer in Qalquilya. First, you dehumanise your victims, than you criminalise them en masse, and then you imprison them en masse. Finally, you can kill them while the world watches."
De Rossa calls Gaza a "prison camp" (also here), Nov 2006. "The occupants of this camp are being systematically starved." "At the same time they are being massacred."

Reply to De Rossa:

(*) The world did not "stand by", Mr. De Rossa. Britain and America - the two countries you have spent your entire career attacking - fought to stop it, and sacrificed 900,000 lives to end it. They were joined by Australia, Canada, New Zealand and many others.
Ireland stood by, it is true - to its eternal shame. Ireland stood by because of all the appalling anti-British, anti-American and "anti-war" people who, unfortunately, so often dominate discourse in this country. People like you, in fact.
The IRA - the first political group you joined - not only stood by, they actually supported the Nazis. Were you not aware of this? It was no secret, then or since. If you "could not understand" growing up in the 1950s how the world stood by during the Holocaust, if you thought it was such a big issue, then how come the first political group you joined was the only one in Ireland that had supported the Nazis? (De Rossa joined the IRA in 1956 and stayed until 1970.)
Yes I know you were never pro-Nazi. Yes I know the IRA were no longer working for the Nazis when you joined them (because Nazi Germany had lost). Yes I know you have renounced the IRA long ago anyway, and gone through a long political journey since. I am glad you have. But you've still a long way to go before you understand who are the kind of people who will "stand by" in the face of fascist, communist or Islamist tyranny, and who are the kind of people who will go out there and fight it. If you really wonder how people could have stood by in WW2, then you should become (as I have become) a fan of Britain and America, and a bit of a sceptic of countries like Ireland.
Soviet Archives (also here), by the brave Russian dissident Vladimir Bukovsky, contains many documents secretly scanned by Bukovsky from the former Soviet Union.

The section KPSS and Communist World (also here) contains alleged communications between the Soviets and foreign leftists, including the item:

Item 0640. Alleged letter from the Workers Party of Ireland to the Soviets. 15 Sept 1986.

The libel case

The above is the letter at the centre of the De Rossa Libel Case in which De Rossa won £300,000 plus costs. See libel case details.
He sued about an article by Eamon Dunphy in the Sunday Independent on December 13th, 1992.
De Rossa denied that the signature on the above letter was his. In other words, his position is the letter is a fake.
Bukovsky replies to this allegation that his archive contains a fake.
There remains to this day no explanation for how a fake could have ended up in the Moscow archives.
It should be noted that Dunphy's article contains many allegations beyond just publishing the Soviet letter.

Embarrassing admissions from the libel trial:

The Sunday Independent may have lost the case, but they did achieve something. The trial was a great public service in bringing out embarrassing information about the Workers Party.
March 1, 1997: De Rossa admits WP links to the genocide state of North Korea. "Mr De Rossa said they sought to establish relationships with a lot of other parties, including the North Korean Communist Party."
March 5, 1997: De Rossa admits links to the Soviet Union: "He agreed the WP decided to seek formal relations with the Communist Party of the Soviet Union in November 1983. ... He understood from reports that contact had also been made in the 1970s."
De Rossa admits other links to tyrants: "Mr De Rossa said the WP subsequently sought to establish formal relationships with the communist party of East Germany."
March 6, 1997: De Rossa says Sean Garland of the WP did seek funds from Moscow. "Mr Garland said it was true he had sought money but he had not received any. He was asked what authorisation he had for seeking such money and he had said none, that he had done it of his own accord."
De Rossa did not see this as morally wrong: "Mr De Rossa replied that it was not a serious matter to seek funds from other parties. The money was not sought from Russia. As he understood it, it was sought from the Communist Party of the Soviet Union. It was not a crime to seek financial support from other parties."
De Rossa admits the WP received support from East Germany: "Mr MacEntee asked if the WP had any support from East Germany. Mr De Rossa said there was an occasion in 1987-'88. There was a request to a party in Germany to know if they would be in a position to provide them with a printing machine."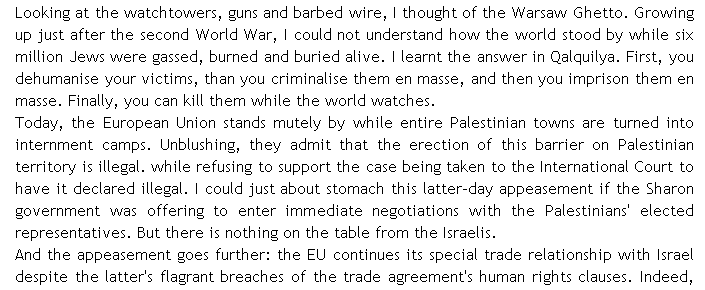 Proinsias De Rossa in
2004
says that:
"Growing up just after the second World War, I could not understand how the world stood by while six million Jews were gassed, burned and buried alive."
In
1956
, De Rossa joined the IRA, the only Irish group that had supported the Nazis and had worked for the Nazis.
Not a brief error either. He stayed with the IRA until 1970.
His 2004 article above is also comparing modern Israel to the Nazis.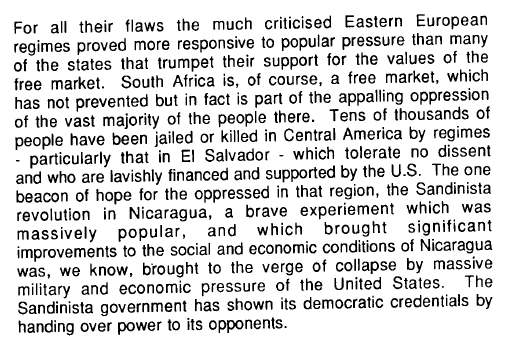 Proinsias De Rossa's support for communist Nicaragua.
From a 1990 speech:


He praises the Eastern Bloc for finally (after 40 years) letting its slaves go, and says the Eastern Bloc countries have therefore "proved more responsive to popular pressure" than the western countries which have allowed their people actually pick the government for all of those 40 years!
---
Independent TD and Minister for Disability Issues Finian McGrath

McGrath supports Cuba:

Finian puts his faith in Fidel's 'different' take on democracy, Sunday Business Post, April 30, 2006. Finian McGrath denies that Cuba is a repressive dictatorship. "It's a different kind of democracy to Ireland", said Ireland's useful idiot.
McGrath called for a state visit to Ireland by the unelected dictator and mass murderer Fidel Castro.
Finian McGrath, interviewed in Magill, Feb 2006: "I think Castro is a great guy, a charismatic figure who's been totally misrepresented by the West." Magill asks: "So you've no problem with his torture chambers and suppression of free speech?" McGrath: "Well, that's all news to me. I never heard about that. Amnesty hasn't said anything about it to me lately. This is just rightwing propaganda."

Note to Finian McGrath: Type "Amnesty" and "Cuba" into a search engine:

Amnesty country report 2005. "[Amnesty International] last visited Cuba in 1988 and has not been permitted into the country since then." Says it all, really. A regime so criminal they will not even permit Amnesty to exist there.
For example, Cuba: No dissent allowed, 9 August 2005: "The Cuban authorities continue to suppress any form of dissent by methods such as harassment, threats, intimidation, detention and long-term imprisonment." What is wrong with McGrath that he cannot simply read what Amnesty say about Cuba?

Finian McGrath praises Castro at his death, Nov 2016. He says the decades of reports of human rights abuses are "exaggerated".

Loves Cuban dictatorship. Hates Israeli democracy.
---
Clare Daly
, TD and MEP, is a radical left politician with the usual left-wing hostility to the West and sympathy for its enemies.
Clare Daly, July 2018, wants trade with the mass-murdering Assad dictatorship of Syria.
Clare Daly, Jan 2019, wants to boycott the democracy of Israel.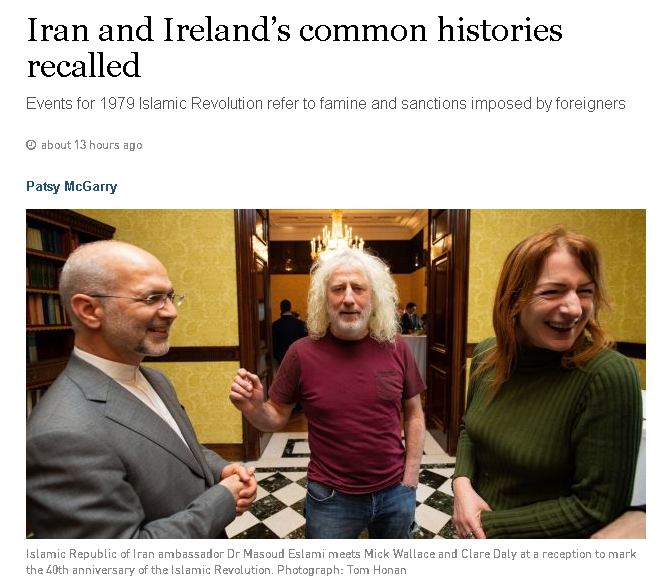 Mick Wallace
and Clare Daly hanging out with a lackey of the Iranian regime, Feb 2019.
From
here
.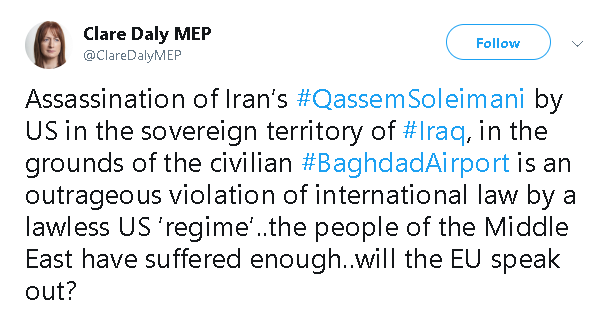 Clare Daly, 3 Jan 2020, is angry at Trump's daring assassination of Qasem Soleimani, the head of the terrorist Iranian Quds Force, a man with the blood of hundreds of thousands in Syria on his hands.
She describes the democratic US government as a "regime". While defending the unelected Iranian regime that jails and murders its critics.
Clare Daly has blocked me on Twitter.


Clare Daly and Mick Wallace visit Iraq in March 2021 in solidarity with the Iran-backed Popular Mobilization Forces, who have close links to Iran and Hezbollah.
"Feminist" Clare Daly comically wears the brutal black chador because her Shia religious maniac hosts want to (and do) force this on all women. She meekly complies because they hate America.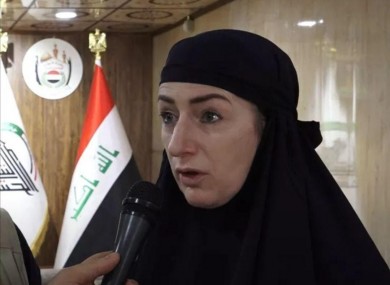 This is what the feminist-left-Islamist alliance looks like.
Clare Daly in above video.
---
Commentator Fintan O'Toole.

Fintan O'Toole exemplifies the reaction of the Irish left to 9/11:

Terrorists slash their way into the heart of the American Dream, Fintan O'Toole, September 12, 2001. See image.
He couldn't even stop spewing anti-Americanism for one day!
He reacted to the deliberate killing of thousands of innocent American men, women and children by hate-filled Islamic religious fascists as follows: "But there will almost certainly be a dark side. For there is in American culture a fundamentalism no less strong than that of those who may have plotted yesterday's carnage. The tendency to divide the world between the forces of God and the forces of Satan, the elect and the damned, is, ironically one of the things that America shares with its most ferocious enemies."

Responses to Fintan O'Toole after 9/11:

I see Ireland like this:
Both of them provide the political and intellectual support for an inward-looking, "anti-imperialist", anti-foreign companies, anti-capitalist, neutral Ireland that refuses to support Britain and America in a great war on fascism.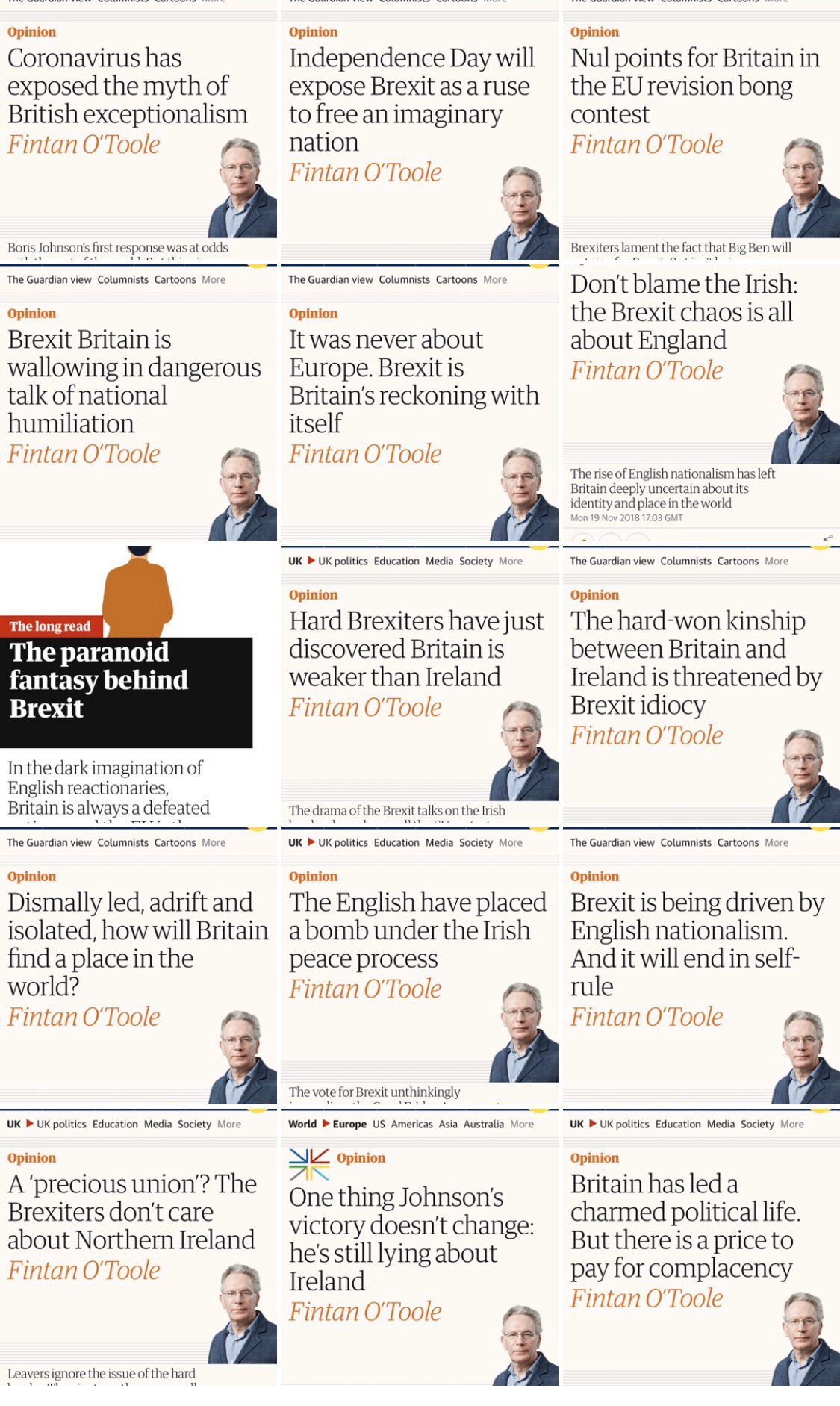 Fintan O'Toole changed after 2016. His sneering at America was largely replaced with
sneering at Britain
.
He was driven absolutely mad by Britain's decision to leave the EU. He became almost
unhinged
by hatred of Brexit Britain. He must have written
a million words
sneering at every aspect of modern Britain, abusing British culture and society and stereotyping British history.
Screenshots from
here
.
Many in the Irish media and Irish government joined in with sneering anti-British rhetoric in 2016 and the years after.
Maybe it is no coincidence that there was a big breakthrough for Sinn Fein in the 2020 election. Well done, Fintan and Leo you clowns. In Ireland, anti-British rhetoric is playing with fire.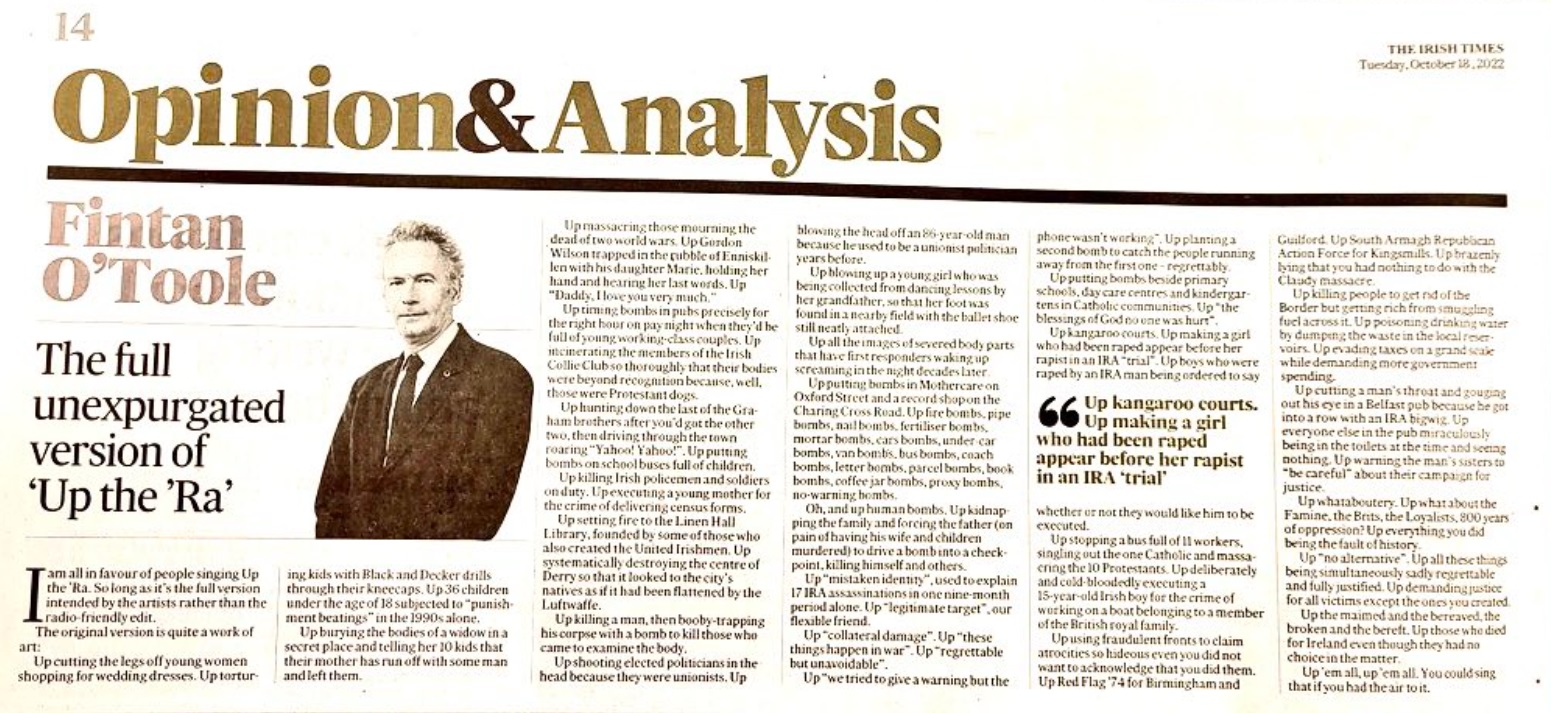 The tragedy of all this Brexit Anglophobia is that Fintan O'Toole has always been a strong opponent of SF-IRA.
This magnificent piece about the IRA is a work of art.
See
larger
.
From
18 Oct 2022
, after the
Irish women's football team
were filmed doing an "Up the Ra" IRA chant.
---
Eamonn McCann
is not all bad. He has been a pioneer in atheist secularism both North and South of the border. He has been fairly anti-sectarian on the NI issue.
But he is also a radical leftist who is anti-American, anti-Israel and, like so many left-wing "atheists", pro-Islam. He is a Trotskyist and a member of the pro-jihad SWP. He openly supports the Islamic religious jihad groups Hamas and Hezbollah. His solidarity with right-wing Islam abroad seems rather a betrayal of his left-wing secular ideas at home, to say the least.
McCann the "atheist" spins for the Islamic religious fascist regime of Iran:

McCann claimed (Eamon Dunphy show, Newstalk 106, Mon 20 Mar 2006) that the Iranian President Mahmoud Ahmadinejad was "elected". Nice to know he supports brave dissidents struggling for freedom in foreign lands.
McCann, 6 Feb 2014, spins for the Iranian regime's bid to get nuclear weapons. He refers to "Iran's ambition to develop its nuclear programme for - it insists, entirely plausibly - peaceful purposes".

McCann the "atheist" is horrified by disrespectful cartoons about the Prophet Mohammed, 2006:

McCann seems to be a "secularist" only when it comes to Christianity. When it comes to a religion he admires, Islam, he is horrified by disrespectful people who criticise it.
McCann's statement on the Danish cartoons, March 2006 (and copy): "the recent decision of [the editors of "The Blanket"] to re-publish deliberately provocative, racist anti-Muslim cartoons, commissioned originally by the right-wing Danish newspaper, Jyllands-Posten, is a step too far. In our view, their publication marks the end of any positive role that The Blanket might play in a world saturated in anti-Muslim prejudice".

Eamonn McCann led a sabotage attack on allied equipment in wartime, destroying the offices of US defence company Raytheon, Derry, Aug 2006.

He openly admits it: "we hurled computers from the windows, used fire extinguishers to put the mainframe out of action and destroyed any paperwork and computer discs we could find".

Why do we don rose-tinted spectacles for Obama's war?, Eamonn McCann, 11 May 2011.

President Obama in reality is carrying on the war against the jihad in a very similar manner to President Bush, despite Obama's dreadful appeasing rhetoric. But the Irish left, which hated Bush, are silent, because Obama is a Democrat, and black.
McCann is rare on the Irish left in pointing this out, and continuing to oppose Obama. One could almost admire his integrity - if integrity in a jihad supporter was something to be admired.
McCann says: "What did George W. Bush do which Obama is not continuing to do? The main differences seem to lie in skin-tone and hypocrisy quotient, with George W. coming out lighter on both counts." I agree with McCann. The only difference is he thinks this is terrible, whereas I think it is great.

McCann the "atheist" is horrified by a disrespectful movie about the Prophet Mohammed, 2012:

During the "Innocence of Muslims" riots of 2012, when right-wing religious maniacs rioted and killed across the world, secularist Eamonn McCann came out with a strong defence of free speech and the right to criticise religion.
Only kidding! This is Islam, a religion he admires because it is violent and anti-western. (At least, a large part of it is.) So he rushes to the defence of religion.
The right side of history and freedom of speech, Eamonn McCann, 27 Sept 2012. "the publication of cartoons or films mocking Mohammed can seem to sum up an all-encompassing racist hatred and contempt for Muslims. ... the key element of freedom of expression is the right to decide whether and what to express and when. Considering publication of the material many Muslims find offensive against the background of the West's role in the Arab and Muslim world, the principled, moral course is freely to decide not to publish."

Eamonn McCann, 24 Mar 2016, defends Cuba's communist revolution and dictatorship as "the overthrow of the alliance of the Batista regime and US freebooter capitalism". He says about the US conflict with Cuba: "there's a balance of political morality to be made ... and the weight of morality is on Cuba's side." Yes, Cubans have no human rights, and there have been no elections since 1950, and the Cuban economy was destroyed, and the people impoverished for decades, but at least "freebooter capitalism" suffered a setback. Hurray!
Eamonn McCann's hatred of Israel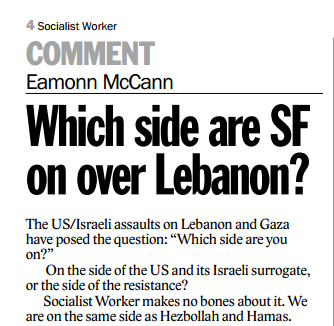 Socialist Worker
no.262, 8 Aug 2006.

Eamonn McCann declares open support for the Islamic religious jihad:
"The US/Israeli assaults on Lebanon and Gaza have posed the question: "Which side are you on?" On the side of the US and its Israeli surrogate, or the side of the resistance? Socialist Worker makes no bones about it. We are on the same side as Hezbollah and Hamas."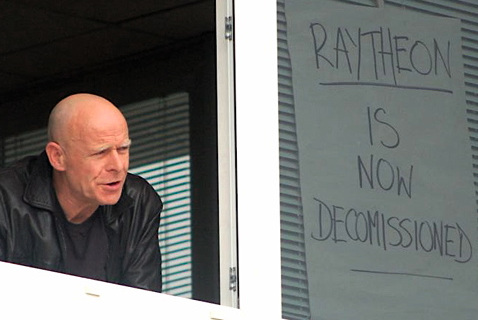 Eamonn McCann photographed with a mob looting the offices of US defence company Raytheon, Derry, Aug 2006, because it supported Israel.
Shame on him.


The Israel-hating fanatic Eamonn McCann, 14 July 2014, calls irish4israel "racist buffoons".
And the Irish Times prints this guy.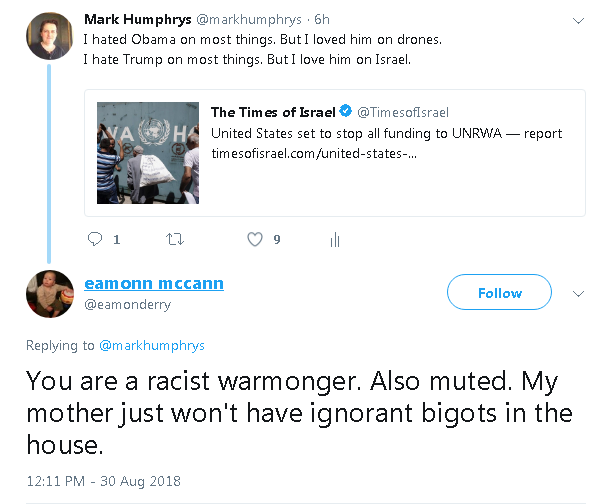 The anti-Israel fanatic Eamonn McCann, 30 Aug 2018, calls me "a racist warmonger".
Shame on the Irish Times for giving this libellous extremist a platform.
---
Vincent Browne, Oct 2012, says Israel is a "cancer".
He says that
Israel
, not
Islamism
, is the
root cause
of the global Islamist violence.
He says:
"Israel is the cancer in foreign affairs. It polarises the Islamic community of the world against the rest of the world. And unless you deal with the problem of Israel and the problem of Palestinians in that part of the world there is going to be conflict"
.
This is what the left believes. This is why I am not a leftist.
---
McGurk on Israel

Tom McGurk, 6 June 2010, describes Israel's self-defence in the Gaza flotilla incident as: "murder, piracy, kidnap and gross larceny all in one. ... how does this action differ from what Somali pirates do on a regular basis off east Africa?"

How Castro showed up Uncle Sam (scroll down for copy) by Tom McGurk, Sunday Business Post, 24 February 2008.

A sick tribute to the dictator of Cuba.
"Castro has left Cuba with real status among Latin American countries". Yes, indeed. The status of being the least free country in Latin America. Indeed, the only dictatorship in the region.
"Following the fall of the Berlin Wall in 1989 and the dissolution of the Soviet Union in 1991, western capitalism and the free market seemed messianic and triumphant. Against this backdrop, Castro's solitary experiment, that persisted on a small island off the coast of Florida, became even more tantalising." So in the middle of all this wonderful good news, Cuba's sad, solitary, bad news story became "tantalising"? He obviously only has contempt for those Cubans who sadly hoped that the fall of the Soviet empire would mean their liberation too.
The propagandist McGurk says: "Despite what propagandists say, the Castro revolution proved hugely popular with ordinary Cubans." How does McGurk know, since Cubans are not free to tell us?
"Of course, the average Cuban has little material wealth, and the Party remains at the centre of everything. But, then, this is a society where, with food, housing and transport so cheap, and education and health free, material wealth is largely irrelevant. Anyway, since the state owns all the shops, goods are the same price everywhere. To be in Cuba is to experience the wonder of a society where the tyranny of consumerism does not exist. There is no advertising at all and individualism comes second to the common good." So, from his position as a wealthy, well-paid media star in Ireland, one of the richest and freest countries on earth, does McGurk casually dismiss a society of endless poverty and complete lack of individual freedom. Oh, the tyranny of being rich! If only McGurk could be poor like the Cubans!
Of course, he doesn't actually want to live in poverty in Cuba, you understand. He just thinks it's wonderful that all those rustic, quaint, photogenic foreign people do. McGurk is in a long line of western leftists praising foreign tyrannies they would never live in.
---
Here's a good example of why in 2006 I said Mary Fitzgerald does a line in whitewash rather than exposure.
See the article:
"Muslims divided on cleric's teachings"
, Mary Fitzgerald, Irish Times, October 6, 2006.
This is an article about one of the world's leading Islamofascists, Yusuf Al-Qaradawi.
She puts in some (but hardly a lot) of the bad stuff about this repellent nazi, but she never puts the boot in. Instead she sneers at a British "tabloid" for calling him "evil". She ends with: "Extremist or moderate? The jury is still out."
From that article, would you ever get the impression that Yusuf Al-Qaradawi was the raving maniac praising Hitler above?


Azzam Tamimi in 2006 calls for the elimination of Israel: "anybody in the world, with faith or without faith, must come together in order to eradicate this cancer from the body of humanity."
In the article on Al-Qaradawi above, Mary Fitzgerald quotes Azzam Tamimi as if he is some reasonable commentator.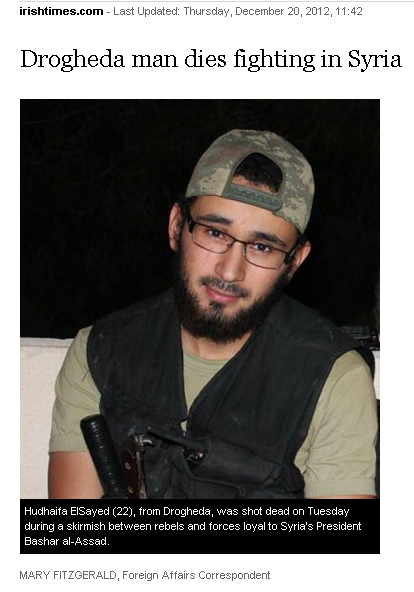 A 22 year old Irish Muslim is killed fighting in Syria in Dec 2012.
What is the one question most people would ask? That's right: What was he fighting for?
Does Mary Fitzgerald address that question in the article? No.
The article has an almost comically misleading headline: "Drogheda man"! How pee-cee can you get.
The Irish Muslim killed was in fact fighting for the jihadist group Liwaa al-Umma, which wants to enslave Syria under sharia law. He was certainly not fighting for Syrian freedom.
Mary Fitzgerald in fact explains Liwaa al-Umma elsewhere. But not here.
El Sayed said his motives for fighting were as follows: "searching for the truth, defending the weak against injustice and the oppressors, and helping to build peace in the world". A comment suggests this is just code for fighting for Islam: "Every 'reason' that El Sayed gave for joining the jihad to overthrow the Alawites, is also the 'reason' that will, sooner or later, animate those who will plan and plot and actively embark upon Muslim jihad within Ireland itself, against Irish non-Muslims and the non-Muslim polity of Ireland."


Fr. Joe Jones, Catholic chaplain at Dublin City University, praises the Islamic jihadist, 14 Feb 2013.
Em, are you sure you know what he was fighting for?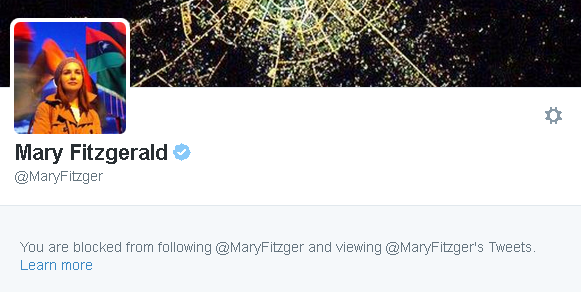 How Mary Fitzgerald responded to this page.
Pretty unimpressive. Why not try debating me?