Iraq - How many died in Iraq?
How many died in Iraq? How many lives did the Iraq war save?
There are several separate issues in Iraq body counts:
How many enemy combatants have the allies killed? (good, the more the better)
How many civilians have the allies killed? (bad, and our moral responsibility)
How many allied troops have the enemy killed? (bad, but not our moral responsibility)
How many civilians have the enemy killed? (bad, but not our moral responsibility)
How many lives have been saved by deposing Saddam? (good)
Iraq body counts often confuse 1,2,3 and 4 all together, and ignore 5.
(Note: Included in the "allies" would be the Iraqi troops and police fighting against the jihad. They have died in far larger numbers than Western troops.)
---
Step one for any count of the dead is surely who killed who. We would not tolerate counts of WW2 dead that just listed numbers, without explaining who killed them. Iraq should be no different.
In the early years of the war, the dead counts that emerged were clearly political - trying to blame the US and UK for the dead.
As time goes on, though, the academics and historians will produce proper dead counts, showing who killed who. The result, it is safe to say, will not fit into any neat anti-American narrative. Unless you are happy blaming the Americans for every single crime an Arab ever commits.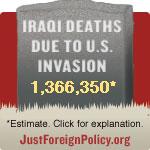 justforeignpolicy.org
displays its political bias for all to see. Its logo says, absurdly:
"Iraqi Deaths Due to U.S. Invasion".
Why not: "Iraqi Deaths Due to Iraqi Resistance".
Or even better: "Iraqi Deaths Due to the Iraqi Resistance, Iran, Syria and Saudi Arabia".
They even say: "our leaders are directly responsible". No, you morons, the Iraqi jihad is directly responsible. You know, the ones who are actually killing people, rather than the ones who are trying to protect people. Given such obnoxious politicised bias, it's hard to take their numbers seriously.
---
The Iraq Body Count (see site) is a very flawed project, that could be so much better if not for their politics.
The Iraq Body Count has always included killings by the enemy in its totals.
And yet its logo has always been a picture of a US plane dropping bombs! Even after the US left Iraq! Why not a picture of a jihadi suicide bomber? There is strong evidence they did most (80 or 90 percent) of the killing.

The thinking behind the bizarre logo seems to be that America is ultimately to blame when America's enemies kill, since America started the war in the first place. But why not blame the jihadis and Baathists for starting the resistance? If they had ceased resistance with the fall of Saddam in April 2003, then not a single civilian would have died since then. So again, why a picture of a US bomber? Why not a picture of a jihadi?

The Iraq Body Count database is a fascinating but flawed source. For many years, they never bothered to record who was doing the killing. The vast majority of their entries today are still "unknown" perpetrator. Of course the perpetrator was known at the time. It is only "unknown" because the Iraq Body Count deliberately chose not to write it down because it did not suit their agenda.
I think they might be trying to change this, and collect the perpetrator data in retrospect. I hope so. But maybe their politics will prevent them doing a proper job.

"The Real Iraq Body Count: What You're Not Supposed to Know", by Glen Reinsford, 23 May 2006, attacks the Iraq Body Count: "enter IraqBodyCount.net, an anti-war organization that was envisioned even before the Iraq War began, with the heady ambition of documenting each and every victim of American aggression in order to turn public opinion against the action to remove Saddam ... Somewhere along the way, however, the harsh reality began to sink in that America was acting as no other country in history has ever acted to prevent civilian casualties in warfare. As a matter of fact, more American troops have been killed in the conflict than have civilians been killed by Americans. Americans are literally taking casualties to prevent casualties on the part of Iraqi civilians. Though mere mortals might be prompted to reconsider their prejudices at this point, the folks at IraqBodyCount reacted by quietly changing their mission to include the victims of terrorists - the very people that the Americans are trying to stop. Their dubious body-count even includes members of the Iraqi security forces, who are part of the coalition. ... Another big problem with IraqBodyCount's statistics is that it even includes the terrorists themselves. ... In fact, if you .. browse their database, you'll notice that the tables are conspicuously missing a column - the party responsible for each attack. There's a reason for this, as we discovered when we analyzed each incident to answer this question. It turns out that the vast majority of civilian deaths are caused by Islamic terrorists, and that very few are from American bombs and bullets. This is because (unlike the terrorists) the Americans aren't in Iraq to kill civilians. ... In 2006, the number of civilians who died in encounters between the Americans and the terrorists was about four times lower than the number of U.S. troops killed. In short, civilians in Iraq aren't dying from the war. They are being murdered by Islamic terrorists."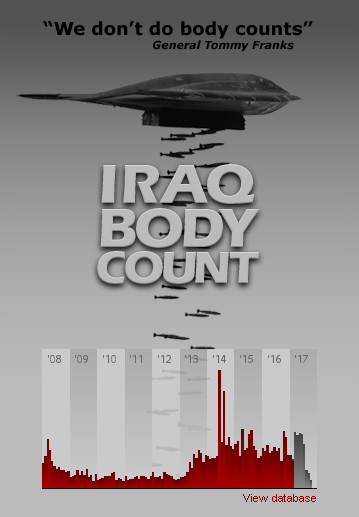 The misleading Iraq Body Count logo as at 2017, as if the deaths they report are people killed by
Americans
.
The logo has always been like this.
Their entire website is discredited by this logo.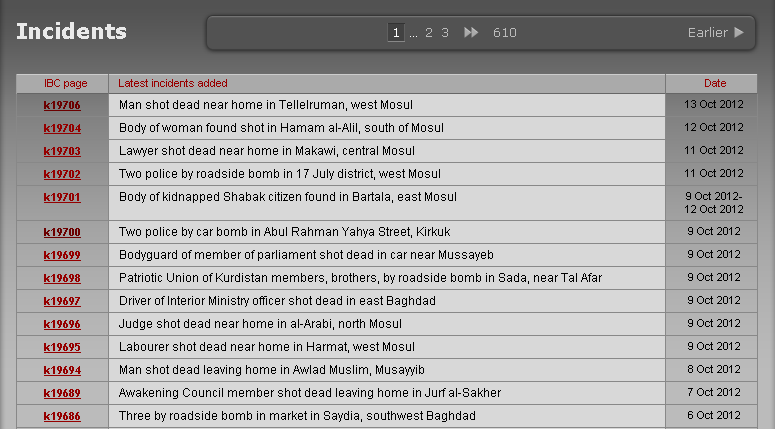 Year after year, Iraq Body Count carefully collects a list of all known deaths in Iraq.
This is a snapshot of 2012. Note that they do not list who killed these people!
The site logo blaming these deaths on US bombers looks even more absurd now, since US troops left Iraq in Dec 2011, and every single one of these deaths is caused by Iraqis (or foreign jihadis).
It used to be, during the war, when the Americans were there, that Iraqis were doing 90 percent of the killing but Iraq Body Count blamed the Americans.
Now Iraqis are doing 100 percent of the killing, but Iraq Body Count still seems to blame the Americans!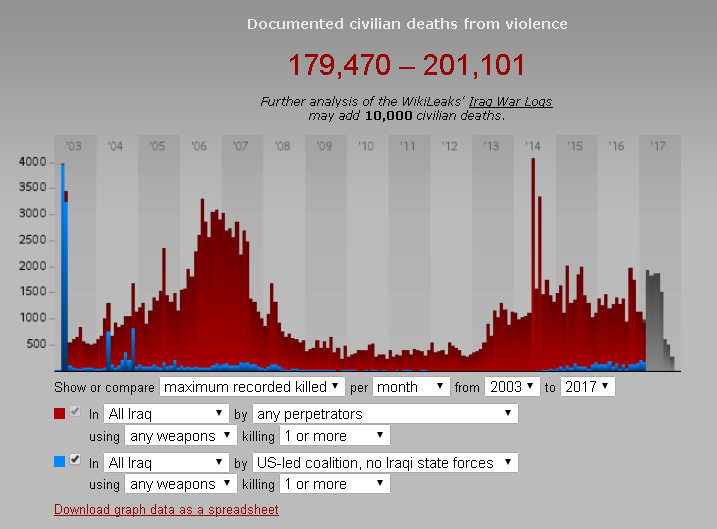 Iraq Body Count database
as at 2017.
This seems to show the US and allies did less than 10 percent of the killing.
However, this is not proof, because the vast majority of deaths in their database are listed as "unknown" perpetrators. So a graph showing
any
actor will show them doing very little of the killing.
---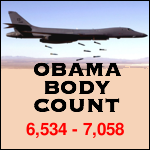 "Civilians killed in Iraq since Obama was elected".
I said about this elsewhere:
The left has also begun to notice that Obama has not ended the War on Islamism.
Absurdly, they blame Obama for killings done by Islamists (just as they blamed Bush for killings done by Islamists). Why not blame the people who are actually doing the killing?
Obama Body Count by Bill St. Clair (see blog)

Bill St. Clair replies to me, 26 Apr 2010:

He says: "America's war on Iraq is a war of aggression. Hence illegal. Every death there is the fault of the US government, and of US soldiers, and of people like you who support the war." So every Sunni jihadist who suicide bombs a Shia mosque is free of sin? Only the US is to blame? Only Westerners have moral agency? When Shiite militia torture gays to death, it is really Obama doing that? You never really answered my question: "Why not blame the people who are actually doing the killing?"
He says the US is: "killing foreigners in order to steal their wealth". There is precious little sign of that in Iraq. The US has in fact spent hundreds of billions of its own money trying to make Iraq a better place (instead of just deposing Saddam in 3 weeks and getting out).
He says the US has committed "massive crimes against humanity, one of which was very likely the intentional destruction on 11 September, 2001 of the World Trade Center". I wonder how many people using the Obama Body Count icon know they are linking to a truther.
He says: "I am not of the left. I am not of the right. I am not of the center." He is a Ron Paul, anti-war, isolationist, truther. I stand corrected. However, Ron Paul and the left have very similar foreign policies. Which is a sad indictment of the left.

In summary, his anger at the blood-soaked jihadis of the Iraqi resistance is hard to detect. How can you read these stories and then get angry, not with the jihad, but with the people fighting the jihad? His entire website seems like an act of displacement to me.

Finally, the logo of Obama Body Count implies that most of those civilians were killed by US bombs, which is deceptive and misleading. Most of them were of course killed on the ground by maniac Islamist jihadi terrorists, which means, if and only if you accept some convoluted argument, that Obama is really to blame.
Why not a logo showing the Iraqi resistance, but blaming Obama? Wouldn't that be a clearer expression of your theory?
---
The Lancet medical journal, established 1823.

The Lancet survey of Iraq War dead, 2004 claimed 100,000 people had died in Iraq in 2003-04.

Natalie Solent expresses my basic disbelief at the idea of 100,000 civilians killed accidentally by the allies: "Why the devil should a war in which the side making the running, in this case the Americans, had every motive to minimise civilian casualties, kill at a higher rate than wars where the dominant side either did not give a fig for civilian well-being or actively sought to kill civilians? A killing rate in Iraq comparable to Darfur .. or to the Dutch Hongerwinter of 1944? It doesn't seem likely." It is not likely.
Perhaps the 100,000 were killed by the "resistance". But even that seems incredible.
So what is wrong with the survey?

It is based on interviews.
It mixes civilian deaths with combatant deaths, and makes no attempt to distinguish them. So even if the count was accurate, it would still be worthless. Combatant deaths are not something we should be worried about. If they don't want to die, they should not be fighting.
It is not an actual count of the dead, but an estimate based on extrapolation.
It is an extrapolation from tiny figures. e.g. It only actually found 61 deaths that were even claimed to be caused by the allies. This could include lies, and combatants.
You cannot take interviews at face value without checking the claimed facts. The dead may not exist. The dead may have been killed by the Iraqi side, not by the allies. The dead might be combatants. The dead may have died of natural causes. As Natalie Solent says, there are many motivations to lie or embellish the truth: "I think some of the interviewees falsely claimed to have lost relatives .. in the hope of getting compensation. I think some of the interviewees exaggerated .. in order to feel important, to gain the psychological payoff of being hard done by, to restore their pride, and to pay out the Americans for defeating them in war. (This bundle of motives could be shared by those who felt that the American invasion was a good thing, as well as those who thought it was a bad thing.)"

This "survey" is clearly the product of wishful thinking and trendy politics (also here). The Lancet is willing to risk its ancient reputation for something like this?

2nd Lancet study (and here and here), Oct 2006, claims 650,000 Iraqis have died.

Same as before. Still based on interviews. Not a count of everyone who died since 2003. Rather an extrapolation from a survey to a postulated death rate for the whole country. Then an estimated pre-war death rate. Then the difference between the two gives 650,000 more deaths than you would "expect" since 2003.
A total of 288 actual deaths from violence were discovered from 2003 to 2006. These could include lies, Middle Eastern boasting and exaggeration, and so on. It also could include Saddam's army during the war, civilians killed by Saddam's army and police in his last days, Saddamite postwar remnants, jihadi fighters, sectarian death squads, foreign (non-Iraqi) jihadis, civilians killed by jihadis and death squads, Iraqi police and army killed fighting jihadis, civilians killed by Iraqi police and army, deaths from criminals, deaths from domestic violence, honour killings, and so on.
Far more males die than females, and most male dead are young men. Not children, not the old, and not women.
Of the 288 violent deaths, a total of 94 deaths were found which were alleged to be caused by the allies. Again this could include lies, and could include Saddam's army during the war, Saddamite postwar remnants, Iraqi jihadis, foreign jihadis, sectarian death squads, criminals and looters.
So by the magic of extrapolation and white man's guilt (the allies, not the jihad, are responsible for everything bad that has happened since 2003), we have a conclusion where 94 deaths alleged caused by the allies becomes 650,000 deaths that the allies are responsible for.

The study says over 90 percent of deaths were supported by a death certificate. Can the Iraqi government confirm they issued over 550,000 death certificates? Could somebody count funerals? Count death notices? Count graves dug? Get some confirmation of this amazing number?
The study genuinely believes 600,000 deaths have been caused by violence since 2003. This implies there must be many, many days when over 1,000 died in one day. When were these days? Can we have some examples?
They estimate that the allies have killed around 200,000 people. Can we have examples? Can we have a ranked list of the worst single incidents since liberation in which the allies killed say more than 100 civilians at a time? There must be many such incidents, if what this study says is true.

More responses

The problem is the whole issue is politicised for both left and right:

The study complains that we don't dispute similar estimates for Sudan, Congo or North Korea. But there is little dispute in the west about Sudan, Congo and North Korea, and little incentive to exaggerate. Different death tolls will not score points for the left against the right, or vice versa. This is not true with Iraq. The left has enormous incentive to exaggerate Iraq deaths, and the right has massive distrust of the left's data and motives.
Les Roberts, co-author of both studies, is a Democratic Party political activist, who has himself campaigned for office.

Blaming the allies for the killings:

One of the strangest things about this is the sleight-of-hand whereby the allies are blamed for the killings by the jihad. Couldn't one equally blame the WW2 allies for the deaths caused by WW2?
Comment: "So who is doing the majority of killing of Iraqis outside of the invasion itself and subsequent military operations, ie. mostly civilian deaths? Obviously insurgents, various militias and some criminals. Yet it is the coalition that is vilified. I would be more impressed by those who opposed the war if they attacked those who are doing the killing."
Followup: "it still remains; the majority of Iraqis are being killed by fellow muslims not the coalition. These continual attacks on the coalition for the current death toll are giving tacit support to those who are slaughtering innocents everyday."
Indeed, they encourage the insurgents to keep going. Richard Horton's approach of blaming the allies for the killings by the insurgents, and blaming them more the more the insurgents kill, encourages the insurgents to kill more. "The more you kill, the more we will urge our side to surrender", he is telling the insurgents.
"The enemy is violent. Therefore he must win." seems to be the proposal from the left. No matter what the Iraqi people want.

Could 650,000 Iraqis really have died because of the invasion?, Anjana Ahuja, The Times, March 5, 2007.

The article notes the excuse for not collecting the information we need: "It was deemed too risky to ask if the dead person was a combatant or civilian".
A critic gives reasons for lying: "Professor Rosling told The Times that interviewees may have reported family members as dead to conceal the fact that relatives were in hiding, had fled the country, or had joined the police or militia."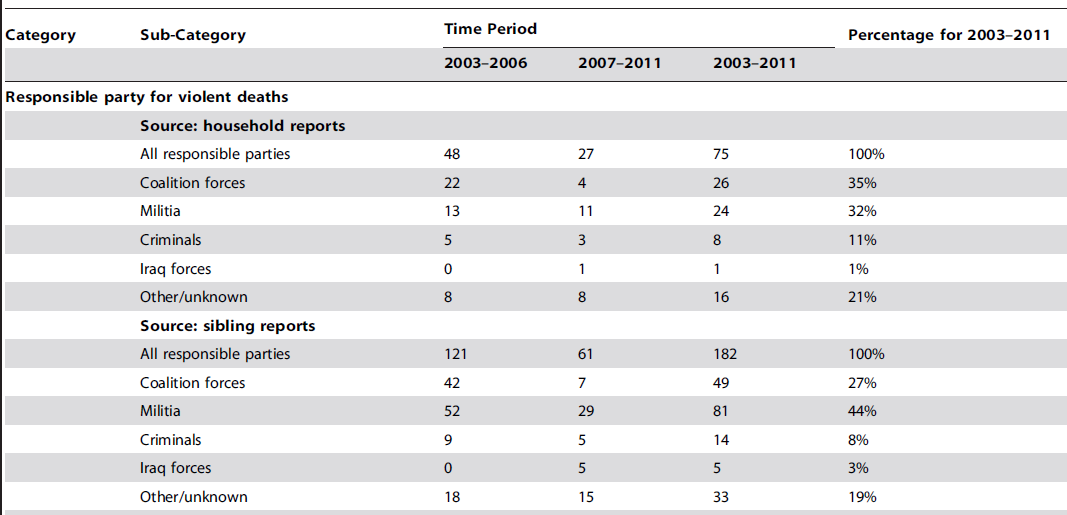 The core findings from:
Mortality in Iraq Associated with the 2003-2011 War and Occupation
. 2011 survey. See
PDF
.
This was a survey of 2,000 Iraqi households, asking them were family members killed in 2003-11 and by who.
The interviewers asked the head of each household about deaths among household members. This found 75 reported deaths in 2003-11, of which 26 deaths were claimed to be caused by the Allies.
They also asked all adults in the household about deaths among their siblings. This found 182 reported deaths in 2003-11, of which 49 deaths were claimed to be caused by the Allies.
Every problem I list with the Lancet study applies to this study too.
---
More politics in the Lancet and other scientific journals
Lancet
editor
Richard Horton
speaks at the extreme left-wing
Stop the War Coalition
demo, Manchester, Sept 2006. A few points:
Even if he believes the Lancet study of Iraqi deaths, why does he scream that it is "thanks to the arrogance and delusion" of Blair? Surely it is thanks to the jihad? After all, if the jihad had not resisted the arrival of democracy in Iraq, not one person would have died since 2003. All the allies ever wanted to do was set up one-man one-vote democracy in Iraq. Why couldn't the jihad allow that?
Why didn't the Iraqi "resistance" stand for election? If people support them, there's no need for violence. They can just stand for election, win, form a government and then ask for allied withdrawal. Why didn't they do that? Why do they suicide bomb mosques and marketplaces instead? If, leftie morons, you can answer this question, then finally you will understand what this war is about.
Horton implies that the brave allies want to kill Iraqi children. He attacks the Blair government "that prefers to support the killing of children instead of the building of hospitals and schools." (Of course Blair and his American allies are building hospitals and schools in Iraq, while the jihad bombs them. Not that Horton has a clue what's going on over there.)
He attacks Israel for the war in Lebanon. This at a march containing open support for Hizbollah and Hamas.
He describes the allies as an "Axis of Anglo-American imperialism", pursuing policies of "hate", responsible for third world poverty, and so on like a foaming Noam Chomsky. What a nutcase. I think I understand where the Lancet "survey" is coming from now.
---
Killing combatants is not a bad thing:

Victor Davis Hanson points out in 2005 that it is remarkable that no one is trying to count the number of Islamo-fascist jihadi fighters killed by the West in Afghanistan, Iraq and elsewhere since 9/11 in 2001. It could be tens of thousands. These deaths are of course good news for anyone who cares about freedom and human rights. It is especially good news for liberal Muslims around the Middle East that all these jihadis are being killed.

Al Qaeda itself admits 4,000 foreign jihadis killed in Iraq in 2003-06. And thousands more Iraqi jihadis.
Terrorist Death Watch (formerly here) - Count of jihadi dead, in Iraq and Afghanistan, since 2006 only. About 5,000 jihadis are being killed per year.
Iraq updates - U.S. Army says 3,200 jihadis killed in action, Jan-May 2007.
Coalition and Afghan special operations carried out more than 7,000 raids in May to Dec 2010 alone. In this short period alone, more than 2,000 enemy fighters were killed, and over 4,100 captured.
Allies kill or capture 3,200 Taliban in 90 day offensive in 2010. "We are nailing the Taliban. We are killing and capturing them on an industrial scale. ... If a new generation of radical Taliban step into these dead men's shoes, they too will be killed or captured."
U.S. dead compared to enemy dead in Iraq.
From
here
.
---
If you really believe that the allies accidentally killed 100,000 (or 200,000, or more) civilians, then here's what you can do. If this is true, then there must be many incidents in which over, say, 30 civilians were accidentally killed at once. Collect a list of these larger incidents and then cross-reference them with what the allies were doing at the time, to try to explain them. For each of them, demand that the allied militaries explain the incident. Listen to their explanations, which will be things like:

They weren't operating in the area at the time.
The Iraqi side did it.
The incident never happened.
The dead were combatants.
Iraqi combatants used civilians as human shields.
We did it. It was a mistake. Here's how the mistake was made.

and then classify all of these incidents. Rank them by the most damning incidents.
Deal with real, dated incidents, instead of extrapolating numbers from surveys, and then people will listen to you. Explain how the allies did it, instead of just claiming that they did, and then people will listen to you.
The killing of 15 (or 24) civilians in Haditha, Nov 2005. If it is true that U.S. troops killed civilian women and children in cold blood in revenge, the soldiers should be hanged. I have no problem with that. If it is true. The US military has taken it seriously. The soldiers have been arrested and charged.

This is the worst incident?

But what I really want to focus on is this quote from TIME magazine, Mar 19, 2006: "Human-rights activists say that if the accusations are true, the incident ranks as the worst case of deliberate killing of Iraqi civilians by U.S. service members since the war began." At this point it was said 15 civilians were killed.
This is the worst? There are no other incidents where the allies deliberately killed even 15 civilians? The "resistance" deliberately kills 15 civilians every single day. How could the allies have killed 100,000 if you can't find a single incident where they even killed 15?
"If the accounts as they have been alleged are true, the Haditha incident is likely the most serious war crime that has been reported in Iraq since the beginning of the war", said John Sifton, of Human Rights Watch, May 2006, thus confirming (though he may not have meant to) that this has been a very clean war on the allied side, if this is the worst they can find.
Again, I'm not making light of this. If U.S. soldiers did this, then court martial them, execute them. They are a disgrace to the U.S. military.
I am merely pointing out what is not obvious - that this proves the allies could not have massacred 100,000 Iraqi people, if this is the worst incident anyone can find.

As at 2009, the Haditha massacre remains unproven. 8 soldiers were charged. 6 had charges dropped. 1 was found not guilty. 1 is still pending.
The Mahmudiyah massacre is proven:

U.S. soldiers raped and killed a 14 year old girl, and killed her family (including a 5 year old), at Mahmoudiyah (or Mahmudiyah) in Mar 2006 (total of 4 dead).
I said before the trials that if this was proven, "they should hang. If this is true, they are murderers, a disgrace to their country and their military, and they should receive the death penalty to demonstrate America's seriousness."
The culprits were indeed all faced with the death penalty. Good for the US military for taking this so seriously.

This is the worst proven incident?

Article: "The Mahmudiyah rampage is regarded as the U.S. military's most depraved atrocity in Iraq."
This is the worst? The killing of 4 people is the worst? How could the U.S. have killed 100,000 if the killing of 4 is the worst proven incident?
Again, I'm not making light of this. (I would support the death penalty for the murderers. Do you?) I am merely pointing out that this proves the allies could not have massacred 100,000 Iraqi people, if this is the worst proven incident anyone can find.
Other alleged or proven allied war crimes
---
The alleged Afghanistan "kill team"

12 soldiers accused of killing 3 Afghans at random, reported Sept 2010. If true, they should hang.
Some of it does seem to be true: "Army investigators say Morlock has admitted his involvement in the killings".
Note that, unlike the jihadis, the US military does not celebrate what they did. Rather, it has arrested them, and is threatening them with death! "They face the death penalty or life in prison if convicted."
Also again of note is the fact that the Guardian describes the killing of 3 people as "one of the most serious accusations of war crimes to emerge from the Afghan conflict". But how can the allies in Afghanistan have deliberately killed thousands of innocents if the killing of just 3 is one of the most serious incidents?

No one blames Obama:

The Afghanistan "kill team" happened under Obama's watch. Yet somehow I don't think he is going to get blamed.
A Google search in Apr 2011 yields:
And yet the "kill team" was a far worse scandal! People died! No one died in the Abu Ghraib scandal.

Calvin Gibbs, the ringleader of the "kill team", sentenced to life in military prison, Nov 2011.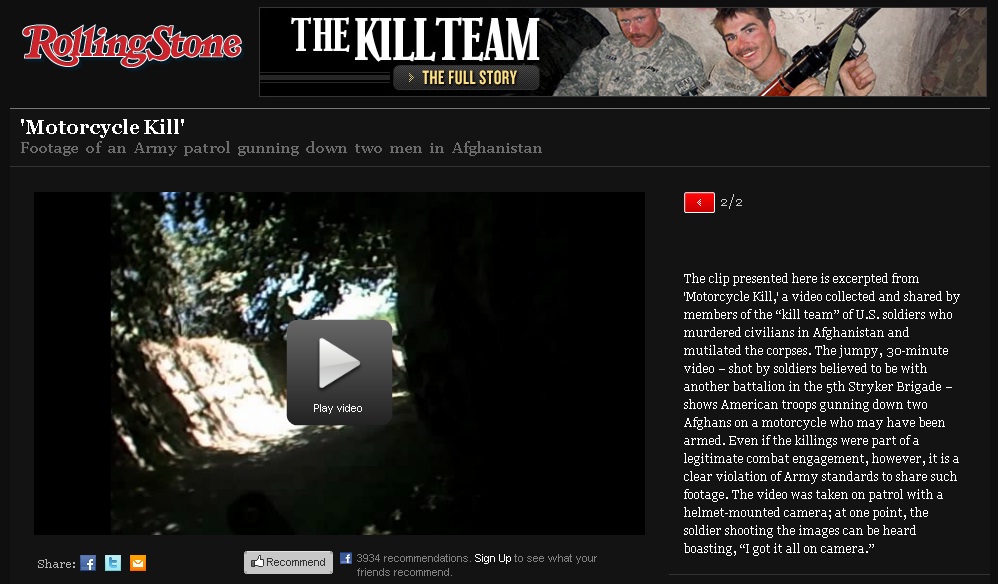 How the media distorts war crimes:
Rolling Stone
, 27 Mar 2011, has a perfectly valid story to write on the Afghan "kill team".
But they (and their idiot commenters) wreck it by smearing other (or even all) American soldiers.
The "kill team" was uncovered by the military, and they are being investigated and punished by the military. Groups like Hamas or Fatah do not arrest their members for killing enemy civilians. Nor do any Islamist groups do that. But the US military does. The treatment of the "kill team" shows the moral superiority of the US military to all Islamist groups. But of course the ignorant commenters at Rolling Stone smear the whole US military as if the "kill team" represents them. (If they did, they would not be investigated or punished.)
Rolling Stone itself does not smear all soldiers, but it does smear other soldiers who have done no wrong.
They present the perfectly normal shooting of two armed Taliban attackers (in the image above) as if it is some kind of war crime. Their excuse for including it in the article on the "kill team" is that the soldiers are from the same (massive) brigade, despite the fact that a brigade contains thousands of soldiers spread over half the country. It is a libel on these soldiers to include this footage in an article on the "kill team". These soldiers did no wrong.
Rolling Stone have a perfectly good piece to write on the "kill team". Why do they have to ruin it by smearing other soldiers?
Rolling Stone
piously complains
about this attack on Taliban scum being edited into a music video.
Oh the inhumanity! Such disrespect to dead Taliban! It must not be allowed!
Search for copies:
---
---
---
Iraqi government estimates
Iraq's Health Minister, Ali al-Shemari, claims 150,000 Iraqis have been killed by the "resistance" as at Nov 2006. But the source is suspect. Al-Shemari is an ally of Muqtada al-Sadr, whose death squads have probably killed thousands.

Iraqi government estimate, released Jan 2008 estimates 150,000 Iraqi dead from March 2003 to June 2006.

It estimates 75,000 dead in Baghdad alone.
I am sure that the jihad "resistance" has killed tens of thousands since 2003. But there are still the same problems with this survey:

Based on interviews, not death certs.
Not an actual count of the dead, but an estimate based on extrapolation.
Confuses combatants and non-combatants.
Confuses killings by the "resistance" with killings by the allies.
The vast majority of killings of civilians in Iraq are by the resistance
In the Northern Ireland conflict, when the results were all added up after 30 years, 90 percent of all civilians who were killed were killed by the paramilitaries. Only 10 percent were killed by the British army and security forces. The reason why is that western armies are restrained. Their opponents usually target civilians (e.g. NI loyalists) or civilian areas (e.g. NI republicans).

Iraq I'm sure is the same. Since liberation in Apr 2003, probably 80 or 90 percent of the civilians who have died were killed by the jihad.
Dan Hallagan

The Civilian Casualty Fable - The vast majority (over 80 percent) of civilian killings since the liberation of Iraq have been by the "resistance", not by the allies.
"The Real Iraq Body Count: What You're Not Supposed to Know", by Glen Reinsford, makes the point:
Iraqi civilians killed (all deliberately) in 2006 by the Iraqi resistance: 16,791.
Iraqi civilians killed (all accidentally) in 2006 by Americans: 225.

In other words, the incredibly careful and skilled Americans have hardly killed anyone innocent since 2003, and those that have died have all been killed accidentally while engaged in street warfare with jihadis. Almost all the deaths in Iraq are at the hands of the resistance, not at the hands of the Americans. As Glen Reinsford says: "Iraqis aren't dying from war. They are being murdered by Islamic terrorists."
The "resistance" are also doing most of the killing in Afghanistan
People also talk about the deaths in Afghanistan as if it is the
allied
forces that are doing the killing, rather than the jihad. But this is not true.
UN Assistance Mission in Afghanistan report on Afghan war deaths, Aug 2010.

There were 1,271 civilian deaths in the war in Jan-June 2010. For 1,143 of them, the party causing the death could be established. The breakdown is as follows.
The Taliban and other insurgents caused 920 deaths (80 percent of deaths with a known cause).
Allied airstrikes caused 69 deaths (6 percent of deaths with a known cause).
Pro-government forces (a mix of western forces and local Afghan forces, no breakdown given) caused 154 further deaths (13 percent of deaths with a known cause).
You could also say that the Taliban and other insurgents caused 100 percent of the deaths, since there is no need for them to be fighting this war in the first place.
The vast majority of victims of Al Qaeda worldwide are Muslims
---
The Iraq War dead counts ignore the killing that
would
be going on if Saddam was still in power. So they ignore the lives saved by the war:
lives
saved by the Iraq War
This count is based on Saddam's average rate of killing when he was in power.
This kill rate would likely be sustained by his son too.
Child mortality rates
The "NoBody Count" only considers the people
deliberately
and
physically
killed by Saddam, not the people who died in effect because of his misrule.
That means that sanctions - or, more likely, the way Saddam manipulated sanctions - really were killing large numbers of Iraqis.
(Note I was never in favour of Iraqi sanctions. I was in favour of attacking Saddam.)

This means that an extra 70,000 lives a year were saved because Saddam and sanctions are gone.