Iran
Time for the mullahs to go. The Islamic revolution was a failure and it is time to abandon it.
Time for Iran to replace Islamic law with democracy, free speech, and freedom of religion.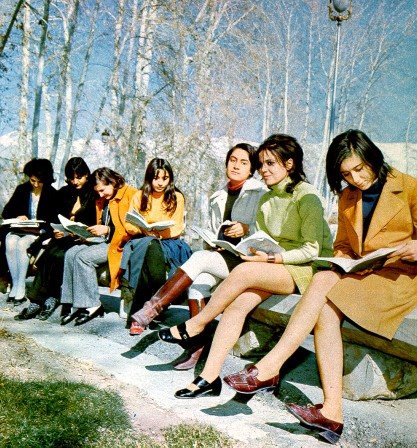 A lost world:
Iran in the 1970s
.


Iran in the 1970s.
---
---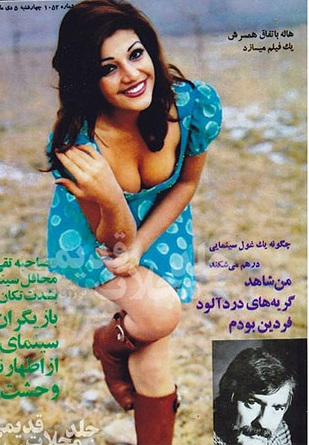 Iranian magazine in the 1970s.
From
here
. Also
here
and
here
.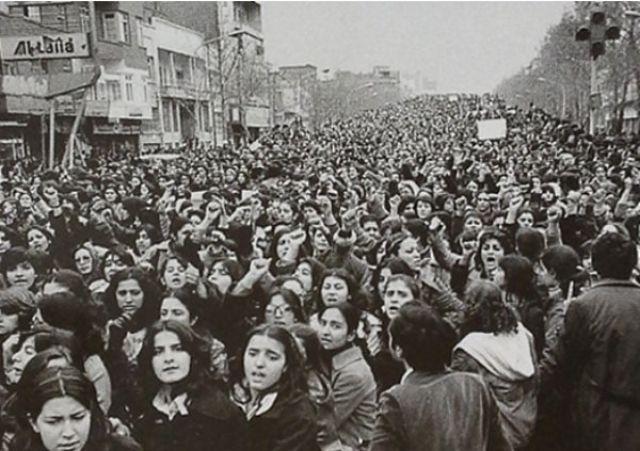 Their last 5 seconds of freedom: Women protesting the forced Hijab in Iran days after the 1979 revolution.
Posted here.
Robert Spencer: "Who spoke up for these women? No one. Where are they now? Those who are still alive are all wearing the hijab ... Who speaks up for such women now? No one. But who speaks up for their oppressors? Many, many people".
---
Ayatollah Khomeini (and here), Supreme Leader of Iran 1979 until his death 1989.

The medieval thug Ayatollah Khomeini and his followers enslaved Iran, established a religious state with no elections and no human rights, executed homosexuals, apostates and atheists, stoned to death adulterers and prostitutes, funded Islamist terror all over the Middle East, and issued violent threats against westerners like Salman Rushdie. Iran is still enslaved by Khomeini's ignorant followers today.

Some sources say that Ayatollah Khomeini's wife Khadijeh Saqafi was 10 years old when he married her in 1930. He was 28.
Ali Khamenei, Supreme Leader of Iran 1989 until his death.

Iran's no.1 position is Supreme Leader, which is held for life.
Iran's no.2 position is President, which is the product of a highly restricted "election". All candidates for President must be pre-approved by the Guardian Council and must support the Islamic Revolution. Iran does not have real elections where anyone can run. You can only vote for conservative Islamists.
The "moderate" and "reformist" Mohammad Khatami, President of Iran 1997 to 2005.
Enemy leader Khatami visits America, Sept 2006:
The dangerous fascist, Mahmoud Ahmadinejad, President of Iran 2005 to 2013.
Ahmadinejad's threats of genocide against Israel. He is, of course, already waging war against Israel through Hamas and Hizbollah.
The would-be Hitler, Ahmadinejad, denies the Holocaust happened, calls for the extermination of the Jews of Israel, and is trying to acquire nuclear weapons. He is already involved in killing hundreds of Jews in Israel, and hundreds of American soldiers in Iraq.
The lying fascist thug Ahmadinejad, Feb 2007: "We are opposed to any proliferation of weapons of mass destruction and nuclear weapons. We believe that the time is now over for nuke weapons. It is a time for logic, for rationality and for civilization. Instead of thinking of finding new weapons, we are trying to find new ways to love people."
Ahmadinejad visits America, Sept 2007 (and here).

Shamefully, despite his involvement in the killing of hundreds of brave American soldiers in Iraq, this enemy leader was allowed visit New York in Sept 2007 and even speak at Columbia University. This enemy thug should be arrested and put in Guantanamo Bay, not invited to speak at American universities.
Columbia University invited Nazi Germany's ambassador to speak on campus in 1933. "Students who criticized the Luther invitation were derided as "ill-mannered children" by the director of Columbia's Institute of Arts and Sciences." Also in the 1930s, Harvard hosted a visit by Hitler's foreign press spokesman, and other US universities had many contacts and exchanges with Jew-cleansed Nazi Germany almost right up until the war started in 1939.
Ahmadinejad visits America again, Sept 2009.
Reactionary Khomeinist cleric Hassan Rouhani, President of Iran 2013 on.
He was the winner of the 2013 "election" among the pre-approved, regime-supporting Islamists who were allowed to stand by the regime.
Western idiots call Rouhani a "moderate", June 2013.
Behind Iran's 'Moderate' New Leader, Sohrab Ahmari, 16 June 2013, states the real situation: "So this is what democracy looks like in a theocratic dictatorship. Iran's presidential campaign season kicked off last month when an unelected body of 12 Islamic jurists disqualified more than 600 candidates. Women were automatically out; so were Iranian Christians, Jews and even Sunni Muslims. The rest, including a former president, were purged for possessing insufficient revolutionary zeal. Eight regime loyalists made it onto the ballots. One emerged victorious on Saturday."
"Moderate" President Rouhani was behind the bombing of the Jews in Argentina in 1994 that killed 85 and injured hundreds.

Rouhani's rhetoric will perhaps not be as vile as Ahmadinejad's, but his philosophy is the same - contempt for freedom, support for sharia, hatred of Israel, and building nuclear weapons to wipe out the Jews.
Israel still has the right to strike Iran at any time to destroy its nuclear weapons program.

Israeli Prime Minister Benjamin Netanyahu speaks to UN, 1 Oct 2013.

He tells them the hard truth about Rouhani and Iran: "Now, since [1979] presidents of Iran have come and gone. Some presidents were considered moderates, other hard-liners. But they've all served that same unforgiving creed, that same unforgiving regime ... President Rohani, like the presidents who came before him, is a loyal servant of the regime. He was one of only six candidates the regime permitted to run for office. ... Now I know Rouhani does not sound like Ahmadinejad. But when it comes to Iran's nuclear weapons program, the only difference between them is this: Ahmadinejad was a wolf in wolf's clothing and Rouhani is a wolf in sheep's clothing ... Iran's fanaticism is not bluster. It's real. This fanatic regime must never be allowed to arm itself with nuclear weapons. ... Israel will never acquiesce to nuclear arms in the hands of a rogue regime that repeatedly promises to wipe us off the map. Against such a threat, Israel will have no choice but to defend itself. I want there to be no confusion on this point: Israel will not allow Iran to get nuclear weapons. If Israel is forced to stand alone, Israel will stand alone."
Saturday Night Live
gay Mahmoud video
"Iran So Far"
(and
lyrics
), Sept 2007.
"I remember when it started, saw you on the news. You were hating gays, I was eating food."
"My mind says no! But my body says yes!"
"I know you say there's no gays in Iran ... but you're in New York now, baby!"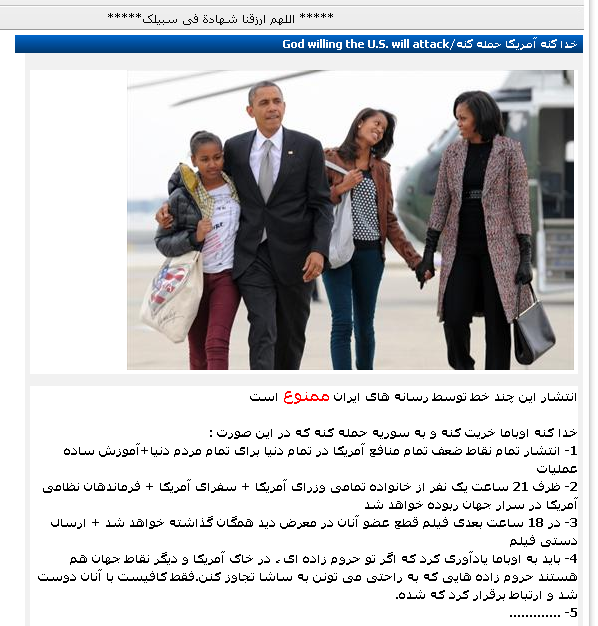 Iran threatens to kidnap, rape and kill Obama's daughter if Obama attacks Syria.
Threat made in Sept 2013.
Says it all about the Iranian regime.
Says it all about the morality of Islamic fundamentalism.
---
Ayatollah Khomeini says Islam is not a religion of peace (also here):
"Islam is Not a Religion of Pacifists ... Islam's jihad is a struggle against idolatry, sexual deviation, plunder, repression, and cruelty. ... But those who study jihad will understand why Islam wants to conquer the whole world. All the countries conquered by Islam or to be conquered in the future will be marked for everlasting salvation. For they shall live under [God's law]."
"Those who know nothing of Islam pretend that Islam counsels against war. Those [who say this] are witless. Islam says: Kill all the unbelievers just as they would kill you all! Does that mean that Muslim should sit back until they are devoured by [the unbelievers]? Islam says: Kill the [the non-Muslims], put them to the sword and scatter [their armies]. Does this mean sitting back until [non-Muslims] overcome us? Islam says: Kill in the service of Allah those who may want to kill you! Does this mean that we should surrender [to the enemy]? Islam says: Whatever good there is exists thanks to the sword and in the shadow of the sword! People cannot be made obedient except with the sword!"
OK, that's fairly clear.
---
---
Since 1979, Iran has executed more than 4,000 people charged with homosexual acts.

Cutting off hands and feet in Islamic states (graphic):
Religious freedom
Press freedom
---
---
Trailer for
The Stoning of Soraya M.
(2009).
About the stoning to death in 1986 in Iran of Soraya Manutchehri, a 35-year-old mother of seven.
---
Of course the last thing the Iranian regime wants is a free Shia-majority democracy next door in Iraq. If that happened, the infection of freedom might spread to Iran. The Iranian regime will do everything it can to stop freedom in Iraq.
The sectarian thug Muqtada al-Sadr.
The sectarian Shi'ite death squads, the Mahdi Army.
The Iran-backed Shi'ite militia, the Badr Organization.
Iran's Proxy War - Iran's support for Sheik al-Sadr's Islamofascist "resistance" in Iraq, which wants to set up an Islamic fundamentalist state with no human rights, and which has no popular support.
Iran, Hezbollah support al-Sadr, April 07, 2004 - Iran understands the threat that a free, democratic Iraq would pose to their tyranny. - "Iran does not want a success in Iraq. A democratic Iraq is a death knell to the mullahs." To end this, it may be necessary to confront Iran.
Iran seems to be voting itself in as "Next" on the list in the War on Terror.

Finish It or Forget It, April 11, 2004 - Victor Davis Hanson on al-Sadr, Iran and the need for America to finish this.

"a baby-faced grotesque thug .. dressed up in a cleric's robes and backed by two or three thousand gangsters has .. pompously boasted about his promised imposition of Iranian-style theocracy upon 26 million other Iraqis. Forget that .. Iraqis had shown not much interest in his crackpot Shiite paradise on earth. Forget that this criminal was not a holy-man at all, but a murderer who shortly after the liberation of Iraq, had systematically put out hits on various rivals. Forget that he was a coward who was a mouse under Saddam's fascist police, and roared as a lion only after the Americans .. at the cost of their lives and treasure had freed him and his Chicago-style Costa Nostra. And forget that he was hardly a nationalist, but an Iranian toady who did the bidding of Teheran and wished to ruin southern Iraq in the same manner that his kindred self-appointed mullahs had wrecked Iran."
America must destroy al-Sadr's movement and finish the war: "There is a lesson in the saga of Sadr here that we really must relearn about this entire war. ... there is a law and a way to war over the ages that are unfortunately immutable, given that human nature is constant across time and space: namely that peace follows only from the defeat and humiliation of the culpable, not from magnanimity granted to impotent but still proud enemies."

The defeat of al-Sadr by Steven Den Beste, 8 July 2004. A few months after all the gloating headlines, "Al-Sadr is still loose, and he still has some supporters. But he took his best shot, failed utterly, and he won't get a second chance. He is now marginalized, little more than a leader of a criminal gang which once again rules over a couple of slums on the outskirts of Baghdad, a minor but tolerable pain waiting to be eliminated when the time is right."

No, Den Beste was wrong. Al-Sadr was allowed to survive, and so loads of people had to die again.
Misplaced Mercy by Ralph Peters, August 10, 2004 - "When will our nation's decision-makers, Republican or Democrat, figure out that there is no practical alternative to killing our deadly enemies? ... This column has said it before and will doubtless say it yet again: If we're unwilling to pay the butcher's bill up front, we'll pay it with compound interest in the end."
Ralph Peters is one of the few critics of the Bush administration that I actually respect. He is on their side and he wants them to win. That is why they should listen to his criticism and advice: "The neocons' unwillingness to go after Sadr early on, as soon as the cleric chose violence, was just a two-bit reprise of Bill Clinton's reluctance to kill Osama bin Laden when he had one chance after another. ... We should never send our military on any mission we only intend to prosecute half-heartedly."

Andrew C. McCarthy, July 11, 2009: "of the 4,322 Americans killed in combat in Iraq since 2003, 10 percent of them (i.e., more than 400) have been murdered by a single type of weapon alone, a weapon that is supplied by Iran for the singular purpose of murdering Americans. ... Understand: This does not mean Iran has killed only 400 Americans in Iraq. The number killed and wounded at the mullahs' direction is far higher than that - likely multiples of that - when factoring in the IRGC's other tactics, such as the mustering of Hezbollah-style Shiite terror cells."
---
The Taliban are Sunni fanatics. The Iranian regime are Shia fanatics. But they hate freedom more than they hate each other.
---
After Iraq, Iran next
The Iranians' pro-Americanism worries Tehran by Afsané Bassir Pour, 25 Apr 2003

After Iraq, people in Iran want to be next: "We don't want any more Islamic Republic. It has taken us 25 years to realize that the revolution came to nothing. ... The Afghans and the Iraqis had their dictatorships taken away. So why not us?"
And a member of the regime: "Obviously, I'm afraid! Who wouldn't be afraid of an America armed to the teeth and which has shown in Iraq its total lack of respect for the sovereignty of nations? Yes, I am afraid." - These are stirring times.

Conversation With Khomeini (The ayatollah's grandson) - "He refers as a matter of course to the work of the coalition forces in Iraq as a "liberation." He would prefer, he says, to live in Tehran, but he cannot consider doing so until there has been "liberation" in Iran also. ... "Talk of an Islamic state in Iraq is not very serious or very deeply rooted among the people. It is necessary for religion and politics to be separated. ... we have had 25 years of a failed Islamic revolution in Iran, and the people do not want an Islamic regime anymore." ... I asked him what he would like to see happen, and his reply this time was very terse and did not require any Quranic scriptural authority or explication. The best outcome, he thought, would be a very swift and immediate American invasion of Iran."
Ayatollah's grandson calls for US overthrow of Iran - However, he still claims that the 1979 revolution was somehow about "freedom and democracy".
---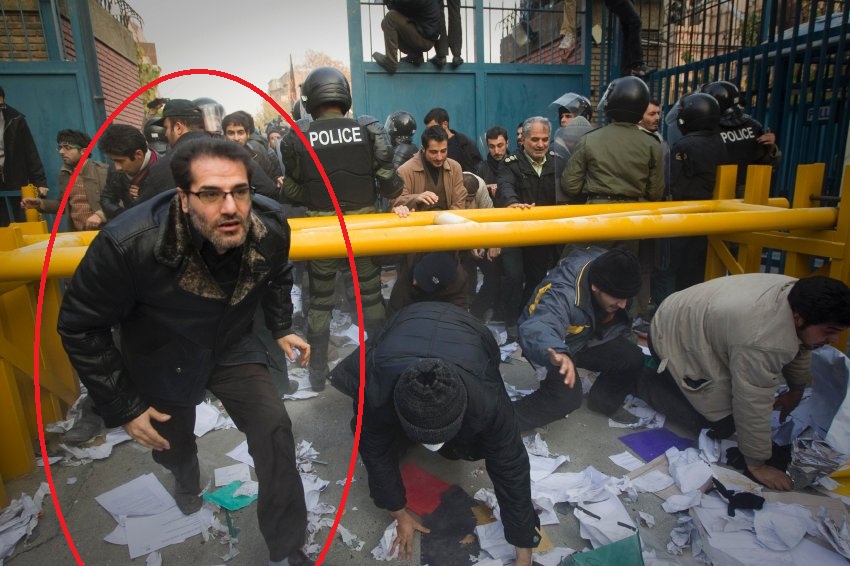 Angry "students" (that is,
Iranian Revolutionary Guards
) attack and loot the
British Embassy in Iran
, Nov 2011.
Identified as Iranian Revolutionary Guards
here
and
here
.
An act of war by a terrorist state.
British Foreign Minister
agrees they were not students or civilians but rather Iranian Revolutionary Guard.
---
Some kind of democracy is born in Iraq,
Jan 2005
. Now let's see if it spreads.
---
Iranian election protests and uprising, 2009.
The fundamentalist Ahmadinejad steals the election from the "reformer" Mousavi.

A few points:

The election is not for the no.1 spot. That belongs to Ali Khamenei, and he never stands for election.
It is not a real election anyway. Only approved candidates may run. That is, only Islamists of some sort may run.
The "reformer" Mousavi is an Islamist, not a western liberal democrat. He was part of Khomeini's revolution. He was Prime Minister of Iran from 1981 to 1989, and Senior Adviser to Khatami's regime (1997 to 2005). He was a founder of Hizbollah. He was one of the architects of the oppressive Ministry of Intelligence, modelled on the KGB, and involved in killing Iranian dissidents and Jews overseas. For decades he has supported Islamist terror and oppression: "Mousavi was prime minister at the end of the Iran-Iraq war in 1988 when tens of thousands of political prisoners were murdered in cold blood on the orders of Ayatollah Khomeini." And now we are to believe he is a "reformer"?
Of course, the alternative to Ahmadinejad had to be an Islamist. Non-Islamists were not allowed stand in the election. Mousavi is all they've got.

Having said all that, this is bigger than Mousavi. This could spiral. This could bring down the regime itself.
Robert Spencer, June 15, 2009: "Is this the beginning of the end for the Islamic Republic? Maybe, but if so, there is a long way to go. This was a pro-Mousavi demonstration ... Mousavi was a founder of Hizballah and participated in the creation of Iran's intelligence service. ... That is not to say .. that there isn't real support for a return to a more Western-oriented government and society. Obama should today be appealing to those who hold such views -- which doesn't include Mousavi -- and pledging his support to them."
Peter Wehner, June 21, 2009: "those who during the last few years mocked the importance of elections and the power and longing for human freedom in the Middle East, who characterized the freedom agenda as simplistic, quixotic, and fated to fail, should feel a twinge of shame in light of Iran's Freedom Revolution. Whether or not this turns out to be a historical tipping point is unclear; but one senses that in the aftermath of the last week, things have changed in a profound way. And it's not over yet."

My name is Farshad Kholghi, and I am a free man, by Farshad Kholghi (an Iranian Bahai living in freedom in Denmark), 30 Sept 2009.

On being oppressed in Iran: "My only desire was for Iran to be liberated by American soldiers. Just as Europe had been liberated in 1945. We were confident that the whole world was thinking of us and would come to our rescue. But the international society chose a different path".
About being free: "Many naïve persons have told me, that I've become way too Danish. That when I talk about freedom, I pander to the Danes, and to the Danish People's Party. To those, I have only this to say: If the belief in freedom, enlightenment and equality is equivalent to being Danish, then I was Danish already before arriving in Denmark."
On freedom being just "western imperialism": "There is no such thing as Western values. Sure, there is Western music, food, clothes, literature, culture, but the fundamental values are universal ... Freedom of women, equal rights, freedom of expression and enlightenment are universal. The West was one of the first places on earth which has achieved to accomplish this. This is thanks to the courageous men and women who told us five centuries ago that the earth is round, not flat. They were persecuted, tortured and burned, but they did not give up."
On his disgust at westerners who won't support freedom: "It causes pain in my heart that here in Europe I am the constant witness of indifference and a misunderstood perception of realities. It constitutes terror to listen to intellectual opinion leaders, people who have never experienced even one day of repression, even politicians who ought to side with freedom and feel strong responsibility for democracy, that they in the name of Goodness protect Khomeini and his successors' right to perpetrate their world view."
The death of Iranian protester
Neda Soltani
, June 2009.
The Iranians have to fight for their freedom. Wish them luck.
---
Obama failed to support the Iranian uprising in 2009, and it was crushed. This was Obama's great chance to bring down an American enemy, and, like with the Syrian uprising in 2011, he
didn't seem to care
. It didn't fit his stupid left-wing narrative.
Encouraging the enemy: President Obama, Sept 2009, says he is not interested in "victory" over Iran, thus conveying a message of weakness to a ruthless enemy that has been for years killing American troops.
For once, YouTube's comments are great, including someone pointing out this contrast:
Obama: "This isn't a football game, so I'm not interested in victory; I'm interested in resolving the problem."
Reagan: "Here's my strategy on the Cold War: we win, they lose."
---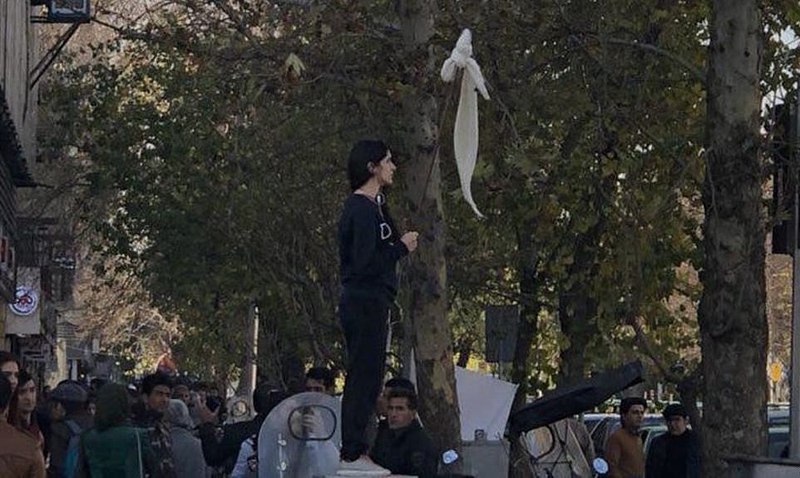 Iranian woman protests compulsory hijab, Dec 2017.
From
here
.
---
"We will never forgive our parents for having done this to us with their revolution"
- A young Iranian on his parents' generation of 1979 - who enslaved them all under Islamism.
"In Iran, we don't have homosexuals like in your country. In Iran, we do not have this phenomenon."
- The lying fascist thug Mahmoud Ahmadinejad
laughs about the execution of homosexuals in Iran, Sept 2007.
"I very much resent it in the West when people from - maybe with all the good intentions or from a progressive point of view - keep telling me, "It's their culture." It's like telling people ... it's like saying, the culture of Massachusetts is burning witches. First of all, there are aspects of culture which are really reprehensible, and we should [all] fight against it. We shouldn't accept them. Second of all, women in Iran and in Saudi Arabia don't like to be stoned to death."
- Interview with female Iranian writer Azar Nafisi.
"the following eleven are unclean: first urine, second feces, third semen, fourth corpses, fifth blood, sixth dogs, seventh pigs, eighth non-Muslims, ninth wine, tenth beer, and eleventh the sweat of a camel which has consumed impure food."
- Ayatollah Khomeini displaying the combination of malevolence and lunacy that characterises all extreme religion.
The regular sweat of a camel is ok, though.
"I feel blessed to have been chosen by the people of Beverly Hills. As a Jewish youngster in Iran, I was a second-class citizen and kept running into closed doors. Through my example, I hope to open doors in America for other people like me."
- Iranian Jew, Jimmy Jamshid Delshad, on his election as Mayor of Beverly Hills, California, Mar 2007.
Could anything better symbolise the hope that America offers to oppressed peoples all over the world?
Will someday Iranian Jews ever have equal status in their own land?
---