Who would I vote for?
Roughly, I agree with the
left
on things like religion, secularism, sex, censorship, drugs and liberty.
I agree with the right on economics, foreign policy, and violent crime.
So who would I vote for?
---
In Ireland right now, I do not know who to vote for.
Once, a centre right person like me would vote for
Fine Gael
. But look at all the list of things wrong with them now:
A high tax party. They promised for over a decade to reduce tax but never did.
A high immigration party. I'm not a zero immigration person. But FG, and other Irish parties, seem to have no limits.
Their war on energy exploration, in their surrender to climate ideology. Their ban on oil and gas exploration. Their ban on fracking. Their ban on turf. Their support for the ban on nuclear power. Their absolute war on energy sources. And now an "energy crisis".
Forced statist (not market) regulation of housing that helped lead to the housing crisis. Rent controls. Rent pressure zones. Bedsit ban. Eviction ban. Airbnb regulation.
Their fanatic position against an agreed Brexit with the UK. They have encouraged the EU to keep the process in chaos.
Standard DFA, pro-UN, anti-Israel foreign policy.
The Gender Recognition Act. Their surrender (with no debate) of women's rights to trans ideology.
The Incitement to Violence or Hatred and Hate Offences Bill 2022 (the "hate speech" law). Women will have to believe in trans ideology or be arrested.
There is almost nothing to like about them any more.
So how about
Fianna Fail
, once also a home for the centre right voter?
I liked them under
Charlie McCreevy
and
Bertie Ahern
. Their promotion of enterprise was impressive.
But they have gone downhill since. The same things that make Fine Gael unimpressive:
A high tax party.
A high immigration party.
Sabotaging energy production because of climate ideology.
The bedsit ban, that helped lead to the housing crisis.
Pro-EU, anti-Brexit fanatics.
Hideous, pro-UN, anti-Israel foreign policy.
Nothing much to recommend them either.
So who is left? Keeping an open mind about these:
No large centre-right party exists. Once it does, I'm back.
Discussion:
Economics

The ideas of the PDs made Ireland rich, and did more to end poverty in Ireland than all the work of the left-wing parties since independence. Indeed, Ireland's history seems to suggest that right-wing parties end poverty, while left-wing, statist parties cause it.
Fianna Fail sensibly adopted the PDs' ideas on economics for a long time.
After they got rid of Ahern and McCreevy, though, and the PDs dissolved, FF started to drift, so it is hard to know what they stand for now. They spent billions bailing out failed banks. Whatever this is, it is not capitalism. They drifted into center-left policies on most issues. See above.

America

On relations with America, FG and (especially) FF may say some dodgy things about terror and war and US foreign policy, but in practice they have little interest in disturbing the "special relationship" with the USA. They are pragmatic parties that will not alienate our western democratic allies (Britain and America) in order to make some stupid point.
FF allowed America use Irish airports in the War on Islamism from 2001 onwards. Some in FG criticised this, but of course they continued it when they got into power.
William Sjostrom comments on an RTE TV program in March 2003: "I had the pleasure of watching John O'Donoghue, a government minister, lambast a political opponent, John Bruton of Fine Gael, when Bruton demanded to know whether there were any circumstances when the government would deny use of Shannon. O'Donoghue told Bruton the government would not let Saddam Hussein use it."

Memo dated 5 Sept 2006 from US ambassador to Ireland, James C. Kenny, to US Secretary of State, Condoleezza Rice.

He says the FF Government is "supportive of continued U.S. military transits at Shannon Airport ... The Irish Government has repeatedly defended U.S. interests in the face of public criticism". FF is tolerant of US problems: "Occasional and inadvertent breaches of weapons and uniform policies .. are met with public and press scrutiny, but also with Government understanding."
Use of the airport is good for the war effort, and good for Ireland: "Shannon remains a key transit point for U.S. troops and materiel bound for theaters in the global war on terror, while yielding diplomatic benefits for the Irish Government and significant revenues for the airport and regional economy. ... U.S. military access to Shannon Airport in western Ireland is among the most tangible benefits of traditionally strong U.S.-Irish relations."

Israel

Ben Scallan, May 9, 2021, does a roundup of FF and FG policies and concludes, fairly reasonably, that there is no conservative right in Ireland. Not really. There is the centre, the centre left, and the far left.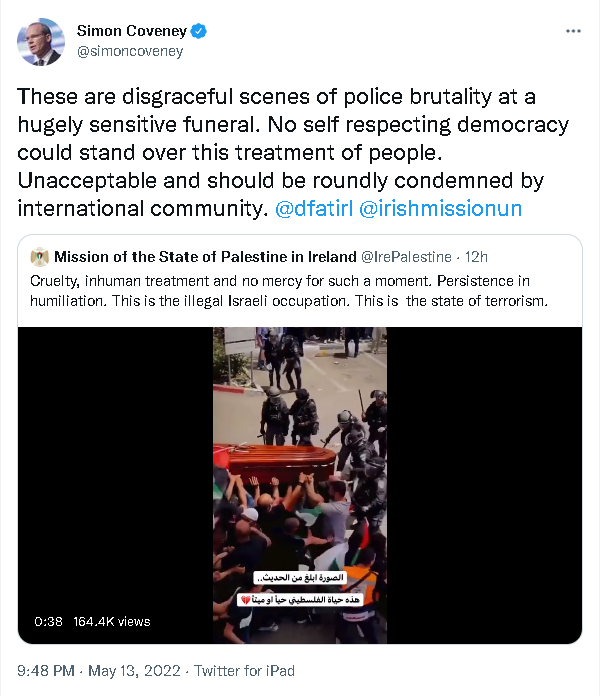 The kind of thing that puts me off Fine Gael:
Simon Coveney
, FG Minister for Foreign Affairs, promotes a tweet from a terrorist embassy, 13 May 2022. Utterly shameful.
The context of Coveney's tweet against Israel, by the way, is the funeral of Shireen Abu Akleh, 13 May 2022, when random rioters seized the coffin and began an unauthorised mob procession, and threw objects at the Israeli police.
The "pallbearers" in the video here are not official pallbearers. They are random rioters who have seized the coffin and hijacked the funeral.
---
I think Bertie Ahern is the best Taoiseach ever. Far from perfect (e.g. on
foreign policy
). But, I think, the best Ireland has had to date.
I blame Brian Cowen, not Ahern, for wrecking the Celtic Tiger by bailing out the banks starting in Sept 2008. Ahern was gone in May 2008. Maybe he would have bailed out the banks. Maybe he wouldn't. But the fact is, he didn't.
If I ranked the Irish heads of government since 1919, I think I would choose the best:
Best:
Bertie Ahern
Made Ireland rich. Privatisation (especially of airlines and telecoms). Low tax. Ended unemployment. Ended emigration. Ended poverty. Helped US and allies in War on Islamism (kept Shannon open). Ended NI conflict. Established power-sharing in NI.
Bad things: Anti-Israel.
2nd best:
W.T. Cosgrave
Set up a democracy. Defeated violent anti-Treaty forces. Ended the 1916-23 violence. Stabilised relations with Britain. 1922 constitution (much better than 1937 one). Peacefully surrendered power when lost 1932 election. Today, only 10 countries in the world have been democracies as long as Ireland.
Bad things: Executions without trial in Civil War.

And the worst: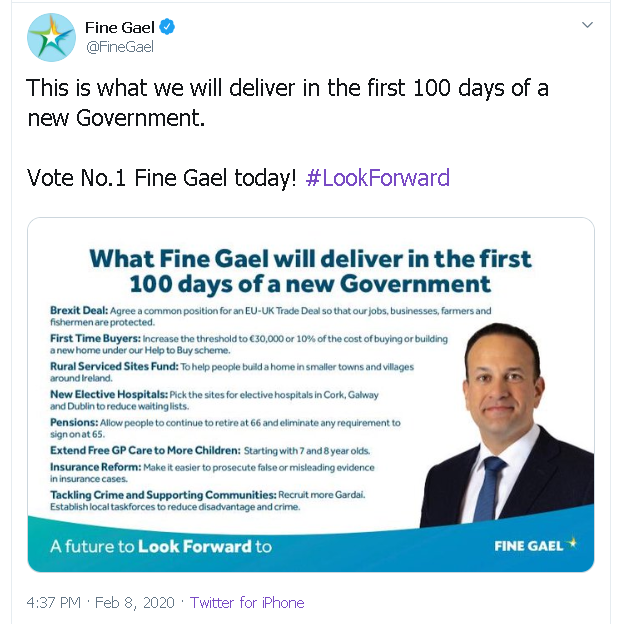 This 2020 chart sums up why I prefer Bertie Ahern to current FF and FG.
These are
Fine Gael promises
before the 2020 election.
I cannot see the one thing I want,
tax cuts
, on this list.
I see 6 items that require more tax.
No tax cuts.
Since this
did not work
for FG, maybe they should sack
this guy
and become a party for the taxpayer, the people who get up early.
---
---
In the UK right now, I would vote:
Tory. The Tory party has great appeal to me. Sensible on the EU. Sensible on foreign policy.

Boris Johnson is about the only senior British politician to talk sense about Islam and jihad since 9/11 in 2001. Here is a roundup of what he has said about Islam, jihad and Israel. Much better than Cameron or Blair.
I really like Michael Gove. Especially on foreign policy.
Not happy they got rid of Boris. Let's see how it goes.
Not these:
The Liberal Democrats rarely impress me. On Islam and Israel, they are normally dhimmis and appeasers, or sometimes pro-jihad.

Labour. Blair's Labour was a grown-up party that supported the war against the jihad. Blair helped destroy the Taliban and Saddam Hussein regimes. I would vote for that party. But more recently, under Corbyn, Labour became a disgusting, communist, anti-semitic, pro-terrorist party that no decent person could vote for, like the BNP.

Today, Corbyn is gone, and we will see if the party gets better. But for the moment, No.
More notes:
Who Should You Vote For? - quiz. My answers say I should vote Tory.

UK Political Survey 2005 - another quiz. My answers say I am:

Centrist on their crime/international axis (probably because I am broadly pro-immigration and pro- aid to the third world).
Far-right on their economic/pro-war axis.
The Liberal Democrats sell themselves as centrists, but their foreign policy is often far left.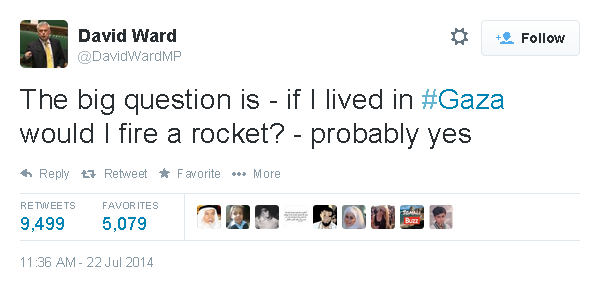 Fire rockets randomly at Jews:
Open support for Islamic jihad terror
from Lib Dem MP
David Ward
, 22 July 2014.


Tory MP David Gauke replies, and asks David Ward a tough question. Nice one.
Great news: David Ward loses seat in 2015 election.
The Tories
The Resentments of Old Europe - William Hague on Europe and America.

I initially liked Michael Howard:

Michael Howard's speech after Madrid

On Madrid: "Let me use this occasion to make one point absolutely clear. If the terrorists hope they can gain their ends by perpetrating in Britain a similar outrage to that in Spain, their wickedness will be in vain. Whatever my disagreements with Tony Blair, any government that I lead will not flinch in its determination to win the War against Terror, wherever it has to be fought."
On Iraq: "The British Conservative Party has been consistent in its support for the British Government, and for our armed forces, over the war in Iraq. Indeed Tony Blair would not have won last year's vote in the House of Commons .. which gave him the mandate to go to war, without the support of the Conservative Party. ... The war against Iraq was necessary. It was just. It was, indeed, arguably overdue. And, let us not forget, it was overwhelmingly successful"
"We won the Second World War because we fought side-by-side with America. We won the Cold War because we stood side-by-side with America. And we will win this war on terror if we wage it side-by-side with America."
On Europe: "it is true that there are some who see a European State as a partner of America. But many have as their main motivation the desire to establish a rival pole of power in Europe. If their views were to prevail many of the achievements we value would be at risk. I shall do all I can to resist their ambitions."
He is pro-capitalist and pro-free trade, and correctly links it all to helping the Third World. He quotes Hernando de Soto. Good stuff.

Then I went off Howard:

Howard keeps being tempted to make capital from Blair's troubles on Iraq, despite the fact that he agrees with Blair and would have done the same. This achieves nothing except making the Tories look unreliable and unprincipled - in contrast to the honourable, principled Blair, who many conservatives now admire.
Michael Howard - worse even than IDS? by Stephen Pollard - second thoughts about Howard.
Howard should start caring about Bush - Mark Steyn on Howard's idiotic and unnecessary alienation of Bush by trying to make capital over Iraq. Or consider his unnecessary alienation of people like me. I have never supported the Tories in my entire life. I have actually voted for Blair (when I lived in the UK, general election 1997). After 9/11 I was just, after all these years, for the first time stumbling towards the view that the Tories weren't so bad after all - because they are strong on the defence of the west. And Howard is telling me no, that's not true actually. If you want really strong in defence of the west, vote Labour.

"Despite the great gaping nullity of the [Conservative] party this past decade, there was still one thing it stood for: like the Republicans, the Tories were the party that took foreign policy and national security seriously. That's what Howard threw away when he chose to repudiate his own Iraq-war vote, accuse Blair of "dereliction of duty" and demand his resignation."
"how stupid do you have to be to kick away the party's last remaining leg, the one that still seems relevant to the world we live in? If the Conservatives are no longer credible on foreign policy, what's left?"

The Tories do have a problem with the conservative pessimism, that allowed them do nothing as the Bosnian genocide raged in Europe in the 1990s. This Tory isolationist tradition is exemplified by:

The Tory party I dislike is the party of these people:
David Cameron was a mixed bag.

Cameron is not a neo-con?

"A new approach to foreign affairs - liberal conservatism", Cameron's foreign policy speech, Sept 2006, is somewhat mixed-message. Pessimist Melanie Phillips puts the most negative spin possible on it, saying it looks like Cameron will cool things with America. Bizarre Tory isolationist Geoffrey Wheatcroft enthusiastically agrees (and, unlike Phillips, thinks that would be a good thing). I suspect both of them are wrong. I think Cameron is a neo-conservative, no matter what he says. He's not afraid to say openly he agrees with much of neo-conservatism, which hardly anyone in Europe says. He then claims his is a slightly different form, and perhaps it is, but not that different.
Cameron, Oct 2008, says he is not a neo-con. And search. "We should accept that we cannot impose democracy at the barrel of a gun; that we cannot drop democracy from 10,000 feet - and we shouldn't try. Put crudely, that was what was wrong with the 'neo-con' approach, and why I am a liberal Conservative, not a neo Conservative."

Cameron is a neo-con?

Cameron stands encircled by zealous Anglo-neocons, Geoffrey Wheatcroft, March 22, 2007, has second thoughts about Cameron's Tories. Hurray. If Wheatcroft doesn't like him, then Cameron is definitely safe to vote for.
Wheatcroft compares Britain's support for America in the War on Islamist fascism to Vichy France's support for Nazi Germany in its war on democracy and the Jews. Again, one always has to wonder if whining isolationists like this would have really supported the troops in the second world war. Whereas it's obvious that the "Anglo-neocons" would have.
Wheatcroft mentions the admirable Douglas Carswell, who says "it is in our national interest to support Israel". Carswell apparently says he does not like to criticise Israel "because I believe they are a front-line ally in a war against people who wish to destroy our democratic way of life." The weirdo Wheatcroft describes these unexceptional views as "extreme", "plainly absurd" and "terrifying".

Finally! Prime Minister Cameron, June 2011, finally moves UK government policy towards a hardline approach to sharia. Anyone supporting sharia law will (finally) be considered an extremist by the UK government. They are finally going to base government policy on "the notion that violent extremism is incubated within the ideology of non-violent extremism. ... Central to the .. strategy is a broader definition of extremism that will be extended beyond groups condoning violence to those considered non-violent but whose views, such as the advocacy of sharia law, fail to "reflect British mainstream values"."
David Cameron talks rubbish about Islamism, May 13, 2007 - "First, a concerted attack on racism and soft bigotry. You can't even start to talk about a truly integrated society while people are suffering racist insults and abuse, as many still are in our country on a daily basis. ... many Muslims I've talked to about these issues are deeply offended by the use of the word 'Islamic' or 'Islamist' to describe the terrorist threat we face today. We do need greater understanding of the true nature of the terrorist threat. There's ... too much denial of it in the Muslim community. But our efforts are not helped by lazy use of language. Indeed, by using the word 'Islamist' to describe the threat, we actually help do the terrorist ideologues' work for them"

For heaven's sake, the word "Islamist" is used to allow some clear water between the jihadi Muslim terrorists (Islamism) and moderate Muslims (Islam). "Islamism" describes accurately the popular philosophy and world view that motivates jihadi terror around the world. Cameron is missing the point that all Muslims should reject Islamism and not be offended by insults to it. Any Muslim who defends Islamism is not someone whose opinions we should care about.
Maybe Cameron will be useless on the war after all. Can't we get Michael Gove instead?

Cameron's dreadful speech in Turkey as Prime Minister, July 2010. How depressing.

He attacks Israel over Gaza. He calls Gaza "a prison camp". Nice response by Ephraim Sneh, former Israeli deputy minister of defence: "Cameron is right - Gaza is a prison camp, but those who control the prison are Hamas. I'm totally against the double standards of a nation which fights the Taliban but is showing its solidarity with their brothers, Hamas."
Cameron condemns Israel's self-defence against the violent Turkish Islamists in the flotilla clash: "The Israeli attack on the Gaza flotilla was completely unacceptable".
Cameron strongly supports Turkey joining the EU, despite the clear wishes of the British people. The 2006 Eurobarometer poll (see Question 33.13) shows 30 percent of British people in favour of Turkey joining the EU, and 52 percent against.
"It's Turkey that can help us stop Iran from getting the bomb", Cameron absurdly says. Talk about naive! In reality it is Israel - the country you have just attacked - that will stop Iran getting the bomb.
Cameron shamefully laid a wreath at the tomb of the butcher Ataturk.
And not a word (of course) about the persecution of Christians and other minorities in modern Turkey.


An Israel-hater is impressed by Cameron
. I am not.
Hilarious compilation of clips from the Labour 2019 party conference.
What a bunch of loonies.
My favourite is the "workers of the world unite" guy.
---
I think I would vote for, as best UK and US heads of government ever:
---
In the US, now that Trump has gone, I would vote:
Republican. The Republicans generally understood how the world works, and the role America plays in defending the free world. I hated Trump, but the Republican party still has the sanest foreign policy thinkers, and this came out in the Trump administration, which was actually quite good. Now Trump is gone, there is space for a muscular GOP without a creepy celebrity buffoon at the head.
Not these:
The Democrats. The party of American withdrawal, weakness, defeat, apology, appeasement and isolationism. This achieves nothing except allowing evil and tyranny flourish and spread across the globe. The worst examples in the modern era are when Obama chose to abandon Iraq to the jihad and when Biden chose to abandon Afghanistan to the jihad. They did not have to do this. They chose to do this. And it will be hard to ever forgive the Democrats.

The Libertarian Party is not attractive either. Even though I describe myself as a form of libertarian, I would not vote for the Libertarian Party. They are "anti-war" isolationists, who despise American power in the world, and as a result can even end up defending the West's enemies.
Why I would never vote Democrat:
Nine prominent Democrats show why no one who believes in the War on Islamism should vote Democrat.


"Speaking Democrat: A Primer" is a hilarious speech actually delivered in the U.S. House of Representatives by Thad McCotter in June 2008.
The section on "Speaking Global Democrat" allows us finally translate Obama's speeches:
"DIPLOMACY" = "MAGIC"
"Democrats will protect America from Iranian nukes through tough, principled diplomacy."
Translation: "Democrats will protect America from Iranian nukes through tough, principled magic."
"ENGAGE" = "APPEASE"
"Democrats will engage America' enemies."
Translation: "Democrats will appease America's enemies."
"END" = "LOSE"
"Democrats will end the Iraq War."
Translation: "Democrats will lose the Iraq War."
---
Why I would never vote for the Libertarian Party
The
idea
of libertarianism is appealing. But the
reality
of the Libertarian Party is repellent.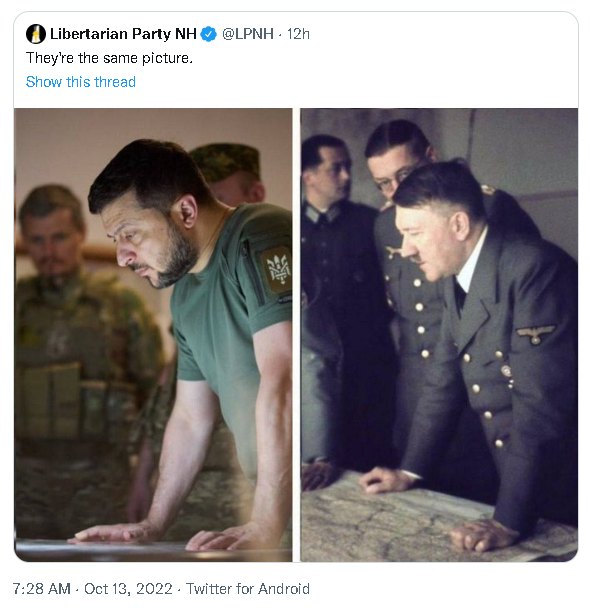 The
Libertarian Party of New Hampshire
compares Ukraine to Nazi Germany, Oct 2022.
They are so anti-state and "anti-war" that they will spin for the fascist imperialist regime of
Russia
.


The Libertarian Party of New Hampshire pimps for both Russia and China, July 2023.
Dictators everywhere love this "freedom loving" party.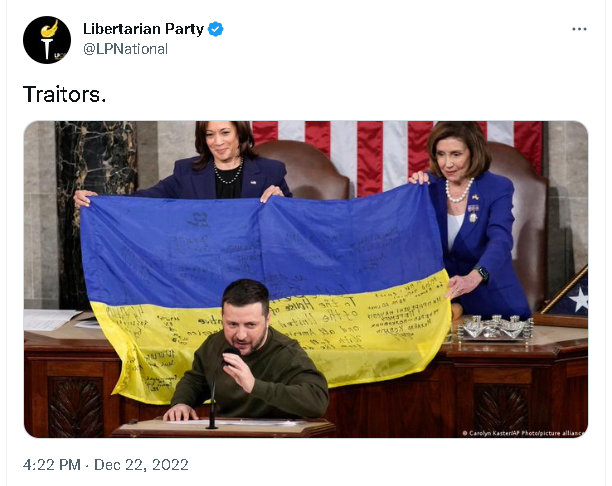 From the Libertarian Party (national) in Dec 2022.
This was during the visit of Ukrainian President Zelensky to the USA during the Ukraine war, Dec 2022. Zelensky's first visit anywhere during the Ukraine war.
The Libertarian Party seems to despise any struggle for liberty against tyranny.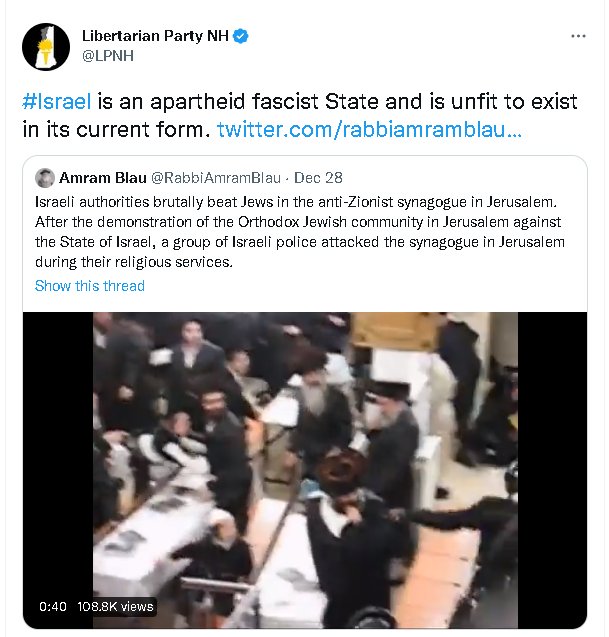 The Libertarian Party may actually be the worst party in America.
By the way, we have no idea what this video is of. No date. No location. No country. It may not be Israel. No link to any news coverage. Source is a random Neturei Karta lunatic. It could be actors. It could be anything.
---
Voting is of course not for idealists. You almost always have to choose the lesser of two evils and vote for someone who promotes some policies you hate. I have serious problems with
all
of the above parties. For
all
of them, I would be voting for a lesser evil.
My dream party would be:
Secular, libertarian.
Anti-censorship, pro-sexual liberty, anti-drug war.
Tough on actual crime.
Pro-market, pro-free trade.
Pro-West, pro-Israel, Eurosceptic.
Anti-sharia, anti-jihad, pro-War-on-Islamism.
Why does such a party not exist?