This page is targeted by a cancel mob, Nov 2021
This page makes a long and detailed case against the "Black Lives Matter" movement, which has caused so much damage to America, and to black lives. I support my argument with evidence and statistics.
A cancel mob went hysterical about this page on 22 Nov 2021. They screamed about this page, called for me to be sacked, and even had a physical demo against me at my workplace. At no point did they construct an actual argument against this page. They did not even appear to have read the page.
I only have contempt for the mob. I have not apologised, since I did nothing wrong. I have not deleted this page. I have not edited this page. I have not responded to the mob's anger or demands in any way. The mob is gone. I was not sacked. I did not apologise. I carry on as normal.
Yellow boxes are updates
I have tried to leave this page unchanged since the last edit on 20 Nov 2021. However, a link to a video broke, so I needed to change that link. Then I thought I would add some new material.
Almost all new material is added on the page: Black Lives Matter (more).
Any changes added to this page are marked clearly in yellow boxes like this, just in case anyone claims I am reacting to the mob. The mob has only my contempt, not any edits or an apology.
Just to make that clear: I do not retract. I do not apologise. My original material is all below. Debate the arguments like an adult and stop being a baby.
Crime - Black Lives Matter
Black Lives Matter
The whole "Black Lives Matter" movement in the US is nonsense built on sand.
The diagnosis - that blacks are unfairly targeted by racist US police - is a lie and is not supported by the evidence.
The "protests" about this fake problem - involving looting and rioting and arson and shooting police - are utterly evil.
The "solutions" to this fake problem - like defunding the police - will make everything worse.
The net effect of the "Black Lives Matter" movement is entirely negative - more crime and more suffering, especially for poor black people.
The "Black Lives Matter" riots
of 2020.
Evil people doing evil.


Parts of Minneapolis in ruins after the "Black Lives Matter" riots of 2020.
How does this help anybody?
---
The "Black Lives Matter" hysteria has a script. Cop-haters, criminals and leftists protest about the death/injury of a criminal. The police are slandered and property is destroyed. Cops may be killed. Nothing good will happen.
What was new about the 2014 Ferguson riots was that the US President supported the protesters and rioters against the police.
The shooting of Michael Brown in Ferguson, Missouri, Aug 2014.

Thug robs a shop, threatens shop owner. Could have escaped if he didn't act aggressively with a cop soon after. Assaults cop, tries to grab his gun, gets shot. Keeps charging at the cop. Gets shot dead.
Not very controversial, you would think. If the cop and robber were white, it would never have made the news. But the cop was white and the robber black, so a certain sort of person went insane.
The cop, Darren Wilson, was investigated, but no charges were brought. So the rioters went insane again.

Ferguson riots, Aug-Nov 2014. Thug-lovers and cop-haters riot and burn businesses in Ferguson, and protest in other cities.

We've seen this story before. But here's what's different:

The US President Barack Obama encourages the anger and rioting instead of siding with the police. He says it is "understandable" that people are "deeply disappointed, even angry" that the cop was not charged. He links the incident to "the legacy of racial discrimination in this country", despite the fact there is zero evidence the cop was a racist. Obama is just disgusting. If I was a cop I would be furious with him.
The Missouri State Governor Jay Nixon encourages the anger and rioting instead of siding with the police. He is angry that the video of Brown robbing the store was released. He says that "to attempt in essence to disparage the character [of Brown] in the middle of a process like this is not right". Pathetic. Why not side with the hard-working, tax-paying store owner and with the police who risk their lives to protect everyone?

Blood on Obama's hands:

The Ferguson cop, Darren Wilson, resigned in Nov 2014. His career was destroyed for doing his job.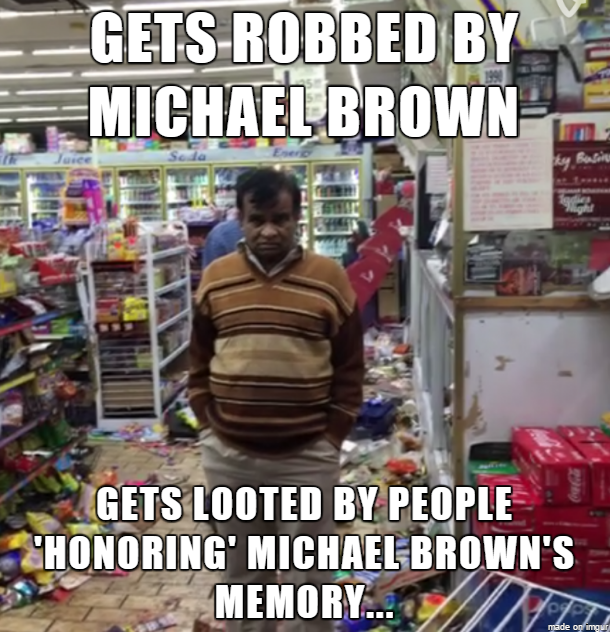 The face of decent, hard-working, tax-paying, law-abiding America.
Michael Brown robbed his store.
Then Michael Brown's thug supporters
looted his store
.
Smart comment here: "It's what Michael Brown would have wanted".
And another: "Robbing that store was Michael's last act on this earth. This is like communion for the protesters."


Video of Brown robbing the store, and later, his supporters looting the store.
They tried to burn it but someone put the fire out.
They burned many other businesses.


From here.
---
The legacy of any period of cop-bashing is going to be cops more afraid to take action. This is
not
necessarily good for law-abiding people.
The legacy of the Ferguson riots and Black Lives Matter and Obama's passive-aggressive support of them was inevitable: Cops fearful of taking action. Killers freer on the streets. Increased murder rate. More dead people - mainly dead blacks.
This was all predictable. And was in fact predicted by many conservatives.

David French covers this topic:

#BlackLivesMatter Costs Black Lives, Sept 2015. Sudden, sharp rise in murders in major American cities, especially those cities where "Black Lives Matter" is active.
The "Ferguson Effect", Jan 2016. "Nationally, murders jumped by 6.2 percent in the first half of 2015. ... if the number holds for the full year, it would represent the largest single-year increase in 25 years. ... Murders in the nation's 50 largest cities rose by almost 17 percent."
The Cost of Radical Police 'Reform' Is Blood on Chicago's Streets, April 2016. Chicago's murder rate is up by 84 percent. "Rogue police officers must be prosecuted, but we are increasingly demanding the impossible from law enforcement - that they maintain order in the streets in a manner that looks great on camera and breaks down neatly along demographic lines."

Obama's legacy: Less policing. More murder. More dead blacks. Well done, Obama.

Baltimore riots, April 2015.

This is Obama's America. He helped make this happen.
Instead of providing leadership and spreading calm, Obama encouraged the anger behind the rioting.

After some more controversial police actions in 2016, street agitator President Obama again stokes things up, rather than calms people down: Obama: All Americans should be troubled by recent police shootings, 7 July 2016. He attacks the police: "These are not isolated incidents. They're symptomatic of a broader set of racial disparities that exist in our criminal justice system."
Massacre of police officers in Dallas, evening of 7 July 2016. Blood on President Obama's hands.

Study of BLM protests 2014-2019. Report in Apr 2021. Places that had BLM protests in 2014-2019 had a 10 percent increase in murders. That means there were somewhere between 1,000 and 6,000 more homicides than would have been expected if places with protests were on the same trend as places that did not have protests.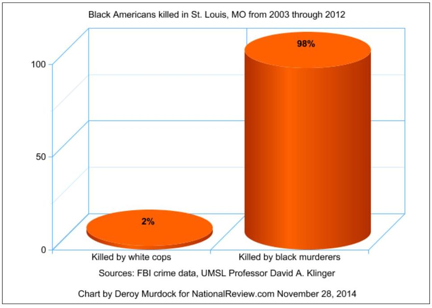 White cops are not the main killers of blacks in the Ferguson area.
From
here
.
---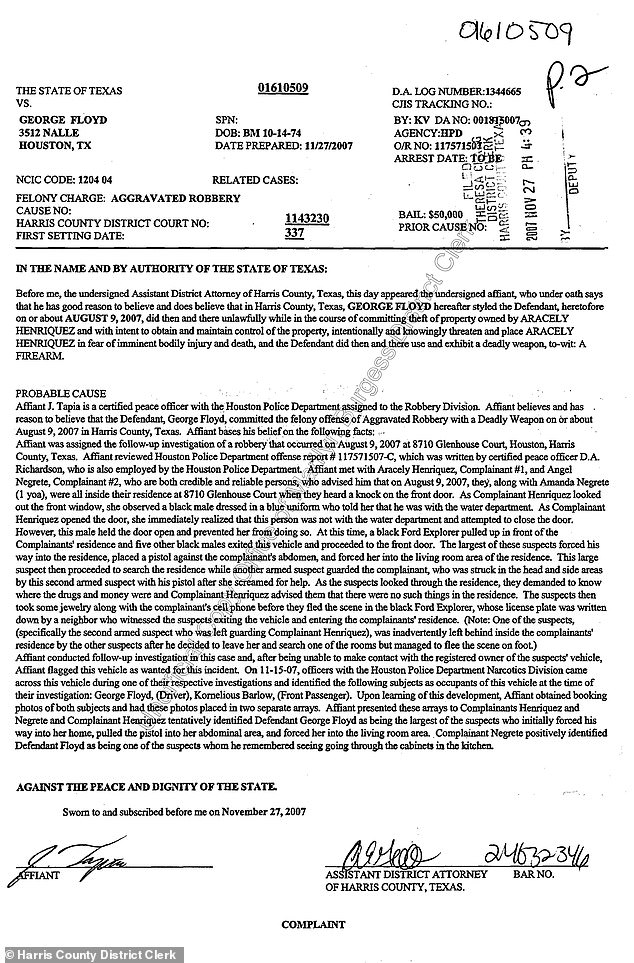 The 2007 home invasion.
From
here
.
More on his criminal record at the left-wing site
Snopes
. Snopes, being partisan leftists, try to put a positive spin on his life of crime. But in between all the spin you can read the facts about his life.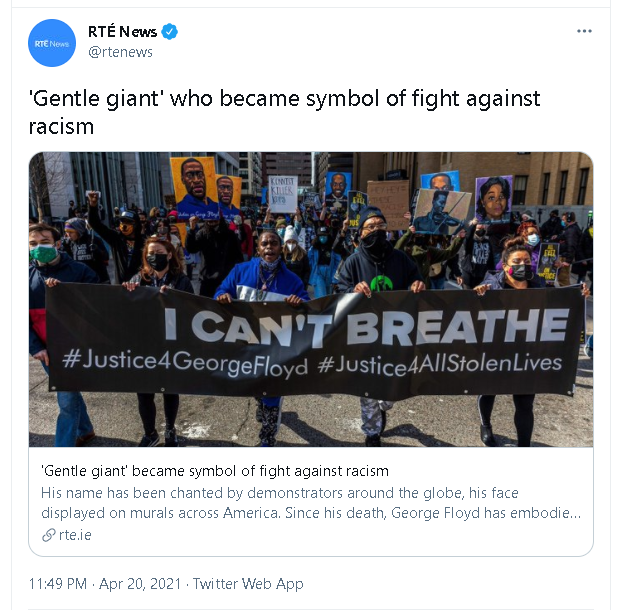 Irish state TV RTE describes the armed home invader as a "gentle giant", 20 Apr 2021.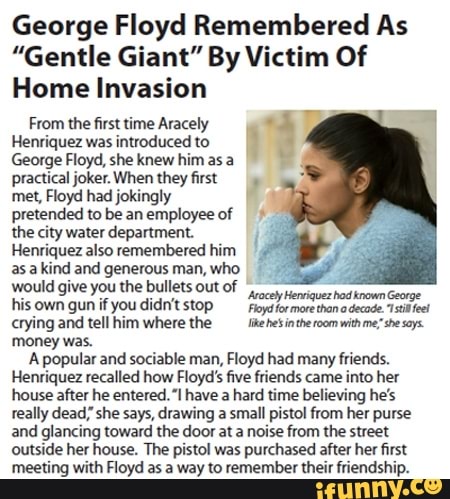 "George Floyd Remembered As "Gentle Giant" By Victim Of Home Invasion".
From here.
---
All summer of 2020, America suffered riots, looting and arson. For no logical reason.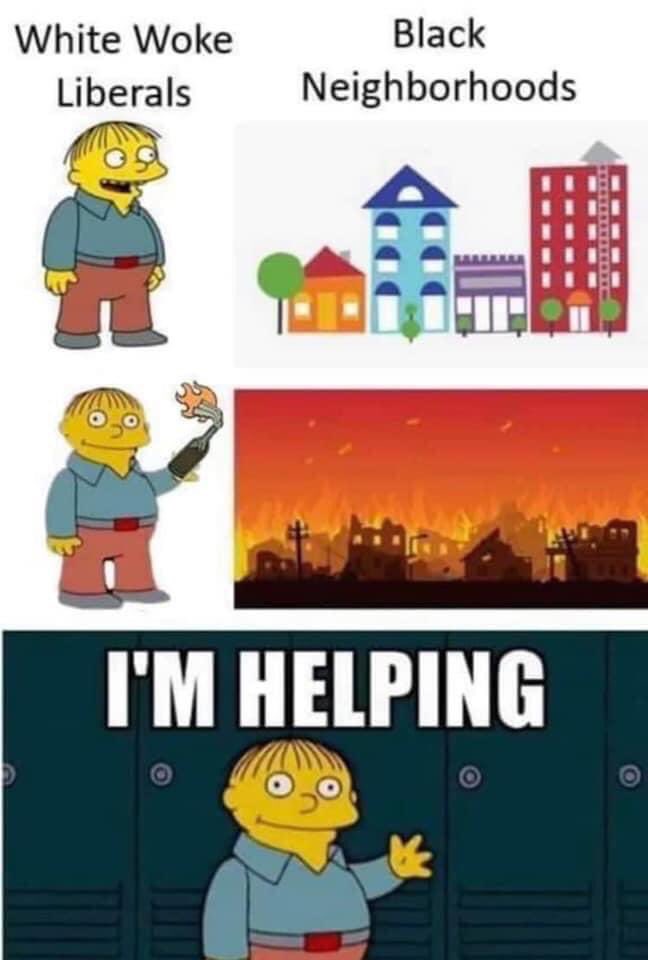 White leftists burn down black-owned businesses and black neighbourhoods.
Well done leftists. You're "helping".


The Democrats basically encouraged the riots all summer. They said the rioters' anger was justified, the protests were "mostly" peaceful, the police were at fault, and so on. The Democrats' behaviour was disgraceful.
Here is Michelle Obama, Oct 2020, pretending everything we saw this summer did not happen and talking about it is wacist.
Someone changed the background to show the real summer rather than the summer she is talking about.
Another version here.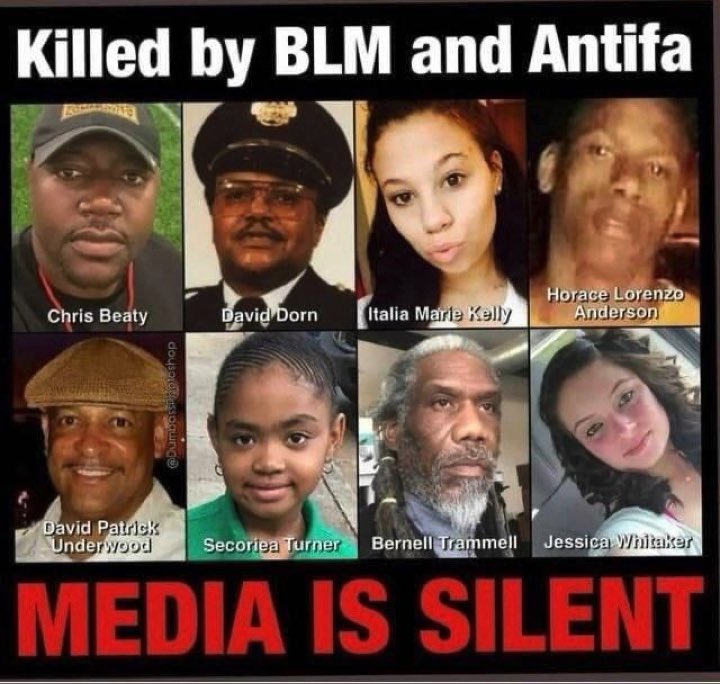 It wasn't just property. BLM murdered people.
From here.
---
Black Lives Matter is a Marxist organisation with Marxist ideas:

BLM = lots of things.

Marxism. "Dismantling" capitalism.
Nonsense analysis of crime and policing, based on bad stats.
Nonsense solutions. Dismantling police.
Hostility to the traditional family.
Support for Palestinian cause (i.e. a racist cause). Hatred of Israel.
Support for the communist police state of Cuba.
---
We should expect a big
rise
in murder and other crimes as a result of the Floyd hysteria and riots, distrust of and defunding of police, and police afraid of not being supported in their actions. And indeed that is what happened.
George Floyd's city, Minneapolis, and state, Minnesota:

Chicago reported more than 4,100 shooting victims in 2020. 491 homicides in Chicago in 2019. 768 homicides in 2020. "Most of the victims in Chicago are recorded as young, black men." Well done Black Lives Matter. This is your great achievement. Less policing. And more black deaths.

Did the BLM Protests Against the Police Lead to the 2020 Spike in Homicides? by Wilfred Reilly, 27 Jan 2021. He answers Yes, with a number of reasons why, including:

Less absolute police funding.
Less police stop and searching. Less pro-active patrolling.
More nervous police when dealing with suspects.
Riots themselves caused lots of crime. Many shops were looted and even people killed under cover of riots.
Riots showed you could commit crime and get away with it. This encouraged criminals to have a go in general. This is Broken windows theory.

Ed West, 25 May 2021, sums it up:

"It is now known that the American murder rate increased sharply following the George Floyd protests, with an extra 3,000 homicides associated with the June 2020 protests, on top of the several thousand already linked with BLM and its influence."
"Urban America is incredibly violent by the standards of the developed world, and any reduction in policing is going to have extreme and terrible consequences, almost all of which will disproportionately fall on the poor and black people."
"Few political movements in recent years have been more closely associated with such catastrophic consequences for those it claims to represent as BLM."

Black Lives Matter Killed 2,000 Black People, Daniel Greenfield, Sept 30, 2021.
A brutal headline. But it's true. It is completely true. And we should care.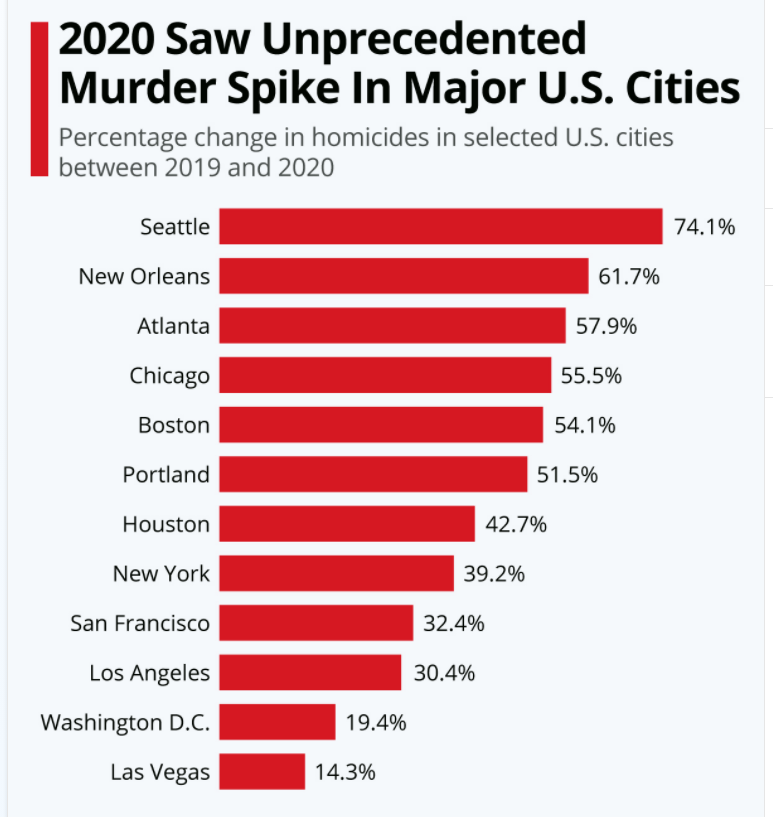 As sure as night follows day, the crap ideas of 2020 led to
this
.
"more than 19,000 people died in shootings or firearm-related incidents in 2020, the highest figure in over two decades."
Well done everybody.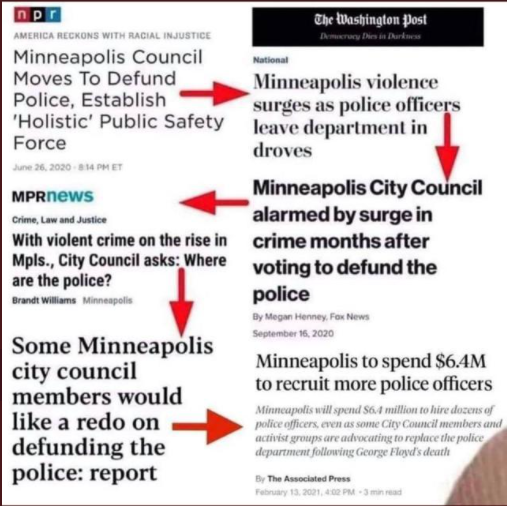 Comment on the idiots who want to defund the police.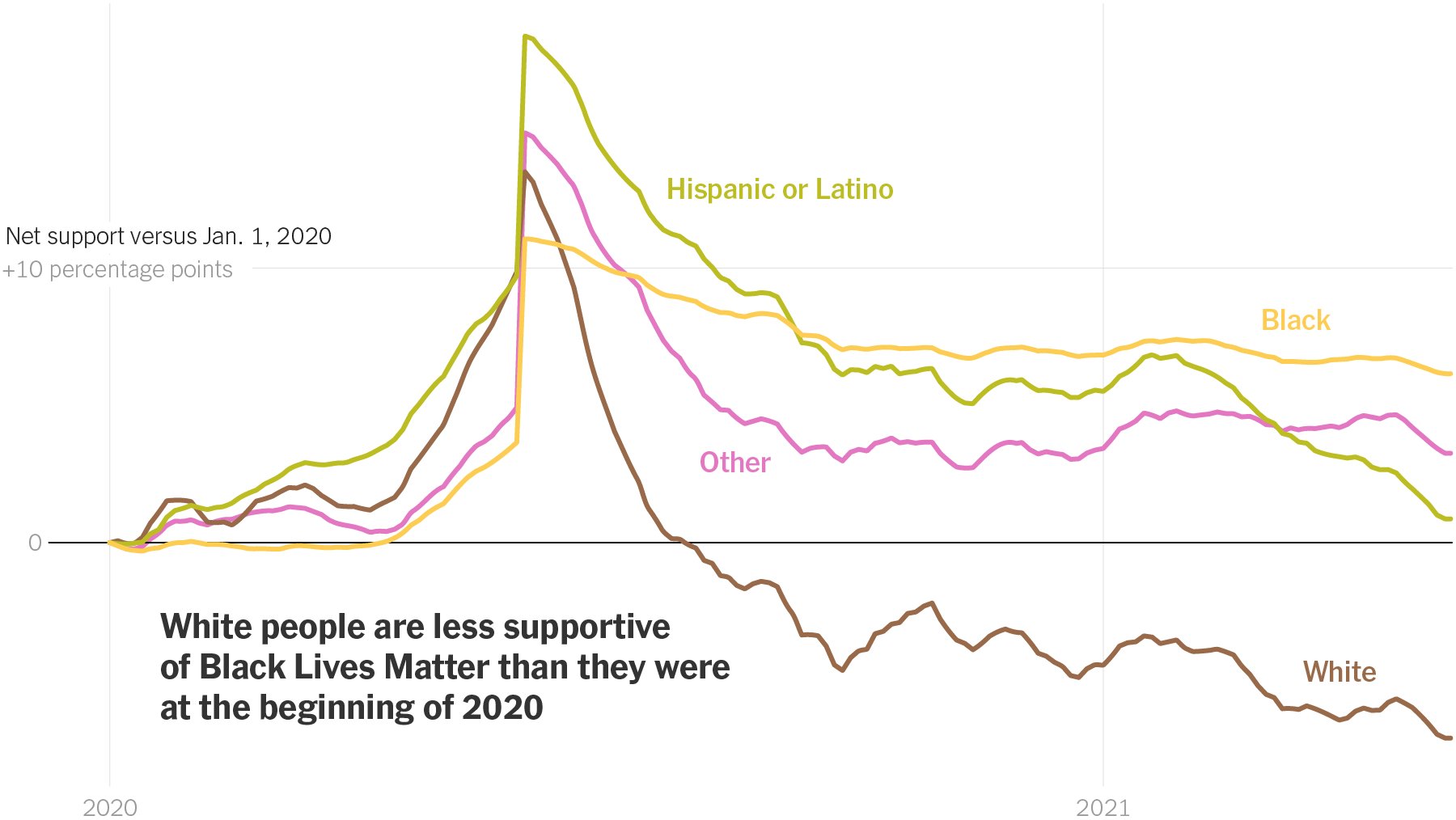 By summer 2021, white support for BLM had collapsed.
Good.
From here.
---
There is no racial problem in US policing. It is just a myth.
This thread
lays out the basic facts:
The number of deaths are small. Police officers in the USA have 375 million annual contacts with civilians. The police fatally shot 9 unarmed blacks and 19 unarmed whites in 2019.
The 9 unarmed blacks represent 0.1% of the 7,407 black murder victims in 2019.
This site points out those stats are for fatally shot, not all fatalities. A site called Mapping Police Violence claims 28 unarmed blacks and 51 unarmed whites died at the hands of police in 2019. It includes officers who are off duty.
Blacks killing police is a much bigger problem than vice versa. A police officer is 18 times more likely to be killed by a black male than an unarmed black male is to be killed by a police officer.
Cops killed per year. 147 cops died in the line of duty in 2019. Though not all were murdered.
Are blacks disproportionally represented in the small number of police shootings? No. Blacks are responsible for 53% of homicides and 60% of robberies. Blacks are about 25% of those killed by cops. Why the difference?
Are white cops bad? Again no. Studies show white police officers are less likely than black or Hispanic officers to shoot unarmed black suspects.
Every part of the "Black Lives Matter" story is bullshit. It is a myth. A myth that fuels anger and lynch mobs and riots.
Some articles:
Stories and Data: Reflections on race, riots, and police, Coleman Hughes, June 14, 2020, lays out the evidence that the police are not racist.

He says they are not racist, but it could be argued they are too violent. But the story is complicated by the fact that criminals in the US are far more violent and far more cops get killed.
He also points out that rare events get magnified by citizen cameras and social media into "trends" and narratives that may not exist.

7 Statistics You Need To Know About Black-On-Black Crime says:

Blacks commit 52 percent of homicides, despite composing just 13 percent of the population. Whites commit 45 percent of homicides while composing 77 percent of the population.
In Chicago, blacks commit 76 percent of homicides, despite composing 35 percent of the city's population.
In New York City, blacks commit 75 percent of shootings, 70 percent of robberies, and 66 percent of all violent crime, despite only composing 23 percent of the population.
If any of this is false, I would love to hear it. These are not opinions. These are facts that can be checked.
Black Americans do not agree with BLM:
Poll of black Americans, Aug 2020.

81 percent of black Americans want the police to spend "the same amount of time" or "more time" in their area. Bizarre, if the BLM narrative is true.
61 percent of black Americans are "somewhat confident" or "very confident" that in an interaction with police they would treat them with courtesy and respect. Yes the numbers are much lower than for whites. But still, this hardly supports the BLM narrative.
The media picks what stories to cover:
White people killed by police. 2020 thread of stories. Most resisted arrest. But some were accidents.
The big question: Why were none of these stories in the US national media or in the international media? Why were they not covered by the media? Why were there no protests? Answer that, and you understand this entire issue.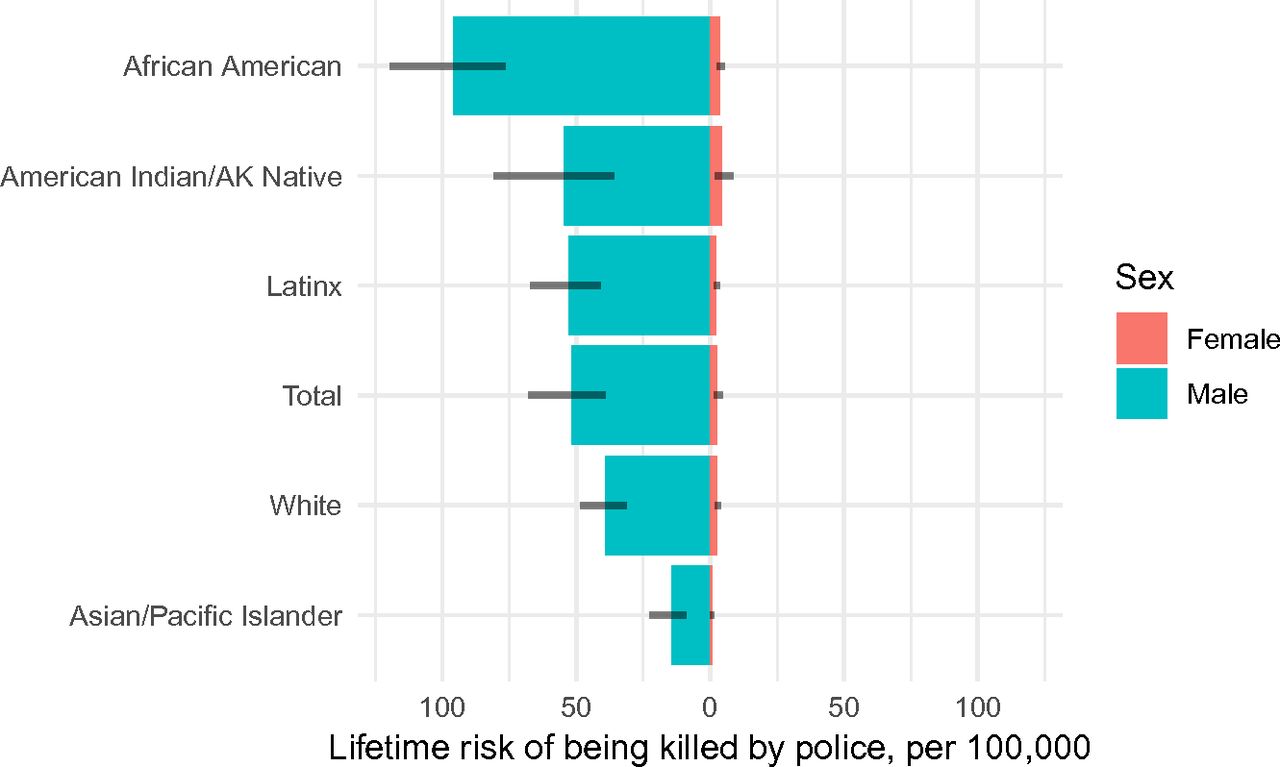 American cops are racist and sexist.
Until men are killed at the same rate as women, and until whites are killed at the same rate as Asians, the cops have not reformed.
Stats from
here
.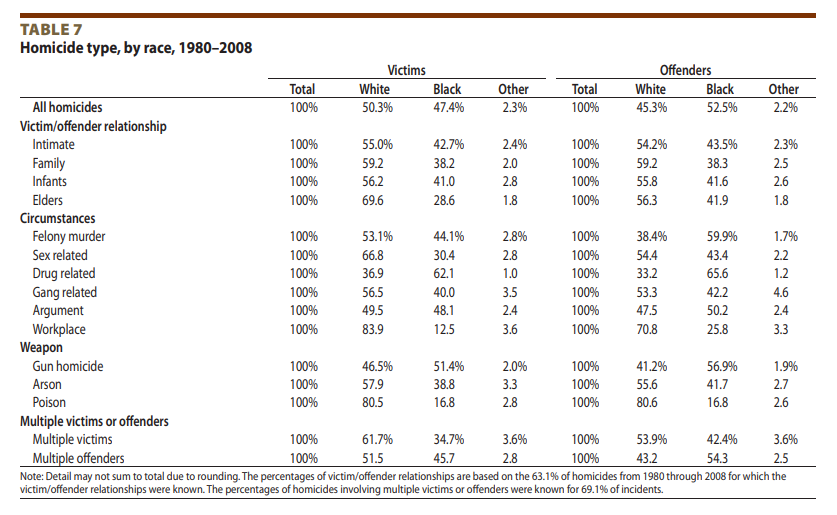 Blacks commit 53% of homicides.
From Homicide Trends in the United States, 1980-2008.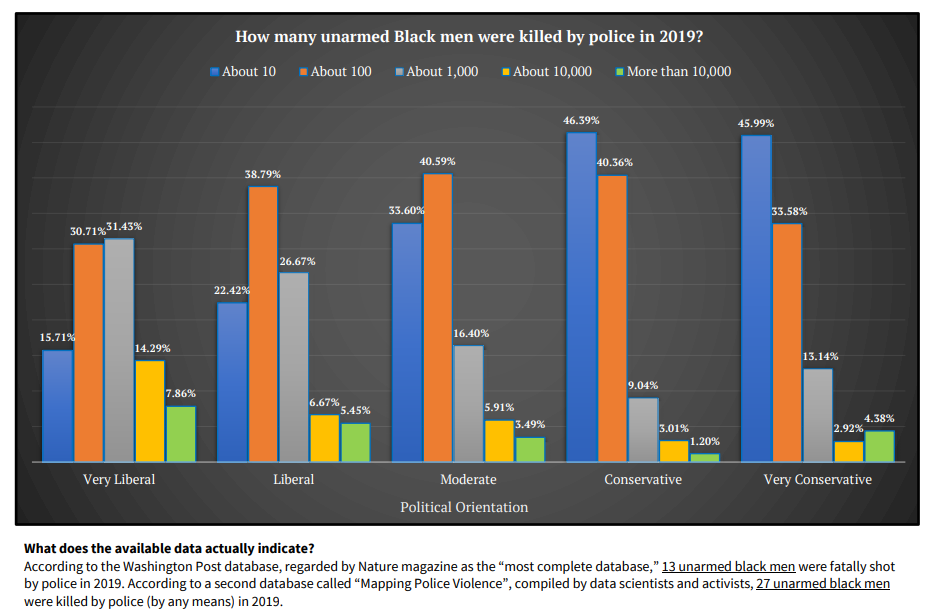 The BLM madness explained in one chart.
The BLM hysteria happens because Americans do not have a clue about police violence.
54 percent of "very liberal" Americans think that the police kill about 1,000 (or more) unarmed black men per year.
Even 26 percent of "moderate" Americans and 20 percent of "very conservative" Americans agree.
The correct answer is 27 unarmed black men.
And this is how policy is made, not just in America but around the world. Based on lies and myths.
From Skeptic Research Center.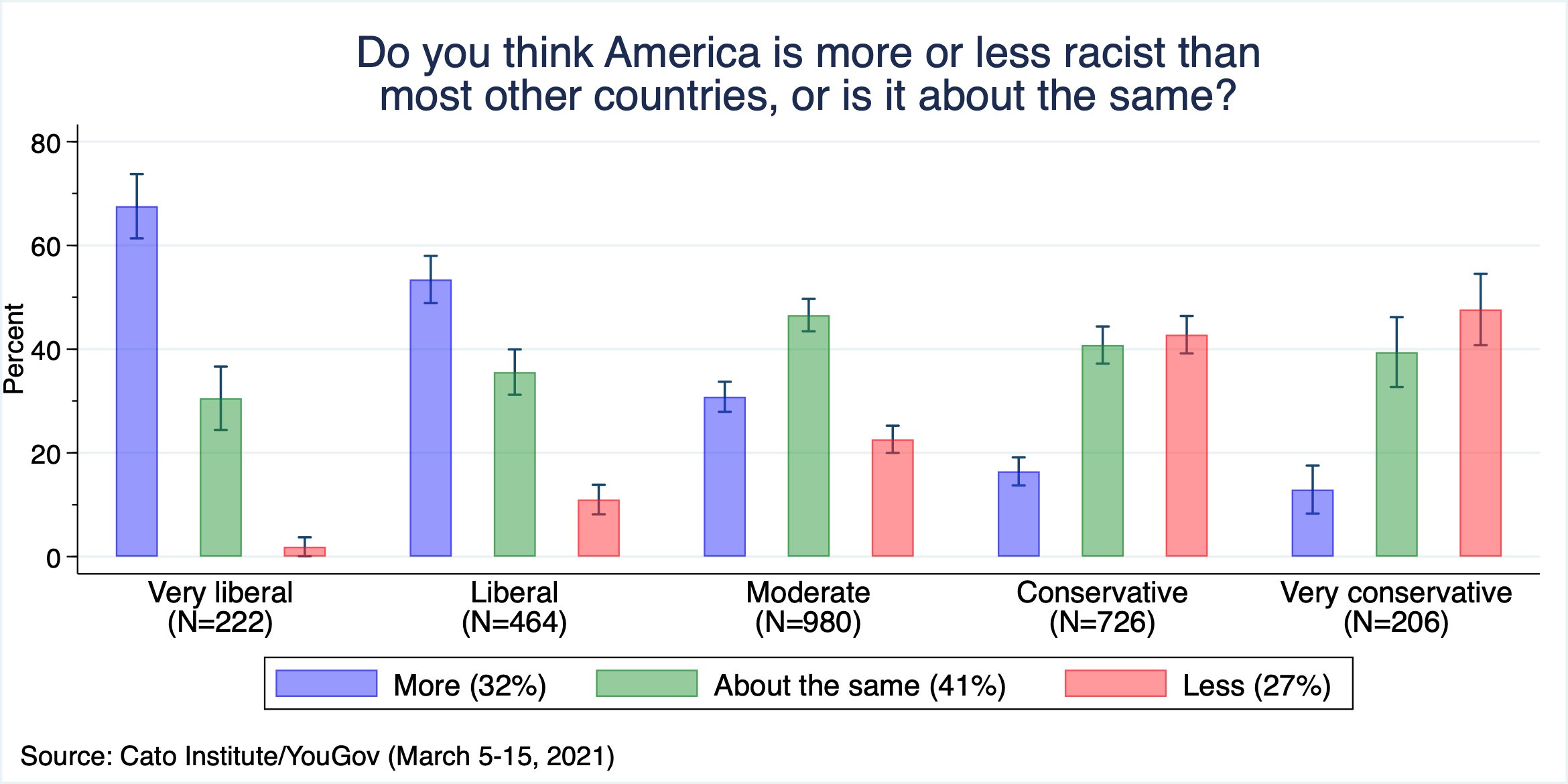 Leftists think the US is a racist country by global standards.
From here.
Conservatives are the reality-based or science-based community. Leftists live in a world of fantasy and myth. On this issue at least.
Anyone who answered purple should try to get educated about life in countries outside the West.
---
Black lives do matter. I agree.
Because
All Lives Matter
.
White Lives Matter.
And
Blue Lives Matter
.
If you disagree, there is something wrong with you.
"Officer Down" by
Hannah Ellis
.
Fixed video

This is what brave police have to face everywhere, but especially in a country with guns.
Tulsa, Oklahoma, police officer is killed, June 2020.
Suspect in a routine traffic stop whines about his "rights" and refuses to get out of the car. His endless whining and non-cooperation seems just irritating but not a threat. Then he suddenly pulls a gun and shoots one cop dead and critically injures the other cop.
These are the kind of split second decisions cops must make as they try to figure out whether they are about to be killed or not.
The shooter was sentenced to death in 2022.