The Israeli-Palestinian conflict - War crimes
There is no moral equivalence in warfare between the Israelis and the Palestinians.
The Israelis follow general Western ethics, where the lives of enemy civilians have value. It is true these were not always Western ethics, and in a fight against extinction might not be Western ethics again. But these are Western ethics in warfare now, and the IDF follows them.
The Palestinians, sadly, have no ethics in warfare. For them the rules of war are the same as for most armies in human history going back thousands of years. No morals. Anything goes. They deliberately target and kill civilians on the other side, and openly celebrate doing so, without any apparent shame. Polls show the majority of Palestinians support killing Jewish civilians.
The Israelis have a religion and a western philosophy that believes in basic human morality, where in war one should try only to attack military targets. The Palestinians, sadly, do not have a religion that defends basic human morality, and so their warfare is barbaric and racist, supporting the killing of all Jews, even children and infants. The Palestinians should be ashamed of their fighters, and ashamed of their war.
The 123 Israeli Children Killed by Palestinian Terrorists, 2000-05.
All
deliberately. None as collateral damage. All as the intended target.
Copies:
---
Summary - Israel tries to hit military targets. The Palestinians try to kill civilians.
Arithmetic of Pain, by Alan M. Dershowitz, makes the points:

Israel sites its military facilities as far from civilians as it can. Palestinians and other Arabs could easily attack these and avoid civilian deaths. They choose not to. They choose to attack civilian areas instead. Why?

Because Palestinian and other Arab fighters are happy to kill enemy civilians of all ages. They are all infidels - it doesn't matter to them. Because Palestinian and Islamist fighters have no morality, no honour and no sense of shame. They do not have the code of morality that normal people have, such as avoiding the innocent in war.
Because attacking civilians is safer. Attacking an IDF base is extremely dangerous, and liable to get you killed without achieving anything. Much easier to attack defenceless women and children in homes and shops - if your morality allows you live with that.

Hezbollah (and Palestinians and other Arabs) could easily launch their military attacks far from their own civilians. They choose not to. They choose to embed their military in their own civilians. Why?

Because it will restrain the Israelis, because they are civilized. Israel doesn't want to kill enemy civilians, so they can be used as effective human shields. Hiding in civilians gives the Islamists a military advantage. This would not of course work in reverse. Israel embedding any target in civilians would not restrain Islamists attacking it in any way.
Because if enemy civilians are killed by Israel, it is good for the enemy. It may be the only thing that will stop Israel, if the (normally hopeless) Islamist military attacks can't. Why? Not so much because of international opinion as because Israeli domestic opinion will restrain their military. Again, this would not work in reverse. Israeli civilian deaths would encourage, not demoralise or slow down, their enemies.

Elder of Ziyon, 2 Oct 2015, sums it up:

The IDF does not target civilians: "If the IDF wanted to target civilians, Gaza would be a smoldering crater and there would be hundreds of thousands killed in 50 days. No military expert on the planet says Israel targeted civilians. They know what Israel could do."
Israelis are appalled by targeting of civilians: "if an IDF soldier would shoot a Palestinian family at point blank range for no reason except a sense of dignity and revenge, Israeli society would rightly condemn him. ... the murder of the Henkins is like the murders of Mohammed Abu Khdeir or of the Dawabashe family. In those cases the victims were targeted. And .. the difference between the morality [of Israelis and Palestinians] becomes crystal clear. Because Israeli society, from the Prime Minister to the people on the street, rose as one to condemn the murder of Abu Khdeir. Because Israelis raised cash to pay the victims of the Dawabashe arson/murder. Because the vast majority of Israelis are naturally disgusted and ashamed at the thought that one of their own could be responsible for such depravity."
In contrast, Palestinians support and celebrate the targeting of civilians: "And how did Palestinians react to the murder of the Henkins? They celebrated. They shot off fireworks. They expressed uniform happiness on Facebook. ... What does it say about Palestinian society that seemingly no one, from Abbas down to the streets of Nablus, can condemn the murders of the Henkins? ... This is the difference between Israel and its Palestinian neighbors. This is the difference between a moral society and one that is perverted."
The Palestinian way of war.
Picture credit unknown. Tell me
here
.
Of course, this is only one aspect of the shameful Palestinian/Islamist way of war. Another aspect would show the Palestinian "soldier" shooting into the baby carriage when it was alone.
I'm not being over-dramatic. You're familiar, of course, with the Palestinian attack where, in cold blood, they machine-gunned a baby in a baby seat at close range.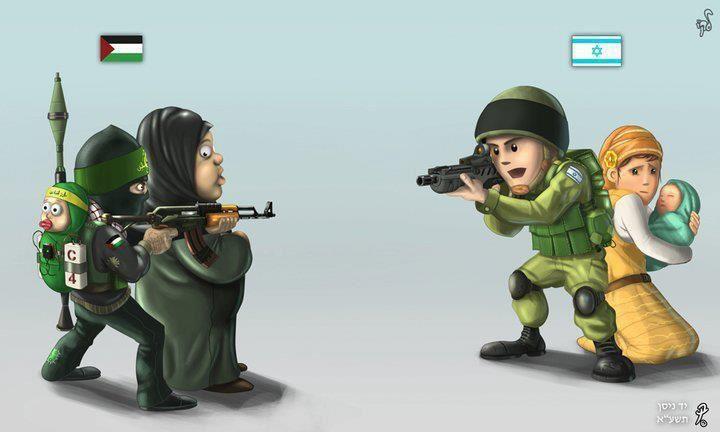 Another version of the image.
Picture credit unknown. Tell me here.
---
A new tactic emerges in 2006: Palestinian civilians form a human shield around a target, forcing Israel not to strike it. "Israel called off airstrikes on the homes of two militants Sunday after hundreds of Palestinians crowded around the buildings forming human shields, a new tactic that forced the army to re-evaluate its aerial campaign in the Gaza Strip. ... It was the first time Palestinians have formed human shields to prevent an airstrike.".
This successful tactic was then repeated in later Gaza wars.

Here's a question: Why don't Israeli civilians form human shields around targets? If you can answer that question, you are well on the way to seeing past the propaganda and finally understanding the Arab-Israeli conflict.

International Institute for Counter-Terrorism (ICT) (Israel)

The study An Engineered Tragedy, Don Radlauer, ICT, 2002 (and here) shows that 70 percent of Israeli deaths are non-combatants. 15 percent of Palestinian deaths are non-combatants. Why the difference? What causes this difference?
Also, 95 percent of all Palestinian deaths are male. Why is this?
The difference comes because of the difference in Israeli and Palestinian morality in war.
From the ICT study above: The Palestinians kill a broad section of society, including old people and people minding their own business in coffee shops and on buses:

The Israelis kill young men engaged in violent attacks and riots, and stupid kids standing around watching:

At around age 12, Palestinian boys (but note,
not
girls) start watching riots, helping, spotting, running back and forth, throwing stones and carrying toy guns, and, inevitably, getting shot:

The fact that Palestinian girls
aren't
being killed indicates that the Israelis aren't
randomly
killing civilians, but engaging in combat, and only those stupid enough to be in the middle of the combat are in danger. In fact, more Israeli girls are killed than Palestinian girls.
"How to Avoid Israeli Brutality."
---
On Israel's rules of engagement against children and youths throwing rocks:
First, it should be noted that if you don't want to get hurt, stay at home. Don't throw rocks. Parents, don't let your children throw rocks and Molotov cocktails and pipe bombs, while snipers fire on Israeli troops from the background. Ultimately, that is the answer. Whatever rules of engagement Israel uses, children participating in riots and shooting will get killed. The answer is children should stay at home.

The Palestinians use children in war:

Let's Talk About the Children by Naomi Ragen, November 3rd, 2000. "I cannot help but gasp every time I see it: children in front of tanks, throwing stones at armed soldiers. And nowhere, but nowhere, is there a single mother running to grab their hands and lead them home. Where are the Palestinian mothers? And what in Heaven's name are they thinking when they let their children endanger their lives, and the lives of others"
Cox and Forkum
on how the Palestinians fight.
Cartoon from
here
. See
Cartoon Use Policy
.

Palestinian child abuse: The Silwan incident, Oct 2010.

An ambush is prepared in front of cameras. Palestinian children are encouraged to attack and stone an Israeli car with a settler and his 13 year old son in it. A child runs at the car and is hit. If the car stops, the settler and his boy may be killed horribly. Luckily the driver gets away.
Comical lies from the Palestinian boy afterwards: "I had just left the Friday prayers .. when I saw a car speeding towards me. I couldn't run away in time, I didn't even have time to signal him with my hands. It was clear he did it on purpose. I was on the sidewalk."
The parents of these children should be in jail.
---
Attempts to find deliberate Israeli killing of civilians in the last few decades:

None of the above are very convincing in showing actual intent by the Israeli state to kill civilians. Again, it seems to any objective observer that the Israelis try to follow the rules of war.

These older incidents are more convincing:

THE CHALLENGE: If you believe the Israelis are "just as bad" as the Palestinians, find me a single incident since 1960 in which the Israeli state deliberately targeted and tried to kill civilians in the same way the Palestinians do every day. The Palestinians routinely and deliberately target and attack schools, shops, restaurants, nightclubs, buses, aircraft, civilians in their cars and houses, and so on, with no military target in sight. Show me a single incident since 1960 when the Israelis did this. Tell me about it here.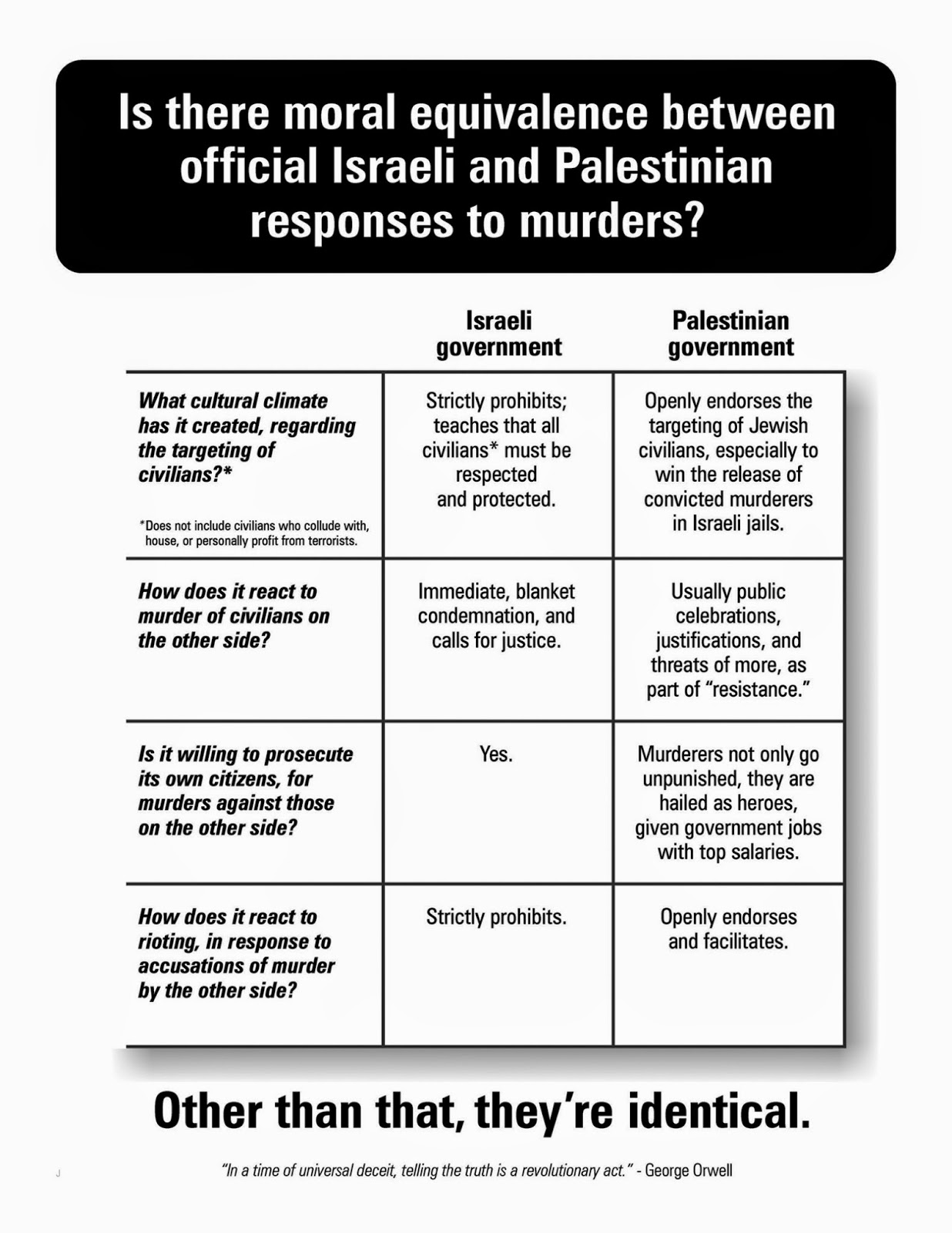 Chart sums it up.
Found
here
.
---
There is no ambiguity on the Palestinian side. It is
policy
(and always has been) to deliberately target and kill all civilians, from the old to the young. Endless attacks are made on civilian targets, with no military target in sight. Islam seems to possess no fundamental rules of warfare. Judaism seems clearly morally superior to Islam, since it opposes targeting civilians in warfare.
Selected major attacks before 1947
Selected major attacks after 1947
Lists of all attacks, 1920 to date
Wikipedia

Israel government

Suicide bombers believe they will go to some kind of paradise in the sky (or somewhere) as a reward for killing innocents. Unfortunately for them, there is no such place. They are just dead, and so are their victims.

The documentary Suicide Killers (2006) by Pierre Rehov.
TV interview in 2011 of 92 year old Palestinian woman.
Her father took part in the
Hebron massacre of the Jews in 1929
.
She
celebrates
the massacre, and hopes for a greater massacre of the Jews in the future.
From
MEMRI
.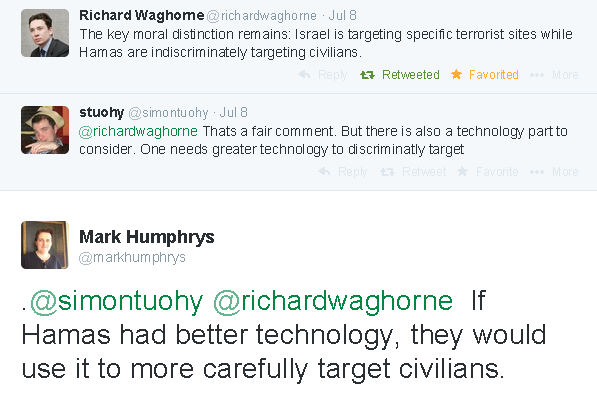 I point out that if Hamas had better technology, they would use it to more carefully target civilians at pre-schools, primary schools, synagogues, hospitals, cafes and so on.
School bus attack, Apr 2011. Hamas uses laser-guided missile to carefully target an Israeli school bus, killing a 16 year old schoolboy.
---
The killing of 7 children (and 1 unborn) in the Sbarro pizzeria in August 2001 was the
turning point
in me abandoning the criticism of Israel I grew up with.
One month later, 9/11 then finished that world off for me.
The Sbarro massacre sums up the mental sickness (and I am being quite literal) of Palestinian society. It's not just that they targeted women and children. It's that they openly celebrated it afterwards.
Students at
An-Najah University
, Nablus, West Bank,
celebrate
the killing of the babies at the Sbarro pizzeria.
The old (pre-madness) LGF called it the
"University of Death"
.
Picture from
ADL
. Picture credit
Associated Press
.


Sbarro butcher, the evil witch Ahlam Tamimi, describes in July 2012 how the Palestinians celebrated the killing of children: "Afterwards, when I took the bus, the Palestinians around Damascus Gate [in Jerusalem] were all smiling. You could sense that everybody was happy. ... inside the bus, they were all congratulating one another. They didn't even know one another, yet they were exchanging greetings. ... Two minutes later, they said on the radio that the number had increased to five. I wanted to hide my smile, but I just couldn't. Allah be praised, it was great. As the number of dead kept increasing, the passengers were applauding. They didn't even know that I was among them."
---
The worst thing about the Palestinians is that - unlike the Israelis - the Palestinians deliberately target women and children.
The Palestinians have no basic human morality in their conduct of war, and believe in killing all Jews, including children, toddlers and babies. Opinion polls show the majority of Palestinians support killing Israeli civilians. The Israelis are not like this. No opinion poll in Israel has ever shown majority support for killing Palestinian civilians. The Israelis fight a war against military targets. The Palestinians' war consists of almost nothing but war crimes against civilians.
The Islamists are quite open about targeting women and children in their homes, schools, and in their daily life: "All the Jews are targets, whether military or civilian. It's our land and they are in the wrong place. It's their duty to pay attention to safety of their own families and move them away from the battlefield."
Truly, Islamism has no morals, no honour, no dignity. It is as depraved as any idea that humanity has ever followed.

They are openly depraved. The Islamist above says: "With the exception of Israel, we do not target civilians", making clear that in Israel they do target civilians.
Of course, Islamists target civilians everywhere, all over the world. They hardly do anything else.
Unnamed child victim of Palestinian suicide attack on
No. 2 Egged bus
, Shmuel Hanavi, Jerusalem, Aug 2003.
See
here
and
here
.
Unknown picture credit.
The leader behind this attack on defenceless children was the evil mass murderer Sheikh Ahmed Yassin. Justice came calling for him in Mar 2004.
The killing of the Hatuel family, May 2004. Four children (age 2 to 10) shot dead with their mother.

The idealistic twentysomething Islamic fascists moved in on the stopped car and shot the four children - including a 2 year old in a baby seat - repeatedly at close range.
The Palestinians were not ashamed of this sick war crime committed in their name, but rather celebrated it. Also here. The thug Yasser Arafat's Palestinian Authority described the killers as "heroic". They described the children as "terrorists". Al Jazeera jihad TV described the killing as a "resistance strike". None of this is unusual.
The leader behind this attack on defenceless children was Mohammed Khalil, leader of Islamic Jihad in southern Gaza. Justice came calling for him in Sept 2005.
A commenter expresses how I feel: "That murder has haunted me since it happened. What kind of human could machine-gun a baby in her carseat? Hatred, pure evil."

Some other children, toddlers and babies deliberately attacked by Palestinian Islamofascists:

These children are not "collateral damage". They are the targets. There are no other targets.
That is the difference between the Israelis and the Palestinians.
That is the difference between the morality of Judaism and the morality of Islam, and why I find Judaism to be morally superior to Islam.
Unnamed child wounded in
Palestinian suicide attack on
No. 2 Egged bus
, Shmuel Hanavi, Jerusalem, Aug 2003.
Picture credit lost.
Again, the reason why I show this is because the Palestinians wanted to kill or injure this child. They are happy at its suffering. They are not ashamed by this attack on women and children. They danced in the street and handed out sweets in celebration. And the majority of Palestinians support this.
Noam and Matan Ohayon
, two little boys shot in 2002 by a brave young Palestinian Islamofascist as they cowered in their bedroom with their mummy.
---
The killing of 5 year old Danielle Shefi in 2002 was particularly notable because
a Western intellectual tosser had just been in the media
a few days before, apparently calling for such killings.
The Irish poet Tom Paulin has a fanatic's hatred of Israel.

He was interviewed by Al-Ahram Weekly, Issue No.580, 4-10 April 2002: "The Palestinians, he says, need good anti-tank weapons. "They have got to meet force with force. They have to be cunning and forceful." So how does the suicide bomber fit within this balance of power? "I can understand how suicide bombers feel," he answers. "It is an expression of deep injustice and tragedy. I think -- though -- that it is better to resort to conventional guerrilla warfare. I think attacks on civilians in fact boost morale. Hitler bombed London into submission but in fact it created a sense of national solidarity." If there is one thing Paulin clearly abhors about Israel, it is the Brooklyn--born Jewish settlers. "They should be shot dead," he says forcefully. "I think they are Nazis, racists, I feel nothing but hatred for them.""
Death to Jewish settlers, says anti-Zionist poet, 13 April 2002.

5 year old Danielle Shefi was shot dead cowering in her bedroom with her baby brothers by brave Islamic fascist heroes, on 27 April 2002, a few days after Paulin's call for such killings. They also shot her 4 year old baby brother.

Danielle Shefi is now the name Paulin will forever be linked with:

We are falling under the imam's spell, 13 Jan 2004. Mark Steyn on Tom Paulin and Danielle Shefi.
"I feel like a leper", says Paulin, 5 Aug 2002. Sadly, such views are not leprous enough. Paulin's views are quite normal in trendy social circles in the west, as is his absolute blindness in thinking of himself as some kind of "enemy" of Nazism. In fact, the "Nazi test" is staring him straight in the face and he is failing it. The world is full of latter-day Nazis, and Paulin is an ally of theirs, not an enemy.

The butcher behind this attack was Salah Shahade. He was killed by a 2,205-pound bomb dropped by an IAF F-16 in July 2002.

Terry Eagleton, another Irish-origin, British academic apologist for Islamic fascism.
Image from the killing of Danielle Shefi, age 5, by Hamas, Apr 2002.
She was sitting awake in her bedroom in the morning, with her mummy and two baby brothers, when the Hamas gunman came in and sprayed them with automatic fire.
Image from
here
.
---
The story of what Samir Kuntar did.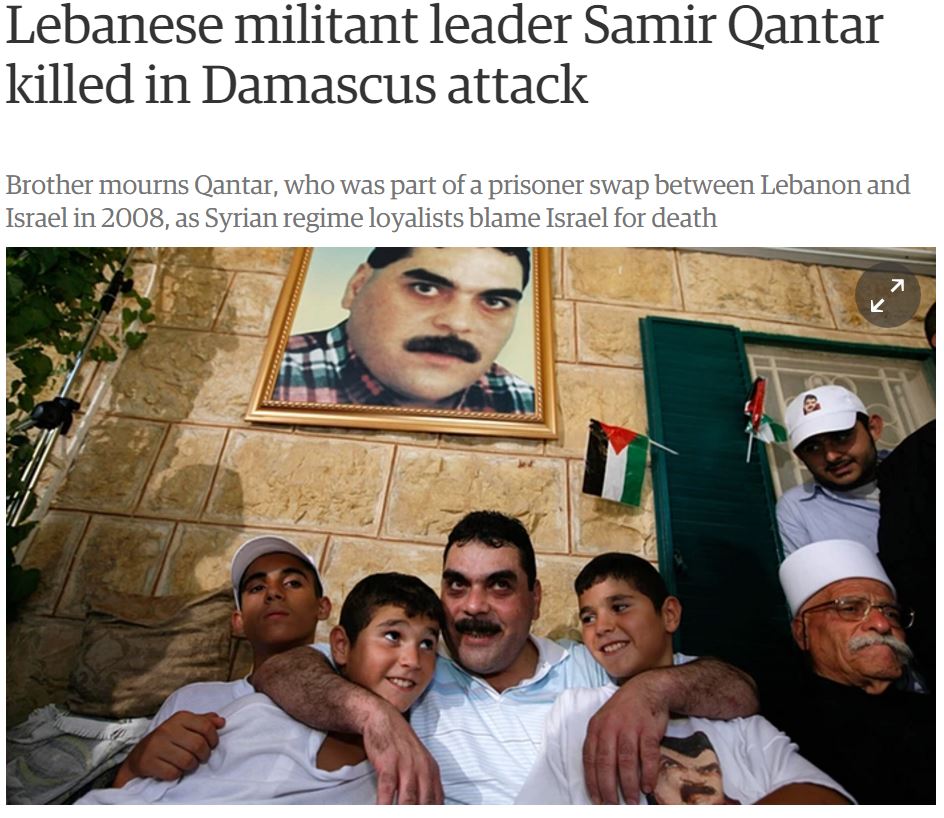 The Guardian, 20 Dec 2015, printed this revolting happy happy image of the child killer after his death.
After outrage, they changed it.
What a sick paper.
---

Palestinians dance in celebration at the killing of Israeli civilian women and children in Aug 2004.
Images from Reuters. Found through here. Original source lost.
They are celebrating the Islamist suicide bombing of two buses of women and children doing back-to-school shopping in Beersheba, which killed 16 innocent civilians - including a 3 year old little boy, Aviel Atash - with no military target anywhere in sight. The women and children on the bus were the targets. And the Palestinians are not embarrassed by this. Instead they dance in the streets.
It is not unfair to show these pictures, since this is not just a small minority. The majority of Palestinians support and celebrate these killings.
---
When have Americans or Israelis ever done this?
Comment on the above
:
"I apologize for re-stating the obvious, but if Americans or Israelis openly celebrated the murder of innocent civilians, pictures of the celebration would be plastered on the front page of every newspaper on the planet."
It is very rare for modern westerners (American, Israeli or other westerners) to celebrate the death of civilians on the other side in war. Whereas such celebration is commonplace in Islamic societies. This is because western morality is superior to Islamic morality.
The Palestinians, with their primitive racist tribalism, want to kill women and children. The Israelis, with their sophisticated modern universal morality, don't. They only want to kill combatants. That is the difference between them.
There have, unfortunately, been a few times when extremists in Israel celebrated the death of civilians on the other side. But these are rare, and they are loudly condemned across Israeli society.
The difference between Israeli rules and Palestinian war crimes:
Hamas leader
Fathi Hamad
is famous for this video in
Feb 2008
where he boasts that the Palestinians of Gaza
"have formed human shields of the women, the children, the elderly"
to help the Hamas fighters kill Jews. And Israel has to fight Hamas while avoiding these civilians.
Later, in Apr 2010, the 3 year old daughter of this Hamas leader became seriously ill. Israel airlifted her to hospital. Her father, surprisingly, refrained from killing her rescuers. He will kill them later.
No, seriously, he will. The girl was treated at the Barzilai hospital in Ashkelon. Hamas has fired rockets at this hospital, and no doubt will fire more. So yes. He will kill them later.
---
The barbaric killing of the Fogel children
at Itamar in the West Bank in Mar 2011.
Palestinian jihadis enter a house, and stab an 11 year old, a 4 year old, and a baby to death. Palestinians then celebrate the killings.
Two animals from the PFLP were arrested for the killings, Apr 2011. "They saw children sleeping in the home, and entered the Fogel family residence. ... Immediately after entering the home, the youths set their knives on two young brothers sleeping in their beds, 4-year-old Elad and 11-year-old Yoav. ... The two then left the house. One of the suspects, however, returned and stabbed to death three-month-old baby Hadas after she began crying in her crib. ... Amjad said that he was unaware that there were two other children in the house, and that if he knew, he would have stabbed them as well."
Poll, Apr 2011. 32 percent of Palestinians support the Fogel family massacre.
The body of Elad Fogel, the 4 year old boy stabbed to death in his home by the Palestinian jihadis at Itamar in Mar 2011.
From
massacre scene photos
.
N.B. These photos
were released by Israel with the permission of the family
in order to illustrate the horror of what Israel is up against.
WARNING - GRAPHIC IMAGE.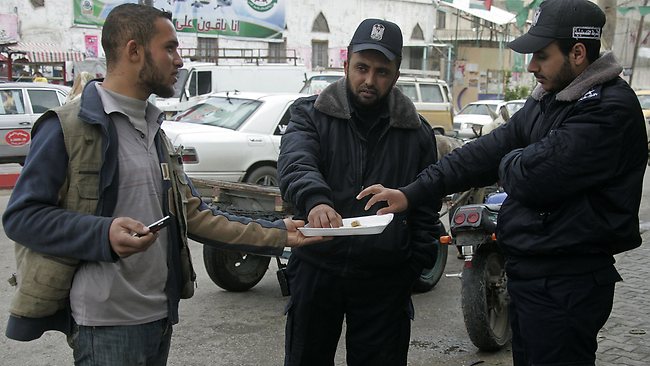 Palestinians celebrate the killing of the Fogel children at Itamar, Mar 2011.
A Palestinian man hands out treats to Hamas "policemen" (i.e. terrorists) in Gaza.
From
Getty Images
.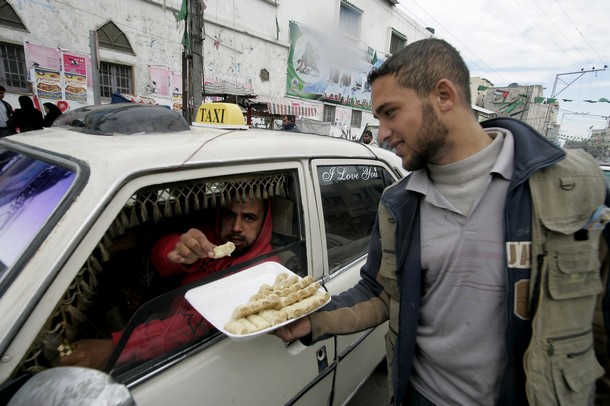 The same Palestinian "man" celebrates with a taxi driver.
From Getty Images.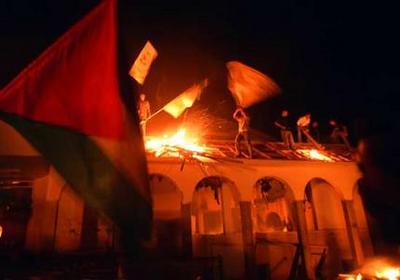 Palestinians burn the synagogue of Netzarim in Gaza after the Jews have been expelled, 2005.
Ironically, the Fogel family was only in the West Bank because of the "peace" process.
They previously lived in Netzarim in Gaza, until they were ethnically cleansed in 2005 (an ethnic cleansing applauded by the entire left).
Image from here.
---
Return to
Israeli-Palestinian conflict
.