End communism!
Democracy now in North Korea!
History
North Korea
The North Korean government is probably the greatest killer of innocents on earth today. The estimates are that it killed up to
3.5 million people
in the
1990s famine
, and more before and since. This may be the worst state killing on earth since Mao.
Communist North Korea is probably the 6th greatest state killer since 1900.
The North Korean government should be deposed and its leaders tried for crimes against humanity.
The most evil place on earth.
Hoeryong concentration camp
(see also
here
), North Korea.
Men, women and innocent children are held, tortured and killed here in the 21st century.
Human experimentation
is carried out on living men, women and children here.
Families are gassed
as scientists watch.
"The parents were vomiting and dying, but till the very last moment they tried to save kids by doing mouth-to-mouth breathing."
Click to toggle map/satellite view. Click to zoom in/out. Drag to move.
From
Google Maps
.
See also
North Korea Uncovered
(Google Earth).
When will the armies of the free world come to liberate this place?
---
Tyrants
Democide
Kim Il Sung with some North Korean children in a propaganda poster.
Later he will have them and their parents shot, starved, or sent to camps.
From
North Korean propaganda posters
.


Brainwashed North Koreans weep at the death of their torturer Kim Il Sung in 1994.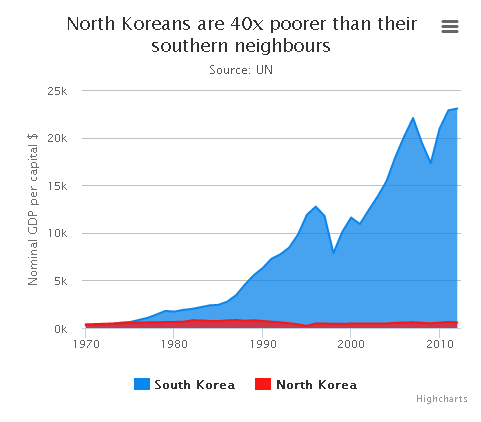 Communism causes poverty and famine.
Capitalism causes prosperity and plenty.
The achievements of Kim Il Sung, Kim Jong Il and "Juche", in one handy chart.
South Korea is now 40 times richer than North Korea. (Not 40 percent richer. 40 times richer!)
From here.
---
For 50 years, North Korea has been engaged in sporadic military and terrorist attacks on South Korea.
---
North Korea and South Korea at night.
You can see tyranny above and freedom below, even from space.
From
here
.
See
other image
. More
here
.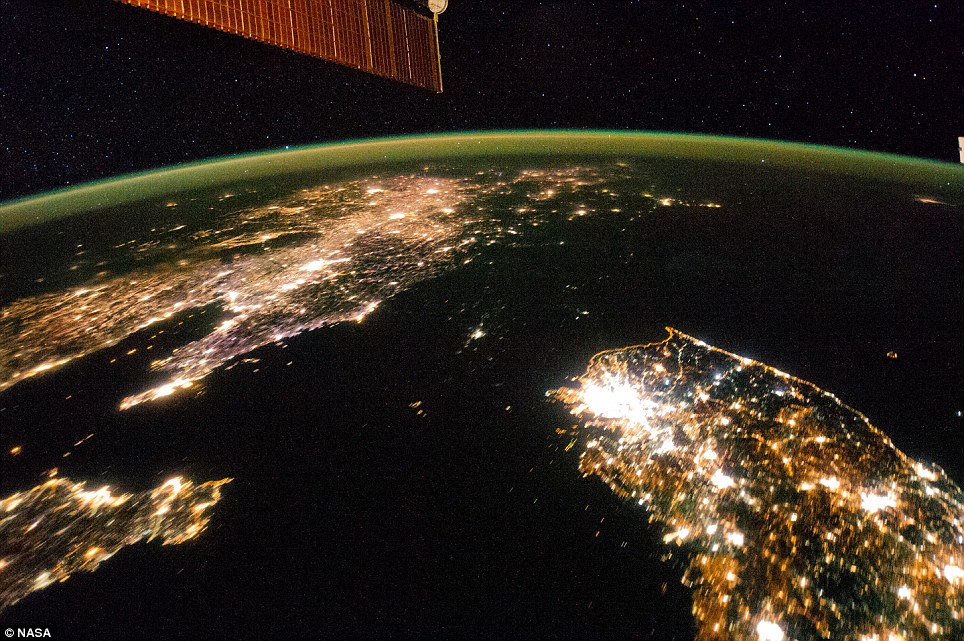 Tyranny can be seen from space.
From here.
---
Freedom of religion in North Korea (there is none)

Open Doors

Pebbles in their Mouths, Faith J. H. McDonnell, August 6, 2009, on the persecution of Christians in North Korea.

North Korea publicly executed a 33 year old Christian woman in June 2009 for distributing the Bible. Her parents, husband and three small children were sent to a concentration camp.

Books

The butcher Kim Jong Il is parodied in the movie Team America: World Police (2004). Someday this film will be legal in North Korea. Someday, North Korea will be free.
Kim Jong Il in
Team America: World Police
.
And
search
.

North Korean Insult Generator.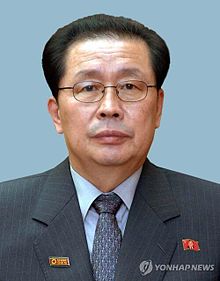 Jang Sung-taek, brother-in-law of Kim Jong-il, partly took over leadership of North Korea as Kim Jong-il was dying.
In Dec 2013, he was abruptly executed by his nephew (Kim Jong-il's son) Kim Jong-un, to consolidate his power.
He was accused of "anti-party, counter-revolutionary factional acts" and was executed on 12 Dec 2013.
Dead right! The imperialist running dog!
It is hard to applaud the execution of a regime butcher like Jang Sung-taek though, since Kim Jong-Un also executed all of his family, including children.
---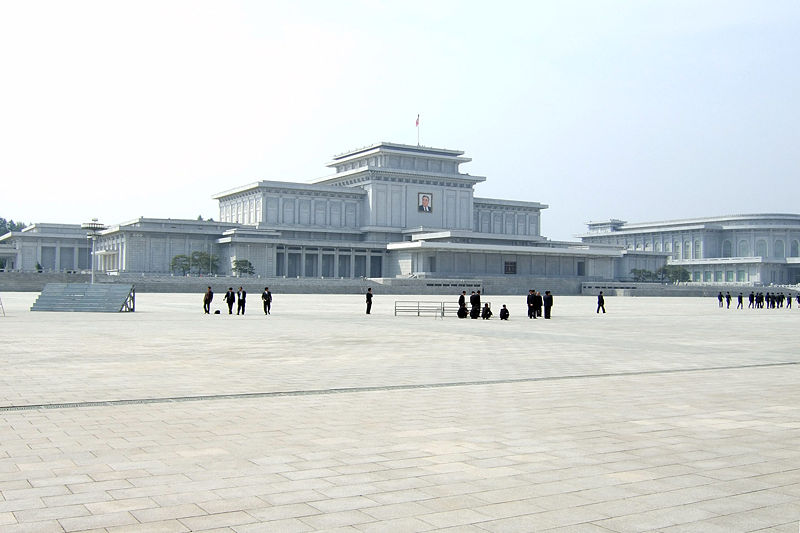 The resting place of evil.
Kim Il-sung Mausoleum
, Pyongyang, North Korea.
From
here
.


Kim Jong Il Announces Plan To Bring Moon To North Korea (and here).
From The Onion.
Captures this awful regime perfectly.
I love the response of the man in the street: "The plan is perfect. We have already succeeded."


"Tensions Mount After North Korea Destroys All Of Asia."
---
North Korea carried out a cyberterrorism attack against the USA in 2014 because they were angry about a
movie
.
The movie is The Interview (2014), a comedy about two amateurs recruited to kill the North Korean tyrant Kim Jong-un.
What a great concept. One really has to admire any film that angers a dictator. Such bravery is so rare in Hollywood.
Humour is subjective, of course. I did not find the trailer funny. But when I saw the film I found it hilarious.

The film made the North Korean tyrant so angry that he threatened a "resolute and merciless response".
North Korea then, in Nov 2014, launched a cyberterrorism attack against Sony Pictures. It threatened real-world terror attacks also.

Sony Pictures first responded to the attack by pulling the film, Dec 2014. Pathetic.
Many people got furious that American movies are now being censored by foreign communist tyrants.
Hustler Video responded by making a porn version of the movie, This Ain't the Interview XXX (2015). Hustler founder Larry Flynt said: "I've spent a lifetime fighting for the First Amendment, and no foreign dictator is going to take away my right to free speech".

Eventually, Sony decided to release the film after all.
Search for clips: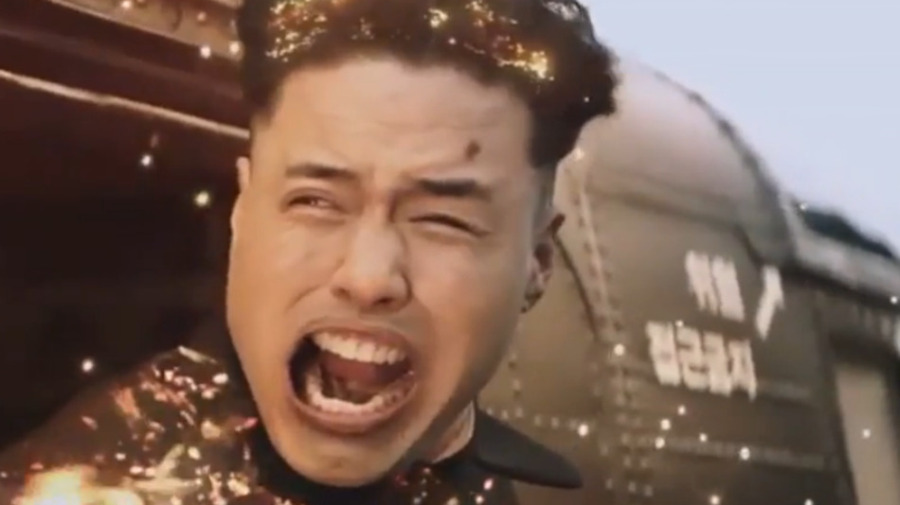 The dictator and butcher Kim Jong-un dies in the film.


Some dreadful black activist called Jamilah Lemieux thinks North Korea is right to be angry.
She says on 17 Dec 2014 that only white people could possibly want to kill a butcher of Asians.
Only white people care about human rights? Really?
George Clooney, of all people, understands what is wrong. Clooney has spent a life dedicated to leftist nonsense, but look at his righeous anger here: "Do whatever you can to get this movie out. Not because everybody has to see the movie, but because I'm not going to be told we can't see the movie. That's the most important part. We cannot be told we can't see something by Kim Jong-un, of all f*cking people."
Kim Jong Un is killed in
The Interview
(2014).


Kim Jong Il is killed in Team America: World Police (2004).
---
Amazing scenes as Kim Jong-un visits South Korea.

I would not get too excited yet. The communist regime has not fallen, or even reformed. The concentration camps have not closed. The regime is in place.
The regime has not been trying to change. There has been no period of glasnost. Kim Jong-un is not Gorbachev. So don't get too excited yet.
When unreformed tyrants like Kim Jong-un engage in "peace" processes, often it is just a scam. See Yasser Arafat, or communist Cuba, for example. So don't get too excited yet.