Islamism - The root cause of Islamic terror
The root cause of Islamic terror
Since 9/11, a lot of nonsense has been talked about the root cause of global Islamic terror. The left has attempted to explain it as driven by "poverty" or "oppression", or American foreign policy, or Israel, or at least some sort of
logical
grievance.
But we are gradually coming to see that Islamic terror is in fact driven by a totalitarian, idealistic ideology - Islamism - that has its own dynamic and its own goals, and is not based on any logical or rational grievances. The jihad against the West is caused by the ideology of jihad.
Many are now also realising that Islamic terror before 9/11 - such as in Israel - was basically the same thing. Arab terror against Israel is also fundamentally based on Islamist / Islamic supremacist ideology, not on logical or rational grievances. The jihad against Israel is caused by the ideology of jihad.
Assuming there must be a reason that makes sense behind 9/11 is a basic logical error. The cause of 9/11 may make no sense at all.
There was no logical or coherent reason behind most of history's mass killings. There was no logical reason behind Hitler's genocide of harmless, rural, East European Jewish peasants. There was no logical reason behind Stalin's democide of harmless lower-middle-class "kulaks". The idea that 9/11 has to have a logical cause is an assertion that fails to understand human nature.
Kevin Myers, 9 Sept 2011, says followers of Chomsky think that evil deeds must stem from some logical cause or grievance. While followers of Edmund Burke understand that evil men committing evil deeds is the oldest story in history. "On the one hand, there were the Chomskyites, henceforth the chumps, who felt that there was an underlying "reason" for 9/11, which had been "created" by US policies. And there were the others, the Burkians, who felt that 9/11 represented yet another occasion when evil had captured the souls of men. We'd seen it before - the French Revolution, the October Revolution in Russia, the Third Reich in Germany, Mao and Pol Pot. And now, here we go again."
He wasn't born evil:
Bin Laden
(2nd from right) in Sweden in 1971.
He wasn't born evil. He
chose
evil.
Bin Laden's life illustrates clearly how Islamist terror is
not
caused by poverty or oppression. He wasn't poor. In fact, he was obscenely wealthy. His life's work was as
a rich man killing people who were much poorer than he was
. He was never oppressed either.
Islamist terror is not caused by poverty or oppression. It is caused by
memes
. It is caused by ideas inside the killers' heads - and nothing more.
---
The idea that 9/11 must have had some logical cause:

The terrorists' complaints are fantastic and are not based on reason:

Lo, the Poor Terrorist by Theodore Dalrymple, January 20, 2004. "The idea that if someone is prepared to do something truly horrible, he must have a worthy cause remains attractive to liberal intellectuals"
Al Qaeda's Fantasy Ideology by Lee Harris, August 1, 2002.

The 9/11 attackers are motivated by fantasy that bears no relation to the real world, and "it is absurd for us to look for the so-called "root" causes of terrorism in poverty, lack of education, a lack of democracy, etc. Such factors play absolutely no role in the creation of a fantasy ideology."
"Equally absurd, on this interpretation, is the notion that we must review our own policies toward the Arab world - or the state of Israel - in order to find ways to make our enemies hate us less. ... There is no political policy we could take that would change the attitude of our enemies - short, perhaps, of a massive nationwide conversion to fundamentalist Islam."
Describing them as simply "evil" is not a bad response. "There is one decisive advantage to the "evildoer" metaphor, and it is this: Combat with evildoers is not Clausewitzian war. You do not make treaties with evildoers or try to adjust your conduct to make them like you. You do not try to see the world from the evildoers' point of view. You do not try to appease them, or persuade them, or reason with them. You try, on the contrary, to outwit them, to vanquish them, to kill them. You behave with them in the same manner that you would deal with a fatal epidemic - you try to wipe it out."

The terrorists have no clue what is happening in the world:

Of course the terrorists' complaints are not based on logic and evidence, because the terrorists are usually completely ignorant of world history and politics. They rarely have a clue what is happening in the world. All they know is that they love Islam.
Poll, Nov 2010: 92 percent of Afghans have never heard of the 9/11 attacks. 92 percent of Afghans have no idea why America came to their country. Ignorant, illiterate, and above all, incurious.

Kevin Myers, November 10, 2009, on the "grievances" of Islamism: "within, it seems, all "moderate" Muslim communities are some fundamentalists who hold the local franchise for the global grievance of Islam. And no one really knows what such Islamic fundamentalists want, because the demands change according to whatever market the local Islamic franchisee is operating in. ... somewhere inside the greater Islamic mind is an absurd sense of victimhood: and where there is no local grievance, why then there is always "Palestine", as if those few disputed acres in the vast Islamic landmass of Afro-Asia merited the unanimous and indignant global furies of all Muslims, from Delhi to Dearborn."

Rachel Woodlock, 23 Mar 2011, expresses in almost pure form the absurd idea that Islamic terrorism is caused by ... fear of Islamic terrorism!

She says "we can cut the oxygen that fuels the flames of [Islamist] fanaticism by" - not "stopping Islamist hate speech", not "deporting Islamist clerics", not "fighting all support for sharia or jihad", not "controlling Islamic immigration" - no, rather, by: "actively countering anti-Muslim paranoia."
There you go. To stop Islamic terror you should clamp down on opponents of Islamic terror!
She says that to stop Islamic terror in Australia, we need: "societies in which there is religious freedom and the state ensures social services are provided to all - this means facilitating the settlement and integration of Islam and Muslims in Australian society."
Roland Shirk, 23 Mar 2011, shreds her argument. "All that Muslims need to be peaceful is multicultural laws and a generous welfare state. If only someone had tried that strategy before! ... The problem with Islam in the West is that we don't yet have enough Muslims in our midst, we don't bend over backwards to accommodate their preferences, and we don't cut them enough government checks to make sure that they really feel welcome. Because of this, many Muslims have grown understandably sulky, and ignored the dictates of their own peaceful religion to become suicide bombers, honor killers, and preachers of totalitarian sharia. Isn't that what every group would do in that situation? Remember how the Southeast Asian "boat people" in the 1970s formed terror cells throughout the West? How the Haitians who fled that country's political chaos in the 80s took to blowing up New York skycrapers?"
Cracking comment on Woodlock's article: "So when Muslims bomb coptic Christians in Egypt is that due to western racism and discrimination as well?"
Rachel Woodlock is a Muslim convert who wears the veil. Funny how she never told us that in her other article!

A jihadi stabbing in Germany in Sept 2021 sums it up:

Afghan Muslim stabs woman for gardening, Germany, Sept 2021. He stabbed a woman for gardening. Literally anything can trigger a jihadi to kill.
This is a perfect example of how the "root cause" of Islamic terror is not foreign policy, foreign wars, Israel, cartoons, poverty or climate change. Do what you like with all those topics and Islamic terror will carry on. He stabbed a woman for gardening.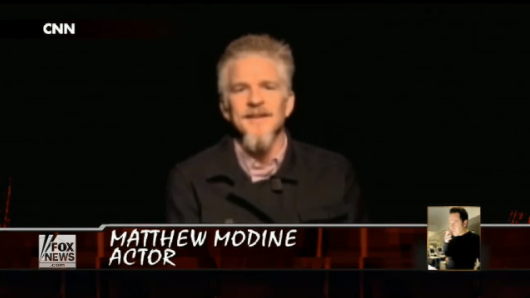 Actor
Matthew Modine
, Mar 2010, illustrates the failure of so many well-meaning liberal westerners to understand jihadis.
Clip from Greg Gutfeld's "Greg-alogue",
"Nice people are dangerous"
.
Modine absurdly says:
"Imagine if somebody were to really sit down with Osama Bin Laden and say, 'listen man,what is it that you're so angry at me about that you're willing to have people strap bombs to themselves, or get inside of airplanes and fly them into buildings.' That would be the miracle if we can get, sit down and talk to our enemies and find a way for them to hear us."
As Greg Gutfeld says:
"Modine just turned 51, but his opinion reflects that of a six year old girl ... It's a perspective that suggests one has never contemplated evil beyond a character portrayed in a script. MM fails to realize that there are people out there who see your desire for "understanding" as one reason why you'll be killed first."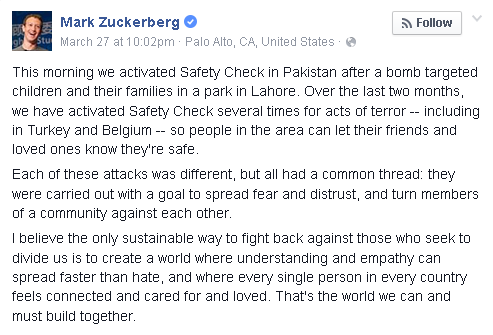 Absurd post by Facebook inventor Mark Zuckerberg, 27 Mar 2016, after the jihad massacres in Brussels and Lahore.
He claims the solution to jihad is to create a world "where every single person in every country feels connected and cared for and loved."
Technology genius knows no more about politics than the average man on the bus.
'Love' will not stop the jihad.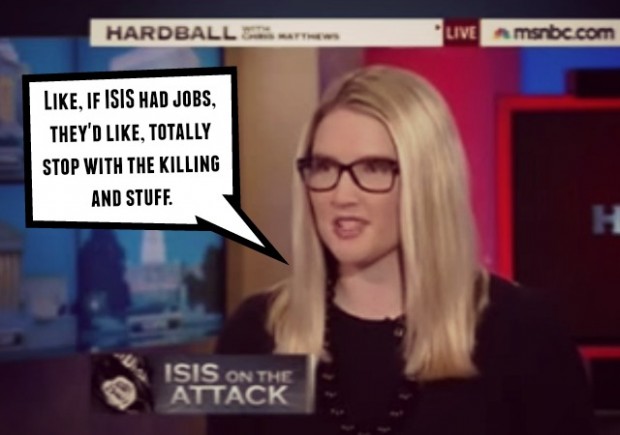 US Department of State spokesperson Marie Harf is the poster girl for dumb left-wing conventional wisdom.
In Feb 2015 she said about ISIS: "we cannot win this war by killing them. We cannot kill our way out of this war. We need .. to go after the root causes that leads people to join these groups."
Great, go after the root causes - Islamism, sharia, jihad. Let's do it.
And then she shows that she has no clue what the root causes are: "Whether it's lack of opportunity for jobs ... We can work with countries around the world to help improve their governance. We can help them build their economies so they can have job opportunities for these people. ... if we can help countries work at the root causes of this. What makes these 17 year old kids pick up an AK-47 instead of trying to start a business".
Jesus. This is what passes for "wisdom" in Obama's America. No wonder Obama has screwed up everything he ever touched to do with Islam and the jihad since 2009.

Charles Johnson defends Marie Harf. Johnson used to understand the root cause of Islamic terror. Now he doesn't!
"Our Fight Against Violent Extremism". Obama speech, 18 Feb 2015, shows that Obama himself has no clue about the root cause of Islamic terror. He will never have a clue. The words "Islamism" and "jihad" and "sharia" do not appear. He has no interest in what inspires jihadis to fight. It's probably best not to read what ideas he has instead. It's too depressing. I long for the day when this stuff is wiped off the whitehouse.gov website.
Power Line sums it up: "jobs are indeed a root cause of the fix we are in. ... we won't win the war the jihadists are fighting against us until Barack Obama and his crowd lose their jobs."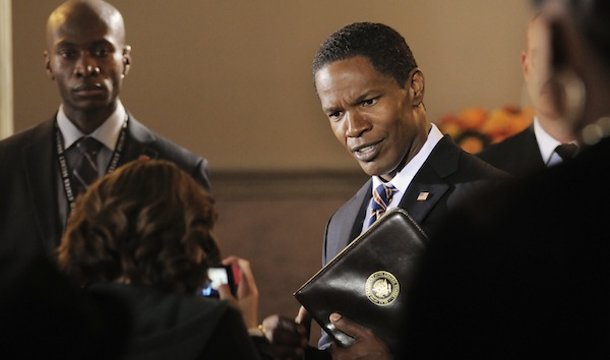 The comically awful
White House Down
(2013) by
Roland Emmerich
.
See
plot summary
and
negative reviews
.
In this dumb, obvious, clunking
left-wing fantasy film
, the Barack Obama-like President
says that the root cause of terrorism is poverty
. And he's not
meant
to be an idiot! We're meant to think he's intelligent.
Warner Todd Huston, 7 July 2013, points out that the Middle East "peace plan" proposed by the idiot President in the film - withdraw all US forces from the Middle East, and let dictators and terrorists do as they will - would lead to a bloodbath in the region. Possibly even a nuclear war.
This film would certainly support the idea that the left are the dumb ones - the ones who do not think about the news too deeply.
---
Hint: It's based on psychology and emotion, not on logic and reason.
---
U.S. soldier chews out Iraqi police.
A brutal encounter between the culture of empirical results and the culture of honour/shame/tribe.
---
Terrorism is not caused by poverty:

Osama Bin Laden was a son of the wealthiest non-royal family in Saudi Arabia.
Mohamed Atta was the son of a wealthy Cairo lawyer.
The Flight 253 bomber was the son of one of the richest men in Nigeria.

Many of the Palestinian terrorists are not poor. Oct 2015 article. "I had occasion to visit the homes of some of the Palestinian men and women involved in the ongoing wave of terrorism against Israelis ... none of these Palestinians had suffered harsh lives. Their living conditions were anything but miserable. In fact, these murderers had been leading comfortable lives ... None of the young Palestinians involved in the recent terror attacks lived a mud house, a tent, or even a rented apartment. They all lived in houses owned by their families, and had unlimited access to the internet. ... To be honest, I envied these terrorists because of the comfortable lives they had. The furniture in their homes is far better than my furniture."

Majority of British Islamic terror suspects are middle-class or upper-middle-class, says MI5 study leaked in Oct 2011. In a study of 90 Islamic terror suspects investigated by the security service: "Where data is available, two-thirds came from middle or upper-middle-class backgrounds, showing there is no simplistic relationship between poverty and involvement in Islamist extremism."

Marc Sageman, University of Pennsylvania (see here and here), found that of Al-Qa'eda members and associates:

18 per cent were upper class, 55 per cent were middle class. 90 percent came from caring, intact families.
29 per cent had some college education; 33 per cent had a college degree; 9 per cent had a postgraduate degree. 91 per cent had a secular education.
70 per cent joined the jihad while away from home. They joined the jihad at the average age of 26 (mis-quoted as the average age of all of them being 26).
In short, they are educated, alienated middle-class twenty-something young men, who as likely as not developed their hateful fascist ideas in the middle of tolerant, democratic western society. Just like Hitler, Marx, Lenin and a million other angry, hateful young men who reject the decent tolerant society that surrounds them.
"Sageman describes them as the "elite of their country" sent abroad to study because the schools in Germany, France, England and the US are better. ... Al-Qa'eda's "breeding ground", it seems, is as much in fragmented cities in the West as in hotbeds of Islamism in the East."

What this means is that the western media and the western left are partly to blame for the conversion of young people to Islamism in the west. The constant left-wing attacks on America and Israel one sees in the west is not simply being watched by westerners. Young potential jihadis are watching too, and it encourages some of them to join Al-Qa'eda. The media and the left encourage the enemy (even if they don't mean to). Sageman notes, for example, that France is breeding lots of jihadis while the US is not. The different media climates in France and America probably has a lot to do with it. If French political culture changed to become supportive of America, France would breed a lot less jihadi killers.
Arthur Chrenkoff on Al-Qa'eda not being poor: "The problem is hardly new. Poor people rarely become revolutionaries because they are far too busy trying to survive to engage in political pursuits. Historically, it has always been the relatively well-off and the well educated who constituted a vanguard of any revolutionary and/or terrorist movement, from the French Revolution and 19th century revolutionary socialism to Bolshevism, Red Brigades-style terrorism, and Palestinian terrorism. ... Overthrowing existing order is and has always been an elite pursuit."
Does Affluence Cause Jihad? by Zachary Constantino

The terrorists are not poor, they are revolutionaries:

Under Our Very Noses: The terrorist next door by Adrian Karatnycky.

Poverty is not the cause of 9/11: "It is indeed reassuring to view the terrorists who now threaten us as an exogenous threat rooted in the Middle East's Hobbesian environment of obscurantism, poverty, and repression - but police and press investigations offer evidence of a far more complex, and ominous, picture. The key hijackers, including Mohamed Atta, were well-educated children of privilege. None of them suffered first-hand economic privation or political oppression."
So who are the 9/11 attackers, if not poor third worlders? In fact, they are very much like the middle-class anarchist, fascist and communist revolutionaries of the past: "To understand the September 11 terrorists, we should have in mind the profile of the classic revolutionary: deracinated, middle class, shaped in part by exile. In other words, the image of Lenin in Zurich or London; or of Pol Pot and Ho Chi Minh in Paris."
"many of the terrorists we are now confronting are a Western phenomenon, existing inside the Islamic diaspora that is an established fact of life in the U.S. and Europe. ... Like the leaders of America's Weather Underground, Germany's Baader-Meinhof Gang, Italy's Red Brigades, and Japan's Red Army Faction, the Islamic terrorists [are] university-educated converts to an all-encompassing neo-totalitarian ideology. ... youthful members of a bored middle class who have grown contemptuous of "soft" and corrupt elites and are drawn to the romance of revolutionary guerrilla movements."
And like the 1960s and 1970s middle-class anarchist, fascist and communist terrorists, the proper response is war until their total destruction.

Theodore Dalrymple on the mind of the Islamist revolutionary:

The Suicide Bombers Among Us - On the confused mind of the starry-eyed young Islamist man. "According to Islamism ... Only a return to the principles and practices of seventh-century Arabia will resolve all personal and political problems at the same time." It is incredible that anyone would believe such a thing. But, of course, we've seen this kind of insane utopianism before: "This notion is fundamentally no more (and no less) bizarre or stupid than the Marxist notion that captivated so many Western intellectuals throughout the 20th century: that the abolition of private property would lead to final and lasting harmony among men."
The Terrorists Among Us: "terrorism is not a simple, direct response to, or result of, social injustice, poverty, or any other objectively discernible human ill. ... People with unusually thin skins ascribe the small insults, humiliations, and setbacks consequent upon human existence to vast and malign political forces; and, projecting their own suffering onto the whole of mankind, conceive of schemes, usually involving violence, to remedy the situation that has so wounded them. ... Conrad tells us that one of the sources of terrorism is laziness, or at least impatience, which is to say ambition unmatched by perseverance and tolerance of routine. ... The mental laziness of Islamism, its desire that there should be to hand a ready-made solution to all the problems that mankind faces, one that is already known, and its unacknowledged fear that such a solution does not really exist, Updike captures well."
The Persistence of Ideology: Starry-eyed rebels and terrorists are often not poor (or even oppressed): "Who, then, are ideologists? They are people needy of purpose in life, not in a mundane sense (earning enough to eat or to pay the mortgage, for example) but in the sense of transcendence of the personal, of reassurance that there is something more to existence than existence itself. The desire for transcendence does not occur to many people struggling for a livelihood. Avoiding material failure gives quite sufficient meaning to their lives. By contrast, ideologists have few fears about finding their daily bread. Their difficulty with life is less concrete."
Islamism is the new global communism: "There are many other parallels between Leninism and Qutb's Islamism, among them the incompatibility of each with anything else, entailing a fight to the finish supposedly followed by permanent bliss for the whole of mankind; a tension between complete determinism (by history and by God, respectively) and the call to intense activism; and the view that only with the installation of their systems does Man become truly himself."

The radical loser, by Hans Magnus Enzensberger, makes the obvious point that the idea that Islamist terror could bring about a better future for the Arab/Muslim world is absurd.

He notes that so far, Islamist terror damages the Muslim world far more than the West. Unless terrorists get WMD (*), if attacks continue as they are now: "it makes no difference to the actual power relations. Even the spectacular attack on the World Trade Center was not able to shake the supremacy of the United States. The New York Stock Exchange reopened the Monday after the attacks, and the long-term impact on the international financial system and world trade was minimal. The consequences for Arab societies, on the other hand, are fatal. For the most devastating long-term effects will be born not by the West, but by the religion in whose name the Islamists act. Not just refugees, asylum seekers and migrants will suffer as a result. Beyond any sense of justice, entire peoples will have to pay a huge price for the actions of their self-appointed representatives. The idea that their prospects, which are bad enough as it is, could be improved through terrorism is absurd. History offers no example of a regressive society that stifled its own productive potential being capable of survival in the long term. The project of the radical loser, as currently seen in Iraq and Afghanistan, consists of organizing the suicide of an entire civilisation."
(*) Even then, any Islamist WMD attack will more likely lead to devastating conventional and nuclear war against the Muslim world. Islamism has nothing to offer the Islamic world except repression, poverty, death, war, terror, famine, and potentially even total destruction.

What Terrorists Really Want: Terrorist Motives and Counterterrorism Strategy, Max Abrahms, Spring 2008, points out that much terrorism is based on illogical or hallucinatory reasons and strategy:

Summary: "Terrorists, he writes, (1) attack civilians, a policy that has a lousy track record of convincing those civilians to give the terrorists what they want; (2) treat terrorism as a first resort, not a last resort, failing to embrace nonviolent alternatives like elections; (3) don't compromise with their target country, even when those compromises are in their best interest politically; (4) have protean political platforms, which regularly, and sometimes radically, change; (5) often engage in anonymous attacks, which precludes the target countries making political concessions to them; (6) regularly attack other terrorist groups with the same political platform; and (7) resist disbanding, even when they consistently fail to achieve their political objectives or when their stated political objectives have been achieved."
New York Times Square bomber
Faisal Shahzad
proves that poverty does not cause terror.
Rather,
Islamism
causes terror.
This young man was born in Pakistan to a wealthy family, the son of an
Air Vice Marshal
in the Pakistan Air Force. He had the incredible luck to be accepted into the US to study and then work. He received a B.A. in computer science and engineering at the University of Bridgeport, Connecticut. He got an M.B.A at the University of Bridgeport. He got a job as a financial analyst in Connecticut, and lived in suburban America
in freedom and prosperity
. He responded in May 2010 by trying to kill random American men, women and children, and now faces decades of misery in American jails.
Only
Islamism
can explain not just such ingratitude, but also such personal self-destruction.
---
Islamism and jihad kill tourism. Who wants to go on holiday in a sharia hellhole, where tourists get sexually harrassed, or
arrested for the "crime" of being raped
? Much nicer to go to a country that makes foreigners safe and happy. And then there are direct jihad
attacks
on tourists.
Islamism and jihad are not caused by poverty. They are a cause of poverty.
Tourism is worth around $10 trillion a year. World Tourism rankings show who goes where.
Luxor massacre of tourists, Egypt, 1997. 62 people killed.
Bali bombing, Indonesia, 2002. 202 people killed.
Acid attack on British girls in Zanzibar, Aug 2013. Who would holiday in Zanzibar now?

Bardo National Museum attack, Tunisia, Mar 2015. 22 people killed.
Jihad attack on tourist beach in Tunisia in June 2015. 38 people killed.
These attacks killed Tunisian tourism. In 2014, there were 430,000 visitors from Britain to Tunisia. In 2017, there were just 28,000. Jihad causes poverty.

Jihadis brutally murder two female tourists in Morocco, Dec 2018. They behead one of them.
Tourists bombed in Egypt, Dec 2018. 4 killed.
Jihad kills tourism. Jihad causes poverty.
---
The root cause of the September 11th attacks is
a sick, fascist movement within Islam
.
It is an expansionist fascist movement that aims to rule much of the third world. It is at war with everyone who is not an Islamic fundamentalist fascist. It has killed vast numbers of Muslims.


Ongoing list of killings for Islam around the world.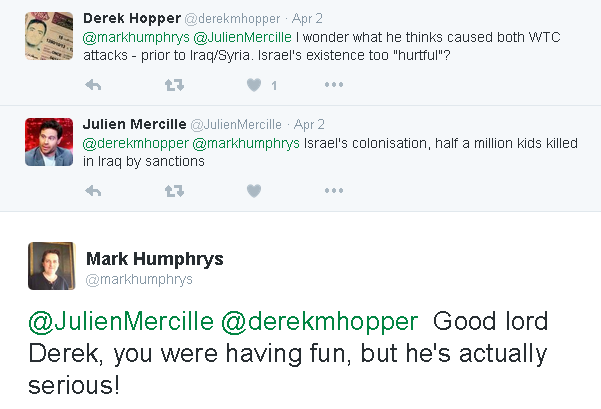 Irish academic
Julien Mercille
, 2 Apr 2016, says the root cause of 9/11 is Israel, and sanctions on Iraq.
He is not interested in the actual root cause: the ideology of Islamism and jihad.
The mad theories lefties invent in order to avoid dealing with the jihad!
Julien Mercille, 22 Nov 2015, says the root cause of the Paris jihad attack is "western and Russian bombing of Syria and Iraq". He is not interested in the actual root cause: the ideology of Islamism and jihad.
He wants Ireland to eliminate any assistance to forces fighting ISIS, to keep us "safe". In particular, he wants Shannon Airport closed to the US military. In short, he says that when racist terrorists attack the West, the West should do what they want. Wow, the left is so heroic.

Irony: Julien Mercille, 29 Mar 2016, says we should "counteract" ISIS plans: "We can react in two ways to ISIS attacks and propaganda: either we support their Machiavellian plans, or we counteract them." Yet he supports the ISIS plan of closing Shannon!
As various religious and secular Muslims commit mass rape, torture, carpet bombing, slavery and genocide across the Middle East, Mercille attacks Israel: "Israel and Saudi Arabia are two extremist forces spreading chaos in the Middle East". Israel is spreading chaos?? Insane.
Saying foreign policy is the cause of jihad violence is like saying that spilling
Begbie's
pint is the cause of his violence.
And
here
.
---
Global Peace Index - The world's most violent countries
The Global Peace Index is a flawed list of the world's most "violent" countries. But despite its flaws, it still is a powerful indictment of the violence of Islamism.
The Global Peace Index is basically a left-wing view of "peace".

Your score is knocked down by possessing WMD, engaging in wars abroad, and having high military expenditure. So any country that defends the West (like the US and UK) scores badly. So any country that is being attacked by aggressors (like Israel) scores badly. Neutrals and appeasers do much better.
The index is endorsed by lefties and appeasers such as Jimmy Carter, Desmond Tutu, Kofi Annan, Betty Williams and Mary Robinson.
It is also endorsed by Queen Noor of Jordan (whose husband, the unelected dictator King Hussein of Jordan, exterminated 10,000 civilians, supported Saddam's invasion of Kuwait, and tried to carry out a Holocaust of the Jews of Israel).

But having said all that, it is interesting to see what this index ranks as the top most violent countries, because it can immediately be seen (though of course the index itself does not see) that Islamism is the cause of the violence in most of them:




| | | |
| --- | --- | --- |
| 2009 ranking | Country | Cause of the violence |
| No.1 most violent country | Iraq | Islamism |
| No.2 | Afghanistan | Islamism |
| No.3 | Somalia | Islamism |
| No.4 | Israel | Islamism |
| No.5 | Sudan | Islamism |
| No.6 | Congo | Non-democracy |
| No.7 | Chad | Islamism |
| No.8 | Pakistan | Islamism |
| No.9 | Russia | Islamism and Communism |
| No.10 | Zimbabwe | Communism |

2012 Global Terrorism Index.

Despite being a left-wing site, this confirms the stats of thereligionofpeace.com (which says there were 22,000 Islamic terror attacks in 2001 to 2013).
The 2012 GTI report (see Chart 8) shows over 3,000 Islamic terror attacks in 2011 alone, though less in earlier years, probably adding up to around 20,000 Islamic terror attacks per decade.
---
Similarly, the
Terrorism Risk Index
by Maplecroft, released Nov 2010, clearly shows the violence of Islamism.
| | | |
| --- | --- | --- |
| Ranking of countries at risk from terror attacks | Country | Cause of the terror |
| No.1 most terror-prone country | Somalia | Islamism |
| No.2 | Pakistan | Islamism |
| No.3 | Iraq | Islamism |
| No.4 | Afghanistan | Islamism |
| No.5 | Palestine | Islamism |
| No.6 | Colombia | Communism and Drug prohibition |
| No.7 | Thailand | Islamism |
| No.8 | Philippines | Islamism |
| No.9 | Yemen | Islamism |
| No.10 | Russia | Islamism |
---
World Watch List - The countries with the worst persecution of Christians
Similarly, the
World Watch List
, by Open Doors, shows the countries with the worst persecution of Christians. It clearly shows the violence and intolerance of Islamism.
It is noteworthy that 8 and 10 years respectively after military victory, both Iraq and Afghanistan are still in the 10 worst countries.
This does indicate that "nation building" in these deeply corrupt and screwed up societies has ultimately been a failure.
The 2011 list:
| | | |
| --- | --- | --- |
| Ranking of countries with the worst persecution of Christians | Country | Cause of the persecution |
| No.1 worst country | North Korea | Communism |
| No.2 | Iran | Islamism |
| No.3 | Afghanistan | Islamism |
| No.4 | Saudi Arabia | Islamism |
| No.5 | Somalia | Islamism |
| No.6 | Maldives | Islamism |
| No.7 | Yemen | Islamism |
| No.8 | Iraq | Islamism |
| No.9 | Uzbekistan | Islamism and Communism |
| No.10 | Laos | Communism |
---
The western left, knowing nothing about Islam or the jihad, tries to blame jihadi slaughter on its favourite villains: the Western countries - probably America, Britain and Israel.
Somehow, crimes by Western countries are the reason why Boko Haram slaughters Christians and ISIS rapes Yazidis and AQI bombed Shia mosques and Sudan killed Christians and animists and the Taliban bombs girls' schools, and so on,
These theories do not stand up to five minutes' study of what drives the jihadis, but they comfort the left psychologically. They are like believing in Holocaust denial theories.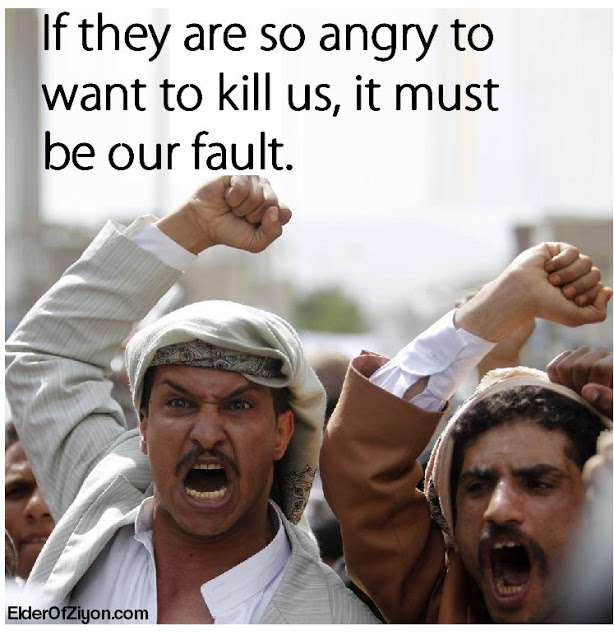 The inability of the western left to understand the root cause of Islamic terror.
Found
here
.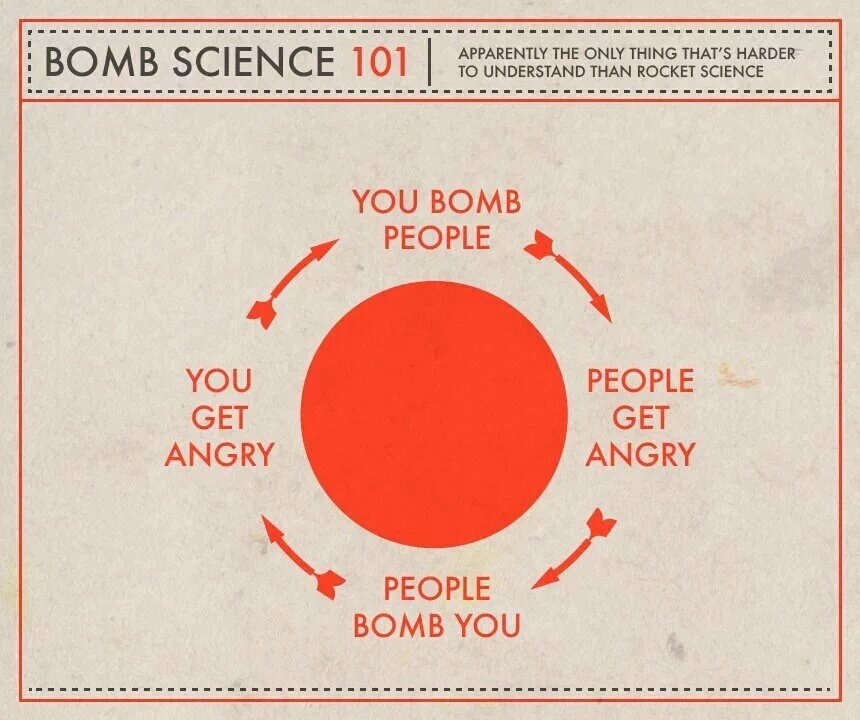 The idiocy of the left in one chart.
The maker of this chart thinks jihadis kill non-Muslims because they are "angry" about "being bombed".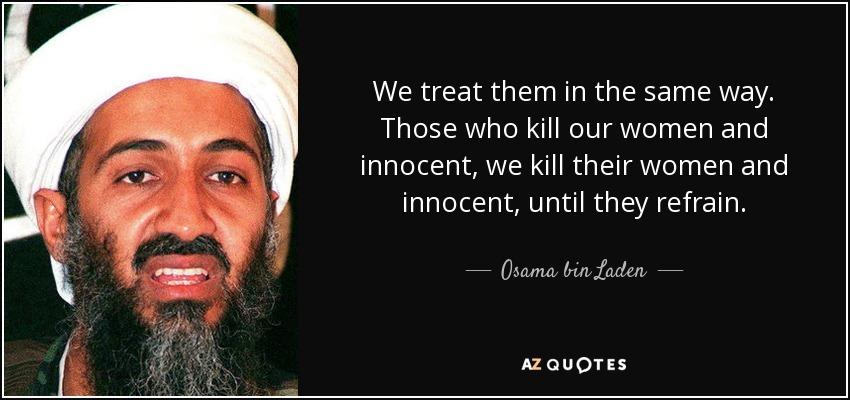 The cold-blooded jihadi butcher of women and children, Osama Bin Laden, packs so many lies into one sentence:
The lie that jihadists kill women and children because they are responding to something.
The lie that jihadists don't want to kill women and children.
The lie that jihadists have ever acted according to any moral rules of warfare.
The lie that there are any circumstances under which jihadists will not kill women and children.
The lie that if the West changes behaviour, the jihadists will stop killing women and children.
The lie that the West targets women and children.
All of these statements are total lies. So many lies, all in one sentence.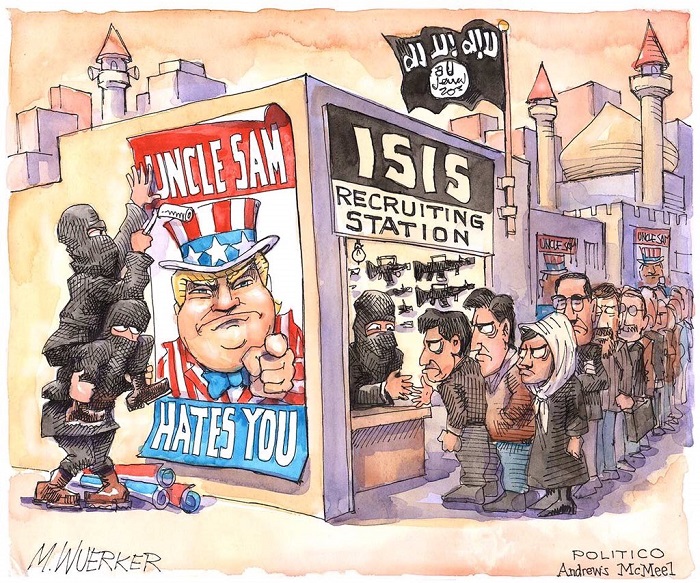 The left's idiocy is illustrated by this cartoon by
Matt Wuerker
, Jan 2017. From
politico.com
.
The cartoon is in response to Trump's
Jan 2017 Executive Order
restricting immigration from 7 Muslim-majority countries.
Now
I agree
that Trump's order is cruel and idiotic.
However, this cartoon packs in almost every single logical error the left makes about Islam and jihad:
The idea that jihad is because of something the West did.
The idea that if the West changes its behaviour, then jihad will stop.
The idea that anything will cause jihad to stop.
The idea that if you anger normal peace-loving Muslims, they will become jihadi terrorists.

I thought the idea that all Muslims are potential terrorists was a nasty right-wing idea. But the cartoon promotes this idea.
"If you anger Muslims, they will join ISIS and start killing Christians and raping Yazidi children". Really? I don't believe that, but the left seems to.

The idea that jihadi terror is a reasonable response to suffering grievances and offences.

Really? I think if you're raping Yazidi children because of something Trump said, then you weren't a very good person anyway.
Note also that Christians in those 7 Muslim-majority countries are banned from the US too. How come they aren't queuing up for terrorism?

The idea that if someone will become a terrorist if not let in, then the US should let him in.

On the contrary, he is the last person who should be let in! "Be nice to me or I will become a terrorist" is not a very strong argument for being nice to somebody.
The people queuing up here are exactly the sort of people who should be banned from the US. The cartoon makes Trump look as if he is dead right to ban them.
So many idiotic ideas, all in one cartoon.
---
"Once I interviewed a young Taleban fighter who was almost too angry to speak as he described how he joined the insurgency after American soldiers had dishonoured his mother by entering and searching their family home, casually looking at her as they did so."
- Article by Tom Coghlan, The Times, 17 Aug 2009, beautifully illustrates the "root cause" of Islamic violence.
Infidels looked at his mother. Does he shrug and say so what? Does he ... write a letter of complaint? Does he ... join a political party and stand in the upcoming Afghan elections? Does he organise a demo? Does he write a witty article? No. He turns immediately and without trying any other solution to barbaric violence. The "root cause" of his violence is crap inside his head, not anything outside it.
"[The left's] idea of root causes [is] a pseudo-intellectual exercise that prevents a real understanding of evil actions. Every culprit can tell a story, but by listening to that story, you insult each and every one of his victims."
- Greg Gutfeld, 23 Nov 2009.
"They can't blame it on poverty or any of that stuff. They will have to realize that it's an ideology and it's a way of life that makes people change."
- American-born Islamic terrorist Omar Hammami (or "Abu Mansoor Al-Amriki") himself denies that "poverty" is the root cause of Islamic terror.
"Our enmity towards Hindus is not due to the Kashmir issue; our enmity towards America is not due to Iraq and Afghanistan; the enmity between us and the Jews is not due to the Palestine; the real cause is that they do not accept our system and Islam. Our enmity towards them (the non-believers) will continue even if they renounce all their crimes."
- Al Qaeda, Sept 2013, explains the root cause of Islamic terror. But the left isn't listening.
"First we want to make it clear to all that what makes the kafir's blood permissable to spill is not him fighting the Muslims, rather it is his "KUFR" that necessitates his killing. So if one asks, can you kill a Kafir (who does not fight Islam and Muslims)? the answer is a big YES."
- ISIS statement, Mar 2016, makes clear that they kill us because we are not Muslim, not because of what we do. But the left isn't listening.
"although some might argue that your foreign policies are the extent of what drives our hatred, this particular reason for hating you is secondary, hence the reason we addressed it at the end of the above list. The fact is, even if you were to stop bombing us, imprisoning us, torturing us, vilifying us, and usurping our lands, we would continue to hate you because our primary reason for hating you will not cease to exist until you embrace Islam."
- ISIS statement, Aug 2016, yet again explains why jihadis fight us. But the left isn't listening.
The top 3 reasons ISIS gives for its war crimes against western civilians are: "1. Because you are disbelievers. 2. Because you are liberal. 3. Because some of you are atheist."
But the left isn't listening.
---