Barack Obama - Obama and the War on Islamism
Obama and the War on Islamism
It was never clear that President Obama (Jan 2009 - Jan 2017) even
recognised
there was a War on Islamism. His hesitant and half-hearted prosecution of the war led (as was predicted by all his critics since 2007) to
a massive increase, not decrease, in Islamic terror
.
Islamism is at war with all free people, and always will be, until it is destroyed. The West electing people like Barack Obama just makes the war longer and worse, not shorter.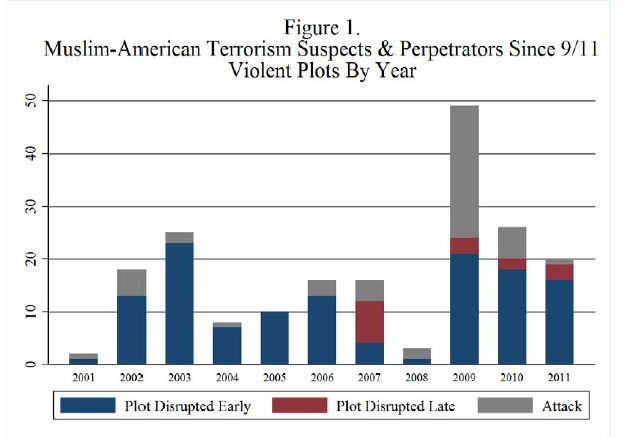 Muslim-American terror plots by year.
The jihad
escalates
after Obama is elected in Nov 2008.
From
"Muslim-American Terrorism in the decade since 9/11"
, report, Feb 2012, from
Triangle Center on Terrorism and Homeland Security
.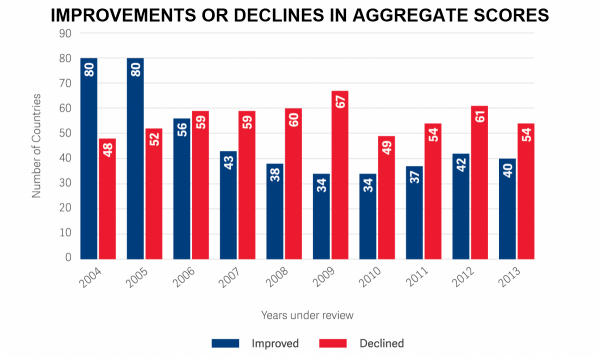 World freedom declines on Obama's watch.
Freedom House 2014 report shows countries improving and declining in their freedom ratings each year.
Every year of Obama, the world gets worse.
He's like the anti-Reagan.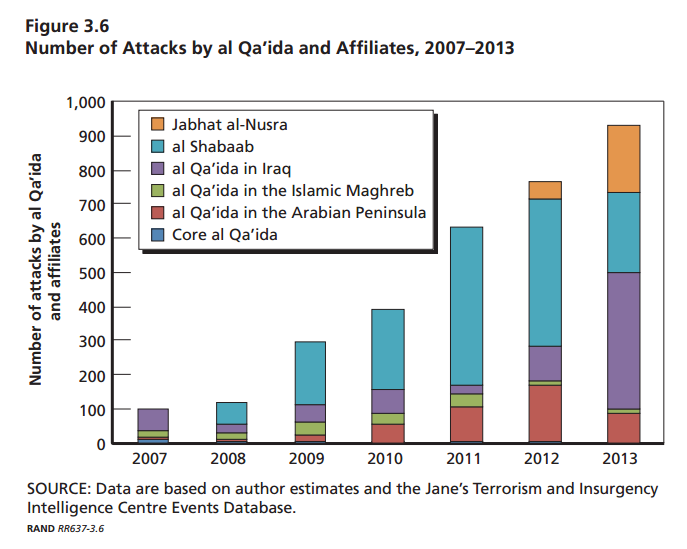 Al Qaeda is on the march.
It got a huge boost with the election of Obama in 2008.
Chart from RAND report, June 2014.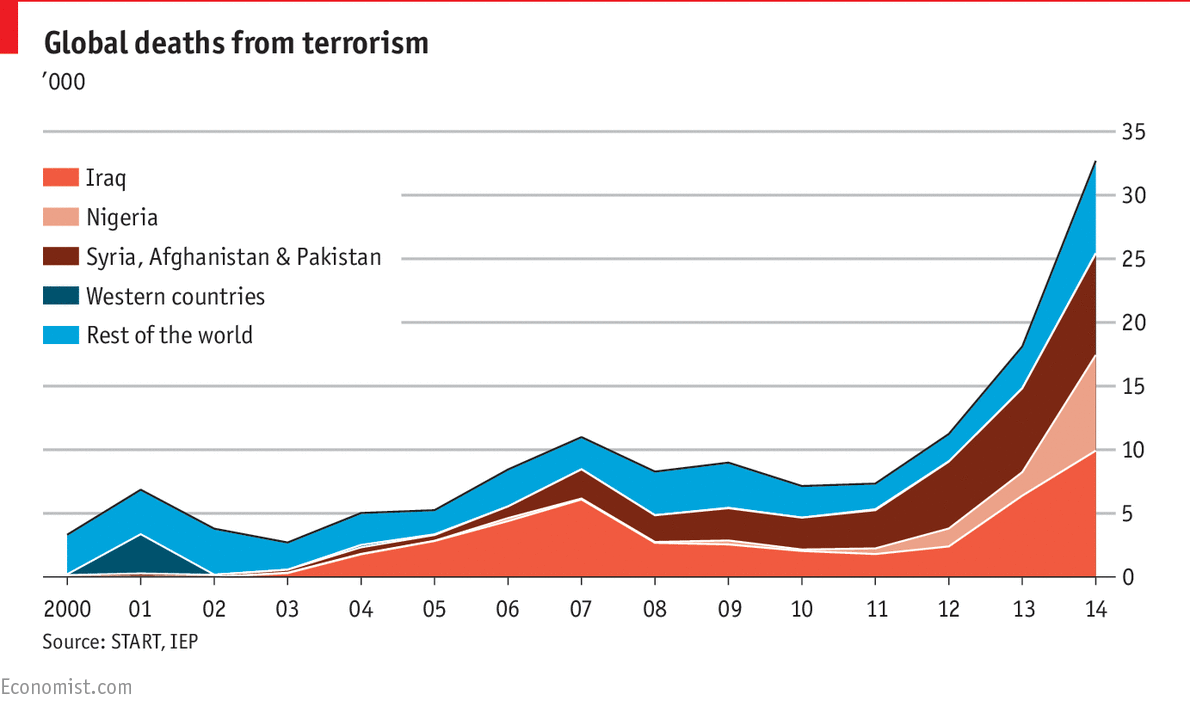 Chart from The Economist, 18 Nov 2015, shows how Obama has completely ruined the war on terrorism.
As predicted by everyone on my side in 2007.
Indeed, as predicted by the Australian Prime Minister, John Howard, in Feb 2007.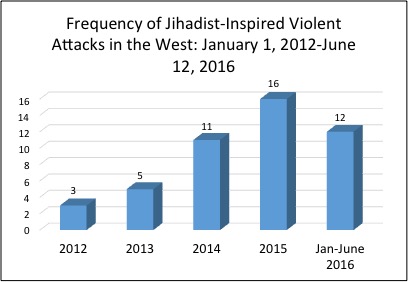 Study of Islamic terror attacks on the West, Jan 2012 to June 2016.
I count 74 jihad attacks on the West in this period. This study counts 47 attacks. But both of us notice the uptick.
Obama's policies of surrender, and the rise of the Islamic State, give heart to jihadis around the world to keep fighting.
---
The jihad in Afghanistan gets new spirit under Obama.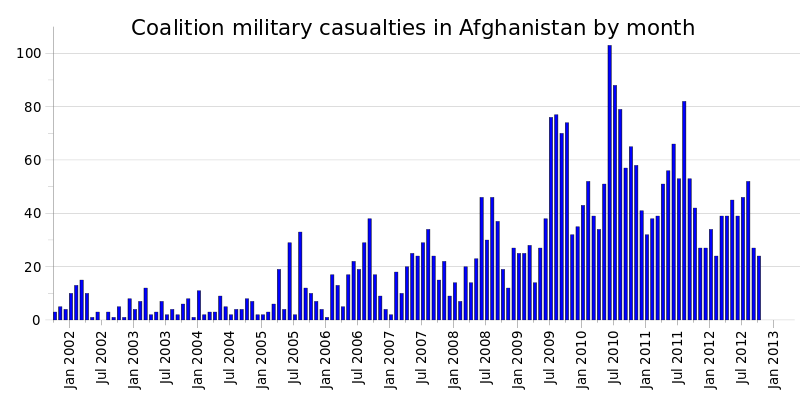 Coalition military casualties by month in Afghanistan.
The jihad
escalates
after Obama is elected in Nov 2008.
From
here
as at Nov 2012.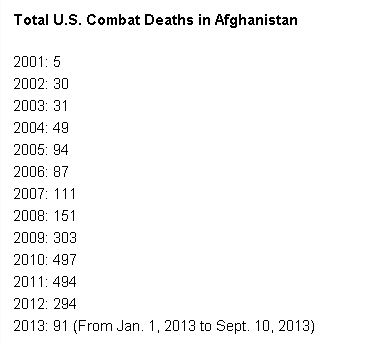 U.S. Combat Deaths in Afghanistan.
From here.
Why did Afghanistan get so much worse under Obama?
---
When Obama came to office, America had loyal allies around the world. Britain, Eastern Europe, and Israel (America's only real ally in the Middle East).
And Obama has shown little interest in them all. Obama seems to want America to have no allies. He comes from a tradition that distrusts any country that is fool enough to support America. Obama dislikes traditional allies of America because they supported America even under Republican presidents.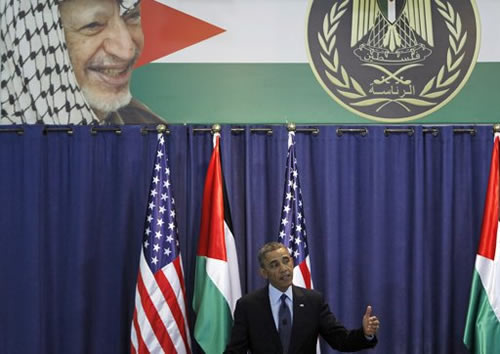 Disgusting:
Obama speaks
, 21 Mar 2013, in Ramallah in front of a giant picture of Islamic terrorist Yasser Arafat.
Arafat was the founder of modern international Islamic terrorism, a mass murderer of Jews and a killer of Americans. Arafat killed the disabled American
Leon Klinghoffer
in 1985. He killed the
US Ambassador to Sudan
in 1973. And Obama stands in front of his picture.
Image from
here
.
Rudy Giuliani, 23 Mar 2013: "to me, when the President of the United States stands there with this guy's picture in back of him, it says to me, does this man have any sense of history? Does he know what the heck he's dealing with? ... the reality is the President of the United States should never be giving a speech with a terrorist, a murderer and a crook of international proportions behind him, but it shows his complete ignorance of what's going on on the ground there ... His ignorance of the history of the Middle East is astounding. To not know who and what Arafat really was".
And this is a President who demanded a cross be removed from the podium for a speech in 2009.
Worst. President. Ever.



A genocidal Israel-hater, "Kali4niadazed", loves Obama.
Says it all about Obama that that is even possible.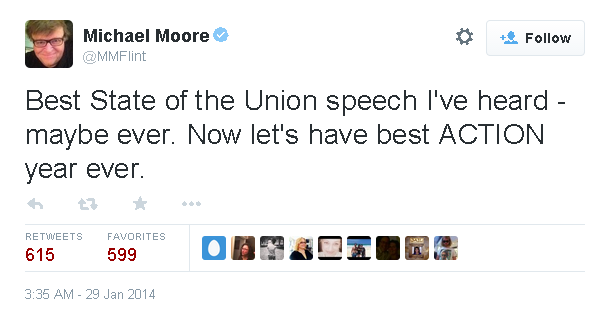 Michael Moore, a guy who hates the US and defends America's enemies, also loves Obama.
Says it all about Obama that that is possible.
---
President Obama's weak, appeasing speech on Islam, Cairo, Egypt, 4 June 2009, shows this naive man fails to understand the war. And the American people voted for this.

For a supposed "important" speech, he does not really address the fundamental issue in the Islamic world - the lack of democracy, human rights and religious freedom. Sure, he praises democracy and so on, but he never openly criticises the Islamic world for its lack of democracy and freedom. He never explains that it, not the West, needs to change. He never criticises sharia.
He talks as if the tens of thousands killed by Islamist jihad across the world are the fault of the West (he names "colonialism", the "Cold War", "modernity" and "globalization") rather than a sick ideology within Islam with its own logic and momentum.
He praises Islam's medieval inventions but fails to address the reasons for its decline in the last 500 years, when it has invented nothing.
He praises Islam's (probably imaginary) medieval religious tolerance, but fails to criticise its lack of religious freedom today.
He never criticises Egypt for its persecution of Christians and gays, or its lack of democracy.
He talks about "the daily humiliations" of Palestinians under Israeli occupation without mentioning that its sole cause is Islamic violence. If the Palestinians would stop using violence, life under Israeli "occupation" would be very pleasant.

Criticism of the Cairo speech:

"Platitudes and naivete: Obama's Cairo speech". Robert Spencer's fisking of Obama's useless speech, 4 June 2009. As Spencer points out, Obama has no real plan for defeating the jihad (or for peace in Israel). His ideas are naive and will not work.
Obama actually quoted from a violent section of the Koran without even noticing it. "Had Obama or his Mideast advisors and speechwriters simply bothered to read this verse in context - verse 9:111, a jihadi all-time favorite, looms just above, promising believers paradise in exchange for their killing and being killed".
Victor Davis Hanson, December 5, 2009, says the Middle East is not like the self-critical West. They will be largely unimpressed by Obama's apologies: "In general, the Arab world is suspicious of those who trash their own. Its leaders interpret Obama's apologies for his own country as being as much a character defect as proof of any new accommodation."

Joshua Muravchik on Obama's awful Cairo speech:

"At three different points in the speech, Obama defended a woman's right to wear the hijab, apparently as against the restrictions in French public schools or Turkish government offices or perhaps in the U.S. military, which insists on uniform headgear. But he said not a word about the right not to wear head covering, although the number of women forced to wear religious garments must be tens of thousands of times greater than the number deprived of that opportunity."
Muravchik also notes Obama's refusal to criticise his hosts: "One of the two institutions co-hosting his speech was Al-Azhar University, which Obama saluted in his opening paragraph as "a beacon of Islamic learning." This may be so, but Al-Azhar admits only Muslims. ... Egyptian Christians are excluded. Perhaps this could be understood if it were only a school of Islamic learning .. but today Al-Azhar offers degrees in medicine, engineering, and a panoply of subjects. Its tens of thousands of students are subsidized by state funds provided by Egyptian taxpayers, ten percent of whom are Copts".

Al-Azhar University

The death sentence for leaving Islam was laid down as a ruling for all Muslims by the Head of the Fatawa Council of Al-Azhar in 1978. Even for the children of Muslim apostates, they pronounced: "as long as they are children they are considered Muslim, but after they reach the age of puberty, then if they remain with Islam they are Muslim, but if they leave Islam and they do not repent they must be killed".
Oddly enough, Obama did not mention this type of thing when he spoke at Al-Azhar.
Egypt's draft constitution, Dec 2012, will give role to Al-Azhar University in enforcing sharia law.
Robert Spencer, 4 Dec 2012, has a better understanding of Al-Azhar University than Obama does: "Al-Azhar's having a role in the government of Egypt and its administration of Sharia spells the end of any remaining freedom in Egyptian society."

2009: Obama kisses MB butt in speech co-hosted by Al Azhar University.
Idiotic President Obama opened his June 2009 speech by praising
Al-Azhar University
:
"I am honored to be in the timeless city of Cairo, and to be hosted by two remarkable institutions. For over a thousand years, Al-Azhar has stood as a beacon of Islamic learning ..."
Here in Jan 2007, Al-Azhar cleric Farahat Said Al-Munji says homosexuals must be killed and burned. See
transcript
.

Spotted by Elder of Ziyon, January 4, 2011.
---
Obama seems to care nothing for the human rights of the Christians of Egypt. He did not mention them in his appalling speech in Cairo.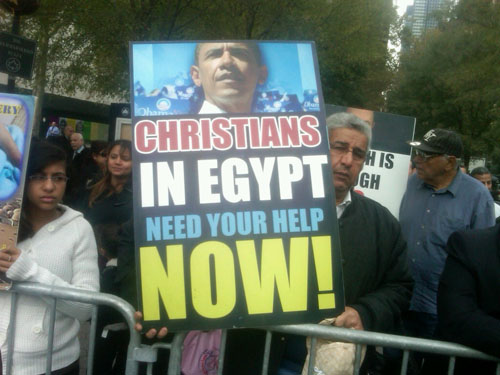 Good luck with that.
From
Coptic demo against Muslim persecution
, Oct 2010.

Obama Failing Persecuted Christians Worldwide, says Pakistani ex-Muslim Sabatina James, 3 May 2010.
She is author of My Fight for Faith and Freedom.
On Obama's awful Cairo speech, she says: "You [Obama] are saying these things about the prophet [Muhammad] but why don't you protect [Christians]? You're a Christian and have such influence. ... A man of such an influence should definitely speak differently. He should have said that he feels for the people who are living in prison and who may somehow be listening to the speech. Even if he said something like that it would be good. But he did not even mention it. ... And that is what I hate about politics. They don't care about the real things that are going on with human rights."
Sabatina James lives under a death threat for converting from Islam to Christianity.
---
For no reason that makes any sense, Obama has jumped in to congratulate and support the Muslim Brotherhood takeover of Egypt in 2012.
There is no possible idealistic reason - and no possible realpolitik reason - to support the Muslim Brotherhood in Egypt. The Muslim Brotherhood is the enemy of America, and always will be. American policy should be to undermine it, and support its opponents. America should want to see the Muslim Brotherhood destroyed. America gets nothing out of supporting it. History will show that the US supporting the Muslim Brotherhood in Egypt is far more shameful than the US supporting Mubarak.

A sad Egyptian tweets on
5 Dec 2012
about the apparent support of Obama and Clinton for the oppression of secular Egyptians.


Amusing video by Egyptian performer Sama Elmasry, July 2013, attacking Obama for supporting the Muslim Brotherhood.
Good fun, but spoilt (you knew this was coming) by a swipe at Israel.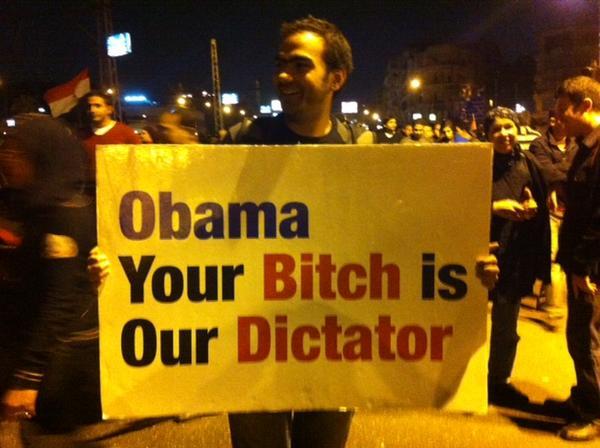 "Obama, Your Bitch is Our Dictator"
An Egyptian protests Obama's support for the Muslim Brotherhood tyranny of Egypt, Dec 2012.
From here.
Similar banner here.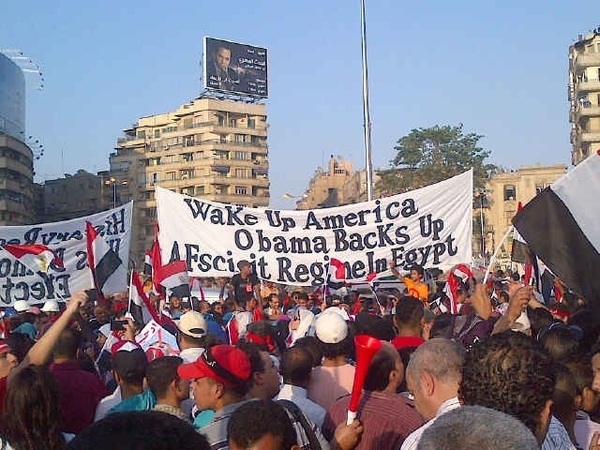 "Wake up America - Obama backs up a fascist regime in Egypt".
Egyptian liberals, June 2013, protest that Obama supports the Muslim Brotherhood.
From here. See similar banners here and here.
See also 15 Anti-Obama Photos From Tahrir Square Protests That You Probably Haven't Seen, 3 July 2013.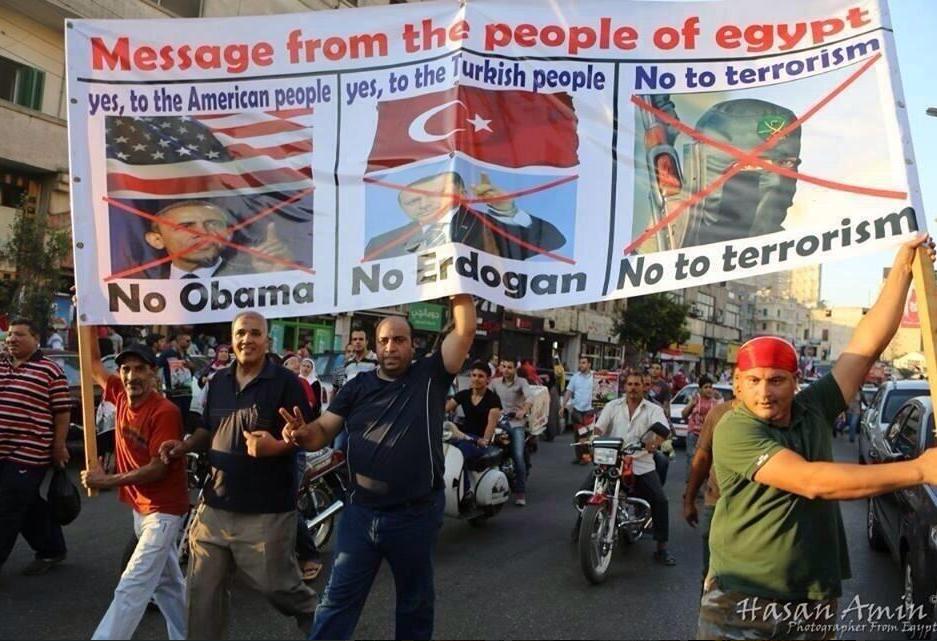 Egyptians protest against Obama's disgusting support for the Muslim Brotherhood.
Egyptian lawyers are charging Obama with crimes against humanity, report, Nov 2013.
The complaint charges Obama of being an accessory to the Muslim Brotherhood.
Obama supporting the Muslim Brotherhood is like supporting the Polish communist regime against Solidarity.
Obama is like the anti-Reagan.
---
"Perhaps most importantly, the president of the United States should speak up because we live in a day and age where the reality of religious persecution under Islam is so well documented - unlike in the days of former U.S. presidents who may be excused - that to continue ignoring it is tantamount to abetting it. Just as history has recorded the great sufferings of non-Muslims under Islam, so too will it record the complacency or complicity of those who are in a great position to end the persecution, but refuse to do so."
- Raymond Ibrahim, January 23, 2012, says Obama should speak up about religious persecution under Islam.
---
Despite Obama's dhimmitude, a
crazed Islamic mob
in Afghanistan in Apr 2011 is unimpressed.
These ones are angry because a pastor in America burnt a Koran.
Obama obviously needs to try harder if he wants to avoid offending these people.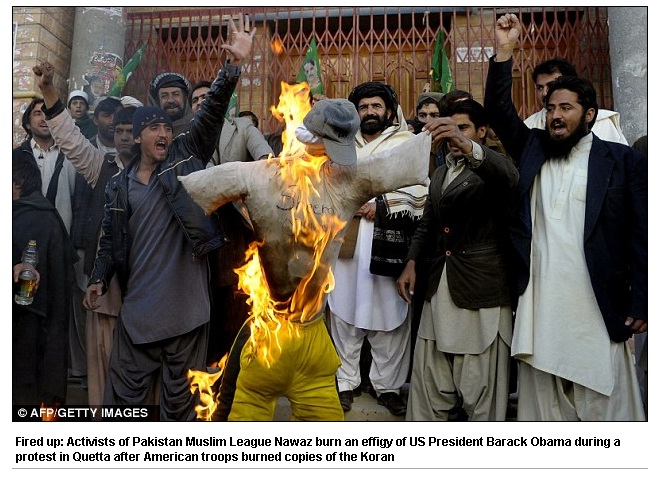 Another crazed Islamic mob angry with Obama.
These ones are angry because in Feb 2012, a US base in Afghanistan accidentally burnt Korans in the waste disposal.
The lunatic locals rioted and killed Americans.
Instead of telling Afghans to grow up, and demanding an apology from Afghanistan, Obama issued a ludicrous grovelling apology to Afghanistan.
And yet somehow angry mobs in Afghanistan and Pakistan still lynched him and burnt him in effigy!
Obama's apologies to Islam are useless. All they do is signal weakness and invite aggression.
Crazed Islamic mobs burnt Obama in effigy during the Innocence of Muslims riots in Sept 2012.
---
The worst Islamist terror homeland attack since
2002
happens months into Obama's watch.
Fort Hood massacre, Nov 2009. The jihad kills 13 in America. First big homeland attack in 7 years. Apparently the worst mass murder spree at a US military base in history.

Obama wrecks Bush's record already:

Is it a coincidence that there were no major jihad attacks in the homeland USA between the Beltway sniper attacks of 2002 and the end of Bush's term in Jan 2009? And that the first big jihad attack in 7 years came soon into Obama's term?
It may be a coincidence, but the jihad sure isn't cooperating in making Obama's new approach look good.
There have been many smaller attacks, and foiled attacks, in the US since 9/11. Victor Davis Hanson (and here) estimates over 20 small "lone wolf" attacks from Sept 2001 to Nov 2009, and over 20 foiled plots, making an attack or foiled plot every 3 or 4 months since 9/11. "the facts since 9/11 reveal an undeniable reality. Every few months either an Islamic-inspired terrorist plot will be foiled, or a young Muslim male will shoot, run down or stab someone while invoking anger at non-Muslims. In other words, the attack on Fort Hood happened on schedule. ... And something like it will occur again - soon."

The denial that this was jihad:

Hmm. Can't imagine what Major Malik Nadal Hasan's motivation could have been, James Delingpole, 6 Nov 2009: "I was watching BBC's Newsnight when the story broke of a killing spree at a Texas military base and instantly wondered - as I'm sure did 99.99 per cent of its other viewers - whether this had anything to do with the Religion of Peace."
Jihad at Fort Hood, by Robert Spencer, Nov 6th, 2009. "Investigators are scratching their heads and expressing puzzlement about why he did it. According to NPR, "the motive behind the shootings was not immediately clear, officials said." The Washington Post agreed: "The motive remains unclear .."" As Spencer says: "Hasan's motive was perfectly clear - but it was one that the forces of political correctness .. have been working for years to obscure. So it is that now that another major jihad terror attack has taken place on American soil, authorities and the mainstream media are at a loss to explain why it happened - and the abundant evidence that it was a jihad attack is ignored. ... The effect of ignoring or downplaying the role that Islamic beliefs and assumptions may have played in his murders only ensures that - once again - nothing will be done to prevent the eventual advent of the next Nidal Hasan."
Chris Matthews: We may never know if religion was a factor at Fort Hood. Allahpundit replies: "Well .. yes, that's true, if you think anything short of Hasan sitting up in his hospital bed and declaring "why, indeed, religion was a factor at Fort Hood" amounts to irresponsible speculation."

Daniel Pipes (and here and here) has a disturbing roundup of all the historical attempts to blame jihad attacks on something other than jihad. Excuses given for jihad attacks include:

1990: "A prescription drug for .. depression" (assassination of Rabbi Meir Kahane)
1991: "A robbery gone wrong" (assassination of outspoken critic of the oppression of Copts in Egypt, Makin Morcos)
1994: "Road rage" (the killing of a Jew on the Brooklyn Bridge)
1997: "Many, many enemies in his mind" (shooting at the Empire State Building)
2000: A traffic incident (attack on a bus of Jewish schoolchildren near Paris)
2002: "A work dispute" (double murder at LAX)
2002: A "stormy [family] relationship" (Beltway snipers)
2003: An "attitude problem" (Hasan Akbar's attack on fellow soldiers, killing two)
2003: Mental illness (the mutilation murder of Sebastian Sellam)
2004: "Loneliness and depression" (explosion in Italy outside a McDonald's restaurant)
2005: "A disagreement between the suspect and another staff member" (a rampage at a retirement center in Virginia)
2006: "An animus toward women" (a murderous rampage at the Jewish Federation of Greater Seattle)
2006: "His recent, arranged marriage may have made him stressed" (killing with an SUV in California)

As Pipes says: "As a charter member of the jihad school of interpretation, I reject these explanations as weak, obfuscatory, and apologetic. The jihadi school, still in the minority, perceives Hasan's attack as one of many Muslim efforts to vanquish infidels and impose Islamic law. ... We are not mystified by Hasan but see overwhelming evidence of his jihadi intentions. ... If the jihad explanation is overwhelmingly more persuasive than the victim one, it's also far more awkward to articulate. Everyone finds blaming road rage, Accutane, or an arranged marriage easier than discussing Islamic doctrines. And so, a prediction: what Ralph Peters calls the army's "unforgivable political correctness" will officially ascribe Hasan's assault to his victimization and will leave jihad unmentioned. And thus will the army blind itself and not prepare for its next jihadi attack."

The Root Cause Fallacy by Ibn Warraq: "From CNN to the New York Times, NPR to the Washington Post, the killings were presented as a result of racism. They were attributed to fear of deployment in Afghanistan and harassment from other soldiers. Cited were Major Hasan's supposed maladjustment to his life and his sense of not belonging, pre-traumatic stress disorder, and various personal and mental problems. All these explanations are variations on what I have called "the Root Cause Fallacy," which has been committed time and again since the terrorist acts of September 11, 2001. The Root Cause Fallacy was designed to deflect attention away from Islam, in effect to exonerate Islam, which, we are told, is never to blame for acts of violence. On this view we must not hold a great world religion of peace responsible when individuals of that faith resort to force. We must dig deeper: the real cause is poverty, U.S. foreign policy, the Arab-Israeli conflict, Western colonialism and exploitation, marital problems of individuals, and so on. The present "psychological" interpretations in the case of Major Hasan are just the latest example of the Root Cause Fallacy at work."

The immediate attempt to change the subject to "fears" of an anti-Muslim "backlash":

Shooting Raises Fears for Sanity of Entire Western World, Mark Steyn, 6 Nov 2009, on the immediate expression of "fears" of an anti-Muslim "backlash": "it is, to put it at its mildest, the grossest bad taste to default every single time within minutes to the position that what's of most interest about an actual atrocity with real victims is that it may provoke an entirely hypothetical atrocity with entirely hypothetical victims."
The Phantom Backlash by Robert Spencer, 11 Nov 2009, points out that the US government and military seem more concerned about "anti-Muslim" sentiment than about the possibility of more jihad attacks. "Homeland Security Secretary Janet Napolitano declared: "We object to, and do not believe, that anti-Muslim sentiment should emanate from this. This was an individual who does not represent the Muslim faith." She said that DHS was taking steps to "prevent everybody being painted with a broad brush." Not "taking steps to prevent another jihad terror attack." ... The U.S. Army Chief of Staff, George Casey [said]: "I'm concerned that this increased speculation could cause a backlash against some of our Muslim soldiers. And I've asked our Army leaders to be on the lookout for that." Not "I'm concerned that there could be another jihadist among our Muslim soldiers. And I've asked our Army leaders to be on the lookout for that.""

The big question - Why did the US military employ an Islamist fanatic?

Great comment: "Amazing that there are people who consider themselves far left, cutting this guy such slack, talking about the 'stresses' of being in the army, and racism towards non-white people. I don't remember such tolerance being shown towards the white prison guards at Abu Ghraib or the Jenin Massacre soldiers or at Fallujah. Is that not inconsistent? ... At the end of the day, this is about betrayal. The one place in the world where you should be able to rely on your workmates is in the Army, your life is in their hands quite literally. It is a complete denial of that code of honour. This man had no honour, and I'm glad a woman's bullet felled him."

Fort Hood Hero Says President Obama 'Betrayed' Her, Other Victims, Feb 12, 2013. The Obama government refuses to classify it as "terrorism" or "combat", which, apart from insulting the victims, has financial consequences for them. "Some of the victims in the lawsuit believe the Army Secretary and others are purposely ignoring their cases out of political correctness. ... For Alonzo Lunsford, who was shot seven times at Fort Hood and blinded in one eye, the military's treatment is deeply hurtful."

TruthAboutFortHood.com. Years later, Obama is still denying it was Islamic terrorism!

Vlad Tepes, Oct 2014, on the news that the Fort Hood shooter has (yet again!) tried to explain that his actions were jihad not workplace violence: "I have to give credit to Hasan. He has a lot more integrity than the people who ventriloquize him. Several times now he has sent letters explaining his motives, the ideological basis of his actions and any possible related materials ... It has been the US government and US courts who have been inventing a narrative for him ... I have to admit that this mass murderer has shown a great deal more honesty and integrity than those Americans elected to represent their interests and security."

Gates of Vienna
extracts a "word cloud" from the text of Fort Hood news stories in the media.
Note the prominence of "backlash", "snapped" and "speculation", indicating the spin the media are putting on this.
More relevant terms like "jihad" and "terrorism" seem to be absent.

Will getting published in an Al Qaeda magazine make people finally think this was jihad?
Al Qaeda's magazine, Inspire, Oct 2010, has a photo of the Fort Hood attacker in their "DIY jihad" article.
Let's listen to dhimmi idiot Chris Matthews again: "We may never know if religion was a factor at Fort Hood."
Or a more recent idiot: At Hearing on Fort Hood Attack, Few Clues, James C. McKinley, October 15, 2010.

McKinley notes that the killer "yelled "Allahu akbar!" - "God is great" in Arabic - and started shooting". And yet he then says: "Yet the gunman and his motive remain an enigma."
This ludicrous article has to be seen to be believed. It is a case study in why people do not trust the media.
Funny comments, including: "Motives Unclear in KKK Bombing of Black Birmingham Church."
Hilarious: A reader emails the journalist: "You're just another ass hat working at a newspaper gainfully employed to keep people confused." The journalist allegedly replies: "Fuck you".


March 2009: President Obama dismisses Dick Cheney's record in stopping any homeland attack for 7 long years. (60 minutes, 22 Mar 2009.)
As Victor Davis Hanson, May 13, 2009, says, Obama seems not to recognise the achievement of Bush and Cheney: "We seem to think that not being attacked since 9/11 was some sort of natural occurrence".
Nov 2009: Fort Hood. The worst Islamist terror homeland attack in 7 years happens months into Obama's watch.
---
"We've got to get the job done there [in Afghanistan] and that requires us to have enough troops so that we're not just air-raiding villages and killing civilians, which is causing enormous pressure over there."
- Candidate Obama's slur on both Bush and the US military in 2007.
Of course, as President, Obama did a whole lot of "air-raiding villages and killing civilians" himself.
---
---