The Irish left and Israel - Politicians
Irish politicians of all parties have a sorry record when it comes to Israel and the Palestinians.
I have few heroes in Irish politics. My heroes tend to be non-Irish.
Israeli Ambassador to Ireland,
Boaz Modai
, faces an onslaught of 2 hours of drivel from ignorant Irish politicians, Oireachtas Committee on Foreign Affairs, Sept 2014.


Yasser Arafat somehow convinced many mainstream Irish politicians that he was some kind of nationalist leader.
Whereas of course he was a violent religious maniac little different to Osama Bin Laden.
---
This section is about more recent statements by Irish politicians on Israel. For the older history of Ireland and Israel see
here
.
Noel Davern (FF) in the Dail, 22 April, 1997, compares Israel to the Nazis: "What I fail to understand is that a people, so badly treated themselves in the course of the Second World War, and beforehand, can suddenly begin to treat others in almost similar fashion."
"Almost" similar, if we ignore the fact of rounding up millions of them for industrial gassing. Oh, and the fact that Israel are fighting ruthless terrorists who target their civilians. (Whereas the Nazis attacked and killed the Jews of Eastern Europe for .. no reason whatsoever.)
Bertie Ahern to Arafat, 3 May 1999: "We will continue to support your just cause in every way we can."

Brian Cowen's pandering to Arafat, Sept 2001.
Brian Cowen in the Dail, 13 December, 2001, as Israelis are being slaughtered in Arafat's intifada: "the only way to end this dreadful conflict is to resume the peace process. There is no military solution". This turned out to be rubbish. There was a military solution.
Brian Cowen, 25 June 2003, says Arafat is "the symbol of the hope of self-determination for the Palestinian people".

The death of Arafat, the godfather of modern Islamic terrorism, in 2004:

Jim Higgins, Fine Gael MEP, April 2008, supports the IPSC and is hostile to Israel.

Dossier of anti-Israel statements of Irish supporters of the European Campaign to End the Siege on Gaza (ECESG), including:

Éamon Ó Cuív, Deputy Leader of Fianna Fáil 2011-12, Minister for Defence 2011, would not normally be regarded as a Marxist lefty.

But on Israel, all bets are off. Here he is in the Dail, 22 Sept 2011, supporting a unilateral declaration of Palestine in the 1967 borders, without any peace process with Israel. "When the late Brian Lenihan was Minister for Foreign Affairs, he supported the request of the Palestinian people for statehood on behalf of the Irish people. It is disappointing that the United States has apparently decided to veto the Palestinian bid. It is even more disappointing that the Tánaiste appears to be supporting President Obama's stance on the issue."

Simon Coveney, FG Minister for Foreign Affairs from 2020, would also not normally be regarded as a Marxist lefty.

But on Israel, it is just left-wing civil service conventional wisdom. He thinks "settlements" are "illegal" and are "making a two-state solution and a peace process more and more distant".
The fallacy of 1,300 'obstacles to peace' in the Middle East, Micha Danzig, 11 Nov 2021, takes down Simon Coveney's view of the Israel-Palestinian conflict. "The truth is that the "obstacle to peace" in the Arab-Israeli conflict before 1967 (before there were any "occupied territories") is the same "obstacle to peace" now. It is the same "obstacle to peace" that since 1937 has caused every Palestinian Arab leader .. to reject at least six different peace and partition plans ... Of course, none of this likely matters to Coveney or others like him, as they would never have to live with the consequences ... And that is precisely why Israel should never take legal, military or diplomatic advice from the likes of these folks."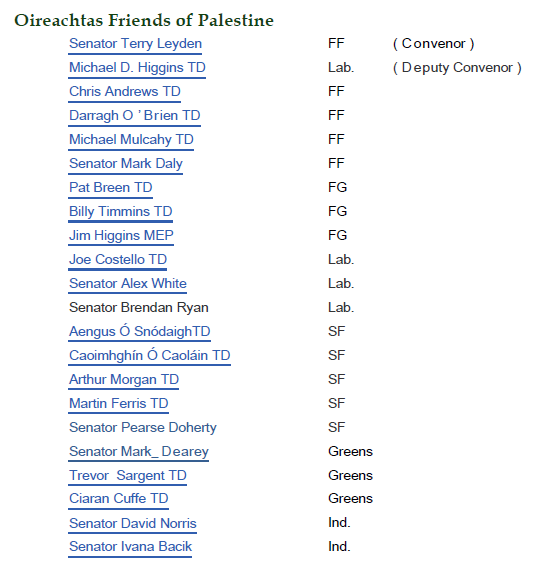 The members of the
Oireachtas Friends of Palestine
group.
According to "Palestine in Irish Politics"

by the anti-Israel group
Sadaka
.
List dates from before the various 2011 elections.


Labour MEP Emer Costello declares in a tweet of 28 Apr 2013 that she laid a wreath at the tomb of mass murderer Yasser Arafat.
It is shameful that an Irish politician would do this.
She also announces it on facebook.


Disappointing: Stephen Donnelly, TD had a business background and talked sense about the bank bailout, so I was happy to see him elected in 2011.
It is a shame therefore that he is now buying into Marxist bullshit about the Middle East.
Tweet from 10 Dec 2014.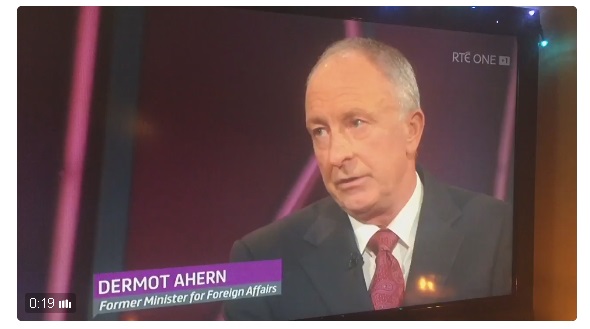 Ireland has a lot of idiots, but this guy must be near the top:
Dermot Ahern (former FF Minister), Nov 2015, says the cause of the Islamic massacre in Paris, and indeed the cause of the Islamic jihad across the Middle East, is ... Israel!
He refers to: "the need to intensify diplomatic efforts to try and get some peace in the Middle East, and a lot of this doesn't come from the War in Iraq, it comes from the destabilising of the entire region because of the Israeli-Palestine issue. And that has been the source of all the problems in that part of the world."
Dermot Ahern thinks founding a Palestinian state would make ISIS stop killing.
---
I write about "the Irish left" and its hatred of Israel. But inevitably joining them is Fianna Fail, which is not meant to be a "left-wing" party. But on foreign policy, Fianna Fail, especially under Micheal Martin, lines up with Sinn Fein and the Marxists, at least on Israel and Islam and related issues. They even support
boycotting Israel
. There is little difference between Fianna Fail and the loony left on these issues.
Micheál Martin of Fianna Fail was an appalling anti-Israel Minister for Foreign Affairs in 2008-11. In 2020 he became Taoiseach.

Dear Irish Foreign Minister Micheál Martin, David Harris, 7 Apr 2010, responds to Martin's anti-Israel nonsense. "Is it ignorance? Are you unaware of what's been going on in Gaza, including the brutal nature of Hamas rule, the smuggling of ever more sophisticated weapons, or the thousands of rocket attacks launched against Israel? ... Is it projection? Do you assume that all the people of Gaza today want nothing more than the people of Galway, namely, peace on earth and good will toward men? ... Someone without any knowledge of the region would deduce from your article that Israel, having nothing else to do, simply decided one day to make life unbearable for neighboring Gaza. ... Your narrative recalls other instances where outside observers misread conditions in largely unfamiliar authoritarian societies. They were not able to grasp what was really going on beyond the surface."

Interview with the new Israeli Ambassador, Sept 2010 (transcribed at an annoying anti-Israel site).

This shows Israel's view of FF's prejudices against it: "I think that what Ireland has been doing lately - to put itself in the position of being so vocal against Israel and so extreme in its criticism - is wrong because then it might lose its power to influence Israel and the peace process."
And Israel's view of Ireland in general: "I knew it's a challenge. ... I knew that politically there is a lot of work to do. My colleagues back in the foreign ministry in Jerusalem would look at Ireland as a lost cause. This is a very bad sign. We should do our utmost that this is not the case. There is a lot of things to be done and clearly there is a lot of difficulties and there is a lot of criticism - some of it comes from a good place; people really care and they want to influence but some of it is really vicious."

Unbelievable. Taoiseach Micheal Martin says in the Dail, 8 Sept 2020, that "the US engagement with Israel has not been helpful". This in the week of the historic Israel-UAE peace deal! What a narrow, closed-minded man our Taoiseach is.
Micheál Martin is one of the main reasons why I won't vote for Fianna Fáil.
---
Socialist Party MEP (and then TD)
Paul Murphy
supports intifada and jihad against Israel.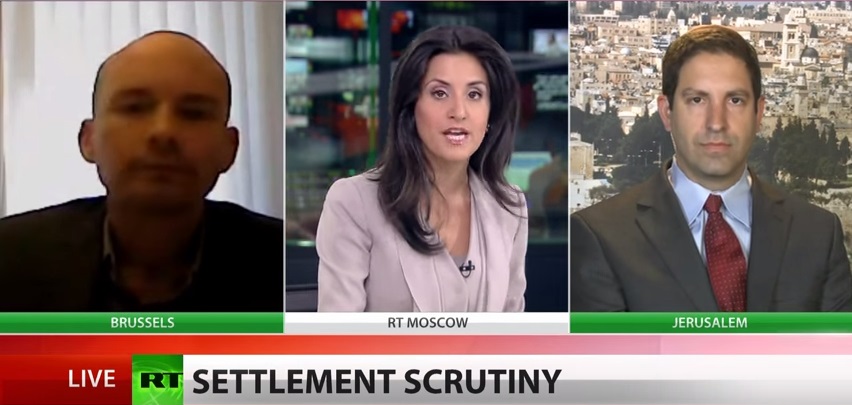 Paul Murphy calls for an intifada against Israel
, July 2013.
In an interview (jump to 07:11) on Russian state TV he calls for an uprising, not against the Russian dictatorship but against the democracy of Israel:
"You've seen significant protest, significant movements, the potential to redevelop a struggle along the lines of the first intifada. That's the kind of thing that is necessary. Such a movement could link up with the genuine Israeli left, with working people and young people, who don't benefit from the oppression of the Palestinians, overthrow the capitalist establishment of Israel."
What a sinister nutcase.
In a passive-aggressive way, he later explains that this is not of course a call for killing. This "intifada" would be peaceful - unlike both previous intifadas.
But he is not totally opposed to jihad violence against Israel. Paul Murphy, 25 July 2013, openly supports violence against the IDF. "I think the Palestinians have a right to defend themselves against [Israeli] aggression and that may involve armed defence against soldiers - I wouldn't have a problem with that".
He lives in some imaginary world where the jihad targets the IDF rather than all Jews!
---
Mick Wallace's life is devoted to hatred of the Western democracies and apologetics for the worst dictators and terrorists in the world.
Vatnik Soup: Mick Wallace. Pekka Kallioniemi surveys Wallace's love for tyrants. "Vatnik" is a dumb Russian patriot, e.g. a Putin supporter.
Mick Wallace, 1 Dec 2014, claims that the Jews committed genocide in 1948: "In 1948 the Jews expelled, massacred, destroyed, and raped in that year, and generally behaved like all the other colonialist movements operating in the Middle East and Africa ... As a result of that campaign ... 700,000 Palestinians were expelled, and several thousand were massacred. It was a genocide at the time. What is happening today is not very different."
Mick Wallace slanders the brave US military, Mar 2016. He defends Hezbollah, but about US military aircraft using Irish airports, he said: "these guys engage in war. ... If Americans don't drop bombs on people's homes, the arms industry will suffer."
Mick Wallace blocks me.

Mick Wallace
openly supports the Islamic terrorist group Hezbollah in a tweet of
22 July 2013
.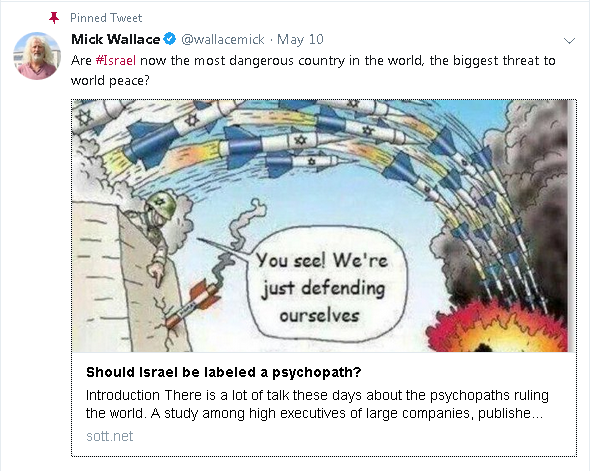 As at May 2018, Mick Wallace's pinned tweet was a link to a fanatic Israel-hating and Jew-hating article by Laurent Guyénot.
Guyénot is a conspiracy theorist who says that Israel did 9/11 and Israel killed JFK and RFK and even that Israel caused the Vietnam War.
His Jew-hating article begins with a fake quote from Ariel Sharon, and then says Israel is "the most dangerous psychopath among nations" and Jews are "victims of a collective sociopathic mindset". He refers to "the collective psychopathy of Jews".
And Mick Wallace pins this hate speech to the top of his Twitter!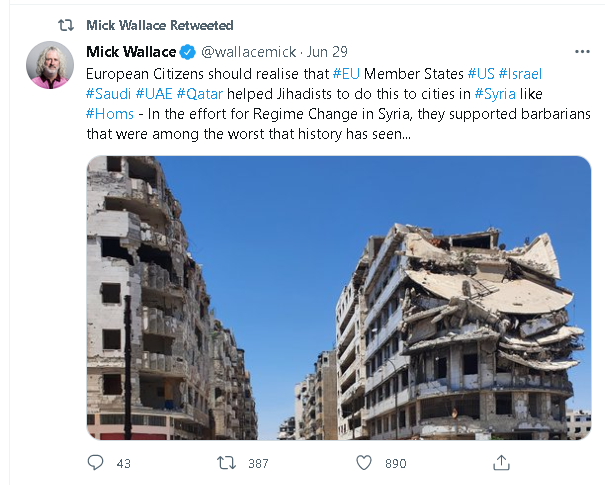 So many layers to this Mick Wallace tweet of 29 June 2021.
Iran and Hezbollah apologist sees hand of Israel behind Syrian war.
Shia jihad apologist complains about support for jihad.
Assad apologist complains about slaughter done by Assad.
---
The Irish Senate is particularly dominated by ignorant anti-Israel voices of all parties.
FF Senator Mick Lanigan was presented with the Palestinian government's highest honour by Arafat in Dec 2003 for his work in support of their cause.

Irish Senate, 23 Mar 2004, after the killing by Israel of Sheikh Ahmed Yassin.

Condemnation of the killing of this monster is universal in the Irish Senate, with notably ignorant contributions by:

Joe O'Toole (Ind)
Brendan Ryan (Labour)
John Dardis (PD)
Michael Finucane (FG)
Labhras O'Murchu (FF)
Mary O'Rourke (FF) (who quotes Robert Fisk)

Nobody defends Israel.

When you read these awful Israel-condemning debates in the Irish Senate, remember that Ireland is a country that was neutral during the Holocaust, that sent condolences to Germany on the death of Hitler, and that refused to allow almost any Jewish refugees in, either before, during or after the war. I don't at all think the Irish politicians are anti-semitic. Rather, they have a range of trendy reasons for their views. But I think Ireland - like most of Europe - should shut up about Jews for a few hundred years.
Bizarrely, in June 2008, Mary O'Rourke called for the dictator Mugabe of Zimbabwe to be shot. "I think the only way he'd be got rid of is somebody shooting him. I mean, I know it sounds stupid, but that is the only way. ... Somebody should shoot him." It's great that she said it, but then why on earth did she oppose killing Yassin? What makes Yassin in any sense superior to Mugabe?

Labhras O'Murchu of FF, Irish Senate, 20 May 2004 - "The war crimes being perpetrated by Israel against the Palestinian people will shock the world and will be seen for what they are. The Minister for Foreign Affairs has been particularly forthright in support of the rights of the Palestinian people. It is important for this nation, and for all nations, to impress on Israel that of all the nations on earth, it should be wary about engaging in activities which could be perceived as being genocidal."
Terry Leyden of FF, Irish Senate, 20 May 2004 - "we should make a request of the Minister for Foreign Affairs, Deputy Cowen, who is now President of the EU Foreign Ministers and has been exemplary in his work on Palestine and recognising the right of the Palestinian people to self-determination. I suggest that we withdraw the special status that Israel holds in the eyes of the European Union. A boycott of Israeli products should be undertaken."
Mary O'Rourke of FF, Irish Senate, 20 May 2004 - "Senator Leyden wants the Minister for Foreign Affairs, Deputy Cowen, as President of the EU Council of Foreign Minister, to withdraw the special status afforded to Israel by the EU, and calls for a boycott of Israeli goods. .. Perhaps it is a point that could be considered."
Terry Leyden (FF) on Hamas, 4 July 2007: "Obviously, Hamas is playing an important role in Gaza. It has taken control of the region and will prove a success there. It is the legitimate government of the West Bank, Gaza and Palestine, and should be recognised as such by the Government and the European Union. Hamas was elected to that position."

More anti-Israel bullshit in the Senate, 1 July 2009, from:

Labhras Ó Murchú (FF)
Terry Leyden (FF)
David Norris

Senator Eoghan Harris, 2010: "I would probably be the only voice currently in the upper house of the Irish parliament to support Israel."

Terry Leyden (FF) in the Senate, 22 Sept 2011, complains that the FG-Labour Irish government is not anti-Israel enough:

He supports the Palestinian bid for statehood. He says it is the only Jew in the Cabinet who is influencing the government. (Actually, I hope that's true!) "In my view there is an undue influence exercised by the Minister for Justice and Equality, Deputy Shatter, to ensure that this Government vetoes the policy of the Irish State regarding the recognition of Palestine and the right of the Palestinian people to self-determination. There is undue influence being brought to bear in the Cabinet in this regard."
And Obama is now pro-Israel apparently! "The massive Jewish vote in the United States of America influences government policy and Obama is now a tool of the Israeli State."
The real apartheid state:
Not Israel. Rather the PA.
"Jewish Access Forbidden!" Jews are not allowed into some areas of
Hebron
.
Israeli soldiers enforce this because they cannot guarantee the safety of any Jew that goes into this area.
And this is not to mention ancient Jewish homelands in
Egypt, Iraq, Syria, Yemen, North Africa and other places
where Jews cannot now set foot.
Image from
here
.
Where are the signs in Israel saying "Muslim Access Forbidden"?
---
Senator Averil Power of FF has emerged as a leading anti-Israel activist in the Senate.
Her bad politics are inspired by the politicised charities Christian Aid and Trocaire.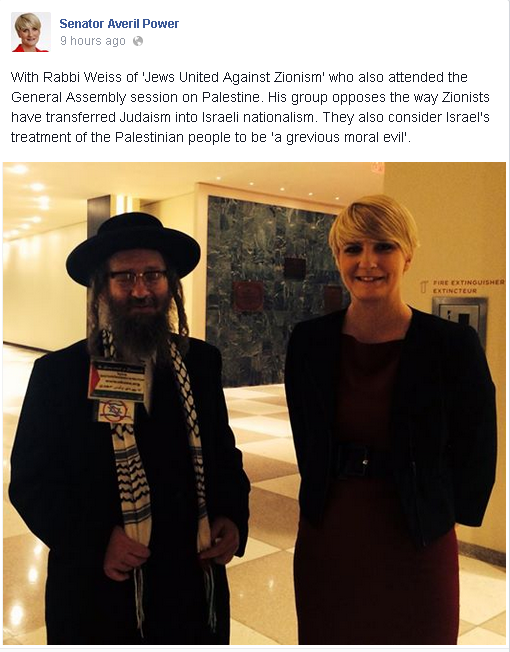 Averil Power poses, Nov 2014, with deranged religious nutcase
Rabbi Weiss
of the foul
Neturei Karta
.
This is like posing with the
Westboro Baptist church
.
And Averil Power is proud of it and posts it to her
Facebook
! Disgusting.
She also posted it to her
Twitter
.
After a storm of criticism, she deleted it from both Facebook and Twitter.
---
Labour Senator
Annie Hoey
built a career out of
opposing Catholic laws
.
But she seems to have different rules for
Islam
.

Oddly, she seems better when young.
Here in
2011
, Annie Hoey says religion sucks and Islam tortures women.
Yes,
pretty much
.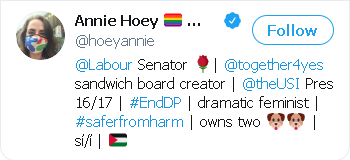 By 2020, Annie Hoey's Twitter profile has a Palestinian flag.
That is, support for another Islamic state to oppress women.
The earlier Hoey understood it better.
---
Senator
Gerard Craughwell
served with the British Army in the 1970s.
Now he has a soft spot for the Iranian regime that
helped kill British troops
in Iraq.
In Aug 2019, in response to Iran's foreign minister visiting the G7 summit, he said: "I am happy to see this happen. It is important that the G7 recognise @Iran as the stable country it is in the Middle East." See screenshot.
Iran is "stable" because dissidents are jailed, exiled and executed. I'm not sure why that is something to praise.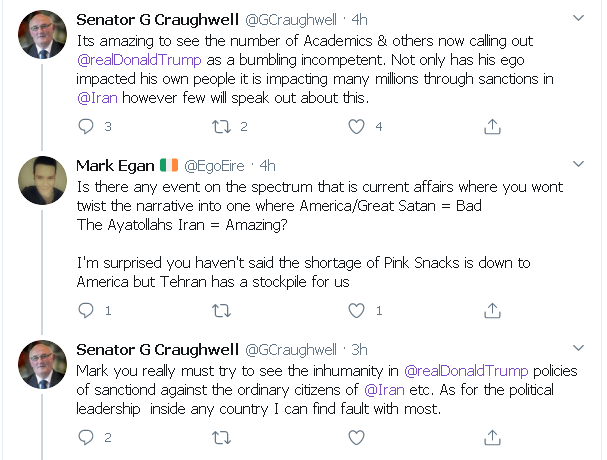 April 2020: Gerard Craughwell
attacks sanctions against Iran
. He asks people to recognise the "inhumanity" in sanctions.
July 2018: Gerard Craughwell votes to
boycott the democracy of Israel
.
---
The default position in Ireland is to be in favour of ethnic cleansing.
It is standard in Ireland to support the 1967 borders. (As in the Palestinian bid for statehood.) No one seems to care what happens to the 550,000 Jews in the West Bank and East Jerusalem. Either there are absurd, naive claims that they should live under Fatah rule. Or it is assumed they should just "go back" to Israel. Either way, their wishes and desires are of no concern.
The ethnic cleansing of the Jews in the West Bank is the only ethnic cleansing that it is popular (indeed fashionable) to support in Ireland.
Senior Irish diplomat Richard Ryan (former Irish representative to the UN) illustrates Official Ireland's absurd position on Israel, 27 Oct 2014.

According to Ryan, the greatest threat to peace is not jihad, sharia, Hamas, Fatah, the Muslim Brotherhood, Hezbollah, Iran, Syria or the caliphate. No, it is, of course, Jews building houses. "there continues to develop in the background perhaps the greatest threat to real and lasting peace. The Israeli settlements policy ... is destroying systematically the very doability of that one remaining solution scenario."
What is shocking is that he really seems to believe this.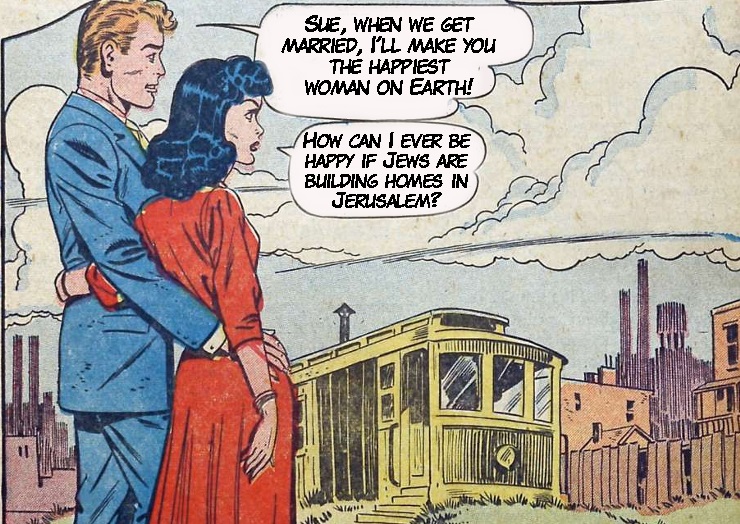 "How can I be happy while Jews are building houses?" - The entire Irish government and Department of Foreign Affairs.
Image from
here
.

Jewish population by country. From here.
The cleansing of Jews has been continuing all across the Arab Middle East since 1948, and the entire region is now nearly Judenrein.
It continues today. 9,000 Jews were cleansed from Gaza in 2005 and it is now Judenrein. (It is now a hellhole sharia state.)
But this is still not enough for the international community. Now they want to clear out the 550,000 Jews in the West Bank and East Jerusalem, and make that area Judenrein too. For this is what a Palestinian state with the 1967 border means.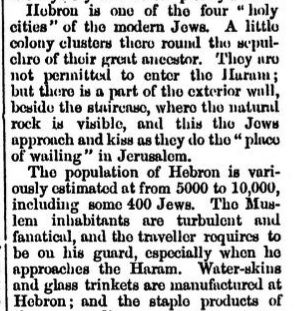 400 Jews living in Hebron (on the West Bank) in 1868.
Not called the West Bank then, of course.
From p.67 of A Handbook for Travellers in Syria and Palestine (1868).
Jews were expelled from Hebron in 1929-1936.
Jews returned to Hebron after 1967.
"Liberals" in the West want them all expelled again. Hebron must be cleansed of Jews, say the liberals.
Summary: In 1903, almost 6% of Hebron was Jews. Today, only 0.35% of Hebron is Jews. But even that is too much for western leftists.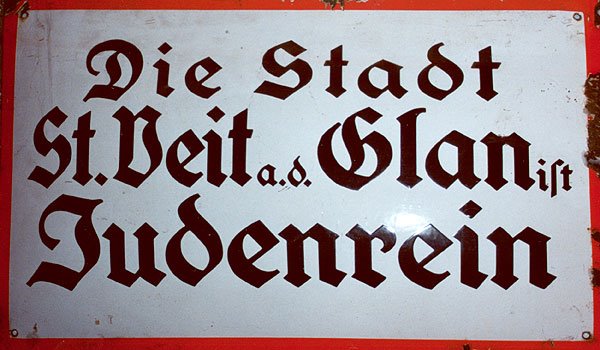 A Nazi-era sign declaring that Sankt Veit an der Glan district in Austria is "Judenrein" (cleansed of all Jews).
This is what most Irish people want for the West Bank. Many of them even want it for Israel.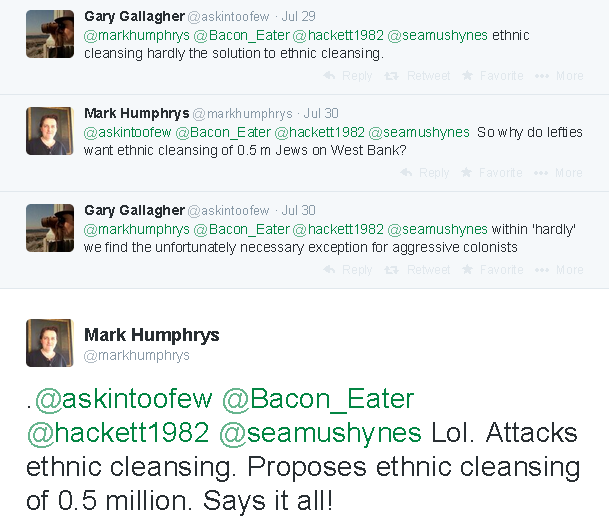 Chap called Gary Gallagher attacks ethnic cleansing, and then immediately proposes ethnic cleansing of 0.5 million Jews!
And many, if not most, Irish politicians would agree.
It is for sure the "trendy" ethnic cleansing to support.
Later the same guy says that the forcible eviction of 0.5 million people is not ethnic cleansing.


Dara de Brun is relaxed about the proposed ethnic cleansing of 0.5 million people.
He himself is not being ethnically cleansed, so it's alright.
He suggests they can all go back to their "real" homes.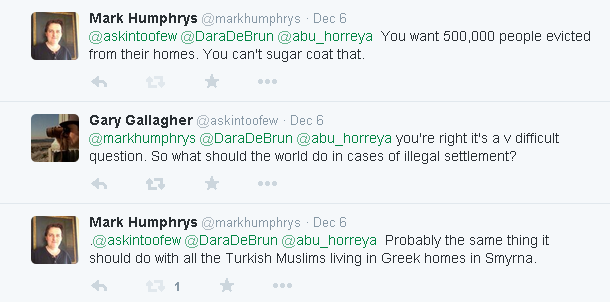 Even if we agreed (and I certainly don't) that every settlement is illegal, my point is: Now what do you do?
To blithely propose the forcible eviction of 0.5 million people is outrageous, and shame on anyone who proposes that as a solution.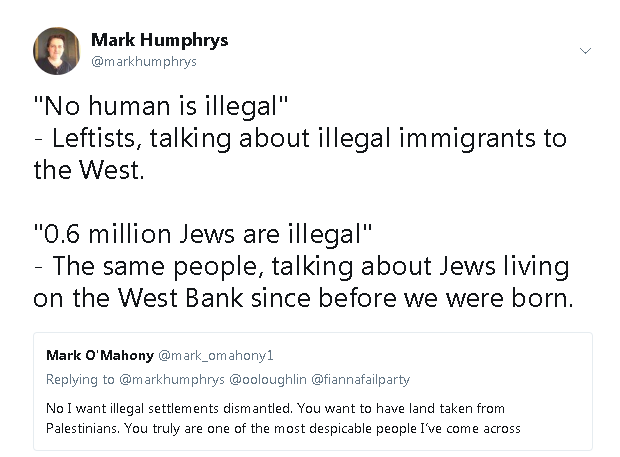 I sum up the modern left.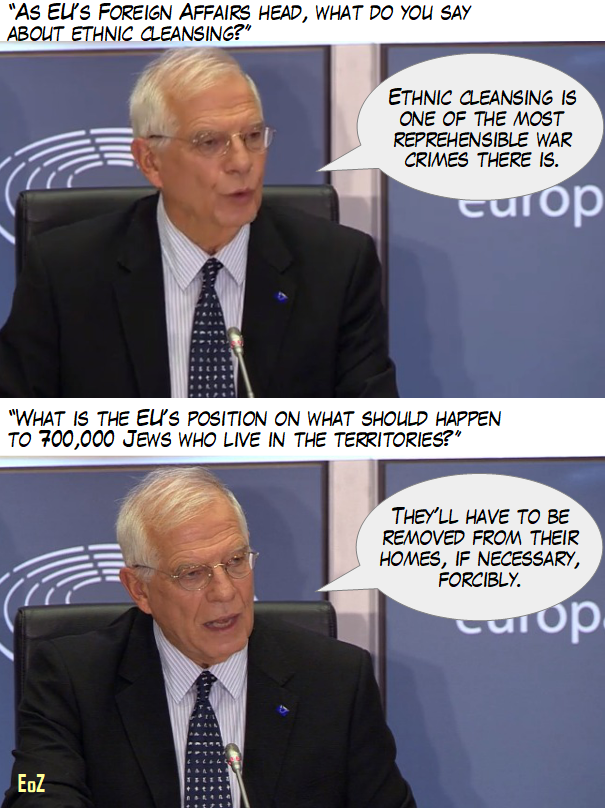 Irish leftists and Irish politicians, and western leftists and western politicians, are both against ethnic cleansing, and in favour of ethnic cleansing.
From Elder of Ziyon.
---
"As President Obama was making his now forgotten prostrations in Cairo, his Secretary of State was hectoring the Zionist Entity, regarding the West Bank, that there has to be "a stop to settlements - not some settlements, not outposts, not natural-growth exceptions." No "natural growth"? You mean, if you and the missus have a kid, you've got to talk gran'ma into moving out? To Tel Aviv, or Brooklyn, or wherever? Consciously or not, Mrs. Clinton had endorsed the Muslim world's position on infidels who happen to find themselves within what it regards as lands belonging to Islam: the Jewish and Christian communities are free to stand still or shrink, but not to grow. Would Obama have been comfortable mandating "no natural growth" to Israel's million-and-a-half Muslims? No. Yet the administration had no difficulty embracing the Muslim world's confident belief in one-way multiculturalism, under which Islam expands in the West but Christianity and Judaism shrivel inexorably in the Middle East, Pakistan, and elsewhere."
- Mark Steyn in After America (2011) points out that people lecture Israel and make demands of it (no natural growth, ethnic cleansing) that they would never dream of making for their own country, or for other groups.
---
Local politicians in Ireland often express opinions on foreign policy, despite it not being their job.
Some local politicians use their position to campaign against Israel.

Council Tracker tracks votes on Dublin City Council.

The Lord Mayor of Dublin, Sinn Féin councillor Mícheál Mac Donncha, attended an anti-Israel hate conference on the West Bank in April 2018, which featured a poster of the Grand Mufti.
We expect this (and far worse) from SFIRA. But what a disgrace for Dublin and Ireland.
---
Former FF TD Chris Andrews has been one of the worst anti-Israel politicians in the larger parties.
Chris Andrews issues a
rather dodgy tweet
, June 2011, about the only Jew in the Irish government,
Alan Shatter
.
I was pleased to see Chris Andrews lose his seat in the Feb 2011 election.

Chris Andrews with Syrian terror-state leader Bashar al-Assad in Damascus on Sunday, March 15, 2009.
From a 2009 Chris Andrews constituency leaflet. (He actually chose to display this photo of himself to the voters!)
Credit to Monique Walsh for finding this.
See larger and full page.
The stupidity of thinking that a dictator and state sponsor of terror is just the man needed to solve the Israel conflict.


It is interesting to see that Todd Andrews (grandfather of Chris Andrews and Ryan Tubridy) was friendly with the Nazis.
He socialised at the Nazi embassy in Dublin during the war.
This is an extract from his memoir, Man of no Property (and here), 1982.
He was not a Nazi himself, but he expressed a common Irish unwillingness to support the democracies against their enemies, or even make distinctions between the two - a tradition that his grandson Chris Andrews continues today.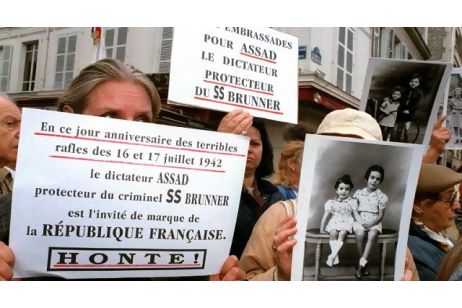 It is also interesting to consider, given Chris Andrews posing with Assad above, that Assad is from the pro-Nazi Ba'ath Party.
Assad senior (and possibly Assad junior too) sheltered the top Nazi war criminal Alois Brunner for decades.
Above are French protesters against the 1998 visit to France by Assad senior.
The placard remembers the Vel' d'Hiv Roundup of Jews in Paris in 1942.
Photo from here.