The Irish left and Israel
In the conflict between the secular liberal democracy of Israel and its reactionary religious totalitarian enemies
Hamas, Fatah, Hezbollah, Syria and Iran
, the western left, for some reason, has sided with the religious totalitarians.
The Irish left follows the rest of the western left in this bizarre prejudice, which seems to be based on western self-loathing rather than on logic and standing with people like us.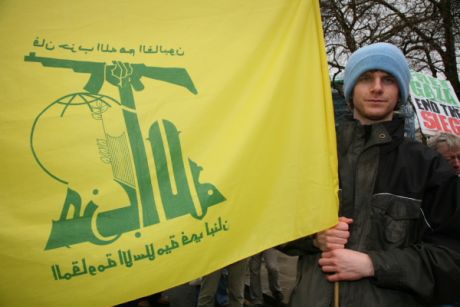 Hezbollah
flag openly displayed at IPSC march, Dublin, Apr 2008. From
here
.
Attending this demo which contained open support for Islamist terror were
David Norris
,
Michael D. Higgins
,
Eamonn McCann
and Mary Lou McDonald (of
SF-IRA
).
Do they not
notice
this kind of thing? Do they not
know
what the Hezbollah flag looks like?
---
Much of Ireland is anti-Israel. Not just the left-wing fringe. But many mainstream politicians too.
ADL world survey shows some interesting things.

In the 2014 survey, see: "Subject - Attitudes Toward Israel and the Middle East".
Ireland 2014 survey

41 percent of Irish have a favourable view of Israel. 28 percent unfavourable. (Wow. Not as bad as you would think.)
49 percent of Irish have a favourable view of Palestine. 20 percent unfavourable.

USA 2014 survey

73 percent of Americans have a favourable view of Israel. 13 percent unfavourable.
45 percent of Americans have a favourable view of Palestine. 31 percent unfavourable.

Americans seem to be smarter than Irish on foreign policy.
Irish Foreign Minister
Dick Spring
visits the PLO terrorist group and its leader Yasser Arafat in East Jerusalem, June 1995, ignoring Israeli protests.
Revolting. But that's my country for you.
---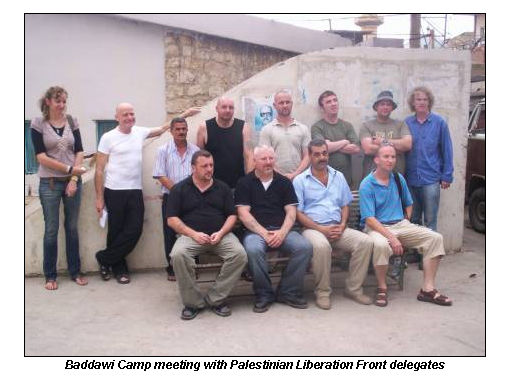 The Derry "Anti-War" Coalition and Caoimhe Butterly
hang out with the violent terrorist group the
Palestine Liberation Front
in Lebanon, August 2007.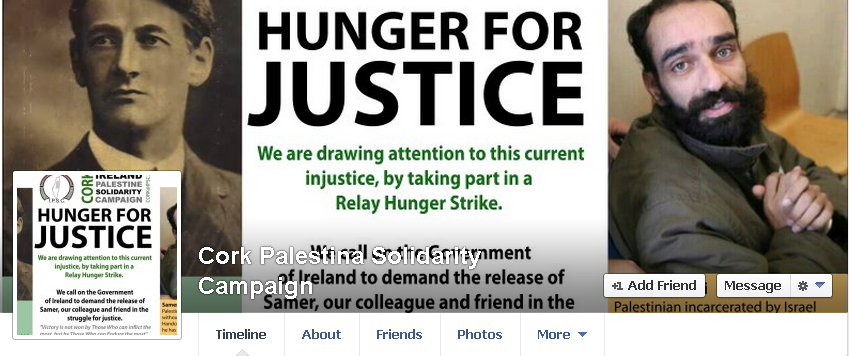 The front page of the Cork Palestine Solidarity Campaign in 2013 supports Islamic terrorist Samer Issawi.
Samer Issawi was convicted of firing a gun at a civilian vehicle, firing an AK47 assault rifle at civilian buses, and manufacturing pipe bombs used in attacks on Israeli civilians. "This included four shootings, between July 2001 and February 2002, in which Isawi and his partners fired on police cars and buses travelling between Ma'ale Adumim and Jerusalem. In one attack, a policeman was injured and required surgery. On October 30, 2001, Isawi, together with an accomplice, fired at two students walking from the Hebrew University campus to their car in a nearby parking lot. In another case, Isawi provided guns and explosive devices to a squad, who fired on a bus. Finally, in December 2001, Isawi ordered an attack on security personnel at Hebrew University, providing a squad with a pistol and a pipebomb."
And this jihadi is a hero to the Cork Palestine Solidarity Campaign!
See full image.
---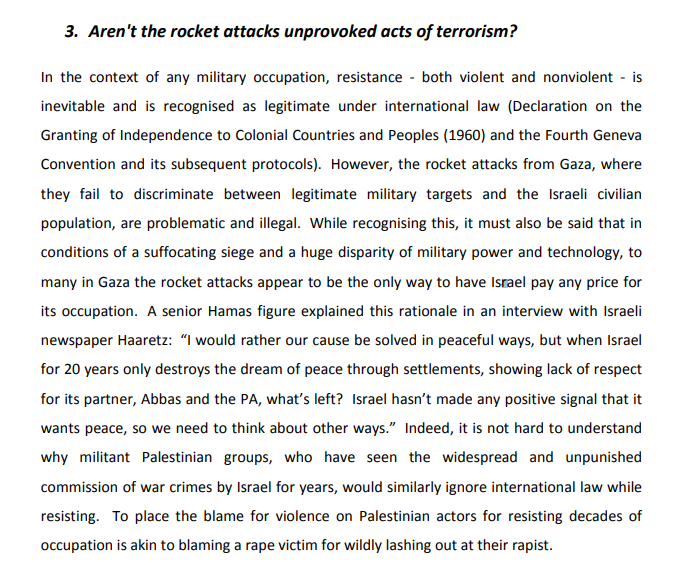 A revolting defence of terrorism on the IPSC website.
From
"Gaza Conflict: Israeli impunity must end"
(A briefing paper prepared by the Ireland-Palestine Solidarity Campaign).


Raymond Deane compares supporting Israel to supporting paedophilia.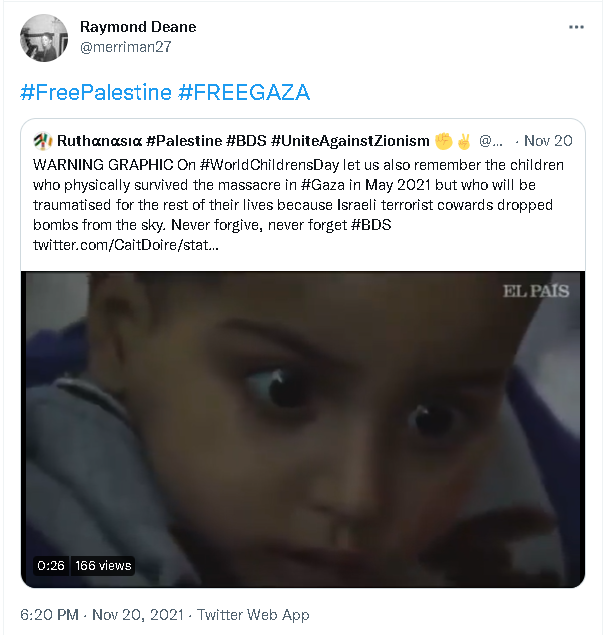 Raymond Deane retweets Holocaust denier "Ruthanasia".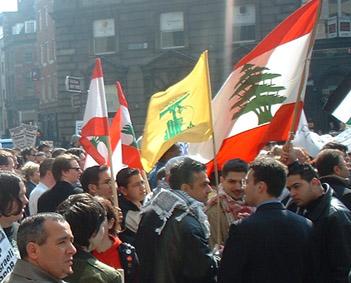 Hezbollah terrorist flag at IPSC march, Dublin, Apr 2002.
Speakers at this march included people from the IPSC, Green Party, Sinn Fein, SWP and the Socialist Party.
From here.

Open support for Hamas jihadi terror at IPSC march, Dublin, Jan 2009.
The paramilitary uniforms march in front of an IPSC banner.
From here. See here.
See also here.


IPSC, 10 Dec 2014, wishes "RIP" to a dead terrorist, Ziad Abu Ein of Fatah (extradited from the US in 1981 over the murder of two Israelis in Tiberias in 1979). The IPSC claims he was "beaten to death" by Israeli soldiers, which is total nonsense.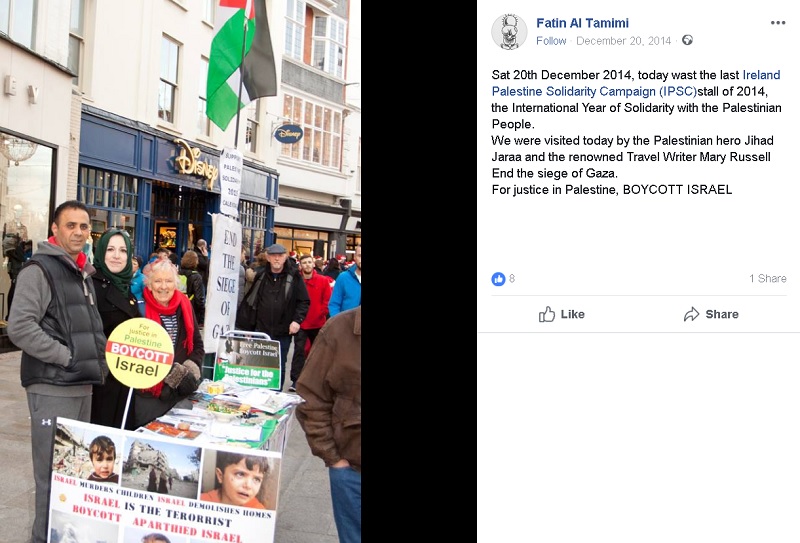 The IPSC with Jihad Jaara of the terrorist group the al-Aqsa Martyrs Brigades, Dec 2014.
Jihad Jaara was exiled to Ireland after the Siege of the Church of the Nativity in Bethlehem in 2002.
See full size.
From here.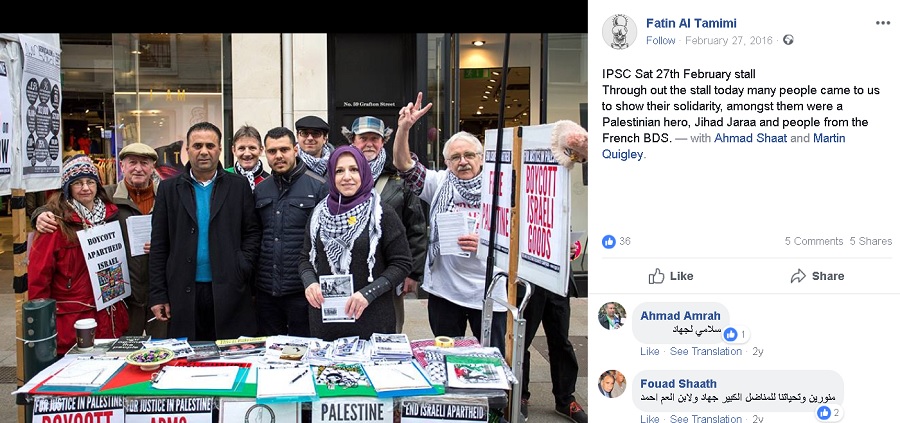 The pro-terrorist IPSC with Jihad Jaara, Feb 2016.
See full size.
From here.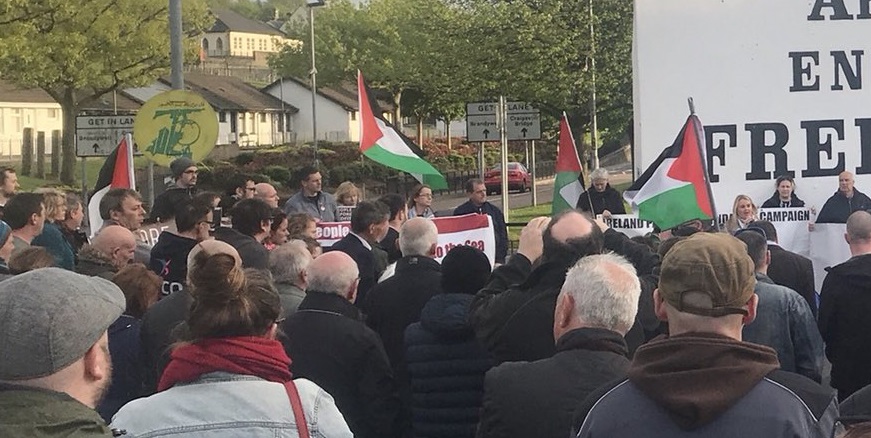 Hezbollah jihad flag at Ireland-Palestine Solidarity Campaign protest in Derry, May 2018. (During the Hamas-organised Gaza border riots.)
See full size. From here.
See other shot. From here.
See poster. From here.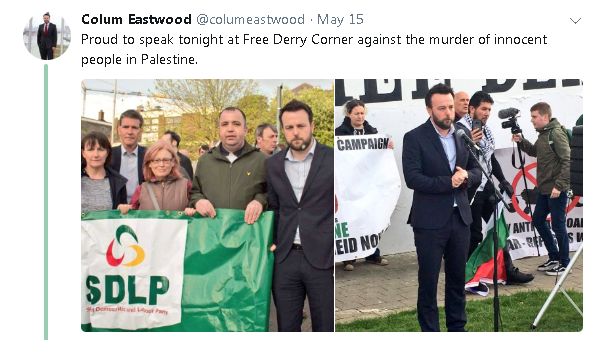 The leader of the SDLP spoke at the rally above in Derry with the Hezbollah flag, May 2018.
The SDLP has a proud history of standing against terrorism during the Troubles. What a disgrace to see it stand with Hamas terrorists against Israel, with a Hezbollah terrorist flag.
SDLP Youth statement during Gaza War, May 2021. 3000 terrorist rockets fired at Israel and the SDLP do not call for the terrorism to stop. Instead they attack the people defending themselves against terrorism. The SDLP have become Sinn Fein lite.


Freda Hughes of the IPSC defends Hamas rocket fire, July 2014. (Go to 0:56.)
The IPSC is a pro-terrorist organisation.
IRA bomber Rose Dugdale also pops up to tell us that Israel is bad.


The IPSC blocks me because they cannot debate.
---
David Cronin (see twitter) has a particular hatred of Israel.
He writes for The Electronic Intifada.
He worked for Green MEP Patricia McKenna.
He has attempted a "citizen's arrest" of Tony Blair and of Israel's Foreign Minister, but oddly not of anyone from a non-democracy.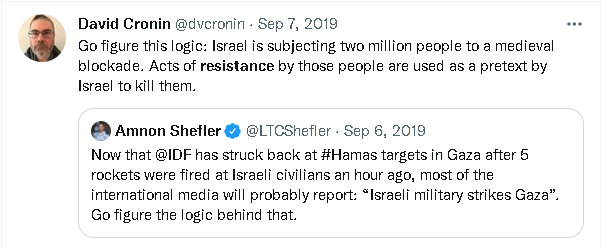 David Cronin
describes terrorist rocket attacks on civilians as "resistance".
See his many
other tweets
about "resistance".
---
Veteran Irish broadcaster
Mike Murphy
has taken against Israel, and has started associating with the IPSC people.

In 2017, Mike Murphy went on a trip to the West Bank organised by Elaine Daly.
He
expressed shock
(article, Sept 23, 2017) that the group was thoroughly questioned by Israeli border security, and four members of the group, including Elaine Daly, were deported.
What does Murphy leave out?
Well, Elaine Daly's site westbanktrips.com says (that is what the clip is above) that she is a member of the rabid anti-Israel groups the IPSC and Sadaka.
The IPSC hates Israel, defends terrorism against it, allies with actual terrorists, and marches with terrorist flags.
If anything, it is amazing that Israel let any of the IPSC-linked group in.
Elaine Daly is sister of the extremist anti-Israel politician Clare Daly.
Mike Murphy bashing Israel with the most offensive language, Oct 2018.
At 1:33 he compares Israel to Nazi Germany, the country that exterminated most of the Jews of Europe.
Utterly disgusting.
---
Irish intellectual Desmond Fennell
Desmond Fennell, 6 Feb 2009, suggests the world should arm the Palestinian Islamists with better weapons (planes, tanks, etc.) with which to fight the Israeli liberal democracy.
This foolish intellectual seems innocently unaware of the fact that if the Palestinians had the weaponry, they would carry out a full-scale genocide of the Jews. The only thing stopping them is not lack of will, but rather lack of ability.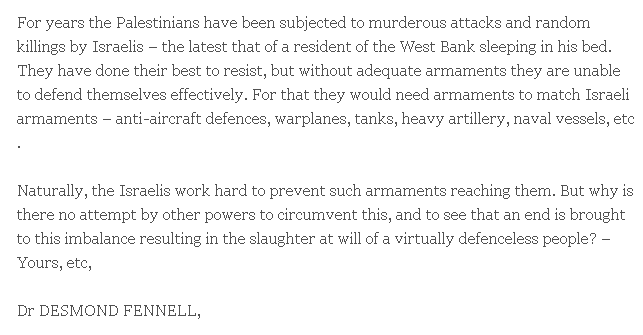 Irish intellectual
Desmond Fennell
proposes sending heavy weapons to the Islamic terrorist jihad against Israel, Feb 2009.
---
Brendan Ciaran Browne is a Professor of Conflict Resolution at the TCD Irish School of Ecumenics. He has a particular hostility to Israel.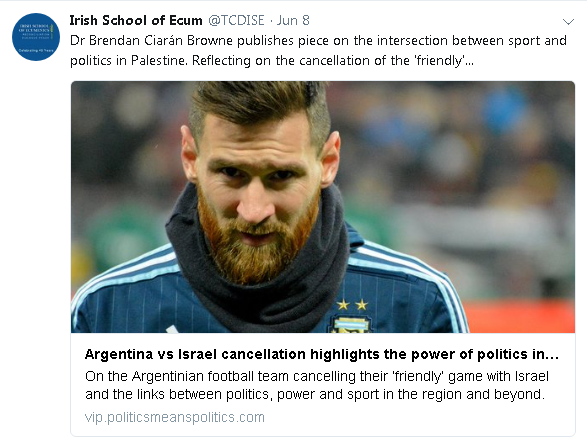 The Irish School of Ecumenics
, 8 June 2018, promotes a
one-sided article
by Brendan Ciaran Browne bashing Israel.
That doesn't seem very "ecumenical" to me. Surely the whole point of ecumenics is to see both sides, not just one side.
Crucial to Irish conflict resolution in the Troubles was recognising and addressing the concerns of both sides, not just one side. Amazing that the Irish School of "Ecumenics" can't see that in the Middle East.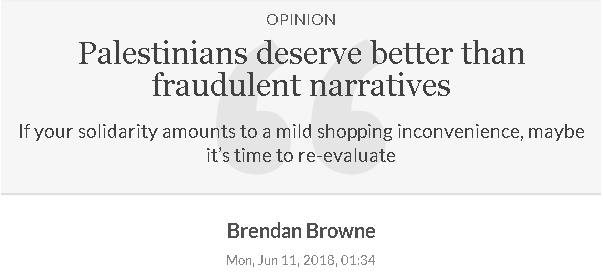 Another article about Gaza by Browne, 11 June 2018.
Professor of "conflict resolution" writes entire article about Gaza border conflict without ever suggesting that the Hamas mobs stop attacking the border.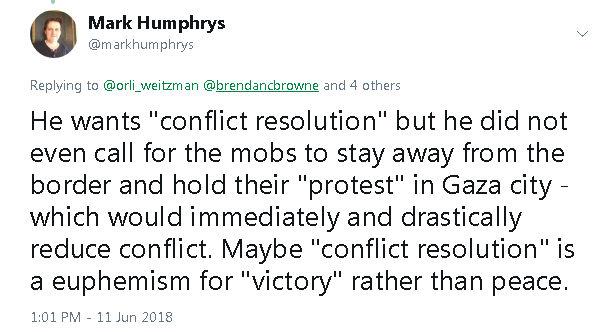 I copied Browne on one tweet in June 2018 in response to the above article and he blocked me without any debate.
Browne on Gaza, November 13, 2019.

During another round of Gaza fighting, Maja Kocijancic, spokesperson for EU Foreign Affairs, said: "The firing of rockets on civilian populations is totally unacceptable and must immediately stop."
This is exactly what someone who wants "conflict resolution" should say. It is what Browne should say. But he is angered by this statement instead, because .. something something .. Israel.
Maja Kocijancic is showing Browne what he should be saying. Of course rockets and all attacks on Israel should stop. Then the conflict would end and Gaza would enjoy peace. So why cannot Browne say this?
I can respect a total pacifist. But I cannot respect these "Conflict resolution" people.

Teaching Palestine-Recognising and Responding to the Dangers of Online Learning, Brendan Ciaran Browne, 3 Sept 2020.

Despite blocking me on Twitter, Browne links to this page.
The article is frothing anti-Israel bias from the first sentence: "Few 'conflicts' engender the widest possible scrutiny within public, political and academic discourse than Israel's ongoing settler colonial mission in Palestine." Israel's what? And this is his first sentence!
It does not improve after that. Again, does "conflict resolution" mean taking the most partisan form of one side of a conflict? If so, what is the point of it? People are already doing that in any conflict.
He suggests that the Palestinian "armed struggle" might have some right to exist: "any critical legal scholar truly invested in the cause of Palestine must nurture space in their classroom to evaluate the right of colonised peoples to agitate for self-determination, including through armed struggle as outlined in UN resolution 37/43. I have done so in the past and learned that deliberating armed struggle is the quickest way of upsetting liberal sensitivities".
Maybe this is about some imaginary "armed struggle", but the Palestinian "armed struggle" in practice consists of endless racist terrorist attacks against random innocent people. Any decent person, not just "liberals", should oppose that.
As for linking to me, great, it's a start. But why not debate me? He still blocks me.

"No justice, no peace."
Sums up the attitude of "conflict resolution" people to an 80 year conflict in which there has been no peace.
In other words, seek victory and keep the conflict going for decades. Do not
compromise
and end the conflict.
Here Brendan Ciaran Browne reacts on
24 July 2021
to the
death of Muhammad al-Tamimi
when attacking IDF troops.
How about suggesting that youths like Muhammad al-Tamimi
stop
attacking IDF troops? How about calling for an end to conflict? No, that would not excite the Western "conflict resolution" person.
Another tweet by Brendan Ciaran Browne on 12 Aug 2021 defending "The right of colonised peoples to agitate for self-determination, including through armed struggle".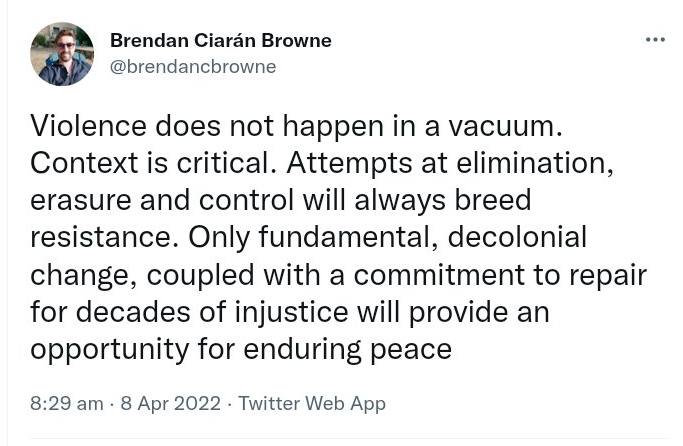 In March-April 2022, there was an appalling series of terrorist attacks on Jews in Israel, on 22 March and 27 March and 29 March and 7 April.
The "conflict resolution" man at TCD, Brendan Ciaran Browne, reframes the racist murder of random Jews as "resistance", 8 Apr 2022.
He says that to stop racists killing random Jews, we should give the racists what they want.
"Conflict resolution" people are some of the worst people in the West.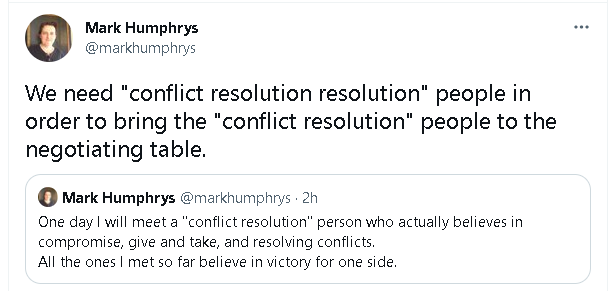 I've worked out what the solution is.
---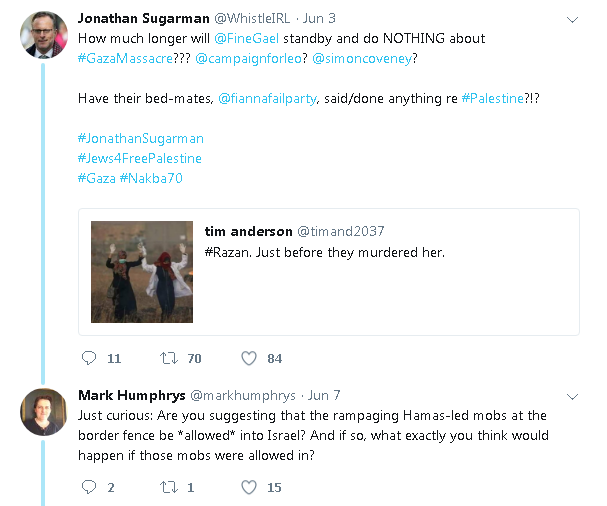 Sugarman describes Israel's actions during the
Gaza border riots
as a "massacre", June 2018.
I replied
, asking what I thought was a reasonable question.
Sugarman never debated me. He just blocked me.
---
John Gibbons
is a climate change activist with a sideline in anti-Israel activism.
"If Ireland were Palestine", John Gibbons, Village magazine, Aug 2014, during the 2014 Gaza war, makes the absurd argument, that many Irish and British people make, that the UK did not bomb Dublin during the Troubles.

The answer is obvious: The Dublin government was not bombing the UK. If it was, then airstrikes and invasion might be quite reasonable.
I reply to a succession of leftists making this same flawed point: Niall Bradley and John Curren and James Gammell and Phil Kelly.
In Gibbons' analogy, he shows his worldview with this phrase: "The brutality generates a reaction." As if Hamas missiles are a "reaction" to Israeli "brutality" or something. He has no idea why Hamas fires missiles.
He produces a conspiracy theory that Israel attacked Gaza so as to prevent moves towards "peace". Israel likes war, apparently. In reality, peace for Gaza is easy. All Hamas has to do is stop all rocket fire, forever.
He closes by proposing, like Desmond Fennell, that heavy weapons are sent to the Islamic terrorist group Hamas: "A far more useful step might be to offer the Palestinians some of the US-made Javelin anti-tank missile systems that the Irish military, at enormous expense, purchased."

Climate change activist
John Gibbons
proposes sending heavy weapons to the Islamic terrorist group Hamas, Aug 2014.
Gibbons responded to me by
blocking me
.
---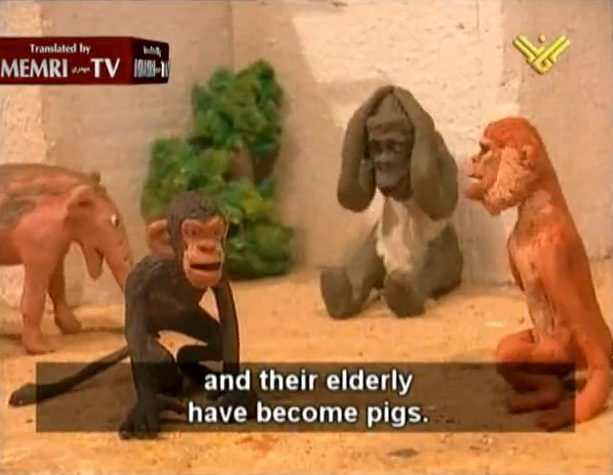 Jews Turn into Apes and Pigs in an Clay-mation Film for Children on Hizbullah TV.
Al-Manar TV
(Hezbollah TV). Dec 7, 2005.
This portrays the story in the Koran where
Jews are turned into apes and pigs
.
---
"Anti Imperialist Action Ireland" (AIAI) are a group of Irish communists who hate Israel so much they support terrorism against the Jews.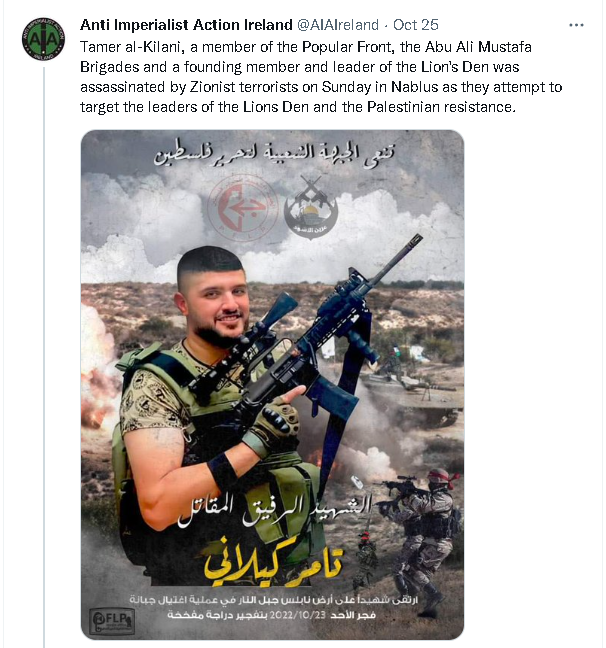 "Anti Imperialist Action Ireland"
(AIAI), Oct 2022, declares their support for racist Jihad against the Jews.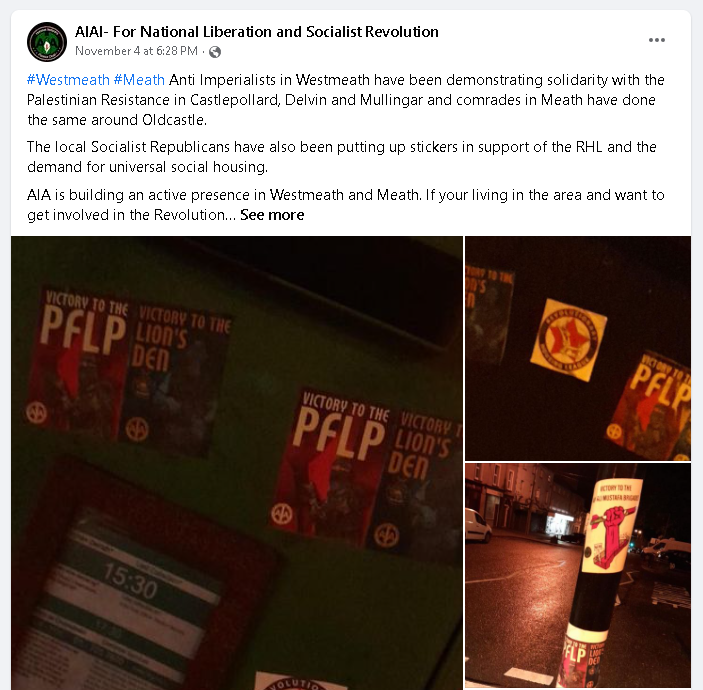 "Anti Imperialist Action Ireland" (AIAI), Nov 2022, are putting up posters in Co.Westmeath and Co.Meath calling for the killing of Jews.
---
Declan Power

Power served in the pointless Irish army mission in Lebanon, which has over the years been an incubator for anti-Israel opinion in Ireland.
Ruthless Israelis live by one code - aggression, Declan Power, 23 February 2010. This attacks Israel for many alleged crimes, including the killing of Hamas leader Mahmoud Al Mabhouh.
Among all this one-sided opinion, Power reveals he believes in conspiracy theories about the USS Liberty incident of 1967. Instead of agreeing with the US military that it was an error, he thinks Israel deliberately killed Americans: "it was widely accepted in the US naval community that their vessel was attacked to prevent the US interference in stopping a war Israel was winning."

Tom Hyland

Tom Hyland is known for his support (rightly) for East Timor.
But his support for the Palestinians suggests that his position on East Timor is based more on opposition to the west than on opposition to all human-rights abusing regimes.
John Pilger is the classic example of this narrow world-view.
Only the desire to oppose the west can explain the strange, highly-selective collection of human-rights causes the modern left supports. This is why they almost never complain about Islamic or communist regimes, for example.

Claire Allan

I was a bit confused why fiction author Claire Allan blocks me on Twitter. We never interacted.
Eventually I discovered we were both tagged in a thread on Gaza in April 2019 where I replied to other people.
And she is anti-Israel. So I guess that explains it.
Pop singers
Jedward
call for a boycott of Israel, 13 May 2021.


"Israelity" (2009), a nasty, menacing, anti-Israel song from Irish singer Mickey Joe Harte.
He is angry with Israel for responding to years of Hamas rocket fire.
The song is quite menacing, saying to Israel: "you come and stir the hate in me" and "you give them reasons now to fight" and "this is war" and "this is not the end .. this is only just beginning".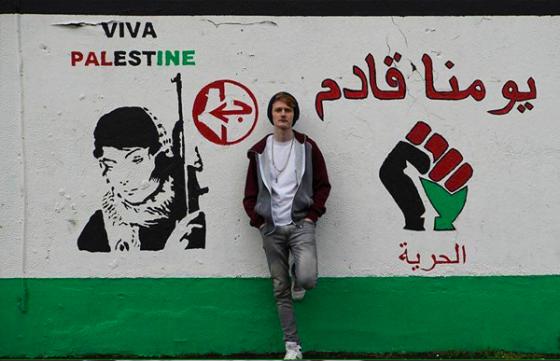 Irish rapper Aodhan Chezney Conlon poses with a mural of the terrorist PFLP, the butchers of the Jewish children of Itamar.
This features in the video of his anti-Israel song "Palestinian Child" (2015).
So violence is the answer to Gaza's problems is it? Great contribution.
The message of this song, like so many other left-wing statements, is to say to Hamas: "Carry on doing what you are doing."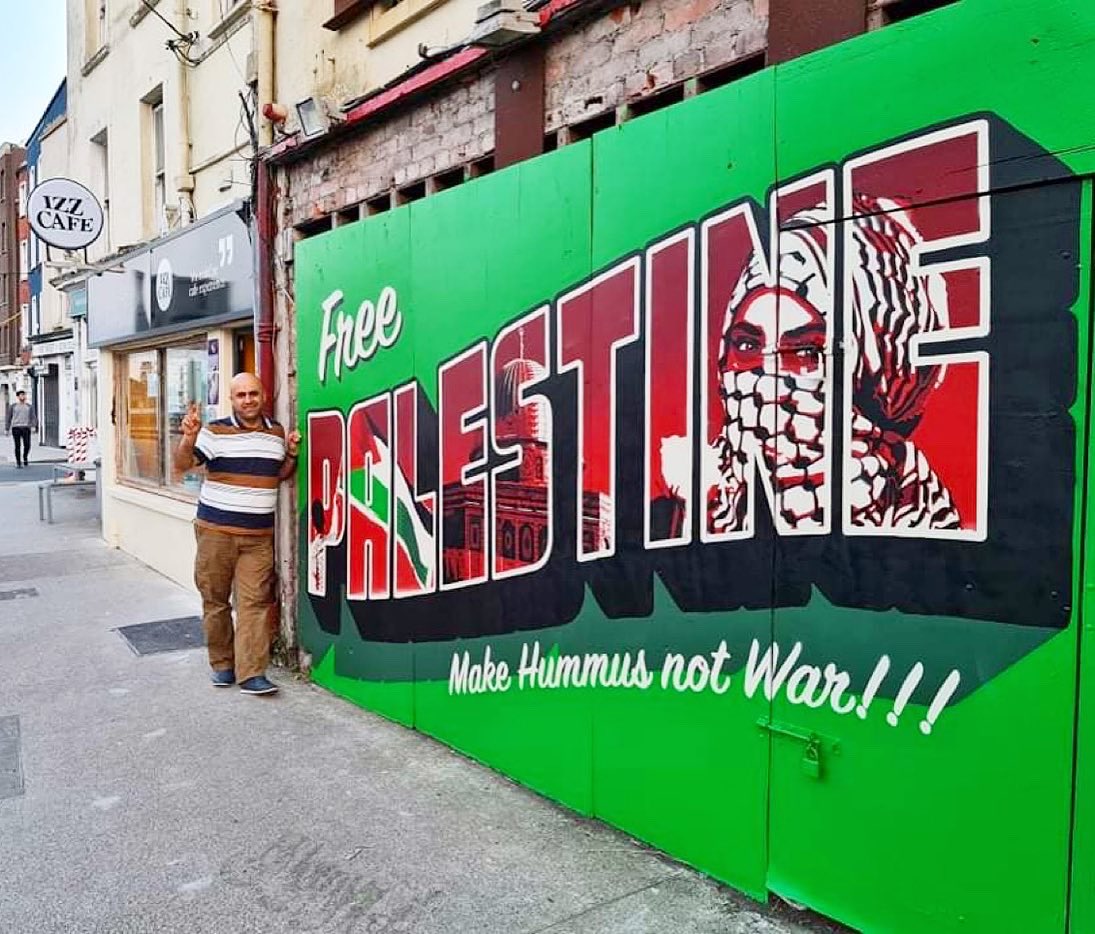 A threatening, passive-aggressive mural in Cork.
Words: "Free Palestine. Make Hummus not War!"
Picture: Scarf over face. Symbol of intifada, i.e. a barbaric and unnecessary war.
From Izz Cafe, Cork, Aug 2021.
An actual "anti war" mural would condemn the intifada. That would be so cool.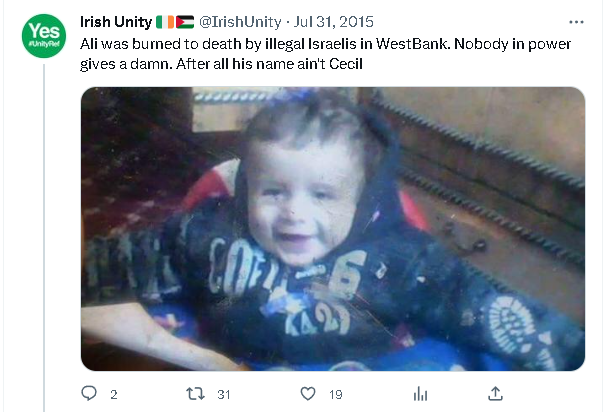 Top: Irish Unity, a pro-SFIRA account, says: "no human is illegal".
Bottom: Irish Unity says that Jews living in Judea and Samaria are illegal.
Note: The bottom tweet is complaining about the Duma arson attack, which had only happened that day. Far from "not caring", a huge investigation began. Israel eventually caught the culprit and he was sentenced to three life terms for murder.
---
---