Judaism
As an atheist, I do not regard Judaism as any more rational than any other religions, so why is this page almost entirely in defence of Jews?
The reason is that Judaism itself has a benign (indeed very impressive) history, but other religions have an appalling history of inexplicable violence towards Jews. This page is really about those other religions.
Criticism v. Hatred

Criticising religion is an important right. But what is the difference between criticism and hatred?
What is the difference between criticising Judaism as yet another supernatural meme and simple anti-semitism? Or criticising Catholicism and hatred of Catholics? Or criticising Islam and hatred of Muslims?

Most atheists don't criticise Judaism:

Most atheists, for obvious reasons, are not bothered criticising Judaism. Instead, Christianity and Islam are their main targets. Unfortunately, there is a world of anti-semites who do criticise Judaism, often with fake Talmud quotes.
So while a quick Internet search will find you lots of healthy liberal criticism of Christianity and Islam, the same is not true of Judaism. A search is likely to turn up anti-semitic sites. One needs to be very careful with sources.

Daat Emet (Jewish atheist site)

Whether you agree with them or not, you won't find anti-semitism in their criticism of Judaism.
Their site has criticism of the Torah, the Talmud, and Halacha (Jewish religious law).
---
Texts
The Tanach is the Old Testament.

The Torah is the first 5 books of the Old Testament.

The Talmud is a collection of ancient rabbinic discussions.
---
Topics
---
Christianity persecuted and killed Jews throughout its history, culminating in the Holocaust.
In 1215 the Fourth Lateran Council, under Pope Innocent III (the Butcher of the Cathars) first forced the Jews to wear yellow badges. This idea was later taken up again by the Nazis.

It was believed in medieval Christianity that disease and epidemics were caused maliciously - by imaginary "witches", or by Jews, and the burning of Jewish men, women and children was a typical response to epidemics.
The church canonised many "saints" who were supposedly "martyred" by the Jews in "ritual murder" (to obtain Christian blood for their cakes, or something). Huge numbers of innocent Jewish men, women and little children were killed in response, often by being burnt alive. Embarrassingly, the church has since discovered that these supposed "ritual murders" never happened.

Decanonized saints - If the church can actually name a saint, and get it wrong, how can it possibly claim to be guided by God?

The Reformation may have been a great step forward to the modern secular world, but Martin Luther was a vile anti-semite.

On the Jews and Their Lies (1543)
About the Jews, Luther urged: "First to set fire to their synagogues or schools and to bury and cover with dirt whatever will not burn, so that no man will ever again see a stone or cinder of them ... Second, I advise that their houses also be razed and destroyed"

John Calvin was a killer too of course. He burnt the thinker Servetus alive in 1553 because his ideas differed with Calvin's own superstitious beliefs. Calvin said: "Whoever shall maintain that wrong is done to heretics and blasphemers in punishing them makes himself an accomplice in their crime and guilty as they are."

The Jewish Ghetto in Rome

By the papal bull Cum nimis absurdum (1555), Pope Paul IV forced the Jews of Rome to live in a ghetto. Ghettos for other Italian cities followed.
The Catholic church forced the Jews of Rome to live in a ghetto from 1555 to 1870.

The Khmelnytsky Uprising, 1648-54 - The slaughter of the Jews of the Ukraine.

There is of course a direct line traceable from the medieval Jew burning through to the modern Holocaust. In no way can we say that the Holocaust can be entirely divorced and separated from Christianity.

The modern church tends to be sympathetic to anti-Jewish tyrants and terrorists and critical of the Jewish democracy of Israel.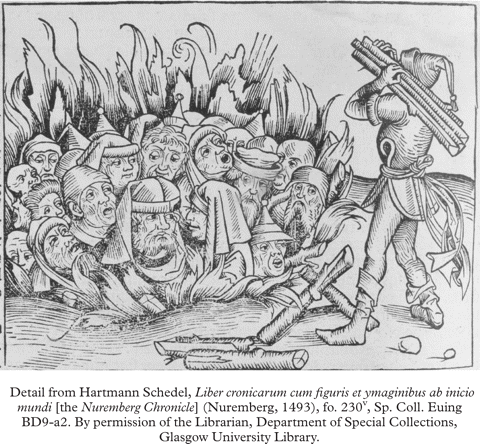 Jews are burned alive during the Black Death.
From the
Nuremberg Chronicle
(1493).
Image from
here
.
---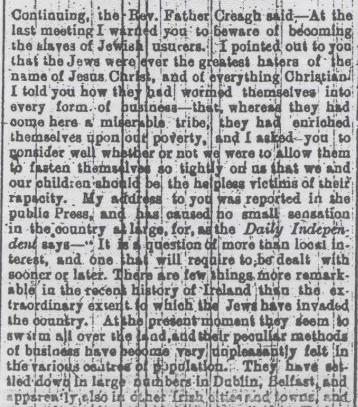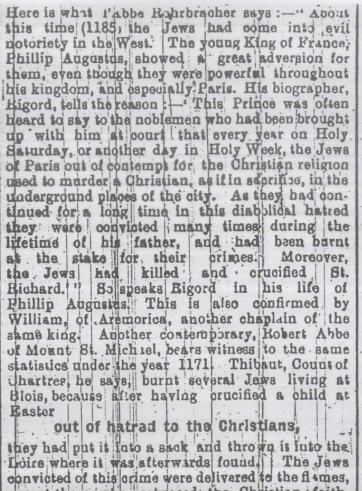 Fr. John Creagh's campaign to boycott the Jews of Limerick in 1904.
He repeats the blood libel about the Jews.
From the Limerick Leader, 20 Jan 1904.
From here.

The Mayor of Limerick in 1970, Steve Coughlan (Labour) makes a speech defending the 1904-06 Limerick pogrom against the Jews.
He refers to the alleged existence of Jewish money-lenders, who he calls "warble fly bloodsuckers".
From Limerick Leader, 20 April 1970.
From here.
---
This shows that the top 10 most anti-semitic countries in the world are all Islamic.

The worst countries in the world:

West Bank and Gaza – 93 percent of the adult population holds anti-Semitic views.
Iraq – 92 percent
Yemen – 88 percent
Algeria – 87 percent
Libya – 87 percent
Tunisia – 86 percent
Kuwait – 82 percent
Bahrain – 81 percent
Jordan – 81 percent
Morocco – 80 percent

Some western countries:

Greece – 69 percent of the adult population holds anti-Semitic views.
France – 37 percent
Belgium – 27 percent
Germany – 27 percent
Ireland – 20 percent (Ireland is twice as anti-semitic as the UK or US.)
Canada – 14 percent
Australia – 14 percent
New Zealand – 14 percent
Denmark – 9 percent
United States – 9 percent
United Kingdom – 8 percent
Netherlands – 5 percent
Sweden – 4 percent

The Ten Worst Purveyors of Antisemitism Worldwide at PJ Media is an eclectic list. They list the 10 worst as: I wouldn't agree with putting Roger Waters there myself, but I think it's hilarious he's on the list.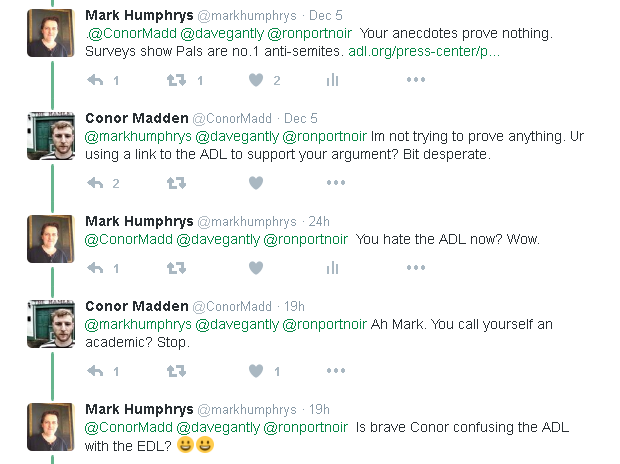 Anti-Israel guy called
Conor Madden
attacks me for linking to the ADL survey of global anti-semitism.
Why? I am not sure.
Madden describes Israel as "evil".
In this thread, he was disputing that the Palestinians are anti-semitic. I linked to the ADL survey showing they are the most anti-semitic people on earth. He attacked me for linking to the ADL. His motives are unclear. He never explained. I wonder if he confused it with the EDL.
---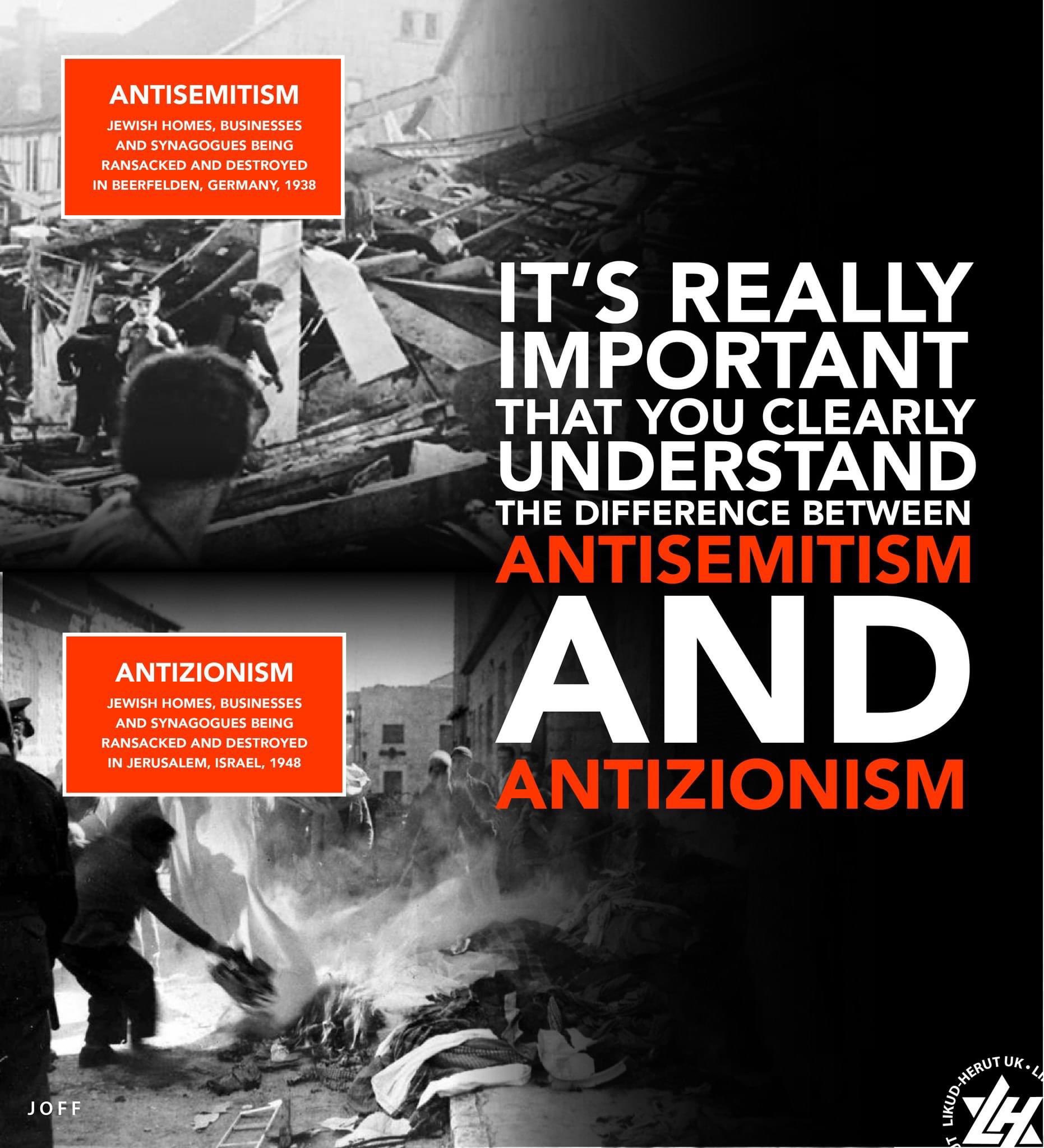 It's important to know the difference between Antisemitism and Antizionism.
See
full size
. From
Likud UK
.
---
The Arab world is openly anti-semitic, and is not ashamed of it. Europe hates Israel too, but claims that this is different.
Europe has a long history of Jew-hatred, culminating in the Holocaust. In living memory, Germany, with the collaboration of France and other European countries, and the support of many intellectuals, rounded up millions of Jews for extermination.

Today, Europe, the mainstream left, and the far right hate Israel. They claim this is different from the past.
They claim this is not anti-semitic, but they support openly anti-semitic people like Fatah, Hamas and Hezbollah, and other Islamists.
It is true that not all modern leftists and intellectuals who hate Israel are anti-semitic. There are a range of trendy reasons why they hate Israel. But they are on the wrong side of history again.
Daniel Jonah Goldhagen expresses well the point that anti-semitism has always been "hallucinatory". It is not about what the Jews do. It is about imaginary things. Hitler's fantastical complaints about the Jews were no more based on reality than the medieval complaints about the Jews "causing" the Black Death.

Almost all complaints about Israel today are of the same hallucinatory quality. What Israel does and does not do is simply irrelevant to the lives of almost everyone in the Arab world. And yet it consumes so much of their attention, as if Israel and the Jews are to blame for the fact that they are poor, unfree and backward. The entire Arab world is in the grip of a hallucinatory anti-semitism that achieves nothing. The best thing Arabs can do is simply forget about Israel.
The Editor-in-Chief of the enemy TV station Al-Jazeera illustrates this hallucinatory hatred of Israel. He claims that the Jews are the cause of all of the Arab world's problems (even in countries with no Jews):

Q. "Do you mean to say that if Israel did not exist, there would suddenly be democracy in Egypt, that the schools in Morocco would be better, that the public clinics in Jordan would function better?"
A. "I think so."
He's not joking. He really believes this.

The Globalization of Antisemitism by Daniel Jonah Goldhagen (see also Hate turns from Shylock to Rambo)
And in Europe, Israel, rather than money-lending or Christ-killing, is now the main "reason" given for European anti-semitism, and the left is now the centre of Jew-hating, rather than the right.

Anti-semitism's equally hallucinatory sister hatred, anti-Americanism.
Hatred of Israel is the new anti-semitism
Why do people hate Israel? There are many reasons. Anti-semitism is probably no.1 globally. But there are other reasons, mostly based on leftism.

How to tell if criticism of Israel is anti-semitic.

Yes, of course one can criticise Israel without being anti-semitic. As many Israelis do - there is a vibrant democracy with furious internal debate.
But worldwide, among non-Jews, probably the majority of criticism of Israel is anti-semitic.

Alan M. Dershowitz, September 23, 2002, says one can criticise Israel, "But to single out the Jewish state of Israel, as if it were the worst human rights offender, is bigotry pure and simple."
Put it this way. If you're a westerner, and Israel is one of the main countries you criticise, you are deranged, and maybe an anti-semite. As a westerner, your main targets should be places like Sudan, Syria, Iran, Saudi Arabia and North Korea.
If Israel is just one of at least 60 states that you criticise, and your worst criticism is of non-democracies, then you are not an anti-semite, and your criticisms may even make sense.

The Paradox of the Fisks: The most criticised societies in the world will be the least criminal societies

The Left's Anti-Semitic Chic by George F. Will, Feb 25, 2004. "The appallingly brief eclipse of anti-Semitism after Auschwitz demonstrates how beguiling is the simplicity of pure stupidity."

The new anti-Semitism by Melanie Phillips, 22 Mar 2003

"hostility to Jews is strongest among those on the Left who claim to be fighting racism"
She notes the deep need Europe has to get over its guilt about the Holocaust: "Europe has waited for more than half a century for a way to blame the Jews for their own destruction. So instead of sounding the alarm over genocidal Islamist Jew-hatred, Europeans have eagerly embraced the Nazification of the Jews"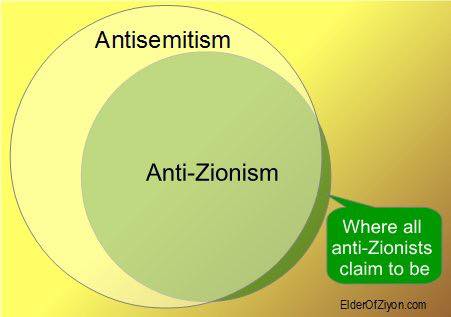 It is
possible
to be anti-Israel without being a racist antisemite or supporting racist antisemites.
Possible but, on a global level, unlikely.
From
Elder of Ziyon
.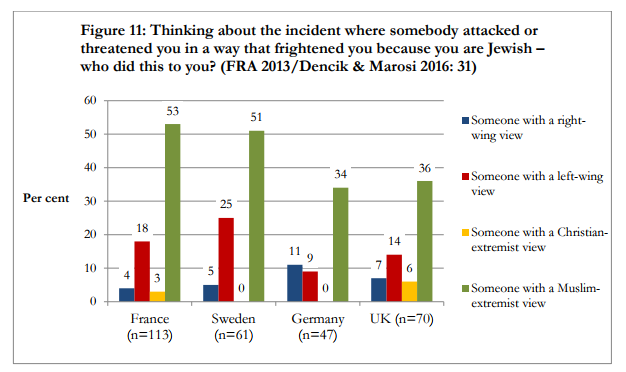 It is the left, not the right, that commits the most anti-semitic attacks in the West.
From Antisemitic Violence in Europe, 2005-2015.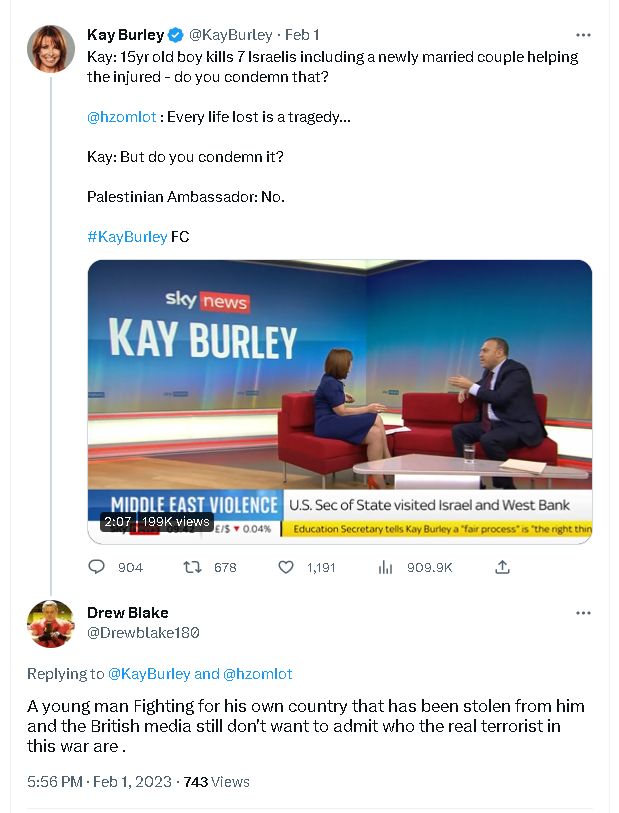 A Belfast man (*) called Drew Blake supports killing random Jews, 1 Feb 2023.
On 27 Jan 2023, a terrorist (in fact age 21, not age 15) killed seven random Jews in Jerusalem, including a child.
It was the worst terrorist attack on Israel since 2011.
Drew Blake does not even live in the Middle East, and he is not even Arab or Muslim, but he still applauds the killing of random Jews. He says the killer is: "A young man Fighting for his own country".
(*) He puts "Glasgow / Belfast" on his profile, but gets angry if you think he is Glasgow.
---
Martin Luther King's opinions on Israel and Jews are disputed.

MLK was named (ultimately) after Martin Luther, the vicious anti-semite. But MLK was pro-Jewish and pro-Israel.
Note that he died in 1968, before the left started to hate Israel.
"Letter to an Anti-Zionist Friend" is a letter claimed to be from MLK, but is in fact a fake. No reference to it is found before 1999. See camera.org.
There are a number of real pro-Jewish and pro-Israel quotes from MLK however.
MLK said in
1968
:
"I see Israel, and never mind saying it, as one of the great outposts of democracy in the world, and a marvelous example of what can be done, how desert land almost can be transformed into an oasis of brotherhood and democracy."
---
Comparing a western democratic government like the US or Israel to the Nazis, or their police to the Nazis, is a form of Holocaust denial. It is a way of saying that the Nazis were not so bad. That the things they did were like the things that modern liberal democracies do.
Comparing trivial things - like restrictions on young people from the police or teachers - to the Nazis is also a form of Holocaust denial. It makes one imagine that the person doing it has no idea what the Nazis were like. It says that killing millions of innocent women and children by shooting them in pits or putting them in ovens is "just like" telling some young person that he can't stay up late, or demonstrate on certain streets.

"Bush equals Hitler" adds up to holocaust denial by Jonah Goldberg - "If your son is murdered and I claim that it never happened, I am denying the existence of a crime. But if your son is murdered and I compare that tragedy to losing your car keys, that is a form of denial, too."
"Bush=Hitler" by Jonah Goldberg
As I said to Frank McDonald: "Anyone who compares Gaza to the Warsaw Ghetto is saying the Warsaw Ghetto wasn't that bad."

It is not just moronic youth that engage in this left-wing trivialisation of the Holocaust. It is a firmly established part of left-wing politics and demonstrations to compare free countries like America and Britain - and, most unforgivably, Israel - to Nazi Germany.
Bigotry outside Faneuil Hall by Alan Dershowitz, on leftist anti-semites screaming that he is just like Hitler. See call for protest. "The sin that, in the opinion of the screamers, warranted this comparison between me and the man who murdered dozens of my family members was my support for Israel."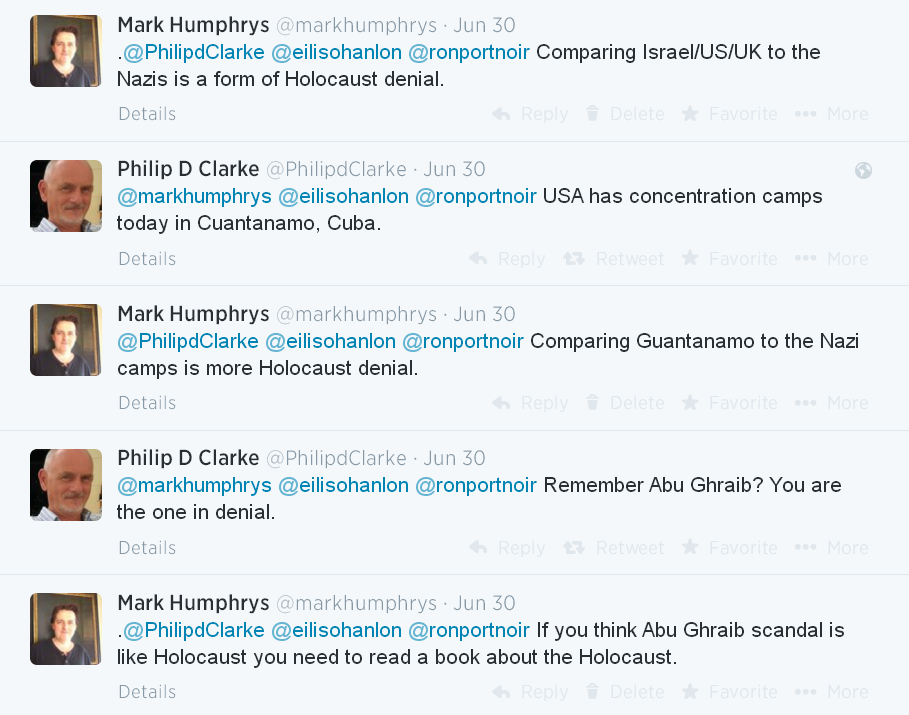 Me arguing
with some US and Israel hater who compares them to the Nazis.
It is a form of Holocaust denial.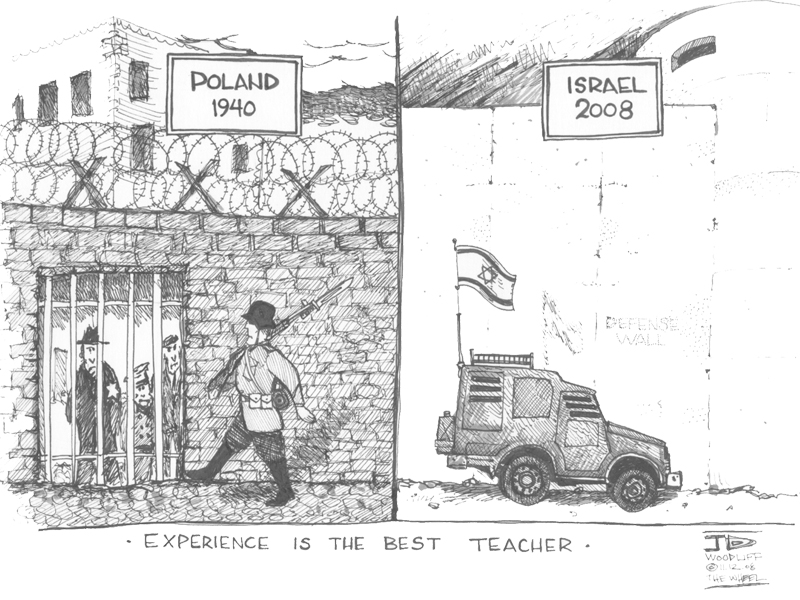 A vile cartoon, November 14, 2008, in the Emory Wheel student newspaper, Emory University, Atlanta, Georgia, USA, compares Jews to Nazis.
See controversy.
Obviously, being prevented from killing Jews is the same kind of thing as being herded into a ghetto for extermination.
What kind of mind can regard the life-saving Israeli wall, which has led to a massive drop in suicide bombings, as similar to Nazi walls? I don't remember the Jews of 1940 suicide-bombing German civilians in coffee shops. I don't recall that the Germans herded them into ghettos in order to protect the German people.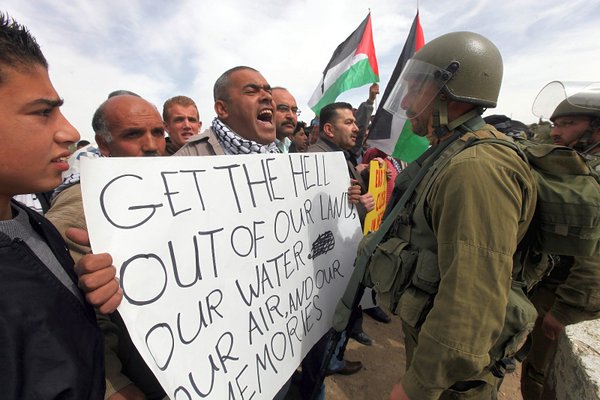 Israel is just like the Nazis!
In Nazi-occupied Europe, people were always holding demos like this, holding up posters and screaming in the faces of Nazi troops. That was always happening.
From here.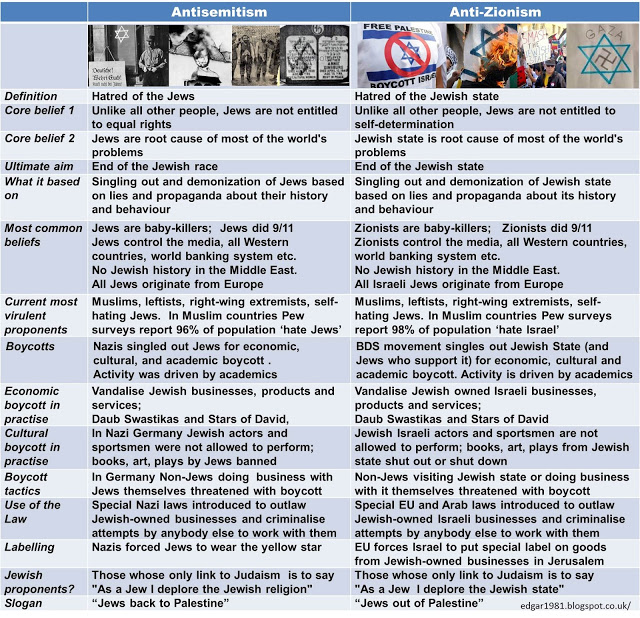 Anti-Zionism versus Anti-semitism explained. Totally different!
See full size. From here.
---
---
---
---