Modern leftists
The following are best described as
opponents of the west
. They are some of the leading opponents in the west of
American and western power
, and opponents of
American and western victory
against non-western enemies. They appear regularly on my local radio and TV, and in my local newspapers, so I thought I would gather in one place refutations of them.
They have every right to speak of course
, and it is one of the strengths of the USA, the UK and other democracies that their harshest critics - indeed practically their open enemies - are not only free to speak, but can make a good living by doing so, and even become immensely wealthy doing so (like
Michael Moore
).
The people below claim to be friends of oppressed people around the world, but in fact they are enemies of the non-western world as well, since they want to stop the spread of western ideas to it, and hence prevent its liberation.
They are baffling people. They talk about human rights, and yet ally with sexist, racist, violent, gay-murdering, human-rights-hating fascists. They come from a long tradition of western support for foreign tyranny. Their central belief seems only to be that America, and Israel, and the white man, must be wrong. All of their decisions are based on that false axiom. As a result, they are enemies of the free countries, friends of third-world tyrants, and enemies of the suffering people all over the world who are forced to live under tyrannies.
The left is worth nothing - An angry column by Dennis Prager, February 1, 2005, in the week when leftists scorn the brave Iraqis as they turn out in their millions to vote despite the threats of fascists to kill them. Truly, since 9/11, the left now stands for the opposite of what it claims to stand for. The left are the reactionaries. The left are the fascist lovers.

On apologists for evil: "in my lifetime, these people have overwhelmingly congregated on the political Left. Since the 1960s, with few exceptions, on the greatest questions of good and evil, the Left has either been neutral toward or actively supported evil."
"It is the Left - in America, in Europe and around the world - that should do all the apologizing"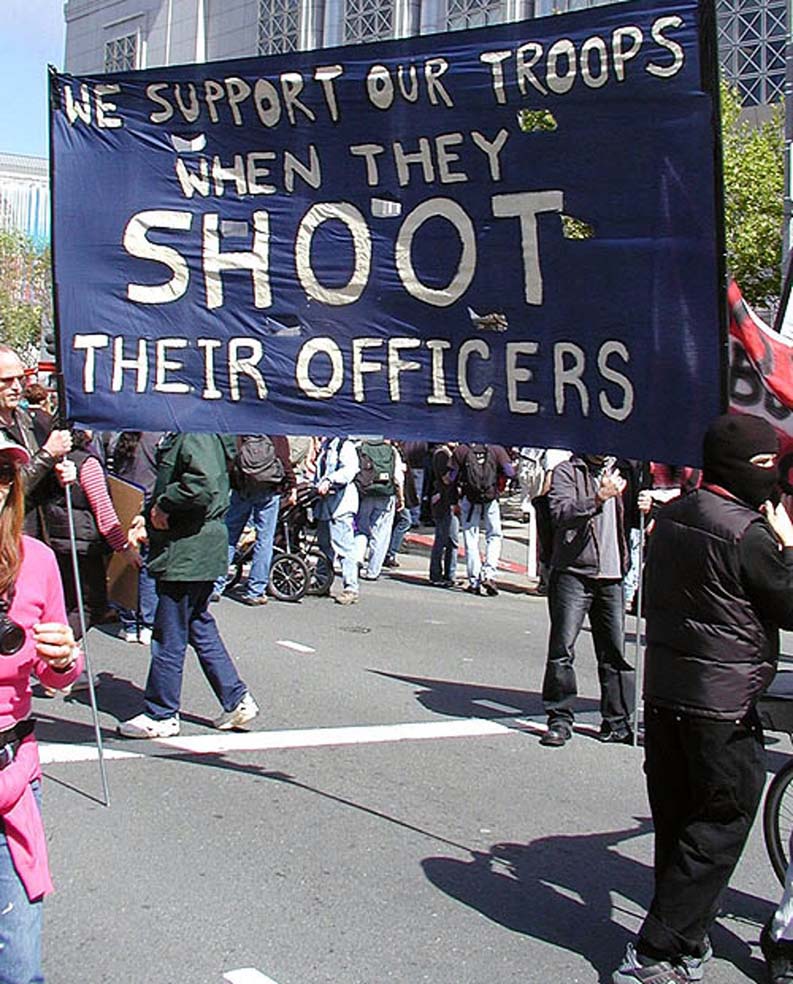 What passes for heroism on the left.
Photo of
anti-war protest, San Francisco, 15 Mar 2003
.
---
Noam Chomsky, born Dec 1928. Life-long enemy of human freedom and human rights.

Chomsky's book Manufacturing Consent claims that societies with a free press are not really free at all, or something.

Harry's Place calls it "his "corporate media control your (but not my) mind" spiel".

Criticism of Noam Chomsky

Benjamin Kerstein

The Chomsky Hoax by Paul Bogdanor

"The Top 250 Chomsky Lies"

FrontPage articles

Economics

The War on Islamic Fascism

Chomsky on Afghanistan, 2001: "Looks like what's happening is some sort of silent genocide. ... plans are being made and programs implemented on the assumption that they may lead to the death of several million people in the next few months very casually with no comment, no particular thought about it, that's just kind of normal".
Christopher Hitchens v. Noam Chomsky in 2001.

Chomsky opposed action against (or even supported) just about every enemy of human freedom since WW2. Indeed, had Chomsky been writing during WW2, one cannot imagine him possibly writing in support of the Allies. The Soviet Union (1), the Soviet imperialist occupation of Eastern Europe, Mao's China, Castro's Cuba, Communist North Vietnam (2), the Khmer Rouge (3), North Korea, Communist Nicaragua, the Ayatollah's Iran, Saddam Hussein's Iraq, Serbian fascism, Islamic fascism (4) - all are supported, defended, or at least action against them is opposed by Chomsky. Again, it is impossible to imagine him supporting the Allies in 1944. Surely he would have condemned the D-Day liberation of France as an appalling, illegal and aggressive act against a continent that was finally at peace. (5)

Osama Bin Laden:

Chomsky finds another foreign strongman to support, Aug 2009. He visits thug Hugo Chavez in Venezuela.

Chavez praised Chomsky as "one of the greatest pioneers of a better world", and Chomsky replied that: "what's so exciting about at last visiting Venezuela is that I can see how a better world is being created."
Chomsky attacks American freedom, sneering that: "control over the media is in the hands of a minority who own large corporations... and the result is that the financial interests of those groups are always behind the so-called freedom of expression".
He ignores the fact that Chavez shuts down any media that criticises him.
The US is so "oppressive" that Chomsky was invited to address US military cadets in Apr 2006. As Harry's Place says: "just try to imagine a fierce critic of Chavez being invited to address a class of military cadets in Venezuela."

Chomsky interview (age 92), April 2021. "Ask him about China's repression of the Uighurs, as Katie Halper and I do here, and he asks, "Is it as bad as Gaza? It's very hard to argue that.""
Good god. Is there a more idiotic commentator on international affairs than Chomsky?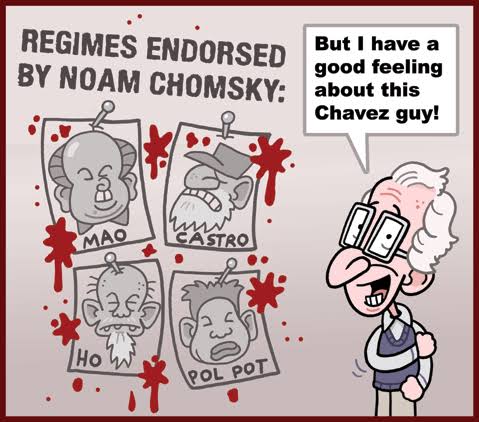 Wrong again and again. His whole life.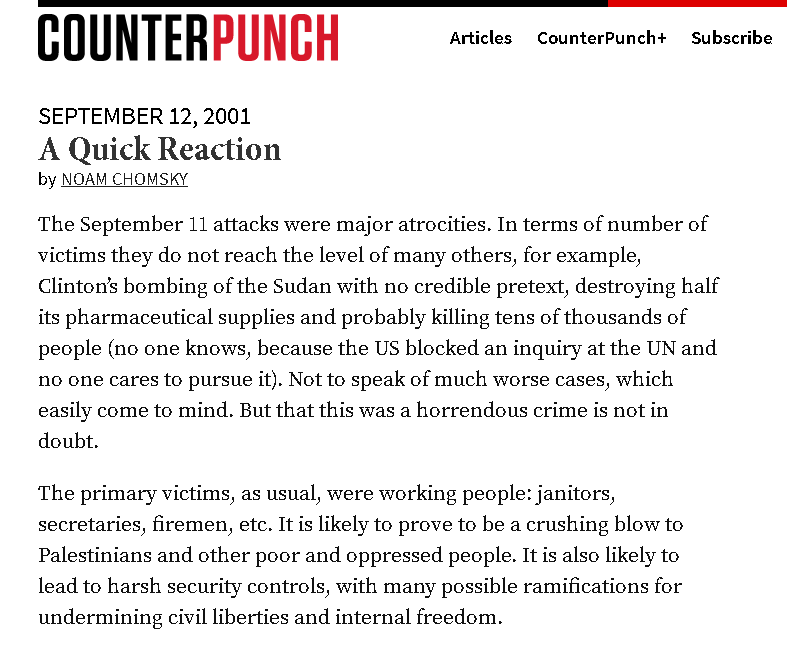 Chomsky's sick reaction to 9/11, 12 Sept 2001.
Thousands of innocent people are killed in his own country by fascists, and this is his reaction.
By the second sentence he has changed the topic to how evil America is. He couldn't even get through one paragraph without changing the topic.
A fanatic of a man, consumed with hatred.


Chomsky's support for Hezbollah.


Iran promotes Chomsky.
From Iranian government propaganda site. Since vanished.
Iranian state TV "Press TV" endlessly promotes Chomsky.
And yet Chomsky is always at risk of being seen as just "a Jew" by parts of the Iranian tyranny: Iranian security accuses leftist Iranian academic of "associating" with the Jew Chomsky, Oct 2014. As Robert Spencer says: "This bizarre episode shows how little political correctness and sympathy for the jihad buys for a Leftist academic when he falls into the clutches of Iran's Islamic regime. Imagine what they would do to Chomsky himself, despite his decades of faithful service to their cause. To them, he is just a Jew, no matter how Useful an Idiot he has been and still is."
Free westerners can sell their soul to tyrants, but the tyrants will never trust them.
Chomsky and linguistics
Chomsky's reputation as a thinker rests on his work in linguistics. My field is Cognitive Science, and many in that field believe Chomsky's reputation will not survive long-term - that he is a figure like Freud.
The central problem is the incompatibility between his ideas and the origin of language (i.e. its gradual evolution from non-language in populations of hominids).
---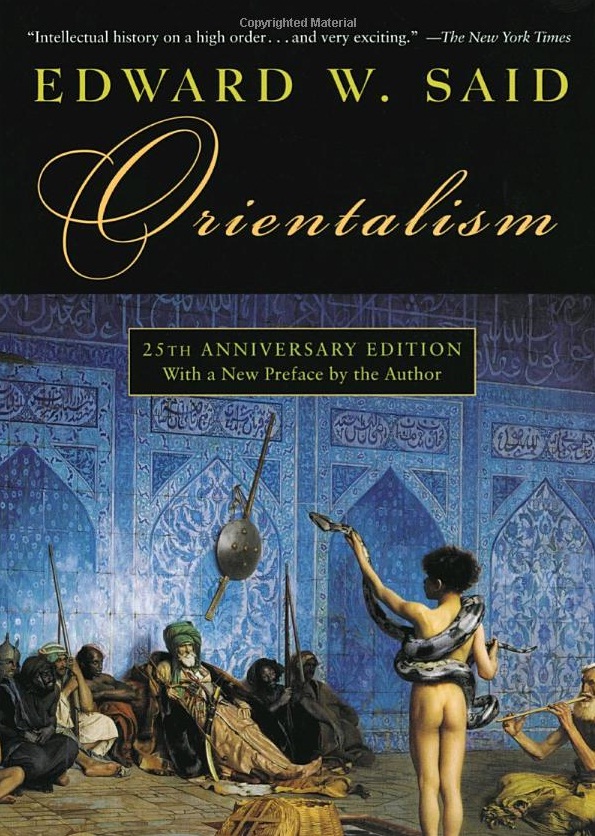 Edward Said's cover
implicitly attacks western artists who took an interest in the Orient, such as
Jean-Léon Gérôme
, who painted
The Snake Charmer
here.
But it is Edward Said who comes across looking like a bigot, not them.
Ibn Warraq
points out the delicious irony that these European "Orientalist" paintings are not despised but are
much sought after
by wealthy Arabs now. They pay high prices for them - since they are rare portrayals of a lost Middle East.
Islam discouraged painting, so often these are the only portrayals of that era.
---
The childish clown Michael Moore. The buffoon who shows the intellectual bankruptcy of the left in the Islamist War. The vulgar, anti-American, mean-spirited, immensely wealthy multi-millionaire. The semi-educated author of cartoon-like books and simple totalitarian propaganda who makes Chomsky look like a deep thinker.

Mother of brave US soldier calls Michael Moore a "maggot that eats off the dead" for using footage of her son's funeral.

Stupid White Men - a perfect description of the kind of people who bought this book.
And the title! This kind of PC patronisation must drive minorities crazy. As if non-whites are always wise, and cannot be stupid! The very title of the book declares that whites are cool people who can take insults, and non-whites are sensitive and must be patronised, like children.
Fahrenheit 9/11 (2004)

Replies:

Moore opposed the liberation of Kosovo (and Serbia), the liberation of Afghanistan, and the liberation of Iraq.
Michael Moore, Humbug by Kay S. Hymowitz
Dude, Where's My Intellectual Honesty? - review of his "book".

Muqtada al-Moore - Steven Den Beste compares Moore to the failed Iraqi Islamofascist rebel, Muqtada al-Sadr:

"What I found myself wondering .. was whether Michael Moore may, in the end, turn out to be the American Loonie Left's Muqtada al-Sadr. He's become the rallying point. He's raised the flag, and the most motivated LL's are flocking to support him. He's become their poster boy, their public face. He provides a focal point; he's a magnet around which they can gather and organize. He has chosen the ground they will defend - and it is dreadful ground indeed."
"the LL's have rallied to his flag. They've moved to his holy city. They've adopted positions on the terrain he's chosen for the battle. And they're using the arguments and evidence he provides as ammunition. In the short term, it may seem as if the LL's are mobilized and fighting hard. But it also leaves them concentrated and vulnerable. And they are fighting on just about the worst ground they could have chosen."
Worst, that is, if they want to win the election.
"Moore has planted his flag smacko in the middle of the Holy City of anti-Americanism. To defend that position, the LL's will now vocally proclaim something many have long believed but avoided admitting: they hate America and everything it stands for. That is not a message that will sell well to the broad electorate."
"It is rare for a political faction to be blessed with an opponent who is so charismatic to his fanatical supporters, so repulsive to non-supporters, and so vulnerable to criticism and caricature. I can't think of a high-profile leftist I'd rather have "at the centre of things" than Michael Muqtada al-Moore."

Less is Moore, Kyle Smith, September 27, 2009, on the ruthless capitalist millionaire Michael Moore, who attacks capitalism while becoming rich out of it and proposing no alternative.

Smith: "But I don't begrudge Moore his earnings. Being allowed to separate suckers from their money is one of the more entertaining privileges of capitalism."
Smith is amusing on how leftists like Moore never seem to propose a better system than capitalism: "David Denby defined "Snark" as, in part, a system that fails to make an affirmative argument. Snarkists are back-of-the-class spitballers who go silent when asked to teach the class themselves. Moore .. cannot stand in the front of the room and define for us a new system of government to replace the one he finds so unbearable. ... If he shouted the name of the system he apparently worships .. he would be the mockee instead of the mocker. He'd have to play defense instead of merely being offensive. As it is, Moore drops hints that communism is kinda groovy while solemnly presenting a clip of an angry victim of foreclosure who speaks of armed uprising against banks ... The majority of the liberal audience, which hates the same things Moore hates ... feels so cozy in his company that they fail to ask themselves where Moore-ism leads."

I think this rather sums up Michael Moore:

In Feb 1994, an unrelated man called Michael Patrick Moore broke into a house in Texas and murdered a 35 year old woman. He was sentenced to death.
In Mar 2001, leftist Michael Moore campaigned to stop the execution of "the other" Michael Moore: "I abhor the death penalty. It is the ultimate act of evil."
He failed, and Michael Patrick Moore was executed in Jan 2002. One good thing is that he did genuinely apologise and repent: "I can blame it on abuse from my parents but the fact of the matter is, I did it, and there is nobody else to blame."
Anyway, back to leftist Michael Moore. In Apr 2014, he said GM executives deserve the death penalty for not fixing flawed products that led to crashes: "I am opposed to the death penalty, but to every rule there is usually an exception".
Corporate manslaughter - death penalty. Direct murder - no death penalty. Left-wing morality.
Cartoon from
Cox and Forkum
(see
here
).
See
Cartoon Use Policy
.


Michael Moore, 18 Jan 2015, pisses on the US military again, in the week when the movie American Sniper, about hero Chris Kyle, came out.
His uncle was Herbert Laurence Moore, paratrooper in WW2, killed by a Japanese sniper in the Philippines in 1945.
Michael Moore is pathetic. As if his uncle would agree with his nephew attacking a dead American military hero. More likely, his uncle would be disgusted to have such a nephew.
And "invaders"? His uncle was part of the US invasion of the Philippines to liberate it from Japan.


A mean shot, but he deserves it.
Can't imagine the nephew fighting for the USA under any circumstances!
Apologies to the uncle.


Michael Moore, 19 Jan 2015, yet again defends the enemy - the evil sadists of the Iraqi jihad.
Michael Moore is a truly disgusting human being.
---
---
---
All you need to know about Tariq Ali:

The Iraqi "resistance" are fascists who hate Jews, atheists and homosexuals, and would exterminate them all if they could. If asked, most of them would say they support Hitler and the Holocaust. They are fighting for tyranny and to stop democracy. They target civilians, including women and children.
Anyone who has ever supported the Iraqi "resistance", even on realpolitik grounds (e.g. because they are constraining America), cannot ever again be taken seriously as a moral thinker.
---
Is Monbiot in favour of poverty or against it?
George Monbiot gets an inkling that everything he believes is wrong - and then the darkness comes over once again. "While I was speaking, the words died in my mouth, as it struck me with horrible clarity that as long as incentives to cheat exist (and they always will) none of our alternatives could be applied universally without totalitarianism." This may be news to Monbiot, but some of us understood this before the age of 20. But it's hopeful. Maybe he'll get there some day.

What am I thinking! Monbiot doesn't even believe in prosperity. "In this age of diamond saucepans, only a recession makes sense. ... Economic growth is a political sedative, snuffing out protest as it drives inequality. It is time we gave it up. ... If you are of a sensitive disposition, I advise you to turn the page now. I am about to break the last of the universal taboos. I hope that the recession now being forecast by some economists materialises." Not really a taboo, George, just a sign that someone is nuts. And we are not shocked. We just conclude that you are a loony who should not be listened to on economics (or anything, I guess).

Brendan O'Neill, 15 Mar 2013, spots that Monbiot has completely reversed himself now the Tories are in power. He used to call for a recession and "austerity" to save the planet. And now he is railing about Tory austerity and complaining about the recession! Nice to know he admits all the "save the planet" stuff was just bullshit:
---
Ken Livingstone. Pro-Islamist, pro-Iran, anti-American, anti-Israel. One of the very worst people in British politics.

IRA violence was the fault of Britain:

During the NI conflict, Livingstone had a long sympathy for the IRA terrorists who were bombing his own country. He did not support the attacks themselves, but ran defence for SF-IRA, saying the attacks were caused by British policy.
Later, he used the same line with Islamic attacks on the West, saying they are caused by Western policy.

Islamic violence is the fault of Britain:

Livingstone was Mayor of London from 2000 to 2008.
During this time, London suffered a brutal Islamic terror attack in 2005.
Strangely, Livingstone came out against the bombing of London.
Strange because he was a long-time defender of Islamic fascist Yusuf Al-Qaradawi, who supports identical suicide attacks in Israel.
Nick Cohen on Ken Livingstone's support for Al Qaradawi: "The 'socialist' mayor of London [is] rushing to defend the reputation of a murderous queer basher."
Ken Livingstone was against the London bombings, but he didn't blame them on the jihad. No, of course, they must be the fault of anyone fighting the jihad. "Ken, mincing none of his words, noted that: "that invasion [into Iraq] took the lives of 52 Londoners" - referring to the 7/7 bombings."

Terror link of 'moderate' Muslims at London rally, Daily Mail, 11 Feb 2006. Ken Livingstone supports an anti-cartoons (pro-religious censorship) rally by the extremist Muslim Association of Britain, who support the suicide bombing of civilians. He calls them "moderate" Muslims.
Ken Livingstone, 2009, works for Iranian state TV. Iran has helped kill hundreds of British soldiers in Iraq and Afghanistan.
Ken Livingstone, May 2011, says that future Islamic attacks on London will be caused, not by Islamism, but by ... people celebrating the death of Bin Laden! "Mr Livingstone warned that the scenes of jubilation across the US would "heighten" the threat of another terror attack on London ... "I just looked at it and realised that it would increase the likelihood of a terror attack on London ... it's a very dangerous time at the moment.""
Ken Livingstone's sick praise for Castro at his death in Nov 2016.
Ken Livingstone spews the propaganda of the 7/7 bombers, Question Time, BBC, Nov 2015.
Livingstone says that the 7/7 bombings are Britain's fault:
"they did those killings because of our invasion of Iraq. ... They gave their lives, they said what they believed. They took Londoners' lives in protest against the invasion of Iraq. ... If we hadn't invaded Iraq, those four men would not have gone out and killed 52 Londoners."
In protest against a war? Hundreds of thousands of Brits protested the Iraq War. But not by slaughtering innocent Brits!
What kind of psycho protests a war by bombing the tube?
What a revolting man Ken Livingstone is.
It's crap history, anyway. The 7/7 leader Mohammad Sidique Khan was not "radicalised" by the Iraq War. He was already an Islamic terrorist before 9/11. He was at a terrorist training camp in Afghanistan in 2001, long before the Iraq War.


Ken Livingstone, Mayor of London, held a conference in 2007, "A World Civilisation or a Clash of Civilisations?", at which he made the error of inviting his opponents.
So it featured this cracking speech by Douglas Murray.
---

Tony Benn had these 5 questions for the powerful.
As
Oliver Kamm
points out, when Benn
met the genocidal dictator Saddam Hussein
in 2003, here is the kind of thing he actually asked him:
"I have 10 grandchildren ... and for me politics is about their future, their survival. And I wonder whether you could say something yourself directly through this interview to the peace movement of the world that might help to advance the cause they have in mind?"
Saddam the war-mongering butcher was happy to oblige the foolish old man with his puffball questions. Saddam replied:
"First of all we admire the development of the peace movement around the world in the last few years. We pray to God to empower all those working against war and for the cause of peace"
.
As Kamm says:
"The five questions didn't come up."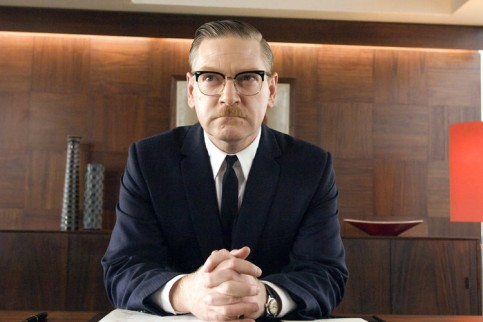 The statist government minister (Tony Benn) shutting down pirate radio in The Boat That Rocked.
---
The liberal, left-wing Muslim Yasmin Alibhai-Brown was rescued from the black racist Idi Amin by the tolerant, anti-racist UK, and given a wonderful, free, wealthy life that she could never have had in Uganda.
Sadly, she did not learn the correct lesson - that we should broadly support countries like the UK, Israel and the US, and spend all our time attacking people like Idi Amin.

"People have to know the horrors I've seen", March 29, 2003 - An Iraqi refugee attacks Yasmin Alibhai-Brown for her hostility to the attack on Saddam.

"What incensed me was Alibhai-Brown's assertion that she knew what life was like in Baghdad, and that I was using 'emotional blackmail' by telling what I knew. She should be grateful that as an Asian immigrant she has a British passport and not an Iraqi one. No human being on this Earth should have to witness what I have witnessed."
Alibhai-Brown should be grateful, that is the bottom line. But gratitude is one of the hardest of all feelings to express.

Yasmin Alibhai-Brown provides a refreshing insight into the mind of the modern left. She utters the thoughts that so many have but hide:

Apr 2004 - "I've been against the war and part of you begins to... you know, it's horrible how your mind works. You think 'Good!', you wake up thinking 'Good, there's all this mess'. And then you have to question your own self, saying what kind of a human being are you, that you want this mess?"
June 2004 - "I am ashamed to admit that there have been times when I wanted more chaos, more shocks, more disorder to teach our side a lesson. On Monday I found myself again hoping that this handover proves a failure because it has been orchestrated by the Americans."
Bless her honesty, at least. She does recognise her darker impulses, and struggles against them.
But whatever happened to the left? What happened to the left that is supposed to stand for democracy and human rights everywhere? Why has it degenerated into this bitter anti-American cul-de-sac? Why am I becoming allergic to the word "left", even though my belief in democracy and human rights is as strong as ever?
---
---
I tend not to list
actors and musicians
on this page, or on my page on
the left's long history of praise for tyrants
and hostility to democracies. Certainly, one could make a long list of stupid things said by actors and musicians from the 1960s to today. But what is the point? Probably most people think actors and musicians are fairly lightweight thinkers anyway, not to be taken seriously.
Anyway, here's a few bits and pieces, but no exhaustive list.
Sean Penn's character in
Team America: World Police
(jump to 0:42 here) captures the world of the leftist, "anti-war" celebrity:
"Last year, I went to Iraq. Before Team America showed up, it was a happy place. They had flowery meadows and rainbow skies and, and rivers made of chocolate where the children danced and laughed and played with gumdrop smiles."
---
Artists performing for dictators
Jan 2010
: Jennifer Lopez slags off Fox News and Sarah Palin.


June 2013: Jennifer Lopez sings Happy Birthday to the brutal dictator of Turkmenistan for a fee of $1.4 m.
---
Much-loved Hollywood actors
People like Matt Damon, George Clooney, John Cusack, Sean Penn and Oliver Stone are well known for radical leftism. You know what you're getting with them.
But then there are much-loved actors like Tom Hanks and Morgan Freeman. For years they seemed perfectly reasonable. And then they come out with some stuff that makes you realise what is going on inside their heads.
I like Tom Hanks, but then you are forced to recall he's an actor, not a thinker. This is incredible:

Tom Hanks says WW2 was about "annihilating" the Japanese because they were "different", Mar 2010. Mother of God. Could you be more stupid?
As if that wasn't bad enough, he then idiotically says: "Does that sound familiar, by any chance, to what's going on today?" John Nolte replies with great restraint: "to answer Hanks's question: No - annihilating people who are different sounds NOTHING like what's going on today."
Hanks says it again: "'The Pacific' now is coming out, where it represents a war that was of racism and terror, and where it seemed as though the only way to complete one of these battles in these small specks of rock in the middle of nowhere was to, I'm sorry, kill them all. And does that sound familiar to what we might be going through today?"
Um, no, it doesn't.
Hanks says it again, March 14, 2010: "It was fighting that was based on racism, and a war waged through terror. Horrible things were done on both sides to human beings both dead and alive. It was a case of 'We hate these people' - not 'We're going to liberate this island'. ... It was like a large industrial version of what all future wars were going to be like - between different-coloured peoples with different theologies they thought were the absolute truth." What an idiot.
Victor Davis Hanson, 13 Mar 2010, on Tom Hanks' bottomless ignorance.
Morgan Freeman
, Sept 2011, is shocked that Republicans want a Democrat President to only serve one term. He says it must be racist!
What the hell does he expect? That the Republicans will support a Democrat to be re-elected?
Saying the Tea Party is "racist" is pathetic and boring.
23 percent of tea partiers are something other than white Anglos.
(Whereas 25 percent of Americans are something other than white Anglos.)
When asked to explain exactly what is wrong with the Tea Party, he is completely incoherent:
"It just shows the weak, dark, underside of America. We're supposed to be better than that. We really are. That's why all those people were in tears when Obama was elected president."
What is he on about? Is he drunk?
It turns out that the wise and noble Morgan Freeman - the voice of
Mandela
and the
American President
and the
noble prisoner
and
God
and
God
- is a political idiot.
See
transcript
.
---
In contrast to useful idiots like Sean Penn, Jude Law understands what this struggle is all about. He visits Afghanistan and complains about the media's reporting: "It stuns me and appalls me that the media in the west only report bloodshed, murder, the violence. Because I met people over there, reconstructing, with incredible pride and hope. And little girls who had been shot at by Taliban going to school the next day because they wanted to, to be teachers and doctors. That's really, really moving stuff and real stuff and that should be reported." Good for him. How unusual in Hollywood.
Gary Sinise also understands the war. He co-founded Operation Iraqi Children, which helps the U.S. military distribute school supplies in Iraq. He formed a band, the "Lt. Dan Band", to entertain the troops in Iraq. He visits them, speaks to them, and tells them he supports their mission.
On a typical encounter in Iraq: "It was hot, Iraq hot when we stopped at a check point ... Gary began speaking with a soldier through the window and soon we were all standing outside so he could have his picture taken with him and a few of his buddies. Soon there were at least fifty guys around him and he greets each one as he always does. ... As we are about to get into the vehicle we hear the guys yelling and in the distance is one more soldier. He is dressed in full battle-rattle humping as fast as he can in this unbearable heat to get to Gary before he leaves. ... Gary without hesitation stopped and waited and he greeted this young man as if he was the first man in line, full of enthusiasm and appreciation. When we did finally get into the vehicle I mentioned to Gary how I observe how he makes each and every man or woman feel special and appreciated, he paused in thought before answering, as he often does, and then says with a heavy heart, 'It's because we don't know what the next hour holds for them. As tired as I might get sometimes, and I do, it is nothing compared to what they go through day-after-day with the price they are so readily willing to pay.'"
---
Return to
The modern left
.