Gaza
Gaza demonstrates the
pointlessness
of giving the Palestinians their own state.
Israel left Gaza in 2005. That is years ago. All Jews were expelled. At last the Palestinians could demonstrate clearly that they deserved a state. Did the Palestinians in Gaza seize the chance of building a free and prosperous state? Did they encourage industry, trade and tourism, and peace with their neighbours? Did they set up a liberal parliamentary democracy, with freedom of speech, freedom of sexuality and freedom of religion?
No, of course not. After Israel gave them what they wanted in 2005, the Palestinians in Gaza got worse, not better. They looted their own infrastructure, elected Hamas, continued teaching their children to hate Jews, and did not stop but rather escalated terror attacks on Israel.
Until the Palestinians change their entire political and religious culture, the Israeli-Palestinian conflict will never end. There is nothing Israel (or the West) can do. All they can do is wait for the Palestinians to change. Giving them land, and a state, simply escalates the conflict.
"Hamas in its Own Words".
From the IDF, 2019.


"Hamas in their own voices".
From MEMRI. 13 Aug 2009.
And search.


Like Hitler, the Hamas Deputy Minister of Religious Endowments, February 28, 2010, describes the Jews as sub-human bacteria.
See transcript.

"They want to present themselves to the world as if they have rights, but, in fact, they are foreign bacteria - a microbe unparalleled in the world. ... May He annihilate this filthy people who have neither religion nor conscience. I condemn whoever believes in normalizing relations with them, whoever supports sitting down with them, and whoever believes that they are human beings. They are not human beings. They are not people."
---
What I wrote at the time:
I find it hard to put a positive spin on this. Yes, maybe Gaza was untenable, and pull-out was inevitable. But it looks like a victory for Islamism. And, I believe, it has created an Islamist terror state, increasing the threat to Israel.

David Frum tries to guess what Sharon is up to:

"The world wants a Palestinian state? Very well - let them have it. And the result, as we are seeing, is something close to panic ... The Egyptians do not want a Hamas state on their borders. They had expected Ariel Sharon to place a cordon between Egypt and Gaza. He has said he will not do so - that he is leaving the job up to the Egyptians. ... Is this Egyptian role on the border a precursor to a larger Egyptian role within Gaza? Egypt after all remains far more vulnerable to Islamic extremist ideology than Israel. The Egyptian authorities have crushed the extremist movement within their borders. Do they wish to see a jihadist state emerge on their borders? It seems unlikely. Could it be that Sharon is calling the bluff of Western governments and the Arab states? By creating the very Palestinian state that those governments and those states pretend to want but actually dread ..."
The truth is that "The Palestinian leadership is incapable of creating a state that can live at peace with anyone ... Somebody else must govern the restless and violent Arab-majority territories west of the Jordan River. Israel has suffered four decades of condemnation for doing the job. Sharon is now resigning the task to anybody else who would like to step in and take over the job. Nobody wants to. But Egypt and Jordan may soon realize that they have no choice. If there is a secret behind Sharon's plan - that is it."

Why Gaza? Why now?, Mark Steyn, The Irish Times, 22 August 2005: "This then is the audacious gamble of the Gaza withdrawal: the best way to demonstrate that the Palestinians are undeserving of a state is to force one upon them. It's a dangerous move, but in a tough neighborhood there aren't any other kinds."
I'm not sure I buy it. I still think the Gaza pull-out will increase violence and terror.
---
My instincts were right. After the Gaza pull-out, the Palestinians in Gaza have carried on the war, with their endless rocket attacks on civilians in Israel.

Palestinian terrorists in Gaza were setting up yet another rocket attack against Israeli civilians when the Gaza Beach Incident occurred, June 2006, in which a Palestinian family was killed.

Gaza pullout gained Israel more criticism, not less, 3 Jan 2008. Doing what the Israel-hating world demanded led to more international criticism, not less. "Hebrew University researchers found that Israel was represented in a more negative light in both the United States and Britain media after the 2005 Gaza withdrawal, compared to the period that preceded it".
Appeasement of tyranny tends to lead to more demands, not less: "We also found that the demands from Israel for territorial concessions in the territories not only were not lessened following the disengagement, but actually became stronger."

Rockets fired at Israel from Gaza, 2000-08.
Note how rocket attacks escalate after Israel leaves Gaza in 2005.
See full size. From "Summary of rocket fire and mortar shelling in 2008",

Israel Intelligence Heritage & Commemoration Center, 1 Jan 2009.



---
The Islamic fascists Hamas win the first post-Arafat "election", Jan 2006. (*)

Does this make much difference?

I'm not sure this makes much difference. The previous crowd supported terror too. They funded it, carried it out, praised it, and supported it in the schools and the media. They taught the entire population to support terror from infancy.
And they carried it out themselves. Fatah, through for example the Al-Aqsa Martyrs' Brigades, are Islamist terrorists who attack civilians through suicide bombings, no different to Hamas. It was merely a fiction, by Israelis desperate to have some partner for peace, that the PA were any different to Hamas.
Many people have pointed out that if Hamas attacks Israel now, now that they are the government, it would be an "Act Of War" between two states, and Israel could respond as such. But this is no different to the past. The PA, through the Al-Aqsa Martyrs' Brigades and others, repeatedly attacked Israel, and Israel chose to fight only a partial war. Israel always had the option of waging all-out war on the PA. It chose not to use it. I'm not sure much has really changed. The situation has just been clarified.

(*) Was this a real election?

Not really. Democracy works not because it is a majority vote but rather because having regular free elections demands a free society - free press, free speech, freedom to question the government and religious authorities. It's not clear at all that Palestine has any of these. If you take a society with no habits of democracy or freedom, and just give them a free vote, the result may be:

In a society like Palestine, Algeria, Egypt or Saudi Arabia, they vote for fascists (who then end democracy). The Palestinians support terror and fascism.
In a society like Afghanistan, Iraq, Lebanon, Iran or China, they vote for democrats. The Afghans support democracy.

Regime change needs to start in the latter societies, where the people have already tried and hate Islamism and pan-Arab dictatorship and communism, and are disillusioned with non-democratic utopias. All China or Iran need, for example, to be free is a single free election. Palestine needs a new mindset in the population, and that will take decades.
What Democracy Is - Majority-rule alone is not democracy. Democracy means a free society.

Until the Palestinians change, and reject Hamas and Fatah and embrace liberal democracy and human rights, there is no future for them.

If you believe that Hamas were "elected", perhaps you would like to tell us where their parliamentary opposition is today? Isn't another election due? Who is the leader of the opposition party in Gaza? Can you show me their last speech criticising the government in parliament?
As at 2021, there has been no election in Gaza since 2006. Some democracy!
Hamas carry on the war against Israel, 2007.
This is what the moron Palestinian voters voted for. This is
their
decision, to do this.
Hamas missile alert, kindergarten, Sderot, 2007. Every day the children have to run and hide from the incoming Hamas missiles. The children have never known anything else.
From
sderotmedia.com
.
See more Sderot videos:
---
The Palestinians loot their own infrastructure, and attack their own fuel and electricity supplies.
Israel supplies fuel, water and electricity to Gaza:

Incredibly, even after pullout, as rockets are fired at Israel from a Gaza cleansed of Jews, Israel continues to supply both the water and electricity in Gaza. How tolerant, how civilized, Israel is. What a contrast to its enemies.
Palestinians attack the Israeli fuel terminal that supplies Gaza with most of its fuel supply, Apr 2008, killing two employees of the Nahal Oz fuel terminal. Israel must supply fuel, water and electricity to Gaza, even as Palestinian terrorists try to kill the workers that are doing so!
3 IDF soldiers killed supplying Gaza with fuel, 16 Apr 2008.
Palestinians fire at trucks transporting fuel to Gaza, 17 Apr 2008.
Hamas fire rockets at Ashkelon power plant: "Much of Gaza's electricity is generated by that plant, and yet Hamas takes great pleasure in shooting at it."
Hamas lobs shells at Israeli border crossing as Palestinian patients enter Israel for medical treatment, Aug 2009. Israel is kind enough to let sick Palestinians enter for treatment. Hamas responds by ... trying to bomb the border crossing as the Palestinian patients are entering!
As Robert Spencer says: "By the way, during World War II, did Great Britain allow Germans to enter the country for medical treatment? Of course not. The very idea is absurd." Yet Israel lets sick Palestinians in, despite some of them trying to kill the doctors and nurses once they are in. How tolerant, how civilized, Israel is. What a contrast to its enemies.

The Palestinians loot their own infrastructure:

Palestinian suicide strategy by Barry Rubin, July 9, 2006 - The Western left fail to understand the irrationality of the Palestinians. Some hard truths:

"There are hardly any moderate Palestinians in public life"
Palestinian strategy "rests on the belief that defeat is staved off as long as you keep fighting. Their only true victory is to continue the struggle. ... This is why the "cycle of violence" concept is useless. Palestinians don't attack Israel because Israel attacks them, but because that is their sole program."
"Democracy, living standards, women's rights and so on have no value outside contributing to the battle against Israel."
"The movement's social policy is remarkably reactionary. ... Fatah has no economic or social policy; Hamas seeks to turn Palestine into Iran or Afghanistan. They have more in common with the world view of the Middle Ages than with Chinese or Cuban visions of guerrilla war."
"Not only is infrastructure unimportant, it interferes with waging all-out struggle. If Palestinians become obsessed with job creation, educational or health systems or a successful economy this makes them satisfied with their lot and less willing to fight and die for the cause."

Gaza economy, never very strong, collapses after Hamas takes over. Report July 2007. "The World Bank estimates that 75 percent of Gaza's factories have closed and more than 68,000 Palestinian workers have been laid off". As the pre-madness Charles Johnson said, the moron Palestinian voters voted for this: "The Palestinians in Gaza voted overwhelmingly for Hamas, and got exactly what they wanted - a radical Islamic government that could not care less about their welfare."

Gush Katif Remembered: Was it Right to Turn Grass Into Sand?, Giulio Meotti, 18 Aug 2012: "Before 1967, not even Beduin were living [in Gaza]. Then came the Six Day War and Jewish pioneers, who turned the area into an agricultural paradise." In 2005, for the sake of "peace", the Jews were expelled and their settlements and businesses destroyed. "Gush Katif [the Gaza settlements] disappeared with its beautiful hothouses, orchards, flowers, red roofs, streets, factories, crops, schools and synagogues. ... A daily average of 3,500 Palestinian laborers worked in Gush Katif prior to the evacuation. All of them lost their jobs. The area was turned into another Lebanon, with Arab butchering Arab and the "Gush" used as a base of operations for assaults on Israel."
Before
: Jewish children at greenhouses in Gaza the week before the Israeli pull-out in 2005.
Within hours of the pull-out the greenhouses were looted, destroying a major source of Gaza employment.
Image from
here
.

After: The greenhouses now looted and in ruins, 2006, and being used only for weapons smuggling tunnels.
Image from IDF.
The greenhouses are a symbol of what Palestinian rule has done to Gaza.
---
As predicted, the Gaza pull-out led to the setting up of
a terrorist state
, with lawless Islamist gangs fighting each other for control - instead of the setting up, say, of a parliamentary democracy with respect for the law and human rights.
Gaza illustrates better than anything could that the Palestinians do not deserve their own state.
Palestinian civil war (and timeline), 2006-07.
Battle of Gaza (2007)

It would be absurd to expect the terrorist gangs of Fatah and Hamas to compete peacefully for power in a Palestinian state. Terrorists will always war against each other - it is their nature. See the Sunni and Shia Islamist death squads in Iraq, killing each other even though they have identical fascist beliefs. Or the Soviets and Hitler. Or Iran and Saddam. Non-democracies will always war against other non-democracies. And terrorists will always war against other terrorists. It is their nature.
As terror gangs shoot each other in hospital, lynch each other in the street, kill each other's families, and throw each other off rooftops, Melanie Phillips on the savage killings, June 13, 2007: "The fact is that what is happening in Gaza is the savage retort to all those who believe that a Palestinian state is the answer. When handed the reins of self-government, this is how the Palestinians behave. Hundreds of rockets fired upon Israel, and their own people thrown off the top of tall buildings and murdered in hospital."

As Gaza becomes a terrorist state, with Hamas and Fatah shooting each other for control, even killing each others' families (also here), there are many ironies: "The irony here is vicious. Fatah, which has long waged war against Israeli children, suddenly finds the killing of children abhorent. An old Palestinian game has been to throw stones at Israeli soldiers and whine that they are exempt from retaliation. Now they are discovering the joys of having that argument turned on themselves."

News report, May 2007, of the suffering Palestinians as the rival terrorist scum of Fatah and Hamas fight each other for control of Gaza after Israel's withdrawal. One man says: "We pray that Israel will come back and rule us again."
This is your future, Palestine. If you raise your people to hate and kill from birth, you shouldn't be surprised if this civil war and Taliban hell is your future.

Hamas mob loots Arafat's home and steals his Nobel Peace Prize, June 2007.

OK I've been trying not to laugh at some of the incidents of this civil war (those where the terrorists attack each other with no innocents involved). Sure it is blackly amusing when Hamas attack Fatah terrorists, execute them without trial, and then Fatah complain about such savagery. Such hypocrites.
I nearly laughed watching Hamas blow up the Fatah police station. But this - this is brilliant. It made me finally laugh out loud. "They stole almost everything inside the house, including Arafat's Nobel Peace Prize medal. Hamas militiamen and gangsters blew up the main entrance to the house before storming it. They stole many of Arafat's documents and files, gifts he had received from world leaders and even his military outfits." "Eyewitnesses told The Jerusalem Post that dozens of Palestinians participated in the raid, which took place late Friday. "Most of the looters were just ordinary citizens," they said. "They stole almost everything, including furniture, tiles, water pipes, closets and beds.""
Many other Fatah terror leaders' houses were also looted by the crazed mobs.
Fatah terrorist pleads with the Hamas terrorists shortly before he is dragged into the street and shot dead: "They're firing at us, firing RPGs, firing mortars. We're not Jews!" Vile hypocrite.
Quote Of The Day: "What's this you say? Hamas and Fatah senselessly murdering each other willy nilly? Why, I haven't been this upset since the last time I got a blow job."
As Charles Johnson said (back when he was good): "I'm rooting for both sides to achieve their objectives."

It's sad when terrorists fight: Hamas portray Fatah as rats in a cartoon.
The Palestinian civil war to the theme of The Benny Hill Show:
The Benny Hillifier - Speed up and add Benny Hill music to any YouTube video.

People in Gaza Long for the Return of the Israeli Occupation. Some Israeli-Arab journalists say: "People in Gaza are hoping that Israel will reenter the Gaza Strip, wipe out both Hamas and Fatah, and then withdraw again." A Gaza poet says: "If a there was a referendum in the Gaza Strip [on the question of] 'would you like the Israeli occupation to return?' half the population would vote 'yes' ... If the occupation returns, at least there will be no civil war, and the occupier will have a moral and legal obligation to provide the occupied people with employment and food, which they now lack." Be careful what you wish for. They wanted Taliban hell. Now they've got it.
List of Arab quotes that show a preference for Israeli rule to Palestinian rule. "That almost all Arabs would rather live in Israel than in a Palestinian state is well-known. But the fact that most Palestinians actually prefer Israeli occupation to Palestinian self-rule is a show-stopper. That sentiment turns the dominant Western attitude toward a solution for the Palestinians on its head."

Aug 2008: Fatah terrorists flee from Hamas terrorists to seek refuge in Israel! Why on earth does Israel let them in?

From here: "The men, who were brought late Saturday to the Soroka and Barzilai hospitals, accused Hamas of waging a "war of genocide" against Fatah supporters in the Gaza Strip." Hypocritical scum. Why doesn't Israel intern them until the end of the Israeli-Palestinian conflict?

Hamas slaughter Fatah members during and after 2008-09 conflict with Israel.

More fascists v. fascists:

Hamas kills the rival Gaza Islamofascist Abdul-Latif Moussa, Aug 2009, and burns his mosque. Result!
There is an incredible idea that we should
support
the supposedly "moderate" terrorist killers of Fatah in this civil war against Hamas. The US, EU, and even Israel have sent aid, money, and even
arms
to Fatah. Have they forgotten the long list of
terror attacks and suicide bombings by Fatah
? I am sure Fatah have killed more innocent Israelis than Hamas. I fail to see how Fatah are any better than Hamas. This is like supporting Saddam against Iran.
Cartoon from
Cox and Forkum
(see
here
). See
Cartoon Use Policy
.
---
Western idiots claim Hamas was "elected" and runs a "democracy". Freedom House, though, says Gaza is
"Not Free"
.
Where is the Parliament?
Where is the leader of the opposition making speeches against the government without fear?
What anti-Hamas media exists?
Where is the popular political satire?
Where are the regular anti-government demos?
Hamas does not allow such things. They are medieval thugs, not democrats.

Democracy is a western thing. It is not a Palestinian thing.
No criticism allowed: Hamas arrests two satirists in Gaza, Jan 2016.

A small protest in Sept 2012 reveals that no protests are allowed: "The police swiftly dispersed the crowd. ... Anti-Hamas protests in Gaza .. are extremely rare. ... "I call on people to take to the streets and not to fear being clubbed by policemen," Abdel-Fattah Al-Baghdadi, 23, told Reuters. ... Hamas has banned protests, including any demonstrations calling for an end to divisions between it and Fatah."
Fatah had a large demo in Jan 2013 (also here), but only: (1) because they are backed by guns, (2) because Fatah and Hamas have been killing each other and this is part of the ceasefire, and: (3) because Fatah allowed a Hamas demo on the West Bank. (Fatah also normally bans demos.) "This was the first Fatah rally held in the Strip since Hamas violently took control of it in 2007".

Poll, 2014 shows Gazans do not support Hamas. But Hamas does not allow them to vote.

Gazans' view of Hamas is 35% favourable, 63% unfavourable.
The following have a more favourable view of Hamas - Egyptians, Jordanians, Tunisians, Shia in Lebanon - than the people who have to live under them.

From here.

I ask Israel-hater
Owais Asif
about political freedom in Gaza under Hamas.
He flounders for a while, but the name of an open Hamas critic in Gaza never emerges. None of his pals can name one either.
He eventually blocks me.
---
---
Gazan Jew-haters are frustrated that it is now much harder to kill Jews. They have to fire off rockets across the border, since the local Jews are all gone.
Life in Sderot:
Rocket City
from
Augenzeugen
on
Vimeo
.


With the success of Israel's "Iron Dome" anti-rocket defence, there have been calls for a similar "Gaza Dome" to protect the terrorists and their rockets from Israeli airstrikes.
The above shows the kind of "Gaza Dome" that would actually bring peace.
I love the shots of all the scumbag regimes at the UN!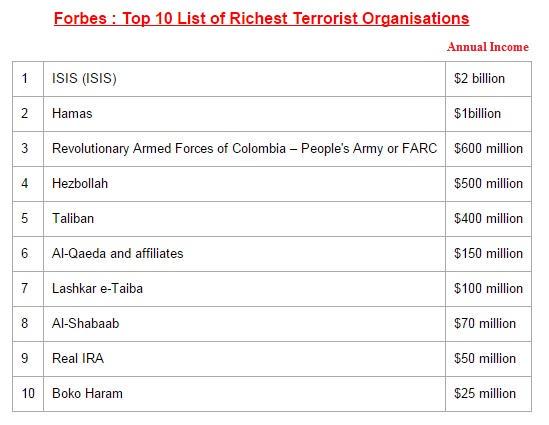 Gaza's economy is a ruin. But Hamas are doing fine for money, thanks very much.
Summary of The World's 10 Richest Terrorist Organizations, Forbes, Dec 2014.
---
Gaza beach under "Israeli tyranny" in 1988.
Penthouse
magazine photoshoot.
OK it wasn't normally like this, but: (a) there were bikinis, and: (b)
Penthouse
felt relaxed enough in Gaza to do this photoshoot.
From
The Penthouse Collection
, vol 4 no 4, 1988.
Re-discovered
here
and
here
.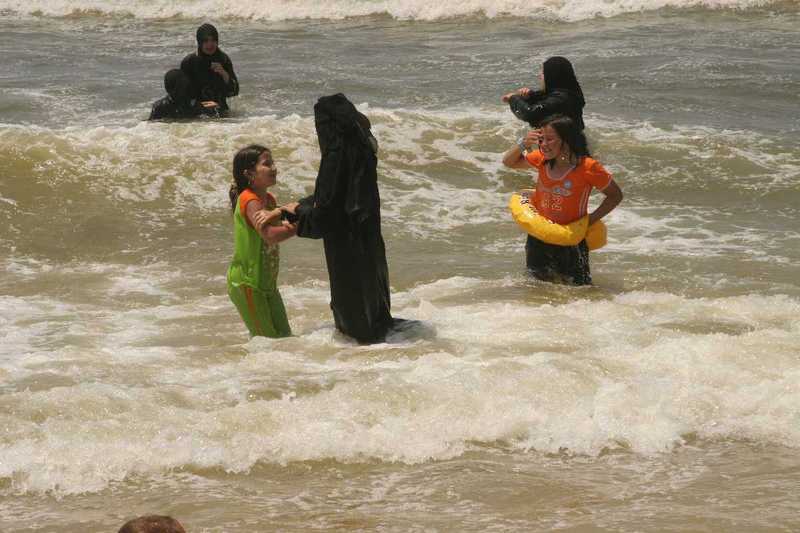 Gaza beach in 2007 after "liberation" by the "freedom fighters" of Hamas.
Hamas brings strict Islamic religious law to Gaza. No more bikinis, or any immodest dress.
From here.
---
Synagogues Used as Bases To Fire on Israel, Aaron Klein, February 27, 2007, illustrates better than anything that the Palestinians do not deserve a state, and trying to give them one in Gaza and the West Bank is pointless:
"The ruins of two large synagogues in evacuated Jewish communities of the Gaza Strip have been transformed into military bases used by Palestinian Arab groups to fire rockets at Israeli cities ... When Israel withdrew from the Gaza in August, 2005, it left intact 20 synagogues of the Gush Katif Jewish communities ... Immediately after the Israeli evacuation was completed, Palestinian Arabs destroyed most of the Gaza synagogues. ... a spokesman for the Popular Resistance Committees, Abu Abir, said the area in which the synagogues once stood is now used to fire rockets at Israel. "We are proud to turn these lands, especially these parts that were for long time the symbol of occupation and injustice, like the synagogue, into a military base and source of fire against the Zionists and the Zionist entity," Mr. Abir said. Mr. Abir blamed the Jewish state for the desecration of the Gaza synagogues by Palestinian Arabs, claiming the decision to leave the structures intact was part of an Israeli conspiracy. Israel "left the synagogues behind so the world would see the Palestinians destroying them," Mr. Abir said."
You know, he could be right about that.
---