Islam in the UK
Islamic terror attacks on the UK began in
1969
. It is hard to see how they will ever end.
Stories of British ex-Muslims.
BBC Newsnight
, Nov 2013.
The ideal future for Britain is
not
one in which immigrants cling to their ancestors' beliefs, but rather one in which immigrants become more British, which will involve large numbers of them losing their faith, and the remaining believers being
tolerant
of that.
As
Ed West
says:
"the ideal for British social cohesion would be for lots of Muslims (and Hindus and Sikhs) to become atheists, agnostics or very wishy-washy Anglicans."
---
Young British Muslims are more Islamist, not less
Living Apart Together: British Muslims and the paradox of multiculturalism, survey of British Muslims, by the conservative think-tank Policy Exchange, Jan 2007. Authored by Munira Mirza.

37 percent of young British Muslims want Sharia law in Britain.
36 percent of young British Muslims think apostates should be killed.
13 percent of young British Muslims said they "admired" Al Qaeda.
The stats for older British Muslims are much better. Maybe the young will ditch their fascist views as they grow up. Or maybe, disturbingly, the young show what the British Muslims of the future will look like.

The author of the survey above is the fantastic young Muslim woman Munira Mirza (British-born daughter of Pakistani immigrants).

Brilliantly, she declines to blame it all on "Iraq" or "Israel" or some other mythical root cause. Instead, she blames it on multiculturalism, and the patronising left-liberal habit of treating immigrants as members of groups and tribes, rather than as individuals and freethinking citizens. This has helped alienate young British Muslims from British society, and forced them to look for an alternative identity.
Brilliantly, she points out that the alternative to multiculturalism, that is, a proposed unifying culture of Britain, does not have to be an exclusivist, ethnic, monocultural Anglo-Saxon tribalism, nor does it have to be just a bland, valueless, greedy consumer society. Rather the unifying culture of Britain should be the universal values of the western Enlightenment. This is what every British immigrant can and should sign up to.
Munira Mirza really speaks my language. I, and people like me, understand the values to promote to get immigrants to integrate into the West. The liberal left don't. Their values will lead to tribalism, alienation, bigotry, racism, ethnic conflict, and in the long-term possibly even civil war.
Munira Mirza is now an advisor to the Mayor of London, Boris Johnson.

Survey of Muslim students in Britain, July 2008

40 percent support the introduction of sharia for British Muslims.
33 percent support a worldwide Islamic caliphate based on sharia.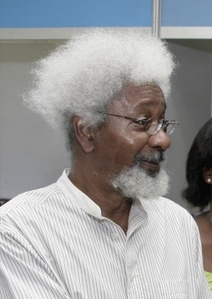 "England is a cesspit. England is the breeding ground of fundamentalist Muslims."
- Shocking words from Nigerian writer
Wole Soyinka
, winner of the Nobel Prize in Literature, angry at the radicalisation of the Nigerian
Flight 253 bomber
while he was a student in Britain.
Reported
3 Feb 2010
. Image from
here
.
He may exaggerate, but what is the world coming to when foreign intellectuals complain about the jihad being exported from England?
(He's not the only one.)
---
---
Azzam Tamimi declares his support for Hezbollah, Islamic Jihad and Hamas.
The disgusting freaks of
Neturei Karta
look on.
Tamimi calls for the elimination of Israel.
"anybody in the world, with faith or without faith, must come together in order to eradicate this cancer from the body of humanity. ... Do you know why Tony Blair, George Bush, and all the members of this camp are so worried? They are worried because they know the world can see clearly today that Israel is a menace, is a threat to humanity. They can no longer fool anybody and they are worried that this spoiled baby of theirs is about to be thrown out of this human body of ours. It is just a matter of time. ... This black chapter in the history of humanity will eventually come to an end"

Hilarious splicing of Azzam Tamimi in the speech above with Azzam Tamimi pretending to be moderate with a credulous NPR host.
Splicing by Dan Sytman.
---
---
The Islamic "Human Rights" Commission (IHRC) complains about just about any criticism of Islam or Islamism. If they supposedly believe in "Human Rights", shouldn't they believe in the right to free speech to criticise any religion or political ideology? After all, I am an atheist and a neo-conservative who believes in human rights, and I firmly believe in the right of anyone to criticise atheism or neo-conservatism.
---
Labour Muslim life peer Lord Ahmed

On Salman Rushdie:

On the Rushdie knighthood, Lord Ahmed is quoted as saying: "Actually I was appalled to hear that Salman Rushdie had been given [a] knighthood, particularly when this man has been very divisive. This man - as you can see - not only provoked violence around the world because of his writings, but there were many people that were killed around the world and honouring the man who has blood on his hands, sort of because of what he did, honouring him I think is going a bit too far."
If this is an accurate quote, then Lord Ahmed should be expelled from the Labour Party. How dare he blame the victim of violence for the violence? Why doesn't he blame the medieval savages that actually carried out the violence?

On Geert Wilders:

Lord Ahmed prevents free speech in the House of Lords, Jan 2009. He gets a showing of Fitna by Geert Wilders stopped, because it offends Lord Ahmed's supernatural beliefs. He then helps to get Geert Wilders banned from the UK.
In 2005, Lord Ahmed himself hosted in the House of Lords the far right "anti-Zionist" Israel Shamir, who believes in world Jewish conspiracies and the blood libel against the Jews.
Reformed ex-Islamist Ed Husain says: "Geert Wilders is undoubtedly an ill-informed, hate-driven bigot with many unpleasant views but he is not directly inciting violence. As a result, unlike in the case of Yusuf al-Qaradawi, I do not support the decision to ban him from the UK. By threatening parliament with a mob, Lord Ahmed is contributing to the negative portrayal of Muslims and their religion."

Lord Ahmed made anti-semitic comments in an interview on Pakistani TV in April 2012. These were reported in English in the UK media in March 2013. He was suspended by the Labour Party.
---
Tory-supporting British Muslims
The Conservative Muslim Forum - supposedly "moderate" Tory-supporting British Muslims.

Conservative Muslim Forum report, Oct 2007

They attack Britain's lukewarm "support" for Israel: "the type of unqualified support given to Israel by the current Government is not conducive to British national interests as this could damage Britain's relationships with 1.5 billion Muslims worldwide ... An incoming Conservative Administration should accept that pro-zionist attitude will not bode well with many. Pro-zionist statements would only damage relationship with Muslims nationally and internationally.".
On Iran: "Irrespective of one's views of theocracy, the current Iranian regime was established by a popular revolution, ... and has a significant measure of domestic support. ... hostility to Iran is not in Britain's national interest. ... Furthermore, Iran has many legitimate security concerns, being surrounded by, what is to them, potentially hostile powers. Instead of joining the United States in demonising Iran, Britain should assist Iran in addressing these legitimate security concerns"
On preachers of hate like Yusuf al-Qaradawi: "We disagree with the suggestion that "foreign preachers and scholars advocating the rejection of the institutions and values of democracy" should be denied entry into Britain. ... While we may disagree with many views of Yusuf al-Qaradawi, we feel it is inaccurate for the Policy Group to question his status as a leading Islamic scholar. ... Yusuf al-Qaradawi is considered a leading scholar by other many Muslims, including Muslim scholars."
On Iran's desire for nuclear weapons: "Given Iran's position in the Middle East, facing a nuclear-armed Israel, Iran appears to have legitimate reasons for seeking nuclear weapons for defensive purposes."
What are these weirdos doing in the Conservative party? Shouldn't they be in a party more suited to them, such as Respect?

Baroness Warsi, 20 Jan 2011, condemns "Islamophobia" in Britain with no proper attempt to define it.

With only a token nod to Islamic violence, she says "Islamophobia" is bigotry: "Islamophobia has now crossed the threshold of middle class respectability. ... Islamophobia is seen as a legitimate - even commendable - thing. You could even say that Islamophobia has now passed the dinner-table-test. ... But of course, Islamophobia should be seen as totally abhorrent".
It is not clear that fear of Islam is irrational when so many Muslims openly threaten our freedom with talk of sharia law. Yes, it is not liberal Muslims like Warsi who do this. But she should direct her speech at them, and not at infidels who, quite understandably, fear them. Islam is the only religion that behaves like this (says it wants to force us to live under religious law). And it is the only religion that bombs us. If people fear Islam, it is Islam's fault. After all, people don't fear Hinduism or Buddhism. Most British people support freedom of religion. They just don't like a religion that issues threats and violence.
Norman Tebbit points out that most people had (quite rightly) no interest in Islam until recently: "the Muslim faith was not discussed over the dinner tables of England, nor in the saloon bars, before large numbers of Muslims came here to our country".
Islam has nothing intellectually to contribute to the world. So it would be nice to ignore it, the way we ignore Hinduism and Buddhism. But we are forced to pay attention to it, because of the behaviour of Muslims. No wonder people are hostile to it.
Hostility towards annoying religions is only to be expected. A comment asks: "Has prejudice against Scientology or evangelical Christian sects "passed the dinner-table test"? I rather think it has, and they haven't even bombed us yet. So no idea why she's surprised people aren't falling over themselves gushing about how great Islam is."
In her speech Baroness Warsi praises Seumas Milne, who supports the jihad.
Nile Gardiner has more on Baroness Warsi.
---
In the movie Religulous, Bill Maher brilliantly takes down the creepy British Islamist rapper Aki Nawaz ("Propa-Gandhi", of the extremist group "Fun-Da-Mental").
The rapper goes on and on about his right to dissent, to be different. Yet when Maher asks him about Salman Rushdie's right to dissent, he immediately says that is "complex" and other weasel words.
From transcript:

Maher quotes Nawaz: "Anyone worried about what I'm saying should get involved in the debate. You are allowed to dissent, that is a right."
Maher: "But is that a right in Islam, to dissent?"
Nawaz: "Course it is. Why do you think there's so many schools of thought? Why do you think there's .."
Maher: "Well it wasn't a right for Salman Rushdie."
Nawaz: "See that Salman Rushdie was there to provoke, insult, and he did it intentionally right. I'm not .."
Maher: "But, should you die for that?"
Nawaz: "No, what I mean like, you know, that was ... You know it's easy for you to say things kind of in black and white. But it's more complex than that. There's actually, there's emotions and passions and philosophy involved, and all that stuff. And then .."
Maher: "You know, all you got to say is it's wrong for someone to have to suffer a death threat for writing a book."
Nawaz: "Well hang on .."
Maher: "But, apparently, it's more complicated than that."
Nawaz: "Well it is, because .. I mean, Western .."
Maher: "But, you want that protection for yourself."
Nawaz: "I think these debates are ... I'm willing to discuss them in terms of facts and not fictions."
Maher: "But you don't see there's a fundamental hypocrisy for you asking for the right to dissent and somebody else getting a death threat."
Nawaz: "No, because my dissent is to stop the madness."

What a creepy hypocrite.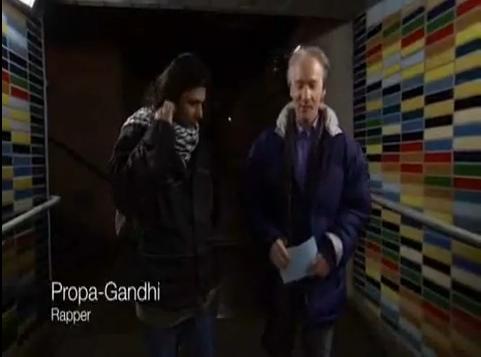 Bill Maher's takedown of Aki Nawaz comes about 80 percent of the way through
Religulous
.
Click to play
part 1
and
part 2
.
---
---
The Quilliam Foundation (of anti-extremist Muslims) is a mixed bag. They bravely
name names
on the many Islamists and jihadists in the UK. They stood up to sharia by tweeting a Mohammed cartoon. But there are some problematic things about them.
The Quilliam Foundation (anti-jihad, anti-sharia, anti-Islamist)
Maajid Nawaz (who sadly went nuts later).

Pro-Mohammed:

Stop supporting Bin Laden, 26 November 2007. Ed Husain talks a lot of nonsense as he defends Mohammed as a moral guide.
The problem is Quilliam are ultimately not willing to question the moral character of Mohammed. What is needed is a new movement that will do that (while still being Muslim, not atheist).

Anti-Israel:

Quilliam attacks Israel, Dec 2008, during the Gaza War: "The UK Government cannot seek to win hearts and minds across Muslim communities while failing to stop Israel from murdering Palestinians en masse." Unimpressive nonsense.
But Spencer and Geller go too far in saying that Quilliam "came out in favor of the "Palestinian" jihad against Israel and the ending of Israeli defensive operations." Not true. Quilliam did not come out in favour of terror. But they should really shut up about Israel and stick to fighting Islamic extremism.
Adam Deen of Quilliam attacks Israel in tweets in 2014. Again, Jihad Watch overdoes it. Deen does not support "jihad". But he is anti-Israel.

Anti-sharia:

Quilliam bravely seems to reject the idea of sharia law in any form. "we need to completely eschew the concept of political Islam. ... I challenge you to find a major school of thought which espouses a form of Islamic law that is in harmony with the UN Declaration of Human Rights." Also: "I implore [Islamic] society to stop saying that Sharia was good for the time ... it is irresponsible and wrong to say that killing apostates was ever good or right."

Anti-counterjihad:

Dreadful article by Julia Ebner of Quilliam, 1 May 2017. An illogical ramble linking random people on the counterjihad right to Nazis.
Her tactic: Quote some horrible Nazis. Then start talking about some other people entirely. (Robert Spencer, FrontPageMag, etc.) Don't even bother to establish any link between them.
It is a dishonest way of arguing. Instead of quoting Spencer and arguing against something he said, quote some 3rd party Nazi and somehow claim he is "like" Spencer or they are part of the same "movement".
Hideous stuff. This article only discredits Quilliam, and will make people less inclined to listen to it.
Robert Spencer replies, 3 May 2017.

Vikram K. Chatterjee's theories:

Vikram K. Chatterjee claims in 2015 that Maajid Nawaz is a "stealth jihadist". In the course of a long, windy and irrelevant ramble, he does not present any evidence for his claim.
Maajid Nawaz attended a counterjihad meeting in a London synagogue in Feb 2015 and played them a tape of the recent Copenhagen attack.
Vikram K. Chatterjee claims that Nawaz broadcast this tape as a "threat" to the Jews. After another huge long, windy ramble, it turns out he has no evidence for this either.
Unfortunately, Maajid Nawaz did genuinely go nuts in later years.

The worst thing I've seen about Quilliam:
Quilliam's
2008 "About Us" page
promoted Islamic extremist
Ali Gomaa
.
They have since replaced it with a new
"About Us" page
, and they don't promote any of Ali Gomaa's repellent ideas.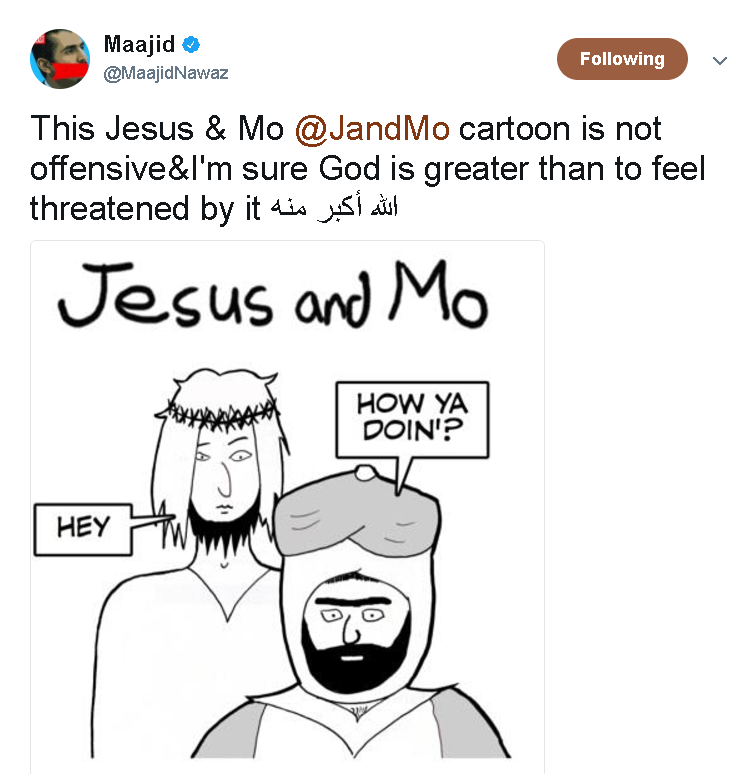 The best thing I've seen about Quilliam:
Maajid Nawaz stands up to sharia and bravely tweets a "Jesus and Mo" cartoon on 12 Jan 2014 and 17 Jan 2014.
He receives a storm of abuse and death threats.
He deserves serious respect for this.
Maajid Nawaz goes mad
Unfortunately, Maajid Nawaz did genuinely go nuts in later years.
He now blocks me on Twitter. Maybe because of my support for Ukraine against Putin.
---
The Quilliam Foundation
, in a leaked 2010 report, provide a useful list of UK Islamists:
Extract follows.
Islamist influenced groups, mosques and media outlets
These are a selection of the various groups and institutions active in the UK which are broadly sympathetic to Islamism. Whilst only a small proportion will agree with al-Qaeda's tactics, many will agree with their overall goal of creating a single 'Islamic state' which would bring together all Muslims around the world under a single government and then impose on them a single interpretation of sharia as state law. Local and central government should be wary of engagement with these groups as it risks empowering proponents of the ideology, if not the methodology, that is behind terrorism.
Militant Islamist groups:
Al-Muhajiroun and various front groups.
Revolutionary Islamist groups:
Political / entry-level Islamist groups:
Groups associated with the Muslim Brotherhood:

Groups associated with Jamaat-e-Islami:

Other Islamist groups:
Wahhabist influenced groups and mosques
---
As I say, I think jihadis who have been let in to the West should be deported.
For example, I think all members of the following groups should be deported:

Abu Qatada, the Al Qaeda hate preacher, was granted asylum in the UK in 1994.

He began preaching hatred and killing from the UK, and inspired the 9/11 attacks. He was first arrested in 2001. The UK spent years trying to deport the bastard, but the legal system kept blocking it.
Did Abu Qatada deserve to be deported? Consider this: In 2009, Al-Qaeda jihadis kidnapped and beheaded utterly innocent British tourist Edwin Dyer in order to try to force Britain to release Abu Qatada. That tells you all you need to know about Abu Qatada.
Finally, Abu Qatada was deported to Jordan, July 2013. This stain on England is removed.
Britain is becoming less hospitable to the fascist enemies of Britain
British jihadis arrested and jailed:

Al-Muhajiroun disbanded in the face of an impending ban. Its successors Al-Ghurabaa and Muslims Against Crusades were banned for glorification of terrorism. Their members were jailed for 4 to 6 years for the cartoon demo. Abu Izzadeen was jailed for 4 and a half years for inciting terrorism. The Crawley jihad gang has been jailed for life. The transatlantic aircraft plot was destroyed. Revolution Muslim / Islam4UK member Bilal Ahmad was arrested. "Muslim Patrol" were jailed. Anjem Choudary was jailed for 5 years.

Other jihadis expelled from Britain:

Omar Bakri Muhammad fled Britain to Lebanon in 2005, and is banned from returning. Rachid Ramda was extradited to France in 2005. Abdullah El-Faisal was deported to Jamaica in 2007. Abu Hamza was extradited to the US in 2012. Adel Abdel Bari was extradited to the US in 2012. Abu Qatada was deported to Jordan in 2013. Abid Naseer was extradited to the US in 2013. Jack Letts was stripped of citizenship in 2019.
Jack Letts went to Syria in 2014, where he is accused of involvement with ISIS.

He was captured by Kurdish forces in Syria in 2017.
His British citizenship was revoked in 2019.
As at 2022, he is being held in Syria.

His mother Sally Lane runs a campaign to get him home.

She was convicted in 2019 of funding terrorism for sending him money.
Sally Lane, March 2022, posts a tweet comparing joining ISIS to the volunteers who have gone to help defend Ukraine against Russia: "If Shamima Begum had sneaked off school with 2 friends at age of 15 to join foreign legion against Putin in Ukraine, wld she be forced to explain how she'd become radicalised, to accept blame for killings carried out by military forces, to show remorse for her decision,"
What a sick tweet. You won't win any friends doing that.
Sally Lane blocks me on Twitter.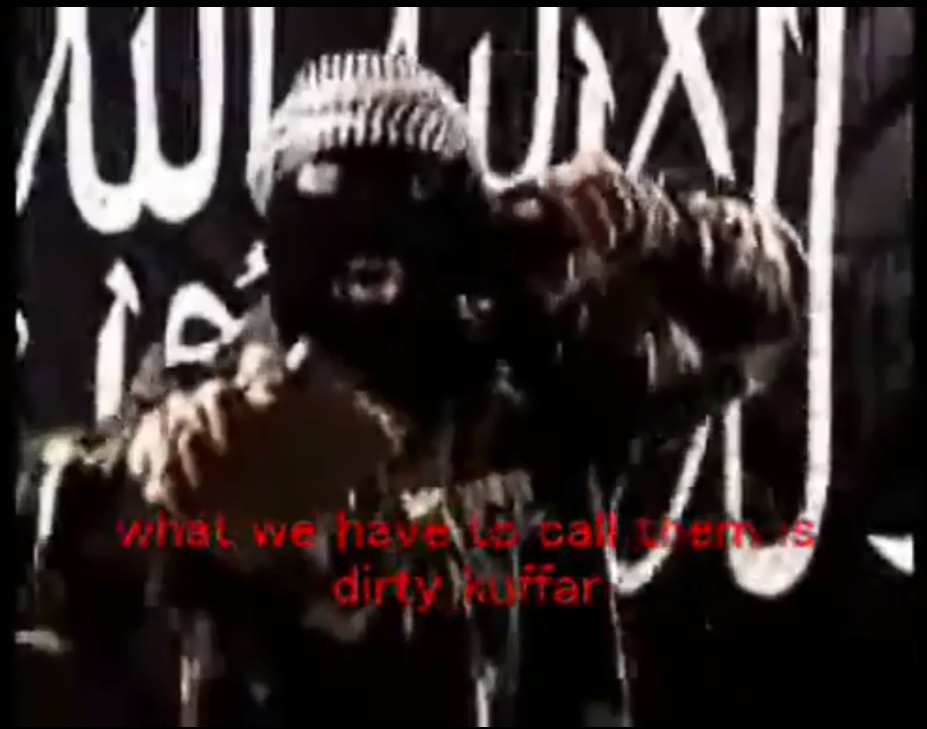 The (very catchy)
"Dirty Kuffar"
(2004) by British fascists "Sheikh Terra" and the "Soul Salah Crew".
Great fun, but seriously, everyone involved in this video should be expelled, not just from Britain, but from the West entirely.
Almost every Briton agrees with me
.


Islamofascists march for sharia in London, Mar 2011.
All these people should be deported.


This kind of thing is almost as unpleasant as outright jihadism:
British Muslim rapper "Ambassador" in his song "Terrorist" says all Islamic terror attacks were "inside jobs". Including 9/11, 7/7, Boston and Woolwich.
This passive-aggressive bullshit is a way for Islamic extremists to avoid condemning Islamic terror while subtly threatening Westerners.
---
Asim Qureshi of CAGE supports jihad
around the world:
"When we see the example of our brothers and sisters fighting in Chechnya, Iraq, Palestine, Kashmir, Afghanistan, then we know where the example lies. When we see Hezbollah defeating the armies of Israel, we know where the solution is and where the victory lies. We know that it is incumbent upon all of us, to support the jihad of our brothers and sisters in these countries when they are facing the oppression of the West."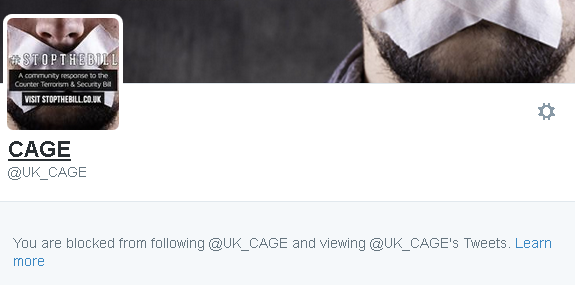 I am blocked by these jihadi apologists on Twitter.
I never even interacted with them!
---
---
---
The future
Islamism
will be defeated, humiliated, and thrown in the dustbin of history in the next few decades. The West has seen off far greater threats than some know-nothing medieval religious revival.
The defeat of Islamism will be a great day, above all, for Muslims in the West, who will no longer be feared as a possible fifth column.
Over the next century, Islam in the West will mutate in the same way Christianity did. It will become far more tolerant and more diverse. As with Christianity, traditionalists will still exist, but they will no longer threaten violence. As with Christianity, Islamic and post-Islamic scholars will arise who question the existence of Allah, the origin of the Quran, the morality of Muhammad and even his existence. Millions of Muslims will become secular, apostates and atheists.
In the end, the idea of the West, the idea of reason, curiosity and human freedom, will prove stronger than either Christianity or Islam, or any religion.
Wonderful anti-Islamist demo, Oct 2009, from
British Muslims for Secular Democracy
.
"Freedom! Democracy!"
"Free Speech Will Dominate The World."
"Liberal Democracy Will Rule The World. Freedom Is Here To Stay."
---

Return to Islam in the West.