The Irish right
The use of the term "right" here is to have a way of referring to these people, in the absence of a better term. The left uses "right-wing" as a
pejorative
term, but obviously I do not regard it as such. I would be happy to describe myself as
somewhere on the "classic liberal" right
, for example. I have elements of both left and right in my beliefs.
What this page is about is listing some of the defenders of the West in Ireland - the people who broadly support the democracies against the non-democracies. Whatever this makes them, it makes them not "left".
By "right" on this page I mean people that broadly support the democracies against the non-democracies - that broadly support the West against its enemies.
Not all the people on this page could definitely be called "right-wing". In fact, I'm not even necessarily "right-wing" myself. But we need some term for these people, and for people like me.
---
---
It is sad to see people who see left-wing nonsense on economics and crime for what it is, and then
sign up to left-wing nonsense on foreign policy
.
Michael McDowell, Minister for Justice 2002-2007, provided leadership and moral clarity on terrorism and crime.




Shane Ross is pro-market on the economy. But runs with the leftists on other issues.

Shane Ross, 1 June 2013, tweets about a softball RTE interview with fanatic Richard Boyd Barrett. Ross says: "Great interview with Richard Boyd Barrett on Marian Finucane now. A leftie but a good leftie!"
I replied: "A guy who supports jihad in Israel and Iraq is a "good" leftie?? Are there any bad lefties in your world?"
Shane Ross supports boycott of goods from Israeli settlements, Jan 2019. Though in the end he was persuaded by his government partners to abstain.
---
---
Sunday Independent

Irish Independent

Irish Times

Sunday Times

Sunday Tribune

Magill

The Irish Daily Mail

The Observer

Henry McDonald

Silence the bleating Left - He predicted in Sept 2001 that "Like the IRA in the Second World War who supported Hitler, the Irish Left through its sullen paranoiac anti-Americanism will soon find itself today objectively siding with theocratic fascists who throw acid in women's faces just because they want to go to work or be educated." And he was right. To many people's surprise, the left did side with fascism.
Killer peaceniks - on the "anti-war" marches in Ireland.
---
"Barbara Pym"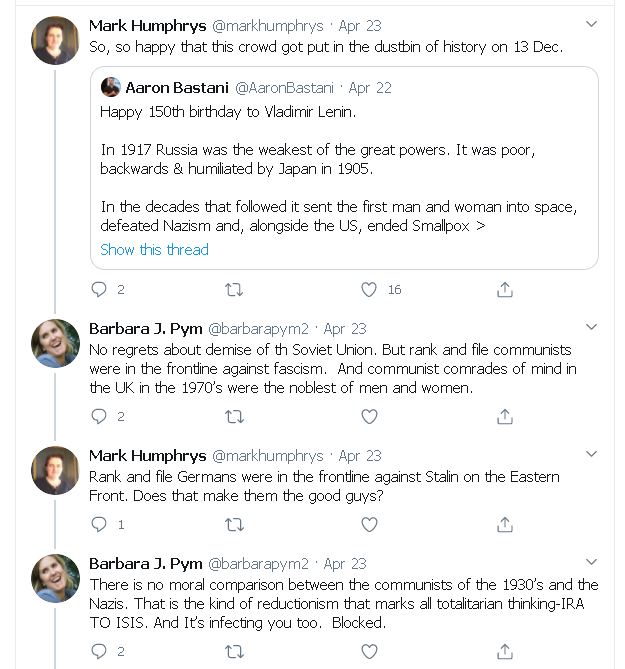 A bizarre exchange that I had in Apr 2020 with
"Barbara Pym"
, an anti-IRA account.
"Barbara Pym" was anti-IRA, but
blocked me for being anti-communist
. What a strange mixture.
Even more bizarre, in May 2021 it was revealed that the apparently sensible
Eoghan Harris
was behind the "Barbara Pym" account.
Despite my years of service to the anti-IRA cause, Eoghan Harris blocked me for being anti-communist??
Nothing is clear. Harris said on RTE that 5 or 6 people were operating the "Barbara Pym" account. So maybe one of them blocked me.
But then he writes in a letter to the Irish Times as if he is "Barbara Pym" and no one else was. Nothing is clear.
His use of Twitter was idiotic: "One of the reasons I used a pseudonym was because my own name would filter how my tweets were received. I wanted to be read with an open mind."
Ridiculous idea. Harris would have got 10 times the audience on Twitter if he used his own name. Instead he damaged his good name with this anonymous crap and this stupid behaviour.
---
I prefer Ian O'Doherty when he is being
serious
, rather than when he is trying to be funny.
When he is serious, and talks about atheism, Islam and religion, he can be very good:

Why the Israeli people have finally had enough, January 5, 2009: "But there's a bigger picture here, something which Israelis have been trying to broadcast to the world, but which, thanks to their spectacular inability to accurately and sympathetically portray their point of view, has not been properly transmitted. It's this - Israel is the front line of the war between democracy and Islamic fascism."

But he also writes some bad stuff, especially when he's trying to be funny:

I link to other things O'Doherty has written.
---
---
---
George Dempsey, former US diplomat in Ireland, is a good critic of the Irish left.
---
What should someone who is centre-right on foreign policy (anti-jihad, anti-sharia, pro-West, pro-Israel) read in Ireland?
I grew up reading the Irish Times but I have long since moved away from its views on foreign policy.

Irish press cuttings - A guide to the failure of the Irish media after 9/11.

So thank heavens for the Internet. No longer are we forced to hear only the narrow range of views that are popular in Ireland. Now you can go and read US, UK and Israeli media directly on the Internet.
Unhappy with the Irish media, I turned to foreign sources online in 2001 after 9/11. And found my people.

There is some pro-West press that you can read in Ireland. See the following. But the lack of diversity is almost total in the more glamorous media. Almost all shows on Radio and TV in Ireland are centre-left and hostile in various ways to the US, UK and Israel.
Pro-West media in Ireland
Pro-West Irish media:

Sunday Independent

Note that the Sunday Independent is quite different to the centre-left Irish Independent.
Robert Fisk was a long-time columnist in the Irish Independent.
See also the Irish Independent's "Westminster Watch" column by Nicholas Leonard for 2002-04. Relentlessly negative about Blair. Relentlessly hostile to the Iraq War.

Sunday Times Irish edition

The Sunday Times Irish edition provides intelligent centre-right media in Ireland.
I used to get the Sunday Times just for Andrew Sullivan, before his politics changed for the worse.
The annoying Simon Jenkins is another man to avoid.

The Irish Daily Mail. If only it was more highbrow.

Pro-West UK media that you can buy in Ireland:
The Irish media's lowest moment: The
Irish presidential election, 2011
.
The Irish media failed to vet the winning candidate
Michael D. Higgins.
---
If you're confused as to who am I like, I'm like these people:
---
Return to
The modern right
.