Islam in Ireland - Violent Islamic extremism in Ireland
Violent Islamic extremism in Ireland
What happened with Islam in every Western country has also happened in Ireland. Some Irish Muslims have rhetorically supported jihad abroad (especially jihad against Israel). Some Irish Muslims have fought for jihad abroad. Some Irish Muslims have died for jihad abroad. Some Irish Muslims have plotted terror in Ireland. And finally, in
Dundalk
, what looks like Ireland's first jihad attack. And another in
Sligo
. The same pattern as in every Western country.
The Facebook group
"Islam, fastest growing religion in ireland"
promotes the Al Qaeda terrorist leader
Anwar al-Awlaki
, Oct 2012.
"May Allah Accept his martyrdom"
.
"Ameen ya rab"
means
"Amen, oh Lord"
.
The group is apparently now inactive.


Pakistani Muslim stabs other Muslim in dispute over prayers, Dublin, June 2015.
The first Islamic religious attack in Ireland.
---
Irish Muslims fight for jihadi group Liwaa al-Umma.

Irish jihadi deaths:

A lot of dangerous people are going to be coming home from Syria:

Lisa Smith, Irish "ISIS bride".

John Walker Lindh, the American captured with the Taliban in 2001, was incredibly given Irish citizenship in 2013. He has threatened to come to Ireland when he is freed in May 2019.
---
---
Irish terrorist Khalid Kelly died fighting for ISIS in 2016.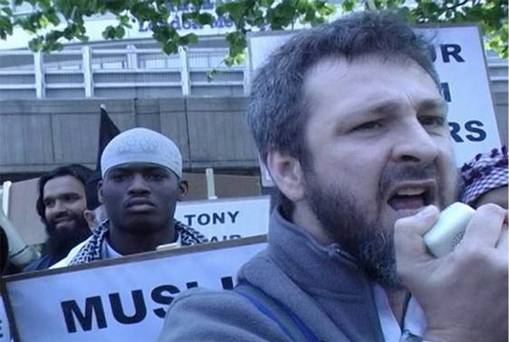 Khalid Kelly pictured with Lee Rigby killer
Michael Adebolajo
.
From
here
.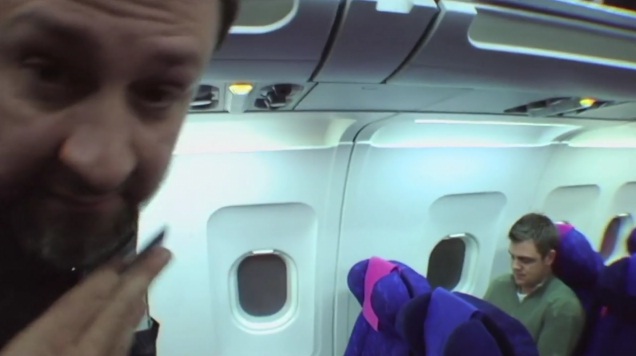 Some poor guy finds himself on an airplane with Khalid Kelly.
From HolyWars.

Khalid Kelly, 23 Sept 2012, calls for the killing of the maker of the film Innocence of Muslims.


Khalid Kelly, 31 Aug 2014, celebrates the 9/11 attacks.
He praises "the magnificent 19".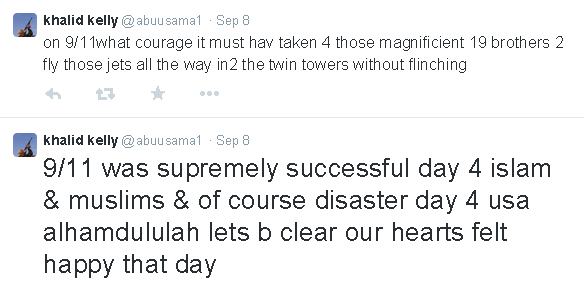 Khalid Kelly, 8 Sept 2014, celebrates the 9/11 attacks.
His Twitter was later suspended.


Irish terrorist Khalid Kelly claims he was beaten up by the Gardai, 2010.
From jihadi site revolutionmuslim.com.
All lies, I am sure. I wouldn't trust a terrorist's word on any issue.
But it is good to see that the Gardai kept a watch on dangerous people like him.
---
Khalid Kelly dies
To my surprise, after 15 years of talk, Khalid Kelly actually joined the jihad.
It shows you cannot dismiss jihad-supporters as buffoons. Many of them go active.
Kelly went to Iraq to join the genocidal child-rapists of ISIS. Was he involved in their atrocities? Did he rape children? We may never know.
In Nov 2016, he was killed trying to carry out an ISIS suicide attack in Iraq. At least it wasn't on Grafton Street.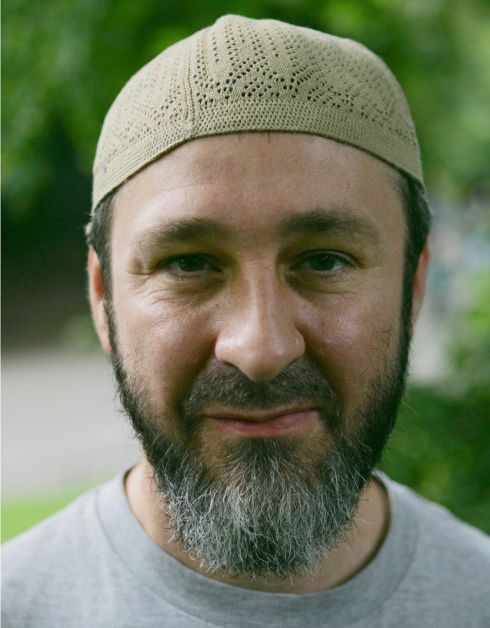 Khalid Kelly, the Irishman who joined ISIS.
Did he rape screaming Iraqi Yazidi children himself?
We may never know.
---
Islamic extremists in Ireland are allied with the pro-jihad Irish left, such as the
Irish "Anti-War" Movement
.
They have hosted pro-jihad conferences and pro-jihad demos in Ireland.
Conference promoting Hamas and other violent Islamists, held in Dublin, Apr 2009.
See
Irish Times report
.

Hamas flag at an anti-Israel march in Dublin in 2010.
Pro-jihad Irish leftists working with Islamic extremists.

Hezbollah flag at an anti-Israel march in Dublin in 2010.

Hezbollah flag at an anti-Israel march in Dublin in 2009.
---
The extremism on display in the
Innocence of Muslims
protests in Ireland in 2012 was very sinister. This is a clear warning of the future that awaits us.
Irish Muslim cleric
Moulana Ghulam Ahmed Rabbani
of the
Irish Sufi Foundation
in a protest at Google headquarters, Dublin, Sept 2012. Click through for video.
A protest against
Islamic terror videos
on YouTube? No, of course not. A protest against the film
Innocence of Muslims
.
This nutcase declares that the maker of the film
"terrorised the world"
by criticising Muhammad. He says the film maker
"should be arrested"
. He never condemns the
Islamic violence
in response to the film. He issues the sinister declaration that:
"We will struggle till the last drop of our blood."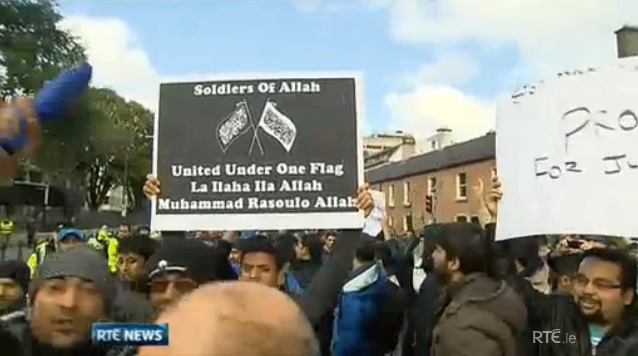 The black flag of jihad is raised in Dublin, Sept 2012, in a protest over the film Innocence of Muslims.
RTE report, 26 Sept 2012.


Another video of the same extremist protest, Dublin, Sept 2012.
Also contains a shot of the black flag of jihad.
---
What looks like Ireland's first Islamic terror attack happened in Jan 2018. A random person was killed on the street in Dundalk by an Egyptian Muslim recently arrived in Ireland. He told Gardai (police) he acted for Islamic State.
The Dundalk attack, 3 Jan 2018.
The killer is Mohamed Morei, age 20, Muslim, Egyptian. An asylum seeker just arrived in Ireland from the UK.
It was a classic jihad attack. The attack was against entirely random people on the street.

Initial evidence was vague:

The Daily Mail reported he was shouting "Allahu Akbar". Also at extra.ie. Later reports said he did not. But at the trial it emerged he told police he acted for Islamic State.
The Sun reported that "extreme religious material" was found in his possession. Later they changed this to "religious artefacts". No details were ever given.
When he first appeared in court in 2018, he was reported to have shouted: "I'm no Muslim!" and: "I'm no gay!" This was a strange one, that indicated mental illness. Or (more likely) poor English or poor hearing.

Solid evidence finally emerged 2 years later:

It took 2 years before we heard any solid evidence. It emerged at the trial in Dec 2019 that he claimed to be fighting for Islamic State: "Morei shouted "I'm from Syria", banged a table and repeatedly shouted "Isis" and "Daesh" ... The accused said, "yes" when asked if he represented Isis ... He then said that he killed Sasaki "for God". ... when asked why he didn't like the British, Morei said: "Because I'm Isis." He later said: "... I'm fighting for Isis, for God."" I bet this report is inaccurate and he said "Allah" not "God".
Despite this evidence of jihad, the Gardai said he was mentally ill, and were dismissive of the idea this was terrorism: They said "the accused's claims that he was part of the terrorist group Isis were "rambling" and "totally incoherent"." Yes but Islamic State is an idea. It does not do membership cards. It has inspired many lone maniacs.
The court returned a verdict of not guilty by reason of insanity. He was committed to a secure mental hospital.
I am unimpressed. It looks like Ireland's first jihad attack.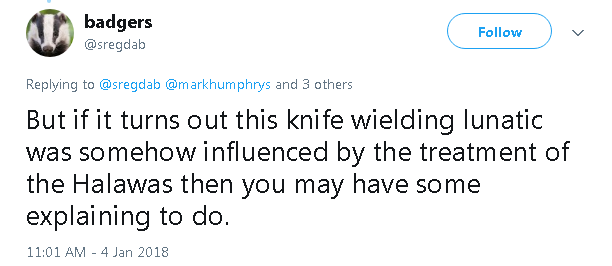 Person called
"sregdab"
("badgers" backward) suggests the Dundalk attacker might have been angered by criticism of Muslim Brotherhood prisoner
Ibrahim Halawa
. So the attack is Ireland's fault! Or even
my
fault personally.
No this is not a parody account. The same person was previously
spinning hard for the Halawas and the Muslim Brotherhood
. I don't know if he/she is an Islamist or a leftist. He/she later deleted their account.


The root cause is ... capitalism!
Apparently Glenn Fitzpatrick is not a parody either.
(He blocked me after this. He later deleted his account.)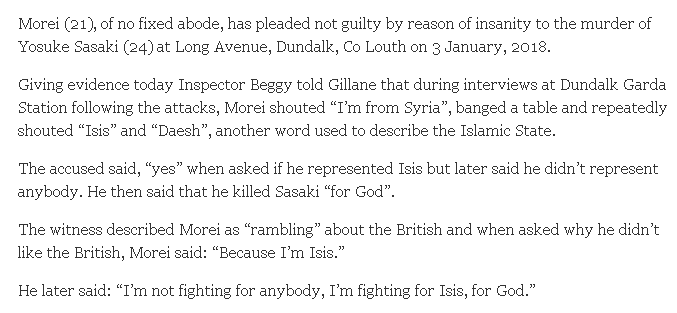 Ireland's first jihad attack, Dundalk, Jan 2018.
From The Journal, Dec 11, 2019.
Note the fake translation, where "Allah" is translated as "God".
---
The killing of two gay men in Sligo, Ireland, by a Muslim radical, during Ramadan, in April 2022.
The most barbaric attack on gays in Irish history.

There were early reports the men were beheaded. The media would not confirm this. People must be protected from the truth. After a year of media silence, it was revealed to be true. At least one victim was beheaded: "Aidan Moffitt's body was found on the floor of his bedroom .. His hands were tied behind his back and he had been decapitated."
It is Ireland's first Islamic beheading. The first of many.

The Irish media were at first horrified by this crime, and started writing pieces about "Irish homophobia".
As soon as a suspect, a religious Muslim, was arrested, the media went quiet. The argument given was they did not want to prejudice the trial.
So this incredible event in Irish history was buried by the Irish media almost as soon as it arrived.

Here is how it works:

Barbaric crime.
Massive "national conversation" about the ideas allegedly behind the crime. All sorts of people in Irish society are blamed.
Suspect is arrested. Suspect does not at all fit the "conversation". The "conversation" is in fact nonsense.
People who 5 minutes ago were leading the "conversation" now want everyone to shut up, saying the crime is now "sub judice".
Everyone shuts up. Crime is memory holed. No "conversation" ever took place about the ideas behind the crime.

The killer Yousef Palani:

He has been listed as either an Iranian Kurd or from Iraq.
He was a refugee. He came to Ireland as a child.
He was at mosque at 1 am.
He was "praying" when arrested by armed police at home.
He said he was motivated by Islam: "He described homosexuality as a "sin" and told Gardai, "You won't find many homosexual Muslims." He said it was "prohibited under Islam.""
He engaged in sexual activity with some or all of the men he attacked before attacking them.
He pleaded guilty to the murders in July 2023. It was clear he wanted to murder many more gay people in Ireland.

No "national conversation" ever took place.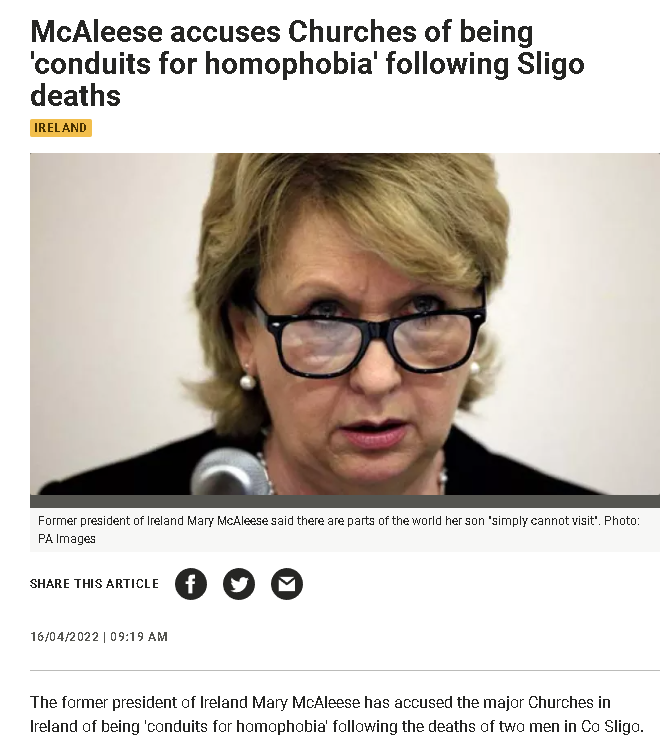 After the Islamic beheading in Sligo, former President
Mary McAleese
blames Christianity.

An Islamic radical killed two gay men in Ireland. He beheaded one of them. He said he did it for Islam.
Socialist TD Ruth Coppinger blames Irish society for the killings.
---

Return to Islam in Ireland.