Israel - Israeli Arabs
Israeli Arabs
The 1.5 million Arabs who find themselves
within
Israel are the lucky ones. They know how good they have it, and have no wish to join the corrupt and oppressive Palestinian Authority or, even worse, the Taliban rule of Hamas.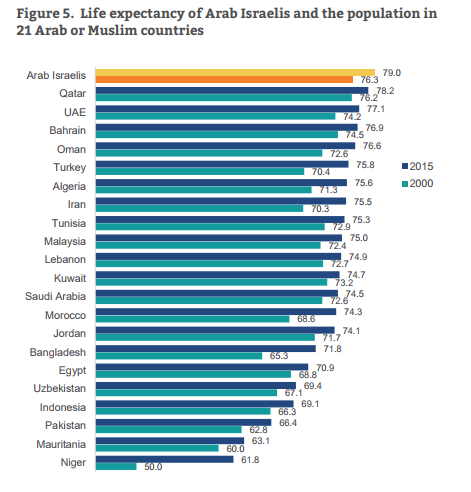 Israeli Arabs Have Highest Life Expectancy in Arab-Muslim World.
From
here
.
Arabs move to get on Israel side of barrier, Khaled Abu Toameh, May 14, 2007 - "In the past four years, thousands of Arab Jerusalemites living outside the municipal boundaries of the city have moved back into Jerusalem for fear of being left on the other side of the security fence." "People see the anarchy and instability in the Palestinian Authority areas and prefer to leave to a safer place", explained an Arab businessman from Beit Hanina. "Also, people are afraid of losing their status as permanent residents of Israel and that's why they are moving back into Jerusalem. After all, life inside Israel is much better than the West Bank."

Israeli Arab Muslims on pilgrimage to Mecca actually defend Israel against the hostility of the Muslims they meet. "Jum'a also encounters anti-Israel views. He holds the Arab media partially to blame for this, for failing to provide an accurate and comprehensive picture of Israeli culture and the Israeli-Palestinian conflict. 'The Arab media always shows negative things about Israel and as a Muslim Arab living inside Israel I want to show a positive side of the country. I tell them there are good things in Israel and that we live side by side with the Jews. There are problems sometimes but the relations with our Jewish neighbors are generally good.' ... The Muslims in Israel have freedom and passports, he tells them. They have a good economic situation and good jobs; they get along with their Jewish neighbors and they benefit from Israel's services. ... Sheikh 'Ali Bakr, 47, an imam from northern Israel ... says: 'Some think that Israeli Arabs are neglected and underprivileged, so we tell them that's not the case, that we live here as equal citizens and that we fit well into the Jewish social fabric.'"

Some Arab Israelis are in fact conservative, hawkish, very pro-Israel and right-wing. Someone like Druze Israeli politician Ayoob Kara, for example, does not seem to fit into the simplistic world view of the average leftie anti-Israel westerner. An Arab member of Likud. An Arab Minister of Communications of Israel.

Many Arab Muslims prefer Israeli rule to PA rule:

Arabs in the Golan Heights:

Consider this: How many Arabs and Muslims move every year from Israel to the Palestinian territory? What's stopping them? Why does almost nobody move in that direction? Why is almost all the movement the other way?
As always - as with Florida and Cuba, as with East and West Germany, as with Europe and the Islamic world - people vote with their feet. Their actions are far more eloquent than their words.
See full size:

From
BlueStarPR
.

See full size:


From BlueStarPR.


In 2013, the Israeli public voted for an Israeli Arab Christian, Lina Makoul, as winner of "The Voice".
Better proof that Israel is not a racist state you could not get.
Anti-Israel fanatic Max Blumenthal, 23 Mar 2013, responded by sneering: "Tokenism works!"
As Elder of Ziyon says: "Think about that for a second. Blumenthal is utterly convinced that the Israeli Jewish public is deeply racist against Arabs. Yet when they vote for a singing competition, they have no compunction voting for an Arab that they supposedly hate. Blumenthal's explanation? That, while safely anonymous in their homes, the Israeli public decided en masse to vote for the Arab singer, not because she was the most talented but because they wanted a token Arab to win, so that people like him wouldn't consider them racist!"
---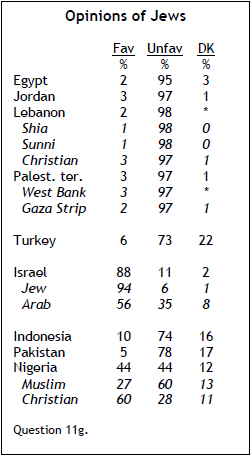 Israel's Arab neighbours hate the Jews.
The only Arabs who like the Jews are the 1.5 million Israeli Arabs who live with them.
From Pew Research Center
2009 poll
. And
here
.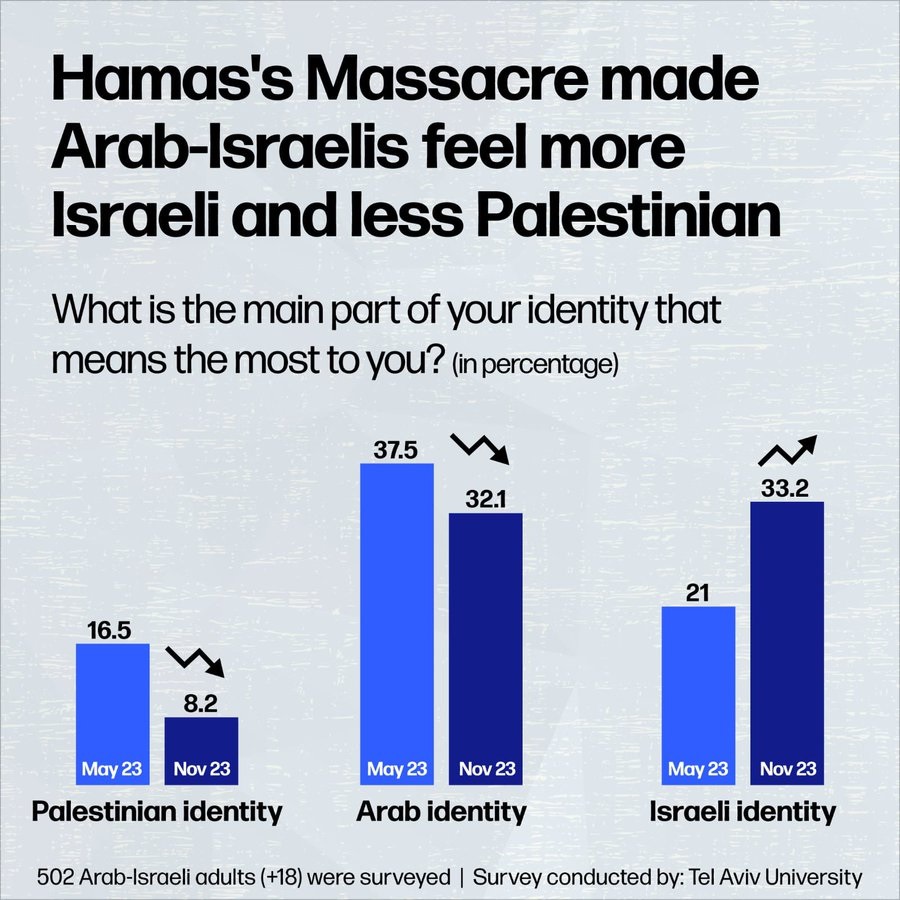 A nation comes together:
The 2023 Hamas massacre made Israeli Arabs feel more Israeli.
From thread.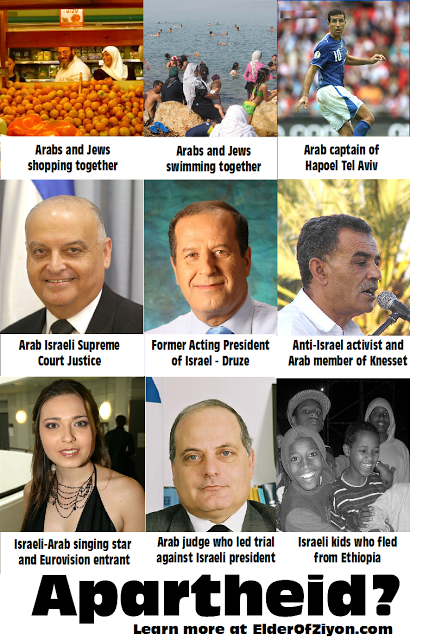 See full size.
One of many great posters from Elder of Ziyon.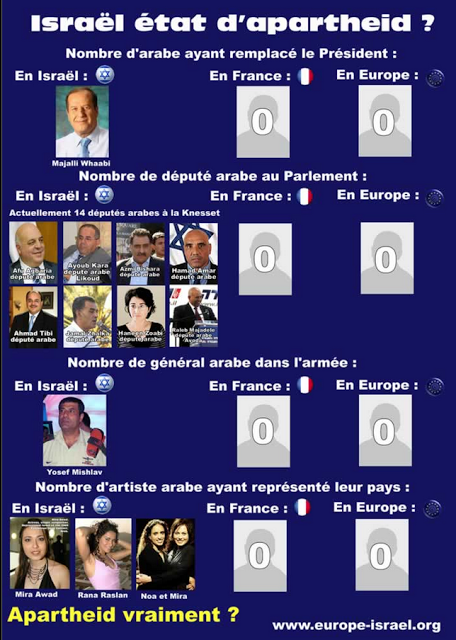 On "apartheid" against Arabs, Israel compares favourably to Europe.
See full size.
From here.
---
Not all Israeli Arabs like Israel, it is true.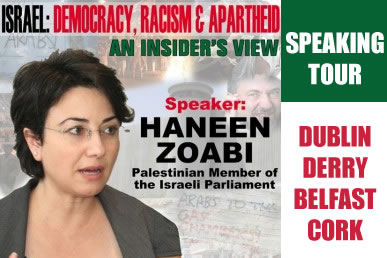 The radical Israeli-Arab politician
Haneen Zoabi
comes to Ireland, Aug 2012, to pander to Irish prejudices against Israel.
But surely her very
existence
- as an Israeli Arab who hates Israel being allowed sit in the Knesset - proves the lie to these assertions of a racist, apartheid state?
The Zoabi family aren't all bad: Haneen Zoabi's cousin
Mohammad Zoabi
is a brave Arab secular Muslim supporter of Israel.
His hate-filled relative Haneen Zoabi said: "I am happy to see that Israeli hasbara [public diplomacy] is in such a dire state that it needs a stupid boy with a twisted identity who feels a continuous need to apologize to his strong masters".
Mohammad has received death threats for speaking out for Israel, including from some relatives.
Israeli Arab Rania Fadel explains why she loves Israel, the country where she can be free.
---
The Arab population of Israel keeps increasing. Because what Arab would want to live in the PA if they could live in Israel? People vote with their feet.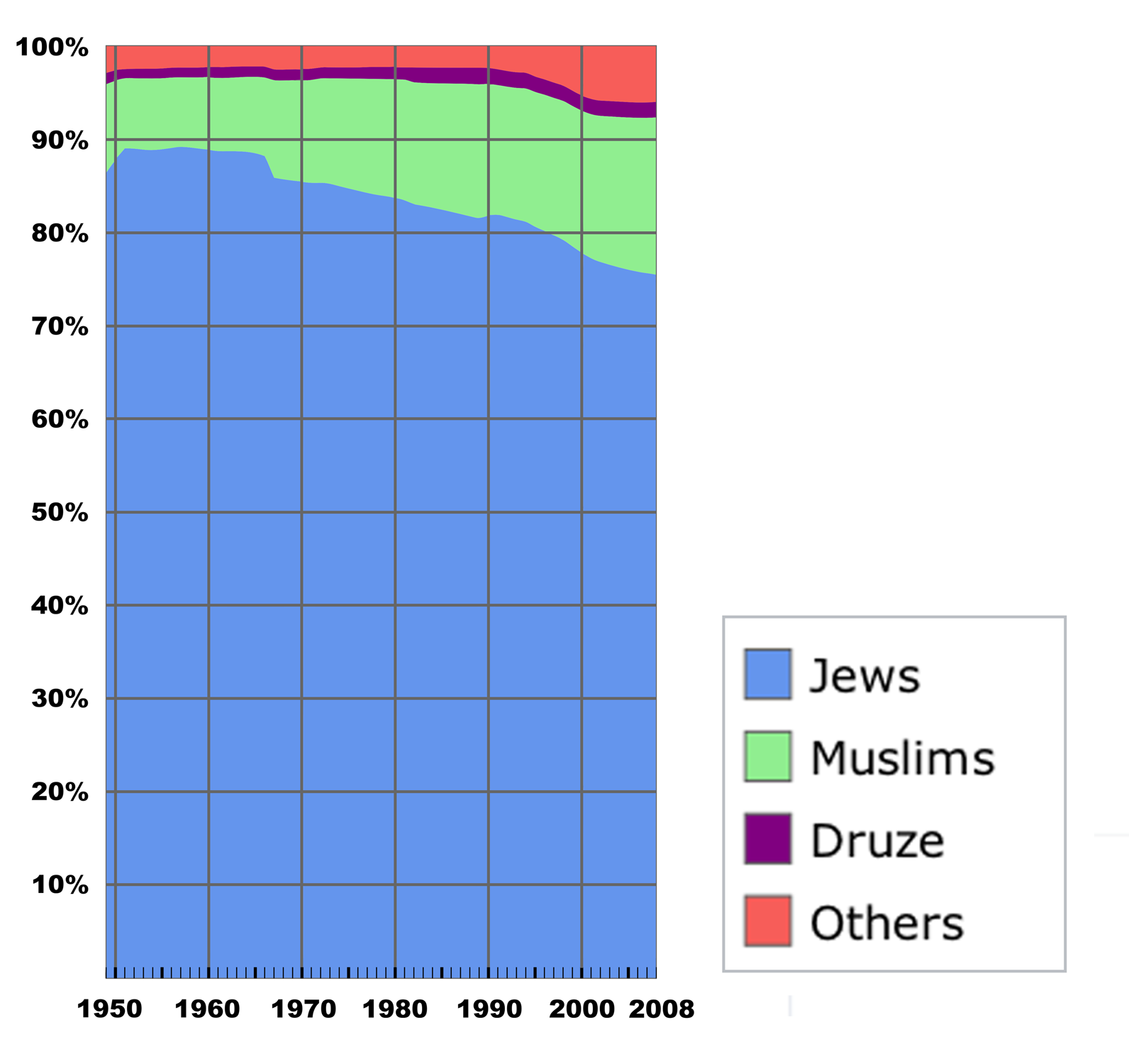 The Christian and Muslim populations of Israel keep growing.
Because it is a diverse, secular state that everyone is free in.
From
here
.

The ethnic cleansing of the Arab Muslims of Israel.
The world's slowest ethnic cleansing. From 330,000 in 1970 to 1.6 million in 2019.
From here.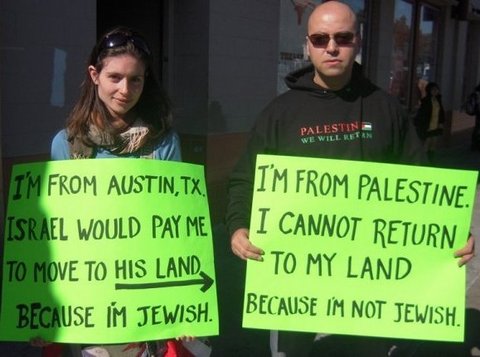 Nobody could possibly answer this, could they?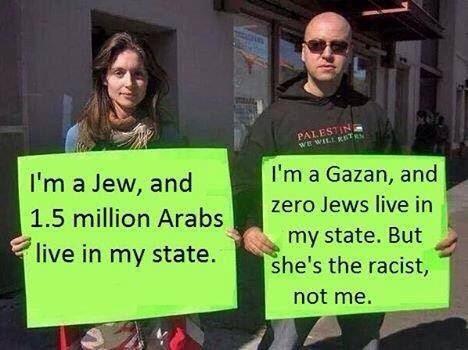 Yes, they could.
---
The ethnic cleansing of the Arabs of Jerusalem
The ethnic cleansing of the Arab Muslims of Jerusalem.
From 121,000 in 1987 to 320,000 in 2016.
From
here
.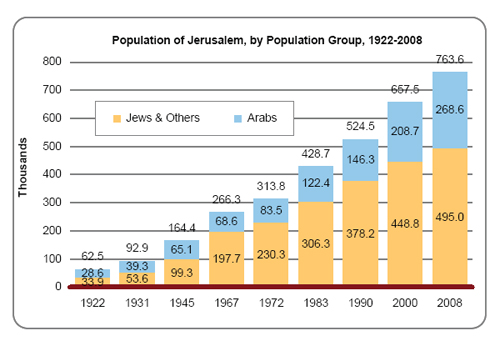 Despite decades of Israeli "occupation", "land grab" and "slow genocide", the Arab population of Jerusalem grows steadily.
The Jews must be really crap at this stuff!
From CAMERA.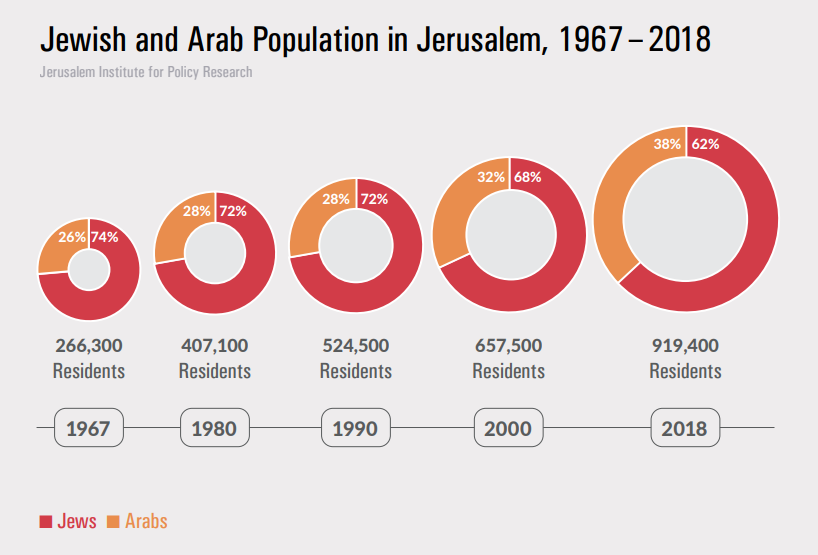 From Jerusalem Institute for Policy Research.