The modern left - The left's support for tyranny
The left thinks western capitalist democracy is basically
flawed
, and is always in search of some kind of revolutionary "change" that will make everything right. As a result, the left has a history of getting excited about romantic foreign leaders and third-world "rebels".
The right, in contrast, thinks the answers to how to order society lie in the Western Enlightenment and were basically worked out in the 17th-18th centuries. As a result, the right has little interest in new "revolutionary" ideas, especially ones from outside the West. The right is largely unimpressed with the non-western world. In fact, the right seldom gets excited about foreigners at all, especially if they are non-westerners or third-world people.
The predictable result of these differences is that the left has a far more embarrassing track record of supporting foreign tyranny than the right. And because of these differences, this track record is likely to continue (see for example the recent left-wing enthusiasm for the butchers of the Iraqi resistance). This page lays out some of the shocking (and not widely-enough known) expressions of support from comfortable western intellectuals (mostly but not all left-wing or left-leaning) for foreign tyrannies they would never live under themselves.
The western left has a long history of supporting third world tyranny that they would never live under themselves.
Shown here is how many western leftists still consider people like
Che Guevara
and
Mao
cool in some way.
---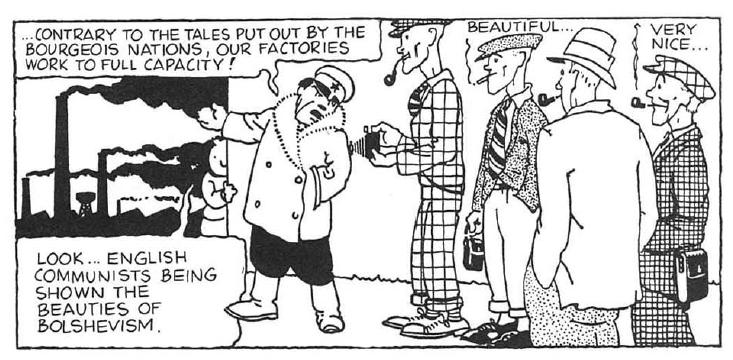 Western useful idiots are shown around Soviet Russia.
From
Tintin in the Land of the Soviets
(1930).
---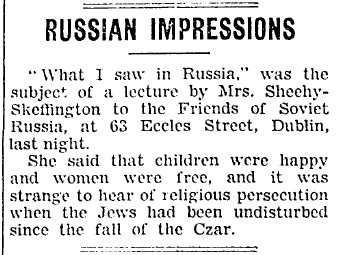 Irish feminist and republican
Hanna Sheehy-Skeffington
praises Stalin's Soviet Union.
From Irish Press,
December 15, 1932
.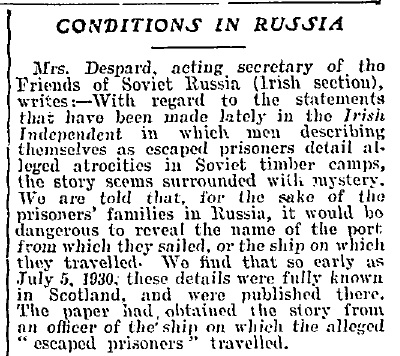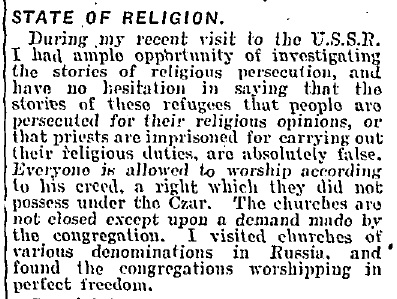 Another Irish useful idiot, feminist and republican Charlotte Despard.
From Irish Independent, December 24, 1930.
---
German philosopher Martin Heidegger supported the Nazis.
German film director Leni Riefenstahl made propaganda films for Hitler, which encouraged many young Germans to enthusiastically join the growing Nazi genocide.

American writer Ezra Pound not only supported but actually worked for the fascists in WW2.
Belgian deconstructionist Paul de Man supported the Nazis.
Nobel Prize winning Norwegian author Knut Hamsun supported the Nazis, and wrote a eulogy for Hitler in 1945.
Spanish artist Salvador Dali supported Franco and was ambiguous about Hitler.
French fashion designer Coco Chanel was a Nazi agent.

Ireland:

Sadly, it's not just writers, philosophers and nationalists. Some scientists too have supported fascism (and communism):

"History legitimizes Germany to rule Europe and later the world. Only a nation that rules ruthlessly can maintain itself. Democracy cannot develop sufficient energy to rule Europe." - Nazi atomic weapons scientist Werner Heisenberg, 1943, as German genocide burned all across Europe.

Many British pacifists did not explicitly support Nazi Germany, but opposed the war against them.

The writer and critic John Middleton Murry, editor of the pacifist Peace News, said in 1940, as Britain fought desperately for its survival against genocidal Nazi Germany: "Personally I don't believe that a Hitlerian Europe would be quite so terrible as most people believe it would be."
The pacifist Vera Brittain complained about the publicity given to the gas chambers when they were discovered in 1945. She said they were being publicised: "partly, at least, in order to divert attention from the havoc produced in German cities by allied obliteration bombing."

The Nazi democide was not inevitable. As Thomas Sowell points out, it was caused by western inaction. Had Britain and France stood up to Hitler in the 1930s, his regime would have fallen quickly with little loss of life.

Winston Churchill was a pioneer and a lonely voice in trying to get the democracies to oppose Nazi Germany at birth (1933).
Right-wing support for fascism:
George Bernard Shaw
supports Hitler, Stalin, Mussolini and democide.
Clip from
The Soviet Story
.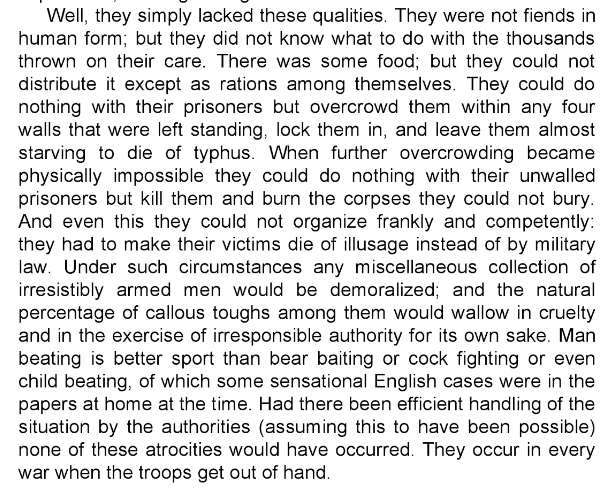 George Bernard Shaw said in 1945 that the Nazis running concentration camps "were not fiends in human form; but they did not know what to do with the thousands thrown on their care."
From the 1945 preface to Geneva.
Capture from here.
---
Irish right-wing support for Franco:

Some of the Irish Catholic right supported the Spanish dictator Franco because: (1) he was conservative Catholic, and: (2) he defeated a barbarous communism.
But the fact is, he was a fascist dictator who killed maybe 200,000 people and crushed liberal democracy.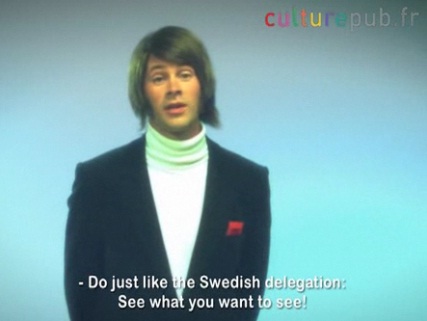 "Dinner with Pol Pot", a promotion for a
Swedish exhibition
, Sept 2009, on the Cambodian genocide, and the Swedish leftists who supported the communist regime.
---
20th century French intellectuals have a lot of innocent third-world blood on their hands.
Sartre calls for the violent overthrow of bourgeois society.
Luckily for him, that never happened in France.
But the hatred of decency that he preached infected much of the third world, and led to millions dead.
---
Proinsias De Rossa
and
Tomas Mac Giolla
and
Joe Sherlock
attend a Soviet propaganda event in Dublin.
Irish Times,
January 11, 1983
.
---
---

Galway City Council resolves in May 2011 to erect a
memorial to the totalitarian communist Che Guevara
.
---
The left's support for Serbia
Harold Pinter supported Milosevic.

Brave students from Tehran University, Iran, write to the Nobel Prize winner Harold Pinter, 2005. They attack his left-wing isolationism, that says we have no right to overthrow foreign tyrannies:

"Today, we the people of Iran are under the yoke of a regime no less brutal than the Nazis. Just like the Nazis, the Islamists are motivated by an ideology of hate. They have destroyed our country that they conquered through terror. They are as ruthless as the Nazis. Can Mr. Printer tell us, how can we fight them back with our bare hands?"
"Mr. Pinter is not moved by the misery of people who may not be as white as he is. ... He thinks others have to fight for their freedom if they really want it badly. Did you fight for your freedom Mr. Printer or was it given to you in silver platter, courtesy of the very Americans that today you disregard. How ungrateful of you Sir!"
"As the oppressed people of a third world country, that will remain a third world as long as it is not liberated, we would like to thank the United States of America, the Great Britain and all other countries that helped to get rid of the blood thirsty dictators such as Saddam Hussein, Molla-Omar and the Taleban. ... We dream of the day that our flag will be hoisted next to the flags of other free nations and will dance in the wind proclaiming our freedom to the world. The oppressed people will be victorious and you and your ilk will be remembered as those who sided with their oppressors. Your name will be covered with shame."
---
---
---
---
---
Hamas flag at
anti-Israel demo, Dublin, 31 May 2010
.

Hezbollah flag at anti-Israel demo, Dublin, 5 June 2010.


The left's support for tyranny will continue forever.
A play on a popular meme. Found here.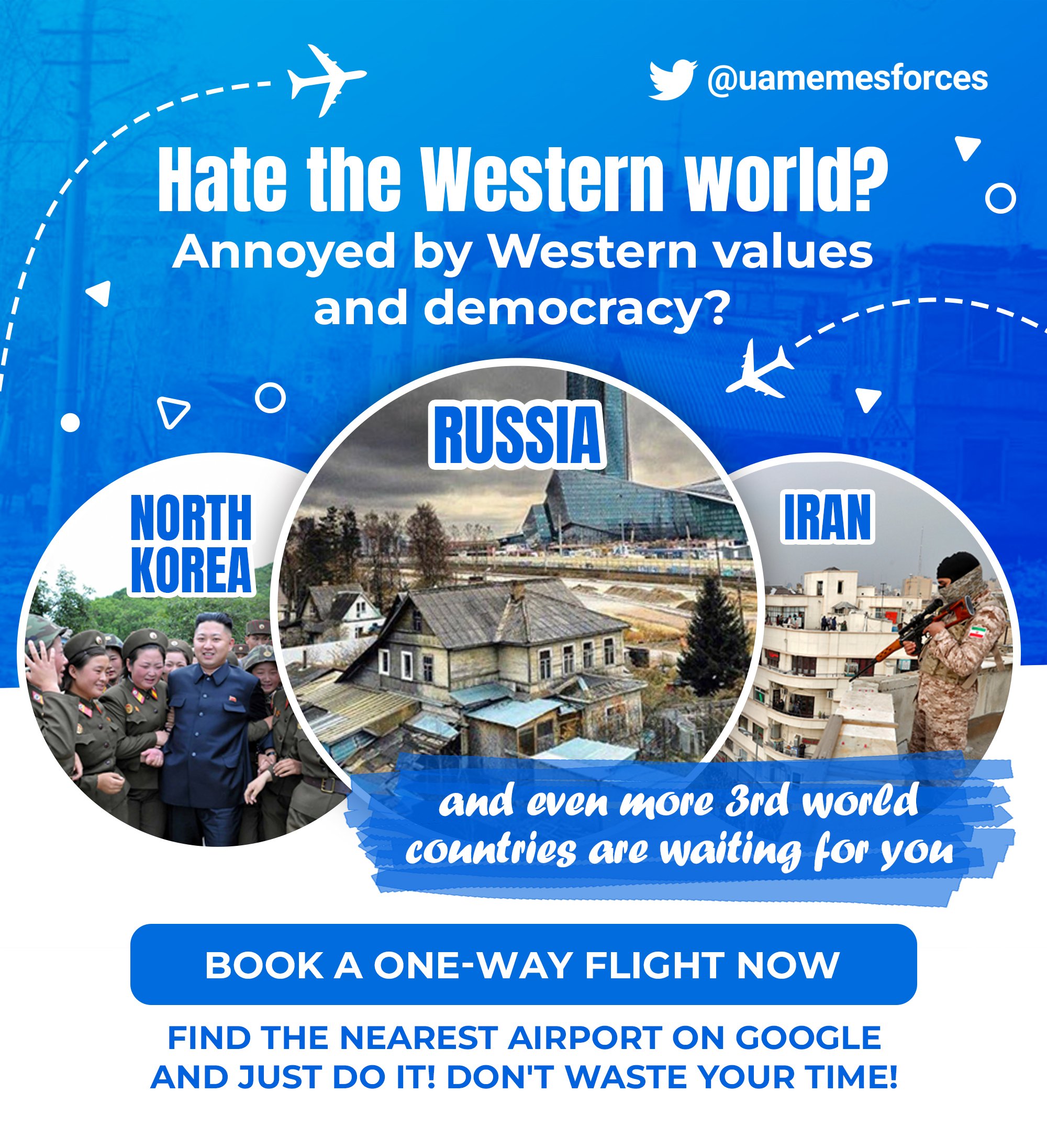 Hey tankies, have you considered just leaving?
See full size. From here.
---
"Liberals failed one of the two great moral tests of the twentieth century, [and] they still do not know they failed and have not grappled with the implications of that failure."
- Mona Charen on the Cold War.
"I wonder, however, why people are still puzzled over the double-standards within the Irish left and the Human Rights Industry vis a vis Israel. To me, it shows that people still believe that the far-left actually has a real sense of right and wrong. They do not. Leftism has no regard for right or wrong, its about favoring Designated Victim Groups. ... I actually suspect that if Hamas were a group of Christian fundamentalists, the left would have cheered on Operation Cast Lead, as Christians of all types are very low on the DVG-scale. If Israelis were predominately Arab Muslims, nobody would give a damn what is happening in the region, especially the left, as they could not feasibly demonise one side for the crime of being more white and western than the other."
- John Connolly on our perennial ability to be surprised or shocked at the left's support for tyranny.
---
Return to
The modern left
.