The "roundabout dog" Muhammed cartoons
Swedish cartoonist Lars Vilks
The "roundabout dog" Muhammed cartoon controversy, July 2007 onwards.
Search for the images on Google Images and on Vilks' blog.

Instead of ignoring this daft cartoon, or responding with reason or ridicule, Islamists of course respond with threats of violence (the only language they know).
Al Qaeda in Iraq offer a bounty to kill the cartoonist, Sept 2007.

Swedish MP Fredrik Malm, Aug 2007, defends the western Enlightenment against criticism by Iran and other foreign Islamic tyrannies over this cartoon controversy: "There is no reason to keep quiet about this question. One must be crystal clear that in Sweden it is not the government that decides what appears in newspapers. Iran should change their own press laws and not try to change ours."
A Swedish female jihadist openly threatens Lars Vilks with death.
And
here
.
---
Muslim radicals arrested in Waterford, Ireland, Mar 2010, in plot to kill Lars Vilks, the Swedish "roundabout dog" cartoonist.
The individuals
Jihad Jamie (Jamie Paulin-Ramirez) and her son Christian.
It's very sad to see a boy with no father, and a woman so lost that she embraces radical Islam.
Photo from
here
.


Mar 2010 interview with Jamie Paulin-Ramirez's heartbroken mother, worried sick about her foolish daughter and innocent grandson.
See also a Mar 2010 interview with her brother.
Update: As at 2012, Ramirez is in jail, and the child is safe living with the grandmother.

Ali Charafe Damache.
From here.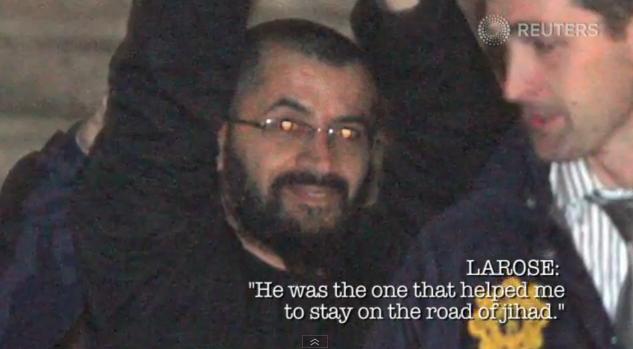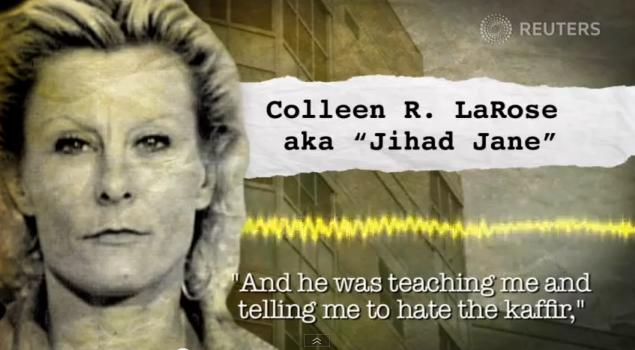 What Jihad Jane says about Damache.
From Reuters video.


Colleen LaRose praises Obama in May 2008.
From The Jawa Report.
The Jawa Report and other Internet counter-jihadis have been on the Colleen LaRose case for years.
---
Moderate American Muslim
Majed Moughni
organised the above small protest against Islamic terror in Detroit in Jan 2010.
It was a response to the sick evil of the
underpants bomber
(who is now doing
life without parole
in Florence Supermax).

As a result of organising the above protest against Islamic terror, moderate American Muslim Majed Moughni received a death threat phone call in Jan 2010 from Ireland.
Algerian Muslim Ali Charafe Damache pleaded guilty in Feb 2013 to making the call.
Damache said: "I want to congratulate you for your place in hellfire, Inshallah. If you're in front of me, I will shoot you. I will put a bullet in your head."
At Damache's trial it was revealed that he also said: "Even in America, we will get you, you will pay."
Above is Detroit TV WDIV news report, 12 Jan 2010, formerly at clickondetroit.com.
---
Instead of
whining grievance-mongering
, a number of Irish Muslims have spoken out strongly against the plot. Good for them.
Ali Al Saleh reacted very well:

Irish Examiner, 10 Mar 2010 (not online), quotes Ali Al Saleh condemning the plot. He condemns unnamed Islamists in Ireland who are involved in "brainwashing" young people, "the sort of praising of those who are fighting for Islam." Good for him.

RTE Drivetime, Wed 10 Mar 2010. (01:15:53 to 01:22:55).

Shaheed Satardien also performs well on this show. Instead of whining grievance-mongering, he condemns unnamed Islamic extremists in Ireland: "Nobody wants to see the elephant in the room ... everybody turns a blind eye."
Ali Al Saleh also performs well on this show, and says Irish Muslims are not doing enough to stop extremism.
Then the fanatic convert Liam Egan comes on, to make us all afraid of Islam in Ireland again. He admits openly that the Prophet executed people who made fun of him. Robert Spencer couldn't have explained it better!

Lars Vilks reacts:

The brave cartoonist Lars Vilks says he is ready to fight if the fanatics come for him, and he even manages to take the piss out of them: "Vilks, the cartoonist, has installed barbed wire in his downstairs hall, barricaded all the doors to his home and keeps an axe within easy reach. "If anyone comes I will be able to fight for 30 minutes," he said. "I won't hesitate to use the axe if it is a life or death fight." He has even written a poem about his alleged assassin. "Jihad Jane will come when it is dark . . ." it starts. "It is a sexual drama," he explained."
If this poem ever comes online, please let me know.
Lars Vilks, quoted in the Irish Daily Mail, 15 Mar 2010: "I think it is important that we bring these issues forward and make it possible also to insult Muslims. I think that's the best way to meet this question because the Christians they have understood that they can be insulted, but you shouldn't do too much fuss about it because things would just get worse."
Lars Vilks is playing a role in helping the child-like (in a bad way) Muslims of the world grow up.
With great generosity, Lars Vilks says they should now let Jihad Jane go, reported Dec 2012. "Her intended victim, the Swedish artist Lars Vilks, says he believes LaRose has served enough time already. "They should let her go," Vilks says. "Now that she is known, they can keep an eye on her."" What a nice guy.
---
Leftie magazine Phoenix, issue 26 Mar to 8 Apr 2010, had a nice contrast showing the Irish left's mindset. On p.8 a content-free article claiming the Islamic plot is all fantasy and the Irish police should not have bothered. (Will they apologise now that the suspects have pleaded guilty?) And on p.9 complaints about the Irish government's lack of action over the brave Israeli plot to assassinate a Hamas leader in Dubai. Ignore the bad guys, attack the good guys, that's the Irish left!
Dil Wickremasinghe
Sri Lankan Dil Wickremasinghe presented a show called "Global Village" on Newstalk radio.

In her naive, credulous show of 27 Mar 2010, (start at 30:13) she interviews Liam Egan without ever having Googled him to find out he is a sharia-loving extremist who wants to enslave kuffar like her.
She is a woman, an ex-Christian, now unreligious, and gay. She would not last long in MPAC's sharia-based Ireland! (MPAC defends the death penalty for homosexuality.)

In this show, she talks about the Waterford Seven as if stereotyping of Muslims is the issue, rather than the possibility of an Islamic terror plot among Muslim immigrants in Ireland! She agrees with Egan that the case is over and amounted to nothing. (Will she apologise now that the suspects have pleaded guilty?)
They discuss the wonderful tolerance of the Islamic world for Christian worship. Of course, they know nothing about the topic.
Egan even chimes in with: "Some of the oldest [Christian] churches in the world are in the Muslim countries." Wickremasinghe seems unaware of the fact that MPAC has called for their destruction!
Wickremasinghe sums up what is wrong with modern PC journalism - an inability to ask hard questions of designated victim groups.

Dil Wickremasinghe in the show above wonders why so much press is given to Muslim terrorists rather than, say, Sri Lankan terrorists.

Is it really that hard to understand the reason why? Muslim terrorists attack the West. Sri Lankan terrorists don't. If they did, I'm sure they would get a lot more press. I certainly would devote a lot more time to them.
And even objectively, worldwide, Muslim terrorists kill maybe 100 times more people than Sri Lankan terrorists do, so they should get 100 times the press. Consider the Islamic terror killings in the few days after this show alone:

On 28 Mar 2010, Sunni jihadis killed 6 Shia in Pakistan.
On 28 Mar, jihadis killed 6 construction workers in Iraq.
On 29 Mar, a jihadi suicide bombing in Iraq killed 12.
On 30 Mar, the Taliban killed 5 civilians in Afghanistan.
On 31 Mar, a jihadi market bombing killed 13 in Afghanistan.

And so on, and on, forever. The above is not even a complete list, just for those few days!

Not long after appearing on Wickremasinghe's show, Liam Egan said: "May Allah cleanse this land [Ireland] of kufr and install the righteous Khalifa in our lifetime - ameen."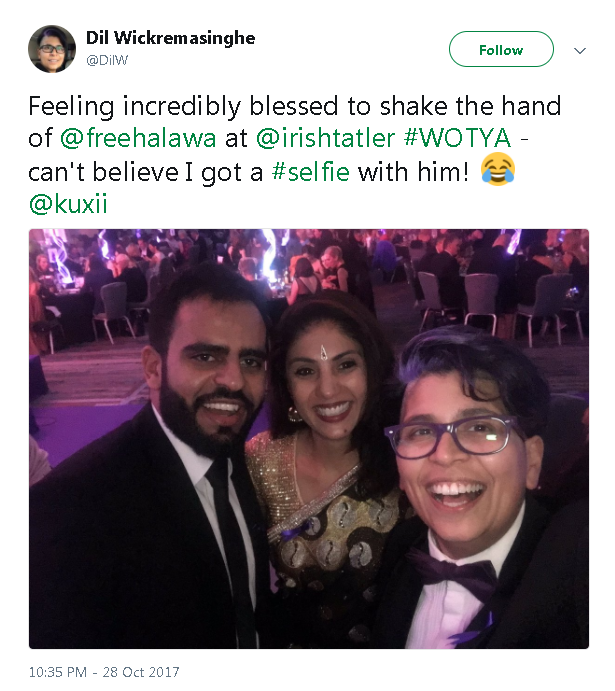 Dil Wickremasinghe's love affair with right-wing Islamism is still going strong in
2017
.
Here she is with the Muslim Brotherhood activist
Ibrahim Halawa
.
She gave him a completely uncritical
podcast
in Dec 2017. No hard questions were asked. She just hero-worshipped him.
---
Lars Vilks assaulted at Uppsala University, Sweden, by Islamic religious maniacs shouting "Allahu Akbar!", 11 May 2010.
Also
here
and
here
.
Um, if you're an Islamic religious maniac, why go to a talk by Lars Vilks? No one forced you to attend.
And Allah is not Akbar. Allah does not exist.

They also chant "Muhammad", who is their "prophet".
"Our prophet is not homosexual", explains one of the maniacs.
There is even an uncovered young woman (at 5:40) wearing a short skirt and chanting "Muhammad". She yells "you fucking cunt!" at the police and organisers.
What a confused jumble her brain must be!

Allah may not exist, but sadly Islamist intimidation is all too real. The talk was stopped, and the university said it was "not very likely" that the talk would be allowed again.
Violence and intimidation works. (So expect more of it.)
As Vilks says: "What you get is a mob deciding what can be discussed at the university."
Good news: Vilks will be allowed complete his lecture. Good for Uppsala University.
---

Notice for the free speech meeting
, Copenhagen, 14 Feb 2015.
Now even
talking
about free speech may get you attacked by Islamic terrorists.