Afghanistan
On September 11th, 2001, the primitive religious fascists of Al-Qa'ida - supported by the barbarous, illiterate Taliban regime of Afghanistan - attacked America, killing thousands of innocent men, women and children.
America viewed this (quite properly) as a declaration of war, and attacked Afghanistan immediately. Within ten weeks of the Sept 11th attack, the entire Taliban regime had been destroyed, and Al-Qa'ida had been scattered, with thousands of jihadis dead. They have not staged a mega-attack since. By historical standards, it was a stunning victory.
Attack the West, and your regime will end. - This equation, and the skill and bravery of the American (and Allied) soldiers who enforce it, is what keeps civilization alive against the many savages and barbarians all over the world who would destroy it.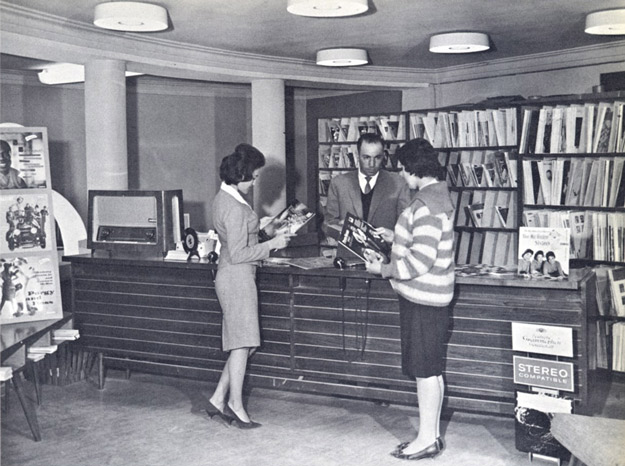 A lost world:
Afghanistan in the 1950s to 1960s
.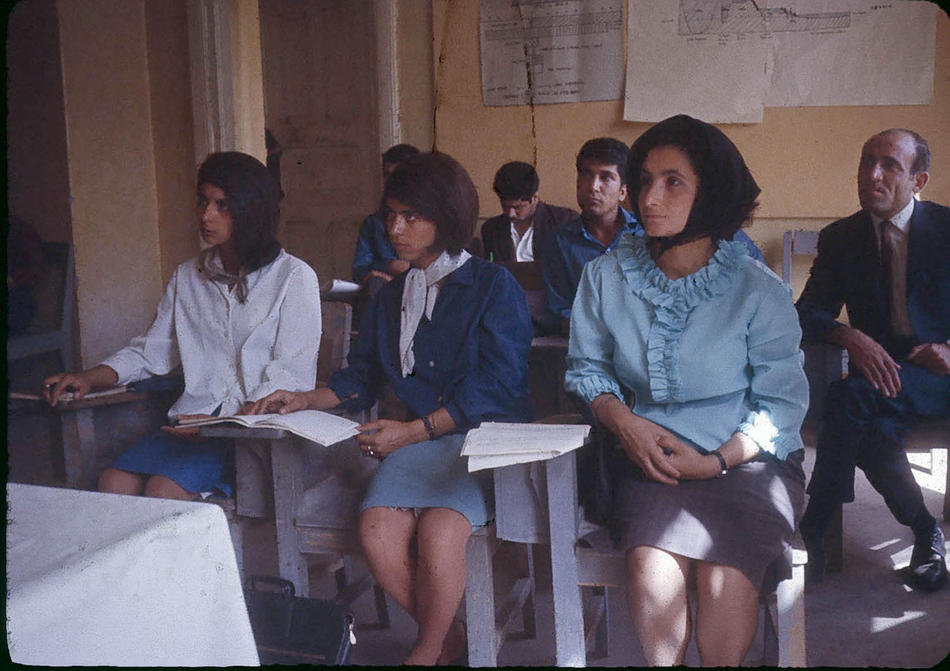 A lost world: Afghanistan in 1967-68.

The Burqa is "traditional culture". Oh really? Where was it in the 1960s?
2009 photo from here.
---
Background to the war
Al Qaeda had long been strong allies of the Taliban. Al Qaeda gave the Taliban financial and military assistance.
The Taliban harboured Al Qaeda as they attacked westerners worldwide, beheading and disembowelling tourists in Egypt in 1997, killing hundreds of Africans in attacks on American targets in 1998, bombing the USS Cole in 2000, and planning 9/11 for 2001.
Al Qaeda helped the Taliban destroy the ancient Bamiyan Buddhas in early 2001.
On September 9th, 2001, knowing that 9/11 was coming, Al Qaeda assassinated the Taliban's greatest enemy, Ahmed Shah Massoud, as a gift to Mullah Omar and the Taliban, so that they could not possibly give up or expel Al Qaeda after what was about to happen.
Bin Laden and Mullah Omar were also linked by intermarriage.
---
---
Ziad Jarrah and Mohammed Atta, the smiling faces of modern religious evil.
Video still, 2000 (note, this is when
Clinton
was president).
The following year, these two starry-eyed religious young men attacked American civilian targets, killing 3,000 American men, women and children for no reason.
---
From 2001 to 2011, the world wondered if Bin Laden was dead. There was very little video, and it did not seem totally conclusive. And there was audio, which I did not find convincing at all.
But it turned out he was alive all these years after all. The brave US military finally killed him in May 2011.
Bill Whittle, October 6, 2004, makes the argument: "Osama made endless videotapes. Lecturing, preaching, instructing, firing an AK-47: all the things that make young jihadis feel funny in the pants. After 9/11, he wowed 'em in several tapes gloating and laughing over the attack and its aftermath. He was reliably heard on the radio during the final phase of Tora Bora, then .. nothing. ... The freaking invasion of a Muslim country [Iraq in 2003] by the Great Satan, and this new Caliph, the Leader of the Oppressed, cannot bring himself to shoot a crummy VHS in front of a white wall condemning this outrage? This glory-seeking egomaniac, .. who practically put out a 10 DVD commemorative set every time the US so much as hiccupped, is now suddenly silent, and has been for three years?"
Tony Allwright, Oct 2007, makes the argument: "Why are these fifteen recordings of such poor technical quality? For years, now, anyone with a laptop, microphone and webcam can record audio and video of almost professional quality, undreamt of just a decade ago. But with OBL recordings so few and far between, it is inconceivable that these productions would be other than of the highest calibre, designed to frighten the infidels and inspire the faithful.".

But it turned out he was alive, living in the terrorist state of Pakistan.

Bin Laden video, Nov 2004 released to try to influence the U.S. election.

There is no image in the video to date it. Bin Laden never holds up a newspaper or anything. All there is is the audio.
But the audio is clearly new. It mentions Iraq, Kerry, Fahrenheit 9/11, etc.
Presumably the audio synchs with Bin Laden's lips, or someone would have pointed this out.

Bin Laden video, Sept 2007.

Still no image in the video to date it. Could he hold up a newspaper or something?
He praises leftist Noam Chomsky: "This war was entirely unnecessary, as testified to by your own reports. And among the most capable of those from your own side who speak to you on this topic and on the manufacturing of public opinion is Noam Chomsky, who spoke sober words of advice prior to the war, but the leader of Texas doesn't like those who give advice."
Like Nazi propaganda in WW2 claiming that they cared about the people of Britain, Bin Laden spews out leftist criticism of Bush that he knows will work with the naive in the West: "It has now become clear to you and the entire world the impotence of the democratic system and how it plays with the interests of the peoples and their blood by sacrificing soldiers and populations to achieve the interests of the major corporations. And with that, it has become clear to all that they are the real tyrannical terrorists. In fact, the life of all of mankind is in danger because of the global warming resulting to a large degree from the emissions of the factories of the major corporations, yet despite that, the representative of these corporations in the White House insists on not observing the Kyoto accord, with the knowledge that the statistic speaks of the death and displacement of the millions of human beings because of that, especially in Africa." As if Bin Laden gives a shit about global warming or black Africans!
By the way, his main point is to oppose "the democratic system" itself, not to argue for a reformed version of it. He thinks Bush is an argument against democracy.
He shows the great hope he had that the Democrats would bring about a surrender, and how disappointed he is that this has not yet happened: "Thus, you elected the Democratic Party for this purpose, but the Democrats haven't made a move worth mentioning. ... why have the Democrats failed to stop this war, despite them being the majority?"
He fakes concern for the "suffering" American public: "And Iraq and Afghanistan and their tragedies; and the reeling of many of you under the burden of interest-related debts, insane taxes and real estate mortgages". As if Afghanistan or Waziristan could even dream of the wealth of the Americans. As if Islamism rather than capitalism can generate a GDP of $44,000 per capita for 300 million people! As if Bin Laden even gives a shit about earthly wealth!
He praises Michael Scheuer and Emmanuel Todd.
He praises and quotes a Guardian anti-war video, "Inside the Surge: Baghdad" by Sean Smith.
David Brooks on the video: "you read this thing, and it's like he's been sitting around reading lefty blogs, and he's one of these childish people posting rants at the bottom the page, you know, Noam Chomsky and all this stuff. You can't help read it and not laugh at it".

But that's it. Two videos in 10 years. No wonder we all wondered if he was dead.
---
The jihad in Iraq and Afghanistan since liberation in 2003 and 2001 has killed tens of thousands, almost all Muslim, but has little concrete achievements.
The Taliban have now moved to Pakistan. Almost everybody they kill now is Muslim. These savage enemies of humanity will fight on for years.
---
Disembowelled and murdered for teaching girls - A teacher killed by the outlawed Taleban remnants in 2006 for teaching girls. "The gunmen came at night to drag Mohammed Halim away from his home, in front of his crying children and his wife begging for mercy. ... He was partly disembowelled and then torn apart with his arms and legs tied to motorbikes."
Taliban behead 17 people, Aug 2012, for attending a mixed-gender party where there was music and dancing.

Killing aid workers:

Bombing Muslims at mosques:

Attacking voters:

Sex perverts:

Killing children:

Using children as bombs:

Using children as shields:

Bombing children at school:

Poisoning school children (apparently):

Pakistan Taliban shoot dead 10 tourists in Pakistan, June 2013.

They killed 10 foreign climbers at a mountain camp for no reason other than that they do not follow the religion of death and racism that the Pakistan Taliban follows.
"The assault is seen as a significant blow for Pakistan's already struggling tourist industry". Islam causes poverty.
In 2009 the Taliban
cut off the nose and ears
of young Afghan woman
Bibi Aisha
because she tried to leave her abusive husband.
You can
donate
to support
reconstructive surgery
for her.

A Twitter user who should be captured or droned.
The Taliban post messages on the infidel invention Twitter, and they even debate the allies on it.
The Jawa Report says: "While the twitter fight between the Taliban and the ISAF is interesting, couldn't we just settle this like men and bomb the hell out of Qari Yousef Mohammad and "Dr." Zabihullah Mujahid (the Taliban spokesmen)? ... As enemy combatants, killing them is not only legal under the rules of war ... but it just seems like the right thing to do. I mean, we've all wanted to kill someone over the stupid things they've said on twitter. Now is our chance!"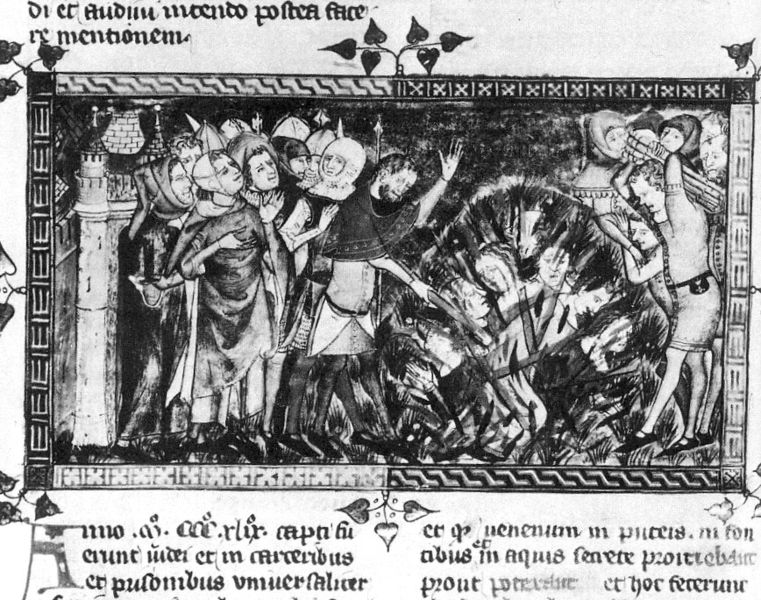 Jews are falsely blamed for poisoning the water during the Black Death persecutions in 1349.
From here.
The Jews were entirely innocent, but the modern Taliban actually do what the Jews were accused of doing.
The Taliban poison children at school in pursuit of their sick and deranged religion.


Female Apache gunner takes out Taliban with Hellfire missile.
Magnificent. A tiny, tiny bit of revenge for their brutal and sadistic persecution of defenceless women.
I love the way she didn't hang about after clearance was given!
---
The jihad in Afghanistan, Pakistan and Nigeria in particular kills
aid workers
and
polio vaccination workers
. Why? Who knows. The jihad kills people because that is its nature.
---
Prince Harry - Symbol of western nobility and honour
As we see in the
Taliban way of war
, the jihad has no honour and no morality. It has no rules of warfare. Any depravity, including sexual depravity, is acceptable. The West provides a great contrast in morality and warfare with honour. The liberal and secular West has far higher standards of morality than the Islamic religious fighters, who have no morality at all.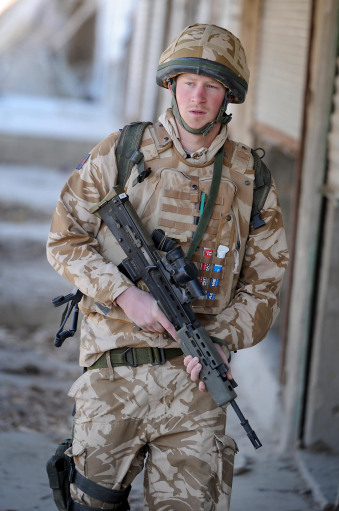 Prince Harry of England
served in Afghanistan in 2007-2013.
He risked his very
life
in Afghanistan in this struggle of decency against evil. He was in combat. He actually killed enemy fighters. This is the most impressive act by a member of the Royal family in many years.
His service is a symbol of the West's commitment to the global struggle against Islamist terror.
Image from
here
.
Other Royals have seen combat against tyrannies:

On a more depressing note, dictators and even enemy countries were invited to Prince William's wedding:

The guest list for Prince William's wedding in 2011 included the dictators of Abu Dhabi, Bhutan, Brunei, Oman, Qatar, Saudi Arabia and Swaziland, and the ambassadors of Iran, North Korea and Zimbabwe. The ambassadors of Libya and Syria were on the original guest list, but the invites were withdrawn due to recent events (as if the nature of those regimes had changed).
Maybe "protocol" dictated that many of these people had to be invited, but isn't it remarkable that representatives of Iran and Syria - countries that help to kill British soldiers like Harry - were invited to the Royal Wedding?

Equally depressing, after Prince Harry married Meghan Markle he became an annoying woke climate change scold. And an annoying scold on racism. And so on.
Let us remember the Prince Harry of before 2016.
The nobility and heroism of the US military:
Dec 2011
: US soldier
Dennis Weichel
comes home from Afghanistan to surprise his beautiful children.
March 2012
: Dennis Weichel gives his life to save an Afghan child.
Heartbreaking. His poor children.
Here's a challenge for leftist jerks reading this page: Name any time ever when a member of the PLO/Fatah or Hamas or Hezbollah or the Iraqi resistance or the Taliban or Al Qaeda ever saved the life of an enemy civilian. Ever. Tell me here.
---
---
The Taliban were defeated, the Al Qaeda bases destroyed, and the war removed a direct threat to the west.
But, like Iraq, Afghanistan has made little progress towards becoming a free country. Yes, it's better than the Taliban. But it's still not a free society. Afghans are resisting building a free society, and the US is not pushing them.
Freedom House ranks Afghanistan as "Not Free".

Afghanistan election, Oct 2004 - An actual democratic election. With women voting.
Victor Davis Hanson, November 19, 2004, on the left's sour reaction to Afghanistan's liberation from the Taliban: "Western feminists, homosexual-rights advocates, and liberal reformists have never in any definitive way expressed appreciation for the Afghan revolution now ongoing in the lives of 26 million formerly captive people. They never will. Instead, Westerners simply now assume that there was never any controversy, but rather a general consensus that Afghanistan is a "good thing" - as if the Taliban went into voluntarily exile due to occasional censure from The New York Review of Books."

Dancing boys of Afghanistan. Boy sex slaves.
Galway Alliance Against War
- Irish leftists still protesting the liberation of Afghanistan from the Taliban, Nov 2008.
They are unimpressed by the destruction of the Taliban regime. They are unimpressed by the destruction of the Al Qaeda camps. They are unimpressed by the 2004 election. They are unimpressed by the fact that girls can go to school. They are unimpressed by the heroic allied soldiers that have died to make this happen. They are unimpressed by the fact that
the majority of Afghans support this
.
No, these western leftists have a
theological
belief that all western involvement in Afghanistan must by definition be wicked, and they are uninterested in any empirical evidence to the contrary.
---
The toughest job in re-building Afghanistan and Iraq is to ensure that democracy and modern freedom replace the backward, traditional tribal and religious laws. This may be
impossible
, I know. The pessimists and isolationists may be right. The Afghans may not be ready for freedom. We may have to wait decades, or even centuries, before Afghans are ready for the modern world. I hope this isn't true.
Even if it is true, the war was still worth it for many other reasons.
A pro-West Islamic state is still a major victory over a pro-terrorist Islamic state. But it is a much
bleaker
scenario.
I don't believe it's true, and it's far too early to give up now. The struggle isn't over yet.
What I and others said when Abdul Rahman was threatened with death:
Bush and Hamid Karzai, you've got to stop this now, if you want neo-cons like me to keep supporting you. If this man dies, then what is the point of re-building Afghanistan?

Trial of Christian mocks U.S. sacrifices - "Over the past four years, 300 U.S. troops have given their lives to drive the Taliban and al-Qaida from power in Afghanistan. ... The trial of Abdul Rahman is a rank insult to their memories."
Tell Afghan court belief is no crime - "Canadian troops have died in Afghanistan helping to oust the Taliban regime, to free 28 million people from tyranny and to restore democracy. ... Canada did not come to the aid of Afghans .. to install a backward, illiberal regime where people can be sentenced to hang for their religious beliefs."

America should at least threaten to withdraw its support for the government:

Former Italian President says Italy should withdraw their troops unless Abdul Rahman is freed: "It is not acceptable that our soldiers should put themselves at risk or even sacrifice their lives for a fundamentalist, illiberal regime".
German opposition politician says Germany should consider withdrawing too: "if Afghanistan does not quickly modernize its legal system, Germany must think over its help for Afghanistan".
Charles Adler says Canada should withdraw their troops and their support if he is killed. Canada should send one message to the government of Afghanistan: "We Canadians are not prepared to shed one more drop of blood to support your government if the sword of your government draws the blood of Abdul Rahman."
I agree. America should threaten to withdraw its protection of the Afghan government if Abdul Rahman is not freed. The Afghans have got to learn that sick laws like this have consequences.

A good suggestion: Send in a U.S. special forces unit, bust the jail, and get the guy out of the country.

Pro-war hawks, who supported Afghanistan's liberation, are outraged:

Bush and Hamid Karzai, you've got to stop this now. Forget Afghan sensibilities. Worry about the American street. The "American street" will never forgive you if this happens.
Pessimism - If Afghanistan becomes a regular Islamist state, should it be abandoned?
Should America really withdraw its support for the Afghan government if things go wrong?
If Afghanistan becomes a standard heretic-persecuting Islamist state, it would be a major victory for Islamism in this war.
Should Afghanistan then be abandoned? Should America really withdraw? Not necessarily. Abandoning Afghanistan prematurely will most likely lead to even worse Islamists taking over, and it becoming a terrorist base. Abandoning Afghanistan prematurely would be an even bigger victory for Islamism in this war.
If Afghanistan becomes a heretic-persecuting Islamist state, it should not necessarily be abandoned. But it then becomes realpolitik. Realpolitik deals may still be done with unfree Afghanistan to hunt for Al-Qa'ida. But Afghanistan will no longer be a real ally, only an ally of convenience, to be abandoned when it is no longer useful. The idealism will be dead.
"Look, he has a Bible!" says the Islamic fascist judge
Ansarullah Mawlazezadah
.
Brave allied troops died for
this
?
Picture credit
Associated Press
.
---
Should the West give up on Afghanistan? The sharia that has been implemented in Afghanistan since 2001 is sickening. The Afghans spit on the sacrifices that western soldiers have made for them.
Perhaps we need to be patient, for decades. Afghanistan is freer now than it was before 2001, and the movement is in the right direction. If regular peaceful elections and a diverse press can continue for decades, the culture war will follow, and the fundamentalists will eventually lose. Let us see the Abdul Rahman case, and the other disgusting sharia cases, as part of the long struggle within Afghanistan. The struggle goes on. But America must express its anger with Afghanistan again and again. Each of these cases should bring new threats and sanctions from America. I still say the West should not give up on Afghanistan. But the Afghans aren't helping.
Sayed Pervez Kambaksh - Afghan journalist sentenced to death for "blasphemy", Jan 2008.

Death changed to 20 years, Oct 2008.
He is freed by secret pardon by Hamid Karzai, announced Sept 2009. "he is now starting a life with a new identity in another country after 20 months of incarceration".
This sleazy, behind-the-scenes, giving in to international pressure is no substitute for a rule of law that officially protects freedom of religion and free speech.

Afghan government bans and destroys Muslim books because they are Shia Muslim, May 2009. How would they treat books that aren't even Muslim at all?

Afghan government, Aug 2009, introduces harsh sharia laws for the Shia minority.

Shia men may deny their wives food and sustenance if they refuse to obey their husbands' sexual demands.
Guardianship of children granted exclusively to their fathers and grandfathers.
Women have to get permission from their husbands to leave the house.
Women have to get permission from their husbands to work.
Rapists can avoid prosecution by paying the victim.

Afghan convert to Christianity gets asylum in Britain, Nov 2009. Why are brave British troops giving their lives for a country where you cannot safely convert to Christianity?
Afghan authorities suspend two Christian foreign aid groups on suspicion of proselytizing, May 2010. Brave US soldiers die for a country in which Christian proselytizing is illegal? Shame on the Afghans.
Afghanistan sentences Christians to death for converting from Islam to Christianity, May-June 2010. Afghan President Hamid Karzai supports arresting converts to Christianity.
Afghan judge orders convert Shoaib Assadullah to renounce Christianity or face 20 years jail or execution, Jan 2011. And Mar 2011 update.

Sex and "morality" crimes:

Sayed Mossa (or Musa Sayed), Afghan convert to Christianity from Islam, is jailed, beaten and raped in Afghanistan, 2010-11.

Afghan President Hamid Karzai, March 24, 2011, shows his primitive understanding of human rights.

He calls the burning of the Koran by the Florida pastor a "crime against a religion and the entire Muslim Umma ... The President called on the US and the United Nations to bring to justice the perpetrators of this crime".
Karzai calls for the US to make Koran burning illegal: "The American Congress and Senate must condemn this in clear words, show their stance, and prevent such incidents from happening again".
Karzai supports sharia for women, March 2012: Women should not travel without a male guardian. Women should not mingle with strange men in places like schools, markets or offices. Beating one's wife is allowed under some circumstances.
Karzai is betraying everything America has done for him and for his country since 2001. Is supporting Karzai really that different to supporting Mubarak or any other friendly dictator?

Afghanistan bans entire YouTube site, Sept 2012, to protect Muslims from seeing the film Innocence of Muslims, an unsympathetic account of the life of the Prophet. "Afghan President Hamid Karzai condemned the film ... saying its makers had done a "devilish act" and that insulting Islam was not allowed by freedom of speech." American soldiers died to install this regime!

Death by stoning may return as punishment for adultery in Afghanistan, report, Nov 2013.
New Afghan law will allow men to attack their wives, children and sisters without fear of judicial punishment, Feb 2014.

Should the West give up on Afghanistan? Should the allies have just deposed the Taliban in 2001 and then left?
Why has Obama not taken the lead on this? Obama should threaten the Afghan government with abandonment if it does not stamp out all sharia threats to religious freedom. Bush was useless on this, but that's no reason for Obama to be useless too.
I still say the West should not give up on Afghanistan. But the Afghans aren't helping.

Response: Taliban take Kunduz, Sept 2015.
Map of Taliban-controlled areas of Afghanistan as at Oct 2015.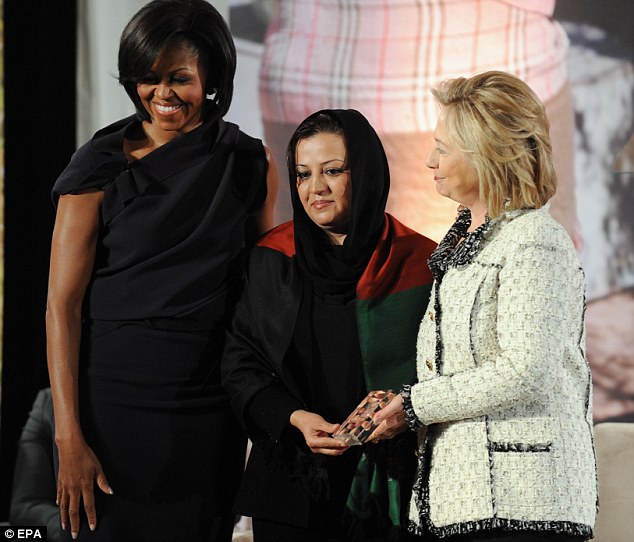 The difficulty of identifying even a single ally in Afghanistan:
Michelle Obama and Hillary Clinton celebrate Afghanistan's only female head prosecutor,
Maria Bashir
, in 2011.
Bashir is under constant death threat for
opposing domestic abuse
. She received a
"Women of Courage" Award
in 2011.
Unfortunately, it turns out that Bashir also
jails women for adultery
.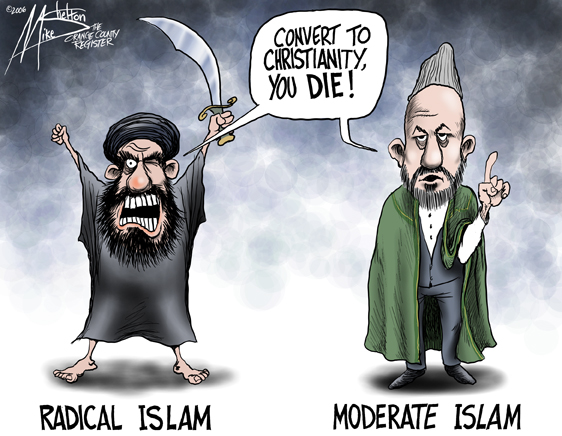 Cartoon by Mike Shelton.