The Western poor
Real
poverty - where
families starve to death
, and have no shoes or proper clothing, and no medical care, and
infants have a high death rate
- does exist in the world today, in the
Third World
.
Real poverty used to exist in the West in the past. But it does not really exist in the West any more.
The Western "poor" are not really poor at all, in historical terms. Their great-grandparents, and even their grandparents, were much poorer. Nor are they poor in geographical terms. Take the most restrictive definition of the "poor" in any Western country, and they will still be among the richest people on earth.
The Western "poor" do have terrible problems. But their problems are not poverty. They are other things.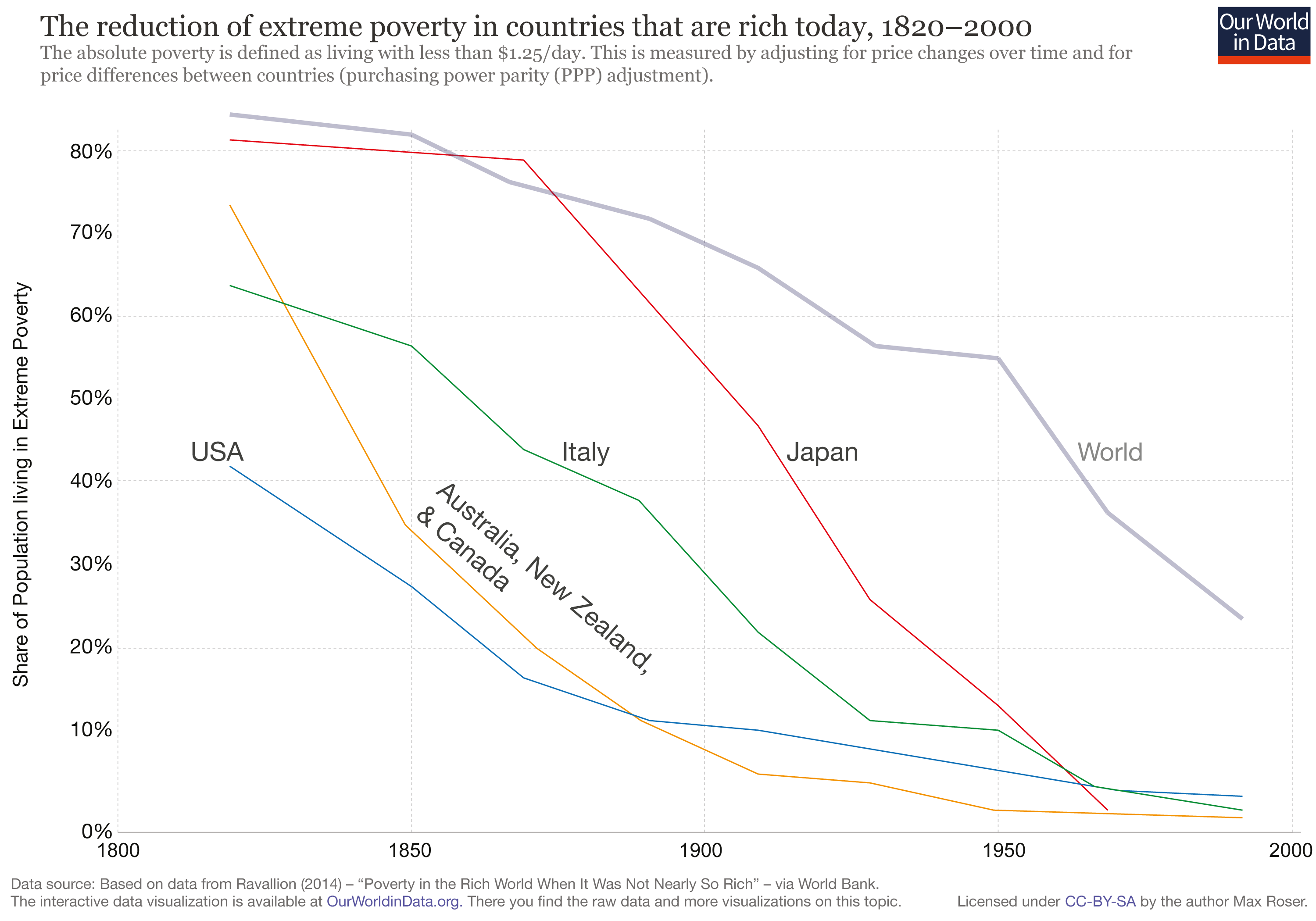 The end of poverty in the West.
From
ourworldindata.org
.
There used to be plenty of poor people in the West. Not any more.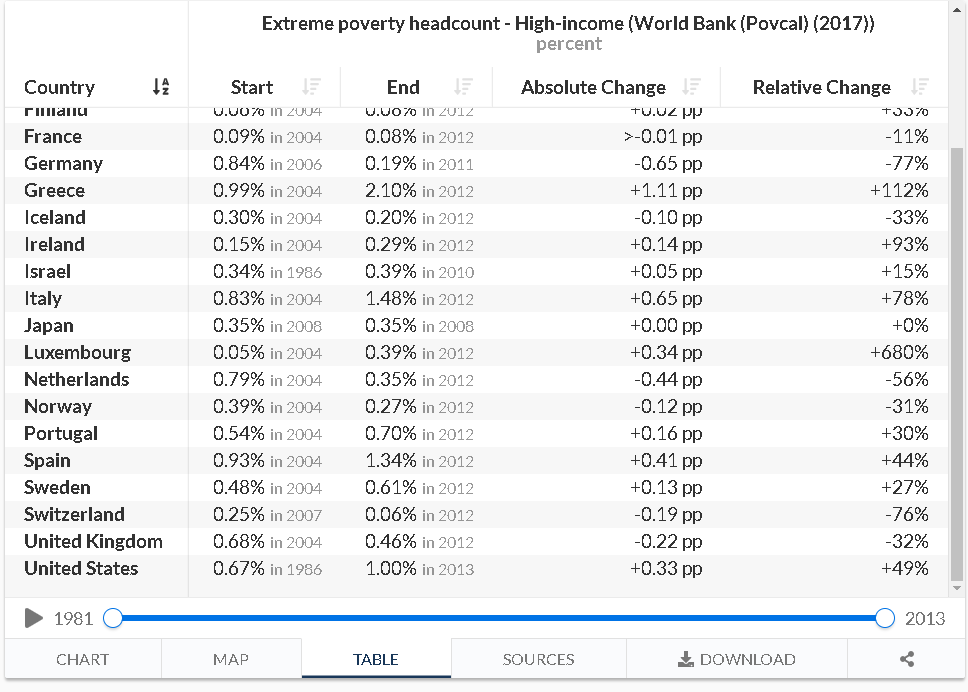 As noted by ourworldindata.org, extreme poverty is now below 1 percent in most Western countries, and below 0.1 percent in some.
And even that is based on income and does not include state benefits.
In actual poor countries, your income is all you have. But not in the West.
Including state benefits, per capita consumption is above the absolute poverty threshold for just about every single person in the West.

Satellite TV dishes on council housing in London, 2007.
See full size. From Ben Scicluna. See terms of use.
Search for other similar images.
Call me simple but I would put house first, and TV last, not the other way round. I would happily go without TV at all for my entire life to avoid living in the place above.
And I acted like that. I myself did not have satellite TV when this photo was taken. I only got it in 2008. I lived without it as an adult for 20 years, while I worked and paid off my mortgage. I did not sign up for it until I had paid off my mortgage in full.
Yes, I know I have had a much better life than these people. I am just pointing out there is something strange about the definition of "poor" if for 20 years I have been walking past council houses with satellite TV, when I did not have it myself.
The western "poor" are not actually poor in a strict sense. Their problem is something else.
---
Poverty is not Inequality - Frank McGahon notes how many groups confuse the two - deliberately I believe. For instance, poverty is defined as "earning less than 60% of the average wage". Under such a definition, prosperous, wealthy people - richer than all of their ancestors and most of the planet - become "poor". McGahon has a nice image to explain how - if we use these dishonest definitions of poverty - you can solve all poverty overnight: "Simply take all the money off those earning over 60% of the average wage - the "hedonistic rich" as she puts it - put it in a big container and set it on fire. Bingo: the "poor" become "rich" without receiving a single extra cent!"

What is Poor? by Bruce Bartlett - On the changing definition of poverty.
In the US, in the lowest 10 percent of households (all of whom are officially classified as "poor"):

91 percent own color TVs (which I myself didn't own before age 29)
74 percent own microwave ovens (I never owned one before age 29)
55 percent own VCRs (for me, age 29)
47 percent own clothes dryers (for me, age 30)
42 percent own stereos
23 percent own dishwashers (for me, age 30)
21 percent own computers
19 percent own garbage disposals (I still don't own one!)

The Myth of Widespread American Poverty by Robert E. Rector, 1998

In 1995, 41 percent of all "poor" households owned their own homes.
70 percent of "poor" households own a car. 27 percent own two or more cars.
97 percent have a color television. 49 percent own two or more color televisions. 87 percent have a telephone.
74 percent have a VCR. 21 percent have two or more VCRs. 53 percent have a stereo system.
99 percent own a fridge. 64 percent own a microwave oven.
61 percent own a washing machine. 49 percent own a dryer. 28 percent have a dishwasher.
66 percent have air conditioning. 29 percent have garbage disposal.
60 percent of "poor" Americans have 2 or more rooms per occupant. I and my family have 1.3.
Poor Americans have an average of 440 square feet of living space per person. I and my family have 240 square feet.
Housing space for poor Americans is greater than that of the average person living in Paris, London, or Vienna.

"most "poor" Americans today are better housed, better fed, and own more personal property than average Americans throughout most of this century."
"If poverty is defined as generally lacking adequate nutritious food for one's family, suitable clothing, and a reasonably warm, dry apartment in which to live, or lacking a car to get to work when one is needed, then there are few poor persons remaining in the United States. ... The bulk of the "poor" live in material conditions that would have been judged comfortable or well-off just a few generations ago. ... In fact, living conditions in the nation as a whole have improved so much that American society can no longer clearly remember what it meant to be poor or even middle class in earlier generations."

Robert E. Rector sums up perfectly the left's lack of understanding of poverty, crime and other social problems:

"The Census poverty report ... is rooted in the belief that "poverty" causes social problems such as crime, drug use, school failure, illegitimacy, and dependence. This belief, although common, is false. Clearly, there were far more truly poor persons in earlier generations than there are today. (In fact, nearly all adults alive today had parents or grandparents who grew up "poor" in the sense of having incomes below the current Census thresholds, adjusted for inflation.) If it were true that "poverty" causes social and behavioral problems, then earlier generations should have been awash in drugs, crime, and promiscuity. But this was not the case. Most social problems have expanded as incomes have increased. In reality, it is the norms and values within a family, rather than its income, that are critical to a child's well-being and prospects for success in future life."

How Poor Are America's Poor? Examining the "Plague" of Poverty in America, by Robert E. Rector, August 27, 2007.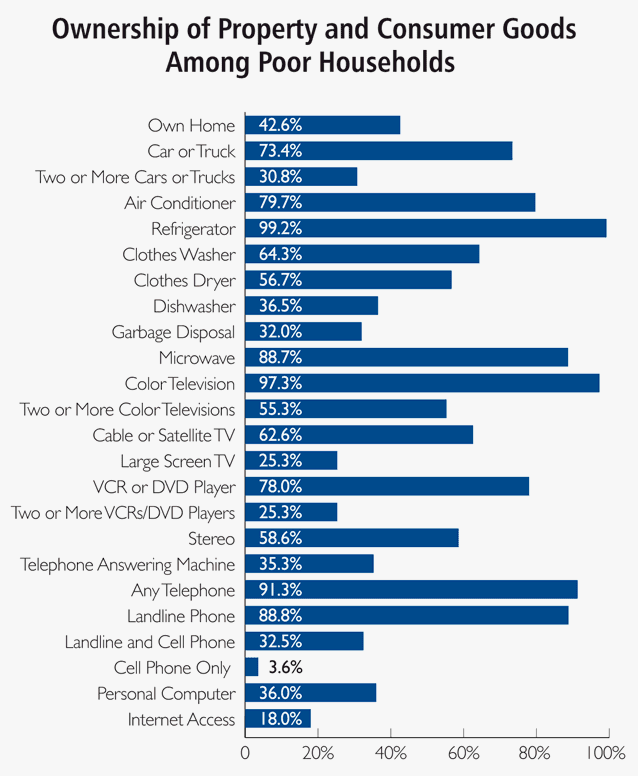 Property owned by Americans classified as "poor" by U.S. Census Bureau.
From
The Heritage Foundation
.
Most of these things I never owned until my 30s, and a few of them not until my 40s, after years of hard work.
I still do not own air conditioning, a garbage disposal, or a stereo.
Persons per room of Americans classified as "poor" by U.S. Census Bureau.
From
The Heritage Foundation
.
My family has 0.75 persons per room.
That is, over 66 percent of "poor" Americans have more space than us.
Household space per person of Americans classified as "poor" by U.S. Census Bureau.
From
The Heritage Foundation
.
My family has 240 square feet per person.
Even the "poor" apartment dwellers have more space than us.
---
Social mobility (helping the poor become rich)
Leftists
claim
to care about the poor, and yet their policies don't seem to help the poor become
not poor
(which surely is the whole point).
Social mobility, not more hand-outs and welfare, should be the primary goal of every person who really cares about the poor. And social mobility, it seems to me, is easier in America than anywhere else on the planet. Europe is not bad, but is more influenced by class, accent and address. Most of the world is dominated by tribe, religion, caste, family, and political corruption. It's hard to escape your destiny in most of the world. But in America if you go to school, and work hard, you'll make money. It's not perfect, but it's better than anywhere else. If you care about people's material circumstances, as leftists since Marx claim to, then you ought to want every country in the world to be like America.
Social mobility in the USA

It is true that belief in social mobility is stronger in the US than elsewhere. The "can do" spirit is real, and can be felt by any immigrant arriving from anywhere else. It is a refreshing change from the fatalism and begrudgery in Europe.
But it is disputed that there is actual social mobility in the US more than elsewhere in the West.

The book The Spirit Level: Why More Equal Societies Almost Always Do Better (2009) by Richard Wilkinson and Kate Pickett.

This book claims that Scandinavia and Canada have high social mobility, and the UK and US have low social mobility.
One of the authors, Richard Wilkinson, praises the dictatorship of Cuba and believes their government-controlled statistics. (*) "In Russia, with its oligarchs and poverty, average male life expectancy is 18 years fewer than in Britain, and female life expectancy 9 years fewer. Compare that with Cuba where resources, though no more plentiful, are much more equally shared. Life expectancy is almost as good as in the USA and only a year or two below that in the UK. ... According to the WWF, Cuba is the only country that has managed to combine an environmentally sustainable footprint per head of population with an acceptably high quality of life as measured by the UN Human Development Index."
(*) Which perhaps casts doubt on the statistics in his book.
His co-author Kate Pickett praises the Occupy movement.
The book The Spirit Level Delusion by Christopher Snowdon (2010) (and blog).
Beware False Prophets: Equality, the Good Society and The Spirit Level by Peter Saunders.
Why have leftists been incapable of helping the poor become
not poor
? The main problem is that leftists have no real understanding of what it's like in the poor uneducated underclass. Leftists understand middle-class liberal coffee-house culture, but little else.
Theodore Dalrymple (pen name of Anthony Daniels)

Theodore Dalrymple's books:

Walter Williams also writes well about the modern western "poor".

Where are the poor? - "Real material poverty, to any significant degree, simply does not exist in the United States. ... Poverty of the spirit and dependency are today's problems."
The poverty hype - "Despite claims that the rich get richer and the poor get poorer, poverty is nowhere near the problem it was yesteryear". He has some annoying (annoying because true) advice for those who want more money: "Households in the top income bracket have 2.1 workers; those in the bottom have 0.6 workers. In the lowest income bracket, 84 percent worked part time; in the highest income bracket, 80 percent worked full time. That translates into: Get a full-time job. Only 7 percent of top income earners live in a "nonfamily" household compared to 37 percent of the bottom income category. Translation: Get married. At the time of the study, the unemployment rate in McAllen, Texas, was 17.5 percent, while in Austin, Texas, it was 3.5 percent. Translation: If you can't find a job in one locality, move to where there are jobs."

Walter E. Williams has some interesting facts:

The top 20 percent of income earners in the US pay 80 percent of total federal income taxes.
The top 50 percent pay 96.5 percent of total federal income taxes.

These writers express something I've thought for a long time: There is no real poverty (by any historical or world standards) in the west any more. The underclass's problems are something else.
The underclass has a rotten life. But it is not caused by poverty.
---
What
stops
people getting out of the ghetto?
There have been studies that suggest social mobility has declined in the west recently (in the sense of the absolute numbers of people moving from poor up to middle class).
How can this be? Has the west got more prejudiced against those with the "wrong" race, class, religion or accent? Everything I know tells me the west has never been less prejudiced. Consider even the good-humoured, but ultimately patronising, portrayal of blacks, asians, Irish, women and gays on 1970s TV, compared with the sophisticated approach of today which clearly accepts them as equals. It seems to me that the barriers are down today as never before. So what is going on?

Here's one theory: There was a massive once-off adjustment in the past that is unlikely to be repeated. For hundreds of years, talented people of the "wrong" religion, class, race or gender were held back. When these barriers came down they moved forward, creating new middle classes such as the late 19th century Irish Catholic middle class, or the 20th century black American middle class. This was a massive once-off wave.
Once that adjustment is made, we are in a more "normal" situation where ambitious middle-class parents raise ambitious children, who stay middle class, and unambitious poorer parents raise unambitious children, who stay poorer. The barriers are down (as never before) for any talented people to rise - there are simply fewer of them taking up the challenge as there were in the highly artificial situation of the past.

It could even be argued that many young people born in high-unemployment, high-crime, inner-city ghettoes are victims of the successful social mobility of the past. Those who wanted to advance - all the ambitious, hard-working people - have left, leaving behind no role models. To leave the ghetto the young person must adopt a completely different set of values to the culture all around him - for example, he must work hard in school and try to improve himself. This is impossible for most young people in the face of constant discouragement from his peers, who mock his hard work and may even assault those who work hard in school.
Ghetto culture contributes to keeping people in the ghetto, while its authors get rich.

Lost in the Ghetto by Theodore Dalrymple - The horror of being born intelligent or sensitive in a modern urban ghetto.

"Despite official genuflections in the direction of diversity and tolerance, the sad fact is that the culture of the slums is monolithic and deeply intolerant. Any child who tries to resist the blandishments of that culture can count on no support or defense from teachers or any other adult, who now equate both freedom and democracy with the tyranny of the majority. Many of my intelligent patients from the slums recount how, in school, they expressed a desire to learn, only to suffer mockery, excommunication, and in some instances outright violence from their peers."
"Life in the British slums demonstrates what happens when the population at large, and the authorities as well, lose all faith in a hierarchy of values. All kinds of pathology result: where knowledge is not preferable to ignorance and high culture to low, the intelligent and the sensitive suffer a complete loss of meaning. The intelligent self-destruct; the sensitive despair. And where decent sensitivity is not nurtured, encouraged, supported, or protected, brutality abounds."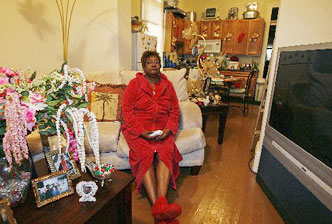 One picture sums up the strange nature of many of the modern western "poor".
Sharon Jasper
, an activist, age 58, who has lived off the taxpayer all her life in public housing in New Orleans.
From article:
Housing officials claim surplus
, December 18, 2007,
The Times-Picayune
, New Orleans. See
original image
.
"Sharon Jasper [complained] about her subsidized private apartment, which she called a "slum." A HANO voucher covers her rent on a unit in an old Faubourg St. John home, but she said she faced several hundred dollars in deposit charges and now faces a steep utility bill. "I'm tired of the slum landlords, and I'm tired of the slum houses," she said. Pointing across the street to an encampment of homeless people at Duncan Plaza, Jasper said, "I might do better out here with one of these tents." Jasper, who later allowed a photographer to tour the subsidized apartment, also complained about missing window screens, a slow leak in a sink, a warped back door and a few other details of a residence that otherwise appeared to have been recently renovated."
From the caption: "Sharon Jasper sits in the living room of her voucher-backed private residence. "I might be poor but I don't like to live poor. I thank God for a place to live but it's pitiful what people give you.""
Like a giant, top-of-the-range TV. Do I have one of these myself? No. Does anyone I know have one? Not that I know of. But Sharon Jasper has one.
I also love how she thanks "God" for a place to live, rather than, you know, thanking people with jobs.
As Theodore Dalrymple says, life is hard for the modern western "poor", but their problems are not caused by poverty. Their problems are caused by something else.
---
The left don't understand what it is like among the western poor. Similarly, the left have no realistic idea of what it's like in
undemocratic countries
. They understand comfortable middle-class life in a free country, but little else.
Cox and Forkum cartoon on western idiots like Jimmy Carter, who is
surprised
when North Korea lies to us.
From
here
.
---
The left don't understand
criminals
- for, essentially, the same reasons why they don't understand dictators:
Typical glorification of a "poor"
burglar
(that is, a lazy, selfish, violent bully) by a
wealthy western artist
.
From the disgusting film
The General
.
By glorifying people like this, rather than those who study in school and work hard, western intellectuals help to keep poor people in the ghetto.
---

Return to Capitalism page.