Naomi Klein
Naomi Klein, despite her good intentions, is an enemy, not a friend, of the third world. Her ideas, if adopted, will
increase
, not decrease, poverty in the third world. The solution to third world poverty is
democracy, capitalism, free trade and globalisation
.
Capitalism

Iraq

Naomi Klein defends al-Sadr's Shia Islamofascist killers, 27 August 2004: "Moqtada al-Sadr and his followers are not just another group of generic terrorists out to kill Americans: their opposition to the occupation represents the overwhelmingly mainstream sentiment in Iraq. Yes, if elected, Sadr would try to turn Iraq into a theocracy like Iran, but for now his demands are for direct elections and an end to foreign occupation."
In reality, Al-Sadr and his followers are violent religious maniacs who torture and kill people for having the "wrong" kind of Islam, who torture and kill gays, and who have contempt for democracy and elections. Naomi Klein, like so many on the left blinded by anti-American hatred, has no idea what the Iraqi resistance is.
Leftist Marc Cooper responds.

War

The movie War, Inc. (2008), written by, produced by and starring John Cusack.

A "satire" sneering at the effort in Iraq. With every leftist cliche in the book. Please tell me I never have to sit through this movie.
John Cusack's inspiration for the film is Naomi Klein's idiotic conspiracy theory of "Disaster Capitalism". Anything to avoid understanding what the U.S. military are actually doing in Iraq.
Cusack "explains" that this film is about: "the absurdities wrought by the neo-conservative, neo-liberal experiment in the Middle East and around the world. ... the ever expanding war machine is completely out of control and has morphed into something far more dangerous than Eisenhower ever imagined."

The documentary True Stories: The Shock Doctrine (2009) by the anti-American Michael Winterbottom, director of the enemy propaganda The Road to Guantanamo.
The genius Milton Friedman compared to the simple-minded leftist Naomi Klein.
---
Naomi Klein is married to the cynical Canadian leftist Avi Lewis.
Ayaan Hirsi Ali v. Avi Lewis.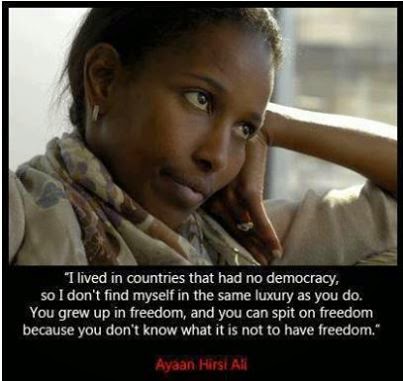 Ayaan Hirsi Ali schools Avi Lewis.
Graphic found here.
---
"they have looked back at 5,000 years of human history - at pestilence and famine and disease and degradation, at genocide and civil war, at fear and loathing, at bigotry and ignorance, chauvinism and dictatorship - and concluded that our biggest problem is ... shopping."
- Daniel Finkelstein on the daft anti-capitalism, anti-consumerism and anti-globalisation preachers and campaigners who will keep the third world poor.
---
Return to
Modern leftists
.