Cinema - Movies against the war
Cinema and the war
discussed Hollywood's failure to cover the modern
War on Islamism
, the great story of our age.
Here I discuss the vast number of movies sneering at the war effort, and promoting enemy victory. I have moved some long reviews to a separate page.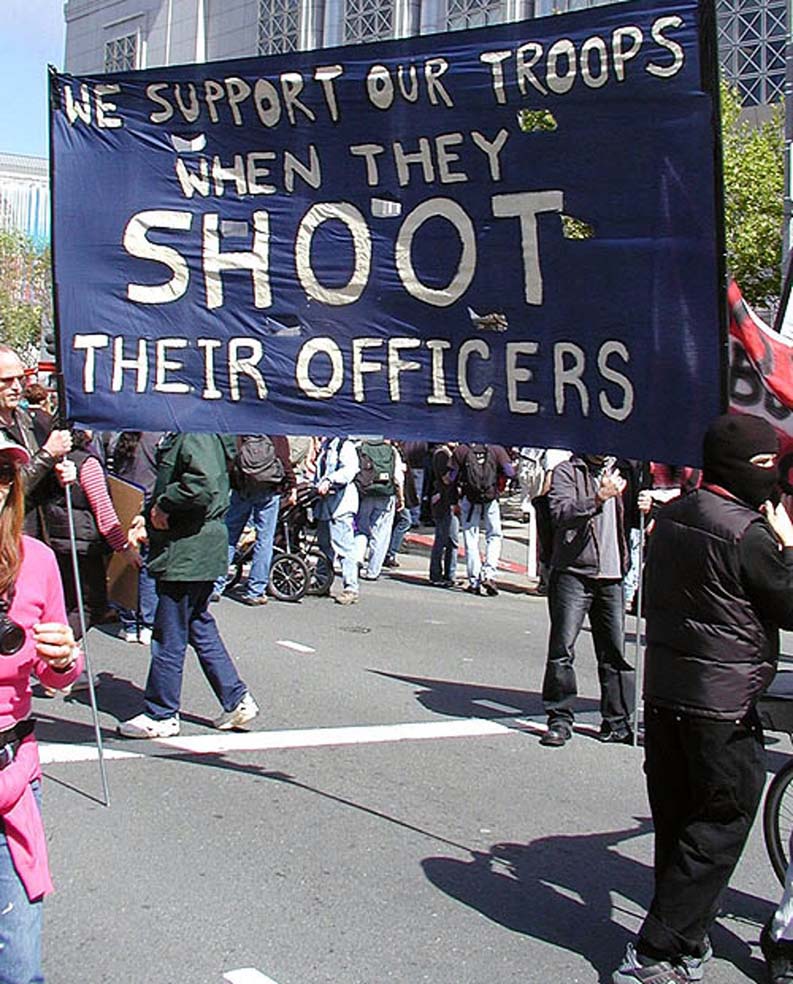 In the four
Jason Bourne
films, the hero only fights against the CIA. He only fights against Americans.
And we're meant to find this heroic!
How strange the left-wing mind is. Scorning
heroes
. Admiring
traitors
.
Maybe the above guys are the target audience for the strange Jason Bourne films.
Photo of
anti-war protest, San Francisco, 15 Mar 2003
.
---
Instead of proper movies about the great story of our age - the War on Islamism - we get this kind of stuff:
Other
The Day After Tomorrow (2004)

The Day After Tomorrow criticises a Cheney-like character for ignoring the danger of global climate change. In reality, of course, Cheney is a visionary who sees as few others do the real danger to the world - nuclear-armed Islamist terror - a danger that the movie makers no doubt don't believe in, and won't take seriously until a western city is destroyed. Like in the film, in fact.

The Four Feathers (2002), about Britain's 19th century Sudan campaign against the Mahdi army.

James Lileks points out that The Four Feathers is about a similar fight (or even the same fight) as the West is engaged in today. And yet this point seems lost on the filmmakers. "but you wouldn't know it from the movie. It's like Warner Brothers making a movie in 1942 set in the Prussian wars that studiously ignored parallels to modern events."
An unpleasant moment in the romantic comedy
I Could Never Be Your Woman
(2007).
Saoirse Ronan's character just
assumes
that everyone hates Bush and thinks the Iraq War is about oil.
And the film
assumes
this too. What a bubble they all live in.
Lyrics
:
"So hot. Must be 98. For December, that's not so great. While the North Pole is turning to slush, on my TV, there's President Bush. Isn't he moronic? Don't you think? Incredibly moronic. And yes I really do think. He's a pa-a-in, in the whole world's ass. He'd stab his mom for a gallon of gas. How can it be, we voted him in? I just don't see how it figures."
---
Love Actually
(2003) was a pleasant romantic comedy spoiled by the simply
unnecessary
insertion of obnoxious anti-American politics.
It's bad enough that the world's movie makers are afraid to address the great War on Islamism - that this massive drama is played out on the news and we never get the chance to see it in a movie. But now we have crap politics being shoved down our throats in the unlikeliest of settings.
Are the movie makers in such a hermetic
Guardian
-reading world that they think everybody will like Hugh Grant's sad little anti-American speech? Sadly, probably yes.
Hugh Grant's sad little speech in
Love Actually
(2003).
In the film, the US President is a Texan Bush-like character who is a sleazeball with women.
In reality, of course, Bush is a rather dull family man who (in contrast with Clinton) has no interest in partying, goes to bed early, and is "Dry, sober, and at home with his wife" every night.


Brilliant ad for the actual PM Boris Johnson and the Tories in the UK election 2019.
Parodying another famous scene in Love Actually.
I far prefer the real Boris PM to the fictional Hugh Grant PM!
---
Seriously. If the enemy made propaganda (for infidel consumption), in what way would it look any different to these films?
The Mark of Cain (2007)




Meeting Resistance (see here) (2007)

Pro-enemy propaganda by Molly Bingham and Steve Connors. They defend and justify the Iraqi jihad that is killing tens of thousands of innocent civilians. They seem to want it to win, so that all of Iraq can be enslaved.
Shame on them for this disgusting enemy propaganda.
They ask: "What would you do if America was invaded?" Are they so stupid that they have never thought of the answer to this: "If I lived in a country ruled by a sadistic murdering tyrant that has isolated himself from the rest of the world and brought nothing to the people but poverty and pain, while living a lifestyle beyond my wildest dreams, and I saw an Iraqi soldier riding on top waving his gun promising freedom and opportunity, I would not only accept that, but I would shake his hand and thank him from the bottom of my heart ... Suck on that New York Times! This game is easy."




Valley of the Wolves Iraq (Turkey, 2006).



---
---
Jason Bourne, the left-wing James Bond.

The Bourne Identity (2002)
The Bourne Supremacy (2004)
The Bourne Ultimatum (2007)
Jason Bourne is a unique action hero. In three films, he never fights anyone real. Only his own employers.
Maybe, as Cosmo Landesman says, that makes him the perfect left-wing action hero. "Bourne allows liberals to enjoy all the forbidden pleasures of the espionage block-buster: they can see him kick ass, break necks, smash faces and shoot fellow human beings, and not complain about civil liberties because the victims work for the CIA."
The Bourne Legacy (2012) changes the formula. It introduces another guy - Aaron Cross - fighting his own employers.
Jason Bourne (2016).

The new "re-booted" James Bond is little better:

Casino Royale (2006) and Quantum of Solace (2008). The bad guys are some kind of international "terrorists". Motivated by money and power. Certainly not by religion or ideology, or anything too close to reality.
And in Quantum of Solace, the Americans are in league with the bad guys! What a load of crap.
During the Cold War, Bond fought the enemy. During this war, he doesn't. (Though he's still one up on Bourne since Bourne only fights the CIA.)
Quantum of Nonsense, Mona Charen, November 18, 2008.

Matt Damon, the actor who plays Bourne, has a long history of talking left-wing nonsense:

Bill Kristol challenges Matt Damon to public debate on whether the Iraq war is won, Jan 2009. Classic! Put up or shut up now, actor-man!
How come the NSA found out
Will Hunting
hates America
during
the job interview and not
before
?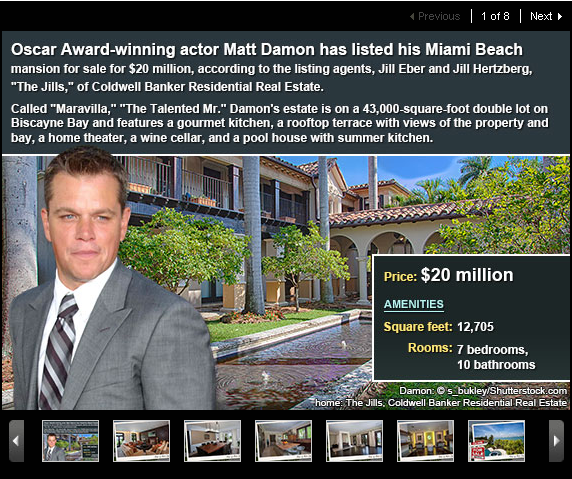 Matt Damon: Makes anti-fracking movie.
Lives in 12,000 sq ft mansion.
---
---
Not about the modern war, but Clint Eastwood's movies about Iwo Jima in WW2 betray a similar lack of understanding of reality as the rest of Hollywood.
Flags of Our Fathers (2006)

Instead of telling us the incredible story of Iwo Jima, this movie spent half its time on this really boring story about the flag photo. I guess Clint Eastwood was trying to make some preachy point about mythology, but frankly it was fairly uninteresting compared with the epic, world-changing events taking place on the island.
Propaganda Then and Now by Kyle Smith, October 27, 2006 - "For 61 years, Americans have believed that the flag-raising on Iwo Jima was our country captured in its finest moment of teamwork, courage, triumph. For the next 61 years, thanks to Clint Eastwood's new film "Flags of Our Fathers," many Americans will think of it as a symbol of crass salesmanship, sleazy opportunism and even racism."
The film is based on a book. But the book is different: "Mr. Bradley devotes one of his book's 20 chapters to the bond tour, but it takes up a major chunk of the 131-minute film."
As Smith points out, the problem with the film is it is in fact really predictable: "At the outset of "Flags," one of the vets looking back decades later hints darkly: "Everyone likes things nice and simple - good and evil, heroes and villains." But the film's creed is equally simple: that money corrupts everything, that the official story must be a lie, that patriotism is just a bumper sticker."

The companion movie, Letters from Iwo Jima (2006), from the Japanese side.

This movie was (again predictably) a bland whitewash of an Axis Japan that killed maybe 6 million men, women and children: "From the invasion of China in 1937 to the end of World War II, the Japanese military regime murdered near 3,000,000 to over 10,000,000 people, most probably almost 6,000,000 Chinese, Indonesians, Koreans, Filipinos, and Indochinese, among others, including Western prisoners of war."
Again, like Flags of Our Fathers, the big picture of Axis Japan's imperialist aggression and genocide is not mentioned. There is no context for the war. There is no explanation of what the Battle of Iwo Jima means for the hopes of millions of Asians suffering under Japanese tyranny. There is no condemnation of people like Baron Nishi for knowingly fighting for this tyranny.
James Lileks on Flags of Our Fathers: "There's no sense in this movie that World War Two was fought for any particular reason. It just was a thing that happened and some guys paid the price and the survivors were dragged out for an ad campaign."

The Japanese tortured prisoners on Iwo Jima:

According to Letters from Iwo Jima, we are meant to believe that the commander Kuribayashi was an honourable man who did not order the torture of prisoners: "Japanese soldiers increased the impact of these tactics by capturing sleeping Marines and taking them back down into their bunkers where they could be mercilessly tortured, with the screams carrying to the sleeping Marines up on the ground via small diameter vent holes."
How could the noble Kuribayashi have ordered such things? After all, allied prisoners, and civilian men, women and children, were raped, starved, tortured to death, burned alive, used for bayonet practice, and dissected alive everywhere else in the Japanese Empire. What makes anyone think Iwo Jima and Kuribayashi would be any different?
Chris Tookey: "As William Manchester's memoir Goodbye, Darkness and Chester Hearn's book Sorties Into Hell reveal, the defenders serving under this supposedly heroic leader committed many terrible atrocities, including eating American captives alive at night so the U.S. Marines could hear their screams of agony. There were many acts of Japanese torture, including the sodomising and beheading of prisoners."
Sorties Into Hell details the eating of prisoners on Chichi-jima. Possibly prisoners on Iwo Jima were merely tortured, not eaten.
Ralph Ignatowski, featured in the film, was dragged underground and tortured by Kuribayashi's troops: "Other eyewitness reports further indicated that Ignatowski had been tortured in the cave by the Japanese for three days, during which time they also cut out his eyes, cut off his ears, smashed in his teeth, and cut off his genitalia and stuffed them into his mouth."
As Tookey says: "I know that to acknowledge these facts might diminish Eastwood's case, which is that the Japanese were innocent victims of a thing called 'war', but without some recognition of these factors, his account is light years away from honest."
Comment: "The worst part is that the modern day Japanese are pig ignorant of the fact of the war; their government has lied to them for sixty years, saying that the Japanese soldiers - who in reality tortured, raped, murdered and killed his way across 1/8 of the globe - were actually honorable and that it was the Japanese at Hiroshima and Nagasaki were the true victims of the war. This movie COULD have opened their eyes about the facts."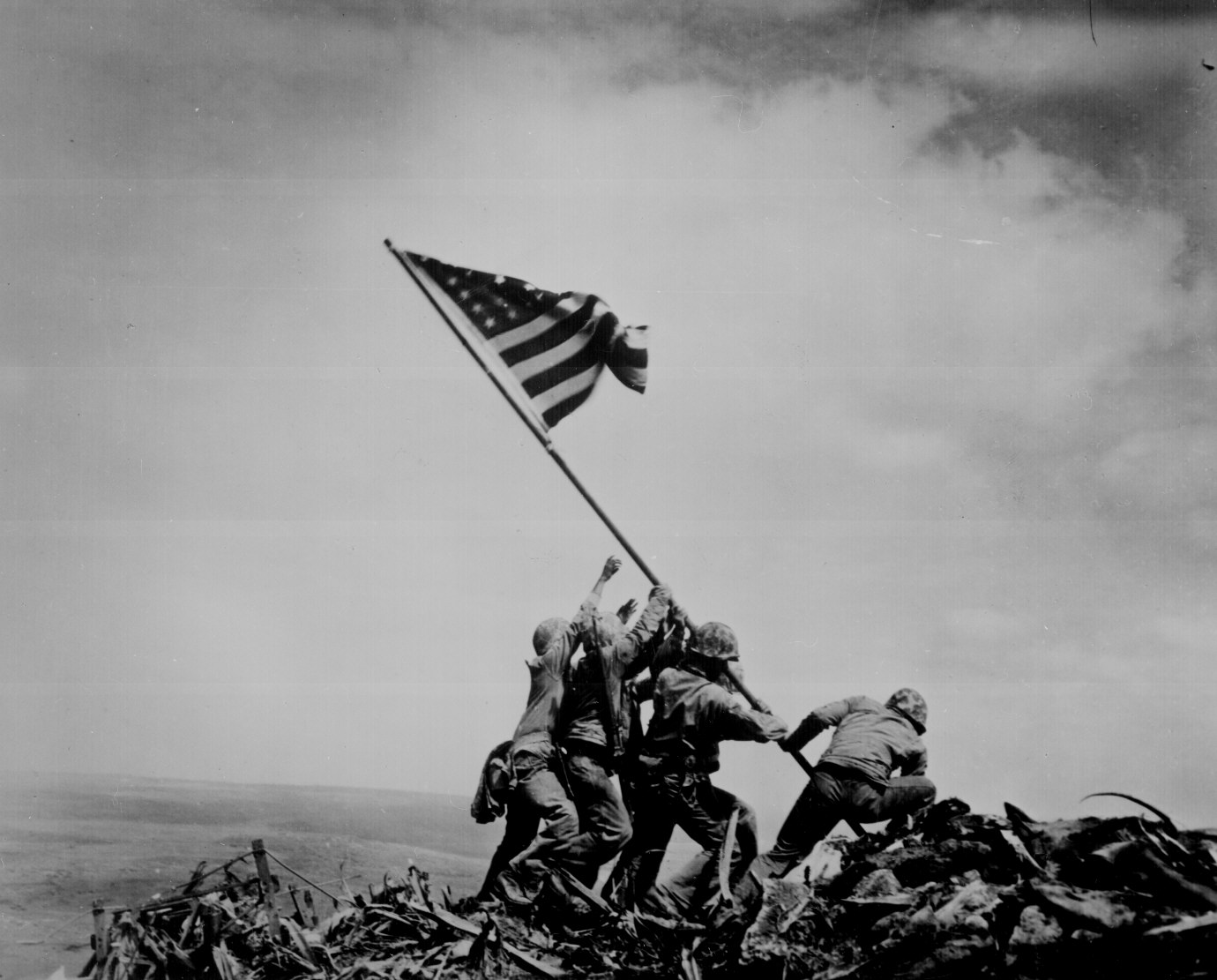 The photo
"Raising the Flag on Iwo Jima"
.
See
full size
. From
here
.
This represents the
reality
of the heroism of free men standing against a tyranny.
Whereas
Clint Eastwood's anti-war movies about Iwo Jima
represent a
fantasy
of how he thinks the world should be.
---
At last, in 2007, a rush of movies about the war came out. Or, not really
about
the war. Rather, a lot of left-wing, anti-war, demoralising sermons and so on.
As you know, I'm obsessed by the war on Islamism, and I go to the movies a lot, and I'd love to see good movies on this topic, and I know I have this webpage and so I should really see these. But frankly my enthusiasm for seeing these is pretty much nil:
The above is as good as it gets in actual depiction of the war. There are also a whole bunch of anti-war, anti-victory films set at home:
---
Other flawed films
---
---
These anti-war films are making no money. Hurray! Maybe Hollywood will stop making them!
Maybe they'll make one pro-war film. Just one.
MSNBC's
Donny Deutsch
interviews
John Miller
, July 2009.
Deutsch hilariously claims that Hollywood has made loads of movies showing American heroes in Iraq and Afghanistan, and Americans aren't buying them:
"Unfortunately, sir, they have made movies like that recently and unfortunately Americans turn it off."
When pressed by Miller to name these alleged movies, Deutsch says:
"Real life fighters in Iraq today, and Afghanistan, they've done documentaries, they've done ... marines in Fallujah, a lot of movies in the last few years that hit on the very topical subjects. Americans turn it off right now unfortunately, and it is sad."
When pressed again to name these alleged movies he says:
"I will email you the titles. There are several. You are ignorant here sir, there have been several."
---
Anti-war allegory - Avatar (2009)
---
---