Saudi Arabia and the Gulf states
Saudi Arabia is
one of the most oppressive countries in the world
. It oppresses its own people, and spreads
Wahhabist hatred and terror
around the world. The West's alliance with this evil regime shames the West, and has done nothing to make Saudi Arabia better.
In Saudi Arabia, Jews and atheists cannot exist, Christians cannot practice, and even non-Sunni Muslims are oppressed in this disgusting apartheid state.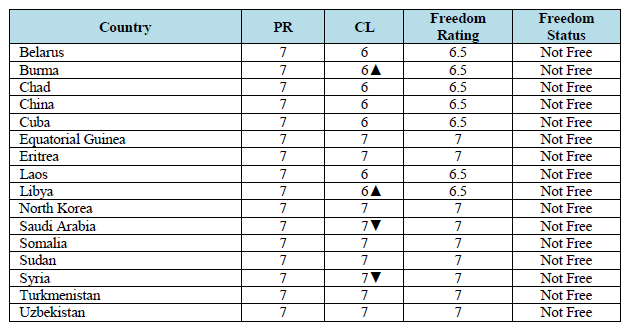 Worst of the Worst 2012: The World's Most Repressive Societies
by Freedom House.
Includes Saudi Arabia.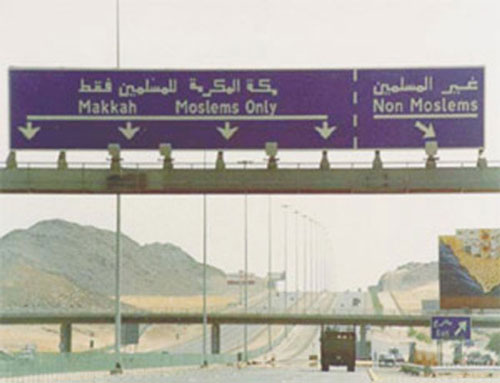 Saudi apartheid.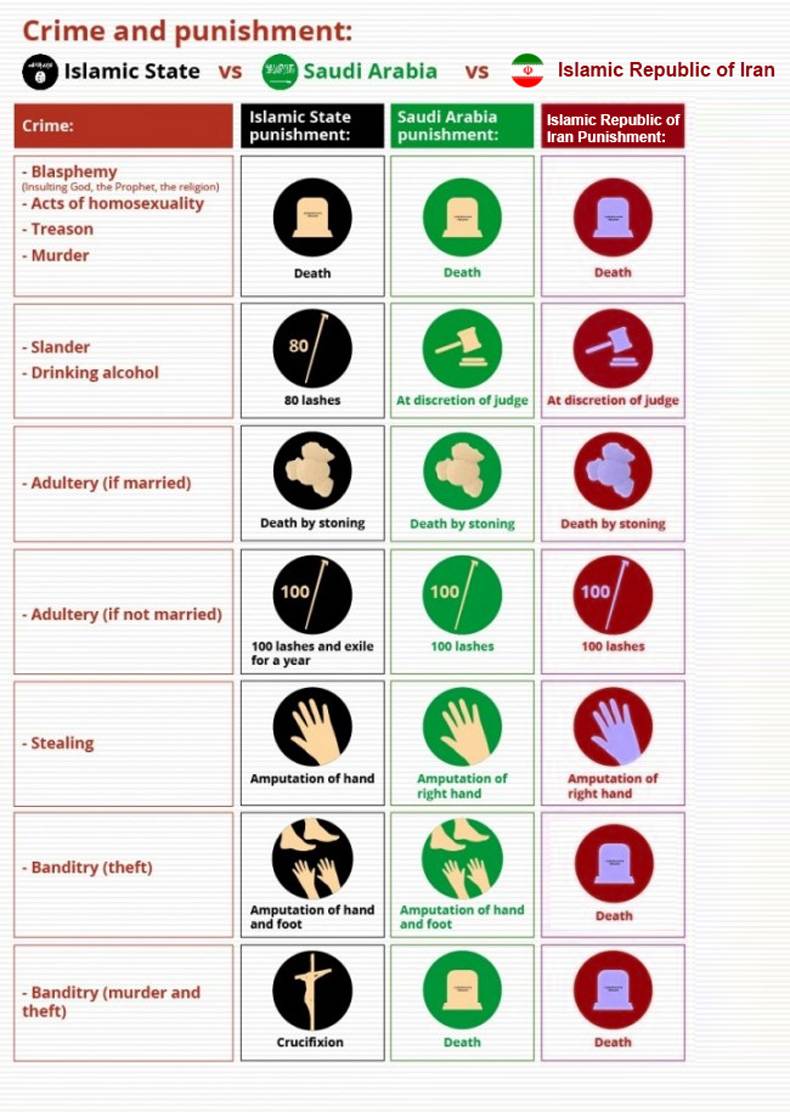 Saudi Arabia - The ISIS-like state that the West supports.
Found here. Origin unknown.
---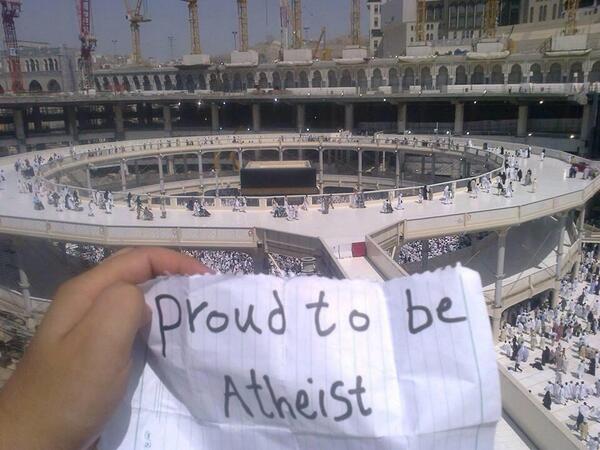 An oppressed Saudi atheist holds a sign at the cube in Mecca. Brave person.
Formerly
here
.
---
Women's rights in Saudi Arabia are in a state of change. One should not get too excited. It is going from 0/10 to 1/10.
Until 2017, all women had to have a male guardian who controlled their life and was allowed to beat them.
2010 article: A 42 year old female doctor cannot escape her father. She needs his permission to marry. He won't give it, so he remains her "guardian". She is not allowed receive her salary herself. Instead it goes to him, as her "guardian". Women are sent to prison for "disobeying" their guardian.

Death of a Princess (1979), about the killing of Princess Misha'al of Saudi Arabia for adultery in 1977.

Until 2018, women were forced to wear hijab in Saudi Arabia.
The Committee for the Promotion of Virtue and the Prevention of Vice persecuted women for incorrect hijab.
Saudi heroine Loujain al-Hathloul, arrested and jailed for campaigning for women's rights.

Western leftists defend Saudi Arabia:

Irishwoman Brigid Aylward goes to Saudi Arabia in 2017 and says about the women who are forced to wear black anti-rape sacks: "They don't have to cover - it's their choice, they prefer to."
Of course she gets an uncritical write-up in the left-wing, pro-Islam Irish outlet The Journal. The lefty Irish media love people like her. They hate people like me.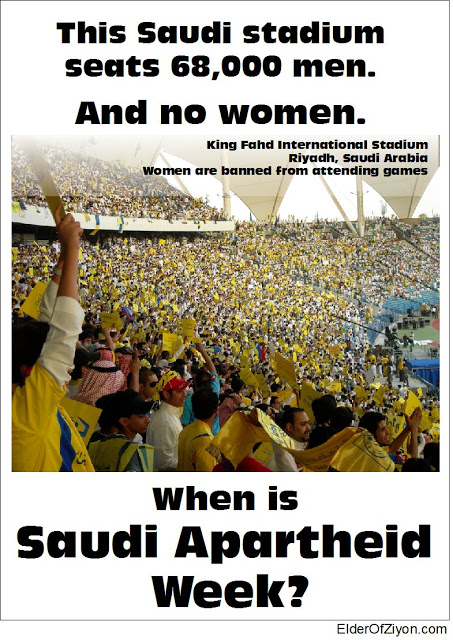 One of many
great posters from Elder of Ziyon
.
In October 2017, women were finally allowed into sport stadiums.
---
The Islamic Middle East won the lottery with the discovery of oil. They won vast amounts of undeserved wealth, and had a once-in-a-lifetime opportunity to reform their backward societies and join the modern world. Sadly, much of the Islamic Middle East has squandered this opportunity, instead deciding to use the money to export their primitive medieval ideas to the more advanced countries (the ones who invented oil discovery and all its technological uses).
What a shame that oil was found here, of all places. What a shame that such a primitive medieval society got rich, and could therefore spread its philosophy worldwide.
Hopefully, this is just a phase. This is jihad's moment, which will soon be lost. In a few decades, we will all switch to Hydrogen cars and other technologies, and the Middle East will sink back into poverty and obscurity. It will be sad for them, but it will be a much safer world.

The world is changing:

Canadian oil sands - Massive oil deposits now exploitable in Canada.
Fracking - Massive gas deposits now exploitable in US.
The sooner Saudi Arabia becomes irrelevant again, the better for the world.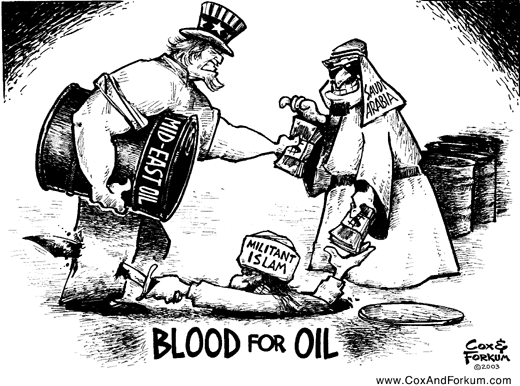 "Blood for Oil"
, by Cox and Forkum, sums up the
real
blood sacrifice that western countries make to get Middle Eastern oil.
What a shame that oil was found
here
, of all places.


A great idea: Ethical Oil is trying to give us choice at the pumps - so we can buy Saudi-free oil.
I would happily pay more to buy my petrol from a free country like Canada or Norway, if I could avoid financing oppressive Islamic states like Saudi Arabia. I would love to have the choice at the pumps. I would love to be able to boycott Saudi oil.
This idea started with Ezra Levant's book Ethical Oil: The Case for Canada's Oil Sands.
Left-wing loon Naomi Klein of course hates it: But hey, proper branding would help her too. It would allow her to buy Saudi oil in preference to Canadian oil, if that is what she wants.
---
In Feb 2012, young Saudi Hamza Kashgari issued various tweets about the Prophet Muhammad that seem harmless to western eyes, but earned him calls for the death sentence in the primitive state of Saudi Arabia.
He tried to flee to safety in New Zealand, but, shamefully, Malaysia arrested him en route and deported him back to Saudi Arabia to face possible death.
Malaysia initially said that Interpol was used to help track him down. But it seems this is not true. Interpol denied this and Malaysia backtracked on the claim.
He was not executed, but rather jailed for over 1 year, released in Oct 2013.
The tweets that got Hamza Kashgari arrested by "moderate" Islamic state Malaysia in Feb 2012, and deported back to Saudi Arabia to face possible death.
From
here
(see p.2).
They are addressed to the Prophet Muhammad on his birthday:
"On your birthday, I will say that I have loved the rebel in you, that you've always been a source of inspiration to me, and that I do not like the halos of divinity around you. I shall not pray for you. On your birthday, I find you wherever I turn. I will say that I have loved aspects of you, hated others, and could not understand many more. On your birthday, I shall not bow to you. I shall not kiss your hand. Rather, I shall shake it as equals do, and smile at you as you smile at me. I shall speak to you as a friend, no more."
What is shocking is that he still
admires
the Prophet Muhammad, who would certainly kill him for saying this.
I fail to see how any "liberal" could admire the Prophet Muhammad, but I wish liberal Muslims like this all the best anyway, in their struggle to define a new type of faith that is peaceful rather than violent.


Fucking lunatic cleric Prof. Nasser al Omar weeps as he calls for death for Hamza Kashgari for these tweets. Feb 2012.
Prof. Nasser al Omar was on (and may still be on) the faculty at the Imam Muhammad ibn Saud Islamic University.
He has called for the bombing of Shia shrines in Iraq, and death for American soldiers in Iraq, and yet he still runs a website, almoslim.net, hosted in the United States.
---
The Fine Gael Taoiseach Enda Kenny praises Saudi Arabia, Jan 2014. Sickening. Selling human rights down the river for trade deals.

Kenny said: "I congratulated the Crown Prince, his royal highness, on the fact that Saudi Arabia has been invited to the human rights council of the United Nations and served there in the last number of years."
Instead of regarding this as proof of the utter depravity of the UN, he congratulated them on it!
Kenny described the brutal Saudi tyranny as moderate! "I congratulated the Saudis on their leadership in terms of moderation here in the Gulf region and their desire for peace in light of a lot of complex issues."
Kenny later clarifies, making it even worse: "Kenny said that in a meeting with Saudi's deputy prime minister, Crown Prince Salman, he pointed out that the country had been a "moderate voice" in the region in the pursuit of peace in the Syrian conflict. Socialist Party TD Joe Higgins, who had raised the issue, interrupted to say "you must be joking" adding that the Saudis had "funded the Jihadis" in Syria."
Enda Kenny is so bad that even the Socialist Party crackpot makes more sense on the Middle East than him!

Note the contrast:
---

Christian submission to our brutal
oil-tick
overlords:
The flag at
Westminster Abbey
was lowered to half mast to honour a dictator who
arrests
people for Christianity.
Question: Has there ever been a more shameful day in the history of Westminster Abbey? If so, when?


Smart comment, 23 Jan 2015. From here.
He is talking about this.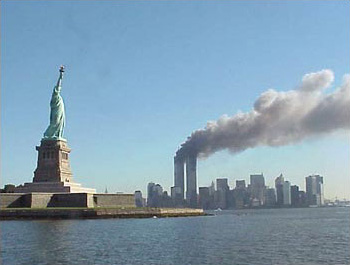 Saudi Arabia's gift to the world: 9/11.
Image from here.
---
United Arab Emirates (UAE) consists of Dubai and Abu Dhabi and 5 lesser-known emirates.
Freedom House ranking. As at 2022, Freedom House ranks UAE "Not Free".
Freedom House summed it up in 2012: "Citizens of the UAE cannot change their government democratically. The UAE has never held an election. ... Laws prohibit criticism of the government, ruling families, and friendly governments"

Press and Internet censorship in the UAE. The entire Israeli domain (.il) is blocked.

Freedom of religion in the UAE. "The [UAE] sometimes blocked websites containing religious information. These sites included information on the Bahá'í faith, Judaism, negative critiques of Islam, and testimonies of former Muslims who converted to Christianity. The Government's Information and Privacy Law provides penalties for using the Internet to oppose Islam".
Apostasy from Islam is punishable by death in the UAE.
The UAE is schizophrenic. It encourages western workers and tourists, and it allows western women wear bikinis.
And then it does this to them:

More cases:

An incredible story that sums up the West's relationship with Dubai:

British woman travels to Dubai to complain about ex. They jail her for having sex. Reported July 2017.
British woman meets Dubai-based Pakistani online. She flies to Dubai to meet him. They have sex. Later, she is back in the UK. They have split up. But he is harassing her. So she flies to Dubai to complain about him.
Yes, you heard that right. She flew from safety in the UK to Dubai to tell the authorities there that she was having sex outside marriage. The predictable result: Dubai jails her for 1 year.
What an idiotic decision. She confused Dubai with a Western country. Dubai's vulgar money fools many Westerners into thinking it is like more advanced countries. Please Westerners, just Google the country you are visiting before you visit it. Is that too much to ask?

Child slavery in Dubai:

The ruling family of Dubai built and funded the Clonskeagh mosque in Ireland.
The unelected dictator Sheikh Mohammed bin Rashid Al Maktoum of Dubai is treated as a respectable racehorse owner worldwide. Frankie Dettori rides for him.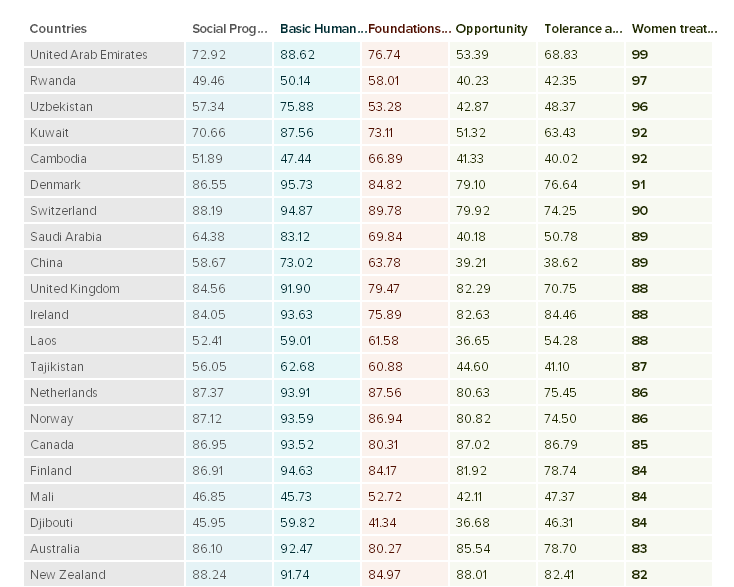 The UAE comes top for women's rights!
Some studies discredit
themselves
.
The RHS column here shows the scores for "Women treated with respect" in the
Social Progress Index
for 2014.
To see the stats, go to
Social Progress Index
- "Data Table" - "Add aspect to compare" - "Women treated with respect".
This says women's rights in UAE and Kuwait and Saudi Arabia are better than in UK and Ireland and Canada and US!
The Social Progress Index is clearly worthless.
---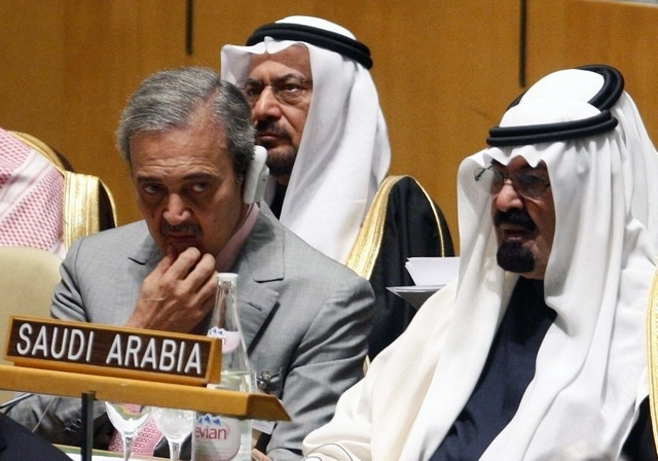 Saudi Arabia sits at the
UN
.
Photo 2008. From
here
.
---
"There are 50 million Arabs. What does it matter if we lose 10 million people to kill all the Jews? The price is worth it."
- The unelected thug King Ibn Saud of Saudi Arabia calling for a genocide of the Jews when Israel was declared a state, 1947.
Luckily, the Muslims failed to carry out their genocide.
---