The Nation of Islam
The racist, anti-semitic Nation of Islam believes that whites were created by a man called
"Yakub"
. They believe that ... Oh for heaven's sake. Who cares.
Religion as mental illness:
Louis Farrakhan says white people were created by a mad scientist called
"Yakub"
on the Greek island of
Patmos
.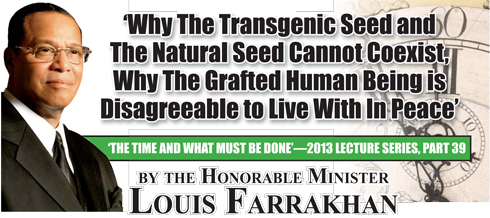 Hatemonger Louis Farrakhan believes that white people were made by a mad scientist ("transgenic", "grafted") and did not come from nature.
The fucking lunatic says that: "the White man first appeared 6,000 years ago on an island in the Aegean Sea called Pelan, or "Patmos"".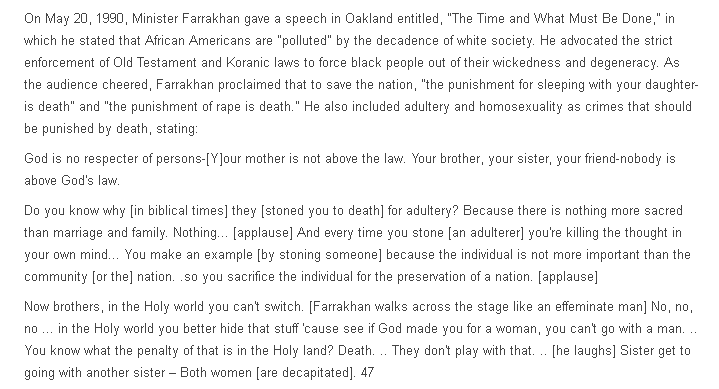 Extract from "Some Thoughts on the Challenges Facing Black Gay Intellectuals" by Ron Simmons (1991).
This claims that Farrakhan approved of the death penalty for adultery and homosexuality.
---
The racist religious fundamentalist Malcolm X was the public face of the racist Nation of Islam from the 1950s to 1964.

Malcolm X broke with the Nation of Islam in 1964, and they murdered him in 1965.

Martin Luther King was not racist.

Hating Whitey - David Horowitz, September 30, 1999, on the anti-racist hero Martin Luther King versus the racist bigot Malcom X.
At least, Martin Luther King was a hero on anti-racism. On foreign policy, he was a bog-standard socialist nut.

Spike Lee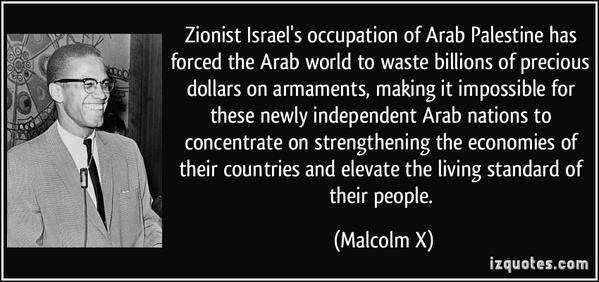 This is not a parody. This is a
real quote
by Malcolm X.
See
The Egyptian Gazette
in 1964.
Apparently the Jews
forced
the Arabs to try to kill them!
And
that's
why the Arab world is impoverished and useless. Of course.
That's
the reason.
Hilarious. Malcolm X was even dumber than Russell Brand.
---
The boxer Muhammad Ali joined the Nation of Islam in 1964.

Let's not pretend Ali was Gandhi by Michael Shelden, Daily Telegraph, 4 Jan 2002, says that under the influence of the Nation of Islam, Ali attacked interracial sex: "In an interview with Playboy [in 1975] he declared: "A black man should be killed if he's messing with a white woman." When the interviewer asked about black women crossing the colour barrier, Ali responded: "Then she dies. Kill her, too.""
Of course, Ali himself descends from a number of consenting white-black interracial marriages. His great-grandfather was a white Irishman named Abe Grady, who emigrated to America from Ennis, Co.Clare, and married a "free colored woman".

The irony in Muhammad Ali's sad name change sums up the inability of many American blacks to criticise non-white abusers of blacks. Muhammad Ali's very name sums up what is wrong with the Nation of Islam.

He was born Cassius Marcellus Clay, named after the heroic white anti-slavery campaigner Cassius Marcellus Clay.
At age 21, he changed his name to "Muhammad Ali", the same name as the brutal Arab slave-owner and slave-trader of Sudanese blacks, Muhammad Ali of Egypt, Ottoman viceroy of Egypt, and founder of modern Egypt.
Muhammad Ali of Egypt was a brutal slave-owner and slave-trader: "Muhammad Ali viewed the territory comprising Sudan as an extention of water, land and resources, namely gold and slaves. ... Muhammad Ali's administration captured slaves from the Nuba Mountains and west and south Sudan ... Muhammad Ali's reign in Sudan and that of his descendants is known in Sudan for its brutality and heavy-handedness." "Until 1843 Muhammad Ali maintained a state monopoly on slave trading in Egypt and the pashalik." "Muhammad had many male and female slaves. He used to buy and sell them, but he purchased more slaves then he sold. He once sold one black slave for two."
So this black boxer had the name of a white liberator of blacks, and he changed it to the name of an Arab enslaver of blacks. Muhammad Ali of Egypt was the only famous person in the world called "Muhammad Ali" when the boxer adopted the name. Did he not know? Did he not care? Is slavery of blacks ok so long as you are Arab? Did he ever regret adopting the name of a slaver?
Still the greatest, Al-Ahram Weekly Online, Egypt, 6-12 Dec 2001, openly celebrates the fact that the boxer abandoned the name of a slave-liberator and adopted the name of a slave-trader: "He renounced his slave connection, and took the name of the great Muslim Albanian ruler of modern Egypt Muhammad Ali. He changed the consciousness of his people. He raised their pride and dignity."
The boxer said: "Cassius Clay is a slave name. I didn't choose it, and I didn't want it. I am Muhammad Ali, a free name - it means beloved of God - and I insist people use it when speaking to me and of me."

The original Muhammad was also of course a slave captor, trader and owner.
The original Ali, meanwhile, was a killer of freethinkers: "Some Zanadiqa (atheists) were brought to 'Ali and he burnt them." He burnt them!
Muhammad Ali attacks race mixing.
He said
that:
"no intelligent white person ... in his or her right white mind, wants black boys and black girls marrying their white sons and daughters."
Of course, Ali himself descends from a number of consenting white-black interracial marriages.

Muhammad Ali changed his name from the name of a slave-liberator to the name of a slave-trader.
And search.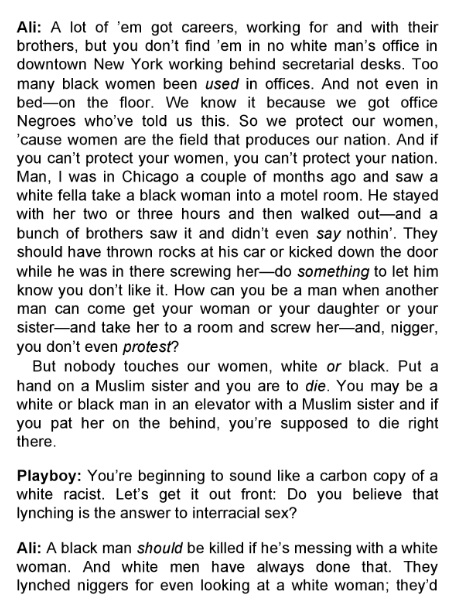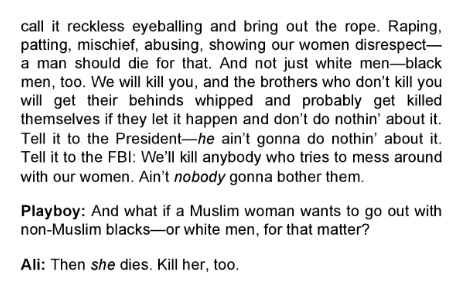 Muhammad Ali's interview with Playboy in 1975.
The racist Muhammad Ali calls for death for race-mixing. "A black man should be killed if he's messing with a white woman."
The Islamic reactionary Muhammad Ali calls for death for Muslims having relationships with non-Muslims.
From p.236 of I'm A Little Special: A Muhammad Ali Reader.
---
The Zebra Killings
, racist killings of innocents by the Nation of Islam in 1973-74.
And
part two
.
---
7 people killed in early attacks and 10 more people killed in the sniper attacks by the Muslim terrorists / serial killers John Allen Muhammad and Lee Boyd Malvo. They were captured on October 24, 2002.

John Allen Muhammad was a long-standing Nation of Islam member.
Lee Malvo said it was jihad: "We will kill them all. Jihad." "Fight in the cause of Allah those who fight you and slay them wherever ye catch them."
More from Lee Malvo: "Our minarets are our bayonets, Our mosques are our barracks, Our believers are our soldiers."
More from Lee Malvo: "Islam. We will Resist. We will conquer. We will win." Of the victims: "They all died and they all deserved it. ... We will not stop. This war will not end until you are all destroyed utterly."

John Allen Muhammad was executed in 2009.
Lee Malvo is in a supermax prison in Virginia.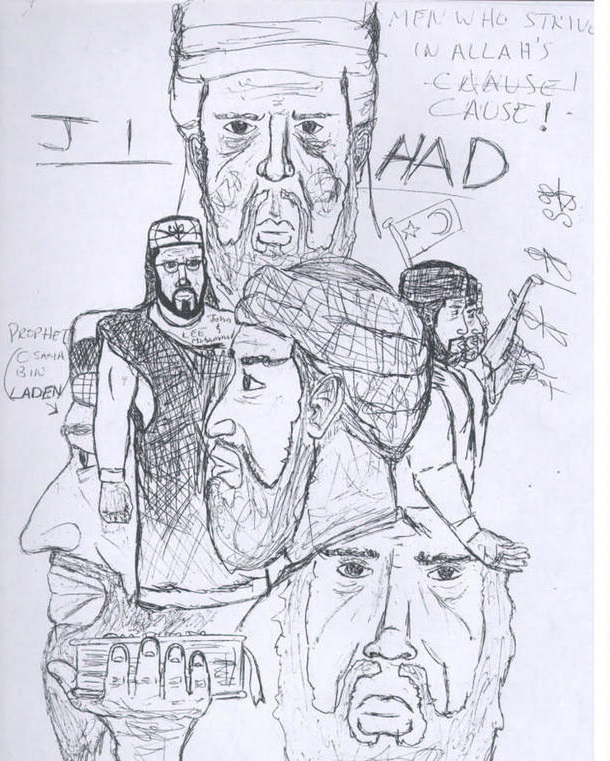 Beltway sniper Lee Malvo draws his hero Bin Laden.
From
here
.

Beltway sniper Lee Malvo has more drawings saying it was jihad.
From here.
---
Racism is racism, whether it comes from whites, blacks,
Arabs
or anyone else.
One of the side-effects of the successful campaign against 20th century white racism has been a relative lack of interest in racism from non-whites, even to the extent of movies praising racists like Malcolm X. This attitude is also notable in crime, where white crimes against blacks seem to be publicised far more. For example, compare the publicity given to the vile killing of James Byrd with the vile killing of Ken Tillery. As another example, there is (rightly) a movie about the Ku Klux Klan killings in Mississippi, but there is no movie about the Zebra killings or, say, the racist Yahweh Ben Yahweh killings. Maybe there are good reasons to be selective like this. But people should admit that they are being selective.
---
Black Hebrew Israelites
---
The black racist, anti-semitic poet
Amiri Baraka
(born LeRoi Jones) was somehow appointed
Poet Laureate of New Jersey
in 2002.
More quotes: "Most American white men are trained to be fags. ... The average [white person] thinks of the black man as potentially raping every white lady in sight. Which is true, in the sense that the black man should want to rob the white man of everything he has. But for most whites the guilt of the robbery is the guilt of rape. That is, they know in their deepest hearts that they should be robbed, and the white woman understands that only in the rape sequence is she likely to get cleanly, viciously popped."
He glorified crime: "[The white man] owes you anything you want, even his life. All the stores will open if you say the magic words. The magic words are: Up against the wall mother fucker this is a stick up! ... Let's get together and kill him my man." "Rape the white girls. Rape their fathers. Cut the mothers' throats." "We [blacks] must eliminate the white man before we can draw a free breath on this planet".

The 9/11 poem:

Baraka said in a "poem" that the Jews of New York knew about 9/11 in advance: "Who the Beast in Revelations; Who 666; Who decide; Jesus get crucified; ... Who told 4000 Israeli workers at the Twin Towers; To stay home that day; Why did Sharon stay away?"
John Derbyshire reviews Baraka's "poem". And replies with a hilarious poem of his own: "Who praises despots, wreckers of nations; Murderers, despoilers of innocence - Kabila, Lumumba, Lenin, Che; ... Who believes the most transparent driveling anti-Semitic lies about 9/11; ... Who put one over on the guilty white liberals at those fool Art Councils; Who's an illiterate moron". Who!

Poet Laureate position abolished:

In response to this sick poem about 9/11, the Governor of New Jersey, finding he could not sack the man, abolished the New Jersey Poet Laureate position entirely! Yes!
From 2003 on, New Jersey had no Poet Laureate, because of Amiri Baraka. What a great way to publicly shame this racist.

The political positions of a Panther poet, an absurd puff piece by Belinda McKeon in the Irish Times, April 26, 2008, about Baraka.

To white leftists, black racism seems to be refreshing and authentic.
We discover that (of course) the brain-dead hate-monger supports the election of Obama. "Obama's entering in a different fashion to Rice and Powell and we hope that there can be enough influence by progressives, and by the Afro-American people, to see that his course is somewhat different."

Amiri Baraka died in 2014.

From
here
.
---
Return to
Religions
page.