The U.S. military
A page about the U.S. military and its Western allies, the defenders of our freedom.
---
The free world only exists because of the U.S. military and its Western allies
As Western Europeans, our freedom only exists because America and its Western allies destroyed
Nazi Germany
, and then prevented the
Soviet Union
conquering us.
Western Europeans should be grateful to America for centuries, and should instinctively take America's side for centuries.
B-2 stealth bomber
.
Public domain image from
here
. More
here
.
See
full size
.
---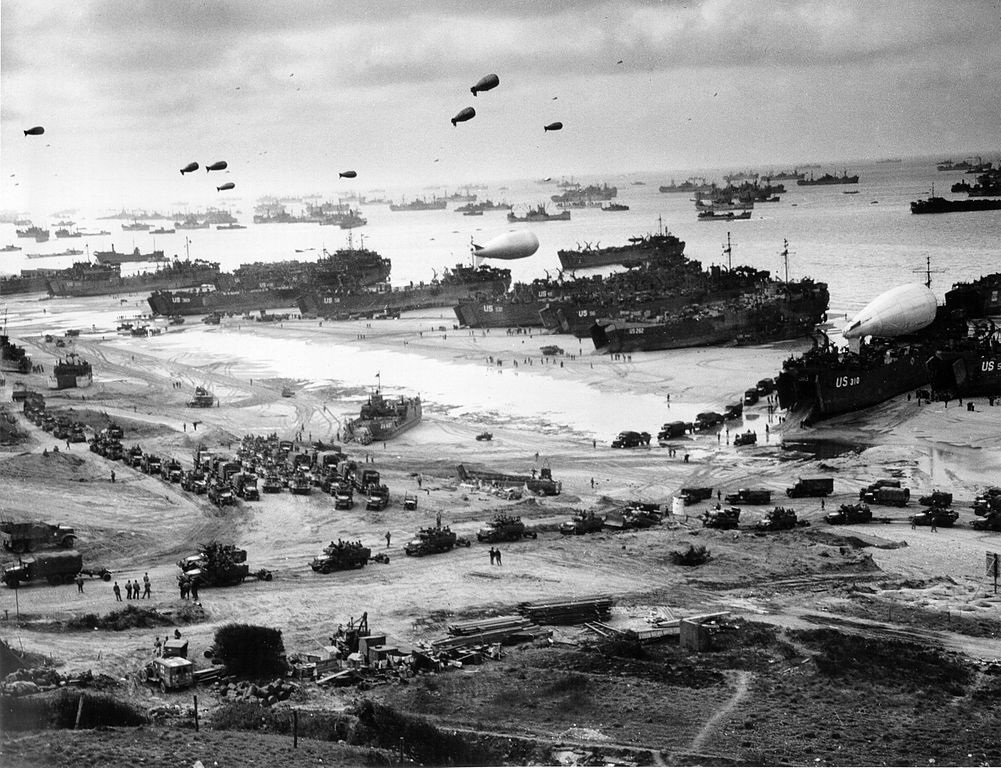 The US military, the UK military, and their allies land in France, 1944, to liberate Europe from Nazi tyranny and genocide.
From here.
Europeans should never forget this day.
And, if you are a standard global anti-American, ask yourself: What has your country ever done to match the nobility and greatness of this?
---
The brave and noble U.S. and allied militaries risk their very
lives
trying to save ungrateful people who despise them and attack them:
---
Apache attacks on jihadis in Iraq and Afghanistan.


The brave Americans stop the jihadis killing and torturing any more innocents.
Apache helicopters take out Taliban.
---
The Budweiser (Anheuser-Busch) ad
thanking the military in Superbowl 2005.
The song
"Poster Girl (Wrong Side Of The World)"
,
a tribute by the Australian singer
Beccy Cole
to the Australian freedom fighters in Iraq.
See
lyrics
(scroll down).
Video put on YouTube by
Beccy Cole
.
The song is her response to a fan who complained about her support for the Australian troops.
"Cause I shook hands with a digger; on the wrong side of the world; With a wife at home who holds her breath; and brand new baby girl; ... And if unlike me you feel no pride at all; Then go ahead and take me off your wall; 'cause I prefer to be a poster girl; on the wrong side of the world"
---
The "Bush photo-mosaic" insult to the troops:

"War President" - the photo-mosaic of Bush using images of dead soldiers, meant by the left to be an insult to Bush and to the dead soldiers (by implying they died for nothing).
Michelle Malkin makes a great case that "War President" should be hi-jacked by the right and interpreted as a tribute to those who died for freedom and their commander-in-chief.
The maker of the image says it "is meant to be a satirical commentary". But why should we listen to him?

The "WHY?" insult to the troops:

"WHY?" uses the names of the dead soldiers to spell out "WHY?", as an insult to the dead soldiers (by implying they died for nothing).
The creator, Mike Luckovich, says: "I was trying to think of a way to make the point that this whole war is such a waste. But I also wanted to honor the troops". Sorry, Mr. Luckovich, you can't do both. If someone made a similar memorial to the allied dead of the Normandy Landings, with the message "WHY?" and statements that the whole allied effort in WW2 was stupid and a waste, would you regard this as "honouring" the troops?
Here is the answer: "FREEDOM".

Another photo-mosaic insult to the troops, Huffington Post, March 24, 2008. How dare they abuse the photos of the dead to make sneering, cynical political points that they know the dead don't agree with.
William Arkin
William M. Arkin
(and
search
) exemplifies the
sneering contempt
the modern American left has for the military, and any soldier fool enough to die to defend the West.
Arkin's abuse of the troops in Iraq in early 2007 set off a controversy. See the following columns, and the many interesting, moving and articulate opposing comments below them (although it is sad to note he got threats from some people):
"The Troops Also Need to Support the American People", William M. Arkin, January 30, 2007.

He describes the brave American soldiers who protect his freedom as: "a mercenary - oops sorry, volunteer - force". He says troops should shut up complaining about ignorant anti-war critics like himself: "I'm all for everyone expressing their opinion, even those who wear the uniform of the United States Army. But I also hope that military commanders took the soldiers aside after the story and explained to them why it wasn't for them to disapprove of the American people."
"These soldiers should be grateful that the American public, which by all polls overwhelmingly disapproves of the Iraq war and the President's handling of it, do still offer their support to them, and their respect. Through every Abu Ghraib and Haditha, through every rape and murder, the American public has indulged those in uniform," he says, as if Abu Ghraib and Haditha are of any real importance in the history of this war.
Nice reply (on the page above): "Mr. Arkin, I applaud you and your ability to command the English Language. ... I will sleep better tonight knowing that the real defenders of my freedom are not on the battlefields in the Middle East. Rather, they are blogging on the Washington Post Webpage. ... You and most people in the Mainstream Media believe that it is your "superior intellect" that allows you to not only form the only Valid Opinion, but to also force it down the rest of our throats. I only wish that people such as yourself had to really fight for something you believe in using something other than an ACLU attorney."
The point is that, whatever about Iraq, in a real war of survival like WW2, the left would obviously be of no help either. If you trust people like Arkin and Fintan O'Toole to protect the West against its enemies, you are insane.
John Noonan at OPFOR replies: "If there is a war that's unwinnable, it's the war on this type of horrid ignorance. The type of uniformed, intellectually lazy thinking that can only exist in the sheltered bubble of cocktail parties and classrooms. Arkin is a gazer. A man forever condemned to peering out the window into the real world, watching the exertions of men better than himself. And yet he fancies himself the educated one."

"The Arrogant and Intolerant Speak Out", William M. Arkin, February 1, 2007.

Reply (on the page above): "Their tours are getting extended and they're doing the job undermanned, but you know what, they're doing it. The ghosts of Gettysburg, Bastogne and Au Shau would know them as their own. They wouldn't care to know you."
Sarcastic reply: "How could Mr. Arkin have foreseen his Constitutionally-protected words would have prompted any anger or outrage? Yes, they were targeted at US military personnel, but they were meant only for the private consumption of urbane Washington Post readers. Mr. Arkin likely had no idea that they would ever be read by combat hoi-polloi, as he clearly believes them to be illiterate hillbilly fundamentalists."
One reply also nails what the Democrats are doing: "Or about people who vote to send them to war and then broadcast to our enemies that if only you kill a few more of them we will retreat and hand them a victory."
---
The leftist myth that soldiers are poor and stupid
A common myth among leftists is that U.S. soldiers are poor, black and uneducated, high-school drop-outs and so on. Like most things lefties believe about America, it is inaccurate.
The U.S. military does not need brainless cannon fodder. It never fights those kind of battles any more. The U.S. military needs people who can operate state-of-the-art, high-technology hardware and software under battle conditions. Modern western, all-volunteer, high-technology militaries are the most educated militaries in the history of the world.
---
The "chickenhawk" argument criticises those (armchair generals) who are pro-war while others (young men) do the fighting.
It is often argued in respect of Bush and Cheney (neither of whom saw combat) that only those who have seen the horror of war should be sending young men into it. Neo-conservative pundits and intellectuals promoting change in the Middle East are also often criticised for never having served or seen combat themselves.
In general, the "chickenhawk" argument is simply an argumentum ad hominem that seeks to discuss the man instead of the issue. Even if we grant for the sake of argument that the man is a coward and a hypocrite, there is still a separate issue of whether his arguments are true.
But perhaps the best response to this silly argument is: "I agree! All decisions on foreign policy and war should be made only by soldiers and veterans. How do you like that?" Of course, since soldiers and veterans are on average far more hawkish, patriotic, and intolerant of the enemy than the rest of the population, this would suit me fine, but the "chickenhawk" people may not like it at all.

Stand up and be counted or shut up - Gene Kerrigan, Sunday Independent, Jan 15, 2006, has a go at this argument. He seems to be saying that you have no right to promote a military solution to Saddam or Al-Qaeda unless you are willing to fight yourself. The stupidity of this argument can be exposed as follows:

Me: OK. Where is the worst genocide in the world? Where should we be concerned about?
Leftie: (Say) Darfur.
Me: OK. Do you support UN peacekeepers going into Darfur to stop the killing by force?
Leftie: Yes.
Me: Are you going to volunteer for the UN peacekeepers yourself?
Leftie: Em ..
Me: You have no right to promote a military solution to Darfur unless you are going to fight yourself.

This argument also means you have no right to call for more police on the streets unless you are willing to join the police yourself. After all, the police risk their lives too. Why should they risk their lives while you are safe?
I thought of an even better one: No one should criticise Bush and Blair unless they themselves have served in office. Exact same logic.

The fact is that it is fantastic that we have brave men and women who are willing to join the police and risk their very lives to protect us, or join the army and risk their lives to fight foreign tyranny. Someone has to defend us - whether from criminals, terrorists or foreign tyrannies - and I am only human and am glad it is not me. The West does not have its back to the wall yet. We do not need every adult male to fight. I can stay in my career, and stay with my family, while others fight this war. But I do honour them. My admiration for these people who do defend us is immense, and, I am sure, far higher than the "chickenhawk" lefties, who in fact endlessly complain about, demoralise and ridicule the police and military, and seem to have no real interest in them winning. As with other situations, you should only take advice from friends, not from enemies. The left is no friend of the military, and so the military should have no interest in the left's opinions on who should join it. The left does not care about military victory. It is only looking for a cheap debating point to use against the military and its supporters.

Argument from personal experience:

A similar argument that is often made is: "You cannot talk about Israel / Iraq / Africa if you have never been there."
But how is this different from the argument: "You cannot talk about WW2 unless you lived through it."
Isn't this why books were invented?

Tide turning on Sheehan (formerly here), Mike Rosen, August 26, 2005,

People who support the war "have no obligation to join the military ... We have an all-volunteer force today, and a relatively small one at that. At present, there are 1.4 million active-duty military personnel ... We had .. more than 12 million in 1945 during World War II. Arguably, it might be prudent to add a couple of hundred thousand to today's active-duty force, but we don't require a million more, much less 10 million. We're not involved in a major mobilization. We certainly don't need a universal draft."
"The military represents less than 1 percent of the American work force. Anyone's free and welcome to enlist, but the great majority will contribute more by continuing to do what they do best. The military is a highly professional and specialized force these days. We need a few good men and women who have the skills, the aptitude and the desire. If [people] don't fit that description, they don't belong in the service."

Ironically, pro-war pundits volunteering would be bad, not good, for the war effort:

Division of labour - There is certainly a good argument that anyone who writes in support of the military, and such writing is widely read, is far better off doing what they are doing, than joining the military. They are likely to be a useless soldier (simply because most people would be useless soldiers). Whereas it is proven that they are a good writer (and most people aren't good writers), and that is helping the war effort.
If the military is being logical, then to help the war effort it should ensure that all pro-war bloggers do not join the military.

Supporters of Irish neutrality in WW2 actually used the sneering "chickenhawk" argument against those few lonely voices in Ireland that supported the Allies against the Nazis. Ireland is no different today, and those who support America and Britain can expect similar abuse.
---
The capture of Saddam
by the U.S. military, Dec 2003. - The greatest moment of the century so far.
There is no God to bring justice on this earth. But there is America, and the U.S. military.
See
hi-res version
.
---
"I don't regret going, everybody dies but few get to do it for something as important as freedom. It may seem confusing why we are in Iraq, it's not to me. I'm here helping these people, so that they can live the way we live. Not have to worry about tyrants or vicious dictators. To do what they want with their lives. To me that is why I died. Others have died for my freedom, now this is my mark."
- Cpl Jeffrey B. Starr, USMC, who died fighting for freedom in Iraq.
The New York Times deliberately chose to exclude his words when they featured him (because they would not have fitted in with its negative, demoralising tone).
---
Letter from a US Marine to the Iraqi fascist "resistance":
"I see that you have captured a U. S. Marine, and that you plan to cut off his head if your demands are not met. Big mistake. Before you carry out your threat I suggest you read up on Marine Corps history. The Japanese tried the same thing on Makin Island and in a few other places during World War Two, and came to regret it. Go ahead and read about what then happened to the mighty Imperial Army on Tarawa, Iwo Jima and Okinawa. They paid full price for what they did, and you will too."
"You look at America and you see a soft target, and to a large extent you are right. Our country is filled with a lot of spoiled people who drive BMWs, sip decaf lattes and watch ridiculous reality TV shows. They are for the most part decent, hard working citizens, but they are soft. When you cut off Nick Berg's head those people gasped, and you got the media coverage you sought, and then those people went back to their lives."
"This time it is different. We also have a warrior culture in this country, and they are called Marines. It is a brotherhood forged in the fire of many wars, and the bond between us is stronger than blood. While it is true that this country has produced nitwits like Michael Moore, Howard Dean and Jane Fonda who can be easily manipulated by your gruesome tactics, we have also produced men like Jason Dunham, Brian Chontosh and Joseph Perez. If you don't recognize those names you should. They are all Marines who distinguished themselves fighting to liberate Iraq, and there will be many more just like them coming for you."
"When you raise that sword over your head I want you to remember one thing. Corporal Wassef Ali Hassoun is not alone as he kneels before you. Every Marine who has ever worn the uniform is there with him ... If you want to know what it feels like to have the Wrath of God called down upon you then go ahead and do it. We are not Turkish truck drivers, or Pakistani laborers, or independent contractors hoping to find work in your country."
"We are the United States Marines, and we will be coming for you."
[It now appears that Corporal Wassef Ali Hassoun may have been unworthy of this tribute. But that is not important.]
---