Politics - Anti-censorship
Anti-censorship page
The purpose of this page is first, to link to things that censors have tried to ban, and more generally to show how the Internet can be used to render such bans impotent.
Please do not think that I agree with (or am even particularly interested in) all the things below. I'm just anti-censorship. I do not accept that any other adult has the right to tell me what I can and cannot look at. It may be (and I certainly hope) that the Internet will finally put an end to this power that adults have wielded over other adults since the very dawn of mass culture.
Freedom of speech. (Some of my books.)
If these books are not all legal in your society, then there is something wrong with your society.
---


I support freedom of speech on the Internet.
Obviously we must discuss what that means, since there are many hard cases about privacy, libel, threats, espionage and so on.
I think I'm on the same side as the Electronic Frontier Foundation (EFF) on most issues, but maybe not all.
---
---
Anti-censorship groups
Some anti-censorship groups are themselves problematic.
---
Banned books:
---
That is, censorship by nice, well-meaning people, who may even call themselves liberals.
---
Tobacco advertising
It would be hard to censor
tobacco advertising
on the Internet (and
here
) as it has been censored in the offline media.
Vintage "Flintstones" cartoon ad for
Winston
cigarettes.


Ludicrous vintage ad for Salem cigarettes.
---
The term "hate speech" can have real meaning. But it is also used just to censor unpopular opinions.
Normally, lists of "hate sites" and "hate accounts" turn out to be comical.
The Swedish Institute (and twitter) is a Swedish government agency.
It runs the rotating @sweden account on Twitter.
In May 2017, they made the error of inviting "anti-troll expert" Vian Tahir to curate @sweden. She introduced a huge list of "hate" accounts, that were then blocked by @sweden. The Swedish Institute unwisely said these accounts were linked to things like neo-Nazism and incitement to violence.

Inevitably, the "hate" list turned out to be something rather sinister.
See the list. And search box.

The list of "hate" accounts includes:

In other words, not a "hate" list at all. Rather a list of people that Israel-haters and Islamists and Euro-federalists and leftists dislike.
See above as an image.
In fairness, after criticism, the Swedish Institute dropped Vian Tahir's horrible list and reconsidered. But are "anti-troll experts" implementing such a list elsewhere?
Vian Tahir now blocks me. So maybe I am on some blocklist she is sending round now.
---
Many technology companies promote filters and lists to help people exclude "hate speech" or "fake news". Inevitably, their filtering decisions are often ludicrous.
---
The US has robust freedom of speech and, outside of universities, all sorts of offensive speech is legal. American universities however are becoming famous for restricting speech and thought. Some people have described American universities as:
"Islands of Repression in a Sea of Freedom"
.
Politically-correct censorship on campus

Evan Coyne Maloney

Why Do Only Conservatives Require Campus Security? by Asaf Romirowsky and Jonathan Calt Harris, Jan 2004. "The incipient threat of violence on the university makes it unique in North American life. Minority views can be espoused without intimidation in the media, in political forums and even in corporations."

Dissident Arab Gets the Treatment by Ahmad Al-Qloushi, January 6, 2005. An America-loving (and Israel-loving!) Kuwaiti Arab Muslim comes to the US to study, and is attacked by his lefty professor for his support for America.

"The Americans .. came in to liberate us and asked for nothing in return. I love this country for the freedom it provides and for rescuing Kuwait's liberty in the first Gulf War. 12 Years later, America once again has selflessly protected my country and my people by removing Saddam Hussein."
"I have since learned that mine is not an isolated case. Many students in American universities are being indoctrinated and silenced by biased professors who hate America. America saved my life and the lives of my family. How can I not speak out?"

Non-PC statistics (such as sex abuse by family type, or crime by race) are the kind of thing you must be careful about even mentioning if you want to keep your job.
Cases
Students hate free speech:
The
"Irvine 11"
, a group of students from the Muslim Student Union, repeatedly shout down a speech by the Israeli ambassador to the United States at the University of California, Irvine, in Feb 2010.
It is typical of the far left that they think free speech means stopping
others
from speaking, and forcing everyone to listen to
their
inane views.
The Muslim Student Union was
explicit about stopping free speech
. Their internal email said the goal of the protest was to
"send the speaker a message"
and show him that
"he can't just go to a campus and say whatever he wants."
The protesters, for once, ended up in all sorts of trouble with their university and with
the law
.
---
As I say
, I'm a libertarian or a classic liberal, not a conservative. I believe in hard work and responsibility, but I see no reason why consenting adults cannot do anything they like.
It's your life. It's not for the state to tell you what to do. You can have fun, but similarly it's not for the state to save you from yourself. You can have fun, provided you take responsibility for your own choices.
Wikipedia

Wikimedia Commons

Starting in the 1990s, the Internet has made porn for the first time mainstream, free and easy to find. Some high-brow, some low-brow. Some tasteful, professional and artistic, some amateur and ugly.
Is this a good thing or bad thing for society and for human relations? I don't know. But the basic evolutionary drives that led to it are never going away. We are evolved animals, and so porn will always be a part of human culture. The porn issue is over, and the censors have lost.

And if you don't like pornography, don't look at those sites. Is that so hard?
Parental control
Children, children, children, children. Sigh. OK, let's talk about children. You do realise this is all just an excuse, though. There are people out there who want to prevent adults communicating with other adults. But since the Enlightenment and the idea of free speech and human rights, they have had to restructure their attack. They used to talk about corrupting the sensitive minds of their wives or their servants and the lower classes. But that's not allowed any more. So they talk about children. We must protect children from pornography. Therefore all adult communications must be reduced to a level suitable for a child. You do realise this is all just an excuse?

There are many answers to protecting children from indecency. Firstly, you assume we all agree it's bad for children/teens to see pornography. Well it's not so simple. If the child's not interested, then, well, they just won't be interested. If they are interested - in the teenage years - then is it so bad if they see it?

But let's leave that aside. Let's grant you the right to decide what your children can see. The point is that you can do this without bothering anybody else. You buy a whitelist filter that allows access only to 10,000 hand-picked child-friendly sites. You can't type in URLs, you can't follow links to new or unknown sites. You can only wander round the space of hand-picked sites. The Internet can be awash with pornography, but the child can never see it.
It may seem restrictive to block all sites by default, but the parent can add hand-picked ones as the need arises. It may seem that such a filter spoils the serendipitous nature of the web, but not so, you can turn off the filter when you're present, and wander the web with your child. You can censor yourself without bothering others. The technology exists, so leave everyone else alone. Go away.

You're still here? You're complaining that little Johnny has managed to hack his own Internet access. That he's disabled the filters, written his own browser?
If he's smart enough to do all those things, I think the days of you controlling what he looks at are coming to an end.
I am in favour of the sexual revolution, as are (it might surprise you) many on the right.
Photo from
here
. See
terms of use
.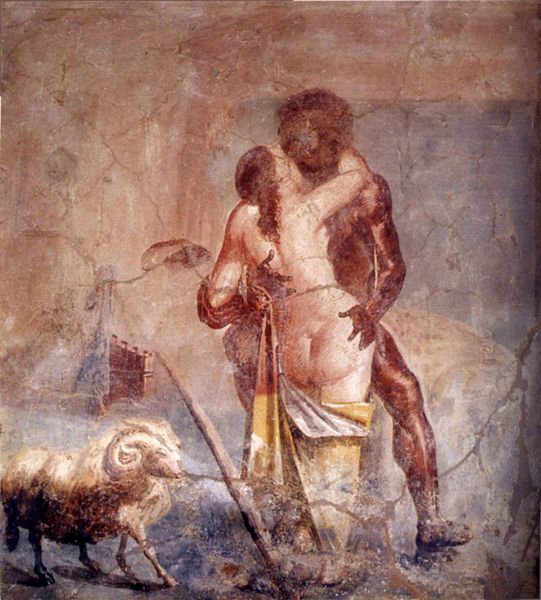 Sexy painting at Pompeii (1st century AD).
From here.
See Erotic art in Pompeii and Herculaneum.
---
"I will not criticize the power of pictures and words to arouse; to arouse passions or ideas, erections or damp panties, fears, curiosities, unarticulated yearnings and odd realizations. Sexual speech, not MacKinnon's speech, is the most repressed and disdained kind of expression in our world, and MacKinnon is no rebel or radical to attack it."
- Susie Bright replying to pro-censorship campaigner Catharine MacKinnon.
---
Drug use should be legal. Adults want to mess with their bodies and minds - always have, always will. It's science's job to make it interesting and safe. It's not the government's job to enforce someone's idea of a religious or moral code of behaviour.
We lock up in jail people who take drugs even if they harm nobody and are leading productive lives. This can only be based not on public health but on the idea that one adult can tell another adult what to do in his private life. Just as bad as all the innocents in prison is that the drug laws, just as alcohol prohibition did, have created a vast, violent underworld which would vanish if drugs were legal. Think of all the muggings and burglaries that would stop if the poor could afford their habits.
History will judge the War on Drugs as both the great denial of civil liberties in the West in our age and simultaneously the major unnecessary cause of crime.
Note that I do not take drugs myself, except alcohol. In fact, I live a very abstemious life. But any supporter of liberal democracy must oppose the drug war, whatever their personal lifestyle.
The War on Drugs has killed far more people than the Israeli-Palestinian conflict:

Essays

Innocent people in jail

UK and Ireland

Books

The documentary Breaking the Taboo (2011).

The November Coalition
: End the vicious drug prohibition. Release the users and sellers.
This is the No.1 civil liberties issue in the West.


The war I wanted Obama to end - The War on Drugs.
---
Security
Illegal image, with
illegal filename
.
From
illegal URL
.
Spoof of
300
.


An illegal song.
---
We live in strange times. The massive centralisation of Web 2.0 has been rather bad for free speech. Social media firms have enormous power to censor people on their platforms. Which is, sort of, their right. You can publish elsewhere on the Internet. And yet, because of their dominance, this is in effect like censoring people's opinions from society.
Social media companies started abusing their power in 2016. The big firms - Facebook, Twitter, YouTube, Instagram - all abuse their power now. They have killed the 1990s dream of free speech Internet.
Censorship by big tech firms is probably the dominant form of censorship in the West now.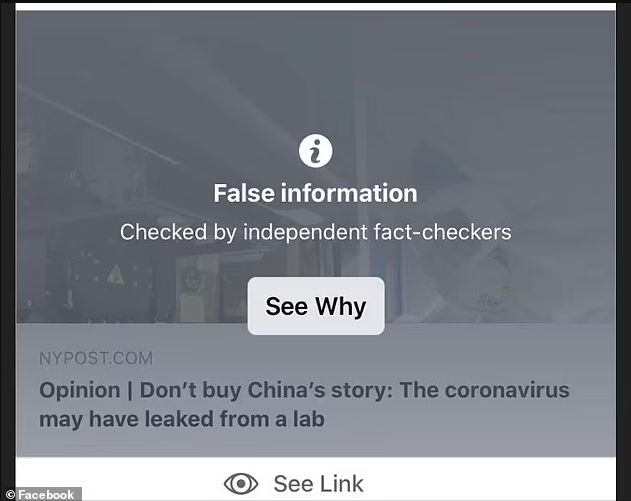 Facebook censors Covid theories, then backtracks:
In the Covid pandemic of 2019 on, Facebook censored people who said the virus came from a Chinese lab. It censored them and banned them from its platform for spreading "fake news". It put up "nanny" notices like the above.
In 2021, the US and world scientists started to take seriously the theory that the virus came from a Chinese lab.
In May 2021 Facebook said they will "allow" people discuss this theory. (The image above is from this story, which also has a roundup of the many people who treated the theory as a dangerous conspiracy theory.)
There are claims that not only did Covid begin in a Chinese lab, it was designed in a Chinese lab and did not evolve.
The theory may or may not turn out to be true, but people should be free to discuss it. What if censoring it cost millions of lives?
This is the perfect story of why censorship is bad and why social media companies are doing evil with the censoring they do.
You Can't Watch This
(2019) on the Web 2.0 world, where unelected social media corporations, not elected governments, in effect control global speech, and regularly abuse their massive power.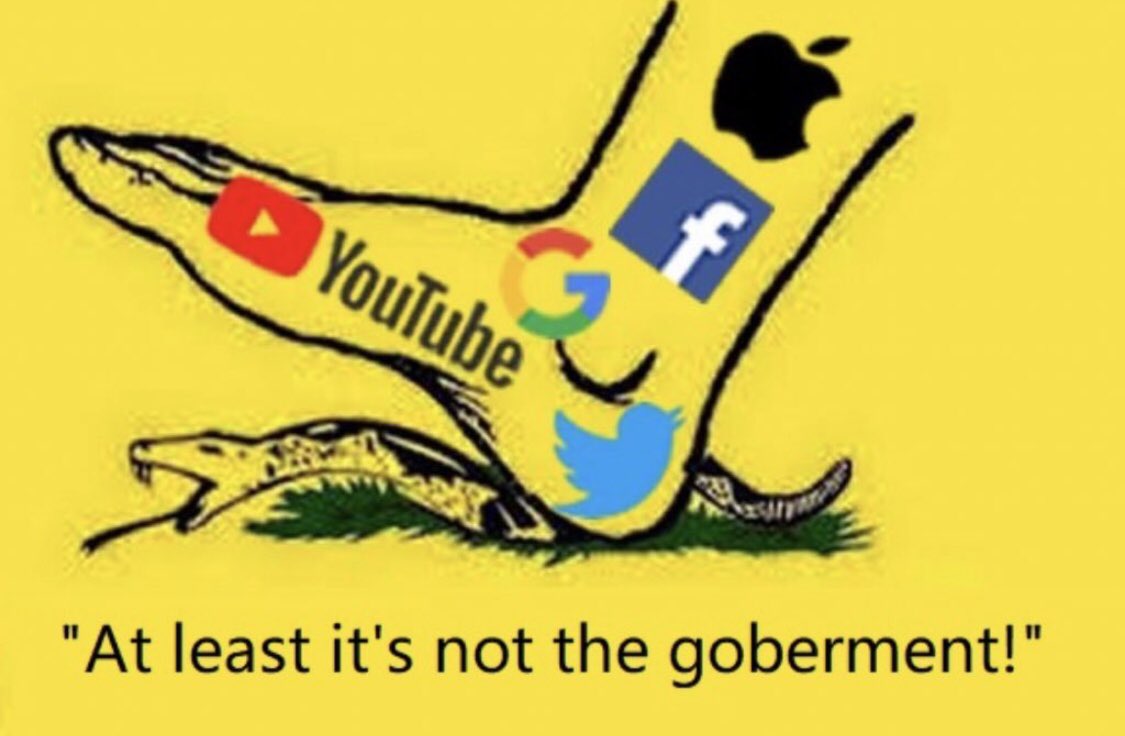 The simple libertarian answer to social media abusing its power is: "Tough. They are private companies."
This meme version of "Don't Tread on Me" is the answer most people can relate to. Which is, that we feel now as if unelected and abusive companies, not government, control our speech. And we feel that way because it is basically true.
So "At least it's not the government" is not much of an answer for most people.
Found here.
---
Accessing information on the Internet
Software exists to allow you filter sites, without bothering anyone who wants to see the site, or the site owner.

I am completely in support of personal, voluntary filters, and much more technology is needed in this area. People do want some control over what they see. For example, I would set up my TV to filter out all soaps, celebrities, the royal family, reality TV, religion, astrology, and anything New Age, the lottery, music and sport. Then I could TV surf more happily. You could set up your machine to filter out pornography, say, if that's the kind of thing that bothers you. So long as I'm not forced to use your machine, I don't care.
The Eternity Service by Ross Anderson discusses the fragility of the web model, where a document's persistence depends on the author's survival. In practice, not much of interest on the web really vanishes without eventually turning up somewhere else. But the constantly-changing URLs, and the need to often return to search engines to re-find something, mean documents can be lost in practice, even if they still exist in theory somewhere out there.
What we need are permanent URLs, that we can be confident will still be around in 10 years time, or even 50 years. Who is going to provide the documents themselves on a permanent basis? It is the job of large libraries of course. When are libraries throughout the world going to wake up and offer free, regularly-archived, mirror services for web publications? With multiple distributed, permanently-available, permanent-URL mirror sites. After all, what is a library for?
The Internet Archive
The Wayback Machine re-creates the Web of any period from 1996 onwards. It converts the links to point to a Wayback Machine copy if possible, so that links take you to the page you would have seen back then. Then you can travel round the Web as if it was 1996 all over again.
Close
A few essays I like, from the exciting moment when the Internet exploded: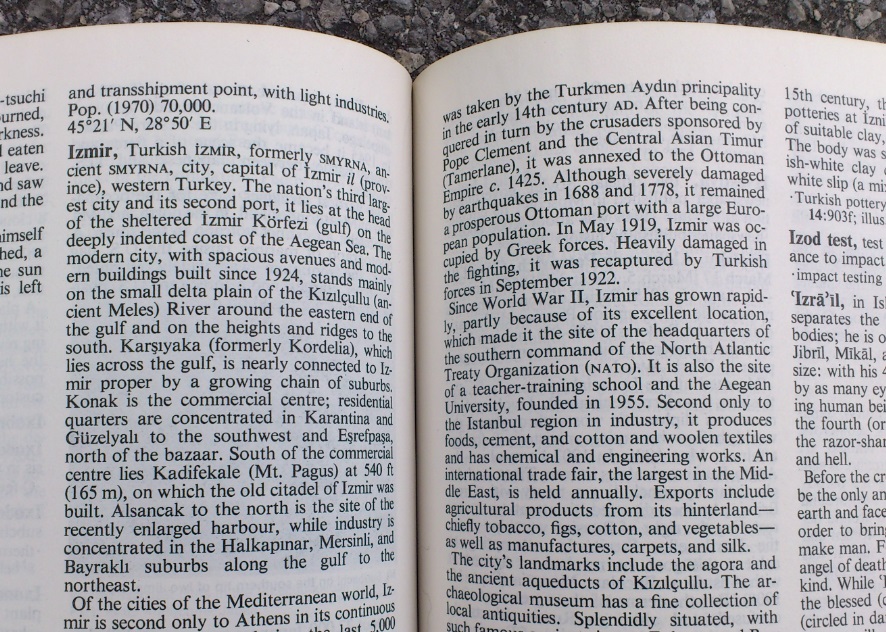 Who would ever want to go back to the pre-Internet world?
Here is the
Encyclopaedia Britannica
1974 edition on
Izmir
in Turkey.
Quantity:

Now there is a lot to be said for the Encyclopaedia Britannica, and there are major disadvantages to Wikipedia. But consider what is now online. In Wikipedia there is not just an article but an entire category on Izmir with many sub-articles and sub-categories. And for images there is an entire Wikimedia Commons category on Izmir with many sub-categories. Far, far more information and images than any Encyclopaedia could give.

Quality:

And I chose this page because the information on it is defective. Presumably written by some Turkish or pro-Turkish academics, the entry fails to note the most important event in modern Izmir - the slaughter by the Turks of the Christians of Izmir in 1922 (the city was majority Christian before then). In contrast, Wikipedia covers this topic in a massive, detailed entry. Far from being "heavily damaged in the fighting", Izmir was set on fire by the Turks after it surrendered. The army of Ataturk burnt the city, and killed and expelled the Christians. The Encyclopaedia Britannica entry is a lie.
On Wikipedia, similar lies can hide in unwatched corners, but it is hard for them to survive in the main entries.

The Internet truly has liberated us to go beyond what is in our books.
The end of Google, 2018.
Google started
in the 1990s because other search engines were biased and did not show the most important hits at the top, but had other criteria.
In the 2010s, Google decided to start
censoring results it does not agree with
, and as a result its search engine is becoming useless.
Here is a search for
"jihad"
on a Chrome incognito window in Aug 2018, and the most important site in the world on the topic,
Jihad Watch
, is on page 12. Since thousands and thousands of sites link to Jihad Watch, it must be put on page 12 deliberately by Google because
they do not like it
.
Well Google, it's been a nice 20 year run, but it is time for a new search engine now.
After 20 years using Google, around 2018 I started switching my bookmarks and links to DuckDuckGo.
Google may die. But the Internet goes on.
---
I signed the
Declaration of the Independence of Cyberspace
when it came out in 1996, and I have a lot of sympathy for it. When a group of people have constructed a new world, as we did, it is shocking when government, once it finds out about that world, threatens to destroy it, as government and media did once they discovered the Internet around 1995.
But things worked out differently. Western governments did not destroy our world. They mainly allowed it to flourish.
And the real threat to our world - the real people introducing censorship where once there was none - are the social media companies. Big tech are the censors now.
---