Islamic State (ISIS)
ISIS
(or Islamic State, or ISIL) is Islamic jihad in its
purest
form. They were the Khmer Rouge of jihad. Everything they did was based on the Islamic texts, that they took seriously and literally (and that, thank goodness, most Muslims do not). The Prophet Muhammad would have recognised the Islamic State and joined them.
Islamic State are the purest illustration of the satanic evil of jihad and the evil of sharia, and the need to remove these two concepts from the earth.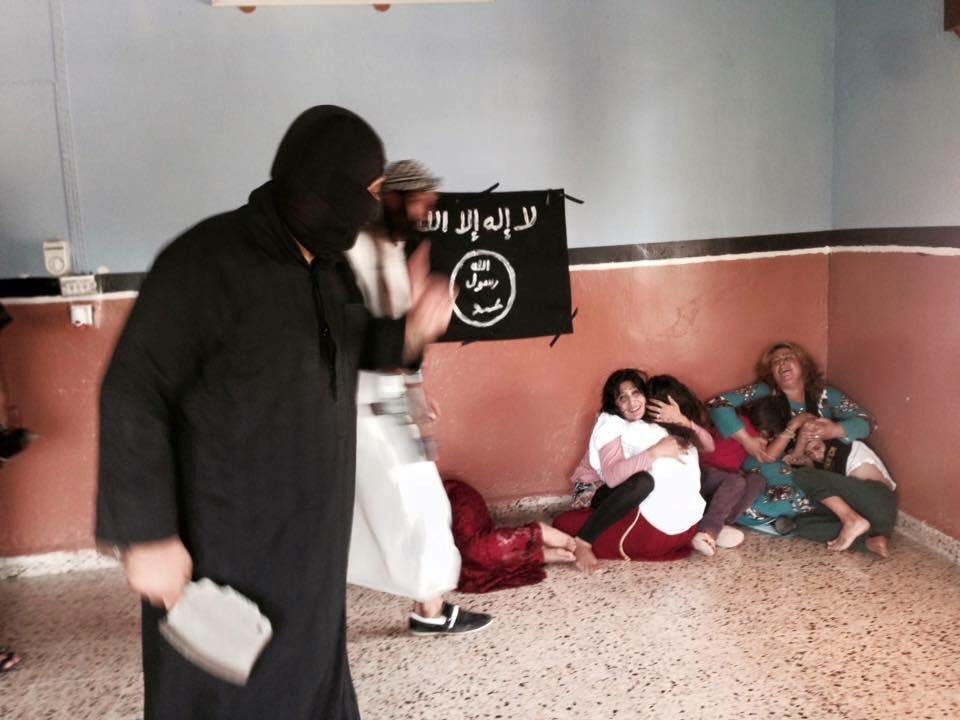 One photo sums up the stain on the world that was the Islamic State.
From
Yazidi account
.
---
The useless President Obama
withdrew from Iraq in 2011
, abandoning all military bases and influence.
The Sunni jihad soon recovered momentum, and violence started rising massively. In 2013, Sunni jihadists rebranded as the "Islamic State" and soon took huge chunks of territory. Their conquest of territory inspired jihadi attacks all over the world, as fighters flocked to join the winning side.
This was all so unnecessary. The US could have left permanent military bases in Iraq and crushed ISIS in the cradle. But Americans chose Obama, and Obama's way of doing things.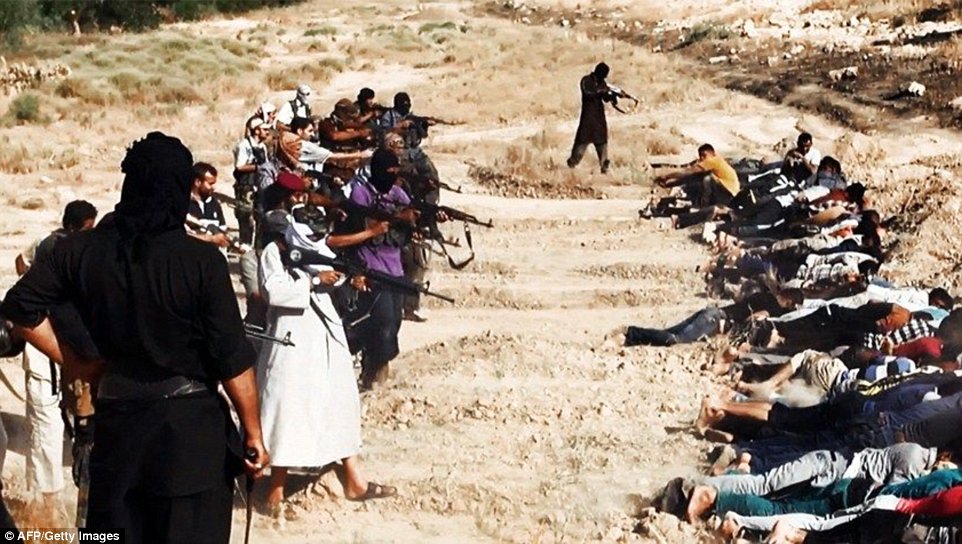 Satanic:
ISIS slaughters prisoners of war
, Iraq, June 2014.
Islamists have no ethics. No morality.
Western morality is far superior.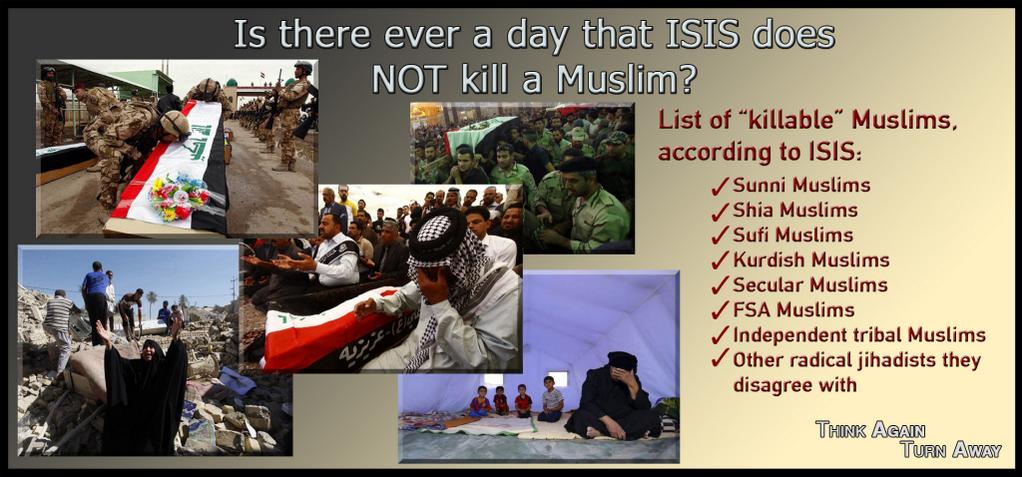 From Think Again Turn Away.
---
Desperate Yazidis rescued from the Islamic genocide on
Mount Sinjar
.
CNN video of Aug 2014.


Israeli military strength is the only thing stopping the jihad doing to the Jews what it did to the Yazidis.
David French, 7 Aug 2014, spells it out: "The only thing that separates the people of Israel from sharing the fate of the Christians in Mosul or the Yazidi on Mount Sinjar in Iraq is that Israelis are protected by F-16s, tanks, and trained troops. Iraqi Christians and Yazidi used to be. On a more basic level, however, Benjamin Netanyahu understands the evil he faces. President Obama? He refuses to understand. If he did, he wouldn't have given a defeated enemy a second chance at genocide."
---
Rape of Yazidi girls and slaughter of Yazidi families, Aug 2014. Islamic State militants murdered five families: "They were taken out and these men raped women and girls in front of their men, then killed all the children before the eyes of their parents who were begging mercy for their children".
3,000 women and girls kidnapped for rape by IS, hundreds of men who refuse to convert shot dead, report, 17 Aug 2014.

Rape and Sexual Slavery Inside an ISIS Prison, 28 Aug 2014. Stories of horror.
ISIS are rapists, sex perverts, pedophiles: 14-year-old Yazidi girl given as a "gift" to an ISIS commander to rape. It reminds one of the Christian slave Maria al-Qibtiyya who was sent to the Prophet Muhammad as a "gift".
ISIS fighter wants to "marry" (i.e. rape) 14 year old girl. Her family refuses. ISIS kills her entire family - mother, father, and three children. And kidnaps her for rape.

ISIS document, Dec 2014, says rape is ok, slavery is ok, pedophile rape is ok.
Islamic State fighter says that getting raped by jihadis is an "honour" for non-Muslim women. He said to one: "You should come to the Islamic state! You can be a [slave], much more honour than being used and abused." He said: "Being a [slave] is the biggest honour for [non-Muslim women] And Allah knows best!"

ISIS kidnaps woman and burns her alive for refusing to take part in an "extreme sex act", report, May 2015. Women and girls as young as 9 years old are kidnapped, repeatedly sold and repeatedly raped by ISIS men.
9-year-old Yazidi girl raped by 10 ISIS militants. Report, Apr 2015.
11 year old Yazidi girl repeatedly raped, used as human shield in combat. Report, 11 Aug 2015.
Yazidi rape victim testifies at UN, Dec 2015. She begs the world to wipe out ISIS.
ISIS wife defends rape and slavery of women and children, May 2015.

She says rape and slavery are part of Islam: "Allah has opened the lands for His awliya [supporters], so they entered and dispersed within the lands, killing the fighters of the kuffar, capturing their women, and enslaving their children. ... We have indeed raided and captured the kafirah women, and drove them like sheep by the edge of the sword. ... I and those with me at home prostrated to Allah in gratitude on the day the first slave-girl entered our home."
Richard Brennan, of counter-terrorism think-tank RAND, piously declares that rape and slavery are not compatible with the Koran! "there is no way to square these things - forcing people to be slaves and raping them - with the Koran. It's not Islamic, so they have to lie about that to make it fit the narrative."
It would be nice if that were true! But it would be more honest if Muslims faced up to the fact that rape and slavery were practiced by Muhammad and are defended in the Islamic texts. Face up to the problem, and then reject it and move on, rather than denying the problem.
Yazidi women taken as slaves by the jihadis.
Sold and used for rape.
America abolished slavery in 1865. But Islam has not abolished slavery yet.
---
ISIS beheads Western journalists and aid workers, and anyone it can get its hands on. It has no morality. No honour. Pure evil.
"Jihadi John"

New sadism: Burning prisoners alive in cages:
---
ISIS gave great heart to the global jihad. Jihadists around the world believed their side was winning, that the caliphate was here at last. They flocked to join ISIS in Iraq and Syria, or mount ISIS terror attacks in their own countries. Islamic terror everywhere massively escalated.
Islamic attacks on the West massively escalated in the ISIS/Obama era.

Foreign jihadi fighters in Iraq and Syria.
Every western ISIS fighter should have their passport burnt and be left in the Middle East.
The majority of people agree with me: 67 percent of Britons want to strip citizenship from any British that fight for ISIS.

"There just aren't enough Brits getting killed in Syria". Rod Liddle, 15 Nov 2014, amusingly expresses how most Brits feel about the "British" fighters getting killed in Iraq and Syria. That calling them "British" is a legal fiction. No Brits mourn them. Liddle is brilliant: "The news is always grim, isn't it? ... And even the news which appears to be good has a dark cloud hovering behind it. For example, we frequently hear reports of British-born jihadis being killed in Syria ... I usually break out some really good white wine and get the neighbours over for a bit of a knees-up whenever this happens - we exult, and sing songs for a while, our cares forgotten. But I have just read that the death rate for our lads in the Islamic State is one every three weeks. That's pathetic, hugely dispiriting. It will take ages to finish them off, no matter how many more we encourage to go. The job could be done far quicker if we shot them at the airport, on their way out, but the government has moral qualms about this, apparently."

Khalid Kelly, Irish born ISIS scum.
---
After the barbaric rise of ISIS in 2013, America had to return to Iraq in 2014 to fix what should never have happened. Iraq should never have been abandoned.
A range of forces gradually destroyed ISIS in Iraq and Syria after 2014, including some evil actors (Syria, Iran, Russia).
---
ISIS - The Trump era
Trump, despite his isolationist talk, continued the American assistance in the war on ISIS. The destruction of ISIS continued after Jan 2017.
Syrian regime fights ISIS, with Russian help:

Iraqi government fights ISIS, with Western help:

Syrian Democratic Forces fight ISIS, with Western help:

By the end of 2017, ISIS was largely defeated:

The caliphate is almost entirely destroyed. Its cities Mosul and Raqqa are gone. The inspiration it gave to jihadis worldwide is crushed. For now.
ISIS is defeated by David French, 14 Dec 2017.
This is to be celebrated. Although those who helped destroy it include other evil people (the Assad regime). Like Stalin helping destroy Hitler.

Now what?

If the US abandons Iraq/Syria again, the jihad will take over again. Obama and Trump are the wrong Presidents for this mission.
A place like Iraq needed 30 years of US commitment and it would be OK. But the US public only gave it 5 years (2003-08) before giving up.
Now what? Abandon Iraq again?

ISIS territorial claims. ISIS has controlled or still controls territory in a number of countries.

Jason Burke, Feb 2019, on the dilemma for the modern global jihad: "Without a territorial base, extremist groups such as al-Qaida or Isis cannot realise their project to build a new "Islamic community" or to confront "hypocrite, apostate" local powers and their backers in the west. But any effort to establish a territorial base makes them extremely vulnerable. Any attacks launched from their new territories will eventually provoke well-armed and powerful enemies who will seek their nascent state's destruction and, history tells us, will probably succeed."

Abu Bakr al-Baghdadi killed, Oct 2019 (Caliph of Islamic State, ISIS no.1).