The media - The media and Israel
The media and Israel
The left's bias against Israel
and sympathy for the Palestinian cause is a historic mistake. It is a betrayal of liberal principles.
It is the same mistake the left made in the 20th century when it supported communists around the world.
Much of the western media promotes this left-wing narrative against Israel, including media like the BBC and RTE that pretend to be "neutral". Taxpayers in the UK and Ireland are forced by law to pay for anti-Israel state media.
Journalists who declare they are activists:

Robert Fisk was an activist against Israel, not a journalist. He declared this openly. He said that he would not report the news but would campaign for one side. The wrong side. This is not my invention. He said this openly. And yet he was treated as a "journalist" by his outlets and his interviewers.
"An open letter on U.S. media coverage of Palestine", June 2021. A large group of US journalists declare openly that they are activists for the Palestinian side, not journalists reporting the news. They are proud of it, and think that is how journalists should behave.
It's not just me saying they do this. They say it themselves.
"The Huffington Post: Bias In Pictures." graphically shows the kind of bias in reporting on Israel that is found throughout the western media.
---
Some excellent sites cover the endless media bias against Israel in both news reporting and opinion.
I particularly recommend
CAMERA
and
Honest Reporting
.
Typical anti-Israel spin in The Guardian.
This picture of an unnamed dead Palestinian appears in
"24 hours in pictures"
, The Guardian, 28 December 2011.
As
CiF Watch
asks, why did the Guardian omit the information that this guy was an
Al Qaeda-linked terrorist
who was killed by the brave IDF.
If you want the full story, you won't get it in The Guardian.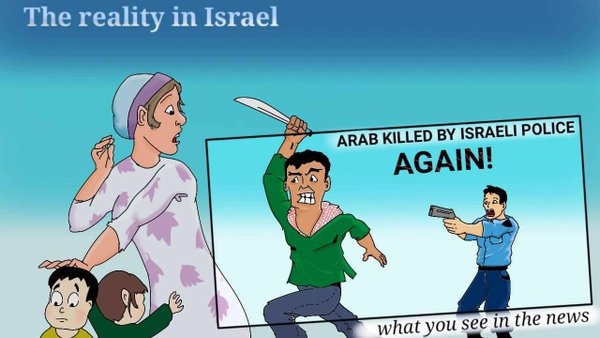 Cartoon attacking the distorted media coverage of the "stabbing intifada" in 2015-16.


"Muslims fearful after Muslim attack on non-Muslims".
Al Jazeera English spins a Muslim terror attack on Jews into a narrative where Muslims are the victims.
Palestinian Muslim jihadis carry out the most depraved killing of Jewish children at Itamar in Mar 2011.
Any objective media outlet would focus on the racist beliefs held by the Palestinians that would allow them to stab a little 4 year old boy and a baby to death (and then celebrate the killings). The clip could look for example at the constant Jew hatred on Palestinian TV, in mosques and in schools.
But no, after yet another Muslim slaughter of the most innocent and defenceless non-Muslims, the closing message is: "Muslims fearful of retaliation after Muslim attack." Of course.


Israeli comedy from Latma TV takes aim at the way leftist media uses language.
The politically correct reporter tries to say "youths", not "Arabs".


Fake news at the New York Times, 21 Apr 2018.
In an article about fake news, Nellie Bowles in the New York Times inserts her own fake news.
Her example of a "far-right conspiracy" is that "Palestinians Pay $400 million Pensions For Terrorist Families", which is entirely true.
You would think that if you were writing an article about fake news, you would be extra careful to Google your facts, but no. In the article, she spreads fake news, because it is Israel.
After controversy, the New York Times corrected it. The above shows the original, copied at CNBC.
---
News/comedy shows
John Oliver
was good after the
Mumbai massacre
in 2008.
He was on the The Daily Show, December 1, 2008. Unfortunately I cannot find any video of it any more.
Anyway, he summed up the jihadis, fighting for a fantasy world that nobody wants. Killing innocent people is meant to
attract
the world to the virtues of a global Islamic tyranny.
"We hate and kill everything you stand for - Join us!"
Their solution to everything is violence. World poverty - The solution is to suicide bomb a hotel. And so on.
It was a good speech. And genius at the end:
"One final question: When will these motherfuckers go away?"


John Oliver in 2021 seems the opposite sort of person.
Angry with Israel during the Gaza war of 2021, he produces a video attacking Israel on all sorts of fronts, using of course many of the arguments the jihadis use. Almost every sentence is garbage.
John Oliver answers the question: "When will these motherfuckers go away?" with: "Not as long as people like me promote their analysis."


Saturday Night Live tells a racist, antisemitic "joke" about Israel, Feb 2021.
They joke (jump to 1:29) that Israel is only vaccinating "the Jewish half" of its population.
This is a racist, antisemitic "joke" based on no facts. All Israeli Arabs and all Palestinians in East Jerusalem are getting the vaccine.
Saturday Night Live told a racist, antisemitic joke for no reason.


Have I Got News for You tells a racist, antisemitic joke for no reason, 9 April 2021.
---
"Pallywood" by Richard Landes.
Acted and staged scenes for gullible western media by Palestinian activists and mobs.
Copy
here
.


Richard Landes explains the world of "Pallywood".

Revolting cartoon in Le Monde, 2002, lies about The Battle of Jenin.
---
Former AP correspondent Matti Friedman does a very good job of explaining how and why western reporters get Israel so wrong.
An Insider's Guide to the Most Important Story on Earth, Matti Friedman, August 26, 2014. And copy.

Journalists love covering Israel, and hate covering nasty places: "When I was a correspondent at the AP, the agency had more than 40 staffers covering Israel and the Palestinian territories. That was significantly more news staff than the AP had in China, Russia, or India, or in all of the 50 countries of sub-Saharan Africa combined. It was higher than the total number of news-gathering employees in all the countries where the uprisings of the "Arab Spring" eventually erupted. To offer a sense of scale: Before the outbreak of the civil war in Syria, the permanent AP presence in that country consisted of a single regime-approved stringer. The AP's editors believed, that is, that Syria's importance was less than one-40th that of Israel. I don't mean to pick on the AP-the agency is wholly average, which makes it useful as an example."
As the reference to the Syrian stringer shows, media coverage from nasty places is often government-approved, because no outside journalist wants to go there.
And hence the distorted stats: "In all of 2013 .. the Israeli-Palestinian conflict claimed 42 lives - that is, roughly the monthly homicide rate in the city of Chicago. ... In contrast, in three years the Syrian conflict has claimed an estimated 190,000 lives, or about 70,000 more than the number of people who have ever died in the Arab-Israeli conflict since it began a century ago."
Anti-Israel reporters are safe in Gaza. Pro-Israel reporters (or even neutrals) are not. "There has been much discussion recently of Hamas attempts to intimidate reporters. Any veteran of the press corps here knows the intimidation is real, and I saw it in action myself as an editor on the AP news desk. During the 2008-2009 Gaza fighting I personally erased a key detail - that Hamas fighters were dressed as civilians and being counted as civilians in the death toll - because of a threat to our reporter in Gaza. ... In addition, reporters are under deadline and often at risk, and many don't speak the language and have only the most tenuous grip on what is going on. They are dependent on Palestinian colleagues and fixers who either fear Hamas, support Hamas, or both."

What the Media Gets Wrong About Israel, Matti Friedman, 30 Nov 2014.

"Many freshly arrived reporters in Israel, .. adrift in a new country, undergo a rapid socialization in the [social] circles I mentioned. This provides them not only with sources and friendships but with a ready-made framework for their reporting - the tools to distill and warp complex events into a simple narrative in which there is a bad guy who doesn't want peace and a good guy who does. This is the "Israel story," and it has the advantage of being an easy story to report. ... You can put your kids in good schools and dine at good restaurants. It's fine if you're gay. Your chances of being beheaded on YouTube are slim. Nearly all of the information you need - that is, in most cases, information critical of Israel - is not only easily accessible but has already been reported for you by Israeli journalists or compiled by NGOs. You can claim to be speaking truth to power, having selected the only "power" in the area that poses no threat to your safety."

The ideological roots of media bias against Israel, Matti Friedman, Winter 2015.

"How have the doings in a country that constitutes 0.01 per cent of the world's surface become the focus of angst, loathing, and condemnation more than any other? We must ask how Israelis and Palestinians have become the stylised symbol of conflict, of strong and weak ... not Turks and Kurds, not Han Chinese and Tibetans, not British soldiers and Iraqi Muslims, not Iraqi Muslims and Iraqi Christians, not Saudi sheikhs and Saudi women, not Indians and Kashmiris, not drug cartel thugs and Mexican villagers."
The media promotes certain stories, hides others: "Vandalism of Palestinian property is a story. Neo-Nazi rallies at Palestinian universities or in Palestinian cities are not ... Jewish hatred of Arabs is a story. Arab hatred of Jews is not. ... 100 houses in a West Bank settlement are a story. 100 rockets smuggled into Gaza are not. The Hamas military build-up amid and under the civilian population of Gaza is not a story. But Israeli military action responding to that threat - that is a story ... Israel's responsibility for the deaths of civilians as a result - that's a story. Hamas's responsibility for those deaths is not."
Journalists see themselves as agents of change: "The international press in Israel had become less an observer of the conflict than a player in it. It had moved away from careful explanation and toward a kind of political character assassination on behalf of the side it identified as being right."
The Over-reporting of Israel
The Over-reporting of Israel, Honest Reporting, 26 April 2004.

"Israel - a tiny nation the size of the state of New Jersey - receives approximately 75 times more coverage than other areas of equal population. In comparison to other nations involved in armed conflict (where world media attention increases), Israel receives over 10 times more coverage by population."

No time for Africa by Evelyn Gordon, 19 July 2004.

"Over the past 4 years the Israeli-Palestinian conflict has caused some 4,000 deaths and .. displaced some 15,000 people. The Darfur conflict, in less than a third of that time, has caused an estimated 30,000 deaths and displaced some 1.2 million people."
"Yet archive searches of major newspapers in the US and Europe reveal that over the last year, these papers have published from 7 to 14 times as many articles on Israel as on Sudan. The New York Times, for instance, lists 260 articles on Sudan and 2,837 on Israel; the London Times figures are 148 and 1,118; Die Welt's are 568 and 8,205; El Pais lists 166 and 1,776."

Guess who forgot Sudan by Amotz Asa-El, 29 July 2004.

Why so much coverage of Israel and so little of Sudan? "Israel is host to more than twice as many Western correspondents than the entire Arab world". Why? The answer does not reflect well on the profession of journalism.
"First of all, it is much more pleasant for a foreign correspondent to be stationed in Jerusalem or Tel Aviv than in Khartoum, even before the imposition there of Shari'a law, not to mention hell holes such as Darfur, where most Western journalists are not built to spend more than a short period of time without beginning to wonder why they chose their profession."
---
The distorted use of language, especially in headlines, is a key feature of Western reporting of Israel. Once you realise how things could be phrased differently, you start seeing it everywhere.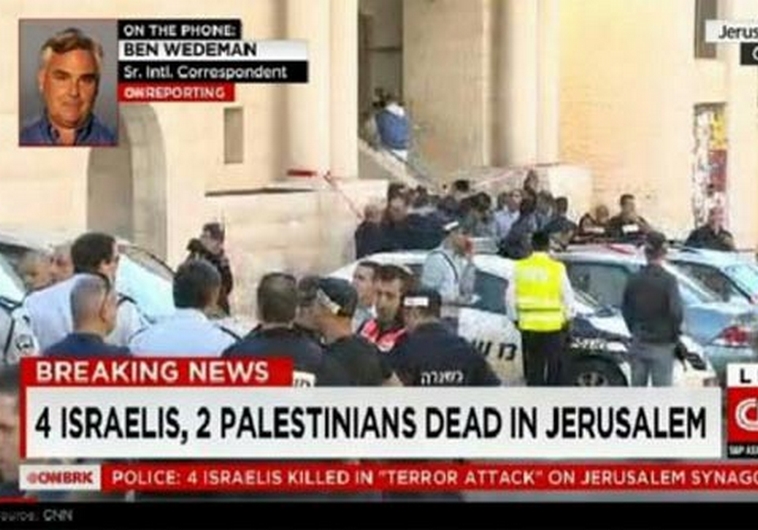 How CNN covered the
synagogue massacre
, Nov 2014, in which two Jew-killers were shot by police.
"4 Israelis, 2 Palestinians dead in Jerusalem".
See
other hopeless media headlines
of the attack.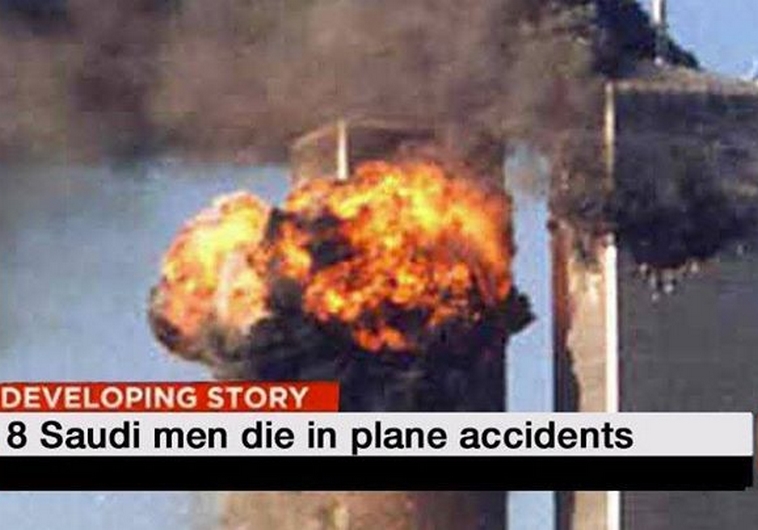 The above spawned parodies showing how CNN would cover other events.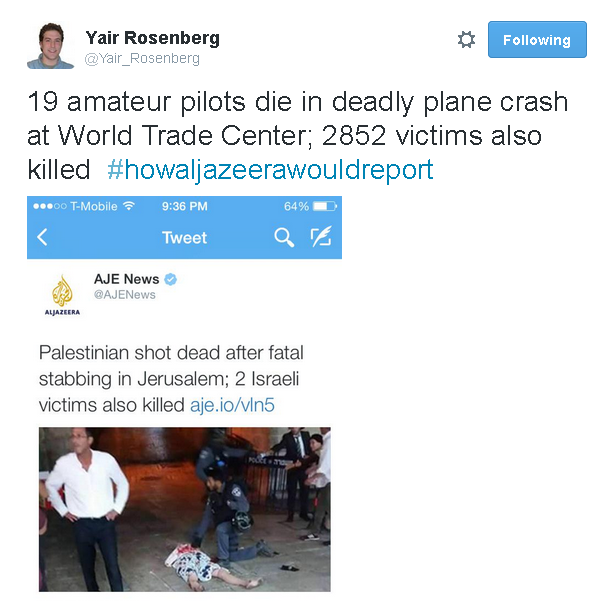 Al Jazeera is mocked for this outrageous headline.
The headline is about the knife attack on a Jewish couple and their infants in Jerusalem in Oct 2015. (The father was killed, the mother critically injured, and their 2 year old was also stabbed by the racist attacker. Another Jew was also killed.)


The Daily Telegraph, 8 June 2016, reports on the Islamic terrorist shooting of Jews in a cafe in Tel Aviv in June 2016.
Apparently the headline should mention that the cafe may be a civilian target, but, being in a city, is "near" to some possible military target.
The headline doesn't even mention the Islamic terrorists.
From Honest Reporting.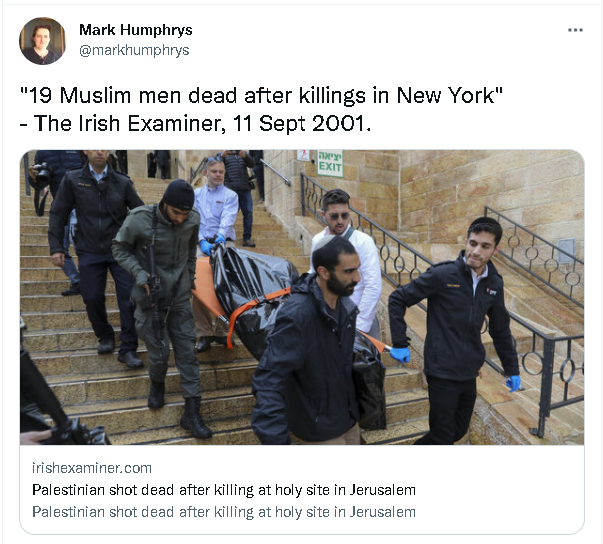 A Hamas terrorist opens fire on random people in Jerusalem, killing one, Nov 2021. Police kill the terrorist.
And this is how the Irish Examiner titles it: "Palestinian shot dead after killing at holy site in Jerusalem".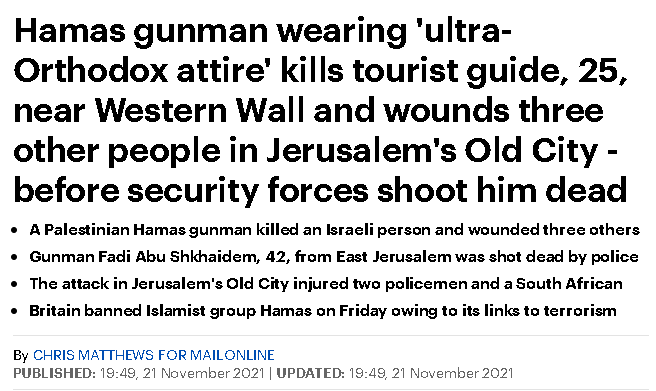 It is possible to be actual journalists rather than propagandists.
Here is how the Daily Mail titled the terror attack above. That is journalism.

"School for Journalists". From Dry Bones Blog.
---
Israel was demonised for killing
Sheikh Ahmed Yassin
in Mar 2004. Yet when US President Barack Obama killed
Osama Bin Laden
in May 2011, he was widely applauded.
Tom Gross
compares the reactions:
| | | |
| --- | --- | --- |
| | Israel kills Yassin, 2004 | US kills Bin Laden, 2011 |
| UN | UN Secretary-General Kofi Annan: "I condemn the targeted assassination of Ahmed Yassin. Such actions are not only contrary to international law but they do not help the search for a peaceful solution." | UN Secretary-General Ban Ki-moon hailed Osama bin Laden's death as a key turning point in the struggle against terrorism. |
| EU | EU foreign policy chief Javier Solana, described the assassination as "very, very bad news". | EU foreign policy chief Catherine Ashton said: "I would like to congratulate the U.S., pay tribute to its determination and efficiency in reducing the threat posed by terrorists and underline the close cooperation between the EU and U.S. in the fight against terrorism." |
| UK | British Foreign Secretary Jack Straw said: "Israel is not entitled to go in for this kind of unlawful killing and we condemn it. It is unacceptable, it is unjustified and it is very unlikely to achieve its objectives." | Prime Minister David Cameron said that bin Laden's death would "bring great relief" around the world. |
| France | French President Jacques Chirac "unreservedly condemned" Israel's assassination of Hamas terror leader Yassin. French Foreign Ministry spokesman Herve Ladsous also said: "France condemns the action taken against Sheikh Yassin, just as it has always condemned the principle of any extra-judicial execution as contrary to international law." | French Foreign Minister Alain Juppé said on that bin Laden's death is a "victory for all democracies fighting the abominable scourge of terrorism. France, the United States and European states work closely together to fight terrorism, so I'm overjoyed at the news." |
| Norway | Norwegian Foreign Minister Jan Petersen: "This act will contribute to increased tensions in the area and will make it more difficult to implement an Israeli withdrawal from Gaza." | Norwegian Foreign Minister Jonas Gahr Støre called the death of bin Laden "a break-through in the fight against terror". |
| Vatican | "The Holy See unites with the international community in deploring this act of violence that cannot be justified in any state of law. Lasting peace cannot come from a show of force." | Vatican spokesman Fr. Federico Lombardi said that while Christians "do not rejoice" over a death, bin Laden's death serves to remind them of "each person's responsibility before God and men" and "bin Laden must answer to God for having killed an innumerable number of people and exploiting religion". |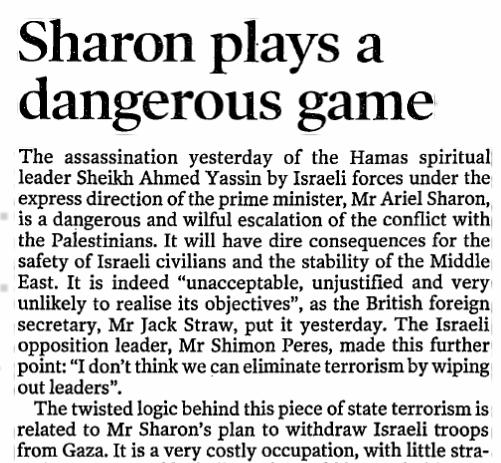 Tears for Yassin in the Irish Times in 2004.
Their editorial of
23 Mar 2004
describes his killing as "state terrorism".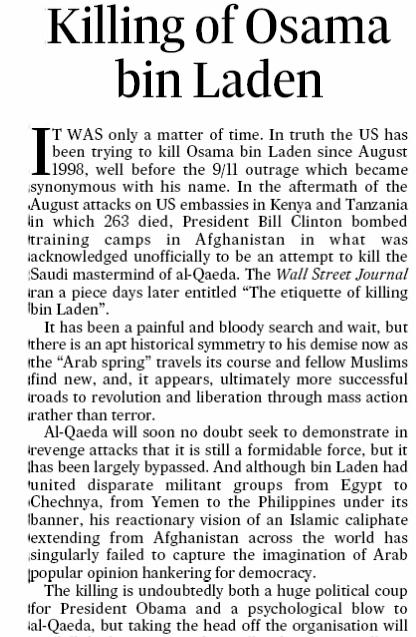 But no tears for Bin Laden in the Irish Times when their hero Obama kills him in 2011.
Their editorial of 3 May 2011 notably does not describe his killing as "state terrorism".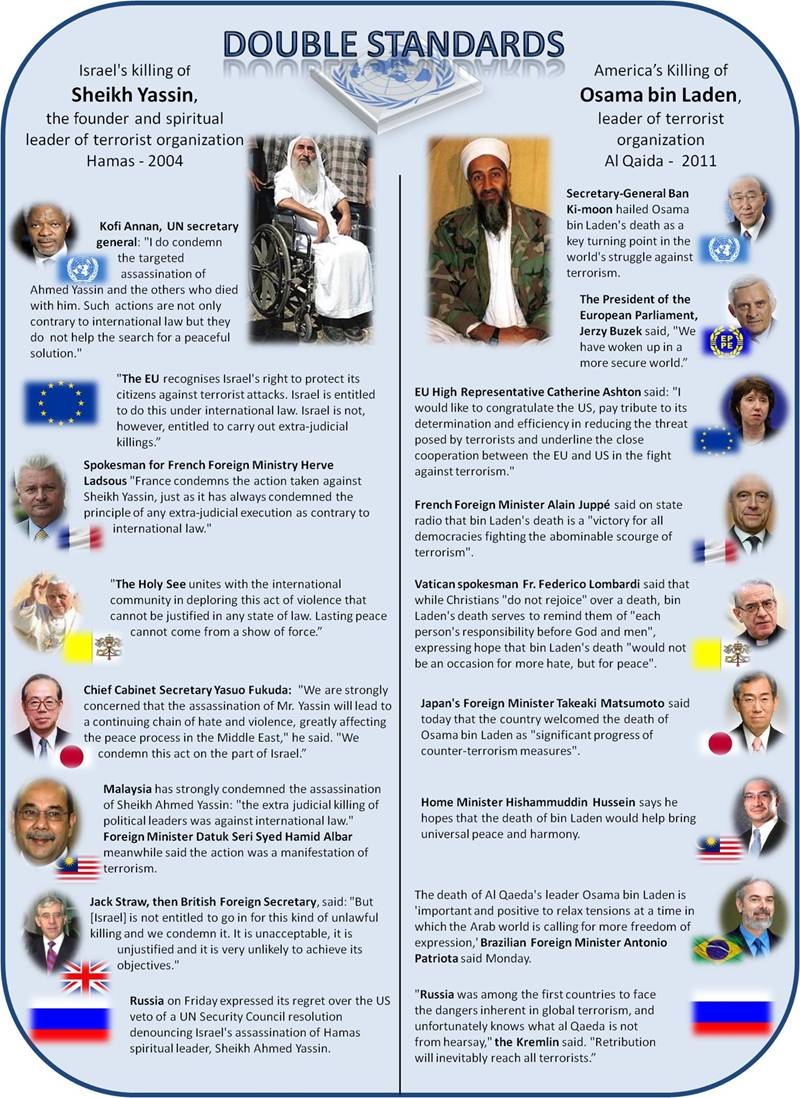 A graphic summary of the double standard.
From here.



---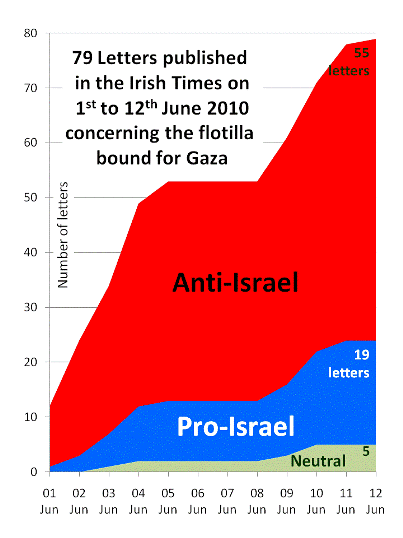 Survey
of letters about Israel in the Irish Times after the Gaza flotilla clash of 31 May 2010.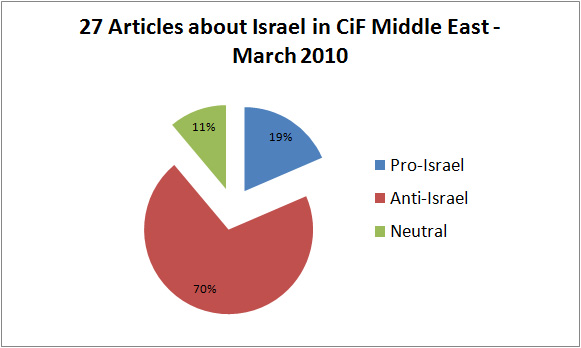 Survey of articles about Israel on The Guardian's "Comment is Free: Middle East" section in March 2010.