The church and Islamism
Oddly enough, the main Christian churches over the last number of years have developed what might be called a "left-wing foreign policy" - anti-America, anti-Britain, anti-Israel, and generally sympathetic to Arab and Muslim causes and foreign tyranny.
The Christian churches are clearly going to be of no help in the current war to protect (among other things) their world too.
I am not a Christian, but I wish the Christian churches would focus on defending Christians against persecution everywhere in the world.
From
Dry Bones Blog
.
---
---
Rowan Williams (Christianity's greatest dhimmi)
---
Michael Nazir-Ali, Bishop of Rochester, Apr 2007, praises the terror state of Iran for not killing its British hostages. "I saw on the one hand what Iran was doing, and what the president [of Iran] said had much to do with the moral and spiritual tradition of their country. The president talked about the religious background to the release, with reference to the Prophet's birthday and the passing over of Christ. What struck me was that if there were any values on the British side they were free-floating and not anchored in a spiritual and moral tradition."

Let's parse this. The unelected, so-called "president" of Iran is involved in killing British soldiers in Iraq, oppressing his own people, and persecuting, torturing and executing minorities and political dissenters. These are his "values", those of eastern despotism and cruelty, and we are supposed to admire them because they are overlain with a veneer of religious bullshit?
Meanwhile, the brave British soldiers are fighting and dying in order to give Iraqis one chance at freedom, one chance to escape from the Iran-like despotism that has dominated their history and the entire region. The British soldiers are the ones who are fighting a brave fight of good against utter evil, and they are the ones whose values are in question, because they do not cover them with a veneer of religious bullshit?
What Michael Nazir-Ali is saying, as so many religious people have said throughout history, is: "No matter how evil you are, no matter what you are doing, if you spout about religion, I will in some way admire you."

Michael Nazir-Ali may not understand Iran, but he writes some sense about Britain: Extremism flourished as UK lost Christianity, 6 Jan 2008.

On Islam in Britain: "there has been a worldwide resurgence of the ideology of Islamic extremism. One of the results of this has been to further alienate the young" [i.e. young British Muslims] "from the nation in which they were growing up and also to turn already separate communities into "no-go" areas where adherence to this ideology has become a mark of acceptability. Those of a different faith or race may find it difficult to live or work there because of hostility to them and even the risk of violence. In many ways, this is but the other side of the coin to far-Right intimidation."
Islamic radicals have tried to prove him wrong, that Islam is not a threatening faith, by threatening to kill him and his family. Hypocritical savages.
"I had similar threats when I was a bishop in Pakistan", he says. Islamism, because it is weak and false, cannot tolerate free discussion.
---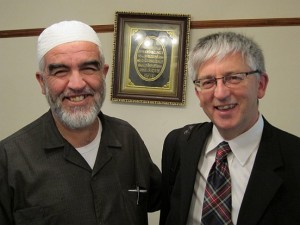 Anti-Israel Anglican vicar
Stephen Sizer
poses with Jew-hating Islamic fundamentalist
Raed Salah
.
Formerly
here
(2011 post).
Sizer's hatemongering against Israel began with his PhD thesis in 2003 and continued for decades.
In Dec 2022, a church tribunal into his anti-Israel campaigning found Rev. Stephen Sizer guilty of "conduct unbecoming and anti-Semitic activity". The tribunal considered 11 allegations against him.
Anti-Israel dhimmi
Karin Brothers
, of Canada's
largest Protestant church
, takes to the stage in Toronto, Aug 2011, with a load of fanatic Khomeinists who want to enslave her under Islamic law. See
the other speeches
.
This is the annual festival of Islamic terrorism and Jew hatred called
"Quds Day"
.
---
EAPPI and the WCC

EAPPI's Chain Reaction magazine, Issue 6, Summer 2007,

advocates hacking attacks against Israel.
Shame on the World Council of Churches and anyone who associates with them.
Note their support for the anti-Israel Irish charity Trocaire.
---
John Neill, Church of Ireland Archbishop of Dublin, condemns Ireland for allowing the U.S. military use its airports, Hot Press, issue dated 8 Aug 2007. Also here.

"I feel very strongly that economic links to America have made us very blind to the moral issues", said the Archbishop, who thinks that the moral issue is to oppose, not support, the war.
"I think as a nation there has not been sufficient questioning of these rendition flights and the link of Ireland with the war in Iraq, whether we like it or not. I feel that the Irish Government have compromised themselves. People will say that politics always has an element of compromise, but I believe one of the chief moral issues of today is the issue of war." Again, this arrogant assertion that morality is on his side rather than on his opponents' side. He just assumes his opponents are driven by economic greed, or some other compromise. It never seems to occur to him that his opponents are driven by morality too.
Tony Allwright says it is shocking that people like John Neill, and members of the Green Party, "have such little regard for one of the Arab world's few constitutional democracies that they likewise would wish to impede its legitimate Government's desire for foreign assistance in trying to bring security to its beleaguered people. ... Ireland should be proud of its small contribution in making Shannon available to the brave American soldiers as they try to help the Iraqis. Ms McKenna and her cohorts should be ashamed of their obstructionism and the additional loss of Iraqi life this could entail were they successful in thwarting the Americans."

Susan Hood, of the Church of Ireland's Representative Church Body, led an Irish ecumenical (Anglican, Catholic, Methodist, Presbyterian) visit to the Holy Land in 2008. I admire her scholarly work on Irish history, but not her understanding of the Arab-Israeli conflict.

Church leaders reach out to those suffering in Middle East, Susan Hood, Irish Times, July 1, 2008.
The delegation went "to identify with the plight of 200,000 Christians left in Israel/Palestine." She says Christians are "now diminished to just 2 per cent of the overall population".
But this hides the fact that the Christian population is growing in Israel. It is in the Palestinian territories - the Islamic religious state of Gaza and the Islamic thug state of the PA - that Christians find it hard to live.
She does not complain about the repression of Christians by the Palestinians, the hatred and incitement to murder in Palestinian schools and TV, the terror attacks against Jewish women and children, and the lack of democracy or any desire for peace among the Palestinians. Rather, she complains about counter-terrorism measures that would be removed the day the terror threat ended. She complains about "the devastating effects of the Separation Wall" and so on, as if these were the causes of the conflict.
Reply to Susan Hood: "I was disappointed and a little shocked that neither she nor the churchmen she interviewed saw fit to mention the chief reason for much Christian suffering in the region, namely the attacks on Christians and on churches by militant Muslim groups. These attacks, many resulting in bloodshed and murder, have been calculated attempts to remove a non-Muslim presence from Gaza and the West Bank. The Christian population there has declined severely, whereas the community in Israel has increased steadily over the past 60 years. Other religious minorities in Israel - notably the Baha'is, a community persecuted or banned in all Muslim countries - have flourished. By ignoring this disparity, the article leaves the reader with a broad impression that Israel is to blame for all these problems. How far from the truth that is."

The Church of Ireland Rev. Patrick Comerford is President of Irish CND.

Rev. Patrick Comerford, 6 Aug 2012, declares that Israel is more of a problem than Iran or Syria or North Korea! "Meanwhile, three countries remain outside the NPT regime ... India, Pakistan and Israel, each with its own nuclear capacity ... These are real threats to our survival, more so than the imaginary threats posed at the moment by Iran, Syria and North Korea."
He cannot understand why America would treat democracies different to dictatorships: "It is hypocrisy that the US ... is applying economic sanctions and threatening military action against Iran which has not got a single nuclear weapon, while the US opposes any sanctions against Israel, which has as many as 400 nuclear warheads". "Hypocrisy"! He wants America to treat democracies the same as dictatorships!
CND's moral vacuum in one handy speech.
---
---
Only on
Communism
has the church a record of standing on the side of
good
and against evil. It has a dreadful record on
Fascism
and Islamism.
It's a bit like the secular left that way. Only on Fascism has the left a record of standing on the side of good. It has a dreadful record on Communism and Islamism.
The fight for human freedom - Fascism, Communism, Islamism. The church has only been good on the middle one.

Christianity and the Holocaust - The church did not support the Allies against the Nazis.

Iraq

Economics

On economics, the Catholic church also at some point, without anyone noticing, became bog-standard socialists.
Cardinal Cormac Murphy-O'Connor, Jan 2009, rather overreacts to the present financial crisis: "he went on to say that in 1989, with the collapse of the Berlin wall, that 'communism had died'. In 2008, he said, 'capitalism had died'."
"Want a bet?", is all I'll say. Go away and come back in 10 years and see who's right - me or the churchman.

Left-wing Charities - The Catholic church runs a range of Anti-Israel and Anti-American charities.

Trocaire, the Catholic church's left-wing, anti-Israel, anti-American "charity".

The Pope Benedict XVI riots of 2006 - The Catholic church under John Paul II never stood firmly against the evil of Islamism. Benedict XVI was better.

Thomas Burns, Catholic Bishop, Apr 2007, praises the terror state of Iran for not killing its British hostages.

He says about the Iranian terror masters: "they have then chosen to put their faith into action to resolve the situation. Faith in a forgiving God has been exemplified in action by their good deeds. They are offering to release the sailors and marines, not just as the result of diplomacy, but also as an act of mercy in accordance with their religion." Their "religion" being eastern despotism, cruelty, and the arbitrary whims of tyrants.
"We all profess to hold a faith that comes from Abraham - the Father of all Nations." No we don't.
"We all adore the one, merciful God, who will be mankind's judge on the last day." I don't, and he will not be, and there will be no such day.
"All nations form one community: we come from the one God who created us," No we don't. There is no evidence we were created by anyone.
"and we will return to the one God as our common destiny." Again, nonsense. We will not "return" anywhere. I guess if Thomas Burns believes all this made-up nonsense, it's no surprise he is impressed that the Iranian thugs believe the same.

Someone better: Catholic Archbishop of Sydney, Cardinal George Pell, 2006: "In my own reading of the Koran, I began to note down invocations to violence. There are so many of them, however, that I abandoned this exercise after 50 or 60 or 70 pages."
---
"Zionism Will Not Tolerate Doctrine of Christ",
The Irish Catholic
, 19 May 1949.
Shows Irish and European Catholic reaction to the foundation of Israel in 1948.
Is it any wonder that the church and its
charities
are often anti-Israel today?
See
full size
.
The Irish Catholic above approvingly quotes a 1949 broadcast by Vatican Radio, which declares that "Zionism is a new Nazism".
(Not that the Vatican was particularly opposed to actual Nazism during the war.)
Modern lefties like David Norris and Frank McDonald would of course agree with these 1940s Catholics that Zionism is the new Nazism.
The broadcast claims that Israel will destroy the Christian holy places. Of course, the opposite happened. Israel is the only country in the Middle East where Christians are safe.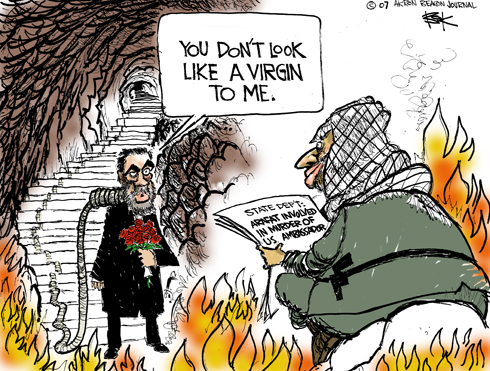 Saddam meets his comrade Arafat in hell in 2006.
From here. Cartoon by Chip Bok in the Akron Beacon Journal.
The Vatican disagrees. They think the Jew-killer Arafat is in paradise.
---
---
Bethlehem (The church's failure to defend Christians)
---
Return to
The left and Islamism
.