Human rights under Palestinian rule
One of the things that makes the Palestinian cause so worthless is that
the Palestinians are fighting to set up a tyranny.
Any Palestinian state would be a thuggish dictatorship with no human rights. We see this already in the rule of the PA and Hamas. A Palestinian state would be like Syria (Fatah) or Iran (Hamas). Why on earth would any liberal Westerner want to see such a state set up?
A Palestinian state would not have human rights, because the Palestinians do not believe in such western concepts. The Western left is projecting values onto them that they do not share.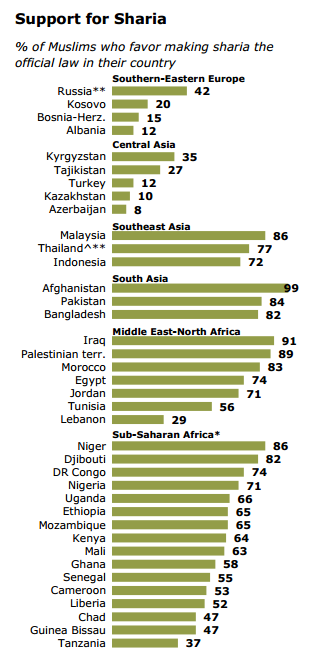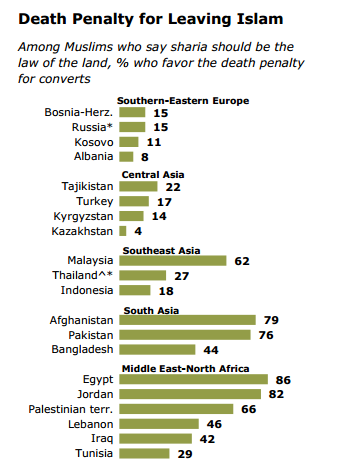 The majority of Palestinian Muslims support
sharia
.
The majority of those support
the death penalty for apostasy
.
Poll of 2012
, released Apr 2013.
---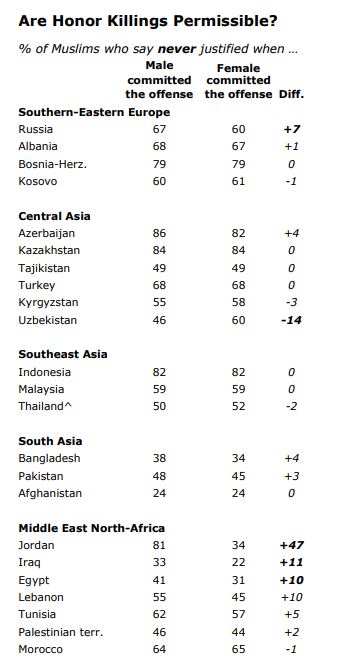 The majority of Palestinian Muslims support "honour killings".
Nice heroes you've got there, leftists.
From
here
. See Palestinians'
other bigoted views about women
.
---
The biggest problem with Gaza and the PA is that there is no democracy. No elections. No leader of the opposition. No free press attacking the government. Because Palestinians do not believe in such things.
No free speech. No criticism of the government:

Black comedy: Abbas in 2015, after 10 years as a dictator, says Palestinians are "desperate".

US idiot John Kerry, Dec 2015, said "Abbas had told him that the level of Palestinian despair about the future was unprecedented. He "spoke more despairingly, my friends, than I have ever heard him, about the sense of hopelessness that the Palestinian people feel.""
Well boo hoo! Not so desperate that you would allow an actual election, where someone with better ideas for dealing with Israel could have a go. Oh no, we're not that desperate!

Abbas, Mar 2016, is quoted as saying: "If Palestinian people and leaders ask me to quit, I will step down in a minute."
Hilarious. Dictators never hold elections. They vaguely declare "If the people decide ... (in my opinion)"
Israeli elections and Palestinian "elections" since the setting up of the Palestinian Authority:
The dictator
Arafat
died age 75 in 2004, requiring a new Palestinian "election". Otherwise I guess 1996 would have been the only one.
The new dictator Abbas is age this year. He ended all elections in 2006. And of course there has been no free parliament or debate or "Leader of the Opposition" in all the years since 2006. Abbas does not believe in such alien Western concepts.
https://markhumphrys.com/
See the above as an image.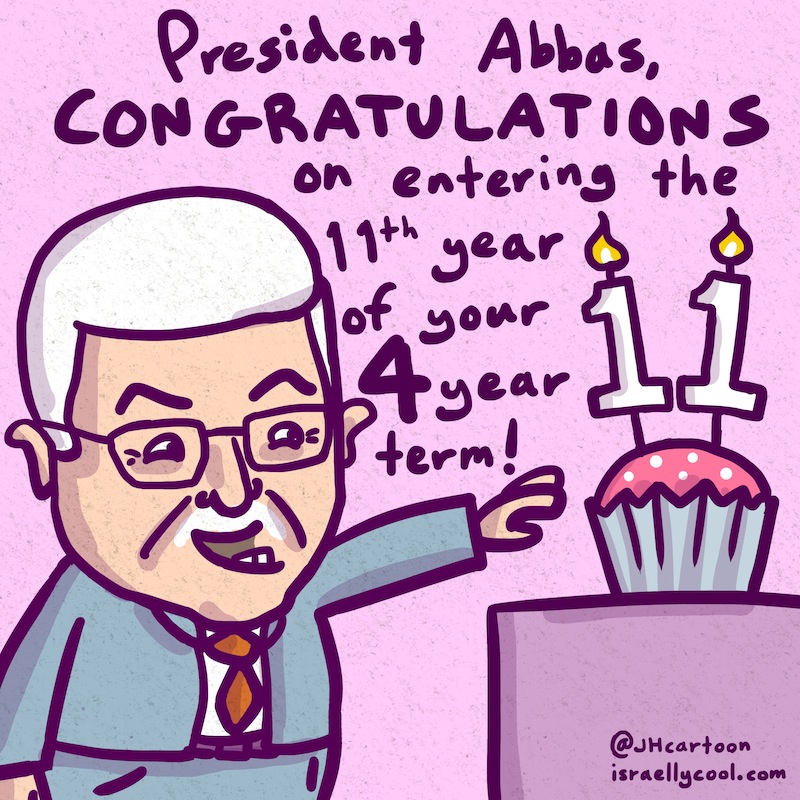 From
here
.



May 2014: Palestinian guy claims they have "elections" because 700 members of the terrorist group the PLO elect the PLO council.
Wow, impressive! I sneer at him.
---
Fatah has Western apologists who claim they are "secular". And yet the facts show that Fatah are Islamic persecutors of non-Muslims.
The persecution of Christians in Gaza and the West Bank.
Report by Chris Mitchell, CBN News.
Describes how the PA (i.e. Fatah terrorist forces) tortured and executed a convert from Islam to Christianity,
Ahmad El-Achwal
, in the West Bank in 2004. He was a father of eight.
Copy
here
.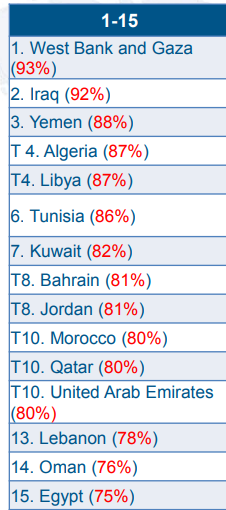 The Palestinians are the most anti-semitic people on earth.
According to ADL Global 100 survey of anti-semitism, 2014.
---
The PA on the West Bank are bad enough. But at least there is an Israeli presence there to moderate them.
In Gaza, unopposed Islamic fundamentalist rule by Hamas has led to an extremist Islamic religious tyranny, with sharia law and the complete crushing of human rights.
Welcome to Palestine, Jan. 29, 2007 - Caroline Glick on the hellhole of Gaza without Israel. What did we expect? The Palestinians to set up a parliamentary democracy?

"For the past 13 years, since the Palestinian Authority was established in 1994, the contours of the State of Palestine have taken form in front of our eyes. ... Palestine exists already. ... Palestine is a terror state and an economic basket case fully funded by the international community. ... official Western aid to the Palestinians .. increased by 10 percent in 2006 over 2005, and stood at $1.2 billion. The Palestinians, who receive more aid per capita than any people on earth, are needy not because they lack funds. They are poor because they prefer poverty, violence and war to prosperity, peace and moderation. So it is that 57 percent of Palestinians support terror attacks against Israel. The multitude of protesters worldwide who demand an end to the so-called "occupation" and the establishment of Palestine should be made aware of the fact that Palestine already exists. ... This is Palestine. Enter at your own risk."

Taliban hell:

UNRWA in Gaza head John Ging

Already cleansed of Jews, the Islamists are now cleansing Gaza of Christians:

A Christian crisis in Gaza and the West Bank, Jerusalem Post, 25 Dec 2019, says: "In the Gaza Strip, the Christian population has plummeted from about 3,000 a decade ago to an estimated 1,000 today".

After the Jews and Christians are gone, it will be the turn of the Shia:

Hamas persecutes Shia in Gaza, report Jan 2012. The Jews are expelled. Fatah are killed and expelled. The Christians are going. Who is left to attack? The tiny group of Shia!
It is ironic that Hamas persecutes Shia, despite their links to and funding from Shia Iran. It's like how Iran funds the Taliban, who then slaughter Shia. Man, these Islamic terrorists make terrible allies!

Palestinians who flee Gaza because of Hamas speak, article, June 2017. Yet again, foolish Westerners have to learn the lesson that the only people who speak in a repressive regime are people who agree with the regime. The others have to be silent. "The testimony of these Gazan refugees in Greece provides a rare opportunity to hear what Palestinians say when they're out of reach of their own repressive governments and can speak freely. It thereby offers a glimpse at the true source of much Palestinian suffering - and a rebuke to all the journalists, diplomats, and NGOs who have collaborated with both Palestinian governments to hide this truth from the world."

Rami Aman, a rare hero in Gaza. A peace activist in Gaza, he was arrested by Hamas in Apr 2020 for talking to Israelis online as part of a peace initiative. The western left don't care.
Jihadists (probably Hamas) attack U.N. summer camp for children in Gaza
, June 2010.
"about two dozen armed and masked men targeted a seaside camp in central Gaza, ... The assailants tied up an unarmed guard, then tried to set fire to two tents and a perimeter fence made from tarp-like material. Wielding knives, they slashed a plastic swimming pool, blow-up slide and toys."
Aren't they the big brave men?


Gaza water park shut down by Hamas, then burned down by Hamas, Sept 2010.
See report. Hamas had issued warnings to it because of "events where men and women sit together".
---
Western leftists are committed to supporting the repellent cause of the Palestinians. They either ignore the nature of the Palestinian state, or they even defend it as "their business".



When presented with evidence of sharia in Gaza, left-wing Israel-haters often resort to some sad argument like the above.
Here in May 2014, a female "Nontheist for human rights and social justice, naturalist, skeptic" defends the oppression of women by religion.


As soon as you criticise Hamas for enforcing "modest dress" and banning bikinis, left-wing "liberals" will leap to its defence and say Muslim women should not have to wear bikinis! They muddy the waters and pretend that people who merely want freedom want to enforce immodest dress. It is creepy and dishonest and certainly illiberal.
I summarise my view, 30 May 2014. I support freedom, not culture. That is why I am not a leftie.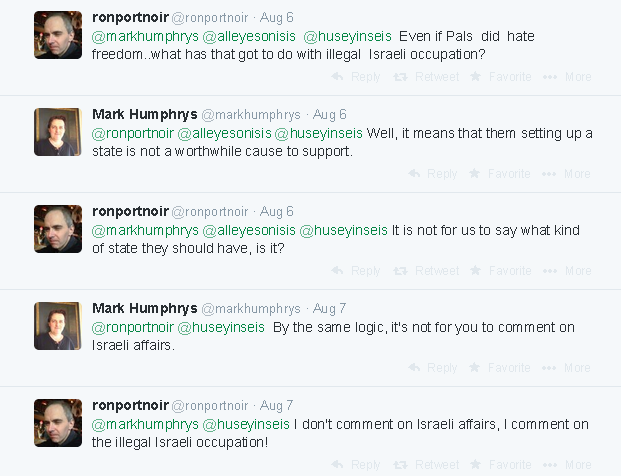 "Ron Portnoir" says it is not for us to say what kind of state Gazans should have.
I reply that by the same argument, it is not for us to comment on Israeli affairs.


Irish-American Obama-worshipper Mary Ramirez defends sharia by saying it is wrong for us to "judge" their culture.
I reply that she is judging the Israelis.
---
Events and groups
First ever Palestinian Gay Film Festival held, Nov 2015. For some bizarre reason, it is held in Israel, not in the PA! Extraordinary. Can anyone explain that?

Aswat - support group for Palestinian gays. Where is it based? That's right, it is based in safety in Haifa in Israel.
Aswat held a Queer Film Festival in 2018. Where did it hold it? That's right. In Haifa in Israel.
---



A sad, sad article, Aug 2013.
A piece about the few pro-gay activists in Palestinian society ends with the news that there will be a "Palestinian Queer Party" event ... to be held in Israel!
The Palestinian gays have to hold their parties in Tel Aviv in Israel for safety. Says it all.


Al-Qaws, the Palestinian gay group, has its offices in: (1) Hasoreg St, in West Jerusalem (Israeli rule), and: (2) Haifa, in Israel.
No office at all under PA or Hamas rule. Funny that!
---
My standard challenge to lefty defenders of the Palestinians is:
"Show me any atheist or gay living openly under PA or Hamas rule".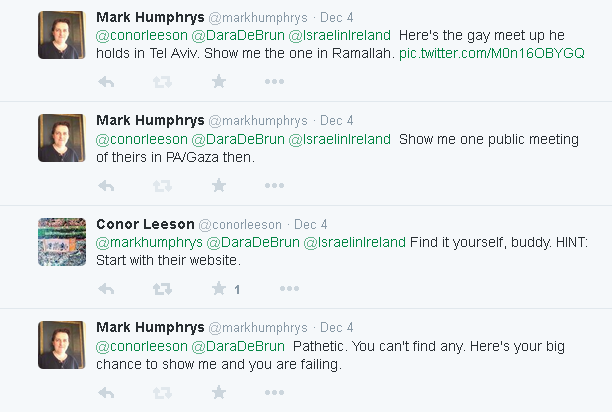 Conor Leeson
, Dec 2014, unwisely takes up my challenge, and fails. He ends up saying:
"Find it yourself, buddy."
Pathetic.
Dara de Brun, Dec 2014, unwisely takes up my challenge, and fails. Asked to name any open atheist or gay in the PA, he says: "You can ask many of my Palestinian friends who actually live there." He is unable to name any. He says: "I offered you an option in which to find out the information, and you bottled it. ... Sadly, your laziness & fear prevent you doing real research." I reply: "You can shut me up anytime with a single URL showing gays/atheists in PA. But you can't find any can you?"
Dara de Brun, Jan 2015, continues to struggle with my question: "Have you still not spoken to any of my Gazan friends? Have you no bottle at all Mark? ... You need a URL for proof of apostates and homosexuals in Gaza? ... Mark, you truly are a very very odd, and incredibly immature person ... Like I said, I don't keep lists of people's lifestyles or sexual pref. ... You prove to me that there isn't, hows that?" And so on and on. But no URL ever comes.
Later in the thread, Dara de Brun claims a Palestinian state would allow people "live free". Such drivel. There is no evidence that is true.


I ask Dara de Brun where are any gay public figures in Gaza? I ask: Where is Gaza's David Norris?
Instead of giving me the name of Gaza's David Norris, which would have shut me up, he responds with this drivel.
Hot air and bluster and insult. But the name of Gaza's David Norris still does not emerge.


"Irish in Gaza", Jan 2015, unwisely attempts to answer my challenge to name any "out" gays in Gaza.
They claim to know many gays in Gaza. That's possible, but hardly the point. When asked for the name of a single "out" gay in Gaza, they can only name friends who are in the closet. Very telling.
None of their pals in that thread can name any either. They all act as if they never thought about this issue before.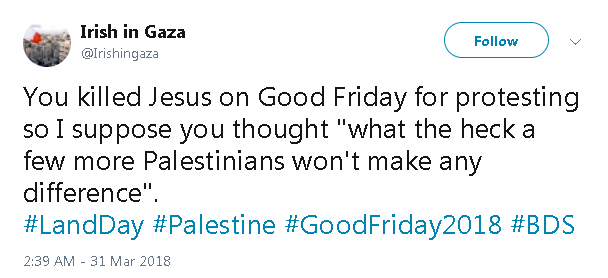 "Irish in Gaza", 31 Mar 2018, says the Israelis are the same people who "killed Jesus on Good Friday".
---
The idea that a "Palestinian state" will solve anything is ludicrous. No one should want to see such a state created.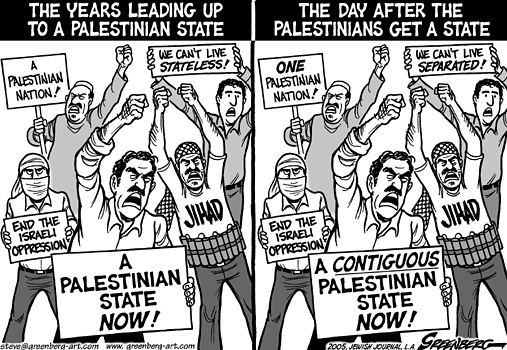 A Palestinian state on the West Bank would merely start a new and more violent phase of the war.
From
here
.
---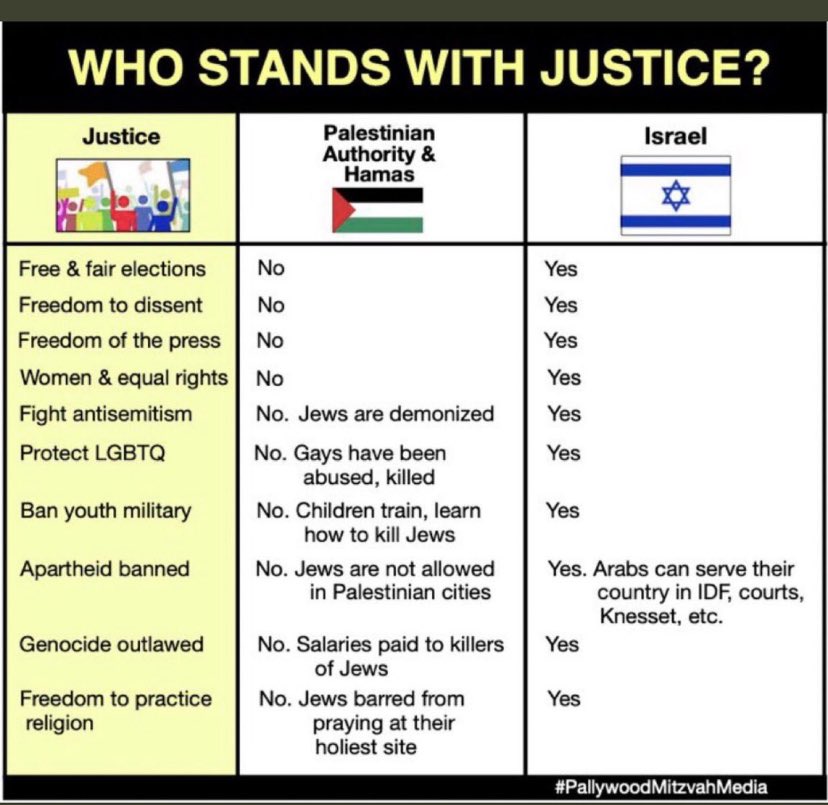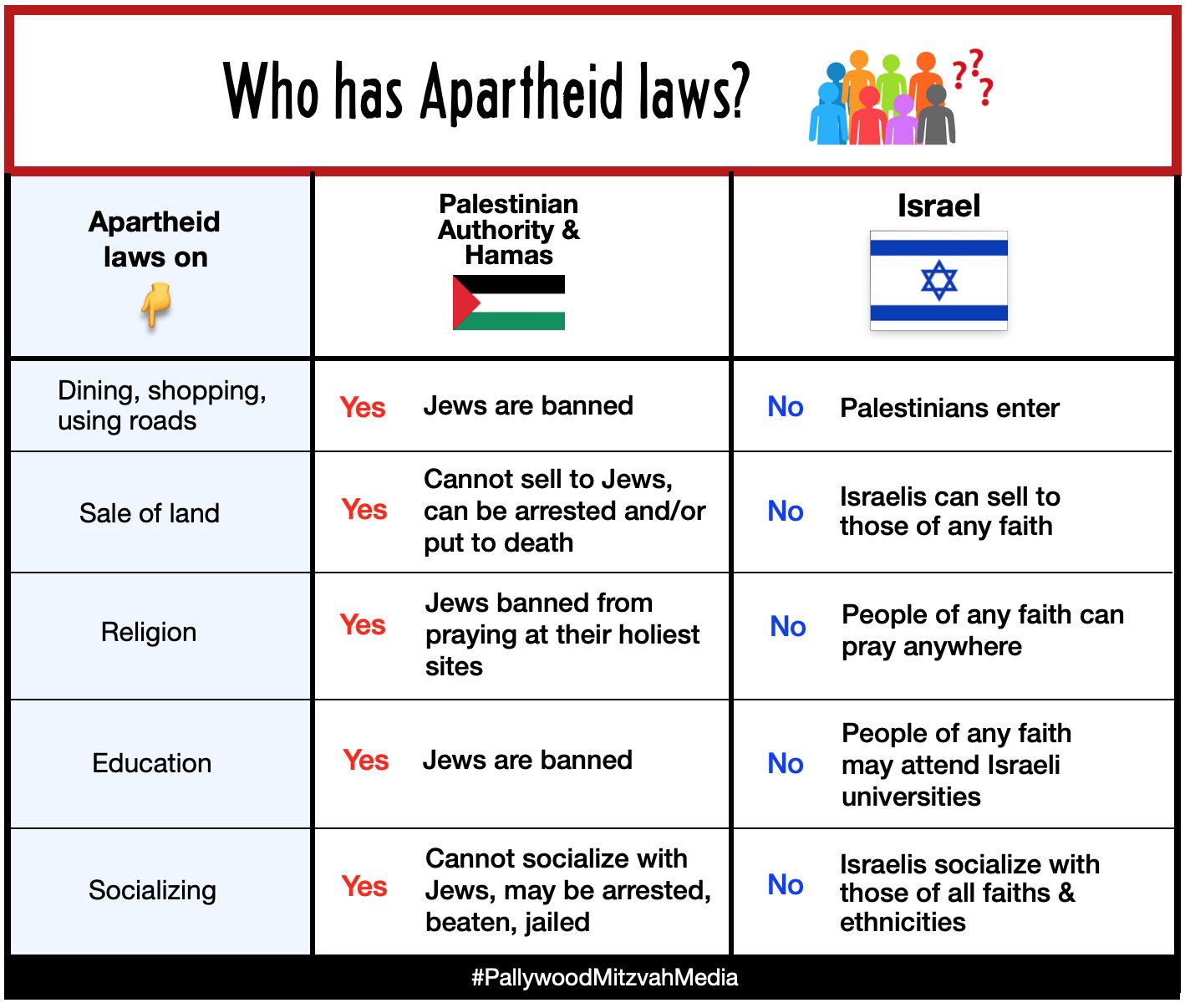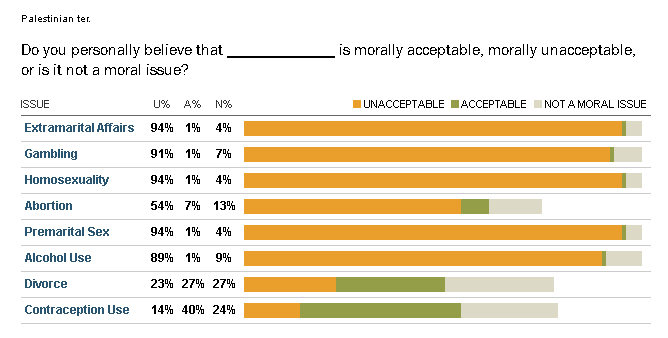 Palestinians massively oppose homosexuality, alcohol and premarital sex.
But because they are brown, the western left likes them. If they were white, the western left would have contempt for them.
From Pew survey, Global Views on Morality 2013.
See Palestinians' other reactionary views about morality.