The Islamic street
The "Islamic street" of the third world often erupts into (state sanctioned and state approved) anger, and it is often implied that we should take such anger
seriously
, as if it is based on
reason
, good faith and rational grievances.
One of the defining features of the "Islamic street" is the willingness to riot, burn, loot, rape, kill and issue death threats over the slightest insult and imaginary grievance. How can one respect a culture that behaves like this?
The Islamic culture of shame and pride - Cultures based on shame, pride, honour and not losing face are also cultures that are unable to accept criticism. Such cultures are humiliated by their backwardness in the modern world, which only makes them worse.

Violence against women in Pakistan

Marches and demos in the Islamic world always seem to be marches for religious conservatism, censorship of speech, hatred, intolerance and violence.
No one ever seems to march for democracy, freedom of speech, freedom of religion or freedom of sexuality.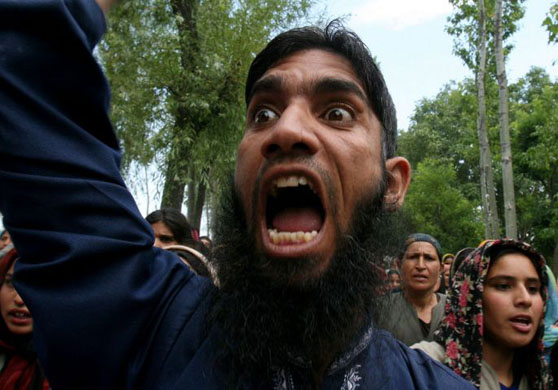 "Islamic Rage Boy"
, the face of the irrational, illiterate, ignorant Islamic street.
This fool cannot read or write, he thinks Americans carried out 9/11, and he thinks we should listen to
him
.
As
Christopher Hitchens
says:
"It's impossible to satisfy Rage Boy and his ilk. It's stupid to try."
See
more images
.
Photo credit unknown. Tell me
here
.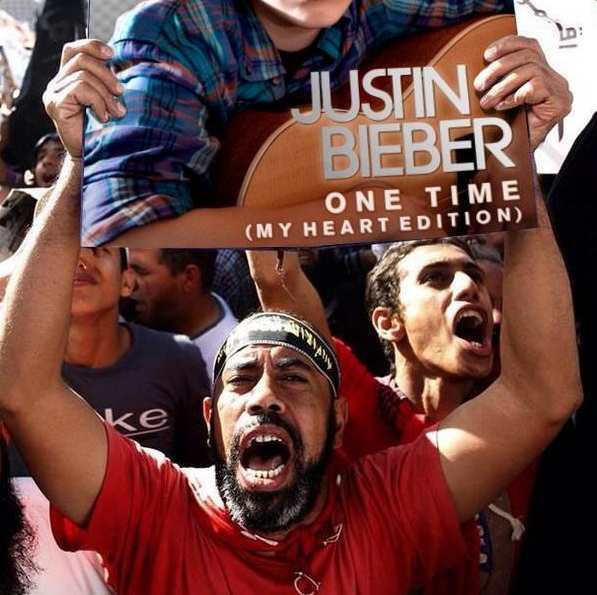 Photoshop of picture from Salafi rally for the enforcement of Islamic Shariah law in Egypt, 2012.
From here.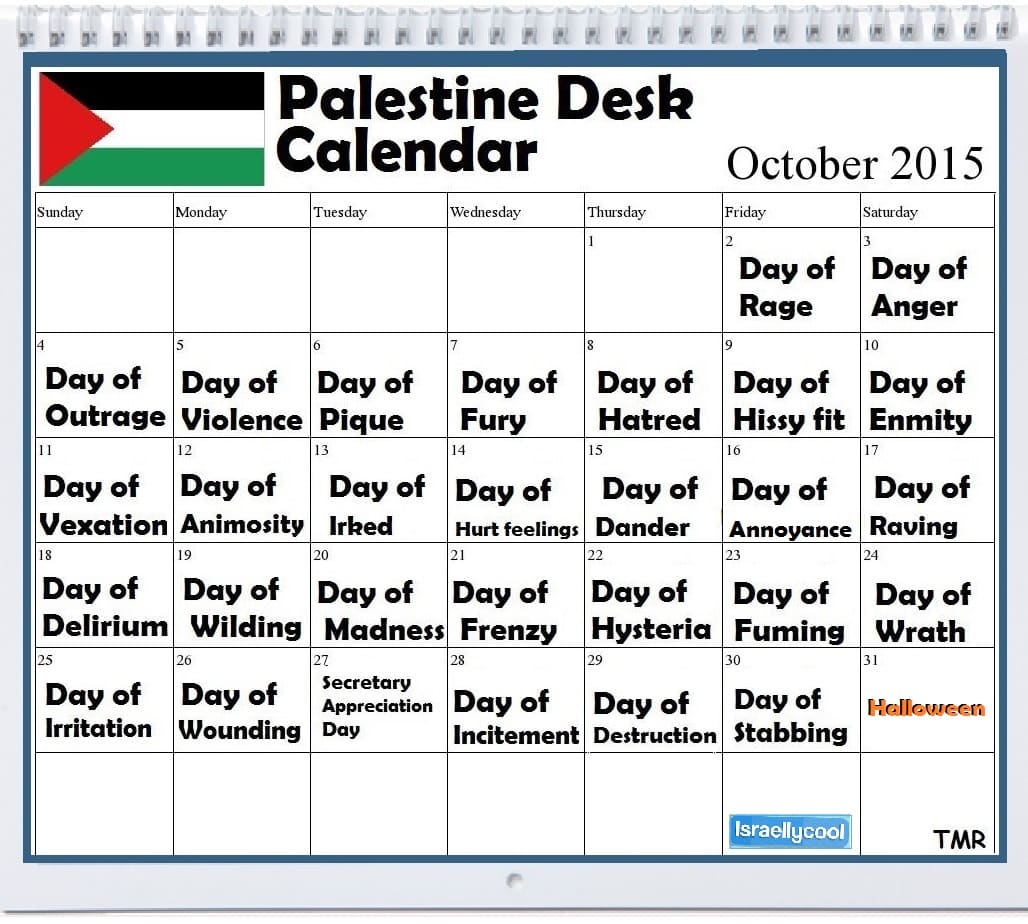 Oh no! The Palestinians are having a "Day of Rage".
From here.
See another version.
---
---
A similar dynamic was at work in 2005, when a Newsweek report that a Koran had been flushed down the toilet at Guantanamo Bay led Islamofascist mobs to riot and kill people across the Muslim world. And everyone blamed the American prison guards, or, later, Newsweek (the story may not be true), rather than blaming the violent Islamic mobs themselves. It is clear that this is what we expect them to do. We expect Muslims, when offended, to behave like this.
The left is racist - It expects nothing better from the Muslims.

The Smug Delusion of Base Expectations by Andrew C. McCarthy - Expecting Muslims to behave worse than Jews or Christians is a form of bigotry. "Here's an actual newsflash - and one, yet again, that should be news to no one: The reason for the carnage here was, and is, militant Islam. Nothing more."
The Real Lesson of Newsweekgate by Robert Spencer - "The gorilla in the living room that no one wants to notice, is that flushing a Qur'an down the toilet should not be grounds to commit murder. ... The question here is one of proportionate response. If a Qur'an had indeed been flushed, Muslims would have justifiably been offended. They may justifiably have considered the perpetrators boors, or barbarians, or hell-bound unbelievers. They may justifiably have issued denunciations accordingly. But that is all. To kill people thousands of miles away who had nothing to do with the act, and to fulminate with threats and murder against the entire Western world, all because of this alleged act, is not just disproportionate. It is not just excessive. It is mad. And every decent person in the world ought to have the courage to stand up and say that it is mad."

Let me state a few things:

I do not expect Muslims to behave like this when offended. In a free world, you have to put up with insults to your beliefs. As an atheist and a right-wing neo-con, my beliefs are insulted all the time. It's part of life. Grow up.
In a free society, desecrating any religion's holy book should be legal as a private act. I agree that state officials, such as prison staff, should not be carrying out such actions, though.
It is outrageous that desecrating or criticising the Koran can lead to the death penalty or years in jail in Saudi Arabia, Iran, Afghanistan, Egypt, Pakistan, and other Islamic countries that do not have freedom of religion and free expression. Desecrating, criticising and insulting someone's religious books, symbols and beliefs may have essential intellectual value, or may just be rude, ignorant and stupid, but in a free society it should be legal.

2,000 riot in Afghanistan, Jan 2010, over fictional claims that international troops destroyed copies of the Quran. 6 people die. What a deranged culture that 2,000 people are willing to riot over such a story.
---
The Catholic church under John Paul II never stood firmly against the evil of Islamic fundamentalism. Maybe under Benedict XVI this is changing.

Pope Benedict XVI gave a speech, Sept 2006, in which he quoted the Byzantine Christian Emperor Manuel II Palaiologos (reigned 1391 to 1425) on Islam:

Full text of the Pope's speech (also here): "In the seventh conversation edited by Professor Khoury, the emperor touches on the theme of the jihad (holy war). The emperor must have known that surah 2, 256 reads: "There is no compulsion in religion". It is one of the suras of the early period, when Mohammed was still powerless and under threat. But naturally the emperor also knew the instructions, developed later and recorded in the Qur'an, concerning holy war. Without decending to details, such as the difference in treatment accorded to those who have the "Book" and the "infidels", he turns to his interlocutor somewhat brusquely with the central question on the relationship between religion and violence in general, in these words: "Show me just what Mohammed brought that was new, and there you will find things only evil and inhuman, such as his command to spread by the sword the faith he preached." The emperor goes on to explain in detail the reasons why spreading the faith through violence is something unreasonable. Violence is incompatible with the nature of God and the nature of the soul. "God is not pleased by blood, and not acting reasonably is contrary to God's nature. Faith is born of the soul, not the body. Whoever would lead someone to faith needs the ability to speak well and to reason properly, without violence and threats. ... To convince a reasonable soul, one does not need a strong arm, or weapons of any kind, or any other means of threatening a person with death." The decisive statement in this argument against violent conversion is this: not to act in accordance with reason is contrary to God's nature."

The Pope was quoting from the writings of Manuel II, published in French by Theodore Khoury in 1966:

This book (or the relevant section) does not appear to be online. If it comes online somewhere, please tell me here.

This controversy is not about agreeing with the Pope. It's about whether he has a right to say it. It's about freedom of speech:

It is typical of a Pope to quote the wrong person - not a modern Enlightenment critic of Islam, but some unelected medieval dictator, at a time when the Christian church was itself burning atheists and heretics, and spreading religion by the sword: See Killings for Christianity.
Still, as with the Muhammed cartoons, the point is not whether the Pope is exactly right. The point is that in a free society, he has a right to say it. This is what the Islamists threaten, and this is ultimately what this is all about.
The Islamic violence in response to the Pope calling Islam violent
To protest at anyone saying Islam is violent, Islamists ..
rioted, burnt churches and killed Christians
. Vile, sanctimonious hypocrites.
Most of the West agrees with the Pope
The West is beginning to get sick of these tantrums by the Islamic street:

Sky News poll: Should the Pope apologise? 8 percent Yes. 92 percent No. Since England and Wales are 3 percent Muslim, this is not really a ringing endorsement of the Islamic street from non-Muslims.
Infantilizing Muslim "rage" - "I am sick of "Muslim rage." Whether inspired by the pope or Danish cartoonists or the clumsy use of the word "crusade" by a Western politician, there is simply no defense for the behavior of these imams and their followers. It is barbaric, and everybody who is not barbaric or an unreconstructed apologist for barbarians knows it."
Australian Prime Minister John Howard tells angry Muslims to "move on". "It's a strange form of restraint to respond to words of disagreement with demonstrations and threats of violence. ... If Catholics rioted every time people attacked the Catholic Church, you would have riots on a very regular basis. He's expressed his regrets and I think we should all move on."

Former Archbishop of Canterbury, Lord Carey, defends the Pope:

Lord Carey says this is a: "storm in a tea cup". He dismissed Muslim charges that the Pope had "rubbished" Islam. "Muslims, as well as Christians, must learn to enter into dialogue without crying 'foul'".
Carey backs Pope and issues warning on 'violent' Islam, speech by Lord Carey, Newbold College, Berkshire, isn't as good as it sounds. The full speech is full of traditional left-wing foreign policy, criticism of secularism, and defence of religion. However, he is not afraid to criticise Islam:

Islam was spread by force: "Islam had its darker moments too. It is undeniably the case that its expansion was largely due to military conquest".
On the present riots: "The incident is a sad reminder that political correctness rules these days. We find ourselves forbidden to ask awkward questions ... So allow me to ask an awkward question which I believe was hovering in the background of the Pope's thesis and which many westerners are asking frequently these days: "Why is Islam associated with violence?" We are told, not unreasonably, that true Islam is not a violent religion and the true Muslim condemns violence. I understand and agree. My many Muslim friends tell me so. I believe them because I know, as I said earlier, that the majority of Muslims around the world are shocked and saddened by the way Islam is associated with violence. ... That it seems a Nun in Somalia has been murdered by an extremist, as a direct result of the Pope's lecture, rams home the need to bring out the best in religion, not the worst. The Muslim world must address this matter with great urgency."
On Islamist jihadi "martyrdom": "I find it difficult to understand the argument that a person can be a blessed martyr if, in the cause of his conflict, he knowingly kills innocent people. Christian martyrdom is unlike this. We have no martyrology which honours people who kill innocent people."
On Muslim persecution of Christians: "Christians will want to point to the need for reciprocity in regard to mission and the building of churches abroad. I find it very strange that Muslims, who plead and argue so strongly for their rights when minorities, are unaware of the plight of Christians in Muslim lands. The fact that Muslims may build their mosques and schools in the West, make converts and advertise their faith is, sadly, not reciprocated in Muslim lands."
The future: the Islamic world needs to change: "There will be no significant material and economic progress until the Muslim mind is allowed to challenge the status quo of Muslim conventions and even their most cherished shibboleths."

In short, not bad at all. How pathetic Rowan Williams seems next to Carey.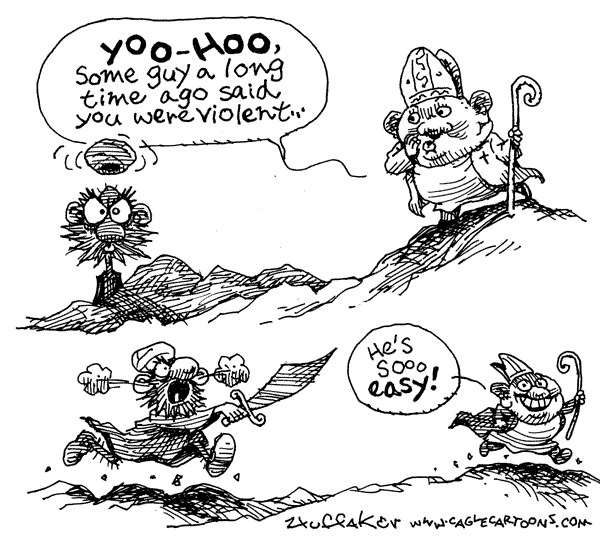 From
Sandy Huffaker
.

Manuel II apologises: "the Pope's recent apology ... bears a striking similarity with a similar apology delivered more than 600 years ago by Manuel II Palaeologus himself to offended Muslim armies after they ransacked his Christian country, converted its citizens to Islam, and beheaded or enslaved those who resisted the forced conversions. In a public speech ... Manuel II apologized to the Islamic community that besieged his controversial "Byzantine entity" ... Manuel II said .. that the recent slaughters of thousands of his Christian subjects by the Muslim sword were the result of his own blindness to the true peaceful nature of Islam. ... protesters demanded that the Byzantine ruler be punished by strict Islamic Shariah law for implying that Muslims cannot respond to criticism rationally, but only with demonstrations, threats and violence. Angry Ottoman activists burned a number of ancient Greek churches and publicly beheaded residents in several Byzantine towns, converting the less stubborn survivors to Islam to the cheers and applause of prominent Muslim clerics ... In conclusion, it should be noted that the "Byzantine entity" lasted for only 62 more years, falling to the Ottoman Turks in 1453, thus ending the 1100-year-old controversy about its right to exist"
---
The Sudan "teddy bear" incident, Nov-Dec 2007.

The Islamist genocide-state of Sudan has one of the most evil regimes on earth. Its people have no human rights, and it engages in rape and genocide against non-Muslims and even non-Arab Muslims. It has killed maybe 2 million people in jihad, genocide, rape, and slave-trading of black Africans.
Gillian Gibbons (see her myspace page), a kindly British teacher of 6 and 7 year olds in the Islamic tyranny of Sudan, is arrested for allowing the children to name the class teddy bear "Muhammad". She faced a threat of 40 lashes. The school has been closed after death threats.
Disgusting. How to scare 6 and 7 year olds for life. But then again, that is the idea.
Islamic fanatics march through the streets demanding the execution of teddy bear teacher Gillian Gibbons. Islam is disgraced once again.

Before she was freed I said:

Britain should threaten Sudan with attack if she is not freed. Comment: "This is the sort of incident which, 100 years ago, would have prompted the government of the national arrested on such a trumped-up charge to inform the authorities that if the woman were not produced immediately, they would all be dead within 24 hours. And they would follow through."
If she is jailed, British special forces should be sent in to bring her out. It is intolerable that an innocent British citizen should be jailed by these Dark Age savages.
Stephen Pollard: "Can someone explain please why we don't simply explain to the Sudanese government - privately - that unless Gillian Gibbons is released from custody, a missile will land on a Sudanese ministry building?" A commenter says: "Can you imagine Margaret Thatcher putting up with this nonsense? The SAS would already have been dispatched to free Gillian Gibbons."

She is freed, Dec 2007.

Maybe Sudan did receive some threats behind the scenes. I hope so.
Let's hope the threats do not follow her home to Britain. Let's hope she is not attacked by Islamist immigrants in Britain. Let's hope the sick, violent young men of the Islamic street in Sudan do not take out their anger and hatred on the school and the children.

Killings for the "teddy bear" incident:

In "revenge" for the "teddy bear" incident, Islamic fanatics plotted to ... kill a British diplomat. Fucking loonies.
The British diplomat escaped death, but the Islamic fanatics did kill an American diplomat in Khartoum in Jan 2008.

Gillian Gibbons herself seems to have very little understanding of the regime she has just escaped:
---
The atheist, centre-left Johann Hari often talks sense about religion, but not so often about politics (as you can see by the nonsense he writes about Israel below).

Why should I respect these oppressive religions?, Johann Hari, 28 January 2009, is a terrific attack on the absurd idea that we should "respect" other people's religions.
It caused riots by Muslim fanatics in India in Feb 2009.
Here is the offending section:

"All people deserve respect, but not all ideas do. I don't respect the idea that a man was born of a virgin, walked on water and rose from the dead. I don't respect the idea that we should follow a "Prophet" who at the age of 53 had sex with a nine-year old girl, and ordered the murder of whole villages of Jews because they wouldn't follow him. I don't respect the idea that the West Bank was handed to Jews by God and the Palestinians should be bombed or bullied into surrendering it. I don't respect the idea that we may have lived before as goats, and could live again as woodlice. This is not because of "prejudice" or "ignorance", but because there is no evidence for these claims. They belong to the childhood of our species, and will in time look as preposterous as believing in Zeus or Thor or Baal."

Despite these riots, I stand by what I wrote, Johann Hari, 13 February 2009.
---
---
Yet again, the Islamic world disgraces itself with hysterical rioting and violence over some trivia. How can anyone respect this ludicrous culture?
A US military base in Afghanistan accidentally puts some Korans (which had already been defaced by prisoners) out with the trash for burning, instead of whatever you are meant to do with them. (Like give them to the local religious loonies to dispose of.)
So fucking what.

But of course angry mobs, who have nothing better to do, riot and kill in response.

Obama apologises for the mistake instead of telling the Afghans to grow up and stop being such rage-driven babies. "The explanation and multiple apologies from U.S. officials have yet to calm outrage over the incident". Oddly enough!
Afghanistan wants NATO to hand over the people who burned the Koran to put them on trial! Why are brave American soldiers dying to protect this awful regime?
Comments disgusted with Afghanistan, including: "When the Taliban were blowing up and burning girls schools they did so knowing there were Korans in those buildings, didn't notice any protests then? Any demonstrations? Any violence against the Taliban?"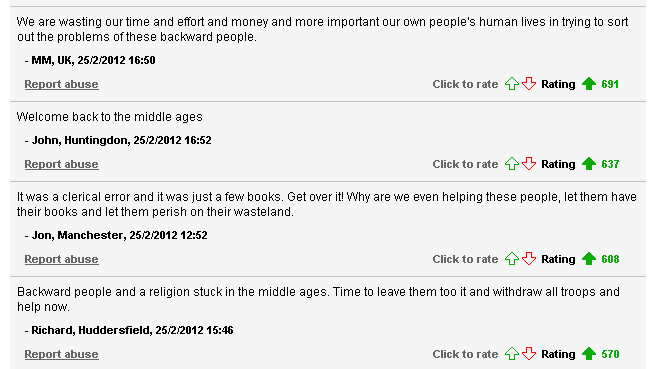 Pretty much every Westerner feels like this about this useless country.
A sample of comments at the
Daily Mail
.
---
Hypocrites - Muslims desecrate synagogues, churches and mosques all the time
Muslim mobs get furious at the slightest perceived desecration of a koran or a mosque. Angry mobs quickly mobilise to riot and kill in response.
Yet Muslims desecrate synagogues, churches, and even mosques, all the time, without a word of complaint from the "Islamic street". Hypocrites.
Muslims desecrate the Koran all the time:

During the 2005 riots, Charles Krauthammer points out that Muslims burn the Koran all the time: "On the very day the braying mob in Pakistan demonstrated over the false Koran report in Newsweek, a suicide bomber blew up an Islamic shrine in Islamabad, destroying not just innocent men, women and children, but undoubtedly many Korans as well. Not a word of condemnation. No demonstrations."
Palestinians Desecrate Korans - The Palestinian Islamofascist child-killers Hamas rip Korans to pieces to try to stir up trouble against Israel.
The Iraqi "resistance" bombs Shiite mosques and Islamic religious processions. In revenge, Shiite mobs have attacked Sunni mosques.
Sunnis regularly attack Shiite mosques and religious processions in Pakistan. Suicide bombers have blown themselves up during Friday prayers inside the mosque.
Bomb hidden in Koran by Sunnis to kill Shiites in Iraq, Sept 2009. "a man left the Koran containing a pound of explosives outside the shrine of Musa al-Khadim and his grandson".
Pakistan jihadis attack mosque during Friday prayers, killing 40, including children, Dec 2009. The suicide attackers opened fire on and hurled grenades at a crowd of 150 gathered for prayers in the mosque. Victims were fired on at close range.
Al-Qaeda-linked militants in Gizab, Afghanistan, angry at defeat in battle, burn a mosque and the Koran in Nov 2010.
Saudi forces destroy Shia mosques and burn Qur'ans in Bahrain, 2011.
Yemen mosque bombing, March 2015.
Kuwait mosque bombing, June 2015.
Sunni jihadis suicide bomb Shiite cultural centre in Afghanistan in December 2017, killing 41.
Kabul mosque bombing, May 2021.
Kunduz mosque bombing, Oct 2021. 50 Muslims killed in Muslim suicide bombing of Muslim mosque during weekly Friday prayers.
Muslim blows himself up in crowd celebrating Muhammad's birthday, killing at least 52 people, Pakistan, Sept 2023.
Hypocrites.

Radical Muslims bomb mosques and desecrate the Koran.
They even desecrate the Koran when protesting against ... desecration of the Koran!

Angry mob in Afghanistan, May 2005, protesting the "Newsweek" story of the alleged desecration of the Koran, burn a library in Jalalabad ... destroying 200 Korans!
Angry Afghan protesters against Koran-burning ... burn Korans! Riots of Mar-Apr 2011. "many residents in Kandahar are facing an unpleasant truth: More Qurans were burned in the course of their protests than by Terry Jones. ... as protesters vandalized a girls' school and set fire to shops, Qurans also inadvertently went up in flames."

Jihadis at Guantanamo desecrate the Koran:

Piss and wind (or via here) - Mark Steyn is baffled by the riots. He notes that Muslim prisoners at Guantanamo urinated on the Koran, and tried to flush it down the toilet. Muslims suicide bombed a mosque in Kandahar, "which killed 20, wounded more than 50 and presumably desecrated every Koran in the building". And Robert Mugabe destroyed a mosque in Zimbabwe. And no one cares.
Steyn, as always, sums it up: "Nobody got killed in Gitmo, so instead America is being flayed as the planet's number one torturer for being insufficiently respectful to the holy book of its prisoners, even though the Americans themselves supplied their prisoners with the holy book, even though the preferred holy book of most Americans is banned in the home country of many of the prisoners, even though Americans who fall into the hands of the other side get their heads hacked off, even though the prisoners' co-religionists themselves blow up more mosques and Korans than Americans ever do"
Account of the jihadis in Guantanamo by a U.S. Army male nurse who worked with them: "The only Korans I saw, or even heard about, being placed in toilets, torn, or thrown onto the tier were done by detainees. ... Saw Korans thrown on the tier or torn, but these were by individuals without complete control of their behavior, such as a psychotic episode. Heard about two Korans in toilets by the same type of detainee prior to being admitted for psychiatric restabilization."

Muslims ban the Koran, confiscating copies and burning them:

Amir Taheri: "Editions of the Koran printed in Egypt or Saudi Arabia are seized as contraband in Iran; Egypt and most other Muslim nations in turn ban the import of Korans printed in Iran."

And perhaps the ultimate in Islamist Koran-burning hypocrisy:

And of course, Muslims desecrate and burn synagogues and churches all the time:
The Golden Mosque of Samarra, Iraq, one of the holiest sites in Shi'a Islam, shortly after
it was destroyed by Islamic fanatics in 2006
.
From
here
.
Hypocrite Islamic fanatics rioted in the street because of alleged desecration of a Koran by infidels.
And yet Islamic fanatics bomb mosques and burn Korans all the time.
Hypocrites.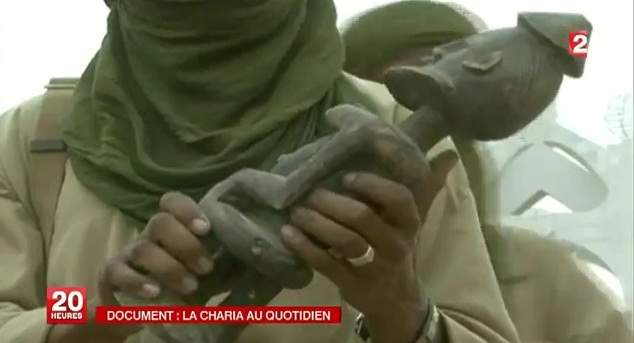 Islamofascist rebels in Mali destroy "idols" in April 2012.
From here. Also here.
Hypocrites.

Instant karma: Jihadi mosque gets suicide bombed by jihadis.
Suicide bombing of two extremist mosques in Yemen, March 2015.
In the video, Houthi Shia Islamofascists chant "Death to America! Death to Israel!" at their mosque.
ISIS Sunni Islamofascists then suicide bomb the mosque and another mosque, killing 140.
---
The hysteria and violence of the "Newsweek" riots and similar may have
backfired
. Many westerners, feeling a threat to their freedom to blaspheme and criticise religion, have decided to do some
real
desecration of holy books. There are now a growing number of desecration videos and websites on the Internet, and this seems likely to grow forever in
direct
response to the threats from religions. The only way people will stop making these is if religions
stop threatening them
.
Again, people should have the right to do this. It may be ignorant, it may be silly, it may be rude, I may not do it myself, and the state certainly should not do it, but private citizens must have the right, in any free society, to desecrate the holy books of any religion.
YouTube searches for:

It may be juvenile, but it should be legal. And you can understand, given the immense damage these books have caused, why people do it. If you want them to stop, then stop the threat of violence.

Flush a Holy Book.com allows you pick which text annoys you the most.
---
Indian politician Nupur Sharma made comments (below) about Islam and the prophet Muhammad on TV on 27 May 2022. This led to fury from the Islamic street in India and around the world.
Western news reports and even Wikipedia ruthlessly censored what she said.
Nupur Sharma's comments on Islam.
Translation below is from
here
.
Apparently she is responding to another guest insulting Hindu gods.
She says:
"Oh you leave it, your flying horses.
Your flying horses. And earth is flat which is mentioned in your Quran. Should I start making jokes on these things?
You are marrying a 6 years old girl and having sex with her when she turns 9. Who did this you know? Prophet Muhammad.
Should I start speaking? Earth is flat according to Quran 88:20.
Don't talk rubbish. Sit on a flying horse and go away."
Her tone is rather hysterical and unpleasant. Her facts seem fine and uncontroversial though.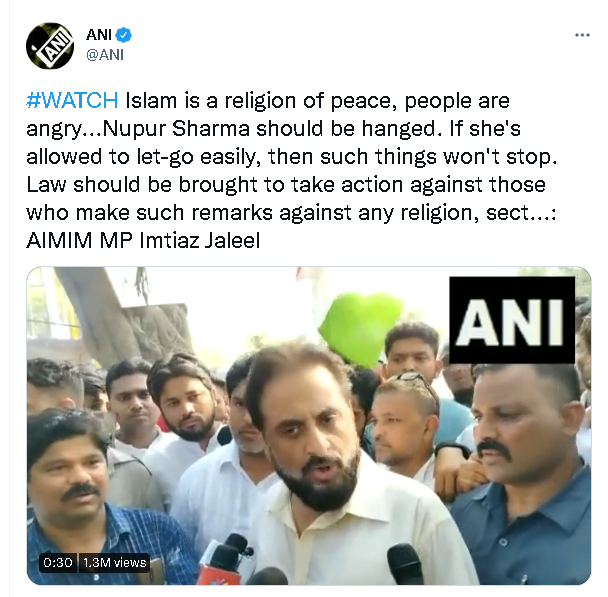 Indian politician Imtiaz Jaleel says: "Islam is a religion of peace. ... Nupur Sharma should be hanged."
Phew! Imagine if Islam was a religion of violence!
---
"(You Owe Us An) Apology".
A song mocking the touchiness of the "Islamic street".
By
"Patrick Henry"
.
See archive of
lyrics
and
page
and
WMV
.

From The People's Cube.
---
Conclusion - The angry Islamic street should not be listened to
While the excitable unemployed men of the Islamic street scream for death and blood in response to the slightest offence, ultimately our response to them should be one of
contempt
.

In short, we should simply ignore the angry Islamic street. They have no ideas that are worth listening to.
We should be simply uninterested in their anger and their problems.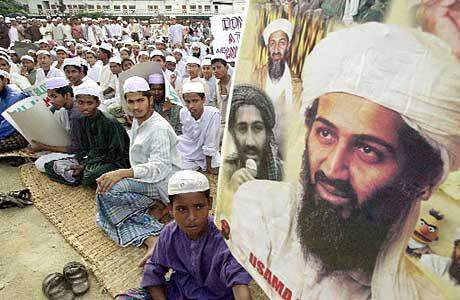 Bert
, the
Sesame Street
muppet, appears on
posters carried by moron supporters of Bin Laden
, Bangladesh, Oct 2001.
"DON'T ATTACK AFGHANISTAN", say these moron supporters of Islamic terror, as if anyone should listen to them.