Islamism - The Islamist way of war
The Islamist way of war
The Islamist way of war is
all
about war crimes.
Hiding behind civilians, including children; hiding among civilian crowds; not wearing uniforms; using civilian vehicles for attack; hiding in protected-status places like mosques, churches, hospitals and schools; using protected-status vehicles like ambulances to transport weapons and even using them for attack; using UN bases and peacekeepers as cover; taking hostages; denying Red Cross access to POWs, torturing and executing POWs; false surrenders; killing medics who come to help their wounds; and of course targeting civilians, schools, churches, mosques, hospitals, ambulances, buses, shops, restaurants, weddings, funerals, journalists and aid workers
-
all
of these are just standard Islamist warfare, as we have seen in Palestine and Iraq. These things are not part of US or Israeli warfare, because their morality is superior to Islamist morality.
Anything goes in Islamism. Islamism has no honour, no decency and no morality, and is as depraved as any idea that humanity has ever followed.
The challenge: Show me any ethics in Islamist warfare
Islamist warfare seems devoid of any moral code. Anything goes in terms of killing and raping. Scholars talk about rules of war, but jihadists seem to follow no rules of war in the field.
The Islamist way of war.
Cartoon by
Marian Kamensky
from
here
, 14 Oct 2012.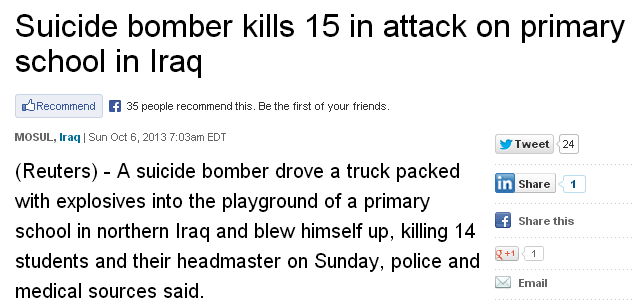 Suicide bomber blows up truck in primary school playground, Iraq, Oct 2013.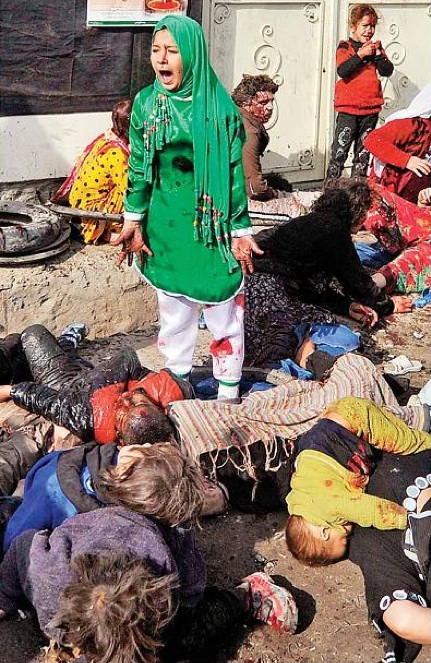 Islamists slaughter Shia in Kabul, Dec 2011.
This is not collateral damage. These women and children were the targets.
Picture credit AFP / Getty Images.
AFP photographer Massoud Hossaini won the Pulitzer Prize for this photo.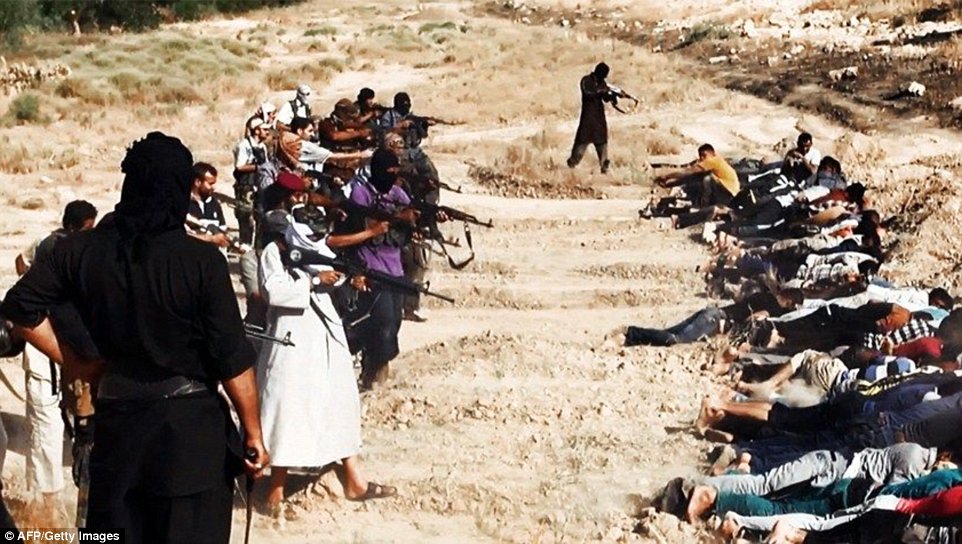 How Islamist armies treat prisoners of war.
ISIS slaughters prisoners, Iraq, June 2014.
No ethics. No morality.

How Western armies treat prisoners of war.
Guantanamo catering photo Sept 2010 by Carol Rosenberg / Miami Herald.
Western secular morality is far superior to Islamist morality.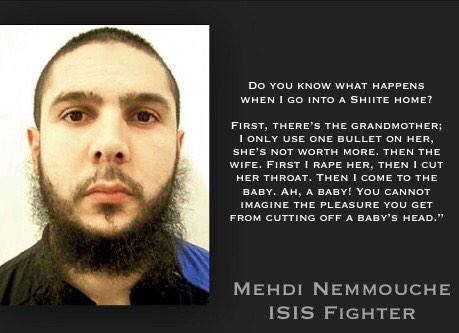 Mehdi Nemmouche, returning ISIS fighter who carried out the Jewish Museum of Belgium massacre, sums up the morality of the Islamist way of war. He is quoted as saying: "Do you know what happens when I go into a Shi'ite home? First, there's the grandmother - I only use one bullet on her, she's not worth more - then the wife. First, I rape her, then I cut her throat. Then I come to the baby. Ah, a baby! You cannot imagine the pleasure you get from cutting off a baby's head."
---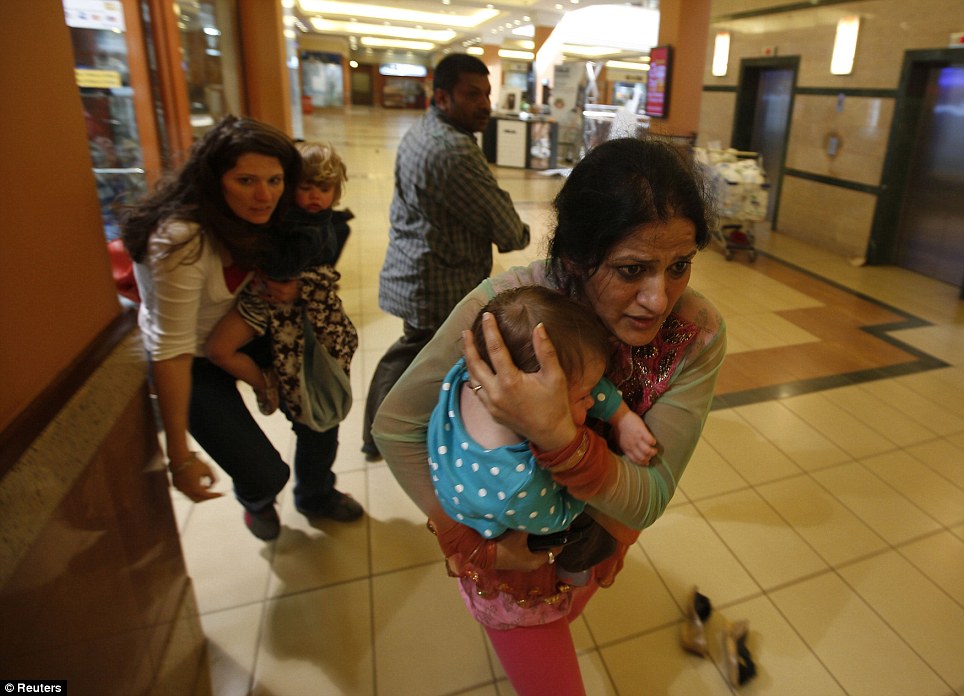 The Islamist way of war:
"Soldiers" attack women and children in a
shopping centre in Kenya, Sept 2013
.
They round up terrified people, and separate them into Muslims and non-Muslims. The Muslims (if they could recite an Islamic prayer) were let go. The non-Muslims were executed.
Image from
here
.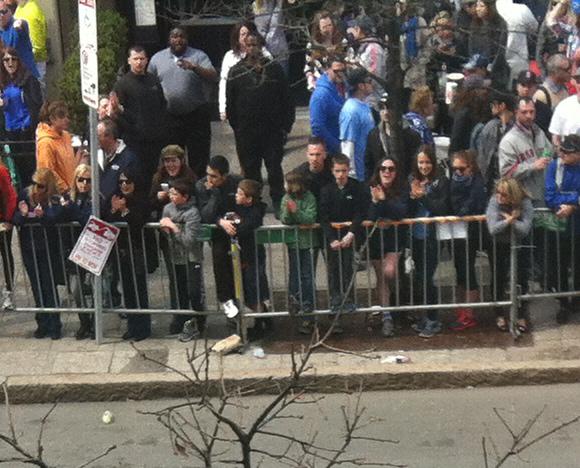 The Islamist way of war:
The Boston Marathon in 2013.
Jihadi vermin Dzhokhar Tsarnaev (behind tree) stands behind an 8 year old boy at the fence (in black) and his 7 year old sister (in green). Knowing exactly who is standing there, the jihadi vermin deliberately leaves his bomb there, to explode, horribly killing the 8 year old boy, blowing the leg off his 7 year old sister, and killing and maiming many others in this picture.
From here.

The Islamist way of war.
Picture credit unknown. Tell me here.

Cox and Forkum sum up the shameful, dishonourable Islamist way of war.
Cartoon from here. See Cartoon Use Policy.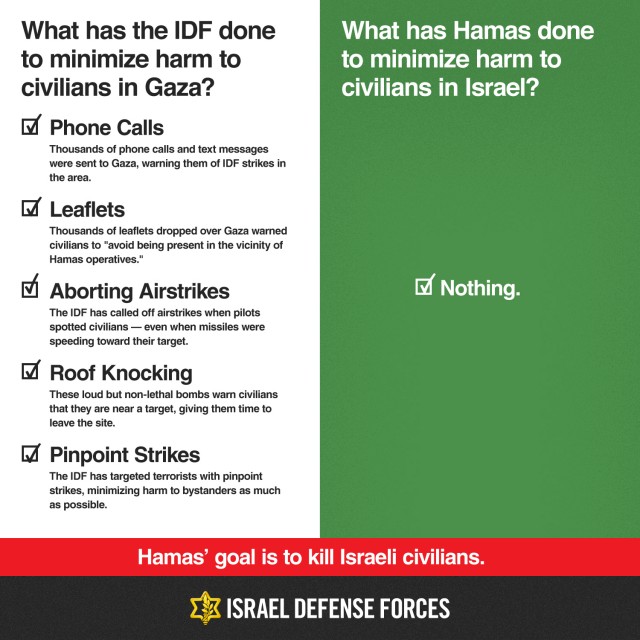 From IDF.
Why does Hamas not try to avoid civilian casualties?


The movie Eye in the Sky (2015).
A profound, realistic, intelligent movie about the modern Western way of war - where western armies try hard, using advanced technology, to avoid enemy civilian deaths.
It is the complete opposite of the depraved, immoral, Islamist way of war, which rejoices in enemy civilian deaths.
Modern Western ethics are far superior to primitive Islamist ethics.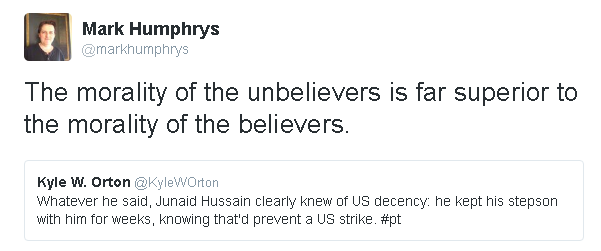 My response to the fact that ISIS figure Junaid Hussain knew drones were after him, and he knew the infidel had better morality than he and his jihadi fighters did, so he went about with his young stepson beside him so the drones would not strike.
It says it all, both about Islamist fighters and about the infidels.
---
The jihadi "soldiers" that took children hostage at the school in Beslan, Russia, in Sept 2004, sum up the Islamist way of war:
Taking civilian hostages (including children and infants). Starving, raping and torturing them. Forcing, like Nazi guards, crying mothers to choose one child to live and one child to die. Having terrified children running naked and bleeding from the building. Shooting the escaping children in the back.
Islamism is the modern Nazism and anyone who supports it is a Nazi.
Background

Atrocities at Beslan

The sex pervert jihadis raped teenage girls among the schoolchildren.
Children were so thirsty they tried to drink their own urine.
A boy who asked for water had a bayonet driven through his body.
The jihadis repeatedly stabbed an 18-month-old baby.

Terror at Beslan by John Giduck (2006) says that:

Some girls were raped in front of everyone, including small children.
Some girls were raped with objects, including gun barrels.

When The Killers Come For The Kids by Ralph Peters

"Slaughtering the innocents violates a universal human taboo. Or a nearly universal one. Those Muslims who preach Jihad against the West decided years ago that killing Jewish or Christian children is .. acceptable"
Russia should join the War on Islamist Terror, and stop obstructing it: "the Kremlin will have learned to rue the day it imagined that there was anything to gain by opposing American efforts against terrorists"
And so should Europe: "all Europeans with a vestige of sense will recognize that the school seizure in Russia could easily repeat itself in Languedoc or Umbria, Bavaria or Kent."

Jihadi fighters have of course been shooting, setting on fire, and cutting the throats of babies, toddlers and children all over the world for decades. The Palestinians carried out a similar slaughter of children at a school in Maalot, Israel, in 1974.

Shamil Basayev, the Butcher of Beslan, was killed in July 2006.

This comment sums up how I feel: "That is good news. BTW, IMHO, until they started bombing Moscow subways, apartment buildings, rock concerts and killing school children, of all the Muslims with "grievances", the Chechens had perhaps the most legitimate. The Russians really were pretty savage with them. But it is hard to be sympathetic with people who got so tight with al Qaeda."
Russia is not America. Russia is not part of the free world. Chechens fighting for democracy against Russia I can respect and support.
But Basayev was not fighting for democracy. He was fighting for jihad, for the extermination of infidels and the oppression of Chechens under Islamic rule. He was fighting to enslave Chechnya, and every Chechen must be glad that he is dead.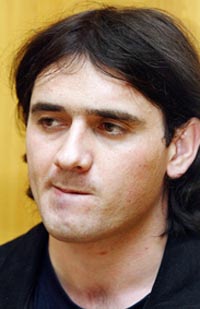 The handsome young Islamist butcher of children, 24 year old
Nur-Pashi Kulayev
.
"His heart did not fail him when they were torturing children"
- Rita Sidakova, mother of murdered 9 year old Alla Sidakova, on Nur-Pashi Kulayev.
Picture credit
Associated Press
.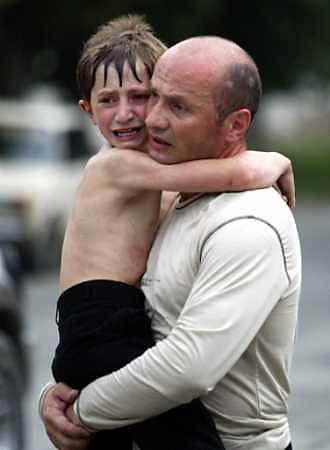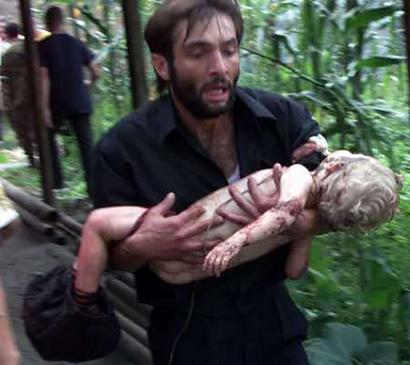 The Islamist way of war:
The torture, bombing and shooting of naked children at the school in Beslan, Russia, 2004.
Left: Picture credit Reuters.
Right: Picture credit Reuters.
These children were kept hostage by the heartless jihadis, and were starved, raped and tortured, denied food and water in roasting hot conditions, with hundreds of others. It was like something from a Nazi concentration camp, with naked, frightened children being herded back and forth by heartless guards. Over 150 innocent children were tortured and killed, and hundreds of other children tortured and horribly injured, in one operation by the Chechen and foreign Islamists - in their heroic campaign to establish an Islamic fundamentalist fascist tyranny. The school in Beslan was a glimpse of the future - of the Auschwitz that Islamists will set up for infidels if they ever get the chance.

The Beslan jihadis: Forcing, like Nazi guards, crying mothers to choose one child to live and one child to die.

Sophie is forced to choose which of her children will be gassed, in the movie Sophie's Choice (1982).
And copy and search.
Islamism is the modern Nazism and anyone who supports it is a Nazi.
Chechnya adopts sharia
Despite fighting the jihadists, Russia decided that Chechnya would adopt sharia anyway. What was the point of fighting it then?
Ramzan Kadyrov, Chechen President, is implementing sharia law under Russian rule.
Sharia law in Chechnya. Looks like Shamil Basayev and the butchers of Beslan won after all.

Russia is not really an enemy of jihad and sharia. It is no friend of human rights. It has other interests. It will never be a reliable ally in the modern war against the jihad.
---
Interview with the leader of the jihad massacre of non-Muslim civilians at Khobar, Saudi Arabia, May 2004, sums up the evil religious psychosis we are up against:
"As soon as we entered, we encountered the car of a Briton, the investment director of the company, whom Allah had sent to his death. ... We left him in the street. We went out, and drove our car. We had tied the infidel by one leg [behind the car]. ... The infidel's clothing was torn to shreds, and he was naked in the street. The street was full of people, as this was during work hours, and everyone watched the infidel being dragged, praise and gratitude be to Allah.

We told [Muslims], 'Calm down, don't be afraid, we don't want you. We want only the Americans. ... We are Mujahideen, and we want the Americans. We have not come to aim a weapon at the Muslims, but to purge the Arabian Peninsula, according to the will of our Prophet Muhammad, of the infidels and the polytheists'

We entered one of the companies' [offices], and found there an American infidel who looked like a director of one of the companies. I went into his office and called him. When he turned to me, I shot him in the head, and his head exploded. We entered another office and found one infidel from South Africa, and our brother Hussein slit his throat.

We entered and in front of us stood many people. We asked them their religion, and for identification documents. We used this time for Da'wa [preaching Islam], and for enlightening the people about our goal. We spoke with many of them. At the same time, we found a Swedish infidel. Brother Nimr cut off his head, and put it at the gate [of the building] so that it would be seen by all those entering and exiting. We continued in the search for the infidels, and we slit the throats of those we found among them. ... We found Filipino Christians. We cut their throats and dedicated them to our brothers the Mujahideen in the Philippines. [Likewise], we found Hindu engineers and we cut their throats too, Allah be praised. That same day, we purged Muhammad's land of many Christians and polytheists. Afterwards, we turned to the hotel. We entered and found a restaurant, where we ate breakfast and rested a while. Then we went up to the next floor, found several Hindu dogs, and cut their throats. ... We utilized the time for [teaching] the Koran to the Muslims who remained. We taught them how to read [Surat] Al-Fatiha properly. They were amazed by us"
---
---
Israel allows mother-in-law of Hamas leader Ismail Haniyeh into the country for medical treatment, June 2014.
Niece of Hamas leader Ismail Haniyeh is in hospital in Israel, May 2021, at same time as her uncle is firing rockets at Israel.
The nauseating hypocrite loves Israeli medicine.

Saeb Erekat, senior PLO leader, treated in Israeli hospital, 2020.

Gaza activist supports boycott of Israel, seeks medical care in Israel. Dr. Eyad El Sarraj spent his life campaigning viciously against Israel. "And yet, just three years [after he called for a boycott of Israel] when Sarraj was dying from leukemia, he violated the principles he had espoused so strongly when he was strong and healthy. He went to seek the best medical care he could find. He went to Israel."

Palestinian mother wants to kill the Israeli Jewish doctors who are saving her baby:

Saving Mohammed Abu-Mustafa, Haaretz, 1 July 2010. A Palestinian baby with a genetic defect needs expensive medical treatment that his family cannot afford. Israeli TV covers the story, and Israeli Jews respond: "Hours after the news item about Mohammed was broadcast, the hospital switchboard was jammed with callers [wanting to donate]. An Israeli Jew whose son died during his military service donated $55,000".
As the Israeli doctors work to save her baby, how does his mother respond? By hoping that the baby will grow up to kill the Israelis who are saving his life. "Raida Abu Mustafa launched into a painful monologue about the culture of the shahids - the martyrs - and admitted, during the complex transplant process, that she would like to see her son perpetrate a suicide bombing attack in Jerusalem. "Jerusalem is ours," she declared. ... "Life is not precious. Life is precious, but not for us. For us, life is nothing, not worth a thing. That is why we have so many suicide bombers. They are not afraid of death. None of us, not even the children, are afraid of death. It is natural for us. After Mohammed gets well, I will certainly want him to be a shahid. If it's for Jerusalem, then there's no problem.""
What a disgusting woman. This story is the subject of a documentary, "Precious Life".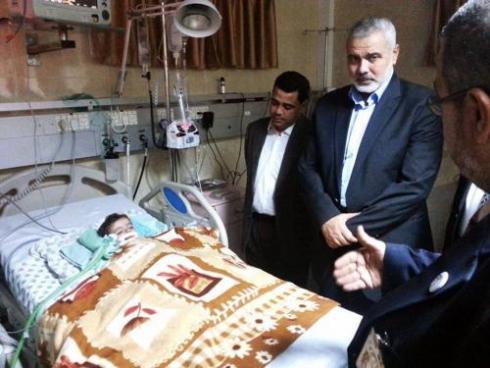 Hamas leader Ismail Haniyeh with his critically ill grand-daughter.
To try to save her, she was
transferred to an Israeli hospital
in Nov 2013.
He wants to kill all Israelis, including those at the hospital. They treat his seriously ill grand-daughter. Sums up the difference in morality between Islam and Judaism.



Oct 2014: Hamas leader Ismail Haniyeh's daughter receives medical treatment in Israel.
Will that make Ismail Haniyeh reconsider his murderous racism?
No.
Oct 2014: Hamas leader Ismail Haniyeh praises the murder of a Jewish child.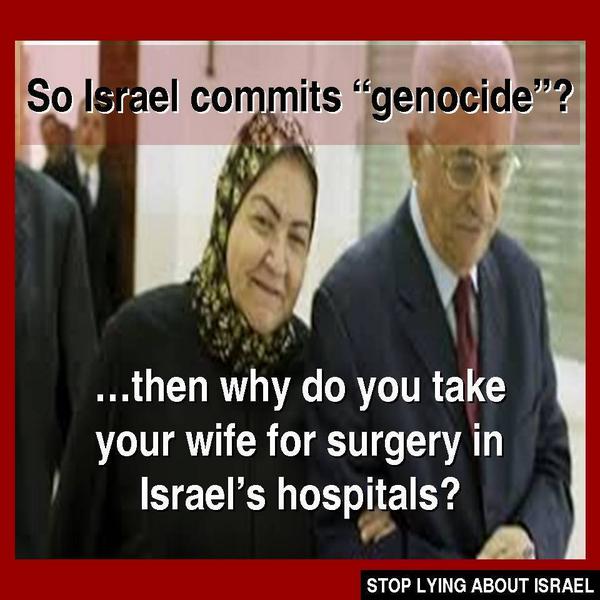 Sept 2014: Mahmoud Abbas says Israel is carrying out a "war of genocide" against the Palestinians.
June 2014: Mahmoud Abbas takes his wife for treatment to a private hospital in Israel.
From here.


Palestinian woman Wafa al Bass tries to suicide bomb the Israeli doctors and nurses who are kindly treating her over several months for burns from a bad accident. She received compassionate permission to enter Israel for hospital appointments, and responded in 2005 by trying to kill them.
And here.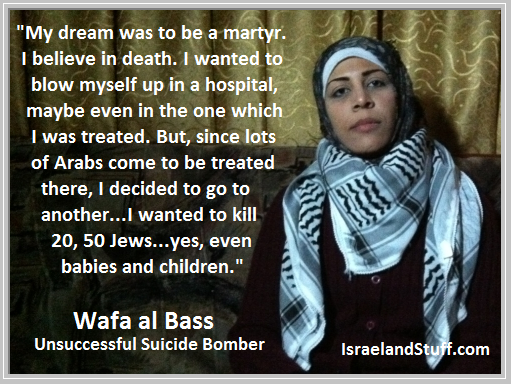 Wafa al Bass (above) explains her philosophy.
The Islamist way of war.
From here. See quote.
---
Every day, at every airport in the world, the ancient desert religion of Islam imposes itself on millions of people who don't believe in it.
The evolution of airport security:
Richard Reid, the shoe bomber
.
Millions of people have to take their shoes off every day at airports because of this asshole.
The Nicholas George case illustrates both the Islamist way of war, and the huge gulf between those who protect us from it, and the ungrateful public like Nicholas George.
---
There is a solution to airport security of course. The Israelis have solved it. No one else in the world has.
This is how Israel does it. Israel profiles. Arabs and Muslims get extra security checks, Jews get less. Young men get more security checks than old ladies. Passengers in high-risk groups are asked questions about who they are, what they do, who their contacts are, and so on.
We don't like it. (Imagine singling out Pakistani and Arab families for extra checks in Britain, while letting white British families go on board.)
But you can't deny it works. Israeli aircraft have been the no.1 target of Islamic terror since 1968. And yet Islamic terrorists have managed no successful attacks that got past Israeli security since 1972. (All other attacks on Israeli aircraft got past other countries' security, not Israeli security.)

7 Reasons the TSA Sucks lists things that non-Israelis do wrong, including:

They Spend All Their Energy on Luggage.
Eye Contact Isn't Emphasized.
"Security" Happens in One Place.
There Is Literally No Intelligence.

Michael J. Totten says we (non-Israelis) do it all wrong: "After 9/11, everything sharp - even tweezers - was banned. ... I can think of all sorts of things a person could use to wreak havoc on a plane that aren't banned. Security officials should pay less attention to objects, and more attention to people. The Israelis do. They are, out of dreadful necessity, the world's foremost experts in counterterrorism. And they couldn't care less about what your grandmother brings on a plane. Instead, officials at Ben Gurion International Airport interview everyone in line before they're even allowed to check in. And Israeli officials profile. They don't profile racially, but they profile. ... If they pull you aside, you had better tell them the truth. They'll ask you so many wildly unpredictable questions so quickly, you couldn't possibly invent a fake story and keep it all straight. Don't even try. ... Israelis don't use security theater to make passengers feel like they're safe. They use real security measures to ensure that travelers actually are safe. Even when suicide bombers exploded themselves almost daily in Israeli cities, not a single one managed to get through that airport."

In Defence of Racial Profiling, Anthony Reich, 6 Dec 2009: "I feel that the policy of racial profiling adopted by El Al has more than justified itself. The airline has an exemplary security record ... It is also noticeable that El Al was not forced to make wholesale changes to its security checks in light of the additional threats presented in the post-September 11 world. El Al is the only airline that routinely continues to use stainless steel cutlery on all its flights, and Israel is the only airport that continues to allow passengers to board flights with liquids in their hand luggage. In fact, it is my impression that El Al checks are much easier to negotiate these days than those of other airlines. I have never yet been asked to remove my belt or shoes prior to boarding an El Al flight. I cannot say the same for other airlines that I have recently flown with."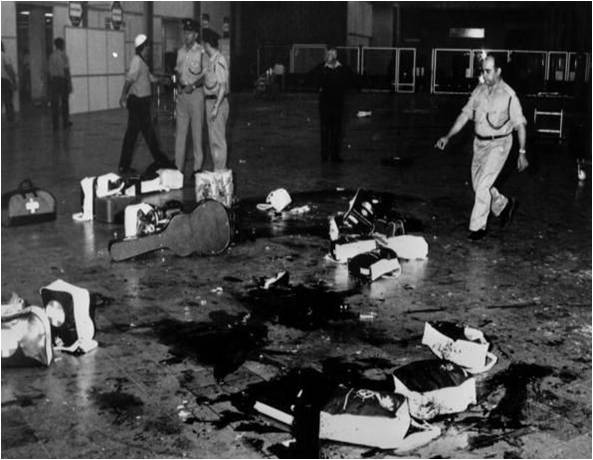 The Lod Airport massacre, 1972
.
Image from
here
.
The last time (the last time!) terrorists got through Israeli airport security.
In 1972!
---
Airport security in the West (outside Israel)
Outside Israel, most airport security is pointless "theatre", not about security at all, but about making people feel good. As a result, terror attacks are much more likely to hit non-Israeli airlines.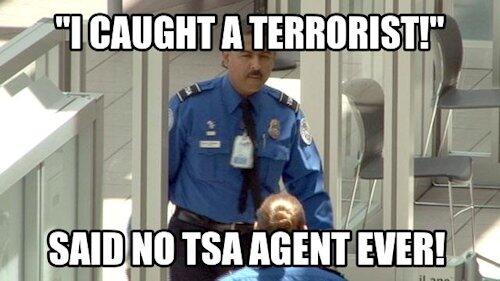 For all its offensive and intrusive "security theatre", the TSA has never caught a single terrorist.
Lily J. Kosner, July 2011: "In more than a decade in existence, the TSA has not been credited with catching any individual charged with a terrorism-related crime."
Bruce Schneier, Mar 2012: "in the entire decade or so of airport security since the attacks on America on September 11th 2001, the Transportation Security Administration (TSA) has not foiled a single terrorist plot or caught a single terrorist."
However, the TSA says that it catches over 1,000 firearms in carry-on bags every year, and many more dangerous items. It seems that almost none of these were part of terrorist plots, though.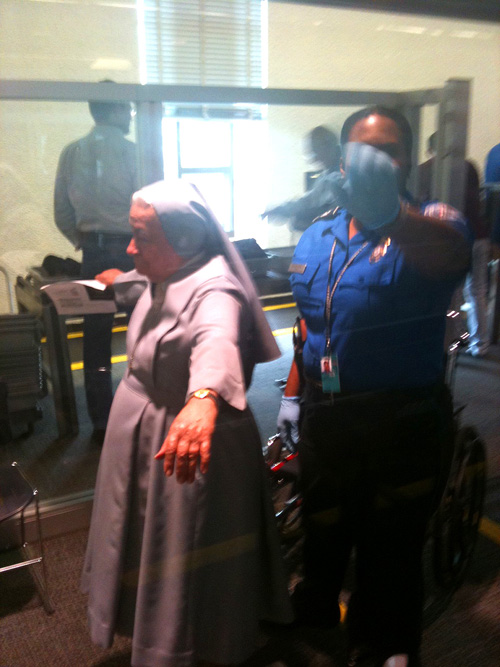 Wheelchair-bound nun gets searched in the pointless "security theatre".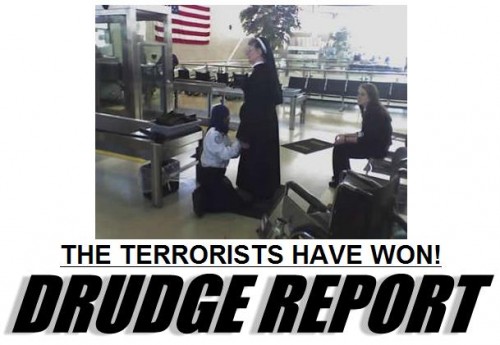 This kind of "security theatre" crap is why western airlines are still regularly hit by Islamic terrorist attacks.
And the absence of this kind of crap in Israel is why Israeli airlines are terror-free since 1972.