Religion - Religions - Criticising and satirising religions
Criticising and satirising religions
In the politically-correct world, the doctrines of
Christianity
can be freely criticised and ridiculed - which is fantastic, and a hard-won freedom that cost the lives of many atheist and freethinking
martyrs
.
But you can't do the same to Islam. Leftists will call you a "racist" if you try to criticise any religion other than Christianity.
The free (Creative Commons) online Flash game
"Faith Fighter"
by
Molleindustria
.
Gods and prophets engage in hand-to-hand combat, including Jehovah, Jesus, Buddha, Muhammed and the Flying Spaghetti Monster.
Play it
here
and
here
.
This game shows the problems for reactionary Islam in the modern globalised world.
It is true that Islam (and not Christianity) threatened the makers of this game, and forced them into grovelling apologies and censorship. In their grovelling, they even disparage "the one-way islamophobic satire of the Danish Mohammad cartoons". They do not defend the artistic freedom of others, but rather submit to the religious bullies, and admit they were wrong. But who would blame them. They don't want to get killed.
They carry on with extended grovelling: "we are aware that muslims are victim of widespread racism in the western world. This islamofobia is functional to the imperial interests in Middle East and all over the world." Grovel, grovel, grovel. But again, my criticism of their rubbish about "imperial interests" will be limited because they had the guts to make this game in the first place. And they don't want to get killed.
And maybe the more positive story is that millions of Muslim youth online, who are somewhat negative or indifferent towards the clerics that have been browbeating them all their lives, will laugh at games like this and other forbidden fruit online.
Reactionary Islam will have a hard time passing on the faith unchanged to its young people in the onslaught of the Internet and other media in the 21st century.
---
UK and Irish laws against criticising religion
Both the UK and Ireland have introduced terrifying new laws recently, which, depending on how they are prosecuted, may outlaw criticism of religion. These laws are an offense against the concept of a free society.
---
Artists rarely do anything
genuinely
brave and daring. Insulting
Christianity, Judaism, America, Britain, Israel, capitalism, zionism and neo-conservatism
is safe,
risk-free
, and likely to win praise from your peers and money from grant bodies. If artists were
genuinely
brave and daring, they would insult and criticise people for whom there is some element of
risk
attached - for example,
Islam, Scientology, the Nation of Islam, cults, organised criminals, western terrorists, living dictators, and third-world revolutionaries such as the Palestinians
.
Mocking Christianity is not daring. Mocking Islam is.
South Park (and online)
South Park have a go at some safe targets:

And some better targets:

And the best target of all:
---
Christianity and Islam are treated differently.
Mocking Christianity is important, but less important now that Christianity is tolerant.

Supposedly "daring" modern artists ridicule Jesus and Mary and other Christian figures, showing crucifixes in urine, or Jesus having sex, and so on. Of course there is nothing daring about it, because modern Christianity tolerates criticism. If they were really daring, they would do it to Islam.
You're joking if you think this is satire - Mark Steyn mocks a supposedly "daring" song called "We're Sending You A Cluster Bomb From Jesus." - "You can sing "We're Sending You A Cluster Bomb From Jesus" because there are no "fundamentalist Christians" within 20 miles of the Birmingham Rep - or at least none that is going to be waiting for you at the stage door. "We're Sending You A Schoolgirl Bomb From Allah" might attract notice from a livelier crowd. If you're going to be provocative, it's best to do it with people who can't be provoked."
Dozy condescension - Mark Steyn on the movie Saved!, set in a Christian high school, "American Eagles Christian High". - "USA Today called it "irreverent" and "subversive". Au contraire, if you wanted to be irreverent and subversive, you'd have set it at American Eagles Wahhabi Madrassah ... deriding Christians is obvious and risk-free". I agree, and I am not a Christian.

Mocking Islam is not acceptable.

Islam - the final taboo by Ibn Warraq, The Guardian, November 10, 2001
A True Islamic Reformation by Ibn Warraq complains about how the left protects Islam from criticism: "we who live in the free West and enjoy freedom of expression and scientific inquiry should encourage a rational look at Islam, should encourage Koranic criticism. ... Instead, political leaders, journalists and even scholars are bent on protecting the tender sensibilities of the Muslims. We are not doing Islam any favors by protecting it from Enlightenment values."
Fatwa: Coming to a Country Near You by David Harsanyi

If Christians Were Treated Like Muslims by Gary Bauer, 28 Dec 2010.

Artists too frightened to tackle radical Islam, November 19, 2007 - At least Grayson Perry is honest: "I've censored myself. The reason I haven't gone all out attacking Islamism in my art is because I feel real fear that someone will slit my throat. ... With other targets you've got a better idea of who they are but Islamism is very amorphous. You don't know what the threshold is. Even what seems an innocuous image might trigger off a really violent reaction so I just play safe all the time."
Robert Spencer talks about a "daring" art display in Glasgow, by artists working "in association with organisations representing gay Christians and Muslims", where people are encouraged to deface ... the Bible. Spencer points out that by using the Bible, but not the Koran, the exhibit does not have quite the meaning the artists think it has: "They didn't offer a Qur'an for defacing. And so their entire absurd exhibit demonstrates anew that Leftists don't believe their own rhetoric about Christianity and Islam being equally likely to incite believers to violence."

Even people trying to praise Islam are at risk: Polish techno DJ and musician Jakub Rene Kosik produced a track called "Mekka" in Dec 2009, which was meant to be a tribute to Islam: "my composition was supposed to be a tribute to their culture. I'm atheist. But I was raised with respect to different religions and philosophical opinions." Much to his surprise, it led to death threats.

11 Blasphemies to Enjoy On International Blasphemy Day, 30 Sept 2013, includes things like:

Piss Christ.
Virgin Mary and Feces.
SNL - "DJesus Uncrossed".
Family Guy - "I Dream of Jesus".
Sex and the City - Female Christ.

But it includes no image offensive to Islam. It does not include the Muhammad Cartoons.
Comedian
Stewart Lee
illustrates the
cowardice
of Western comedians.
Stewart Lee co-wrote the blasphemous
Jerry Springer: The Opera
, which horrified Christians.
Fair enough. But when challenged to also mock
Islam
, he completely chickens out.
This is his
"anti-Islamic" standup
. Pathetic and cowardly.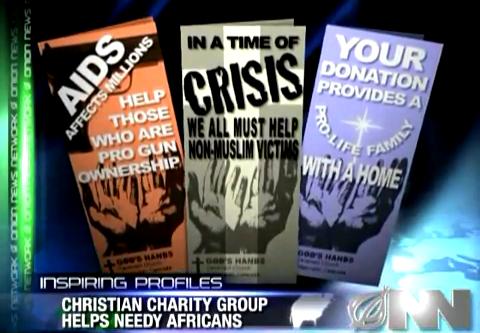 Slagging off Christianity because slagging off Islam is too risky (and too accurate):
The Onion (click to play) does a parody about a Christian church that only wants to give to "straight" Africans and "non-Muslim" earthquake victims.
Of course, Christian charities are not like this. Christian charities are notable for providing aid to people of other religions and none. Often in fact they end up feeding people who persecute Christians.
The Onion doesn't have the guts here to face the real issue - that exactly these kind of charities exist - indeed are the norm - in the Islamic world.
---
Far from mocking Islam. many left-leaning non-Muslims go out of their way to praise it and whitewash it.
Karen Armstrong thinks we should admire
Abraham
, a religious maniac prepared to slaughter his own child because of the voices in his head.
---
Craig Considine is an American "inter-faith" academic who did his PhD in TCD in Ireland.

Craig Considine compares the Prophet Muhammad to George Washington, 10 Jan 2013.

He talks of "Muhammad's wisdom". He absurdly claims Muhammad was a "restorer of justice". He says "Muhammad and Washington taught their peers to improve relations with others by using kindness and positive words. ... Ultimately, Muhammad and Washington were gentlemen of the highest degree." This is Muhammad he is talking about - a man who murdered his critics.
Robert Spencer replies on video to Considine's absurd article. From Acts17Apologetics.

The Huffington Post publishes Craig Considine's simple apologetics for Islam, 21 Jan 2014.

They would never publish similar apologetics for Christianity.
Considine gushes about his hero Muhammad: "Muhammad's beliefs on how to treat religious minorities make him a universal champion of human rights, particularly as it pertains to freedom of conscience ... My research has also highlighted how Muhammad had similar beliefs to that of George Washington ... my research into the Prophet's life has showed me that he is a role model for both Muslims and non-Muslims".
However the Hadith do not agree that Muhammad believed in "human rights" or "freedom of conscience": "Some Zanadiqa (atheists) were brought to 'Ali and he burnt them. The news of this event, reached Ibn 'Abbas who said, "If I had been in his place, I would not have burnt them, as Allah's Apostle forbade it, saying, 'Do not punish anybody with Allah's punishment (fire).' I would have killed them according to the statement of Allah's Apostle, 'Whoever changed his Islamic religion, then kill him.'""
Has Considine never heard of these hadiths?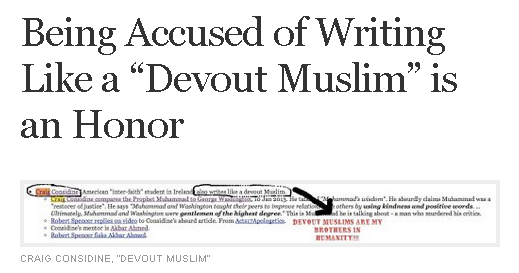 Craig Considine noticed this page in June 2013.
He
tweeted
the above
blog response
, but declined to
link
to this page or tell his readers what site it is.
Screenshot but no link - that's how to treat the evil counter-jihad!
Nor did he engage in debate when
I tweeted him
. No platform!


The ludicrous keywords on the above show clearly the left's name-calling rather than debate.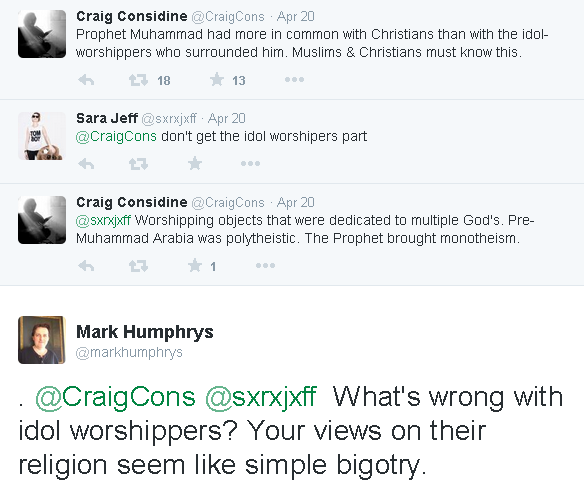 And again he declines to debate, Apr 2015.
He seems to approve of the thuggish suppression of the pagan religion of Arabia by a new religion that was equally idiotic but much more violent.
The Kaaba in Mecca had hundreds of idols representing many gods. Muhammad destroyed them all.
Muhammad ended religious freedom. And Considine supports that?
Craig Considine, 9 Sept 2020, says that Muhammad was a "religious pluralist". Again, this is the man who destroyed all the other religions' shrines at Mecca when he got power.


Mad as a hatter.
From here.


People like Craig Considine should really read more about Muhammad.
He could start with the footnotes in this video: "My Prophet, My Führer" (in the style of Downfall).
---
Many people do have the courage to mock Islamist terror, even if few have the courage to mock Islam itself.
"Have I Got News for You"
, BBC TV, June 2011, has a funny joke about Islam and its relationship with terror.
Comedian
Sharon Horgan
said:
"The Independent described the Dostoevsky metro station ... as the Mecca for suicides. Not to be confused with the Mecca for suicide bombers - which is Mecca."
Of course (of course!) she received threats from Muslims for joking that their religion is not peaceful. Yes, death threats will prove Islam is peaceful!
She ended up issuing a
grovelling apology
:
"I am anti any prejudice of any kind. And particularly the generally lazy media portrayal of Muslims or any blanket negativity towards Islam. ... Any of the comments on here, which are suggesting I am racist or in any way anti-Muslim are a load of nonsense. ... Really hope that people understand this and stop threatening me."
By the way, are we allowed mention in passing that Islamic suicide bombers actually bombed Moscow metro stations (though not Dostoevsky station) in
Feb 2004
and
Aug 2004
and
Mar 2010
?
Copy
here
.
---
Sacha Baron Cohen
is edgier than almost any artist, actor or comedian in the world.
Here, as the gay character "Bruno" in the movie Bruno (2009), he meets Palestinian activist Ayman Abu Aita on the edge of the West Bank. Cohen says Ayman Abu Aita is linked to the Al-Aqsa Martyrs Brigades terrorist group.
He hilariously insults him: "Can I give you guys a word of advice: Lose the beards. Because your king Osama looks like a kind of dirty wizard or a homeless Santa." "What exactly did he just say?" "He says that your King Osama looks like a dirty wizard or a homeless Santa Claus."
Cohen is a Jew, from Britain, who has lived in Israel. Very edgy and very brave.
Is Ayman Abu Aita linked to the Al-Aqsa Martyrs Brigades?
Is Ayman Abu Aita linked to the terrorist group the Al-Aqsa Martyrs Brigades? Yes he was, according to reports. And yes he still is, in the sense that he is linked to their political wing Fatah.
Links to Al-Aqsa Martyrs Brigades:

WND says he used to be in the Al-Aqsa Martyrs Brigades: "Aita served in the Al Aqsa Martyrs Brigades from 2000 until 2003, after which he did a two year stint in Israeli prison on accusations he was involved in shootings against Israeli soldiers operating in Bethlehem."
He confirms on video that "I was jailed in 2003."
Daily Mail says he admits he used to be in the Al-Aqsa Martyrs Brigades: "But he insists he is no longer involved with the group".

Links to Fatah:

He then became a representative of Fatah, the political wing of the Al-Aqsa Martyrs Brigades.
He openly admits he is in Fatah: "he insists he is no longer involved with the [Al-Aqsa Martyrs Brigades] group, and is only a Christian Fatah representative for the Fatah movement's political wing."
The Guardian defends him, but admits he is in Fatah: "He is a Christian Fatah representative - of the movement's political wing, he stresses - for Bethlehem district."

Death threats:

Al-Aqsa Martyrs Brigades issued death threats against Cohen: "We reserve the right to respond in the way we find suitable against this man [Cohen]. This movie was part of a conspiracy against the Al Aqsa Martyrs Brigades. ... This was a dirty use of our brother, Aiman. ... This joke is very dangerous. We are not in the United States, we are not in Europe, we are in the Middle East, and the world operates differently here." It sure does. That's why your world is so fucked up, and our world is so lovely.
The Brigades statement admits Ayman Abu Aita is part of Fatah, the political wing of the Brigades: "Aiman is part of the political level of Fatah in Bethlehem, part of the leadership of the political apparatus of Fatah. He is not a member of the Brigades."

Ayman Abu Aita is a board member of the Holy Land Trust (see criticism). That is, this "non-violent" "charity" has open links to Fatah.
---
Greece - where attacking Christianity is daring
Gerhard Haderer, Austrian cartoonist, produced a satire of Jesus:

This was banned in Greece in 2005 for blasphemy, and Haderer received a suspended jail sentence in absentia. The ban and sentence were reversed on appeal.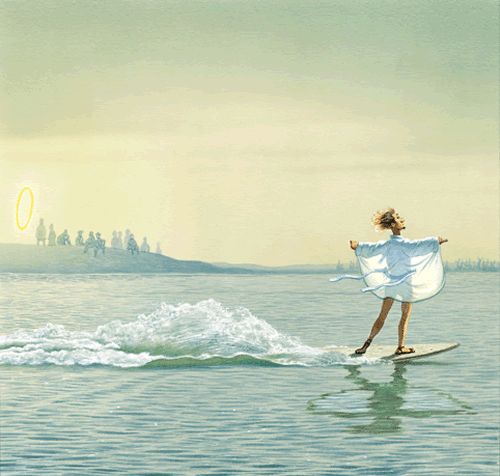 Das Leben des Jesus (The Life of Jesus)
(2002).
From
official site
.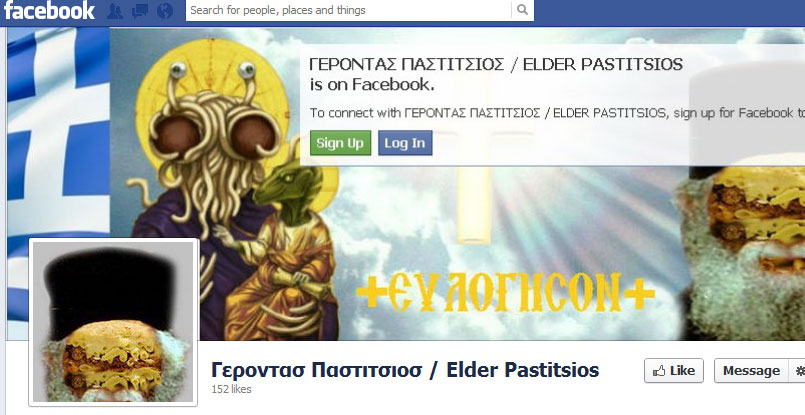 "Elder Pastitsios", a parody of Greek holy man Elder Paisios.
The parody is based on the parody religion Flying Spaghetti Monsterism and the dish pastitsio.
See the Facebook pages gerontas.pastitsios and elder.pastitsios.
Such harmless satire is the norm in most of the West.
But in Greece, unbelievably, the atheist who set up the page, Filippos Loizos ("Geron Pastitsios"), was arrested in Sept 2012 for "malicious blasphemy and offense of religion".
In Jan 2014, he got 10 months jail in the Christian sharia state of Greece! He was convicted of "insulting religion and malicious blasphemy". He is free while he appeals.
---
Poland - where attacking Christianity is daring
Polish singer Doda said in 2009 that she believed more in dinosaurs than the Bible because "it is hard to believe in something written by people who drank too much wine and smoked herbal cigarettes."

For such harmless statements, that would have been made by any deist in the 18th century, she was prosecuted in Poland! She was convicted in Jan 2012 of "offending religious sensibilities" and fined! Shame on Poland.
What would they do with Thomas Jefferson, who said that the Book of Revelation was: "merely the ravings of a maniac, no more worthy, nor capable of explanation than the incoherences of our own nightly dreams."
---
Russia - where attacking Christianity is daring
Soviet Russia made Christianity illegal. The Soviets jailed, tortured and executed Christians. It was illegal to say God existed.
Putin's Russia makes offending Christianity illegal. It is now illegal to say God does not exist.

Andrei Yerofeyev and Yury Samodurov, two Russian art curators, were fined in 2010 in Russia for this exhibition that "offended" Russian Orthodox Christians.
---
The cover of the banned issue of "Clareification".
The "Clareification" controversy, Clare College, Cambridge, Feb 2007. A student is forced into hiding from death threats for criticising Islam. The university, instead of supporting him, shuts down the paper, stops its funding, recalls and destroys the issue, and disciplines the student, forcing him to apologise under threat of expulsion. The UK police question the student, and may press charges (if they are idiots). The college promises to take action to prevent a similar incident occurring.

The National Secular Society: "We are shocked that the staff and even the students union at this supposedly liberal college have joined the attack on this student because he had the temerity to poke fun at religion. Free expression is such a precious commodity and is under such ferocious attack at present from religious interests that it is disgraceful that no-one is standing up for this young man's right to be rude about religion - even about Islam. ... Satire aimed at religion is no different to satire aimed at any other ideas and should not be punished or restrained."

It is true. Why should people be allowed to poke fun at atheism and Darwin if we are not allowed to poke fun at Islam and Muhammad?
On the threats to the student: "This episode demonstrates terrorism in action. If critics cannot be silenced by reason, then they must be silenced by intimidation - real or imagined."

The student is forced to apologise to "women, Jews, Christians and Muslims". As if women, Jews and Christians were the reason he went into hiding.
What Cambridge is doing is teaching ultra-right-wing Muslims that the threat of violence works, and so keep it up, and expect more.

Before we were allowed see some of the issue, I said:

It is hard to form an opinion on this since we are not allowed to see the censored work.
Apparently the piece said "I hate Islam", which sounds stupid but legal. After all, it is legal to say "I hate atheism". Anyway, knowing the intelligence and wit of most ultra-smart Cambridge students, I doubt very much that this was simply a bald statement: "I hate Islam". Again, one would want to see the whole piece.
Apparently, the piece also implied (via a switched pictures joke) that the Prophet was "a violent paedophile", which again is perfectly legal, even perhaps uncontroversial. After all, it is legal to say that Moses was a violent rapist (because he was). Again, one would want to see the whole piece, but it sounds like harmless satire if this is the worst they can dig up.

My instinct was right:

We are finally allowed see some of the banned content (also here), and it is not brain-dead BNP-style abuse, but rather intelligent, witty satire. Exactly what one would expect from super-smart Cambridge undergraduates. See below.
Some of the banned issue.
Intelligent, witty satire, poking fun at the touchy, aggressive, violent, sanctimonious, hypocritical
Islamic street
, which
bombs churches, executes nuns, and cuts the head and limbs off priests
in protest at suggestions that Islam is violent.
Such satire is badly needed in these times of dour, humourless religious fanatics.
If this material is banned at Cambridge, then Cambridge is no longer a free university.
If this material is banned in Britain, then Britain is no longer a free country.
---
---
What movie has ever been made showing a realistic account of the life of the prophet Mohammed?

Only the pious whitewashes of The Message (1976) and the animated Muhammad, The Last Prophet (2004).
Someday, someone will make a proper, historically accurate movie about Mohammed. It will be a big day for the Islamic world when that happens. Maybe a turning point.

Forthcoming Muhammad movie by Ali Sina.

The Iranian ex-Muslim Ali Sina has written a script for the first ever proper movie about Muhammad.
A Movie about Muhammad: An Idea whose Time Has Come, Ali Sina, February 28, 2012. "We need to make a motion picture about Muhammad - a biopic that reveals the details of his life. ... The true story of Muhammad is untold. It is available in the books of Siras. But those are voluminous books. Combined, they are thousands of pages. I read them all and have condensed them in a script. This biopic starts with Muhammad's childhood. ... The movie shows Muhammad's raids, plunders, massacres, rapes, assassinations and other crimes. A small subtitle in the lower right corner of each scene will give reference to the source of the story. This movie is entirely factual. Wherever possible, I copied the Quran, the Sira and the Hadith verbatim. It is a riveting story. ... I am not thinking of a high budget movie, but given the subject matter, it can become one of the most seen motion pictures ever. ... When the world discovers the truth about Muhammad, Islam's days will be numbered. I have led thousands of Muslims out of Islam. I know truth sets people free."

Mosab Hassan Yousef, a Palestinian Muslim who became Christian and pro-Israel, plans a hostile (i.e. accurate) movie about Muhammad.
---
What movie has ever shown the life of Jesus or Moses?
What movie has ever been made showing a realistic account of the life of Jesus?

Showing what actually happened. That he was just a preacher who was brutally executed. That, like all humans, his mother was not a virgin, and he had a human father. That no kings appeared at his birth, and there was no massacre of new-born children. That he preached, but worked no miracles, healed no sick and cast out no demons, for demons do not exist. That he believed he talked to God, but was mistaken, for there is no such being. That he died and that was that. Like all humans, he did not rise from the dead. That despite all this, his religion grew because it filled a need. Because it was a good meme. That hearsay and rumour got written as fact. That the gospels are not true.
The movies The Last Temptation of Christ and the Life of Brian touched on these topics, but ultimately chickened out.
Will anyone ever make a straightforward film that shows what actually happened?

What movie has ever been made showing a realistic account of the life of Moses?

Showing what actually happened. That he was an intolerant religious fanatic, tyrant, rapist, and murderer of innocent women and children. And he never talked to God, but was deluded that he did. For God is not there. That he did not receive commandments from God on Mount Sinai. And there were no selective plagues, no striking down of the first-born, no parting of the Red Sea. These things do not happen in real life, only in stories.
The children's animation The Prince of Egypt (1998) is perhaps the worst whitewash ever of this intolerant, hate-filled killer.
Will anyone ever make a film that shows what actually happened? If you know of one, tell me here.
---
---
---
---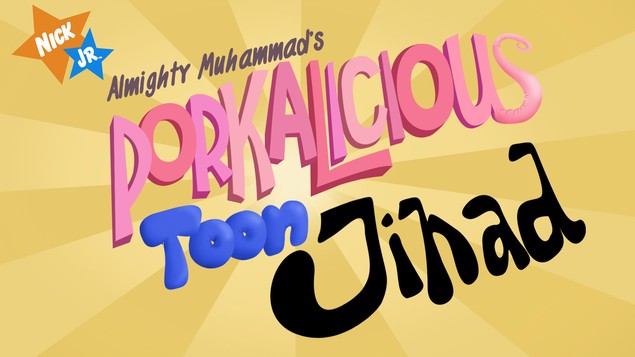 The Onion, during the
Innocence of Muslims riots
of Sept 2012, announces that Nick Jr. is temporarily suspending production on its forthcoming children's program
"The Almighty Muhammad's Porkalicious Toon Jihad"
.
"While we still believe that thousands of young viewers would really enjoy seeing Muhammad go on his weekly pilgrimages to his big bacon mosque with his rabbi friends Hershel and Moishe, our company nonetheless believes it's best to indefinitely postpone the show's release. ... Hopefully, when the international climate is slightly less volatile, children will be able to enjoy all of Muhammad's hijinks ..."
It is satire, but it has a serious point.
Someday, when we are free, people will be able to make such a program without fearing for their lives.
It will be a great day for the planet when that is possible.

Jesus and President Bush crap all over the American flag and all over each other.
This is Al-Qaeda's "retaliation video" in South Park's Cartoon Wars Part II (2006).
No Christians rioted and killed in response.
This is because Christianity is far more advanced than Islam.
---
"Criticism of religion is not only the starting point of all criticism. It is the prerequisite of any kind of criticism."
- Lars Hedegaard sums up the Enlightenment.
"The college is now arranging a meeting for next term to discuss the problem of maintaining free speech while avoiding offence."
- Clare College, Cambridge, 16 Apr 2007, after disciplining a student for criticising Islam, show they have no idea what "free speech" actually means.
---