Iran - Salman Rushdie
Salman Rushdie
The death threats against the left-winger Salman Rushdie in 1989 were in retrospect the start of the modern international jihad against all of us.
Salman Rushdie was the "canary in the coalmine" of the modern global jihad.
Salman Rushdie (Muslim who became an atheist)

Salman Rushdie interview, 15 October 2006:

What the jihad is about: "If tomorrow the Israel/Palestine issue was resolved to the total happiness of all parties, it would not diminish the amount of terrorism coming out of al-Qa'ida by one jot. It's not what they're after. ... What they want is to change the nature of human life on earth into the image of the Taliban. If you want the whole earth to look like Taliban Afghanistan, then you're on the same side as them. If you don't want that, you're not. They do not represent the quest for human justice. That, I think, is one of the great mistakes of the left. ... Go away and die - that's all bin Laden wants you to do. It's not just about Iraq, it's about ham sandwiches and kissing in public places and sex with girls you're not married to. ... It's about life."
He is angry at his fellow leftists: "so much of the left always seems to fall for fascist bastards pretending to be speaking on behalf of the masses. They've done it before with communism in its various forms, and here's another bunch of fascist bastards claiming to be speaking for the downtrodden masses, and they're falling for it again."
"Rushdie has looked down the barrel of Islamism, smelt its cordite, and survived. So he is perpetually being asked - how do we lift the collective fatwa on our transport systems, our nightclubs, our cities? How do we scrape meaning from his misery? "When people ask me how the West should adapt to Muslim sensitivities, I always say - the question is the wrong way round. The West should go on being itself. There is nothing wrong with the things that for hundreds of years have been acceptable - satire, irreverence, ridicule, even quite rude commentary ... One of the things that have made me live my entire life in these countries is because I love the way people live here.""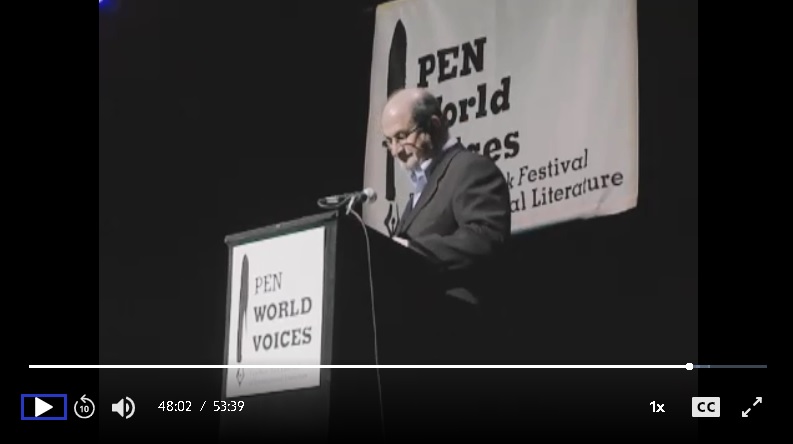 Salman Rushdie reads from "The Satanic Verses".
At the PEN American Center on April 26, 2006.
Broadcast in "Faith and Reason", with Bill Moyers, Season 1, Episode 5, PBS, 22 July 2006.
Start at 47:50.
This is a witty, highly intelligent and profound attack on the absurd origins of all religions.
Every religious person should listen to this and think about it.


The scene "He has given us... His shoe!" in Monty Python's Life of Brian also depicts the absurd origins of all religions.
---
The Salman Rushdie affair, 1989 to date - The foreign tyrants of Iran threaten a British citizen with death for criticising their violent superstitious beliefs.
Ch.1 ("The Rushdie Affair") of Why I Am Not a Muslim

And Rushdie wasn't even a right-winger. He was quite the leftist and anti-American.
(But he is much better now. Decades of the right defending you would do that.)

Articles on the Rushdie affair - and liberals' automatic defense of Islamic religious maniacs' feelings.
A fatwa of one's own by Mark Steyn recalls, during the Rushdie fatwa of 1989, the pathetic response of such as:

Robert Runcie, Archbishop of Canterbury (1980-91): ""I well understand the devout Muslims' reaction, wounded by what they hold most dear and would themselves die for" (surely, "kill for").
Roy Hattersley.
Gerald Kaufman.

More defence of Islam against Rushdie in the 1980s from Jimmy Carter and John le Carré.
The chief rabbi of Great Britain, Immanuel Jakobovits, idiotically said: "Both Mr Rushdie and the Ayatollah have abused freedom of speech."
Life peer Hugh Trevor-Roper, Lord Dacre shamefully said: "I wonder how Salman Rushdie is faring these days under the benevolent protection of British law and British police, about whom he has been so rude. Not too comfortably I hope ... I would not shed a tear if some British Muslims, deploring his manners, should waylay him in a dark street and seek to improve them. If that should cause him thereafter to control his pen, society would benefit and literature would not suffer.".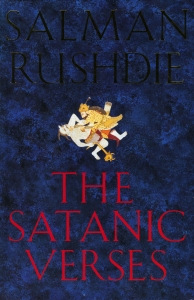 Click to buy
The Satanic Verses
.
---
For some reason, people like attaching fake quotes to Rushdie's name.
Rushdie himself
dealt with this issue in Sept 2014:
"That is a fake quote. There are quite a few of those in circulation. Read my books, not the internet."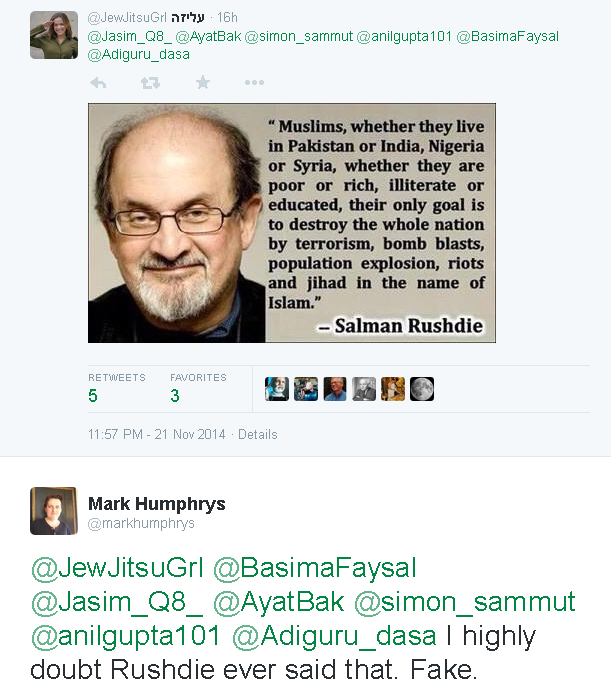 An odd story in
Nov 2014
: A fake Rushdie quote and a shitstorm of abuse from a "pro-Israel" person.
First, the fake quote:
It immediately smelt to me because I have read Rushdie, and he is a brilliant prose writer, and he would never write crude and simplistic rubbish like the above. Sure enough, Googling finds no such quote.
Much later I discovered that someone had tracked down the origin of the fake quote. See screenshot.
Second, the loony "pro-Israel" person:
My single sceptical tweet above was enough for this "pro-Israel" person, "JewJitsuGrl", to go completely insane, and unleash such a filthy torrent of abuse that I blocked "her".
As I said: "The Internet is so big I finally met a pro-Israel person I want to block."
It's not a "girl" anyway. No girl would post foul pictures of asses and crude sexual insults at the slightest disagreement. The photo is not her. It is Israeli actress and model Agam Rodberg.
The revolting "JewJitsuGrl" was later suspended.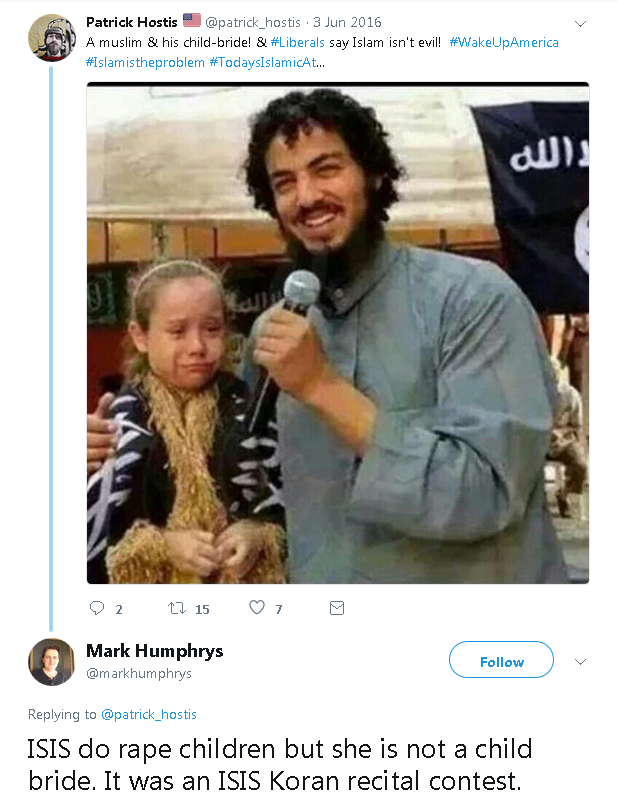 A similar case:
Anti-jihadist
Patrick Hostis
posts an image in June 2016 claimed to be of a child bride.
I pointed out
it is actually of a
Quran recital contest
.
He did not thank me. Rather he blocked me.
---
---
Cat Stevens on "Hypotheticals", British Granada TV, 1989.
Geoffrey Robertson:
"You don't think that this man deserves to die?"
Cat Stevens:
"Who, Salman Rushdie?"
Geoffrey Robertson:
"Yes."
Cat Stevens:
"Yes, yes."
Geoffrey Robertson:
"And do you have a duty to be his executioner?"
Cat Stevens:
"No, not necessarily, unless we were in an Islamic state and I was ordered by a judge or by the authority to carry out such an act - perhaps, yes."
Geoffrey Robertson:
"Would you be part of that protest, Yusuf Islam? Would you go to a demonstration where you knew that an effigy [of Salman Rushdie] was going to be burnt?"
Cat Stevens:
"I would have hoped that it would be the real thing."
Copies
here
and
here
.
---
More on the Rushdie affair
Sean O'Grady, The Independent, 1 Mar 2019, wants to ban The Satanic Verses because it offends Islam.

O'Grady says: "Rushdie's silly, childish book should be banned under today's anti-hate legislation. It's no better than racist graffiti on a bus stop."
O'Grady has clearly never read the book. It is not silly or childish. It is a clever satire on the absurd origins of Islam. At least Khomeini understood the book. This guy doesn't even know what's in it and wants it banned.
I also love the way an ex-Muslim becomes "racist" as soon as he leaves Islam and criticises it. The western left are some of the stupidest people on the planet. "If Indian atheists criticise Islam, that makes them racist against Indian Muslims."
The song "Ay Naghi!" (2012) by Iranian artist
Shahin Najafi
(now living in freedom in Germany).
Shia Islamic religious maniacs say the song is offensive towards the 9th century AD Shia Imam
Ali an-Naqi
.
An Iranian Ayatollah
issued a death sentence against the artist in May 2012.
An Iranian state newspaper called for all Muslims everywhere to kill him.