Atheism - Arguments
I am an atheist. I believe that no God or gods exist.
It would be wonderful if some of the gods described in human mythology and theology existed. It would be appalling if some others existed (e.g. the Old Testament god, or the Muslim god).
Sadly in some cases (and thankfully in others), there is no evidence for any of them. They are all just stories, inventions of our imagination.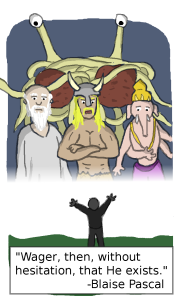 The problem with
Pascal's Wager
.
It applies to
all
gods. You have to believe in Allah and Baal and Ganesh too, in case they punish you.
See
full size
. From
cectic.com
. See
terms of use
.
Another cartoon
here
.
---
Wikipedia

QualiaSoup (videos on logic and evidence)
"Open-mindedness". From
QualiaSoup
.
Belief in religion and other non-scientific concepts does not necessarily make you more "open-minded". Often it means you are very closed-minded indeed.
This video is a brilliant short course in why people use
logic and evidence
, and how that is different from other ways of forming beliefs.
If you ever wondered why people don't think your God exists, watch this video.
---
---
The history of the world makes no sense if God exists:

Intelligent believers now accept that Homo habilis and Homo erectus existed before Homo sapiens.
But the problem for religious people who claim that "God directed evolution" is this: Why make Homo habilis and Homo erectus at all? Why not go straight to Homo sapiens?
Indeed, why make the dinosaurs at all, if they were only going to all die?
Why all the mass extinctions? What the hell is that all about?
Why did it take over 3 billion years to get to Homo sapiens?
Why make parasites at all?
Why make predators of humans at all?
Religious people have no answers to these questions. The history of life on earth only makes sense if no one was watching. No one was in charge. No one intended for humans to come, and no one made us come. That's the only theory that can possibly explain all the wasteful extinctions, pointless detours, awful parasites, bad design flaws, and long roundabout way of getting to humans.
Eddie Izzard comedy routine "Religion, Science, The Bible, And Dinosaur-Churches" sums it up:
Why is there nothing from God in the Bible, such as telling us the world is round and spins?
Why does God never intervene? Why didn't he flick Hitler's head off?
Why 4 billion years of messing around before making humans?
What was the point of the dinosaurs? They dominated the earth for 200 million years, but all they did was eat and shit. They didn't even worship God.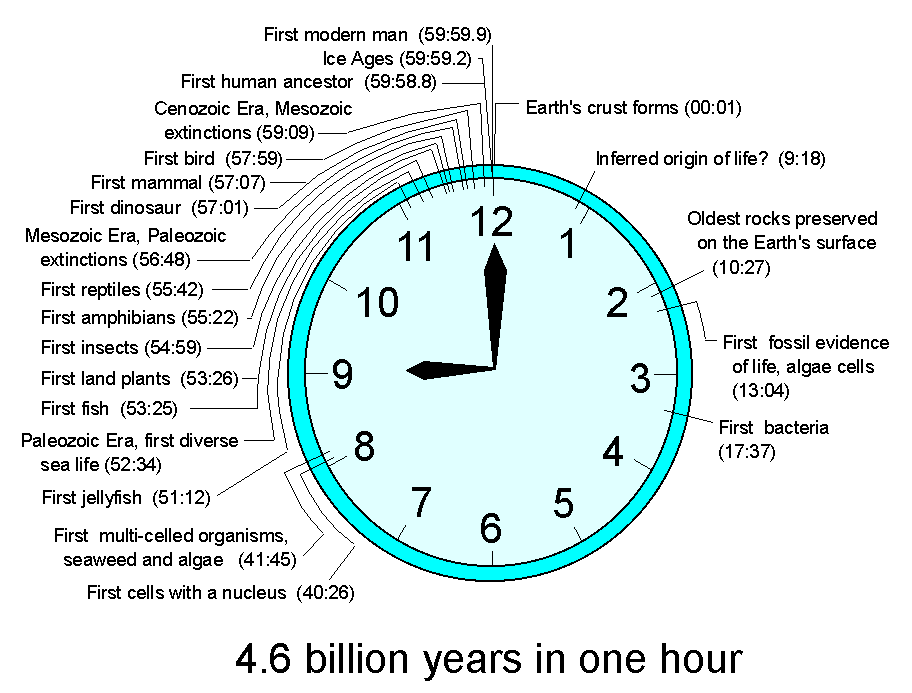 Why did God take so long to make humans?
If the history of the earth is one hour, the dinosaurs only go extinct in the last minute. Homo habilis only emerges in the last 2 seconds. Modern man emerges in the last tenth of a second.
(Each minute is about 75 million years. Each second is just over 1 million years. A tenth of a second is just over 100,000 years.)
From
here
.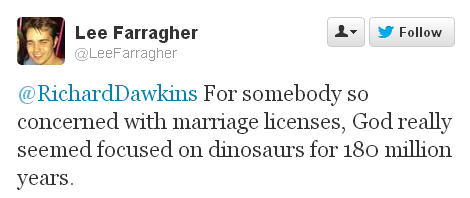 Smart tweet about gay marriage, 4 Feb 2013.
But it can be applied more generally:
For somebody who loves humans so much, God really seemed focused on dinosaurs for 180 million years.
---
God's decision not to provide humans with evidence of his existence is bizarre and inexplicable.
Why doesn't God just make his existence obvious? Why would it be such a bad thing if we all knew for sure he existed? Why does he hide? Why does he provide vague, partial and fragmentary evidence? Why not provide either good evidence, or no evidence at all?
It makes no sense to want humans to follow you, and then provide them with such poor evidence that you exist. God is either stupid, or he likes playing tricks with humanity.
Why won't God heal amputees? (or via here) - Why are all miraculous "cures" those which have a perfectly valid alternative explanation? Why does God never perform an unambiguous miraculous cure?
The God Detector - Why mess around with amateur eyewitness reports of undocumented miracles, and supposed events that happened in ancient times before cameras existed? God can reveal his existence unambiguously. Why doesn't he? Why does he want us not to believe in him?

Funny tweet: "If only God had proved His existence instead of using His magic to create cancer........Bad god. Naughty god."

Why does the devil not appear?

OK, let's imagine that, for some reason, God does not want us to know he exists.
Why does the devil not ruin those plans? The devil could appear and tell us he exists and God exists, thereby ruining God's plans. Why does he not do that?
"God Only SEEMS Nonexistent!"
A smart video on the eternal question - Why doesn't God just make his existence
obvious
?
From
Edward Current
.
Note: Edward Current might be good on religion, but is a naive leftist on foreign policy.
Look at this silly video where he draws moral equivalence between free democracies and dictatorships where people like him are executed. He even thinks Iran has elections.
More moral equivalence here.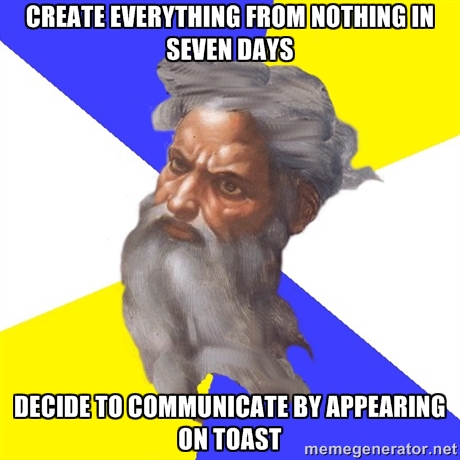 Seriously, God, why not talk to us.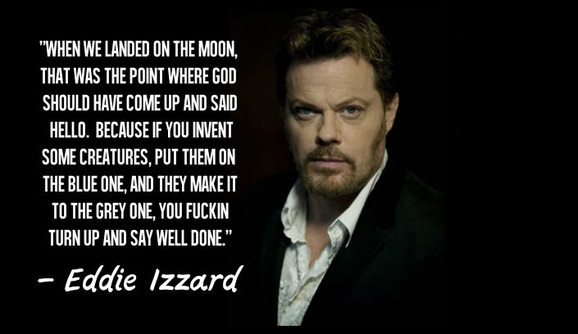 Great Eddie Izzard quote.
Come on God, talk to us.
---
An Enquiry Concerning Human Understanding (1748)

In Section X, "Of Miracles", Hume provides the classic rule for a follower of reason to judge all stories of miracles: The idea that the person reporting the story is mistaken must be more fantastic than the idea of the miracle.
As Hume puts it, "no testimony is sufficient to establish a miracle, unless the testimony be of such a kind, that its falsehood would be more miraculous, than the fact, which it endeavours to establish"
When considering a fantastic story - such as a miraculous cure, an alleged Apparition of Mary, the Virgin Birth, Christ's alleged miracles, the Resurrection, or stories of miracles in other religions - we should apply this rule, and ask is the possibility that the person reporting the story is mistaken more fantastic than the story itself.
Clearly the answer in these cases is no. So no rational person can believe in any of these stories.
Hume's rule clearly makes sense. And yet applying it would make the whole world deists at most. Religion only survives because people simply ignore Hume's argument.

The "Jewish minx" quote:

Christopher Hitchens, in a debate of May 7, 2007, presented a quote, allegedly from Hume, summing up the argument: "I think it was David Hume who put it slightly vulgarly, this was again about the virgin birth I think: which is more likely, that the whole natural order is suspended or that a Jewish minx should tell a lie?"
However, while the argument is fine, I don't think Hume ever said these exact words.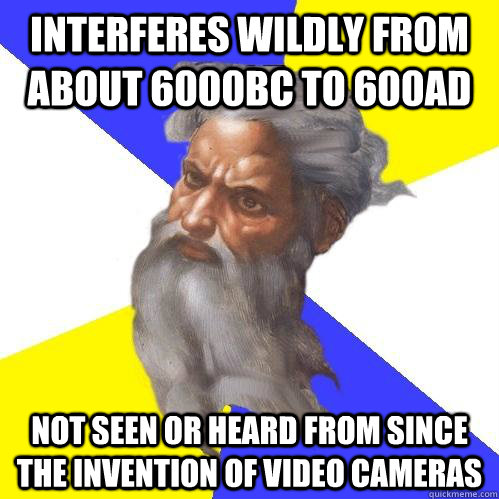 From
here
.
---
In particular, David Hume provides an answer to the
"Lord, Liar, or Lunatic"
argument (or
"trilemma"
) centuries before the much lesser mind of
C.S. Lewis
.
C.S. Lewis argues that Jesus must either be a liar, a lunatic, or be telling the truth. He claims the first two are impossible, so concludes that Jesus must be telling the truth. David Hume long ago answered Lewis' argument:
First of all, these are not the only three options. A simple alternative option is "Misquoted".
But even if we accept for the sake of argument that these are the only three options, by the Hume argument it is clear that "Liar" and "Lunatic", however implausible, however virtually impossible, are less, not more, implausible than the supernatural explanation of "Lord". However unlikely it is that people at the time were deceived about Jesus being divine, working miracles, rising from the dead, and so on; however unlikely it is that they would be willing to die for false beliefs; and however unlikely it is that false beliefs could spread so rapidly across the world, it is still more, not less, fantastic to believe that he was divine, and a god and a supernatural world exists. That is Hume's law, and it shows us that there is no religion on earth that has sufficient evidence to follow it.
C.S. Lewis' problem is that he believes in all this supernatural world already. So he finds any theory that omits it to be improbable. He finds supernatural explanations probable and natural explanations improbable. And he cannot imagine people who think differently. His argument only makes sense if you believe in Jesus already.
C.S. Lewis also showed his ludicrous grasp of probability in Mere Christianity (1952). See this quote: "If I find in myself a desire which no experience in this world can satisfy, the most probable explanation is that I was made for another world." Yeah, right. That is obviously the most "probable" explanation.
How could a "Liar" or "Lunatic" start a religion that people are willing to die for?
C.S. Lewis thinks that is impossible.
But in fact, the religion of
Islam
shows that it is
not very unlikely at all
that false beliefs could spread rapidly across the world, and have people willing to die for them.
From the
Catechism of perseverance
(1850).
---
Pascal's Wager (and here), published 1670 - You should believe in God because if you're wrong, you lose nothing. Whereas if the atheist is wrong, he loses the chance of salvation.
Problems with Pascal's Wager:

Pascal's Wager only works if you half-believe in God and an afterlife already. You have to believe, for example, that it is a priori likely that a God would reward belief and punish disbelief. What if God punished belief, though? Knowing nothing about God, that is just as likely as the alternative. To believe that it is a priori more likely that a God would reward belief is to already believe in something.
Another problem is that of picking which God to worship. Pascal's Wager is often promoted by Christians. But non-Christian gods might exist, and punish Christians for not believing in them. Why don't the Christians apply Pascal's Wager to Zeus, Thor, Osiris, Krishna and Allah? Aren't they being inconsistent?

In summary, Pascal's Wager has nothing to say to unbelievers. It only works if you believe already.

Reverse Pascal's Wager:

I thought of a new argument: If God does not exist, a reverse Pascal's Wager might be the best bet. That is, it is safer not to believe.
Consider this. What if God and heaven do not exist, yet future science, by studying the state of the universe, can reconstruct all past events, and so bring people back to life.
Whoever is doing this reconstruction (our descendants, or aliens) will be more likely to bring back people who would understand the situation - people like Carl Sagan and Isaac Asimov and Marvin Minsky and Hans Moravec and Richard Dawkins and Charles Darwin. They would be far less likely to bring back people like Pope Pius IX and Moses and Mohammad and their followers.
So believing in God and an afterlife means you don't get an afterlife! Being an atheist means you do! It also means that Jesus lost his chance of an afterlife by being religious! And every Islamic suicide bomber is losing their chance of paradise by following Islam!

Roko's basilisk. An AI version of Pascal's Wager.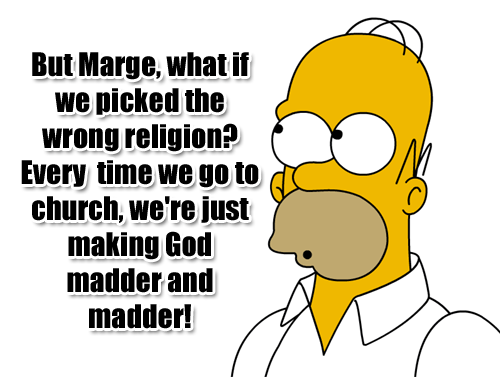 After 322 years,
Homer Simpson
demolishes Pascal's Wager in
Homer the Heretic
(1992).
Saying he no longer wants to go to church:
"And what if we picked the wrong religion? Every week, we're just making God madder and madder."
Search
for clips. You can buy it
here
.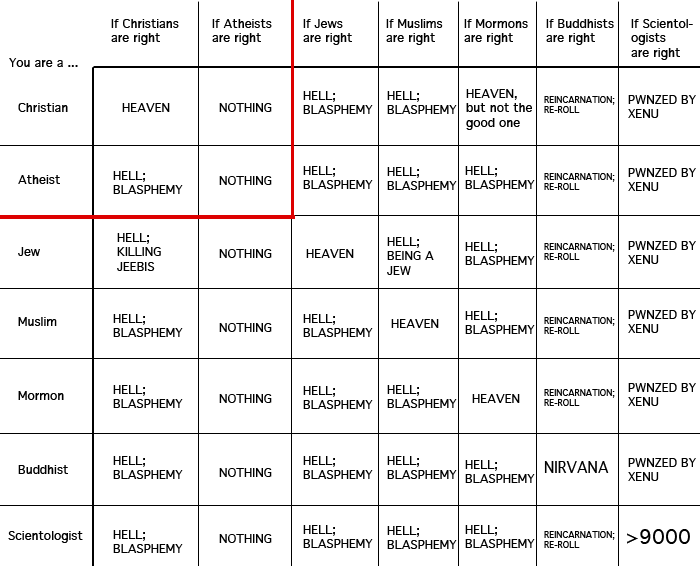 The problem with Pascal's Wager is that it only considers the section outlined in red.
Found
here
.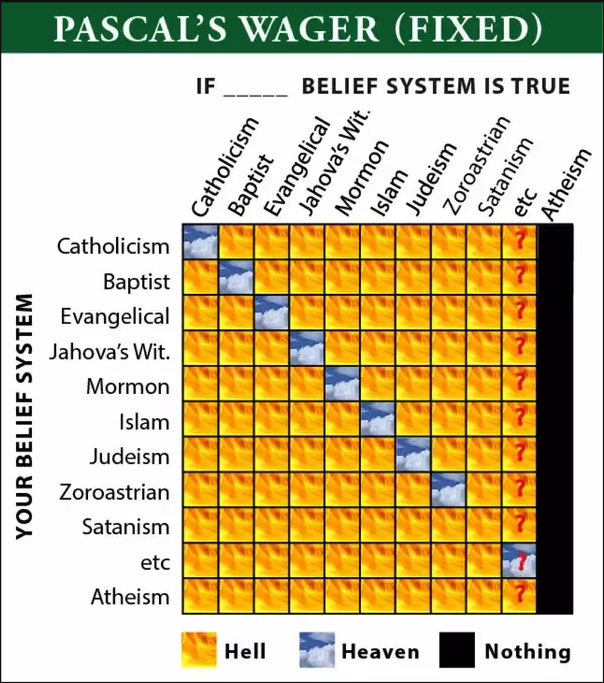 Graphical version (with terrible spelling) shows the problem.
Found here.
---
"Faith is often the boast of the man who is too lazy to investigate." - F. M. Knowles
This pretty much sums up my personal experience. If religious people really believe in gods and souls and afterlives and such things then they should be endlessly interested in issues like the origin of humanity, the origin of life, how the brain works, and the possibility of artificial intelligence - instead of being generally uninterested in such things. Lack of curiosity about the world is to me one of the hallmarks of a religious person.

Sam Harris: "Every one of the world's "great" religions utterly trivializes the immensity and beauty of the cosmos. Books like the Bible and the Koran get almost every significant fact about us and our world wrong."
Richard Dawkins: "the universe is genuinely mysterious, grand, beautiful, awe inspiring. The kinds of views of the universe which religious people have traditionally embraced have been puny, pathetic, and measly in comparison to the way the universe actually is. The universe presented by organized religions is a poky little medieval universe, and extremely limited."

Atheism is pretty normal among scientists like me:

Leading scientists still reject God, Edward J. Larson and Larry Witham, Nature, Vol. 394, No. 6691, p. 313 (1998). - A survey finds that over 90 percent of top scientists do not have a belief in God or souls.
Survey of Fellows of The Royal Society by R. Elisabeth Cornwell and Michael Stirrat (in preparation as at 2006). Only 3.3 per cent agreed strongly with the statement that a personal god exists, while 78.8 per cent strongly disagreed.

Trotsky may have been a communist mass murderer, but he did describe the state of the modern world well:

"Today, not only in peasant homes but also in city skyscrapers, there lives alongside of the twentieth century the tenth or the thirteenth. A hundred million people use electricity and still believe in the magic power of signs and exorcisms. The Pope of Rome broadcasts over the radio about the miraculous transformation of water into wine. Movie stars go to mediums. Aviators who pilot miraculous mechanisms created by man's genius wear amulets on their sweaters. What inexhaustible reserves they possess of darkness, ignorance, and savagery!"
Damn, I wish he wasn't a communist mass murderer, because I really like this quote.
---
God, if he exists, is clearly far more
cruel and uncaring
than a human would be in his position. Most normal people, it seems to me, are better (nicer, more caring) than God. Consider the following:
God lets the most unbelievable human evil take place, when the slightest alteration could stop it. e.g. A heart attack for Hitler in 1932, or for Lenin in 1916.

He lets a million disgusting parasites evolve, to cause torture, agony and death to billions of innocent humans and animals. He could have stopped the evolution of malaria. He chose not to. What a cruel, unfeeling bastard God is.

Our dead loved ones are alive (supposedly) in his care. And yet never, this side of the grave, will he ever permit us to talk to them. Those we love, those we miss so much that it hurts, those we long to talk to, and who must long to talk to us, are imprisoned by God. He could let them talk to us, to give us the ultimate comfort that they still exist, that our loved ones are still alive in some way. But he refuses. He will not let them communicate with us. What a cruel bastard God is.

Religions claim that if we pray to God, good things might happen on earth. That we could pray for good health, or financial success, or sporting success, or exam success, or even lost property, and he would actually listen, despite the fact that he doesn't answer the prayers of children being tortured and killed. Such a god, who answers trivial prayers, and doesn't answer other life-and-death prayers, on a whim, is not a god worthy of worship. When people say they are praying for someone's success, I don't find it comforting. I find it disturbing to imagine that such a God might exist - that would answer those prayers but not prayers from slaughtered families during the Holocaust.
Sketch by
Mr. Deity
(Brian Keith Dalton) about all the evil God decided to allow.
God is far more cruel than a human would be in his position.


Stephen Fry on the cruelty of God.
See transcript: "Bone cancer in children? What's that about? How dare you. How dare you create a world in which there is such misery that is not our fault. ... the god who created this universe .. is quite clearly a maniac, utter maniac. ... Yes the world is very splendid but it also has in it insects whose whole life cycle is to burrow into the eyes of children and make them blind, they eat outwards from the eyes. Why, why did you do that to us? You could easily have made a creation in which that didn't exist. It is simply not acceptable. So you know atheism is not just about not believing there is a god, but on the assumption that there is one, what kind of god is it? It's perfectly apparent that he is monstrous, utterly monstrous, and deserves no respect whatsoever."
Head of the Presbyterian church in Ireland replies to Fry, Irish Times, 4 Feb 2015. He says it's ok. Evil in the world is because humans are being rightly punished for a sin committed by an imaginary person. "God created a perfect world but that it was after the perfection that God had created that man fell and imperfection then took over." So God gives cancer and parasites to children because he is punishing Adam! You what?? That makes God even more of a cruel maniac bastard!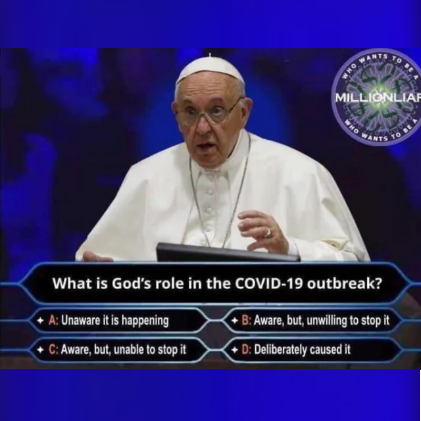 Posted here during the coronavirus pandemic of 2020.
Go on, Pope Francis, what is the answer?
I have never heard a theologian properly answer this kind of question.

Children being taken to be killed by the Germans at Auschwitz, 1944.
God never tries to stop such things. Only humans try.
From here in The Auschwitz Album.


The end scene of Granpa (and here and here).
Granpa dies, and God won't let us ever talk to him again.
From Dailymotion.
---
The conundrum of prayer by Heather Mac Donald, June 5th, 2009. On God not answering prayers: "who can possibly imagine a reason why God wouldn't respond to prayers to save an officer's life, but would respond ... to get someone out of debt, say, or to cure someone of illness?"
As she says, humans are better than God: "It is humans who work with passion and commitment every day to try to save their fellows (and a range of other creatures) from suffering and sorrow. ... They do so out of love and compassion, while God, who could restart an exhausted heart in an instant, demurs. The only source of love on earth is human empathy. Transferring our own admirable traits onto a constructed deity just obscures the real human condition: we are all we have, but that is saying a lot."

Hilarious: Irish Catholic bishop orders his priests to pray to stop the rain, Sept 2009. When faced, not with things that God is indifferent to, such as the rape of Iranian protesters and the beheading of Christian pastors, but rather with ... a threat to Irish farmers' incomes, Bishop Denis Brennan suddenly reverts back to a pre-modern witch doctor. Hilarious, and also very disturbing.

It's not just Catholics who do superstition. The Church of England does foolish superstition too: Bishop of Lincoln blesses Lincolnshire's road gritters in the hope of cutting road deaths, Nov 2010. That's right. Bishop John Saxbee, despite all his education, is a pre-modern witch doctor too.
Comments on the previous:

"Ass-lick god and he'll let off a few he was gonna kill this year- there's a nice god".
"God, all-knowing, all-powerful, and really, really lovable, occasionally lets people die in horrible car accidents. It's all part of his mysterious but - be sure of that - well thought plan. ... But, here is the really good news - apparently, sprinkling a few gritters with holy water makes god kill even less people for the good of us all, fancy that!"
"Indeed he could do with those reminders, which is why we need barking mad old men in frocks to ask God to reduce the number of mothers, husbands, sisters and sons that he would otherwise have pulverised this winter ... Praise the Lord for he isn't killing and maiming as many people as he did prior to 2003. What a God!"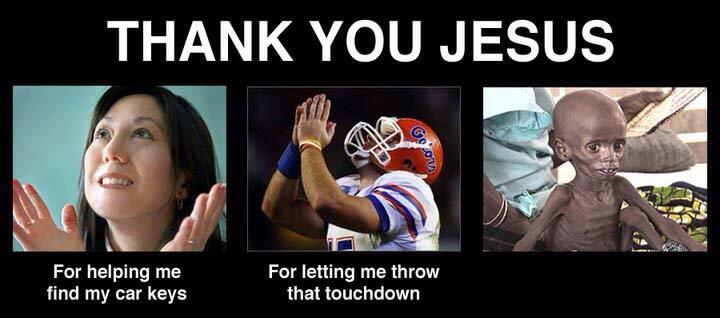 This rather brutally sums up the problem.
Found
here
.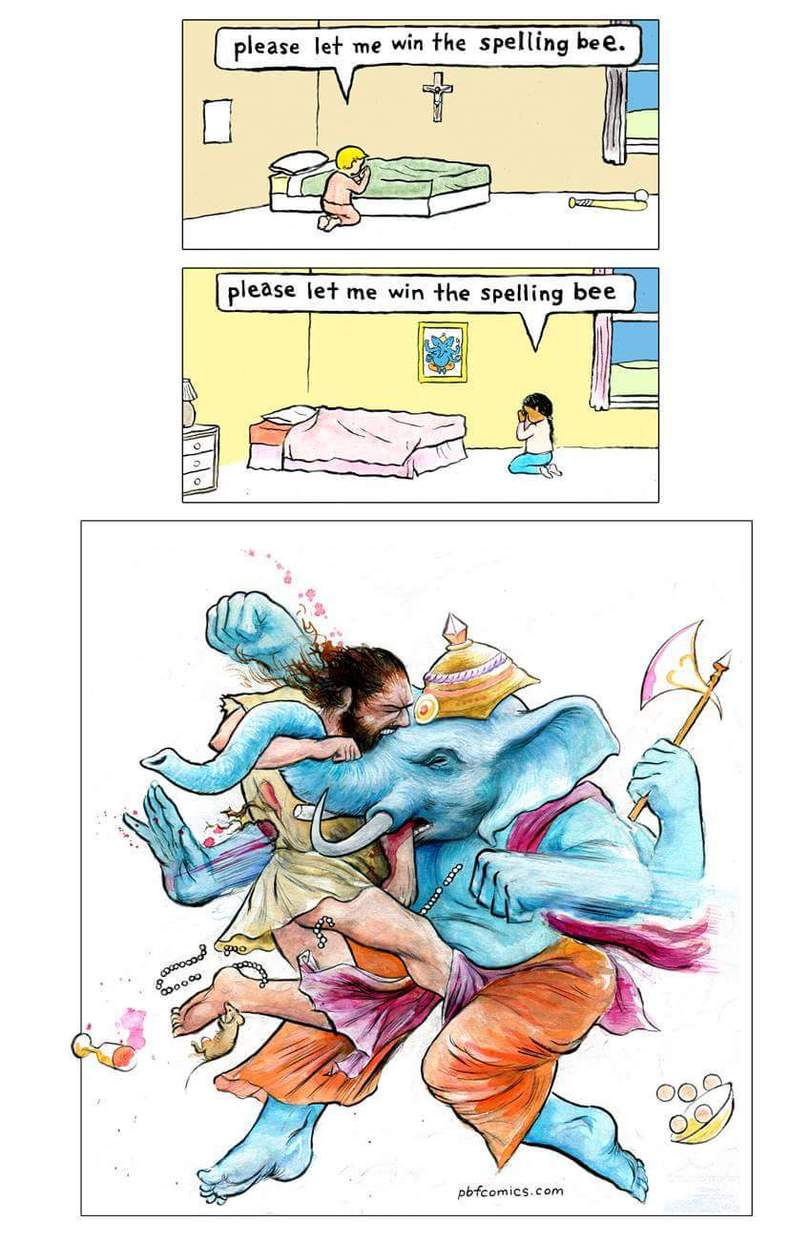 Brilliant commentary on praying for things.
From pbfcomics.com.
---
David Quinn
is on the right in Ireland, and like many other people I read on the right, I agree with much of what he says on politics, but disagree with his (traditional Christian) ideas on religion.
With the atheist Richard Dawkins I have a similar situation - I agree with him on religion but disagree with his (traditional left-wing) politics. So it is interesting to hear a debate between David Quinn and Richard Dawkins, on RTE Radio One, The Tubridy Show, 9 Oct 2006, especially given that religious people think he destroyed Dawkins.
I think Quinn is largely wrong, but Dawkins doesn't do a good job of asking him hard questions.
There is a
similar debate
between an atheist whose opinions on religion I share, but whose politics is sometimes ill thought-out (though not at all as bad as Dawkins),
Sam Harris
, and a theist whose ideas on politics I respect, but whose ideas on religion I don't,
Dennis Prager
.
As I say, Harris' politics aren't at all as bad as Dawkins. I can't imagine Dawkins saying to Prager: "I strongly suspect that you and I have similar views of the risks posed to civilization by the spread of Islam. We probably draw some of the same lessons from the failures of multiculturalism in Western Europe"
Harris has one great rebuttal to Prager, as Prager presents tired old "arguments" for belief, which is that the Islamists say the same thing: "A further irony, of course, is that the civilizational threat that worries us both - Islamic fascism - is purely the product of religious faith, held for precisely the reasons (or pseudo-reasons) you defend. ... Let me assure you that "sophisticated" Muslims resort to the same rationalizations that Francis Collins does to prop up their belief in mighty Allah. Indeed, your "awesome beauty of nature" is one of the chief rationales for faith found in the Koran. How many more people will have to die because of this Iron Age response to the beauty of nature?"

I agree with a lot of what he says on politics, but sometimes on religion Dennis Prager talks rubbish.
More Irish debates on Dawkins
Another rather unenlightening debate on "The Late Late Show", Dec 2006.
The UCD Philosopher Gerard Casey was deeply unimpressive. Couldn't he have thought of at least one interesting thing to say?

A much more enlightening, friendly interview on "The Panel", Dec 2006.
The comedian Ed Byrne actually makes some sharp points, much better than Gerard Casey.
---
If there is no God and no afterlife, is life meaningless?
If your life ends at death, and even humanity itself might go extinct one day, does that make life meaningless and pointless?
Here's a few things to consider:
We can imagine something worse:

There may be no God and no afterlife, but what does exist is still better than the void - where no humanity exists at all, or even no life, or no universe.

The "anthropic principle" - We can imagine something better:

We are imaginative creatures, and we can easily imagine a reality which is far, far worse than the present reality (a void where nothing exists). Likewise we can easily imagine a reality that is far, far better (a caring God that re-unites us all in heaven after death).
So consider a sort of anthropic principle - No matter what reality is, we can imagine something better. And then complain that reality is not as good as what we can imagine.
The real problem may be that, like in Pascal's Wager, many of us were brought up to believe that the imagined reality was true, and we are now disappointed and miserable that reality is not as good as what we imagined.
But if you never thought the imagined reality was true in the first place, you would just listen to the story of God and heaven and say: "Yeah, reality is not as good as something we can imagine. That's not surprising. We are imaginative creatures."
And then you would be positive, not negative. You would say: "Let's get to work on making reality more like this wonderful thing we can imagine." And science may actually do this some day (see below).
In other words, we are miserable because of our imaginations, not because reality is so bad.
Note that this "anthropic principle" holds even if God exists. Because we can still imagine something better (e.g. a God that doesn't allow suffering on earth). So even if God exists, we can still complain that reality is bleak, and not remotely as good as what we can imagine.

Humans may never die out:

Even if we are stuck with present reality, human extinction is not guaranteed. We are not like other species. We might be the first intelligent creatures ever to evolve in the universe. We might find in the future ways of changing the nature of space or time (or escaping from the universe) so that the civilization that started on earth will never die out.

Our descendants may be personally immortal:

Even if we are stuck with present reality, personal human death may not be inevitable. Personal immortality is probably coming in the future. Our descendants will live forever, and distributed backups will keep them safe from destruction.

You may already be immortal:

Perhaps even some of our generation will be immortal. Brain scanning or brain freezing may finally become viable before we die.
Or future science may discover a way, by analysing the current state of the universe, of reconstructing all past events and all previous matter. It may seem that that matter and that information is lost forever, but maybe future science will discover that is not strictly true. All humans in history can then be brought back to life in the future. So the religions aren't entirely wrong. After every human dies, they cease to exist for several thousand years, and then they exist again, in a kind of heaven on earth. Think how surprised Carl Sagan is feeling "now" (or rather not now, but in a thousand years time) when he wakes up in "heaven" after death.
Frank Tipler has also suggested that in the future computers will be able to run simulations of all intelligent life that has ever lived. So in one (in fact, many) of these, you will exist again.

The future is open-ended:

So even if you kill yourself right now in despair at life's pointlessness, you may wake up in a thousand years in a heaven that never ends. As long as humans do not go extinct, the future is open-ended, and all sorts of incredible things may happen over the next few centuries and millenia of science.
And even if humanity itself goes extinct, other intelligent alien life could evolve in the future, and they could reconstruct us. So Carl Sagan may wake up in 10 billion years time in an alien-built "heaven" for humans.
As long as the universe exists, with its potential for evolving new intelligent life, the future is open-ended. Who knows what might happen. It would be very parochial to imagine that intelligent life in the universe will always look similar to intelligent life right now.
We can always imagine something better.
Strip from
here
.
See
all strips by user cplwubby
.

"Tell Me There's A Heaven" (1989) by Chris Rea.


"What you get with a basic life".
Comedian Louis C.K. points out how great it is to be alive.


The poem "Japanese Maple" by Clive James.
Written in 2014 after he was diagnosed with terminal illness. He died in 2019.
---
"Reality was before you. Reality will be after you. Reality is all you'll ever have. Enjoy your moment in this green & blue sun-warmed place."
- Richard Dawkins, 10 June 2014.
"I am proud to be a human being. I believe that we have come this far by the skin of our teeth - that we always make it just for the skin of our teeth - but that we will always make it, survive, endure. I believe that this hairless embryo with the aching oversized braincase and the opposable thumb - this animal barely up from the apes - will endure, will endure longer than his home planet, will spread out to the other planets - to the stars and beyond - carrying with him his honesty, his insatiable curiosity, his unlimited courage, and his noble essential decency. This I believe with all my heart."
- Robert A. Heinlein, "Our Noble, Essential Decency", 1950s.
---
Return to
Atheism
page.