Environmentalism
On the
"anti-green" page
, I deal with whether the greens' claims are
true
(some are).
Here I deal with the impact on society of green thinking. It does seem to me that environmentalism is filling a place formerly occupied by socialism (and before that by religion).
Climate Lessons - Tracking Green indoctrination in schools.
When I was young, teenagers in school were made to feel guilty about masturbation and sex. Now, teenagers in school are made to feel guilty about shopping and consumerism. It's the same anti-human psychology, it seems to me.
Brainwashed lunatic kid.
From
Greenpeace
.


More brainwashing of innocent children by the green religion. And copy.
And another one. And round-up.
It's like watching Catholic priests scare children about hell.


Climate change people are often leftists with unpleasant ideas about the world.
Here, someone sets up a site "IdiotTracker" to promote climate change ideas.
Turns out he has other left-wing ideas.
Here he claims "Zionists" are "raping" people.
I question him and it emerges he is referring to unproven claims from the 1940s.
---
As I say on the
"anti-green" page
, environmentalism (or at least some of it) may be
true
, but it is funny how
conveniently
it fits in with left-wing anti-capitalist ideology, and our post-religious need to feel
guilty
about our fantastic prosperity and consumer riches. It may be just a coincidence. But it's quite an amazing coincidence.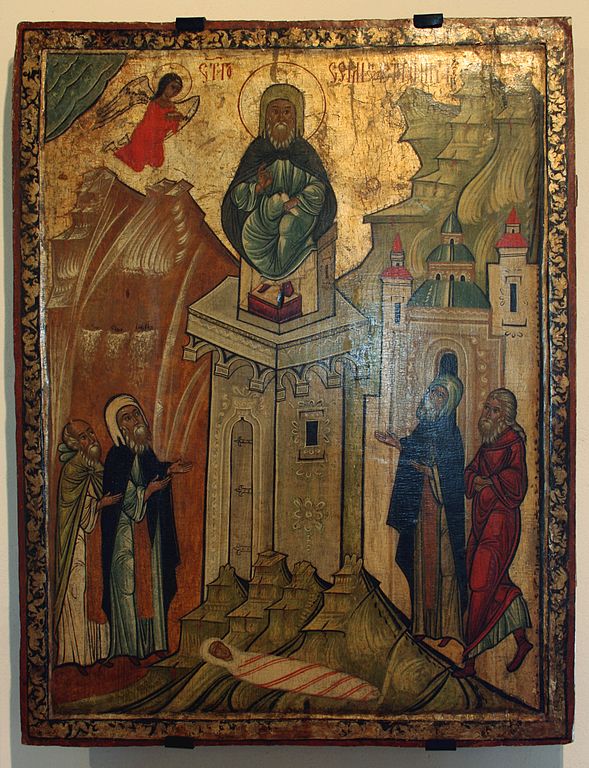 St Simeon the Stylite
lived for 37 years on a small platform on top of a pillar in Syria. The fucking loony.
Image from
here
.
---
Of course most greens are wealthy urban consumers, who often lead a far more extravagant lifestyle than I do (e.g. I fly less than once a year). They have to struggle with this hypocrisy and their feelings of guilt. I just laugh at them.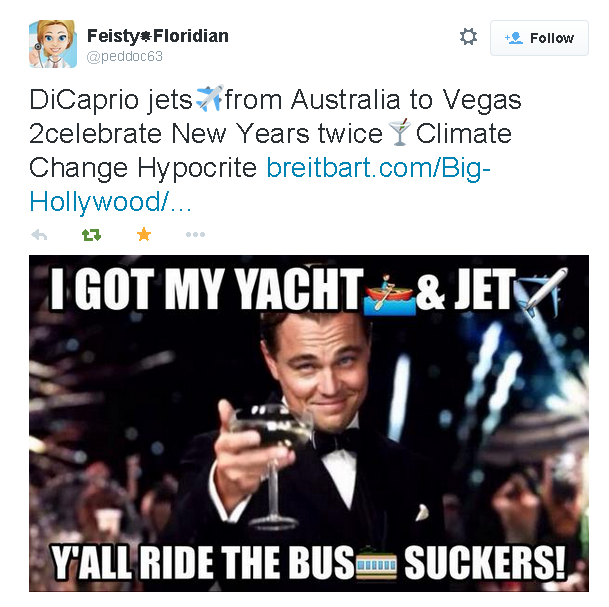 In 2012-13, green activist Leonardo DiCaprio
flew from Australia to Las Vegas
so he could celebrate New Year's twice.
In 2014, he
rented a mega-yacht to watch the World Cup in Brazil
.
Hilarious slagging from
here
.
---
Prince Charles is the archetypal annoying wealthy green - who flies everywhere, drives Aston Martins, and lectures us little people about the environment. He competes with
The Archbishop of Canterbury, Rowan Williams
for most annoying man in Britain.
Nice for some: From 1970 to 2008, Prince Charles drove a 4 litre, 280 bhp,
13 mpg
, 150 mph
Aston Martin DB6 Volante
.
In 2008, after 38 years of driving, in a fine example of token greenery, he converted it to run on
bioethanol
.
Image from
here
. See
terms of use
.

Prince Charles also owned a 5.3 litre, 440 bhp, 13 mpg, 170 mph Aston Martin V8 Vantage Volante.
In fact, he had one custom made, the "Prince of Wales" version of the car.
Image from here. See terms of use.
---
Prince Harry and his dreadful wife Meghan Markle are taking over from Prince Charles as Britain's most annoying climate change scolds.

Spare us Prince Harry's royal hypocrisy, 4 Sept 2019. "In the summer, the green prince and his wife announced that they would avoid adding to the world's carbon footprint by having no more than two babies. After that, they went on an epic carbon-spewing tour, taking four private-jet journeys in 11 days, including to a Google summit to deliver a lecture on climate change. "

Harry and Meghan abandoned Royal duties for the pursuit of money in 2020, and angrily declared that Harry's family was "racist", like a couple of spoilt teenagers.
In Jan 2020, Harry and Meghan announced their climate-conscious plans to move to America. They said they have "a long-term plan to end up back in the US with a second home in Canada". And visits back to the UK. All on private jets.
Dec 2022: Prince Harry takes a private jet to New York to pick up an award for calling his own family "racist". You literally cannot make a satire about this man's life.

Prince Harry is incredibly unpopular in Britain after attacking his family and his country.
Royal net positivity ratings in the UK, Jan 2023. See details.

Catherine +54 (69 positive, 15 negative)
William +49
Charles +32
Harry -38
Meghan -42 (23 positive, 65 negative)
---
Radical environmentalism, if taken seriously, threatens billions of innocent people with starvation and death.
Of course, radical environmentalism is only a pose by people who live comfortable lives in a wealthy, inter-connected, industrial consumer society, and it will never be adopted en masse. But it is interesting to consider that it is the only major, popular philosophy that, if it were actually adopted, would threaten the human species itself with global death and extinction.
---
Kill the infidels! Like all religions, some environmentalists dream of killing the unbelievers.
Incredibly, the film above - in which children are brainwashed by eco-loony teachers, and then eco-sceptics, including children, are murdered - is not a joke.
"No Pressure"
, released 1 Oct 2010, is a genuine film for the
"10:10"
eco pressure group.
This film is a unique glimpse into the mind of eco-nutters who live on a different planet, people who might, in the right circumstances, start actual killing. In another life these people would have been Red Guards.
See
copies
.
What the eco-nutters
really
want to do.
A briliant edit of the original.
---
The burning of libraries and research labs by primitive environmental fascists.
Eco-terrorism comes to Ireland:
A disturbed English eco-terrorist burnt the beautiful old headquarters of the Jesuits on Eglinton Road in 2007.
---
Trailer for
The Day the Earth Stood Still
(2008).
The Day the Earth Stood Still (2008). Earth is invaded by genocidal alien eco-nutcases. To "save" the planet, these cold alien bastards plan to exterminate every human being, and destroy all our works, our libraries, our science, our art, our buildings, our history.

This film is a grim warning of the dangers of deep green extremism. Or at least it would be, if not for one bizarre thing: We are actually meant to sympathise with the aliens. We are meant to agree that humans are destroying the planet (a claim that everyone in the film accepts without question). We are actually meant to agree with the humans who beg forgiveness for their "sins", and beg for a chance to exist.
At the end, humans are allowed to exist (for now) by the alien overlords, but all human machines are destroyed. Cars, oil, electricity - all must cease. There is then an absurd shot as humans listen to birdsong that the machine noise had drowned out. Not shown is what happens next - global famine and democide. If all human machines were destroyed, at least 1 billion people would die in agony, perhaps 5 billion. And yet we are meant to think it wonderful that city folk can hear birds singing!

Are there people so nutty in their green beliefs that they sympathise with this film? It seems so.
Maybe this film is a warning - a warning of a small-scale green democide that some group of starry-eyed believers will carry out this century.
Discovery Channel hostage crisis, 1 Sept 2010. The gunman described human babies as "filth", "parasites" and "pollution".
---
Return to
Anti-Green
page.