RTE
Like state-run
BBC
in the UK, state-run RTE in Ireland spins the news to the soft left on the taxpayers' money.
Bruce Arnold, Mar 2012, has a roundup of RTE bias:

Pro-EU. Anti-Eurosceptic.
Anti-Libertas. Anti-Declan Ganley.
Pro-Palestinian. Anti-Israel.
Soft on Sinn Fein - IRA.
(On America) Pro-Democrat. Anti-Republican. Pro-Obama.
Anti-Sean Gallagher (and pro-Michael D. Higgins) in the 2011 Presidential election. RTE helped swing the election for their man Michael D. with a fake tweet.
Arnold sums up what our taxes pay for: "The station is riddled with agenda-thinking and planning. Give RTE a story or a responsibility and it will immediately write the agenda for it, traducing the responsibility and suiting the story to the muddled objectives RTE thinks journalism is about."
"Generic BBC America Correspondent" is a hilarious 2010 satire slagging off the
BBC
for its sanctimonious bias against the Republicans in the US.
But it also works as satire of RTE or the
Irish Times
. They are just like this too.


Olivia O'Leary is pure RTE.
Gushing over our appalling leftie President Michael D. Higgins on his election, in this patronising radio piece of 1 Nov 2011.
Sneering at Bertie Ahern and the Celtic Tiger.
Intensely, intensely annoying.
What is funny here is how she took a photoshop of the Dundrum floods as a real sign.
(The photoshop was apparently made by Suzanne Sheridan using this road sign generator.)
---
RTE sells the centre-left line on Israel and the jihad, whether the taxpayer agrees with that line or not.
"The Ashes of 9/11", RTE TV, 11 Sept 2011, exhibits the classic bias that makes RTE so annoying on these issues. A respectful tribute to the 9/11 victims is suddenly and distastefully interrupted (at 41:20) with an unidentified narrative voice claiming that the cause of 9/11 was US support for Israel.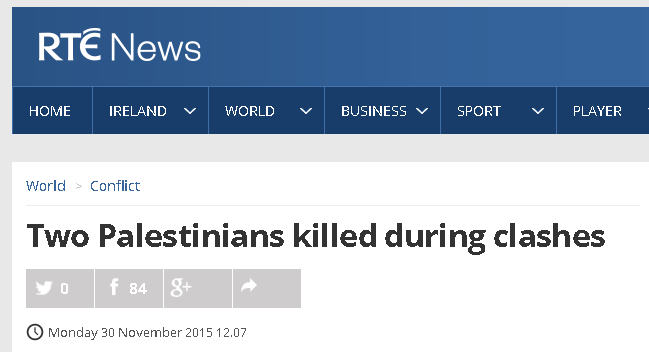 Outrageous
RTE headline
of 30 Nov 2015.
One Palestinian stabs an Israeli policeman in the neck.
Another Palestinian, a
convicted Jew-stabbing terrorist
, throws firebombs at Israeli police.
And what is RTE's headline? "Two Palestinians killed during clashes". Absolute disgrace.


Softball Pat Kenny interview
of the lifelong supporter of communist and Islamist tyranny, George Galloway, RTE, 29 September 2006.
No hard questions about Galloway's endless statements in support of the violent enemies of the West.
Though at least Pat Kenny allows Eamon Delaney to provide a lone voice of sanity.
From here.


Michael Heney, journalist on Prime Time, RTE TV, June 2003, claims that Israel is the main cause of the Islamic jihad raging across the world. And I am forced by my tax to pay for this left-wing Chomskyite analysis.
The sane person being interviewed by the crazy person is Danielle Pletka of the American Enterprise Institute.
---
---
Classic example of RTE bias: Richard Crowley, 18 July 2006, reports that 81% of Israelis support their government's actions in Lebanon, but then RTE do not interview any of them. Instead they extensively interview the 17% who don't.

They even feature a crackpot unveiled Israeli Arab young woman (Abir Kopty, Center for Arab Citizens of Israel) who praises Iranian Hezbollah for "liberating" South Lebanon. The irony of having bare shoulders and praising "liberated" Hezbollah-controlled, sharia-friendly South Lebanon seems to escape her. Of course, she lives in Israel.
I don't mind them interviewing minority (17%) nutjobs like this, so long as they interview the sane (81%) majority as well. But to exclude them totally.
Richard Crowley clearly has contempt for the majority view in Israel, as shown by not interviewing them, and also by his language: "The opinion poll suggests support for the government's policy in Lebanon is still very strong", he says patronisingly. Very subtle. It indicates that there is something wrong or provisional with this support, that it must be only temporary. It's like a Socialist Workers Party member saying "Polls suggest support for bourgeois democracy is still very strong". Why are the Israelis so stupid that they still don't agree with comfortable Irish lefties? Surely they will see sense and catch up with the advanced mind of Richard Crowley some day. What's wrong with saying "is very strong" and just reporting the facts?
Unveiled Lebanese young women supporting Hezbollah! Jews voting for Hitler.
The very first page of Richard Crowley's book
No Man's Land: Dispatches from the Middle East
(2007) loses me.
He lost me once he said "impartiality".
The world should not be
impartial
between an open liberal democracy and thuggish tribal totalitarians.
It should support the liberal democracy.

In the conclusion of his book, Richard Crowley declares:
It is wrong to alienate Hamas.
Hamas might be interested in peace.
Israelis, not Palestinians, want to keep the war going.
The solution to the war is the ethnic cleansing of the prosperous Jews of the West Bank.
Now you see why I can't stand RTE!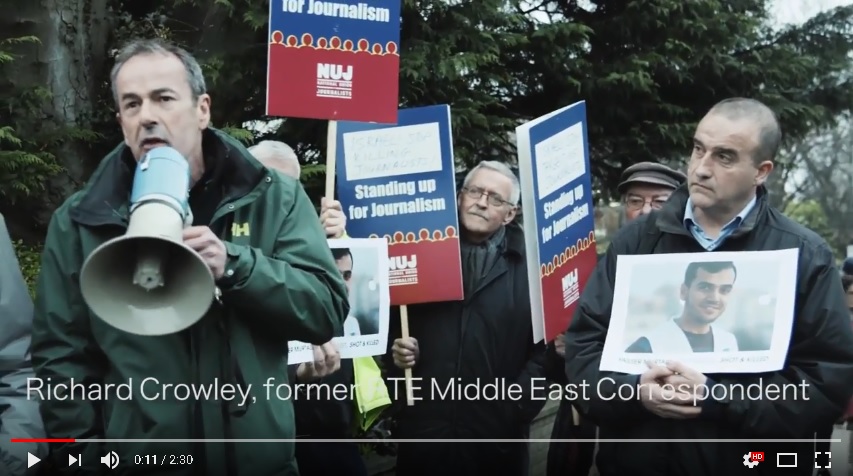 Richard Crowley at an anti-Israel demo, April 2018. Click to play.
He is protesting the death of "photo journalist" Yaser Murtaja, who was killed in the Hamas-led border riots.
Israel said Yaser Murtaja was an officer in Hamas.
---
Carole Coleman's sneering RTE interview of President Bush before his visit to Ireland, June 2004, perfectly encapsulates RTE's institutional anti-Americanism.
See copies:

and
transcript
.
Carole Coleman was Washington correspondent for RTE in the years after 9/11.
Her distaste and contempt for Bush had been obvious for years. When I heard she was to interview Bush before his 2004 visit, my first thought was: "Well there's no point watching that. We'll learn nothing."
And I was right. Coleman could have seized her once-in-a-lifetime chance, and asked the President some good (and yes, tough) questions, such as:

"Who's next?"
"Is the war against the suicide-bombing foreign Islamist volunteers in Iraq the climax of the War on Islamism, or just Act One?"
"How would America respond to a nuclear 9/11?"
"Why doesn't America (or Israel) bomb Iran's nuclear weapons program?"
"Why are you an ally of Saudi Arabia?"

But instead of this, instead of asking something new, Coleman just gave a bunch of tired leftie speeches, delivered in her usual rude, obnoxious style. Why Bush agreed to be interviewed by this person I don't know. Had his people never heard of her? Why didn't the US Embassy in Ireland explain who she was?

Coleman opens by clearly saying that RTE is only going to represent one view: "Mr. President, you're going to arrive in Ireland in about 24 hours' time, and no doubt you will be welcomed by our political leaders. Unfortunately, the majority of our public do not welcome your visit because they're angry over Iraq, they're angry over Abu Ghraib. Are you bothered by what Irish people think?" I can't stand the fact that she represents all of Ireland as agreeing with her. But I admit that "the majority" appears to be true. 65 percent of Irish opposed the visit. I just wish that RTE spoke for the 35 percent, and not just for the 65 percent.

Coleman says: "But, Mr. President, the world is a more dangerous place today. I don't know whether you can see that or not." She - a negative, cynical leftie hack - patronises one of the most radical and visionary thinkers and doers on earth. A man who is leading a massive, glorious democratic revolution in the Middle East that will make the world so much a better place. A man who is refusing to accept the world the way it is, but is making it progress towards something better - democracy and freedom for all humanity.

Coleman says: "But I think there is a feeling that the world has become a more dangerous place because you have taken the focus off al Qaeda and diverted into Iraq." So Coleman now suddenly cares about the war against al Qaeda?? That would be news to anybody who has been watching RTE for the last couple of years.
This "Iraq distracts from the WoT" argument is hilarious, when made by people who never supported the WoT in the first place. A good rule for life is: Beware of taking advice from neutrals and enemies. Take advice only from friends, who actually want you to win. The White House should listen to the criticisms of people like Michael Ledeen. They should not listen to the criticisms of people like Carole Coleman.

I wanted to slap him, Carole Coleman's memoirs of the interview, The Sunday Times, October 09, 2005

What a glimpse into the parochial, insular leftie world of RTE. "'What would you ask the president of the United States?' I enquired of everyone I met in the following days. Ideas had already been scribbled on scattered notepads in my bedroom, on scraps of paper in my handbag and on my desk, but once the date was confirmed, I mined suggestions from my peers in RTE and from foreign policy analysts. I grilled my friends in Washington and even pestered cab drivers. After turning everything over in my head, I settled on a list of 10 questions." And what does she ask? A load of tired leftie talking points, instead of something like the challenging questions I suggested above. Does she not know any neo-cons? What is wrong with RTE that they couldn't ask a single non left-wing question?
Like an adolescent student, she actually thinks "free world" is an ironic term: "'You were given an opportunity to interview the leader of the free world and you blew it,' she began. I was beginning to feel as if I might be dreaming. I had naively believed the American president was referred to as the 'leader of the free world' only in an unofficial tongue-in-cheek sort of way by outsiders, and not among his closest staff."
I can't stand that my tax money was going to pay for someone like her. The state should simply get out of the media business, full stop. All media should be private.

Why I want to slap Carole Coleman by Gwen Halley, 16 Oct 2005.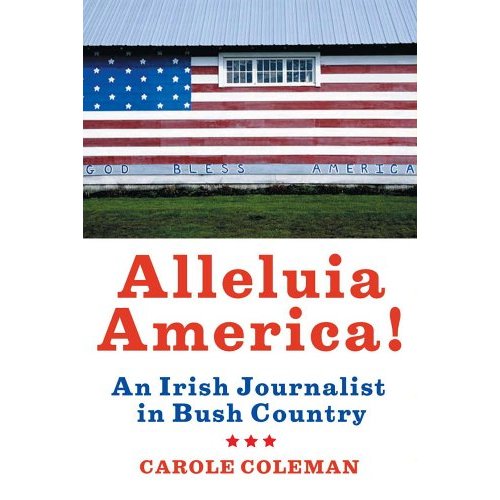 Carole Coleman, Washington correspondent for RTE.
The very cover of
her 2005 book
drips with patronising contempt for Bush and middle America.
---

CBS in Sept 2004 used fake documents to try to swing the U.S. Presidential Election of Nov 2004 for their man John Kerry.
It failed. They were exposed immediately. Bush won, Kerry lost, and Dan Rather's career ended in disgrace.


RTE in Oct 2011 used the dirty tricks of an IRA godfather and a fake tweet from an IRA supporter to try to swing the Irish Presidential election of Oct 2011 for their man Michael D. Higgins.
It worked. They were not exposed properly until after the election. Sean Gallagher lost and Michael D. won. The left is very strong in Ireland.
(Video is from an IRA account. Ignore the editorialising.)
Years later, in 2017, Sean Gallagher wins substantial damages from RTE for their dirty tricks in 2011. But Michael D. is still President. RTE swung the election.
Funny how RTE's mistake did not swing the election for the right-winger, isn't it? What a coincidence that it swung it for the left-winger!
Imagine for a second the alternative - that Michael D. was ahead in the polls until the last debate, that RTE then used a fake tweet and dirty tricks to make Michael D. look bad, and at the last moment swung the election for Sean Gallagher. And then it came out later that the facts were wrong, but it was too late for Michael D. Imagine that. You can't. It would never happen.
---
Eoin O Murchu - the kind of guy RTE employs
I was startled to read the incredibly offensive response by
Eoin O'Murchu
, RTE Raidio na Gaeltachta political editor, to an email in 2011 from the family of IRA victim
Jean McConville
. McConville was a widowed mother of 10, who was abducted and murdered in 1972 by the fanatically violent Marxist thugs of Sinn Fein / IRA. Her body was not returned. Her 10 children were then orphaned, tearfully split up from each other, and sent to orphanages and homes, their lives ruined. Her body was not found until 2003.
Here's how Eoin O'Murchu responded to an email from her family in 2011:
"Please do not send any more of this obnoxious crap to me."
I wondered what kind of person could write that incredibly cruel response. So I thought I would read up about him. This is the kind of guy RTE chooses to filter our news:
Member of the Official wing of Sinn Fein:


Irish Times, May 6, 1970 and January 19, 1971 and December 31, 1973.
The Lost Revolution, by Brian Hanley and Scott Millar, says he was on the Army Council of the Official IRA.
It says that in 1972 he went to Lebanon, where he met Abu Jihad to try to organise a shipment of arms to the Official IRA from the PLO. Both groups were totalitarians at war with liberal parliamentary democracies.




Member of the Communist Party of Ireland:


Irish Times, March 13, 1981 and June 18, 1984 and November 3, 1989.
On 9 Jan 2002, O Murchu took Mikhail Gorbachev to task for helping to bring down the Soviet Union!
He asked Gorbachev if he felt any sense of "remorse or guilt" because he "stood passively aside" while the Soviet Union ended.




RTE Raidió na Gaeltachta political editor.
This is the kind of man RTE chooses to filter our news!



On Twitter he openly describes himself as a communist.



During Russia's brutal, barbaric assault on Ukraine in March 2022, O Murchu tweets sick Russian propaganda.



After the Bucha massacre by Russian troops in March 2022, this Irish communist suggests the massacre is fake.
He follows this up by tweeting Russian regime propaganda about the massacre.
We were forced by law to pay for this man on RTE!



Other IRA men in RTE