Dan Breen
Irish republican
Dan Breen
fired the first shot of the
Irish War of Independence
in 1919.
He was later a Fianna Fáil TD for Co.Tipperary from 1932 to 1965.
He was also a strong supporter of Nazi Germany, before, during and after the war.
I have had some scepticism of my claim that he was a Nazi supporter, Nazi collaborator and Nazi spy.
So I thought I would put all the data I have on one page.
---
The IRA supported the Nazis
during the war.
So did
many other Irish republicans
, including Dan Breen.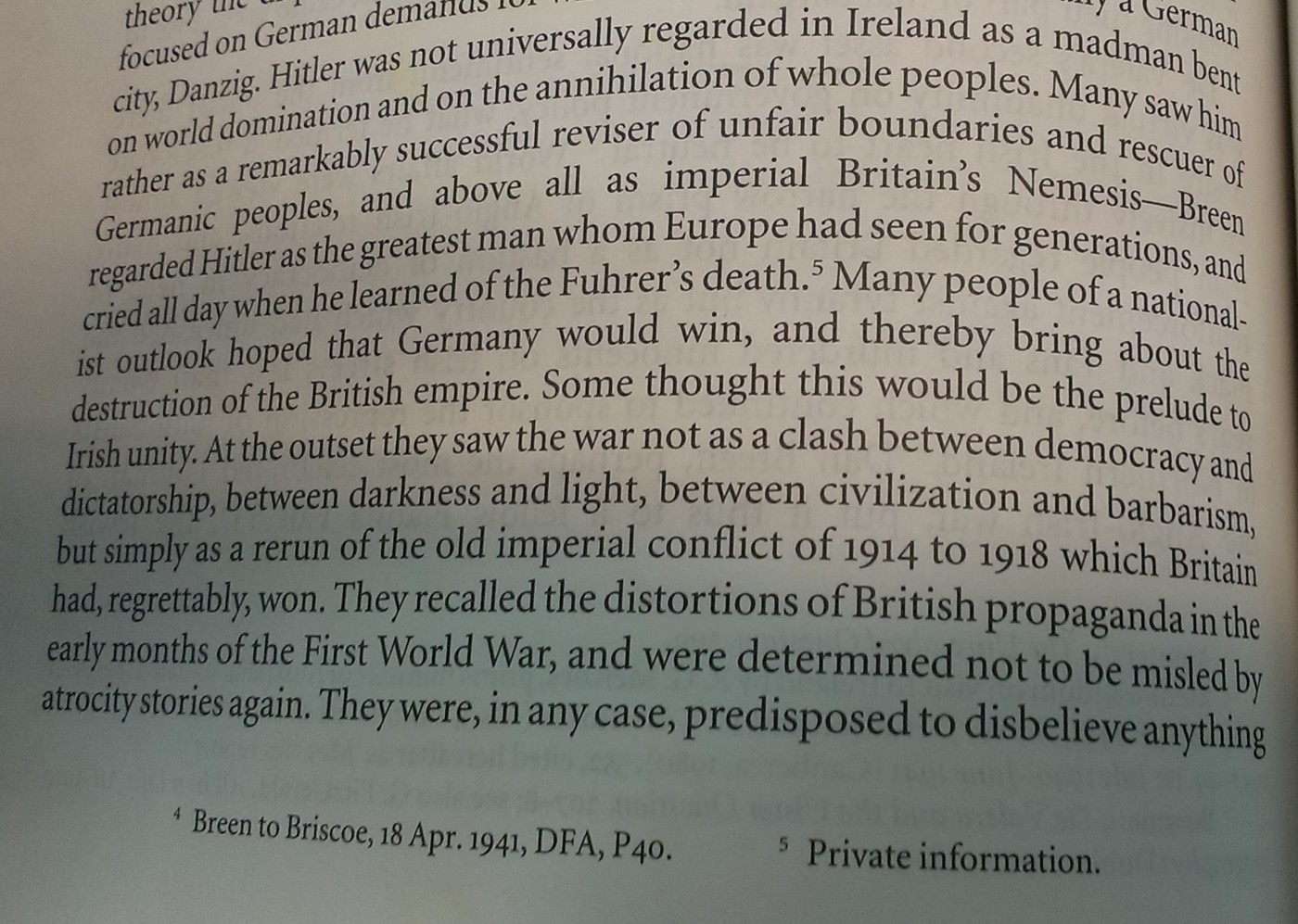 From p.152 of
[O'Halpin, 1999]
.
Dan Breen hoped for Nazi victory in the war, and actually
wept
when Hitler died.



From [Girvin, 2006].
Dan Breen was a Nazi spy and collaborator.


The footnote from the above, giving sources.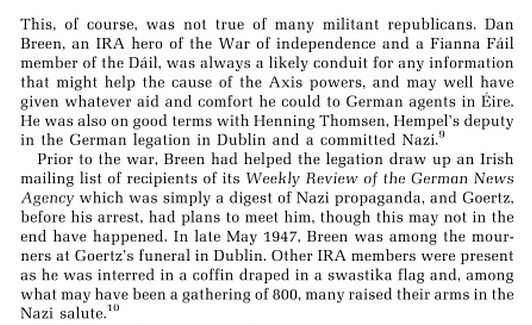 Dan Breen providing information to the Nazis.
From p.69 of [Wood, 2010].
---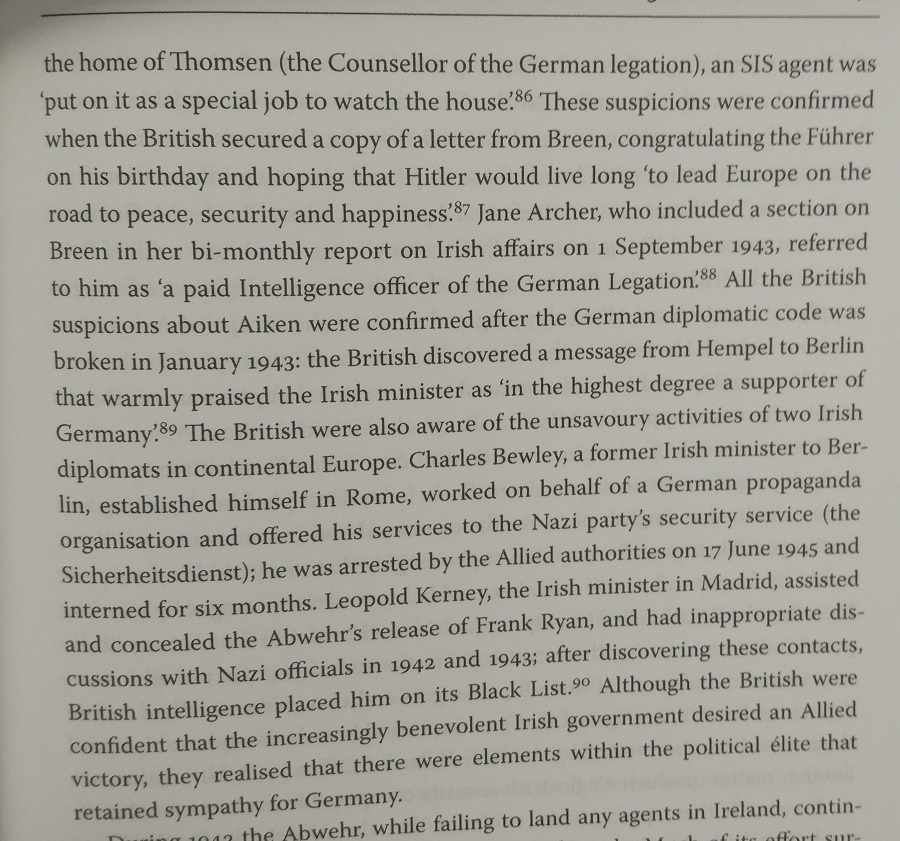 From pp.410-411 of [McMahon, 2008].
Says that Dan Breen collaborated with Nazi Germany in the war.
In her Sept 1943 report, Jane Archer, head of Irish section for MI6, said that Dan Breen was "a paid Intelligence officer" for the Nazis.
McMahon notes that Dan Breen sent birthday greetings to Hitler in 1943.
He hoped Hitler would live long "to lead Europe on the road to peace, security and happiness."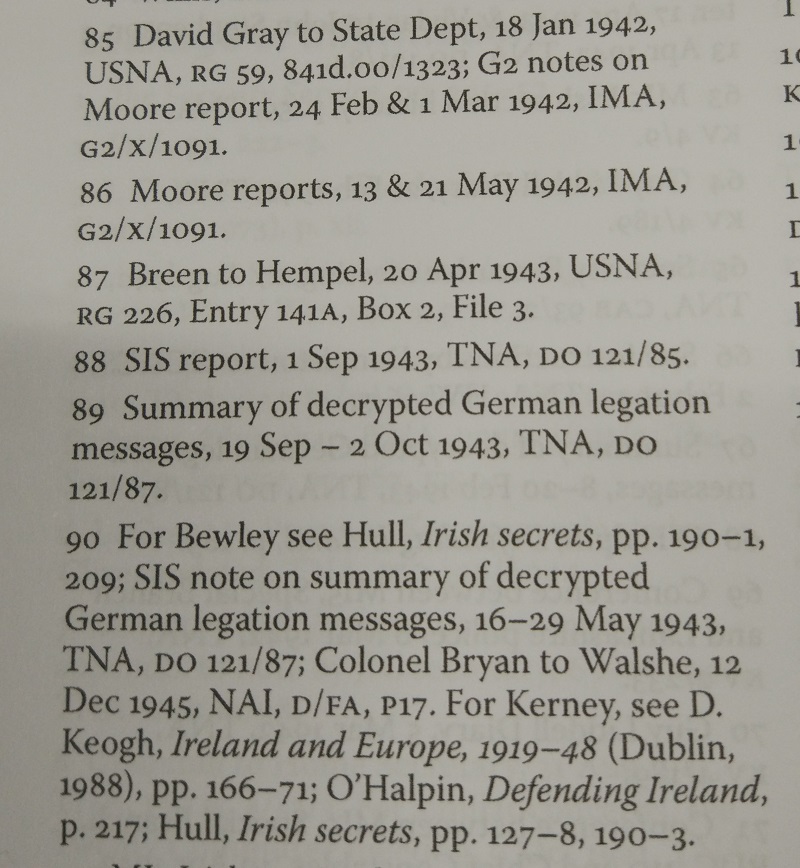 McMahon gives the source for the birthday greeting as:
Breen to Hempel, 20 April 1943, U.S. National Archives and Records Administration, Records of the Office of Strategic Services 1940-1946, RG 226. Entry 141A, Box 2, File 3.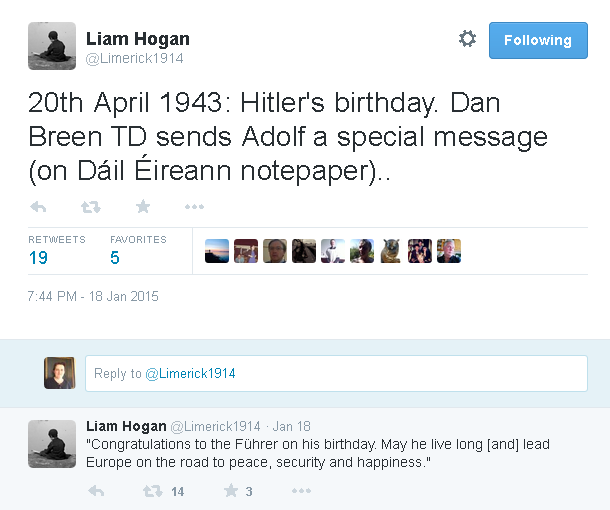 Liam Hogan says that Dan Breen sent his birthday greetings to Hitler on Dail notepaper.
Though he says the reference (in RG 226) is Entry 210, Box 299.
---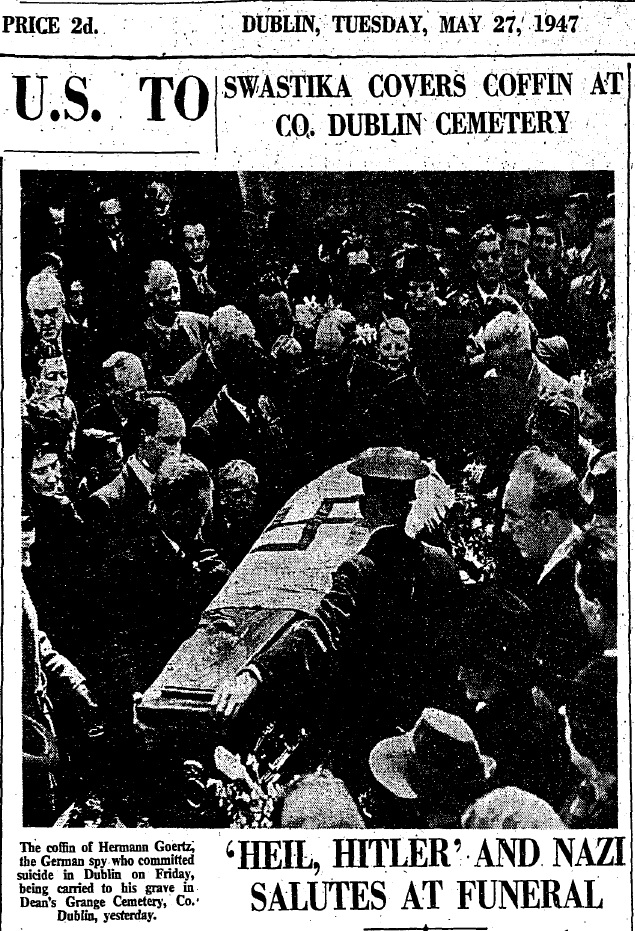 Dan Breen at the funeral of Nazi spy
Hermann Goertz
in 1947.
From The Irish Times,
27 May 1947, p.1
.


Dan Breen helped to carry the coffin.
From The Cork Examiner, May 27, 1947, p.3.
---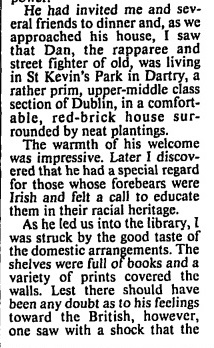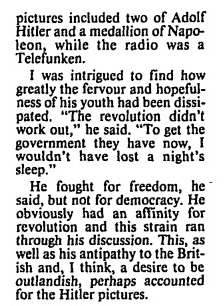 In 1948, Dan Breen still had pictures of Adolf Hitler on the walls of his house in Dublin.
From "An Irishman's Diary", The Irish Times,
24 Feb 1997, p.15
.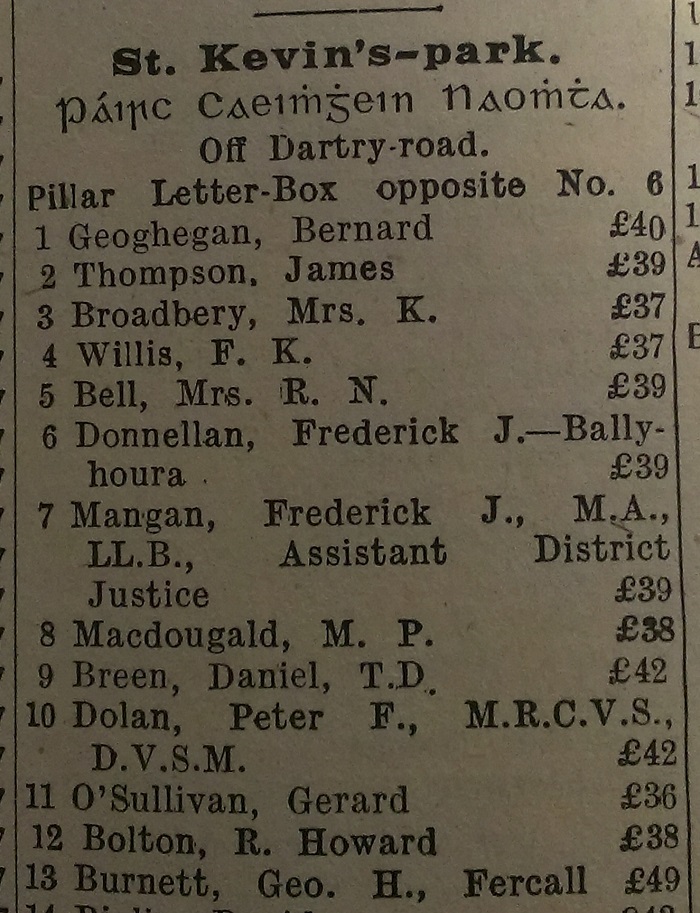 Dan Breen listed in Thom's Directory 1945 at St.Kevin's park, Dartry, Rathmines district, Dublin (see street view).
He had pictures of Hitler on the wall.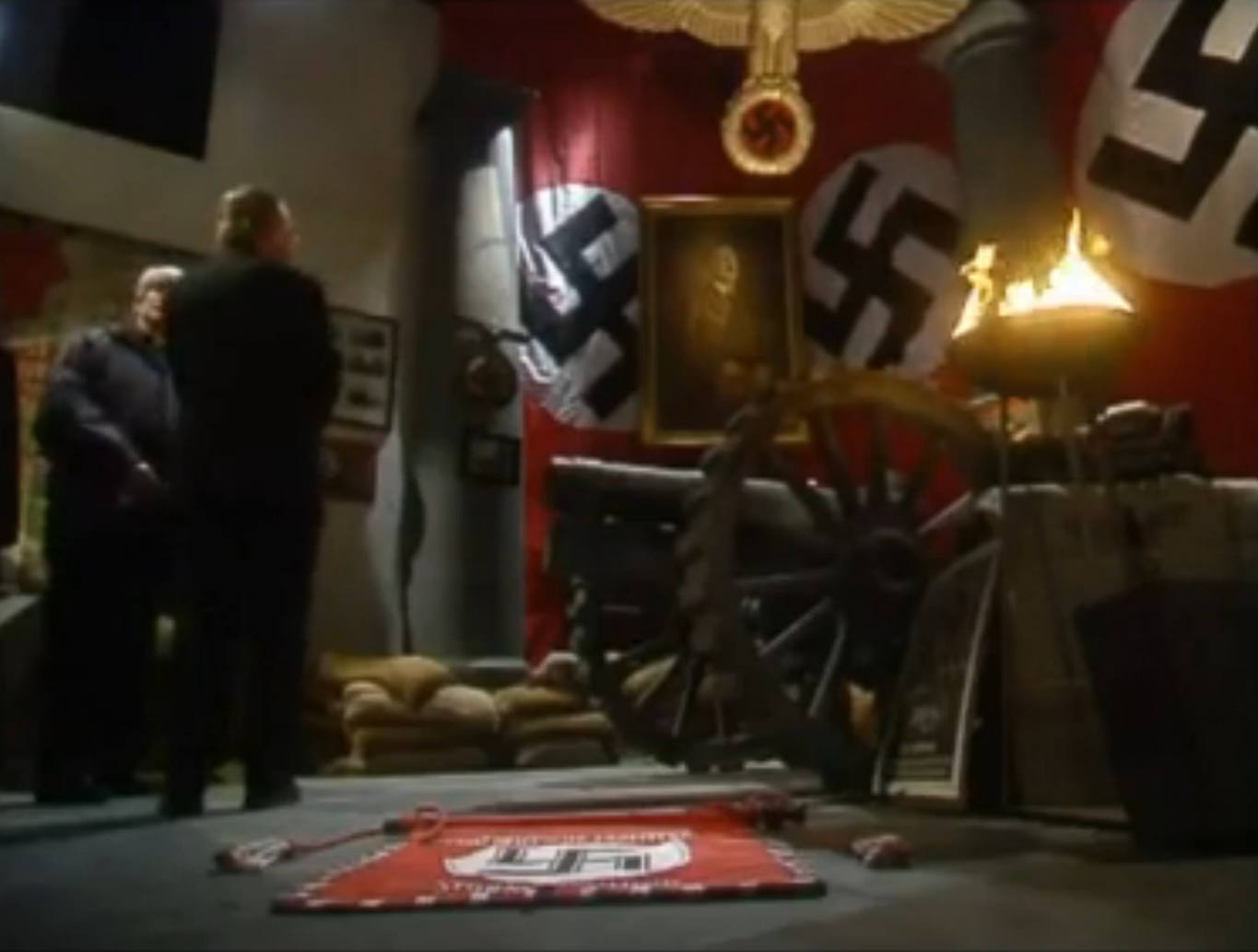 Father Fitzpatrick's room of war memorabilia in a 1998 episode of Father Ted.
I thought of this when I read about Dan Breen's house above.