In defence of cultural imperialism
Let me say something shocking:
Many traditional cultures need to die.
Or at least, the
compulsory
aspects of traditional cultures need to die. Traditional cultures are, along with communism, probably
the major source of violence and oppression in the world today
. Obviously we don't want languages, art, literature, music, cuisine and other cultural forms to die out. But the
oppression
inherent in various traditional cultures must die.
The Western world has invented something remarkable, something that might be called a universal culture of freedom, a sort of "meta-culture". Under this "culture", you can keep alive your inheritance of language, art, literature, religion - all your ancestors' beliefs - provided that it is voluntary. Under the Western model, you can choose what "culture" to follow today, and choose another one next week.
The Western model of freedom for all ideas, open debate, individualism and reason, is superior to all other models, and hopefully will be adopted by every country. It does not have to belong only to the West - it is the birthright and greatest hope of every human on the planet.
Throughout the world, the Western model is destroying traditional cultures using seduction, not force. Traditional cultures are under attack on two fronts:
The West infects the world with intellectual arguments against traditional religions and traditional cultures.
The West infects the world with low-brow popular culture that appeals to their young people. It is strange but companies like McDonald's and Coca-Cola, shows like Baywatch, and people like Madonna do deserve a medal of honour in the struggle for human freedom.
"Cultural imperialism" is a term for something good, something that the world needs more of.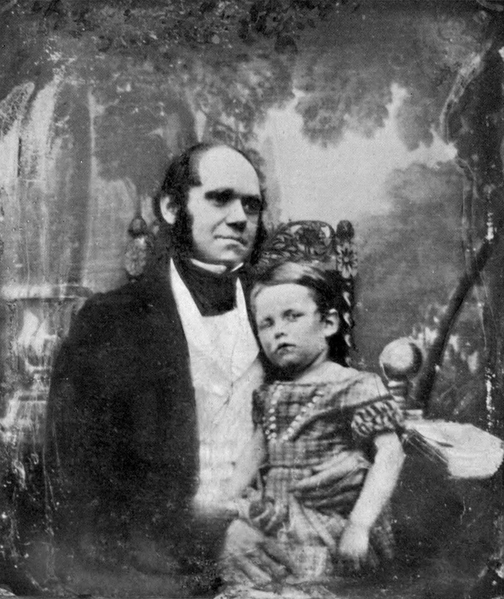 The highbrow: The West's ideas.
Charles Darwin
, the man who in 1859 discovered what Moses, Jesus and Muhammad never knew - where humans came from.
Still today causing loss of religious faith in the Christian and Islamic worlds. And will cause such loss of religious faith for centuries and millennia to come.

The lowbrow: The West's temptations.
"I Kissed a Girl" (2008) by Katy Perry.
Beaming heretical ideas about love and sexuality into the heads of young people in the Islamic world.
---
Phoenix magazine sneers at this page, Nov 2016.
Angry at my support for Israel, the far left, anti-Israel Phoenix magazine had a go at this page in 2016. They found my reference to McDonald's and Baywatch comical (as did leftist Paul Moloney).

But only people who grew up in freedom could find such references comical. Only people who have no idea how Western freedom looked to young people in the Soviet bloc in the 1980s (or looks to young people in the Islamic world today). Only people who cannot see beyond their own world.

And as for those low-brow icons, well I myself prefer the Charles Darwin way of destroying traditional beliefs and traditional cultures, by intellectually sowing doubt about them. But I must also pay tribute to the low-brow Western culture that seduces young people worldwide and makes them think their own culture is lacking. I mentioned 1980s low-brow culture because it helped seduce the Eastern bloc and end faith in communism.
Today's low-brow culture is doing the same in the Islamic world, though it may take much longer. Consider this. Maybe 100 million young Muslims worldwide listen to low-brow Western pop music like Katy Perry and Rihanna. Practically no non-Muslims ever listen to Islamic nasheed. The traditional culture is under siege. And good, I say. It will make the world a better place.
The Eucharistic Congress
, Dublin, 1932.
Phoenix magazine and Irish leftists have entirely
abandoned
this culture, the culture of their recent ancestors.
And yet they are angry at calls for modern Muslims to abandon
their
culture.
---
Racism does exist. But there is nothing racist about admiring one culture over another, or one idea over another. Cultures are just ideas our ancestors had. And only some of our ancestors anyway. Others of our ancestors had other ideas.

Culture of shame by Matthew Leeming, 30 August 2003, on the tyrannical, backward Afghan culture, which is really no different from the medieval European culture of our ancestors.

We have abandoned the culture of our ancestors - and they should do the same. Every Afghani should abandon the culture of their ancestors and embrace reason, freedom of thought and freedom of religion.
Leeming expresses well how I view the world: "Of the 16 billion people who have been born since homo became sapiens, I doubt if more than 500 million have lived in a world free of belief in magical causation or the threat of arbitrary imprisonment and death at the hands of religious police for thought-crimes. Afghanistan is a good place to ponder one's good fortune in being born in the modern West and not in a culture where malaria is treated by yelling, or the best cuts of meat are reserved for the dead, or it is believed that the motions of the stars are controlled from the liver of a rogue elephant, or divine honours paid to shallow depressions in the ground. We have the Enlightenment to thank for this, the moment when the West achieved intellectual maturity (or rediscovered that of the classical world) and reduced religion to a matter of opinion and turned the mullahs into comic turns like Rowan Williams."

Battered Westerner Syndrome inflicted by myopic Muslim defenders by Mark Steyn, August 23, 2002. "As one is always obliged to explain when tiptoeing around this territory, I'm not a racist, only a culturist. I believe Western culture - rule of law, universal suffrage, etc. - is preferable to Arab culture: that's why there are millions of Muslims in Scandinavia, and four Scandinavians in Syria. Follow the traffic."
I could add that capitalist culture is also superior to communist culture. That's why Cubans try to get to America, but Americans don't try to get to Cuba.

In Praise of Vulgarity by Charles Paul Freund, Mar 2002. Vulgar capitalist consumerism and low culture are not bad things. They are fundamental promoters of human freedom and enlightenment. Ask anyone who lived under the Soviet jackboot.

Why the Muslims Misjudged Us by Victor Davis Hanson, Winter 2002. We do understand the Muslim world. We understand it very well. They don't understand us. They don't understand why we are rich and free and powerful.
The West messes with the heads of young people in traditional cultures, and offers them a glimpse of sexual and religious freedom.
Intro to
Baywatch
.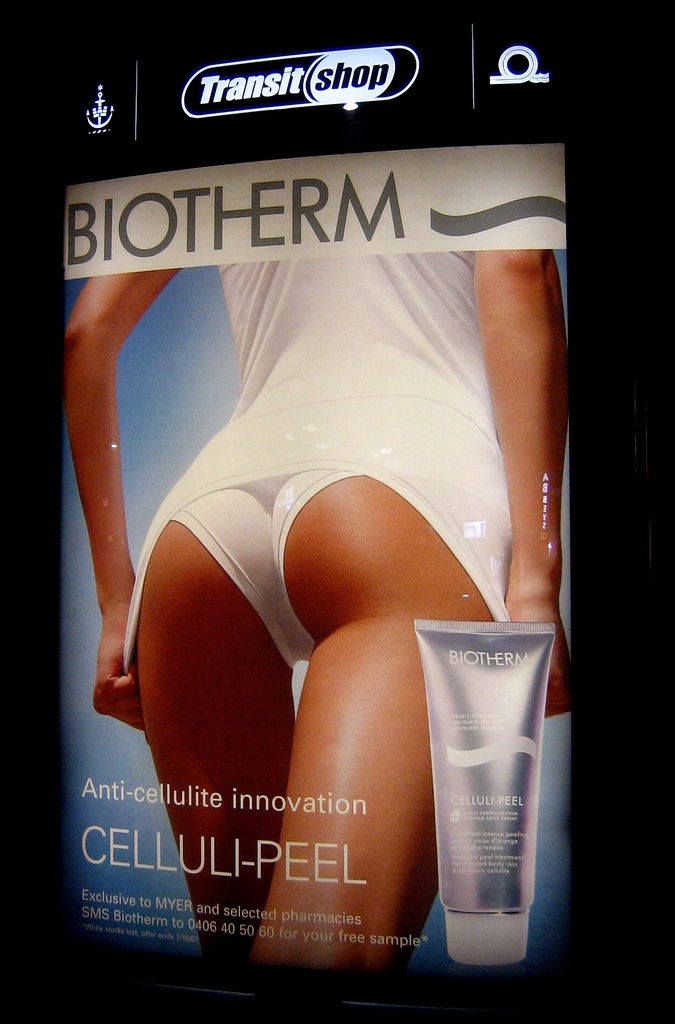 Vulgar western advertising, sex-obsessed, objectifying women, spreading round the world.
Imposing itself on traditional cultures, destroying ancient ways of life, corrupting morals, undermining traditional religion, and leading youth astray from the ways of their elders.
Hurray! Let's have more of it. The world needs more threats to traditional cultures, not less.
Traditional cultures are perhaps the major source of violence and oppression in the world today.
And oddly enough, those cultures that "objectify" women give a far better life to women than traditional cultures do.
Ad poster in Sydney, Australia. See full size. Image from here. See terms of use.
---
Again and again it must be said: this is not about race. Western
culture
is superior. It is independent of race. Every race can adopt Western culture.
My ancestors didn't invent this culture either. But I have adopted it. My ancestors were Gaelic Catholic Irish peasants. Modern scientific culture was invented by the likes of English Protestant gentlemen. I don't care. I recognise something good when I see it. What I say to the non-western world is: Abandon the culture of your ancestors, like I have, and adopt something better.
The Islamic Golden Age (c. 8th - 13th centuries AD), when the Islamic world really was at the frontier of human knowledge, before the torch passed to Europe.
Timeline of Islamic science and technology - Almost nothing since 1600.

If you know of any major idea or invention or discovery in the Islamic world (i.e. not by individual Muslims in the West, but in the Islamic world itself) since 1600, tell me here.

It was Westerners who discovered the orbit of the planets, the laws of gravity, the distance of the stars, the size and age of earth and the universe, the sub-atomic laws of physics, biological evolution, the nature of genetic inheritance, human evolution, the origin of human civilization, and a million other things - and told the Islamic world about it all.

Anti-racism - It's culture, not race.

The Rise of the West. A large collection of stats and graphs showing the rise of the West, that began around 1400 and has not stopped.

Lost in the swamp of modernity, Peter Watson, New Statesman, Monday 29th October 2001 - author of A Terrible Beauty - "outside the west, there were no new ideas in the 20th century". He describes the frustration that must be felt by many people in the unfree world: "modernity is .. like a swamp, a treacherous landscape where some civilisations can't get a footing". The solution to all their woes is simple: intellectual, political and economic freedom. And yet they will fight and oppose this solution to the death.

Spotting the Losers: Seven Signs of Non-Competitive States by Ralph Peters, Spring 1998, lists seven attributes of failed states:

Restrictions on the free flow of information.
The subjugation of women.
Inability to accept responsibility for individual or collective failure.
The extended family or clan as the basic unit of social organization.
Domination by a restrictive religion.
A low valuation of education.
Low prestige assigned to work.

Charles Murray

Human Accomplishment, lecture, 9 Mar 1998.

Murray lists the 4,000 most important inventions and discoveries in history, and calculates that almost all of them are western.
94 percent of all the inventions and discoveries of history come from the West, and almost all of the non-western 6 percent come from antiquity. In the last 1000 years, 99 percent of inventions and discoveries have come from the West.

The Arab World's Scientific Desert by Daniel Del Castillo, 5 Mar 2004. No more than 10,000 books were translated into Arabic over the entire past millennium, equivalent to the number translated into Spanish each year.
Again, to say this is not to gloat. It is to point out that the central issue of the current crisis is that the Arab Islamic world needs to change.

Patents granted, 1977-2009

USA - 2,191,092
UK - 103,771
Israel - 18,703
Ireland - 2,747
Malaysia - 1,298 (highest ranking majority-Muslim country)
Saudi Arabia - 324
Egypt - 97
Pakistan - 47
Iran - 46
Iraq - 10
Afghanistan - 0
Libya - 0
Somalia - 0
Sudan - 0

Academic Ranking of World Universities - 2004

The tiny country of Israel has no less than 7 entries in the top 500.
The entire Arab world has not a single entry in the top 500. See discussion.
Only 35 countries have any entries at all in the top 500. They are all ranked as "Free" by Freedom House except for "Partly Free": Singapore and Argentina, and "Not Free": Russia and China.
That makes 31 Free, 2 Partly Free, 2 Not Free. 15 of the top 15 countries are Free. 10 of the top 10 universities are American or British. The relationship between political freedom and academic excellence is unarguable. If the Arab world wants to get on this list - and if China wants to move up the list - they need to adopt democracy, a free press, freedom of religion, and human rights.

In 2005, Harvard University alone produced more scientific publications than 17 Arab countries put together.

A View from the Eye of the Storm, April 2004, by unknown (possibly Haim Harari)

The total number of scientific publications of 300 million Arabs is less than that of 6 million Israelis.
"Is the solution a democratic Arab world? If by democracy we mean free elections but also free press, free speech, a functioning judicial system, civil liberties, equality to women, free international travel, exposure to international media and ideas, laws against racial incitement and against defamation, and avoidance of lawless behavior regarding hospitals, places of worship and children, then yes, democracy is the solution."

Israel's gift to the 325 million Arabs in 22 Middle East countries. The world's first registry for unrelated Arab donors of bone marrow or stem cells has been developed. But not in the Arab world. In Israel. "Before this registry was established, only 10 percent of Arab patients were able to find matching unrelated donors in international registries, compared to 80 percent for Caucasian patients, because the Arab genome differs from that of other ethnic groups. ... With the establishment of this donor registry, there now is an option for Arabs both in Israel and in other countries, even those at war with Israel, to find compatible donors for a transplant." Did I mention that this was developed not in the Arab world but in Israel?

More stats

The 280 million people of the 22 Arab countries combined have a gross domestic product less than that of Spain.
Total non-fossil fuel exports from the entire region amount to less than the total exports of Finland.

Arab youth want to leave:

The majority of Arab youth want to emigrate, report July 2002. 51 percent want to emigrate. The leading infidel states, the US and UK, were the top destinations they want to move to. Only 13 percent of those wishing to emigrate want to move to another Arab country.
70 percent of Arab youth want to emigrate, report Nov 2011. As Jihad Watch says: "Sometimes a single statistic can well and truly capture the epic scale of Islam's failure. ... Seven out of ten Arab youths .. want to migrate and escape the virtual disaster zone that is otherwise known as the Arab world, despite trillions in oil revenue taken in and spent (or squandered) over the past several decades. Of course, the Arab League's discussion of this issue will carefully skirt any mention of the real causes of this massive wave of migrants -- namely the massive and comprehensive failure of Islam as a political and social system ... It is also well to remember that these Muslim migrants, when they come westward, .. will almost certainly bring with them nonnegotiable demands for Sharia, and the same dysfunctional Islamic system that rendered their homelands as virtually unlivable in the first place."

The inability of the west to explain to its youth and its immigrants where its wealth and power comes from (not from empire and theft, but rather from science, democracy and capitalism) - article by Theodore Dalrymple.

GDP v. Religiosity, survey, Oct 2007 - There is a high correlation between religiosity and low GDP, both in Africa and the Middle East.
As a comment points out, there are a number of possible conclusions:

Religion makes people poor.
Poorness makes people religious.
Un-religiousness makes people wealthy.
Wealth makes people un-religious.

Debate between liberal Syrian author Nidhal Na'isa and some idiot Egyptian cleric, October 30, 2007, contains this amusing exchange:

Cleric: "In Andalusia, which you say, the Muslims conquered by the sword, they left a civilization unparalleled throughout history to this day. Western civilization is not really a civilization".
Nidhal Na'isa: "Western civilization is not really a civilization?"
Cleric: "You listen to me! You listen to me!"
Nidhal Na'isa: "How did you come here from Egypt in two hours? On camels, it used to take you over six months to make a pilgrimage."

Combat 'Westophobia', Barry Rubin, The Jerusalem Post, Nov 18, 2007, on the above exchange: "He might have added: Who developed the technology making it possible for you to speak to millions of people through airwaves to a box with pictures and sounds? Other Arab liberals have pointed out that the ability to build airplanes is superior to the ability to crash them into buildings". He lists the 4 main errors of modern Middle Eastern thought:

That its problems arise from Western and Israeli oppression.
That the struggles and violence of radical Arab nationalists and Islamists are based on genuine grievances.
That the West behaves wrongly because it is hostile or ignorant about Arabs and Muslims.
That Arab and Muslim society is vastly superior to the West - which justifies their rejection of it and will ultimately pave the way for their victory over it.

Scientists save billions of lives: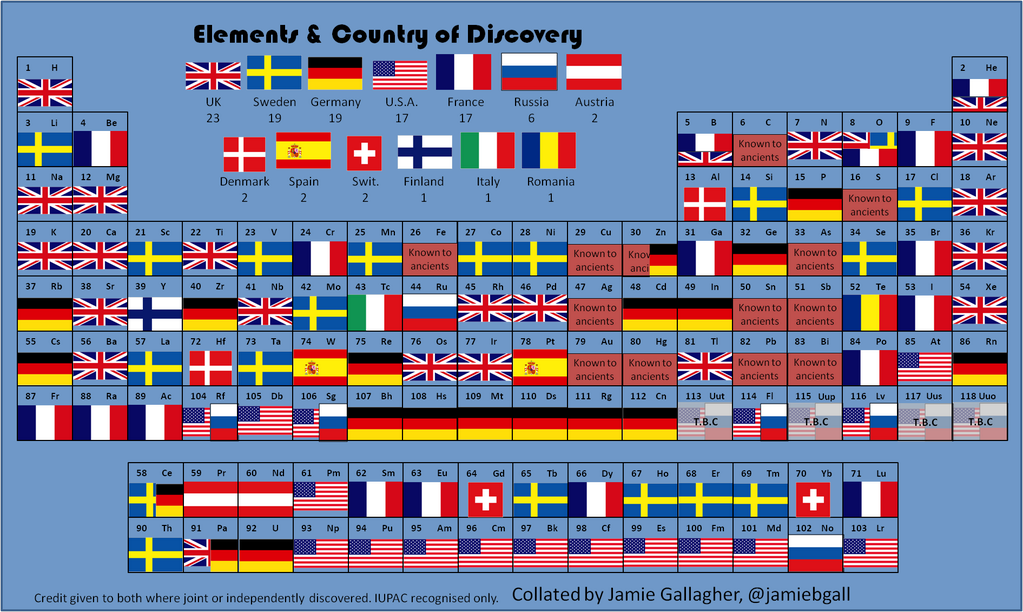 The glory of the West: The West discovers everything, and tells an ungrateful world.
Above is a table showing who discovered the
elements
.
Every single one was discovered by Europe and the US and Russia.
Britain's early lead in the
18th-19th centuries
makes it the global winner.
The Islamic world, Asia and Africa never discovered any.
From
Jamie Gallagher
.


The West casually and arrogantly displays its vast intellectual and scientific superiority over traditional cultures.
Above is the moon rover on the Apollo 16 mission in 1972.


Ibrahim Al-Buleihi, a rare Saudi who actually thinks about the superiority of western culture.
Transcript: "we don't know that we are backward. On the contrary, we treat [Western] people are if they were carpenters or blacksmiths. We treat the people who created this great and lofty civilization as if they were carpenters and blacksmiths. We view them as mere laborers, while we consider ourselves to be men of thought, science, and culture, who embody everything you aspire to in life. This is the exact opposite of how things should be. ... The oil came from Allah, and on top of that, we need the West to extract it. If not for their industry, our oil would be worthless. It had been in this land for centuries, yet we did not benefit from it in any way. Oil became valuable only when others came up with inventions, and later came here to extract it from our land. ... When I talk about the development of the West, some people say to me: What about Japan and China? If these countries had not emulated the West, they would not have progressed. Their progress was determined by the extent to which they borrowed from the West."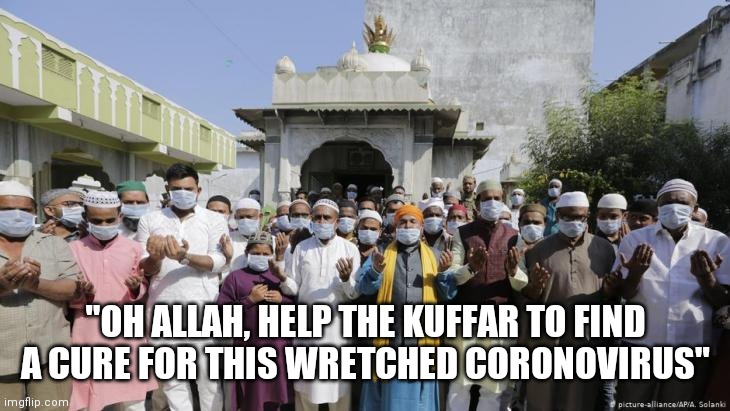 The West is not waiting for the Islamic world to invent cures to disease.
It's the other way round.
From here.
During the coronavirus pandemic of 2020.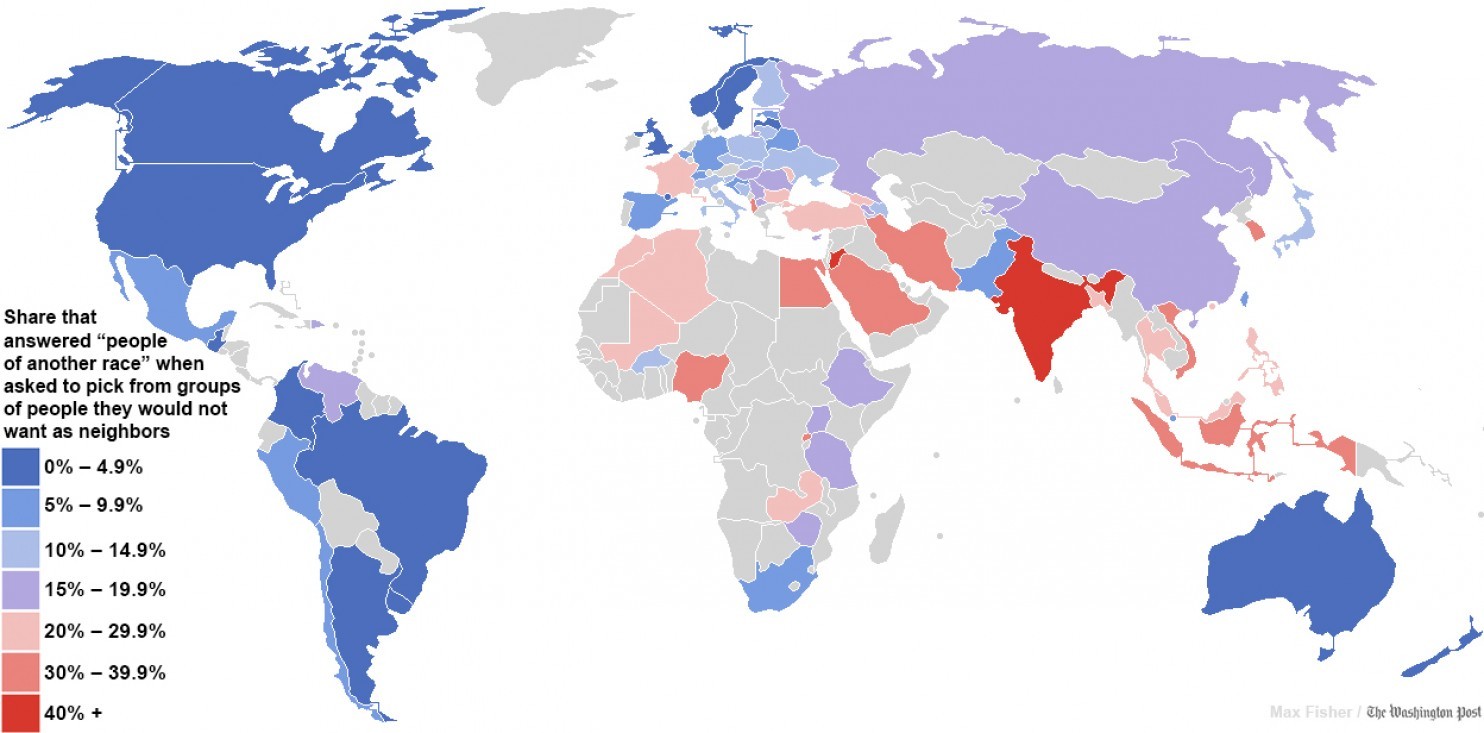 The West is the least racist part of the world.
The rest of the world is more racist.
---
List of Muslim Nobel prizewinners v. Jewish Nobel prizewinners (and here):

1.4 billion Muslims have achieved only 6 Nobel Prizes.
A tiny 12 million Jews have achieved a staggering 161 Nobel Prizes.
Why is this? My answer is simple: Jewish culture is superior. Jewish culture is the western culture of freedom and science, and is therefore superior to all traditional culture. Other religions and races should abandon their culture and adopt the ideas that have made the Jews (and other westerners) so successful: free thought, free speech, free press, science, democracy and capitalism.
As the page above says: "There is not a single Jew that has destroyed a church. There is not a single Jew that protests by killing people. The Jews don't traffic slaves, nor have leaders calling for Jihad and death to all the Infidels."
The grave in Pakistan of physicist
Abdus Salam
, the first Muslim Nobel Laureate in the sciences (1979).
The first Jewish winner was
Adolf von Baeyer
in 1905 and there have been a huge number since.
Ironically summing up the very backwardness of the Islamic world that has led to so few Nobel prizes is the fact that his grave has been
officially
defaced. Why? Because the state declared that
Ahmadis
are not true Muslims.
Even the undefaced grave inscription is problematic.
"THE GREATEST SCIENTIST OF ALL TIME"
! And a man who
"PROVED THE UNITY OF GOD"
!
From
here
.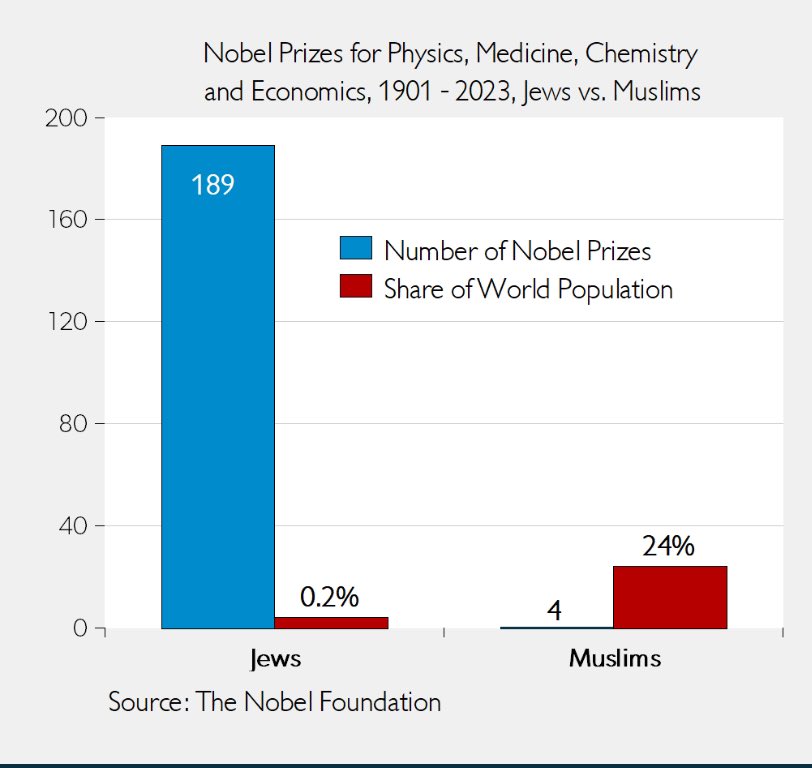 Jewish and Muslim Nobel Laureates compared.
Posted here.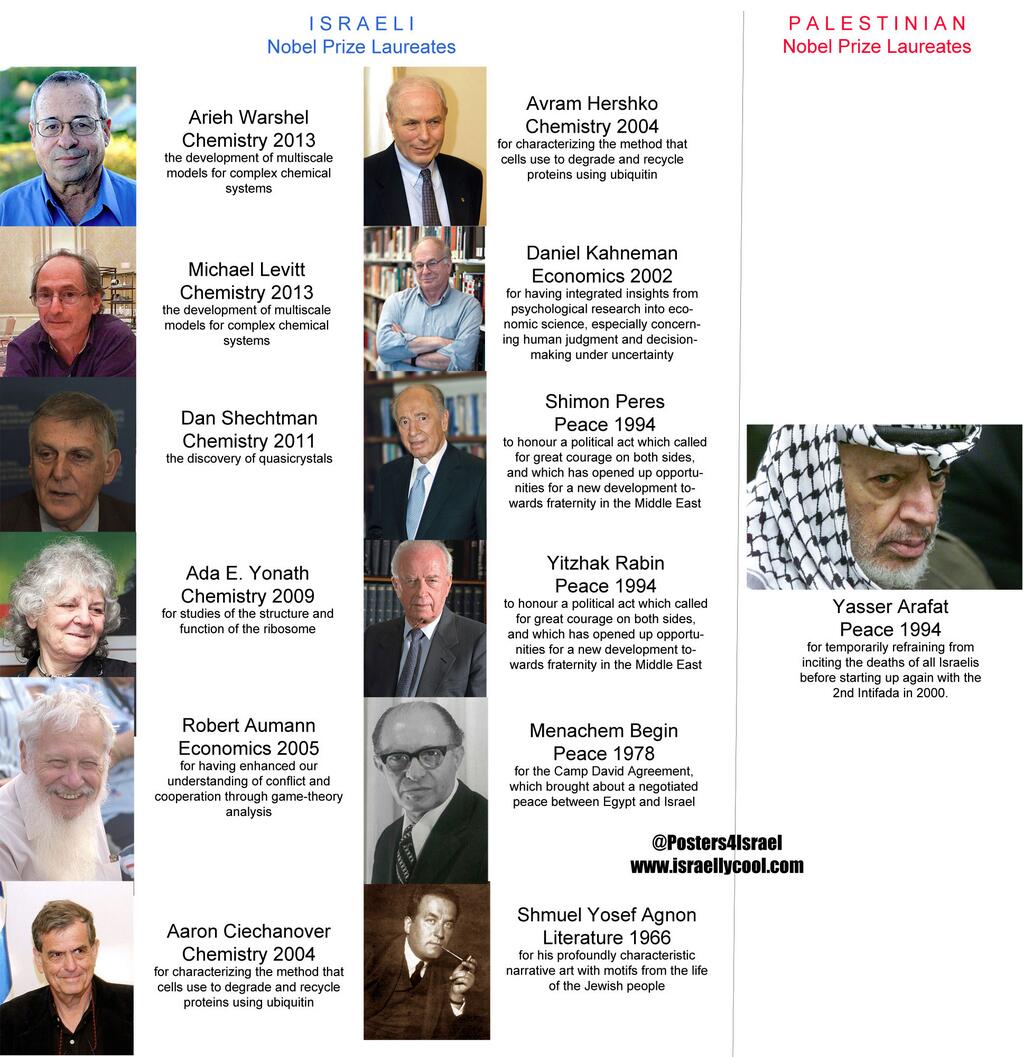 Israeli and Palestinian Nobel Laureates compared.
From here.
---
Throughout this site I encourage people in the non-western, tribal and traditional world to abandon the culture of their ancestors, and adopt the western ideas that have proven so powerful and universal. Dump your tribal and traditional beliefs, and betray your ancestors, is my simple message.
Why is this so shocking? We have all abandoned and betrayed the culture of our ancestors. Everyone on this planet has done this. Certainly all Muslims have. It is simply a matter of choosing which ancestors to betray.
Studies of the Common ancestors of all humans show that almost all Muslims on earth descend from Jews, and almost all Jews on earth descend from Muslims. Everyone on earth, without exception, descends from people who would be horrified by the religious and political beliefs of their descendant. Everyone on earth has betrayed their ancestors. It is simply a matter of choosing which ancestors to betray.
So there should be nothing shocking in dumping your family's culture and adopting a different culture. For your family's culture is itself a betrayal of their ancestors, who would be horrified by it.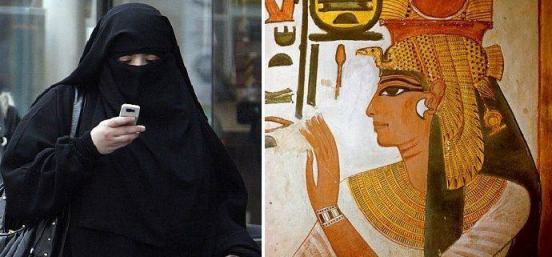 All Egyptians have abandoned the culture of their ancestors, who would be
horrified
by their descendants' beliefs.
From
Raymond Ibrahim
.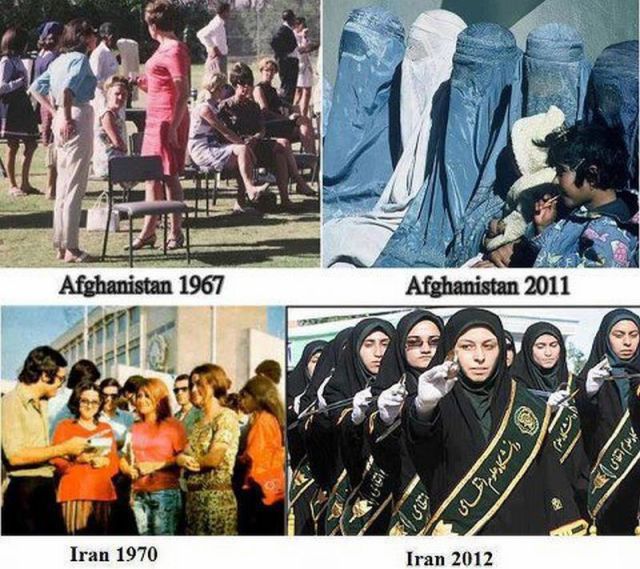 In fact, the idea that this Islamist bullshit even is their "ancestral culture" is questionable.
In many Islamic countries, this "culture" hardly existed a few decades ago.
From here.
---
"We must be aware of the superiority of our [Western] civilization, a system that has guaranteed well-being, respect for human rights and - in contrast with Islamic countries - respect for religious and political rights, a system that has as its value understanding of diversity and tolerance."
- Silvio Berlusconi's simply true statement, 26 September 2001, of the superiority of Western civilization over Islamic civilization bizarrely caused some controversy among "right-thinking" people, who rushed to condemn it.
But people, whatever pious hypocritical platitudes they mouth, vote with their feet. I note that millions of Muslims are trying to get into the West. And almost no Westerners are trying to get into the Islamic world. It's obvious which one is superior.
"Back then .. I was more inclined to accept the "Noble Savage" worldview, that primitive cultures were inherently superior to the horrors of Western civilization, and thus we should protect and admire non-Western societies, like exhibits in a museum. Since that time, however, my views have evolved ... I see much more clearly now that primitive societies, with their "non-Western" values, are often oppressive and unnecessarily brutal for the people living in them. Not always, but often. Furthermore, as the globe's population grows, many formerly "quaint" ethnic cultures are growing in dimension and scope, and they no longer need protecting - they need suppression. ... I also know too much about history and anthropology to continue the bankrupt charade that all cultures are equal ... The accumulated Judeo-Christian/Greco-Roman/Renaissance-Enlightenment/you-name-it wisdom that Western culture has integrated over the millennia is without any question the best bet that the human race has going."
- Zombie on his/her evolving view of world cultures.
"I had decided I wanted to study political science. ... I wanted to understand why life in Holland was so different from life in Africa. Why there was so much peace, security and wealth in Europe. What the causes of war were, and how you built peace. ... Every contact I had with government, I thought, "How do you get to have a government like this?" ... This was an infidel country, whose way of life we Muslims were supposed to oppose and reject. Why was it, then, so much better run, better led, and made for such better lives than the places we came from? Shouldn't the places where Allah was worshipped and His laws obeyed have been at peace and wealthy, and the unbelievers' countries ignorant, poor, and at war?"
- Ayaan Hirsi Ali, on arrival in Holland from the Islamic world. From her book Infidel.
If only every Islamic and third world radical had such humility and willingness to learn new ideas. All their problems would be solved.
"It is always difficult to make the transition to a modern world. It was difficult for my grandmother, and for all my relatives ... It was difficult for me, too. I moved from the world of faith to the world of reason - from the world of excision and forced marriage to the world of sexual emancipation. Having made that journey, I know that one of those worlds is simply better than the other. Not because of its flashy gadgets, but fundamentally, because of its values. The message of this book, if it must have a message, is that we in the West would be wrong to prolong the pain of that transition unnecessarily, by elevating cultures full of bigotry and hatred toward women to the stature of respectable alternative ways of life."
- Ayaan Hirsi Ali.
---
Return to
What is wrong with the Islamic world?