Scepticism
This is closely related to the
atheism
page. Believers in astrology and the paranormal also believe in extraordinary things without evidence. They use the same type of
logical errors
, unverifiable anecdotes, lack of predictive ability, and post hoc interpretations of unrepeatable events, as are often used in support of religious claims.
And it is not just that the tools of scepticism are the only way of finding out what is true. They are also good for society. Scepticism is opposed to all totalitarianism, and is a far better defence against such than religion, which has a long history of collaboration with totalitarianism and killing on its own behalf. To teach our children to question authority, to read forbidden books, to distrust political and religious movements and leaders, and to regard faith (belief without evidence) as an intellectual failing, is the best thing we can do to ensure the future of human civilization. The values of atheism and scepticism are the values of science, freedom and liberal democracy.
The hilarious psychic scene in
Life's Too Short
.
Jump to 1:15.
Warwick Davis doesn't know any Johns.


"If You Open Your Mind Too Much, Your Brains Will Fall Out (Take My Wife)" by Tim Minchin.
---
Using logic and reason
The Alternative-Science Respectability Checklist suggests 3 rules for "alternative science" to follow if it wants to be taken seriously:

Acquire basic competency in whatever field of science your discovery belongs to.
Understand, and make a good-faith effort to confront, the fundamental objections to your claims within established science.
Present your discovery in a way that is complete, transparent, and unambiguous.
---
Scepticism
The Skeptic's Dictionary (and here)

Committee for Skeptical Inquiry (formerly CSICOP)

The Skeptic (UK)
The Skeptic (Australia)

Irish Skeptics Society

Carl Sagan

Something needs to be said about the depressing modern interest in superstitious hokum like UFO's and the X-Files, and it is this: These things are only popular because they are not accepted by science. That is, they are only popular because there is no good evidence that they are true. If the existence of Atlantis was proved, it would become part of serious science and archaeology, and it would not be interesting any more. "Mysteries" are an attempt by the ordinary person to reclaim some area from the professionals. Unfortunately, because the professionals are so diverse and numerous and are interested in so many things, the only things left for you to claim are by definition rubbish.
That is why, for example, cryptozoology is not science. If there was any decent evidence (even fragmentary evidence), it would be zoology not cryptozoology. After all, zoologists are discovering new species all the time.

James Randi (and here and here) (magician, atheist and skeptic)

Penn and Teller (magicians, atheists and skeptics)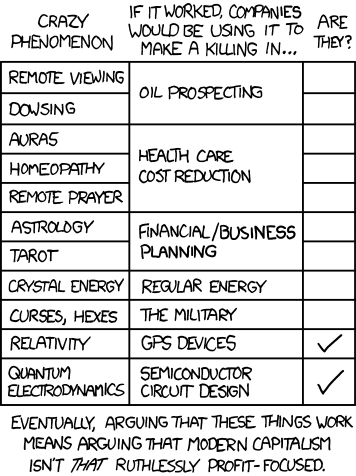 If these things work, why don't people use them to make money?
From
xkcd.com
.
---
Comedian
Dara Ó Briain
on alternative medicine.
"I'm sorry, "herbal medicine": "Oh herbal medicine has been around for thousands of years." Indeed it has. And then we tested it all, and the stuff that worked became "medicine"."


"Homeopathic A & E" from That Mitchell and Webb Look.
One doctor consoles the other after a patient dies because his serious injuries did not respond to their nonsense treatment: "OK, so you kill the odd patient with cancer or heart disease ... or bronchitis, flu, chickenpox or measles. But when someone comes in with a vague sense of unease, or a touch of the nerves, or even just more money than sense, you'll be there for them."
---
Astrology is based on the concept of
constellations
, such as Aquarius, Capricorn, Taurus, etc. It's important to note that
constellations don't exist
. If you have to ask why, you have obviously never thought about it.
Astrology was disproved by the discovery of Uranus by William Herschel in England in 1781. If you have to ask why, you have obviously never thought about it.
"It could just be coincidence". From
QualiaSoup
.
A poor understanding of probability leads many people to put forward supernatural or paranormal explanations where none are required.
I love the section on dreams!
---
From Freudian theory to "recovered" memories,
psychology
is a field plagued by dodgy pseudo-science and popular but unscientific enthusiasms. The fact is, the brain is deeply mysterious. Not only do we lack good models of how it works, but its own self-analysis is flawed and subject to invention.
Fake psychology and fake memories do not necessarily cause harm. But they do cause real harm when they intersect with one very serious area: claims of historic child abuse.
Human memory is fallible, and the brain is strange, and while claims of historic crimes, which have left no physical evidence, could of course be true, scepticism must always be applied to everything. This principle has often been lost in the modern age. Fake claims of abuse, emerging through fake psychology, and backed by a callous state, have caused untold misery to innocent families.
The Skeptic's Dictionary

Wikipedia

Cognitive therapy has tried to base therapy on science and evidence rather than on Freudian psychoanalysis.

False memory

Sexual abuse exists, but Satanic "ritual abuse" does not:

The Broxtowe "Satanic ritual abuse" case

Munchausen Syndrome by Proxy - Your child dies, and pseudo-scientists get you imprisoned and your other children taken away forever. And you and the media are forbidden from even talking about it.

Fassit (stories of child-snatching social workers in the UK)

The only thing like "Satanic ritual abuse" that does exist in the West is this:
---
Child abuse and rape are crimes that historically were ignored and covered up, so the modern confrontation is a welcome correction:

But we may have even over-compensated, to the extent that our response to these crimes is sometimes based on hysteria rather than reason. As a result we are susceptible (and will remain susceptible) to periodic hysterical witchhunts like the "ritual abuse" and "Munchausen Syndrome" witchhunts above. Consider the following:
It sometimes seems in a world confused about morals as if child sexual abuse is the one thing we can agree on as the ultimate evil. We sometimes seem to have lost sight of the fact that killing or permanently disabling someone is worse. For example, paedophiles get burnt out of their homes, and attacked and killed in prison, and so on, in a way that murderers don't. And yet surely the murderer has committed an even worse crime.

Don't get me wrong. I don't have a problem with long prison sentences for child abuse and rape. I just think the sentences for murder and disabling should be even longer. To be a murderer should be a stigma even worse than being a paedophile.

All sexual crimes, by their nature, lend themselves easily to miscarriage of justice. If someone says they were sexually assaulted, how can you prove them wrong? Historical claims of child abuse and rape years after the fact will have no forensic support. They may of course be true, but clearly there is a higher risk of miscarriage of justice than in other crimes.

As a result of our somewhat over-the-top reaction to child abuse, we cast suspicion on all interactions of men with children (even though hardly any men are paedophiles), and we are driving away men (other than their fathers) from childrens' lives (and this at a time when more and more children do not even have their father around). Due to paranoia about child abuse, there is a steady drop in male primary school teachers, boy scout leaders, etc. And all research shows that this is really bad for boys in particular. We complain that boys have no steady male role models in their life. And yet we look with suspicion on any adult male who interacts with them.

Due to fear of paedophiles, we also prevent our children playing outdoors, walking to school, etc., in a way we never did before. Yes, there is a risk. But the risk is actually small. While the negative impact on children's health is definite and large.
Denmark's Forest Kindergartens.
Due to fear of predators, cars, etc., we prevent our children going outdoors in a way we never did before.
But children need freedom.
---
Related to some irrational over-reactions to child sexual abuse are various injustices in how the law is applied to the
grey area
of willing teenagers age, say, 14 to 17.
Almost everywhere in Europe has the age of consent as 14, 15 or 16.

Romeo and Juliet situations:

Some legal injustices are caused by an overly literal application of age of consent to teenagers, where a boyfriend just over the age of consent can be jailed for sex with a girlfriend just under it. Or even vice versa. Or even both can be arrested if both under it.
Some places have Romeo and Juliet laws but others do not.

Adult females and willing teenage males:

Another source of injustice is when the law insists that males and females are the same, as feminist dogma states. So the law treats adult females having sex with teenage males the same as adult males having sex with teenage females.
This is wrong. We should discriminate, because males and females are not the same:

A male physically can have sex with an undeveloped or unwilling female.
A female physically cannot have sex with an undeveloped or unwilling male. The male physically has to get hard.
A female 15 year old who has willing sex (at the time) with a 30 year old male is fairly likely to regret it later.
A male 15 year old who has willing sex with a 30 year old female is more likely to boast about it later. Because males and females are not the same.

I am not proposing a free-for-all law for adult females and teenage males. There is obviously a spectrum, from a developed 16 year old male working hard to seduce a 20-something female to an aggressive middle-aged female taking advantage of a confused 14 year old male. Like "Romeo and Juliet" laws, one needs laws that address a spectrum. I am only proposing that they be treated differently to adult males and teenage females.

Female teachers arrested and jailed for sex with teenage male students.

In almost every case, the male student is (of course) developed and willing. In most cases, sacking of the female teacher seems reasonable, but jail seems unjust. I would feel differently about male teachers, but feminist dogma means we cannot treat the cases differently.
It is ironic. Because of feminist dogma, women go to jail who I would never send to jail.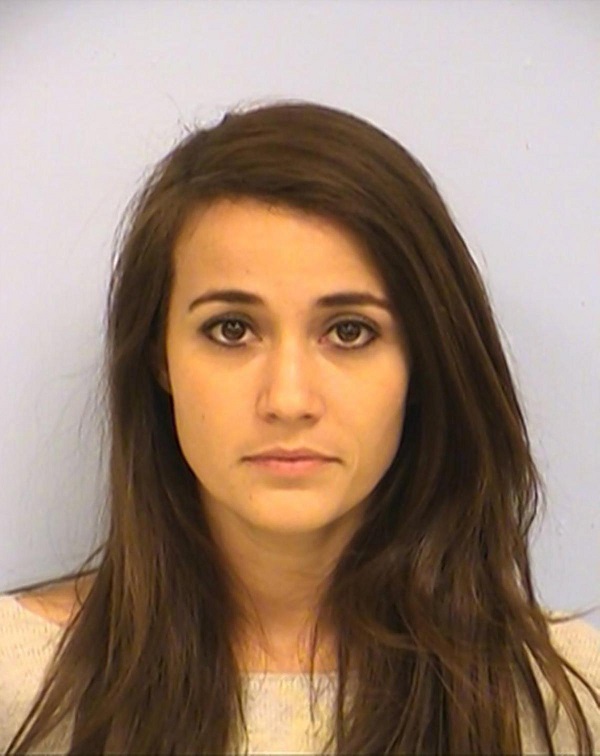 28 year old Texas teacher
Haeli Wey
was arrested and got 10 years probation for having sex with two 17 year old male students.
Below almost every article about her, male commenters express jealousy and say they wish she had been at their school.
Because
males and females are not the same
.
---
James Randi
sabotages Uri Geller
on The Tonight Show in 1973
. Hilarious.
And
search
and
search
.
---
---
A subsection of "woke history" or crank history is the claim that lots of people in European history were actually black, and no one noticed at the time. This kind of junk history has been mainstreamed by the Netflix show Bridgerton (2020).

Many woke people (especially black Americans) believe some or all of the following crank theories:

Egmond Codfried has theories that a vast range of famous white people (too idiotic to list) were black.

The "Bridgerton" crank theory about Queen Charlotte is demolished in:

The Queen Charlotte crank history has crept into her Wikipedia entry. The arguments against are also included. But the entire crank theory should really be moved to a separate page. It does not belong in the Queen Charlotte entry.

See above as an image.
---
Hilarious 9/11 Conspiracy video from
The Onion
.
"An Al Qaeda representative says that claims the U.S. government was behind the attacks on Sept. 11th are demeaning to Al Qaeda."
Also
here
.
Al Qaeda spokesman gets annoyed with 9/11 truther: "I can assure you, we did not use thermite bombs. I did the research myself. It would not have worked. We flew an enormous airplane into a building, ok. I think it is obvious what caused the building to crumble."
9/11 truther: "Why are you being so closed minded to this, sir?"
Al Qaeda spokesman: "Bush's administration, they are a den of jackals. We certainly have common ground there. What does not follow is why would they kill 3,000 of their own infidels?"
The Al Qaeda guy starts producing papers about the operation. "The voucher for the flight lessons."
9/11 truther: "Oh come on, did President Bush give you these himself?"

p.s. Yes Joseph Suh, I know it's a joke! Sorry if that was not clear. I'm a big Onion fan.

I love the idea that the 9/11 truthers wouldn't believe it even if Al Qaeda was arguing with them, saying no, we did it. Here is a similar thing, from the real world this time: Pakistani Taliban angry that Pakistani people don't believe they are bombing Pakistan. The Pakistani Taliban repeatedly attack Pakistan, killing thousands, but many Pakistanis - rather than face up to their country's decades-long support for Islamic terror - prefer to believe conspiracy theories that the attacks are carried out by India, America or Israel. The Pakistani Taliban get annoyed by this: "Those who are accusing us of working for anyone else's agenda should ask themselves what they are doing. We are neither working for CIA, Mossad, RAW nor any other organization. We work to get the blessing of God."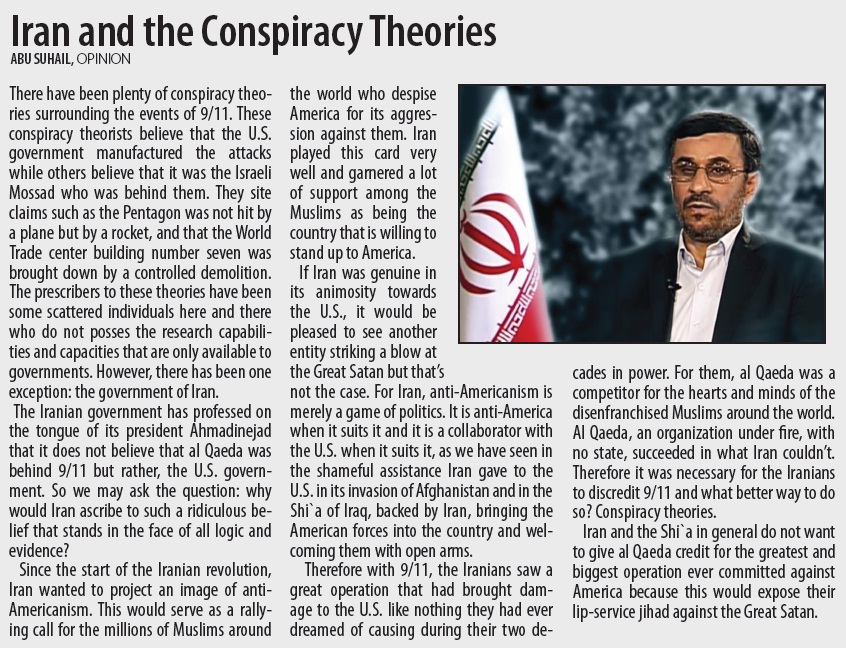 Life imitates
The Onion
:
Al Qaeda gets angry with Iran for spreading 9/11 conspiracy theories.
This is real life, not
The Onion
!
This is from Al Qaeda's magazine
Inspire
, issue of Sept 2011.
Al Qaeda complains about 9/11 trutherism, "a ridiculous belief that stands in the face of all logic and evidence".
So say a group of insane religious maniacs who believe that an invisible being called "Allah" will reward them with terrific sex with hot girls in an invisible place called "paradise" if they kill children while shouting how great "Allah" is.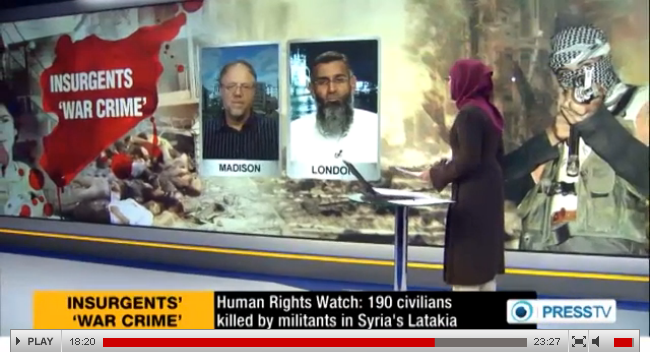 The real life Onion guy turns up on Iranian TV:
American Islamist fanatic and conspiracy theorist
Kevin Barrett
attacks Al Qaeda for claiming credit for 9/11:
"al-Qaeda .. [has] gone around .. doing incredibly stupid things like allowing the Zionists and the US National Security State to frame it for supposedly conducting the 9/11 attacks, which were an obvious inside job, and yet these so-called al-Qaeda people are so incredibly stupid that they don't even recognize it, and then they run around trying to claim credit for it, thereby completely destroying political Islam around the world, making us look like idiots. It's really sad"
.
This is real life, not
The Onion
!
This is from 18:05 in a debate, 12 Oct 2013 on Iranian regime TV.
The "debate" is between Islamist fanatic Kevin Barrett and Islamist fanatic Anjem Choudary.
The context is the Sunni-Shia regional war in Syria, when Islamist fanatics fell out with each other.
---
Prophecies of Mother Shipton of Yorkshire:
"In Nineteen Hundred and Twenty-six
build houses light of straw and sticks.
For then shall mighty wars be planned
and fire and swords shall sweep the land."
"The World then to an end shall come
In Nineteen Hundred and Ninety-one."
(Actually this used to read "In Eighteen Hundred and Eighty-one." Her believers modified it after that year passed uneventfully.)
---